Oven Fried Bang Bang Shrimp Pasta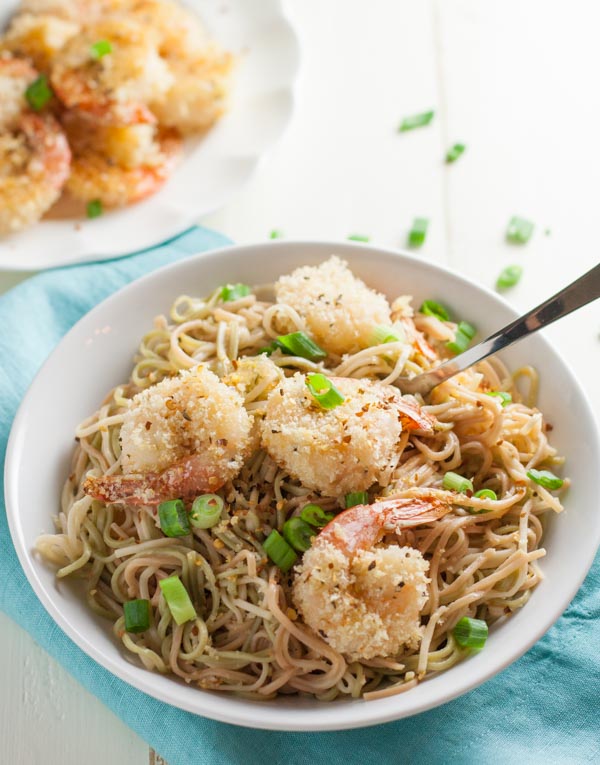 Snow. Ice. Sleet. Fun!  And a snow day!  Yippee!  Then…more ice! More sleet!  More snow days.  OK, so school was basically out all last week.  This is Nashville people.  Happens only once in a decade.  Last week was the first time we've ever closed the office for more than one day.  It is pretty fun to "have" to stay home, but by the end of the week, I was ready to go back to my routine!  And what do YOU do when you are iced in for days?!  We COOK and EAT and then REPEAT! It was perfect timing for me to perfect my Oven Fried Bang Bang Shrimp Pasta.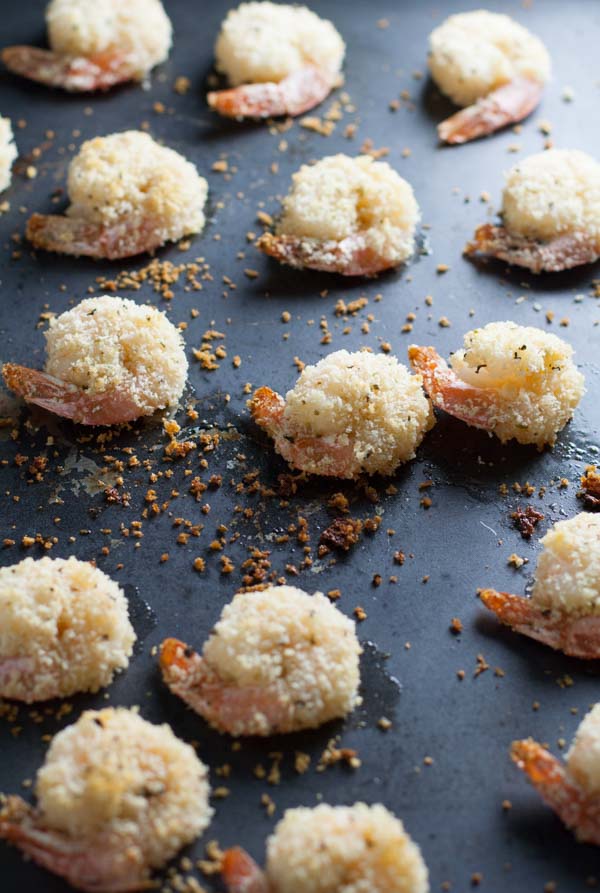 Fortunately, with the looming forecast, I had loaded up on lots of yummy ingredients for some good ole home cookin'.  The only thing worse than being "snowed in" would be snowed in without enough food.  So friends, I was prepared and we were off to the races.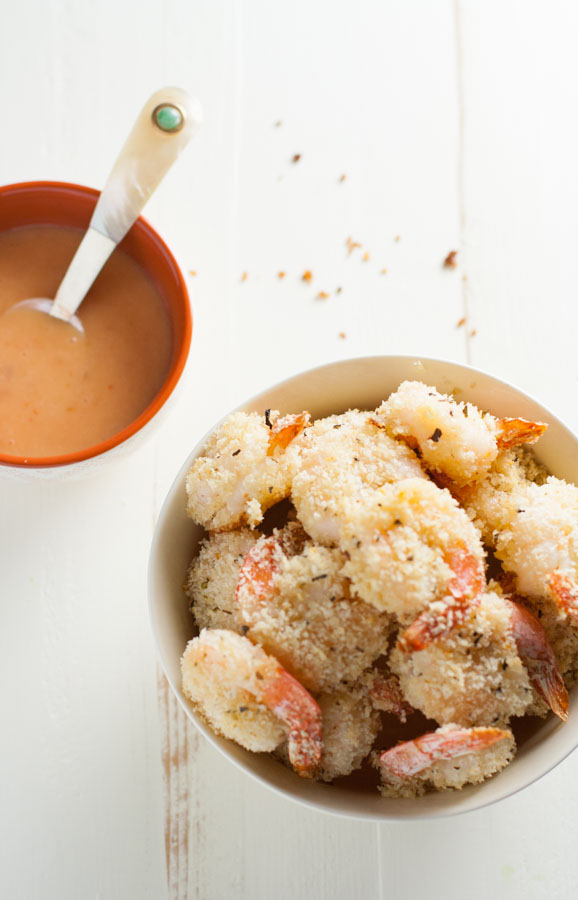 Any recipe with shrimp gets my attention.  This particular recipe has been on my radar for a while now.  Bonefish Grill made Bang Bang Shrimp somewhat of a household name.  You know it, right?  Deep fried shrimp with a sweet and spicy sauce.  An "I can't stop" appetizer and one that has generated many copycat recipes all over the internet.  So of course I couldn't resist getting in the game.  And if shrimp gets your attention too, check out this.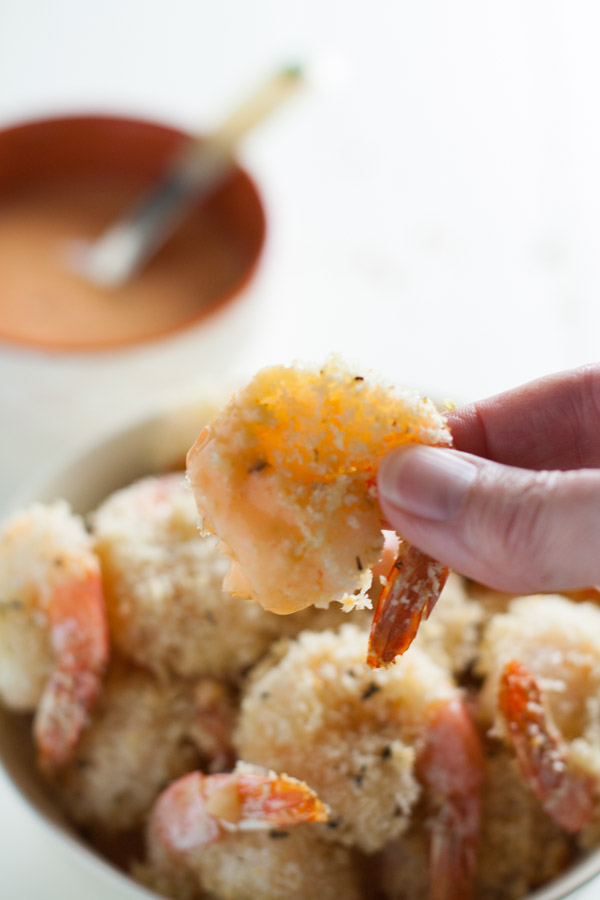 My inspiration comes from this blogger's recipe, but here's my take.  I wanted to oven fry my shrimp to cut down on the deep fried-ness, which I think takes away from the delicious shrimp taste and texture itself.  And instead of drenching the shrimp with sauce, I decided to serve my sauce on the side as a dipping sauce.  This works great if you are only concerned with an appetizer, but I had in mind a yummy Oven Fried Bang Bang Pasta that would take center stage for your meal.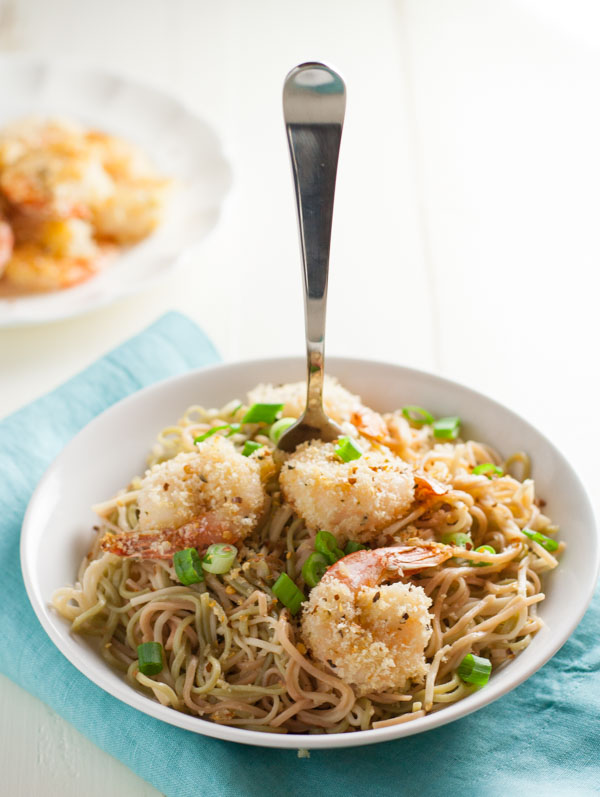 This really is two recipes in one.  One:  Make this as an appetizer.  Two: Make this for dinner!  You'll start by making the dipping sauce and then add some additional ingredients to make the pasta sauce.  Easy.  Delicious.  Either way.  So take your pick and dig in!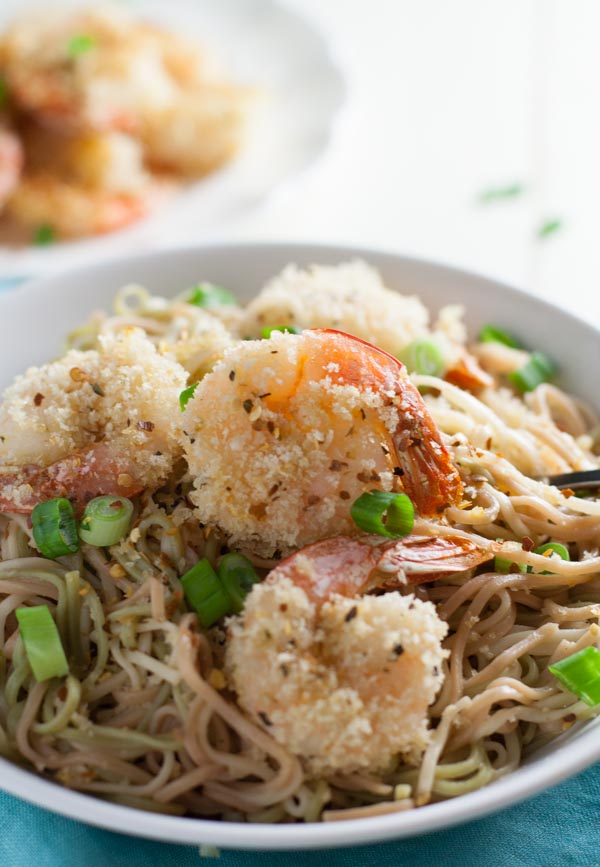 Angel Hair Pasta is my noodle of choice here, and you can find our nests here.  Of course you can substitute any long shape.  And if you or any group you know needs some fundraising help, you can share this link!
Print
Oven Fried Bang Bang Shrimp Pasta
Crunchy oven fried shrimp tossed in a bang bang sauce! Yum!
Ingredients
12

–

14

ounces Angel Hair Pasta Nests (or any long shape)

1

–

1/4

pounds of fresh shrimp, peeled, deveined, tail on (I used

21/25

per pound)

1 1/4 cups

panko (Japanese breadcrumbs)

1/2

t. dried basil

1/2

t. dried thyme

1/2

t. garlic salt

1

t. sweet paprika

4

T. unsalted butter, melted

2

T. olive oil
Dipping Sauce

1/4 cup

mayonnaise

2

T. Sweet Chili Sauce (Mae Ploy)

1

T. honey
Pasta Sauce – add below to Dipping Sauce

1/4 cup

chicken broth

1

T. rice vinegar

3

T. light soy sauce

1

t. Aleppo pepper flakes
Garnish

2

–

3

green onions, chopped
Aleppo pepper flakes
Instructions
Cook pasta according to directions, drain, and lightly toss with olive oil.
Oven Fried Shrimp: Mix panko, basil, thyme, garlic salt, and paprika in a bowl and set aside.
Whisk together the melted butter and olive oil in a bowl.
Dip shrimp into butter mixture and then coat in the panko mixture. Spread on a baking sheet.
Bake shrimp at 400 degrees for about 10-11 minutes until shrimp are opaque throughout and beginning to curl.
Dipping Sauce: Mix mayo, sweet chili sauce, and honey in a bowl. Ready to serve shrimp as an appetizer!
For Pasta Sauce: Add chicken stock, rice vinegar, soy sauce, and Aleppo pepper to Dipping Sauce. Whisk until thoroughly blended.
Pasta: Add cooked pasta to a large sauce pan over medium heat. Pour the pasta sauce and stir until blended and warmed.
Serve pasta on plates and top with desired amount of fried shrimp. Top with green onions and Aleppo pepper to taste!
Join our email list for fresh pasta recipes delivered to you every week!
Your information will NEVER be shared or sold to a 3rd party.