Simple Pesto White Wine Sauce with Bay Scallops
Yeeesssss!  Yippee! I'm literally hopping around the kitchen. (note the Easter Bunny reference :))  I can't tell you how happy I am to share this Simple Pesto White Wine Sauce with Bay Scallops.  Please don't pass-over it.  (OK…Enough!)  It would, though, make a fun side dish sometime this week.
What is better than a combination of garlic, white wine, pesto, and butter?  Absolutely NOTHING!  And you know I "love me some" shellfish.  (grammatically incorrect but still the truth).  If you need proof of that, you can check out these mussel, clam, or shrimp recipes.  Do I have a shellfish disorder?!  If so, I'm OK with it.  And because we headed to South Florida for Spring Break a couple of weeks ago, I had to go there!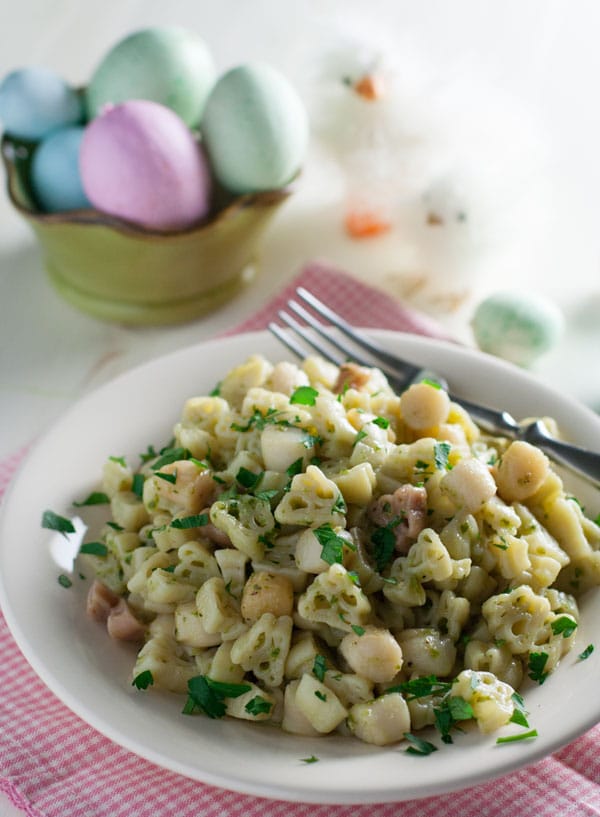 The fact that this recipe is super easy guarantees it will become a regular "back pocket" recipe in your kitchen repertoire.  I love having a couple go-to, easy to throw together at the last minute recipes that I know EVERYONE will love.  And if there is someone who doesn't…it's honestly their problem.  🙂
And this recipe in particular is setting a high bar because of the many possibilities with added ingredients and combinations.  In fact, I'd almost call it a "classic", a good "basic"…I know it's not one of the 5 Mother Sauces that are the basis for all classical gourmet sauces, but maybe we could begin petitioning for #6?!
The simple sauce works with long or short pasta shapes.  I really like the combination with short shapes (especially Bunnies this time of year) because the bay scallops are small and similar shape to the pasta pieces.  They are tender and bite-sized.  I just love the ease of eating this dish with a fork, but the unfortunate risk is that you may eat this too fast, and therefore, eat too much.  What problems we foodies have!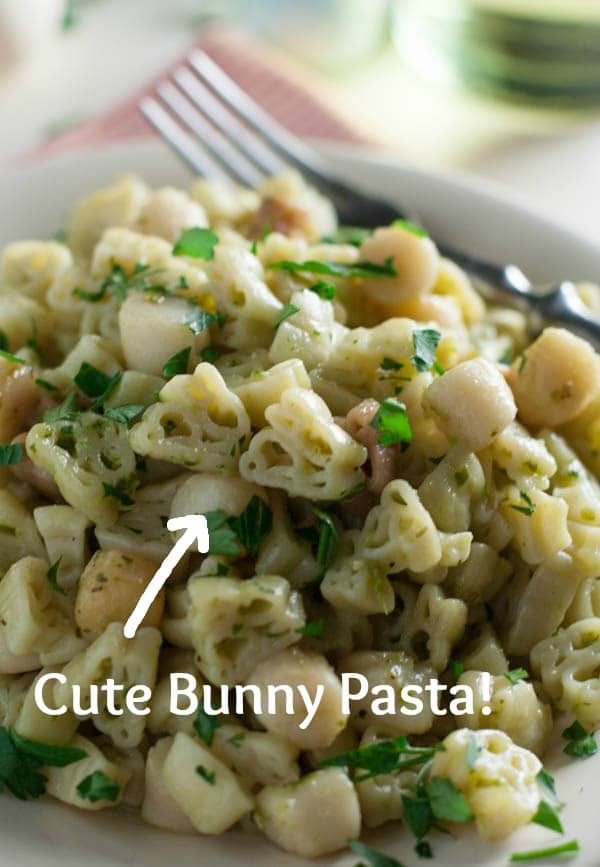 The real surprise short cut ingredient is the jarred Basil Pesto.  My favorite is the Kirkland brand from Costco.  Pesto can enhance everything from sandwiches, pizzas, tomato sauces, cheese plates, and all kinds of appetizers.  And in this sauce, the pesto is no exception!  I'd love to know 1) if you love this sauce as much as I do, and 2) what did you do to enhance this recipe?!  Have a fun and Happy Easter!
If you want to browse all the cute shapes that can be made with this recipe, go here.  And if you have any fundraising needs, we have a fun effective program for you!
Print
Quick Pesto Wine Sauce with Bay Scallops
Srumptious pesto wine sauce – put almost anything on it and its a hit!! It will become a family favorite.
Ingredients
14

–

16

oz. bag of Pasta (I used Bunny Hop, but any short or long shape can be substituted)

1/2 cup

butter

1/2

t. garlic powder

2

cloves minced garlic

1/2

t. dried oregano

1/4

t. black pepper

2

lbs. bay scallops

1/2 cup

white wine

2/3 cup

jarred basil pesto ( I used the Kirkland brand from Costco – it's great)
Chopped tomatoes for garnish
Instructions
Cook pasta according to package. Drain, but do not rinse.
While pasta is cooking, in a large skillet over medium heat, melt butter and add garlic powder, oregano, and pepper.
Add minced garlic, bay scallops and white wine and cook for 5-6 minutes until scallops are opaque (do not overcook!)
Reduce heat to low and add jarred pesto. Stir and heat through.
Add drained pasta to skillet and toss.
Top with fresh chopped basil and/or chopped tomato.
Serve and enjoy!
Join our email list for fresh pasta recipes delivered to you every week!
Your information will NEVER be shared or sold to a 3rd party.