Linguine with Mussels and Chorizo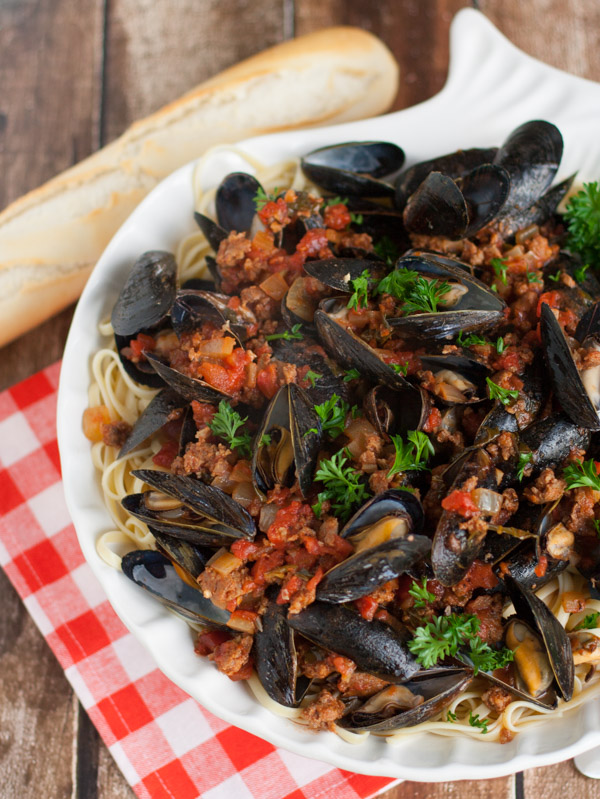 I love muscles mussels!  And I do mean all types.  But this has nothing to do with my New Year's resolution to personally uncover or build more of them.  This has to do with one of the best and affordable shellfish out there.  Beautiful black and/or greenish shells.  When opened the plump yet tender mussels are full of flavor and enhanced by wonderful sauces.  So say hello to Linguine with Mussels and Chorizo!  Why not take it up a notch?!  Easy to cook and easy to eat – sometimes uncontrollably.  And always, always serve mussels with fresh baguettes or Italian bread.
Don't you love it when you see mussels on the menu?  "Would you like the red or white sauce, ma'am?"  ABSOLUTELY one of my favorite questions because it means I'm not cooking 🙂 and I'm about to eat more seafood.  My husband John has nicknamed me "Surf and Surf".  I think it's funny and my family (haha) sure has caught on…but don't read too much into it.  Literally, I can't get enough shellfish.  So I'm not a cheap date…but at least I'm predictable (and still fun)!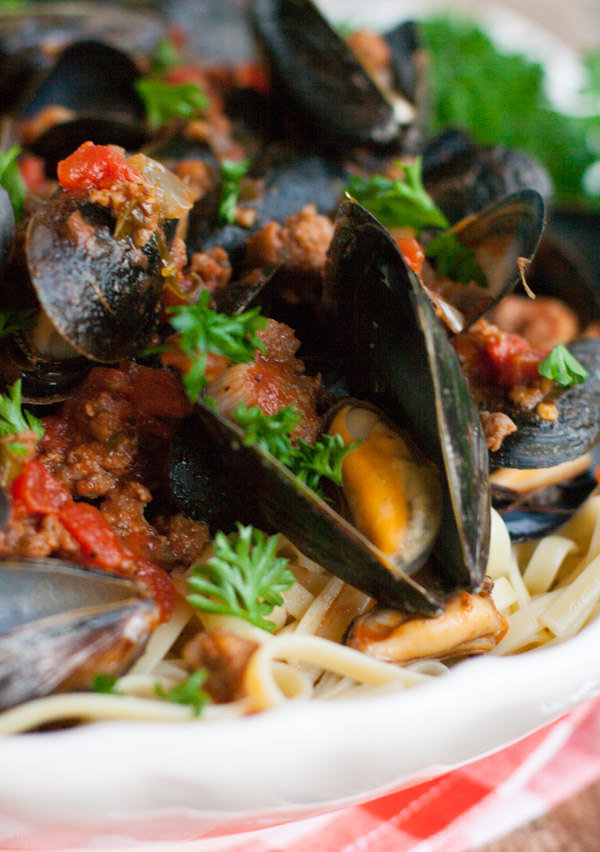 Needless to say, when you want to eat a lot of mussels, it's a great shellfish to make at home. I frequent Costco's "traveling road show events"…excellent seafood and selection at a fair price.  But call ahead because it usually only happens around holiday weekends.
The presentation of a huge platter of freshly steamed mussels is a real crowd pleaser.  Very colorful with the bright tomatoes and fresh basil.  And mussels can make a family meal or gathering fun and quite interactive.  With the boys, it's more like a race.  The vultures surround the table and hands start moving…watch out!  In fact, like any experienced cook, I've learned to keep a few aside for myself. 🙂
This recipe was inspired by Marie, an Italian food blogger over at Proud Italian Cook.  Her recipe for grilled clams is fabulous!  These clams are wonderful by themselves, but I thought, why not try a version of the sauce with mussels and serve it over some delicious linguine?  I can serve it as a meal and try to control the vultures!  At least for the first serving.  Results?  My family went crazy.  All was gone in a flash.  And if it seems like my 2015 is off with a seafood theme, beginning with Shrimp, Avocado, & Spinach Pasta with a Mango Vinaigrette, you are right!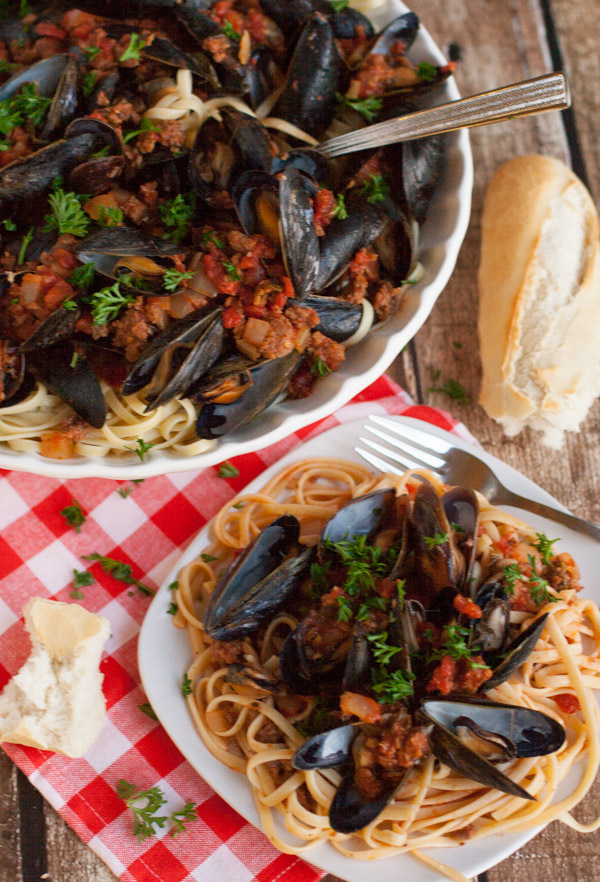 And let me say RIGHT NOW that you cannot make enough of this sauce.  There is always leftover bread and pasta and the leftovers will be enjoyed and fought over as much as the meal itself! Fresh garlic, diced onion, chorizo, clam juice, wine, tomatoes, and basil…there is no better combination!  See the before and after below?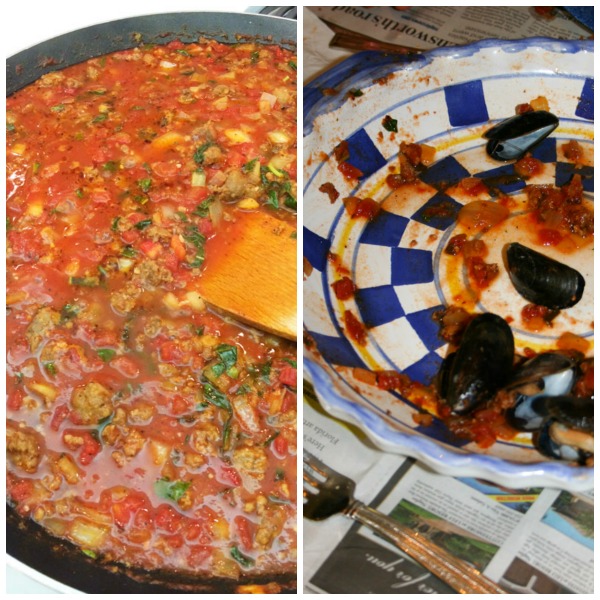 So shellfish lovers, get ready for a one-of-a-kind meal.  Linguine with Mussels and Chorizo – yum!  Enjoy the sauce with clams or mussels or frankly almost anything.  And don't be shy about making too much sauce!
If you are interested, check out the pasta made by us here at The Pasta Shoppe.  Sorry but regular linguine will not be found!  And if you have any fundraising needs, or know someone who does, please check out Fun Pasta Fundraising!
Print
Linguine with Mussels and Chorizo
Fabulous Mussels and Chorizo over Linguine…a wonderful meal! Don't forget the baguette! Note: I would double this recipe! I could have used more sauce!
Ingredients
1

lb. linguine (or other long pasta like angel hair or spaghetti) – note: you'll use about 1/2 the pasta for one sauce recipe

1

5 lb. bag of mussels

1

lb. chorizo (can sub Italian sausage if you like)

1

28 oz. can of whole Italian tomatoes

1

onion, diced

3

cloves garlic, minced

8 oz

. bottle of clam juice

1

bottle dark beer (any brand will do)

1 cup

white wine (use something inexpensive and dry)

1 ounce

or more fresh basil, torn or chopped, plus more for garnish

2 tsp

. dried oregano

1 1/2

t. salt

1/2

t. sugar

1/2

t. red pepper flakes

3

T. butter
Fresh parsley for garnish
Instructions
Cook pasta as directed on package. Drain, rinse and keep aside.
For sauce, brown chorizo in large sauce pan. About half way until done, add onion, stir for a couple of minutes and then add garlic. To drain excess fat, remove pan from stove top, tilt pan, and use paper towel to soak up fat. Helps to have 2 sets of hands!
Remove whole tomatoes from can and dice on a cutting board. Add tomatoes and all juice to sauce pan.
Add clam juice, white wine, basil, oregano, salt, red pepper, and sugar to pan. Simmer on med-low for 20-25 minutes. You will add the butter to the sauce right before serving.
In the meantime, rinse the mussels and remove any whose shells are cracked or open. (a very small opening is OK). Add beer to a large deep stock pot. Bring to medium high heat until beer is steaming. Add mussels to stock pot. Cover with lid. In about 3 minutes, open and stir mussels to move them around the pot. Cover again for approximately 2-4 minutes more. Mussels are ready when they are all open! Cooking time does vary because of heat and pot…but they are ready when opened!
Add butter to sauce and combine thoroughly.
On a plate or platter, add your preference of pasta. Top with sauce and plenty of mussels. Then add some more sauce and fresh basil and parsley. Serve with hot fresh bread!
I had some pasta leftover and realized I needed more sauce – so please double for maximum enjoyment!
Notes
Double this recipe if you can…I wish I had! I used approximately half the pasta for one recipe of the sauce.
Join our email list for fresh pasta recipes delivered to you every week!
Your information will NEVER be shared or sold to a 3rd party.