Classic Tomato and Basil Pasta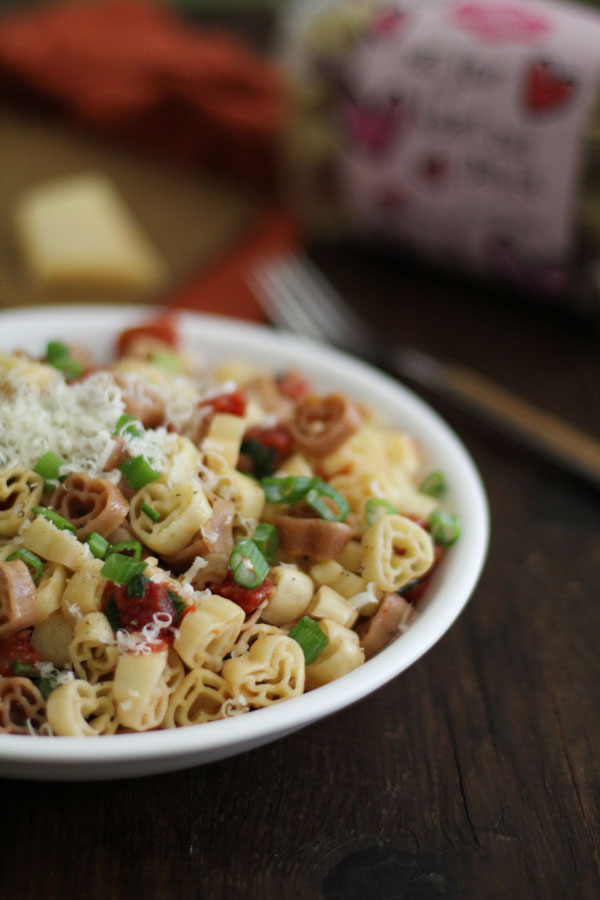 Some things are always in style and always romantic. LOVE. HEARTS. CHOCOLATE. PASTA. PASTA?! ALL classics in my opinion. And I know some of my fellow Italians would agree. Granted, only a pasta lover like me would appreciate a box of specialty pasta as much as a box of chocolates…but then again, those who love me know that I'm not much of a sweet tooth. (Believe me, I do have my vices :))
So, in the spirit of simplicity and love and the special "Heart" holiday approaching, I'd like to share our Classic Tomato and Basil Pasta. With heart shaped pasta of course.
Fresh.
Elegantly Simple.
Timeless.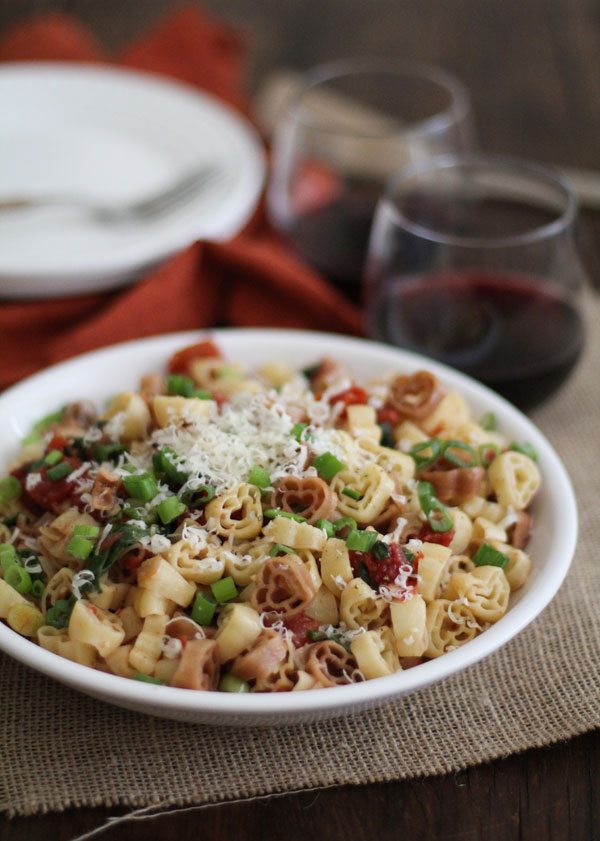 Tomato and Basil Pasta has just a few ingredients. Not difficult. Not hard to understand. And usually you'll have everything you need right in your kitchen. Tomatoes are usually a pantry staple. You can use cherry, grape, Campari, fresh home grown, and even canned Italian! Now when it comes to basil, fresh basil is really preferred over dried…but in a pinch!?
And because I'm feeling a little sappy thinking about all the things I love – cooking heart pasta does this to me – I thought I'd recap some of my favorite recipes since the launch of this blog! Thanks in advance for indulging me. 🙂
Light Fettuccine Alfredo – creamy, light, and delicious!
Tailgate Pasta Salad with Beans and Corn – a perfect Superbowl side.
Linguine with Mussels and Chorizo – enough said.
Kale and Walnut Pesto – classic!
Shrimp, Avocado, and Spinach Pasta with Mango Vinaigrette – my latest fav!
If you have enjoyed making any of these dishes, please comment because I'd love to hear your thoughts! And I hope this Classic Tomato and Basil Pasta becomes one of the quick and simple pasta dishes in your repertoire. Of course it does taste best with our pasta…but at the expense of sounding "heartless" you can use any pasta shape. We heart pasta. All types!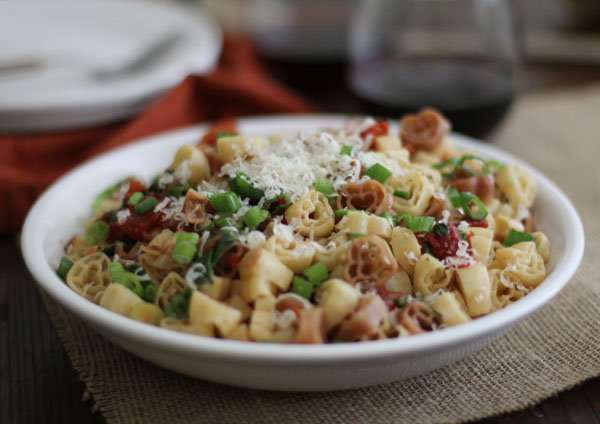 If you'd like to browse our pasta selection, visit The Pasta Shoppe.  And if you are anyone you know has fundraising needs, please check out our Fun Pasta Fundraising program – we'd love to help!
Print
Classic Tomato and Basil Pasta
Simply a classic! Serve by itself or as a side to any grilled meats or fish.
Ingredients
14 oz

. bag of Heart shaped pasta (or any pasta shape!)

2

T. olive oil

2

cloves garlic, chopped

½ cups

sliced green onions

¼

–

½

cup fresh basil, chopped, or

1

–

2

t. dried basil

1

28 oz. can Italian diced tomatoes, drained (or the equivalent of fresh tomatoes)

1

t. salt, or to taste

¼

t. freshly ground pepper
Grated Parmesan cheese for topping
Instructions
Heat olive oil over medium heat in a large sauté pan. Add chopped garlic and green onions and sauté briefly.
Add tomatoes, basil, salt, and pepper to combine until hot.
Reduce heat and keep warm.
Cook heart pasta in gently boiling water for approx. 6 minutes until tender but firm (salt optional). Or follow package instructions if using other pasta.
Drain and add to tomato basil sauce.
Raise heat and gently combine until hot.
Top with Parmesan cheese and serve.
Join our email list for fresh pasta recipes delivered to you every week!
Your information will NEVER be shared or sold to a 3rd party.