Summer Corn and Tomato Pasta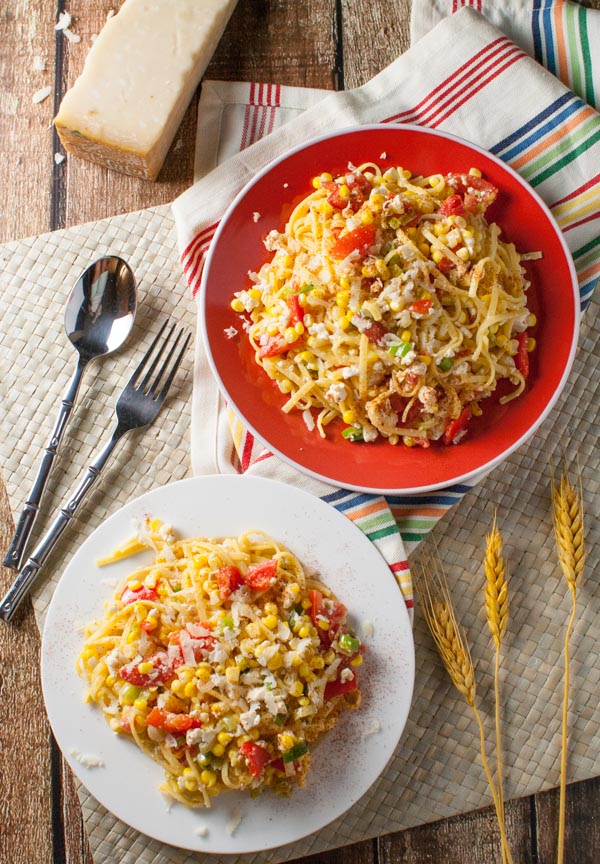 False Alarm!
This is how technology goes…especially for a non-techy like myself.  When they said, "It will be just a few days.  Post a message on your blog and let your readers know and you'll be up and running shortly."  Ok, I totally believed it and – false alarm – that was weeks ago.  To be fair, we did hit a few unanticipated hiccups with the new blog and site launch.  And it has set us back a few weeks or more…but it's really not anyone's fault.  It's just technology.  And we live in a techno-dependent world.  Anyone with a laptop or cell phone or any other kind of device (which is all of us!) gets it.  Sometimes you just have to roll with it…and stuff your face with a bowl of Summer Corn and Tomato Pasta!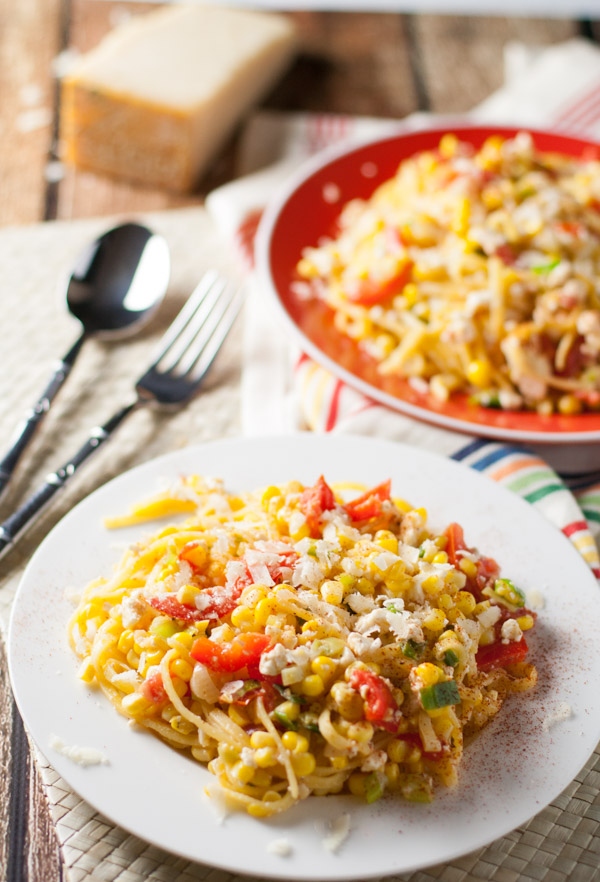 So here I am.  Although my recipe posting paused to the outside world, I've been cooking and eating more pasta than I have all summer!  I hope you've been keeping up without me!  🙂
I spent about 10 days with my sister, my Mom (Cookie), and both our kiddos in Florida, soaking up the heat and creating all kinds of pasta yumminess.  It did help that the last three days were 24/7 torrential rain storms.  Seriously, I've never seen anything like it!  So with my sister's encouragement and my nieces unending enthusiasm for pasta, I cooked and cooked and cooked all week.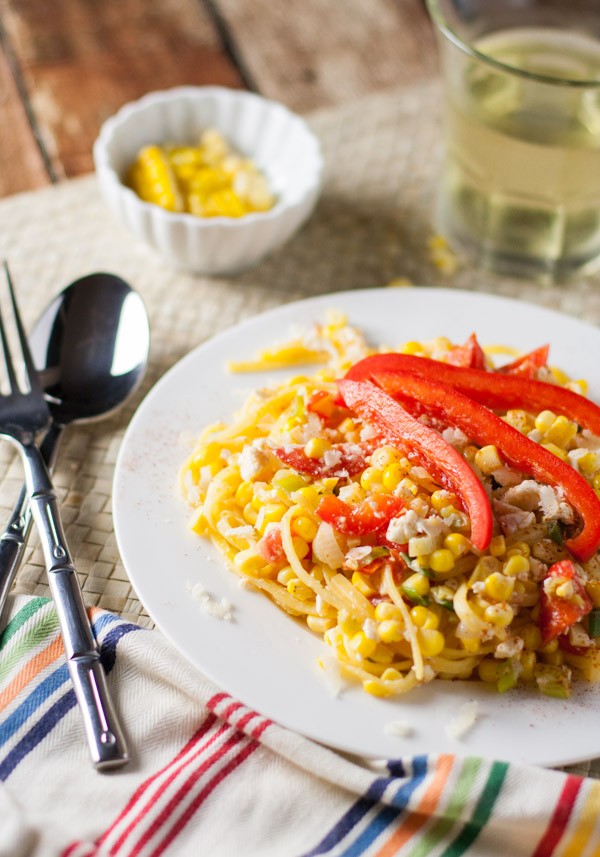 So the next few blog posts will be reflections and creations of my trip…and the first one I'm excited to share is a fresh Summer Corn and Tomato Pasta.  I used our Gluten Free Tagliolini and it may seem unlikely that a gluten free dish can taste so good, but this recipe will change your thoughts on great taste and gluten free!  And we must take advantage of fresh summer corn and tomatoes from the farm stands and grocery stores while they are in season!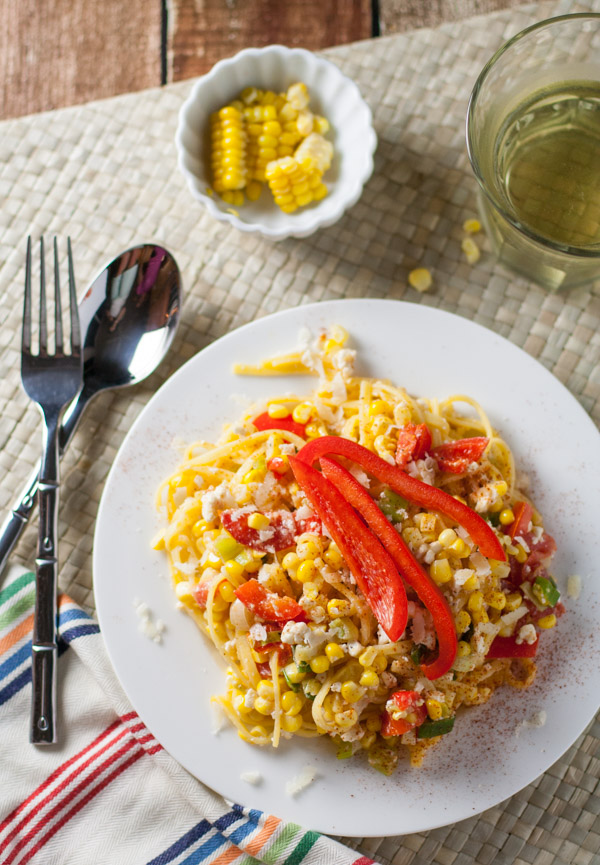 Here is what makes it easy:  you can microwave the corn in the husks in the microwave.  Do not overcook, as you want the corn to be firm and a little crunchy.  Using a knife, you can cut the corn off the cob – yum! Nothing is better!  Summer tomatoes are at their prime and you can really use whatever you have on hand.  The simple combination of the feta cheese, simple seasonings, a small amount of oil and the reserved pasta water creates the ultimate healthy summer pasta.  And for more summer fun, try this or this!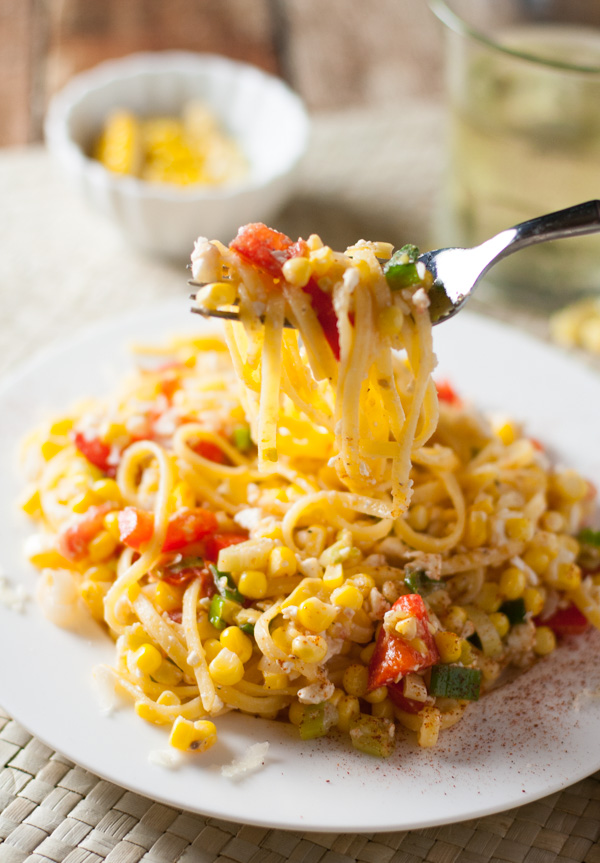 You can serve this as a main course, but I really think it shines as a side dish for any summer cookout or dinner party.  And note that you can use any pasta, but I encourage you to try gluten free pasta…why not?  It's like technology – you gotta keep trying new things, following trends and learning! 🙂
Print
Summer Corn and Tomato Pasta
Summer freshness at its best! Simple to make and a delicious dish for any cookout or poolside gathering! Make with gluten free pasta or any other pasta…
Ingredients
8 oz

. Gluten Free Tagliolini (or any other long shape, wheat or glu

ten

free)

3

ears of corn, cooked, corn sliced off the cob

3

T. extra virgin olive oil

1

red pepper, chopped

1

bunch green onions, chopped

2

medium tomatoes, chopped, or

4

–

5

Campari tomatoes, chopped

1

T. plus t. salt

½

t. pepper

1 cup

feta cheese, crumbled
Fresh chopped parsley and Parmesan for garnish
Instructions
Cook ears of corn in microwave in husks. For 3 ears, cook approximately 3 minutes, rotate, and cook another 2-3 minutes. Let cool and then remove husks and slice corn off husks with a sharp knife.
Bring large pot of water to a boil, add 1 T. salt and pasta to pot. Reduce heat to a medium gentle boil and cook for 7-8 minutes. Before draining, save ½ cup of the pasta cooking water. Then drain in colander and rinse briefly with water.
In a large sauté pan, cook red peppers and green onions until tender. Add ½ t. salt and ¼ t. pepper to mixture.
Add corn and tomatoes to pan, add the rest of the salt and pepper. Combine until heated through.
In a large bowl, place pasta and then corn mixture. Add feta and pasta water and toss thoroughly. Add and adjust seasonings as desired.
Top with chopped parsley and fresh Parmesan. Enjoy!!
Serves 4.
Join our email list for fresh pasta recipes delivered to you every week!
Your information will NEVER be shared or sold to a 3rd party.