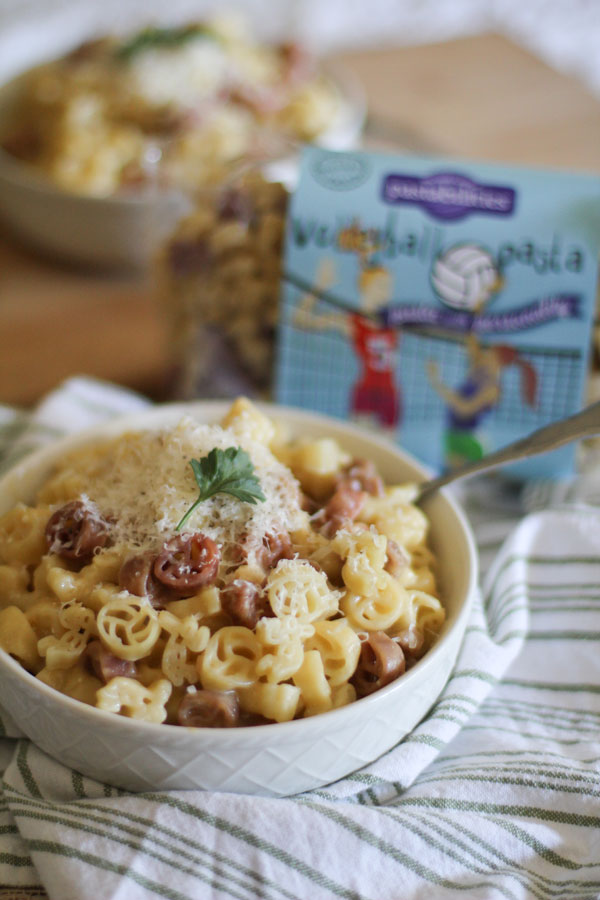 It has to be one of America's all-time favorite ways to eat pasta: Fettuccine Alfredo. Besides the simple combination of butter with Parmesan, it's usually kids' first introduction to enjoying "pasta" for dinner. I know this was true when my boys were little. It is a go-to, fast and easy meal. And in a real pinch, the ready-made sauces at the grocery store are pretty darn good. Fettuccine Alfredo is a home run every single time which makes dinner easy and Mom and Dad very happy!
Oh ya…but there is one small drawback to the joy…the amount of fat and calories. Fettuccine Alfredo is also one of the richest, heaviest, most caloric dishes in any pasta repertoire. It is the kind of dish that makes me dream of the "endless bowl". I can't stop eating it and I'm not ashamed to say…I LOVE it! But it's time to Lighten-It-Up folks. Let's make Light Fettuccine Alfredo!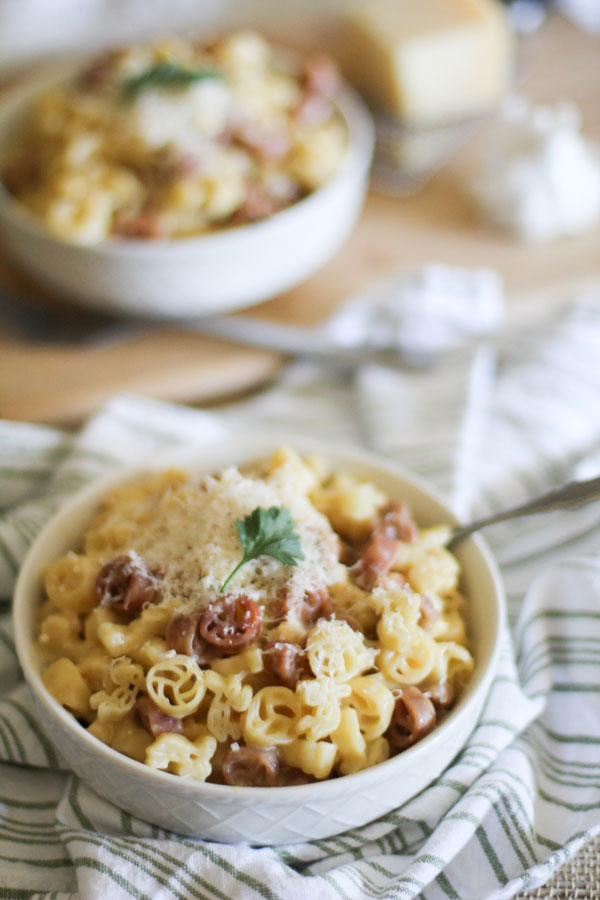 Let's get real. Regular Alfredo is not an everyday pasta dish. We are all more health conscious than ever before. We care about our family's waistlines and their overall healthy diet. We want to be setting good eating habits for our children. Our own first lady, Michelle Obama, has brought the issue of childhood obesity to the forefront of our national conversation. There is now an official "initiative" with a task force assigned to it, to address this important issue of our children's' health. The conversation is influencing our school snack options, school lunch programs and even school fundraising choices.
So let's do it! Let's take our favorite Alfredo and bring to the lighter, healthier side of pasta dishes we serve our families! Say hello to Light Fettuccine Alfredo. My mother "Cookie" is always testing and creating lighter recipes and versions of some old favorites. We are both crazy about the options that Greek yogurt has brought to the cooking world. You can lighten up soups, sauces, dips, and even pasta dishes with this one simple ingredient. Here it takes center stage.  And notice our cute Volleyball Pasta.  It fit with our theme of "healthy" and active.  It's bite size shape is easy to eat, but any pasta will do – long or short!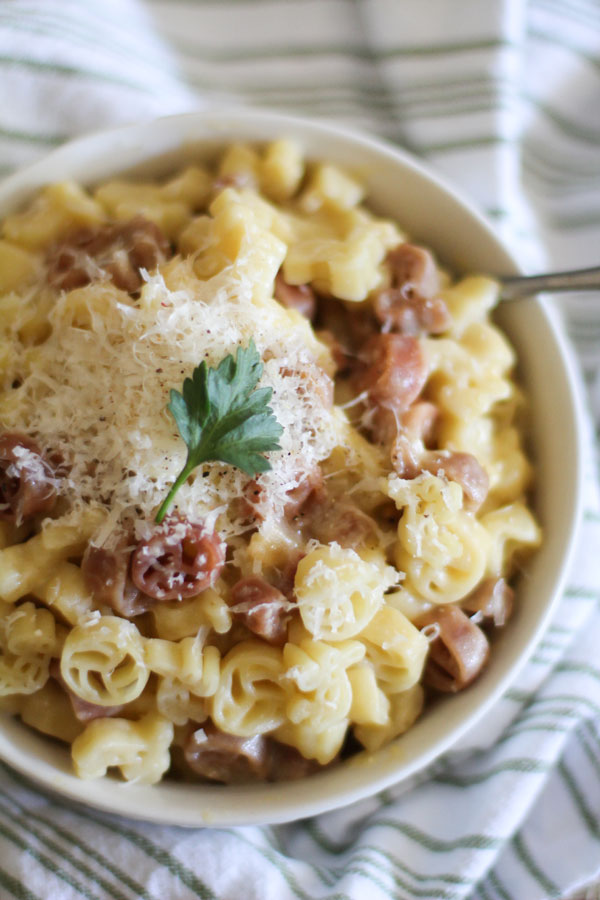 Light Fettuccine Alfredo is a new Aron family favorite. It is wonderful with steamed broccoli, grilled chicken, or any other additions that make you happy. You can go "endless bowl" and serve it free of any guilt. One of my favorite food bloggers, Pinch of Yum, makes another winning version of a Healthy Fettuccine Alfredo made with cauliflower. Be sure and check it out as another yummy alternative, or if wanting a veggie loaded healthy recipe, try our Veggie Patch Pasta.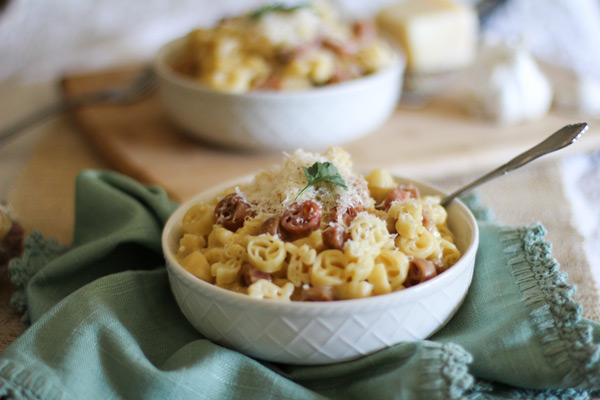 So CHEERS to healthier pasta eating…without losing all the delicious, creamy, rich flavor! I'd love to hear your ideas for lightening up your favorite pasta recipes too. Please note: I have not totally given up on creamy, buttery, rich pasta meal experiences. In fact, I may share some recipes soon. It's all about moderation, right? 🙂
If you are interested in seeing all of our pasta shapes, you can visit The Pasta Shoppe website.  And if you have any fundraising needs, please check out Fun Pasta Fundraising!  We'd love to hear from you!
Print
Light Fettuccine Alfredo
A healthy guilt free alternative your family will love!
Ingredients
14

–

16

oz.bag of Pasta (any shape will do – long or short)

2

Tbs. butter

5

garlic cloves, minced

4 tsp

. cornstarch

1/8 tsp

. ground nutmeg

1 ½ cups

low fat, low sodium chicken broth

1 ½ cups

grated Parmesan

1 ½ cups

Greek Yogurt (do not use non-fat, but regular)
Salt and pepper
Instructions
Cook pasta in gently boiling water for approx. 6 minutes until tender but firm (salt optional), and drain when done. (or by box directions)
While pasta is cooking, combine cornstarch and nutmeg in a medium bowl. Whisk in chicken broth until smooth. Set aside.
In a large sauté pan, melt butter over medium heat. Add garlic and cook for approx. 2 minutes, until fragrant.
Add chicken broth mixture into sauté pan, bring to a simmer, whisking occasionally. Let the mixture reduce for approx. 2-3 minutes. Add 1 cup of cheese and whisk until melted. Remove sauté pan from heat, and whisk in yogurt until sauce is smooth.
In a large bowl, toss pasta with sauce. Season with salt and pepper to taste. Top with remaining Parmesan and serve!
Join our email list for fresh pasta recipes delivered to you every week!
Your information will NEVER be shared or sold to a 3rd party.