Creamy Oriental Pasta Salad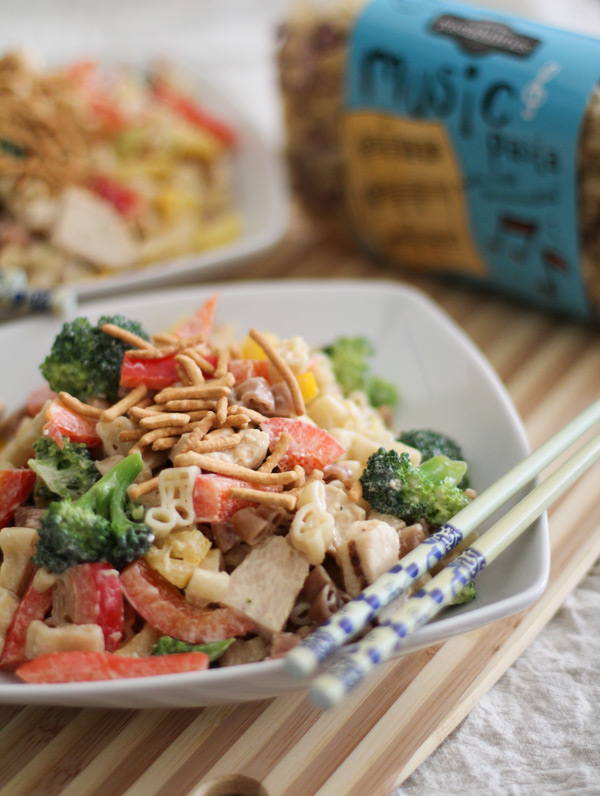 I'm a California girl. I was born in Los Angeles with a head full of blond hair. (And yes, I'm still a natural blond). Most people can't believe it because we moved to Nashville when I was in 2nd grade, which was a few years ago to say the least…and I've been throwing' around "y'all" ever since! And hear me when I say y'all will love my Creamy Oriental Pasta Salad.
I still love my homeland state. Why? It's the foodie epicenter of our great country! Before the word "foodie" even made it into our vocabulary, chefs in California were churning out all kinds of ethnic and unique foods. Even today, the diversity of the cultures in California keeps it on the cutting edge of current food trends.   Lots of healthy foods. Lots of fusion cooking. I can't get enough! It's a fabulous state to explore. And let's not forget the beaches, the mountains, the vineyards, the coastline, the weather…aaahhhh, Cal-i-forn-i-a…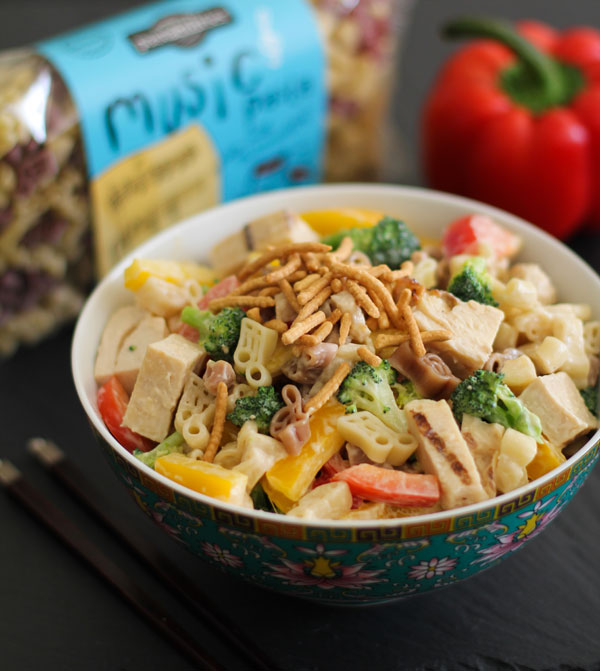 My best friend growing up was Bernie, a cute Chinese boy who lived across the street. His mother Aegean always made the most wonderful dishes. My mother learned all kinds of Asian cooking tips from Aegean and introduced our family to these new flavors. Cellophane noodles. Egg rolls. Egg drop soup. Won tons. Egg Foo Young. When asked today what I want for my special birthday dinner? No question: Mom's egg rolls – a must. A labor of love – yes. Time consuming – yes. Delicious – beyond. Memories – lots of happy ones.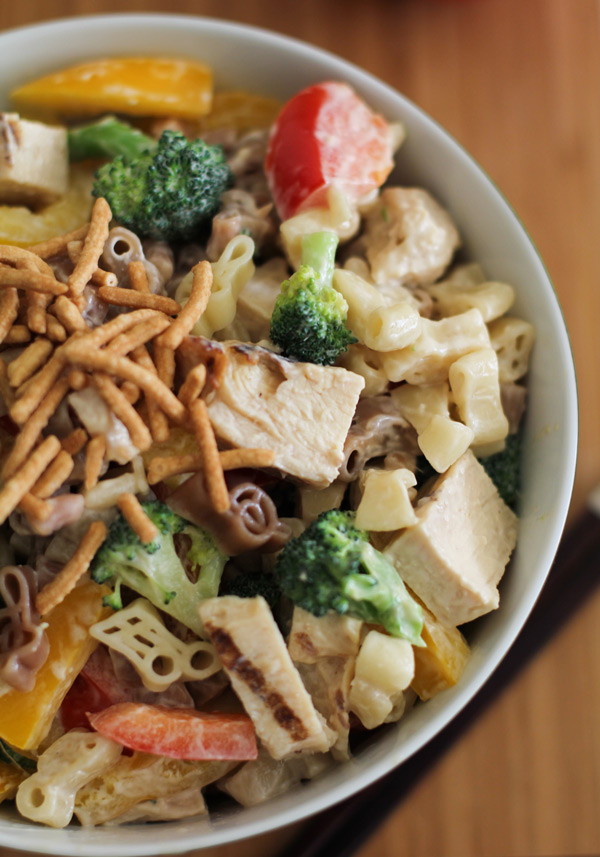 Asian flavors influence so many dishes these days. Sriracha hot sauce? You might as well call it ketchup. It has taken over menus and the grocery shelves. Put it on everything. It would taste great on our Taco Pasta Salad too.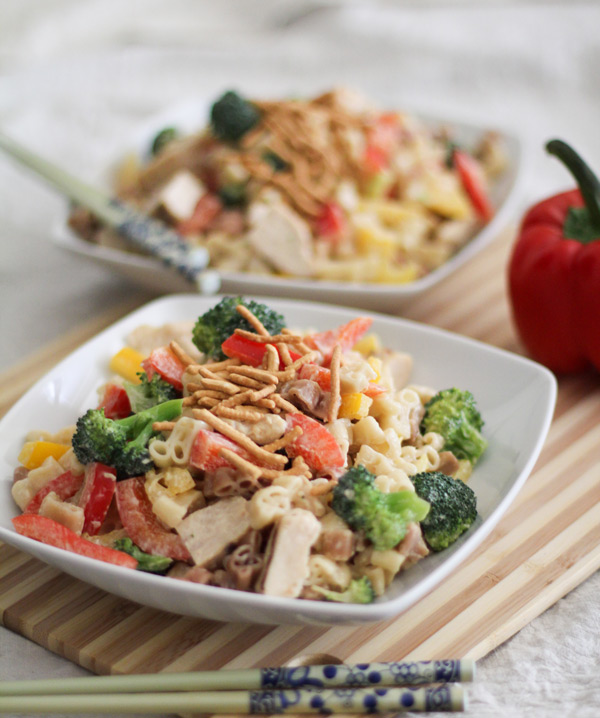 One of the wonderful things about pasta is that it can serve as a canvas for all kinds of unique flavors. This Creamy Oriental Pasta is just the first of many more Asian style noodle recipes we will share. You will notice some key ingredients that just scream Asia: fresh ginger, soy sauce, sesame oil, julienned vegetables…are you with me? And don't forget to top it off with chow mein noodles or toasted slivered almonds and a squirt of Sriracha! 🙂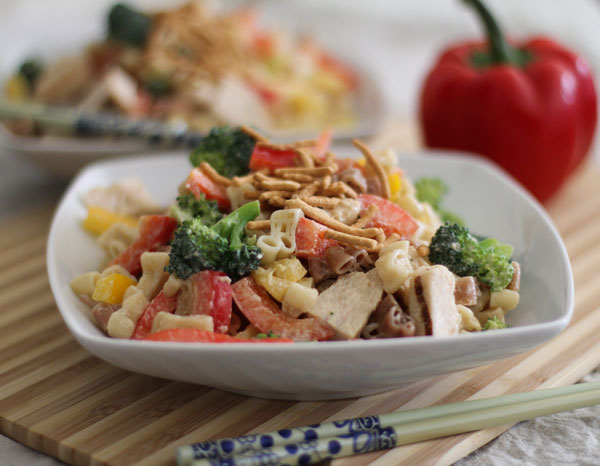 Musical Pasta is the shape used here…but any short pasta shape can be used. The combination of crunchy fresh vegetables with grilled chicken and the creamy Asian dressing is amazing. I've switched it up before and added grilled shrimp. It too can be "music to your ears". I hope you enjoy and I'd love to hear about some of your favorite Asian pasta dishes!
If you are interested in seeing all of our pasta shapes, you can visit The Pasta Shoppe website.  And if you have any fundraising needs, please check out Fun Pasta Fundraising!  We'd love to hear from you!
Print
Creamy Oriental Pasta Salad
This tangy Asian dish combines fresh veggies and your choice (optional) of grilled chicken or shrimp!
Ingredients
14

–

16

oz. bag of fun shaped pasta, or any short pasta shape

2 cups

red bell pepper, julienned, and cut into

1

" pieces

2 cups

yellow bell pepper, julienned, and cut into

1

" pieces

2 cups

broccoli florets, blanched in boiling water for

2

minutes, then drained and rinsed in cold water

2 cups

grilled chicken, cut into bite size pieces or use two 6 oz pkgs. ready to eat, Grilled Chicken Breast Strips, or 2 cups grilled shrimp. (both optional)
Chow mein noodles and/or slivered almonds for garnish
Creamy Oriental Dressing

1

large clove garlic

1

T. peeled and diced fresh ginger

1 ½ cup

mayo

3

T. soy sauce

1 ½

T. sesame oil

¼

t. each – salt, white pepper, cayenne pepper, or more to taste
Instructions
Cook pasta in gently boiling water for approx. 6 minutes until tender but firm (salt optional). Drain, rinse with cold water and toss with 1 T. sesame oil.
To make dressing, puree garlic and ginger in food processor. Add remaining ingredients and process until combined. Taste and correct seasoning.
In a large mixing bowl, combine pasta, veggies, and chicken or shrimp (if using) with dressing and toss gently to coat evenly.
Transfer to serving bowl. Serve immediately or cover and chill if making ahead. Garnish with paprika, chow mein noodles or toasted slivered almonds.
Join our email list for fresh pasta recipes delivered to you every week!
Your information will NEVER be shared or sold to a 3rd party.