Sun Dried Tomato Pesto Pasta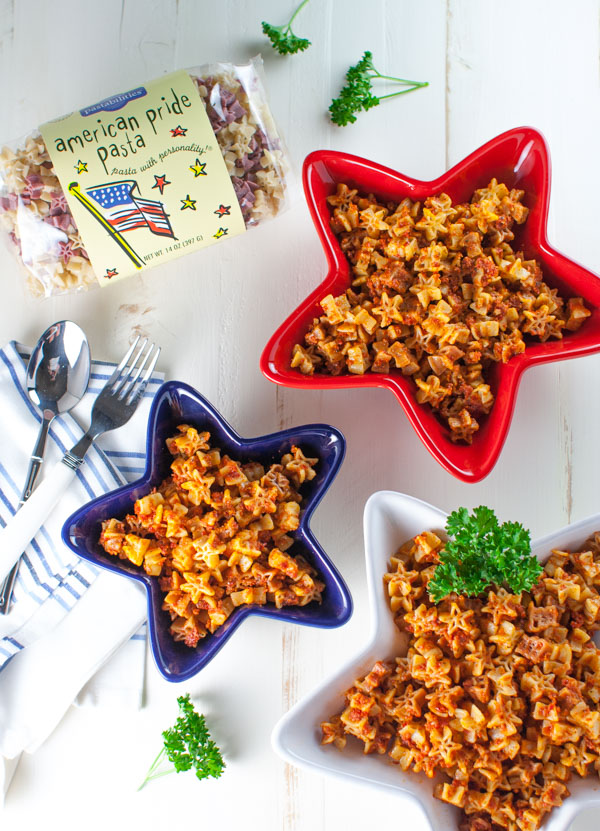 July 4th is just around the corner and it's time to get your bbq-poolside-lakeside-firework-picnic plans together! Whatever you do, the colors red, white, and blue must be involved. All things Patriotic. Although I did finally have to retire my cute flag bikini. (hahaha, right! I hope my sister read that)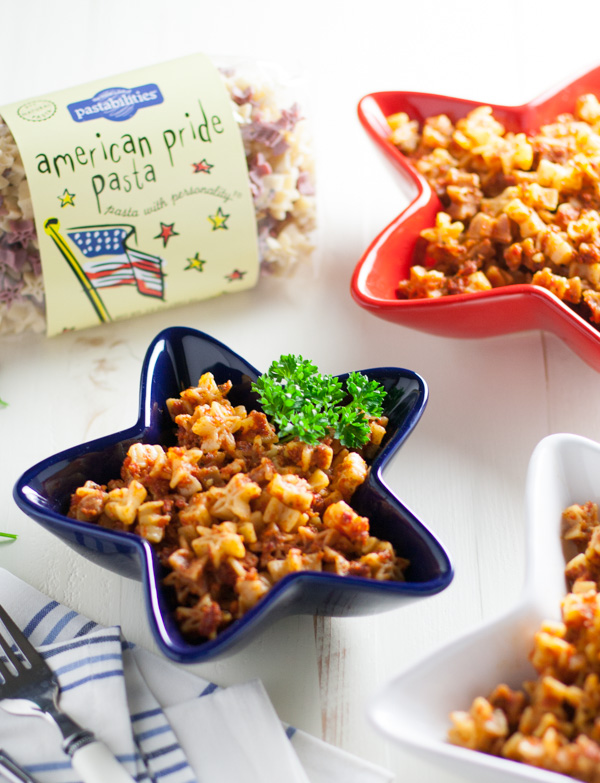 It's easy around our house because my husband John's birthday is actually ON July 4th. A July 4th baby! We can't get away from a blowout big celebration. We've accumulated more American themed "stuff" over the years to help accessorize for this great holiday…platters, plates, candles, streamers, flags, etc. But when I walked into Pier One a few weeks ago, I couldn't resist just one more! How cute are these star bowls?!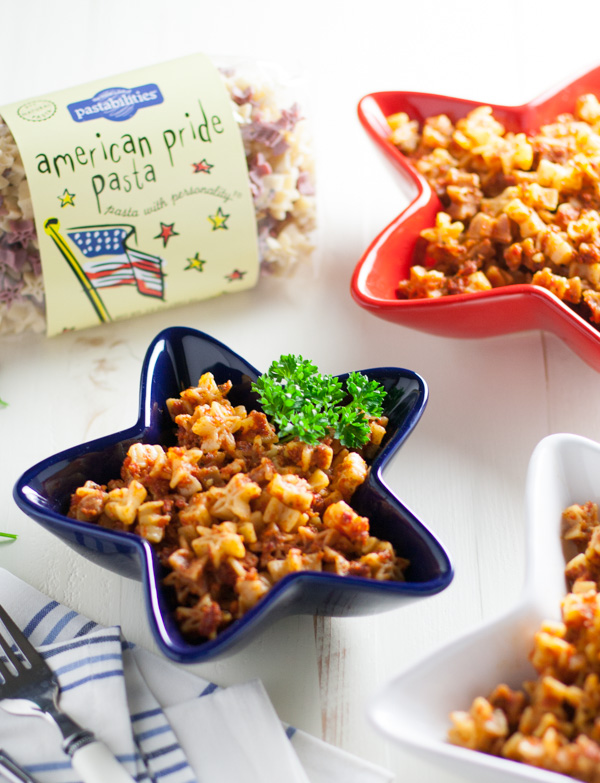 Of course being in the noodle business I'm thrilled that "pasta salad" is usually one of the traditional July 4th side dishes. So if you need to take something to your get together, let me recommend a few great ones – BLT Pasta Salad, Creamy Oriental Pasta Salad, and Arugula, Spinach, and Mozzarella Pasta Salad. But this year I really wanted to coordinate with the red, white, and blue theme, even down to the food itself.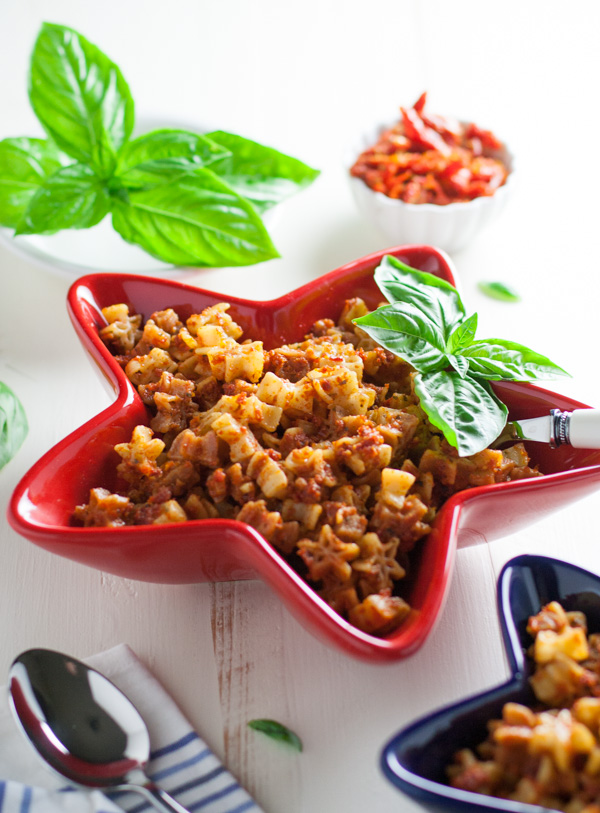 So I'm throwing another homemade pesto recipe your way, Sun Dried Tomato Pesto. Perfectly red and patriotic. Have you ever strayed from the more common basil pestos? If not, you will be happy that you did. Sun Dried Tomato Pesto's main ingredient is sun dried tomatoes. I purchased the Trader Joe's brand packed in oil and really loved the taste. Even if you are not the biggest fan and think sun dried tomatoes can taste pretty strong, I promise that combined with the fresh Parmesan and toasted pine nuts, the overall flavor is tomato-y (?) in the best sense of the word. (if that is a word?!)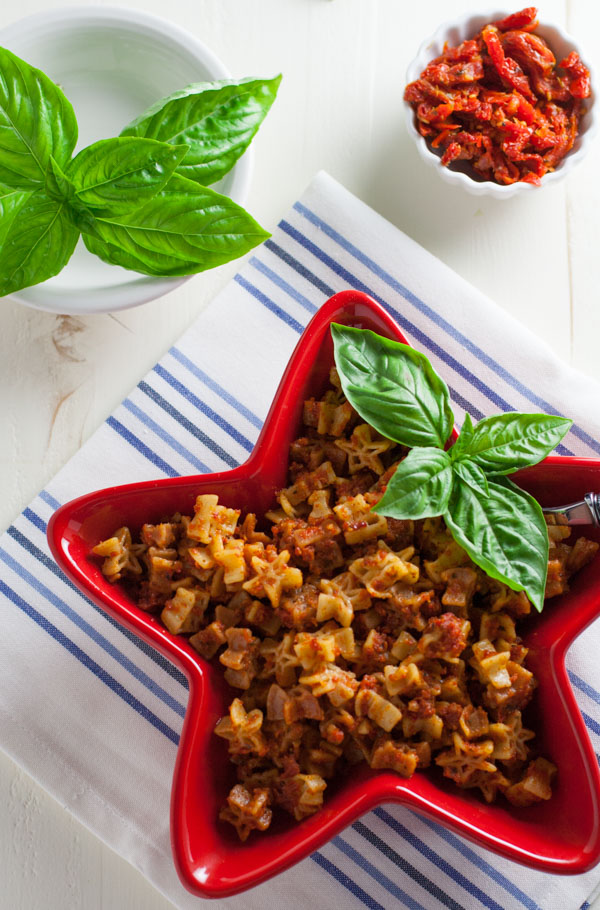 I really love the simplicity of this pesto. This pesto pasta can really complement any July 4th dishes. I imagine grilled chicken or ribs, corn on the cob, green salads, etc. The Sun Dried Tomato Pesto Pasta will just fit right in and be a crowd favorite. And if you happen to have some American Pride Pasta around, the stars and flags just take this dish over the top!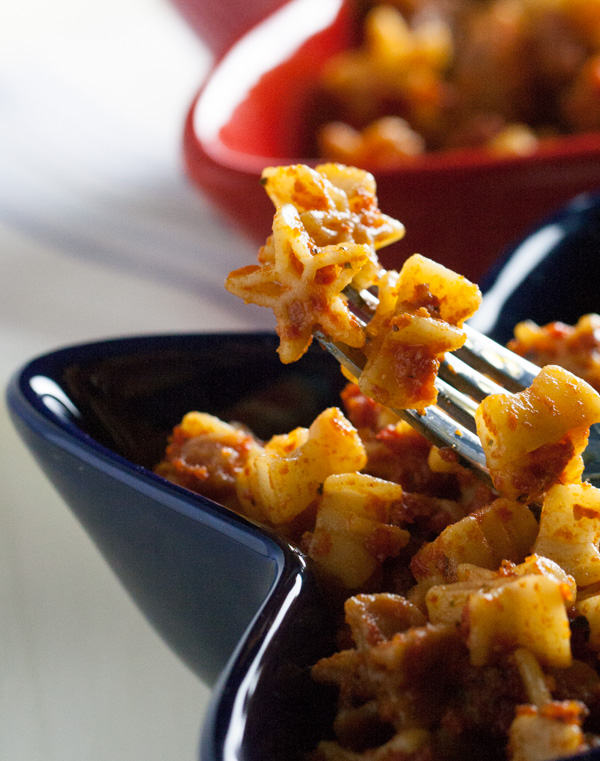 So here's to our great country! I hope you have a safe and happy 4th of July and please do bring some sort of pasta dish to the celebration! 🙂
Print
Sun Dried Tomato Pesto Pasta
A perfect pesto pasta to complement grilled meats and a green salad! Sun dried tomato pesto is flavorful and simple to make!
Ingredients
14

–

16

oz. bag of American Pride Pasta (or any other short shape)

1 cup

oil packed sun dried tomatoes, drained (I bought the Trader Joe's brand!)

1/2 cup

Parmesan cheese, grated

1/4 cup

fresh basil, chopped (fresh is preferred, but if not available you can substitute

1

T. dried basil)

2

T. pine nuts, toasted

3

cloves garlic, halved

3/4 cup

olive oil
Salt and pepper
Instructions
Place garlic pieces in food processor and pulse until completely minced. Note most garlic will then be stuck on sides of bowl.
Add sun dried tomatoes, Parmesan cheese, basil, and pine nuts to food processor.
With the food processor running, gradually add the olive oil until pesto is smooth.
Cook pasta according to package instructions, drain, but reserve 1/2 cup pasta water.
Combine pesto and reserved water in same pot. Add pasta and toss over low heat until pasta is coated. Add additional pesto as desired.
Season with salt and pepper to taste.
Serve warm!
Join our email list for fresh pasta recipes delivered to you every week!
Your information will NEVER be shared or sold to a 3rd party.