Everyday Basil Parsley Pesto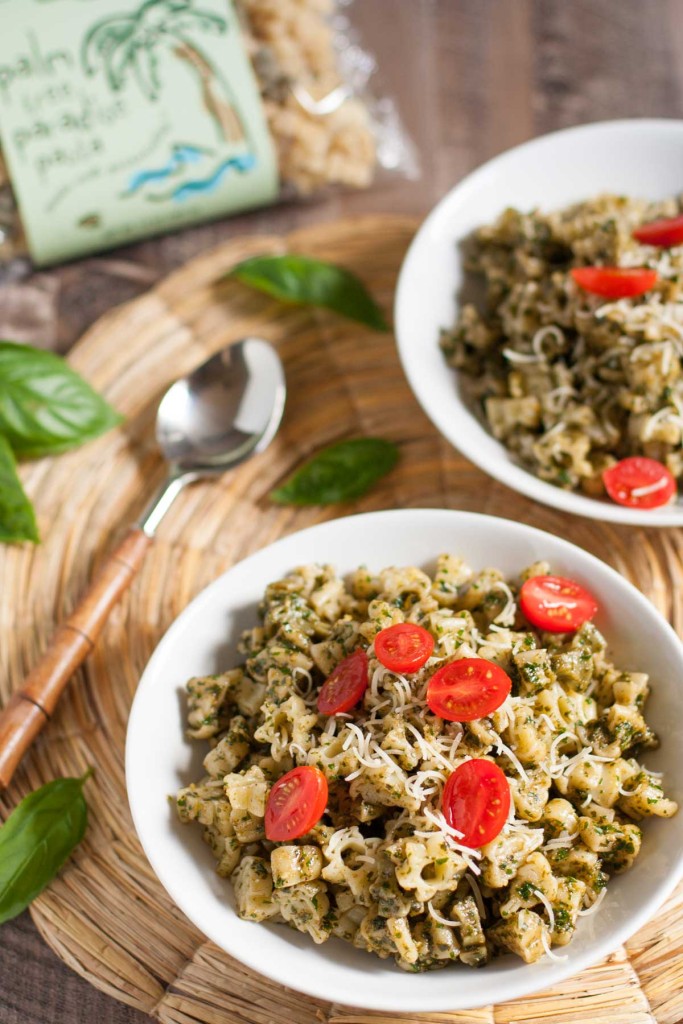 Ahhh….summer.  The schedules are looser and the days are longer.  I'm finding myself washing a lot of dishes so far too…which is a good thing.  It means there is lots of cooking, eating and entertaining going on around here.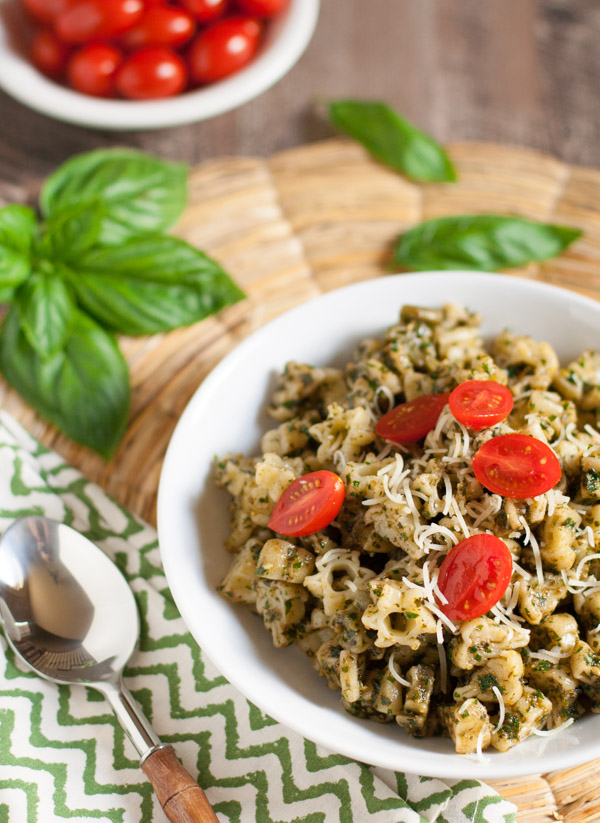 Summer is also a time when I pretend to have a green thumb.  Actually, I'm making some progress this year.  This Everyday Basil Parsley Pesto is straight from my garden!  Here's the background:  Last summer, John wanted to plant a huge garden with all kinds of vegetables and herbs.  (Note: We are newbies when it comes to gardening.)  I knew I had to create a "contained" space to manage this "first year" gardening experiment without squelching his enthusiasm.  🙂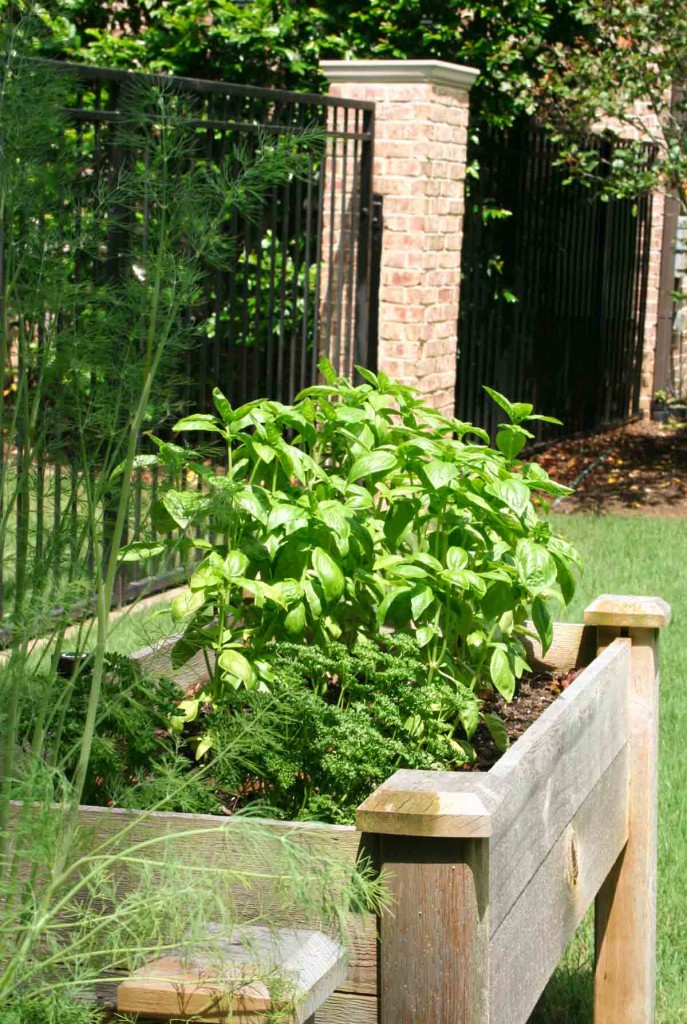 So, I researched and found these wonderful raised beds from a company called Gronomics, each one about 2 feet by 4 feet.  Perfectly sized for a small variety of plants and just the right height for our aging backs…wink wink.  Year one results?  One very expensive odd shaped cucumber.  And one tomato.  The animals enjoyed all the rest.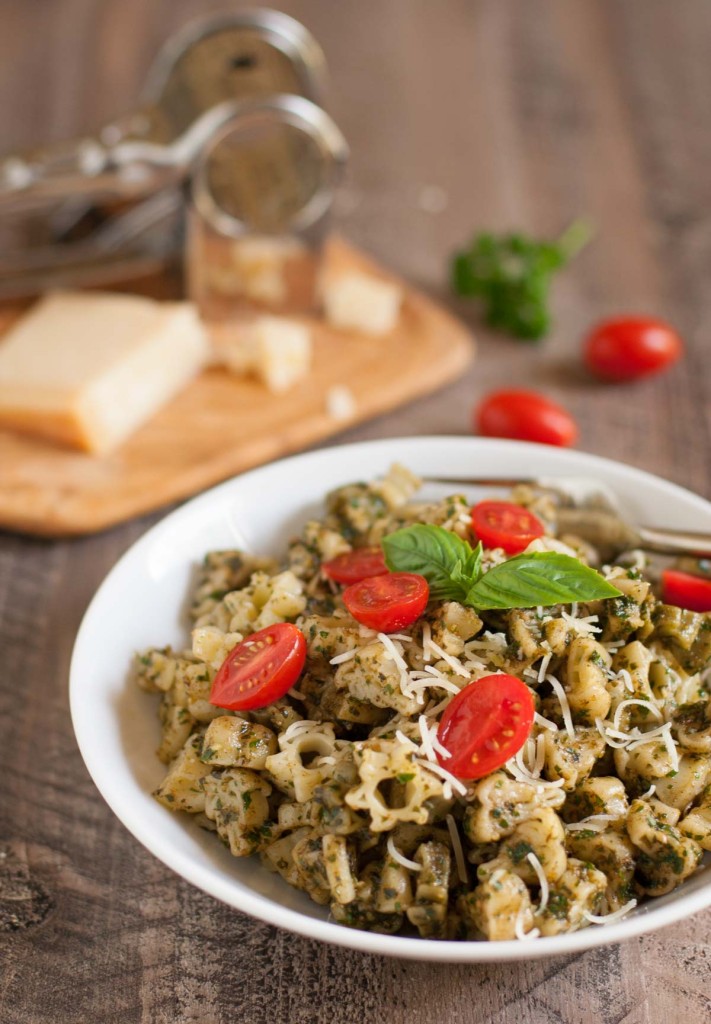 This year?  We went with all herbs.  Lots of basil, parsley, and dill planted in our raised gardens.  And mint in a separate pot.  Manageable amount with herbs that I can use all summer long.  And it's heaven!  Do you see these beauties?  I'm feeling pretty proud of myself.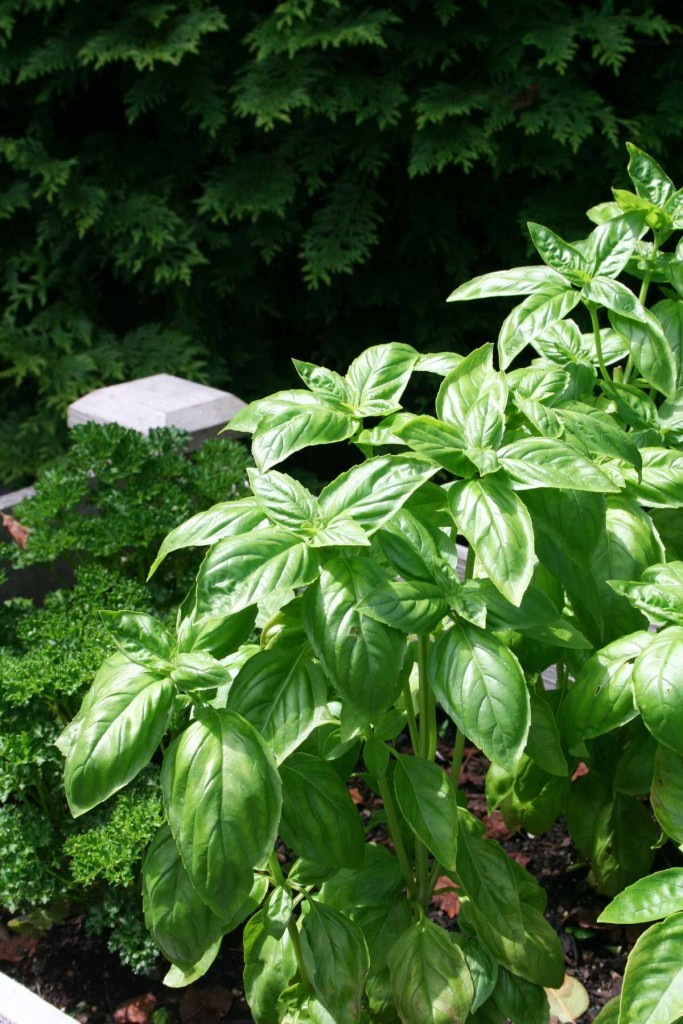 Especially when I can make one of the most versatile, freshest, Italian pasta sauces over and over again – Everyday Basil Parsley Pesto.  Remember my Simple Pesto White Wine Sauce with Bay Scallop recipe?  That is fantastic, but when the season for fresh herbs is here, you must take advantage!  Homemade and as fresh as it gets.  And if I can do it, so can you!
I prefer this classic pesto version that blends fresh basil and fresh parsley.  This blend of herbs creates a lighter more balanced overall taste in my opinion.  And you can put this pesto on anything!  Here I am featuring our summery and fun Palm Tree Paradise Pasta.  Pesto is great on short shapes but can be used on long as well, like the Simple Pesto recipe above…it just depends on the dish.  Don't miss checking out another flavorful pesto, our Kale and Walnut version…yum!  Great to make off season.
"Everyday" had to be in the name because this pesto should be a summer staple.  It's wonderful layered in a cheese torte and served with pita chips or crackers.  Delicious as a spread on a sandwich.  Toss with grilled or roasted veggies.  Drizzle on fresh fish.  But my family's favorite and mine too, best of all, is homemade pesto tossed with some warm pasta.  And you can top it with fresh tomatoes, fresh Parm or whatever else seems right!  Enjoy!
Print
Everyday Basil Parsley Pesto
Make this during the summer months when fresh basil and pesto are readily available! Simple and delicious to use everyday…
Ingredients
14 oz

. bag of Palm Tree Pasta (or substitute another short or long shape)

1 cup

fresh basil leaves, tightly packed

1 cup

fresh parsley leaves, packed

1/4 cup

toasted pine nuts

2

cloves garlic, minced

1/2 cup

extra virgin olive oil

1/2 cup

Parmesan cheese, finely grated

1/4

t. salt
Instructions
In a food processor, place garlic and mince.
Add all other ingredients and pulse and puree until smooth.
Adjust seasonings if needed.
Cook pasta according to package directions. Drain. Do not rinse.
Toss pesto with warm pasta.
Serve with chopped fresh tomatoes and fresh Parmesan.
Notes
Pesto can be made ahead and refrigerated for up to a week. Or freeze in a tightly covered container or for individual servings, freeze in an ice cube tray.
Our pasta is best tossed with pesto and served right away, as it is very absorbent. For leftovers, I'll reheat pasta slightly and toss again with a couple of tablespoons of olive oil.
Join our email list for fresh pasta recipes delivered to you every week!
Your information will NEVER be shared or sold to a 3rd party.