Lemon Shallot Pasta with Sun Dried Tomatoes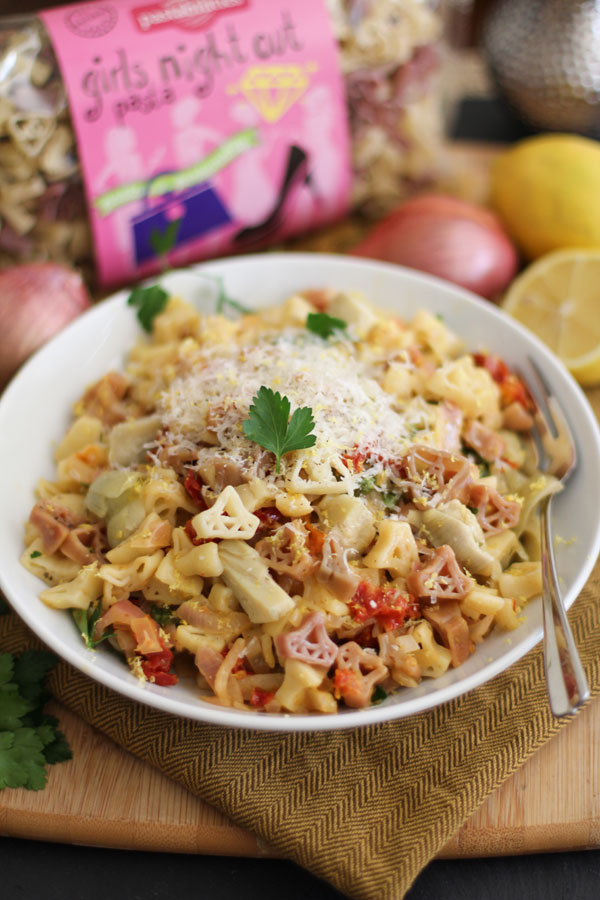 When your girlfriends come over…are you all more "let's order in salads!" or "pass the spinach dip!" kind of group? May depend on which group of friends are over! 🙂 One thing I do know is that our Girls Night Out Pasta with a Lemon Shallot Pasta Sauce will always be a hit…I mean, who doesn't like diamonds, purses, and high heels?! And girlfriends, this sauce is sassy!
In any case, when us ladies get together, they'll be a whole lot of talkin' going on with tons of laughter (I can hear it right now) and on occasion even a few tears. Come on. It's one of our favorite nights. You have marked your calendar and it's a night you WILL NOT miss! You know what I'm talking about. It may be old high school friends, your book club, favorite neighbors, women you met when your kids were born, or business colleagues. Some friends fall into multiple groups. We love our girlfriends. We need each other. We must spend time together. Period.
In fact, I just got back yesterday from 3 days of absolute HEAVEN!  My mom, Cookie, and my sister, Kathy, and I…together in Atlanta for a blissful, relaxing, getaway, crazy fun weekend.  We ate, shopped, and talked, and then did it all again.  I hate to admit it, but we let a major faux pas transpire.  We shopped for so long and ran ourselves ragged – running from store to store that we had to call and cancel our dinner reservations on the last night.  "What?" You are thinking? "Cancel dinner?"  "Someone else cooking?"  Forgive me, but we couldn't help it!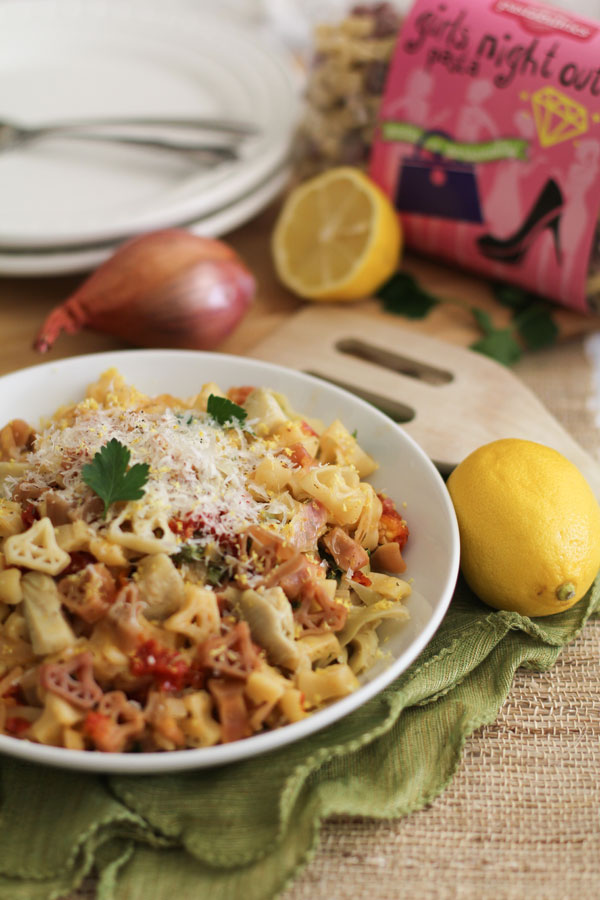 When I imagine girlfriends and a good pasta dinner, I really think of something on the lighter side. I love this particular recipe because it has some of my favorite ingredients: sundried tomatoes, artichoke hearts, and spinach. Each of these flavorful ingredients is a "add-on" to almost any pasta sauce, but combined here they add a complexity and zestiness that works, especially when you add the shallots and lemons. Is your mouth watering right now like mine?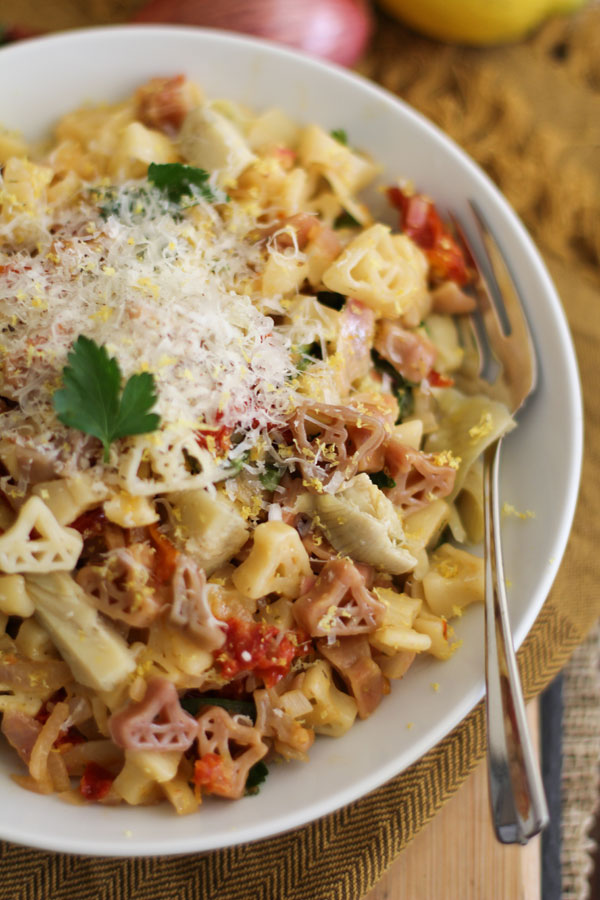 What exactly are shallots anyway? When I need to answer these kinds of questions, my favorite kitchen resource is the Food Lover's Companion. My book has stains all over the cover for its constant use. It's a great gift for your foodie girlfriends (Holiday Alert!). Shallots are a member of the onion family, but are shaped more like garlic, with a head made of multiple cloves. And the flavor is more subtle more like a mild onion and that is why people love to cook with them. But you can always substitute a white onion if you don't have any on hand. This Lemon Shallot Pasta Sauce recipe can be made with short or long pasta. It's one of those recipes that you can improvise with – so try it and let me know what you and your girlfriends think! 🙂
If you are interested in browsing our pasta selection, please visit The Pasta Shoppe. And if you have any fundraising needs, check out Fun Pasta Fundraising. We'd love to hear from you!
Print
Lemon Shallot Pasta with Sun Dried Tomatoes
A zesty sauce with lemons, artichokes, shallots, and sun dried tomatoes!
Ingredients
14

–

16

oz. bag of Pasta (any short or long shape will work)

½ cup

oil packed sundried tomatoes, drained and chopped

14 oz

. can quartered artichoke hearts, drained

3 oz

. (about

3 cups

packed) fresh spinach leaves, cut or torn
Parmesan cheese for topping
Lemon Shallot Sauce

¾ cup

minced shallots

1

T. olive oil

½ cup

lemon juice

2 cups

vegetable stock, divided

1 cup

dry white wine or apple juice

1

T. cornstarch

¼ cup

chopped parsley

1

t. (or more) dried thyme or

1

T. fresh thyme
Zest of

2

lemons
Salt and Pepper to taste
Instructions
In a large skillet or wok, sauté shallots in olive oil over medium heat for about 4 minutes or until translucent. Stir in lemon juice, 1 cup vegetable stock, and wine, and cook for about 10 minutes.
In a small bowl, whisk cornstarch into remaining 1 cup stock until smooth. Slowly pour in to shallot mixture, stirring constantly and cook until sauce is thickened and smooth, about 2 minutes. Stir in parsley, thyme, zest, and salt and pepper to taste.
Add sundried tomatoes, artichoke quarters, and fresh spinach and stir until spinach wilts. Keep sauce warm.
Cook pasta in gently boiling water for approx. 6 minutes until tender but firm (salt optional). Drain and add to warm sauce. Increase heat to medium high and gently toss pasta to coat evenly. Heat through. Serve topped with Parmesan cheese.
Join our email list for fresh pasta recipes delivered to you every week!
Your information will NEVER be shared or sold to a 3rd party.
221 Comments