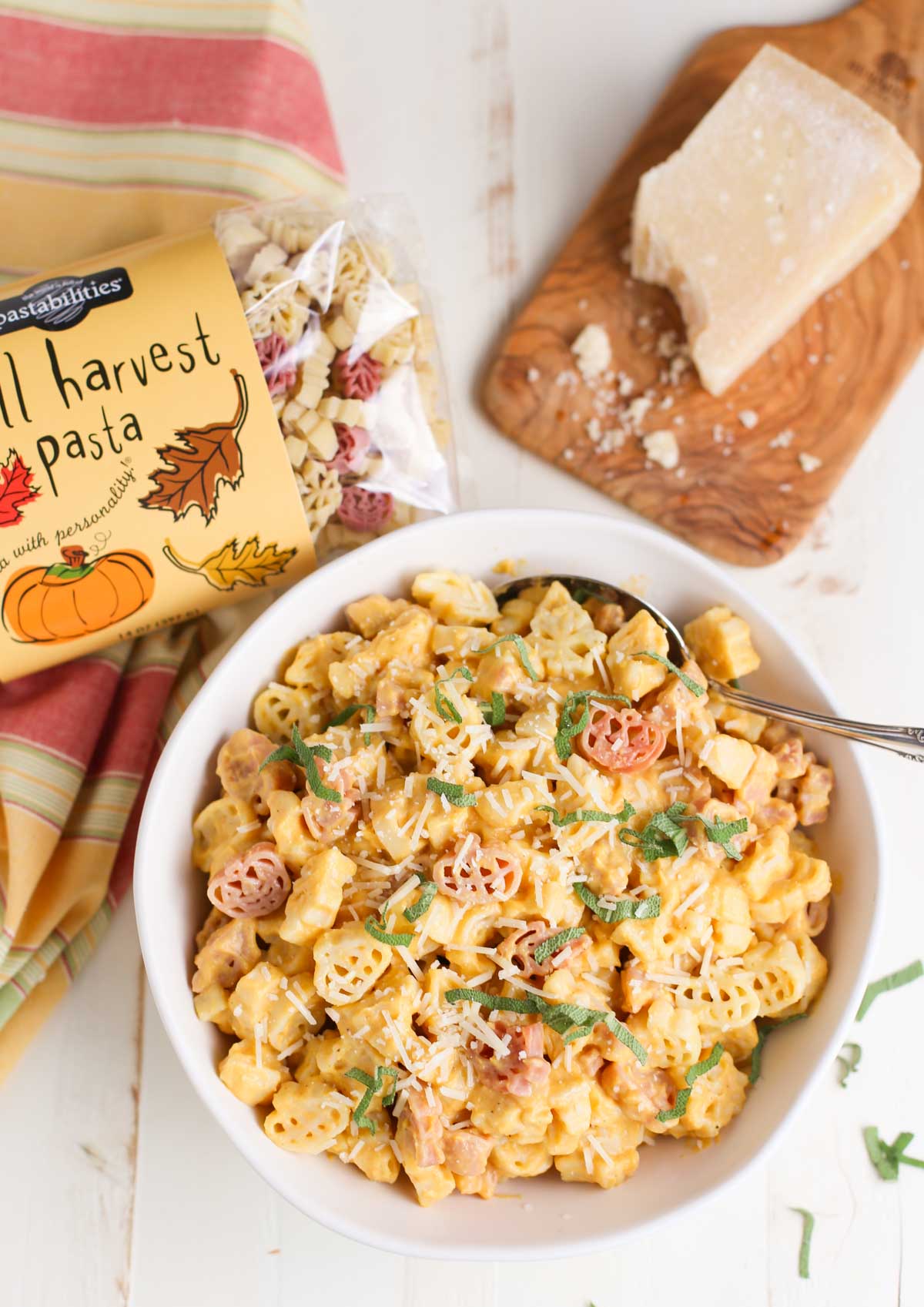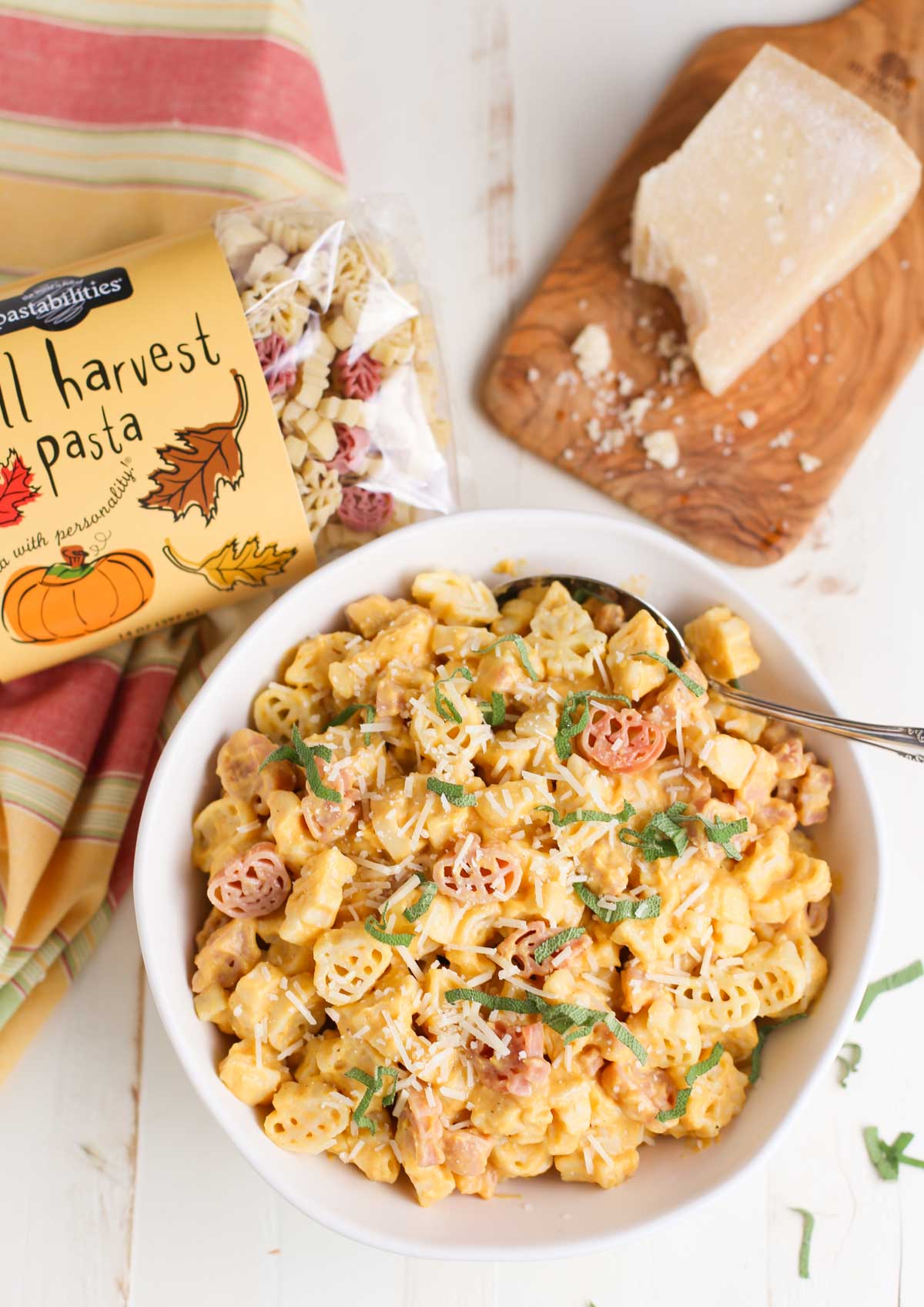 There is no better fall squash in my opinion than the butternut.  It is sweet, it is versatile, and most people I know love it!  When working on my Thanksgiving menu, I wanted to add some more color to the table and also another vegetable (more like vegetable-ish) side.  Butternut Squash Alfredo just sounded comforting, and I also love the idea of using our Fall Harvest Pasta, little pumpkins and leaves.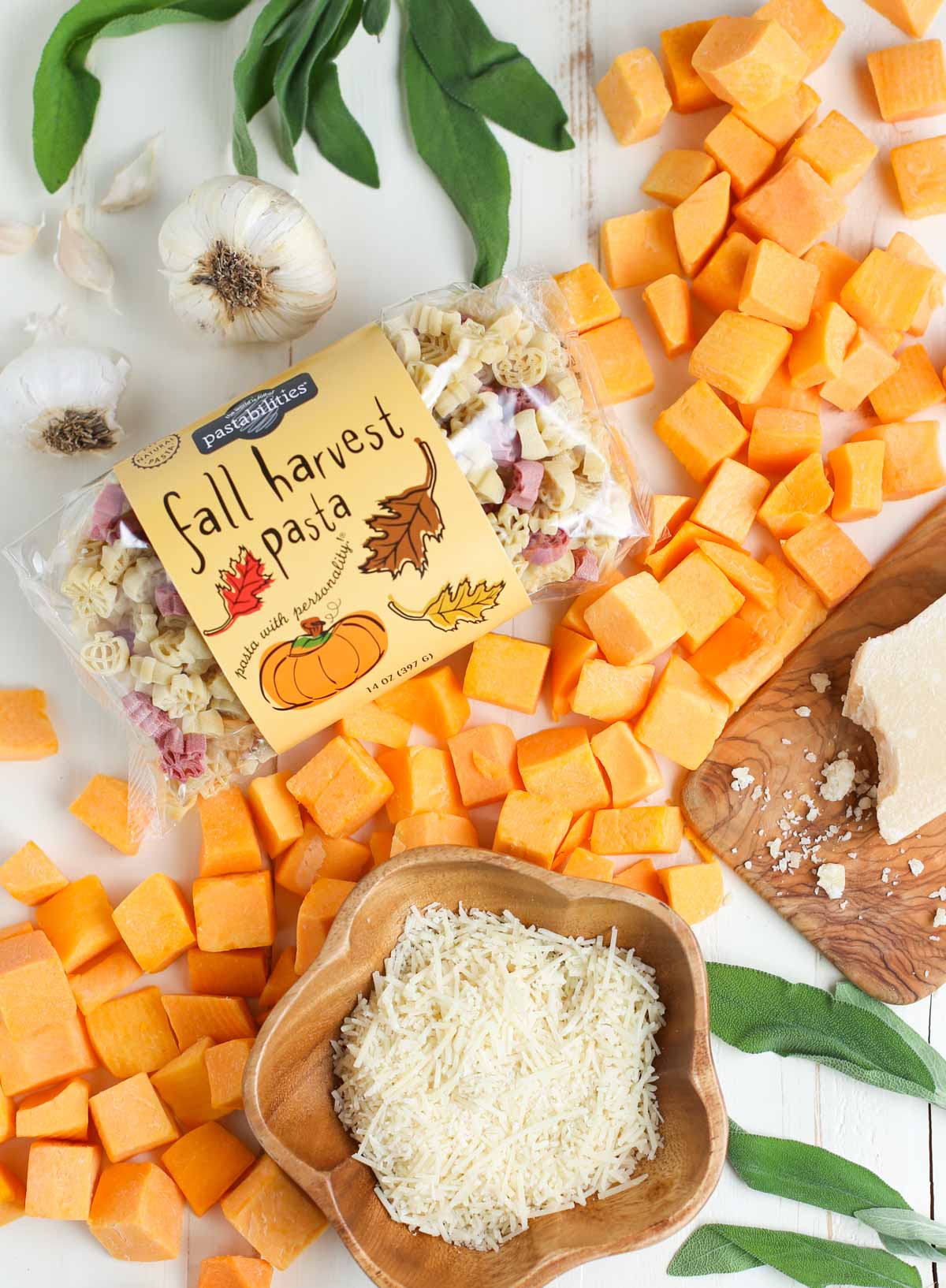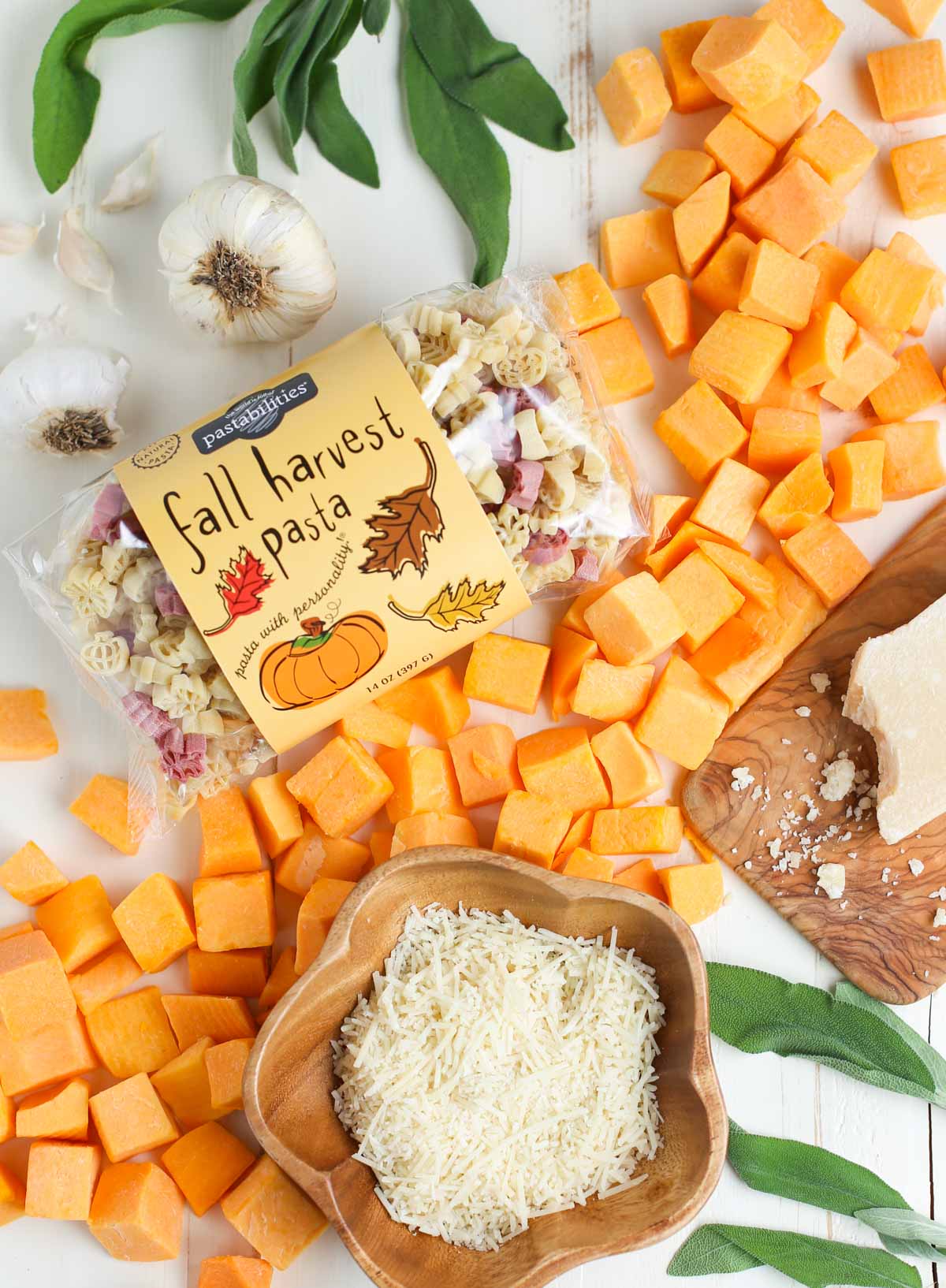 The color here is so pretty.  For our mid-week dinner, I paired the pasta with some roasted Brussels sprouts drizzled with balsamic glaze – a great combo!  This is a sauce can be made ahead of time, which helps during the holidays, and reheated and tossed with your pasta right before serving. There are so many variations and ways to customize this for your family!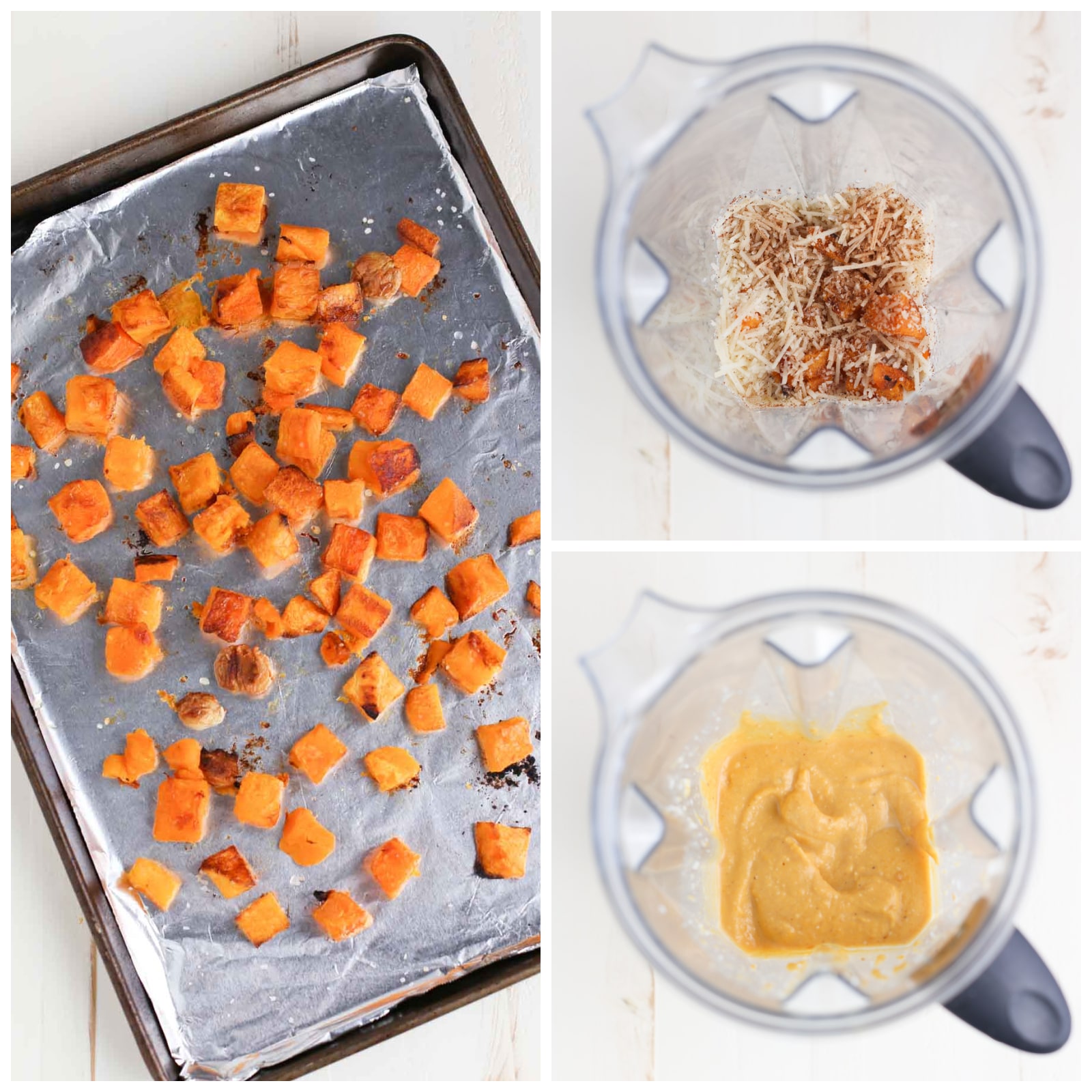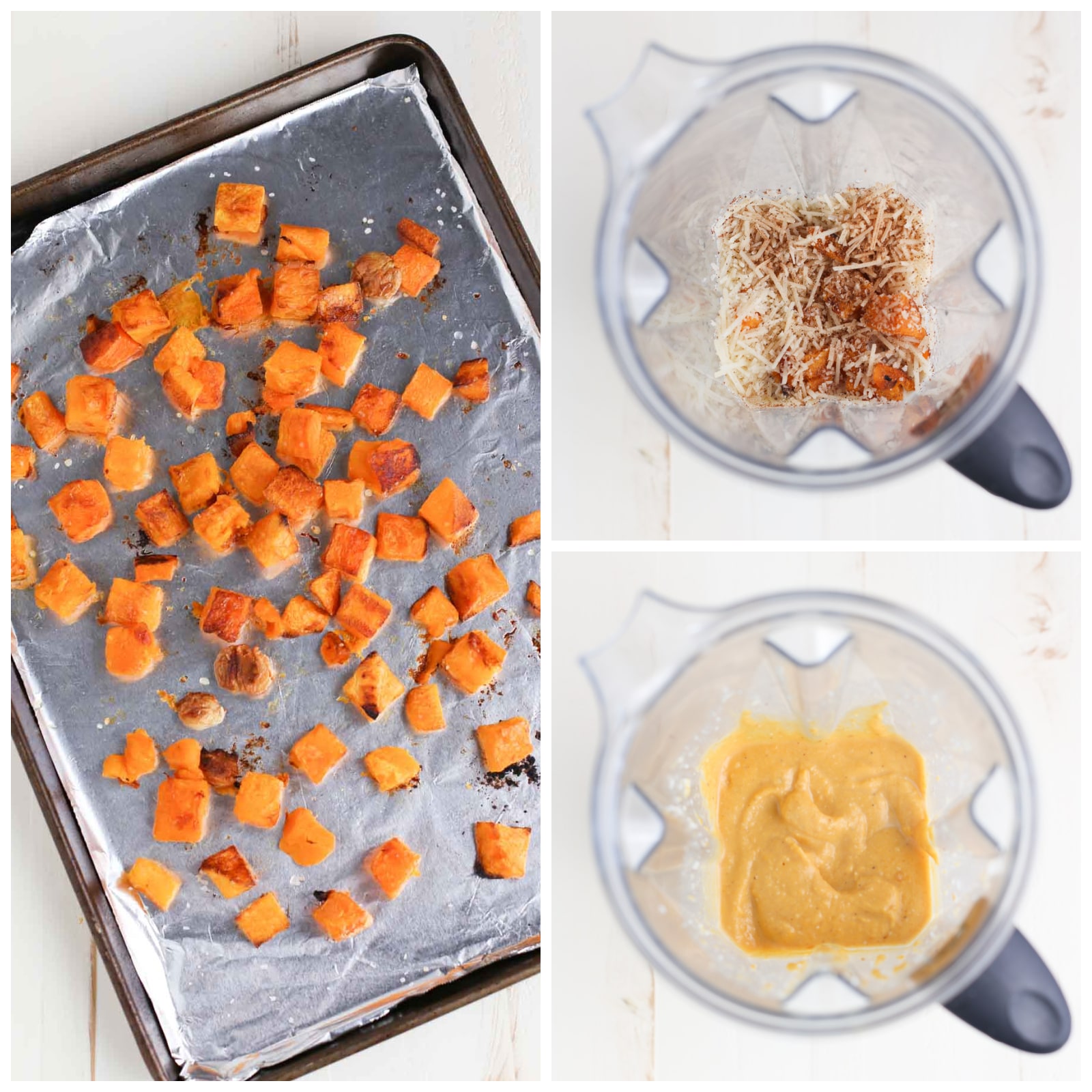 What are some other ideas or variations for Butternut Squash Alfredo?
Top Alfredo with crispy bacon or pancetta in bite size pieces
Top with toasted walnuts or pine nuts
Garnish with fresh chopped parsley or basil
Add some diced chicken or rotisserie chicken to sauce
Roast some additional diced butternut squash and combine with pasta and sauce
Add 1-2 roasted red peppers to sauce before pureeing – adds a nice sweetness
For a casserole, put combined pasta and sauce in casserole dish, top with ½ cup shredded mozzarella and ½ cup grated Parmesan, and broil for 3-5 minutes until melted.  Garnish with chopped parsley or basil.
For a Butternut Bisque, continue to thin sauce with additional broth until desired consistency…yum!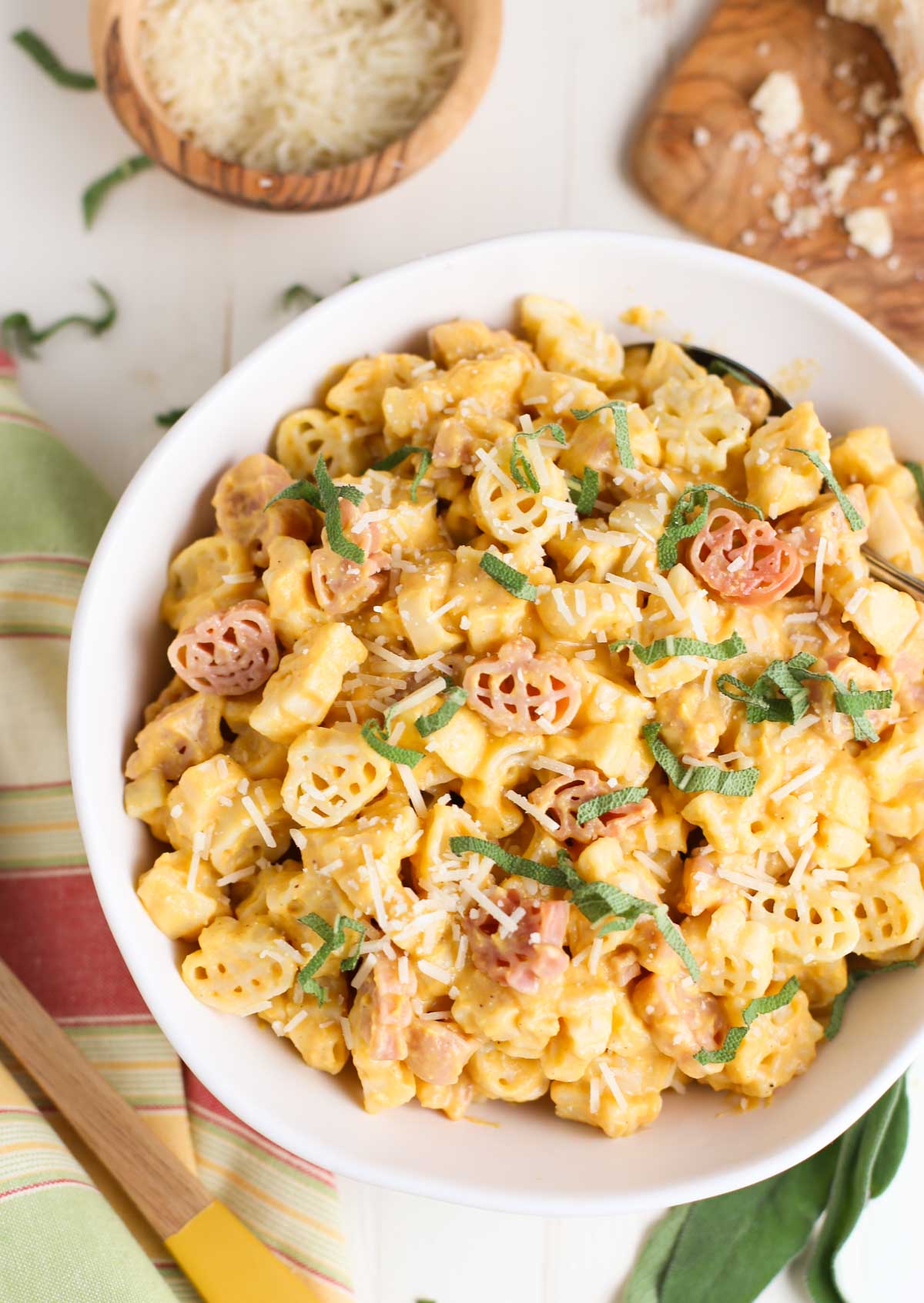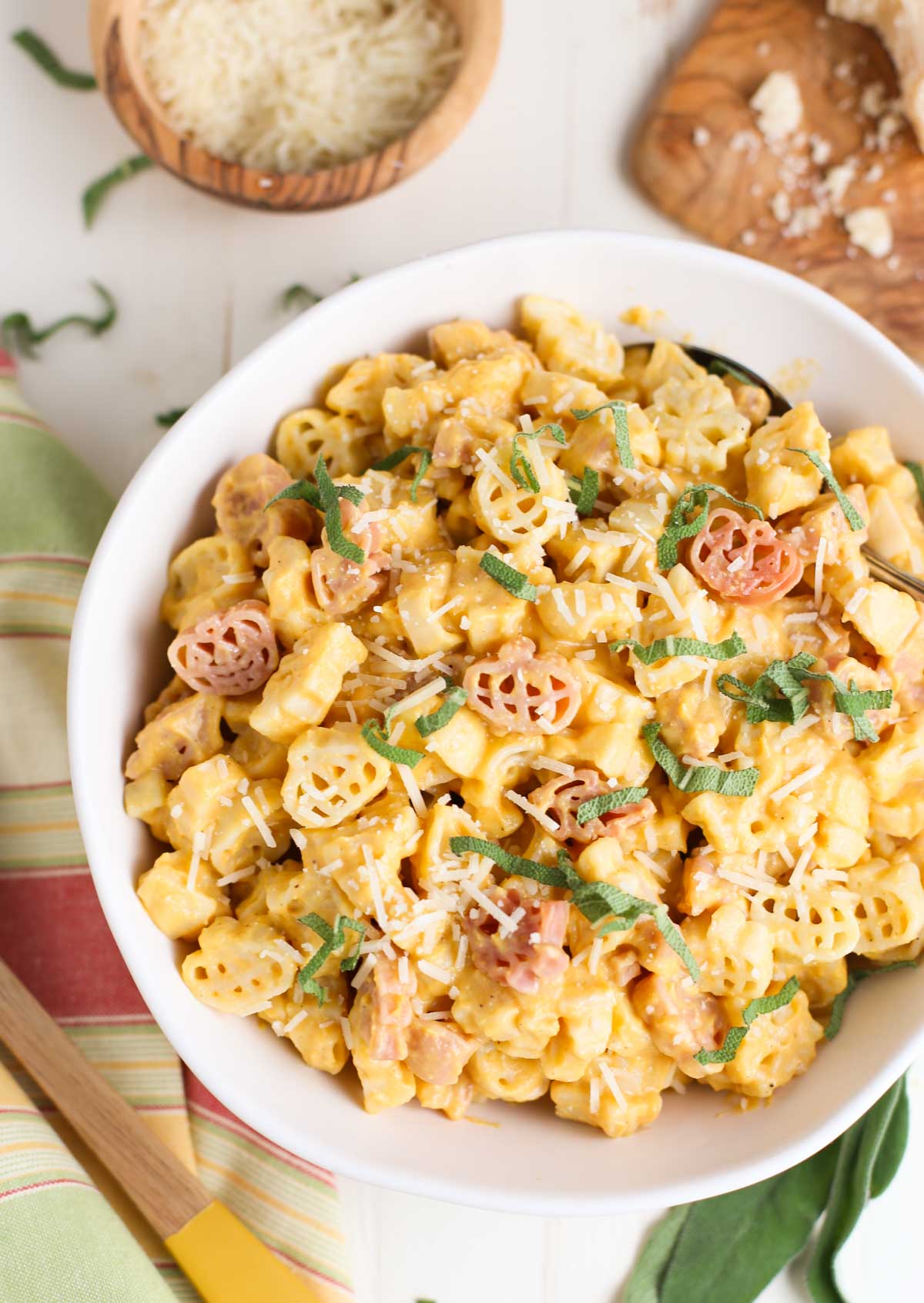 How can I "lighten up" this Butternut Squash Alfredo?
Substitute 2% milk for the half and half
Use only chicken or vegetable broth, and skip the milk or half and half
Use our Good Day Pasta! Low carb and delish!
For a gluten free option, combine sauce with some gluten free pasta
Take a peek at our Butternut Squash Pasta Sauce recipe previously featured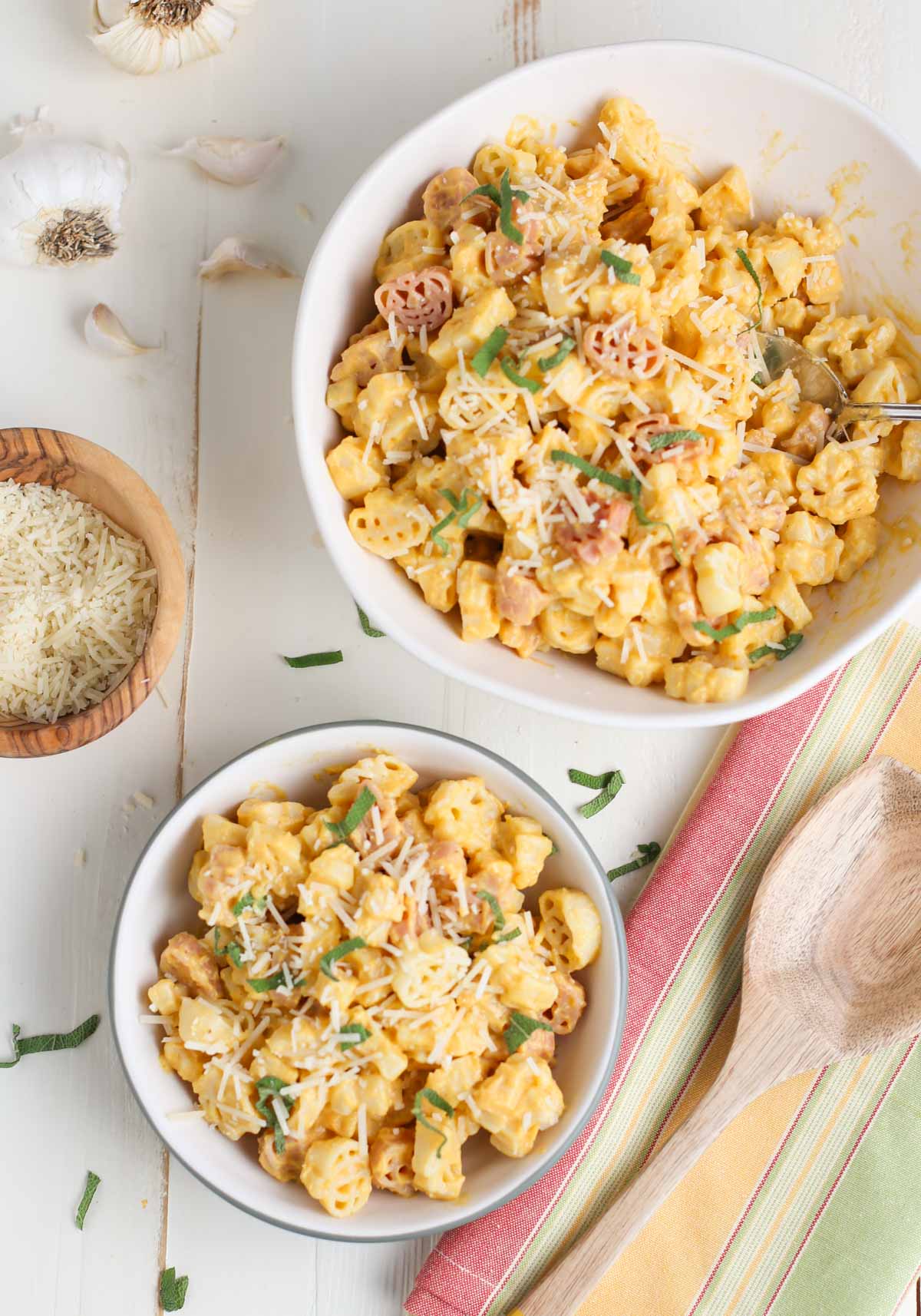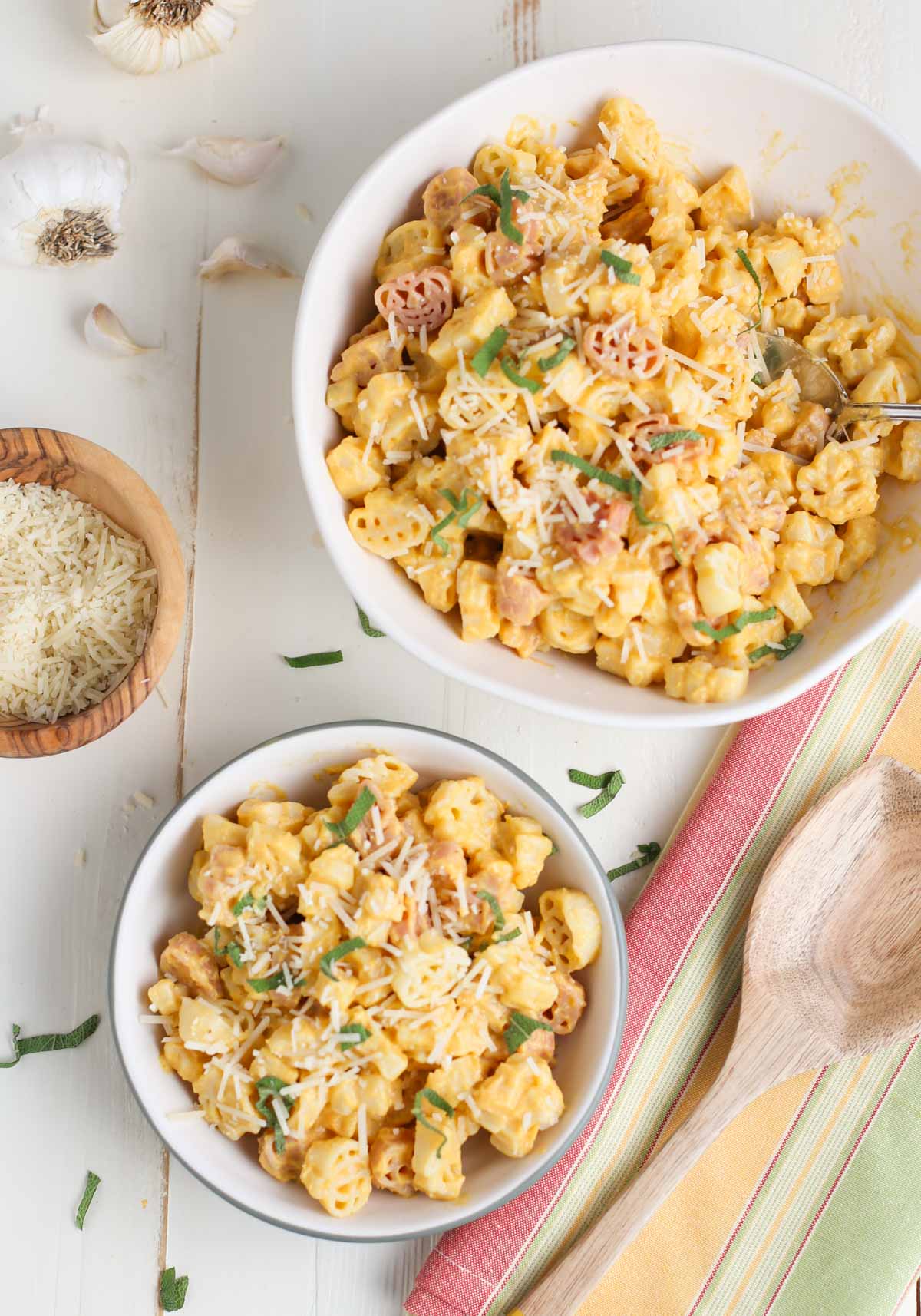 How can I make this Butternut Squash Alfredo vegan?
Substitute vegetable broth and skip the Parmesan
Substitute almond milk for half and half, along with the vegetable broth
Top with vegan shredded cheese and toasted nuts, or fresh chopped parsley, basil, or sage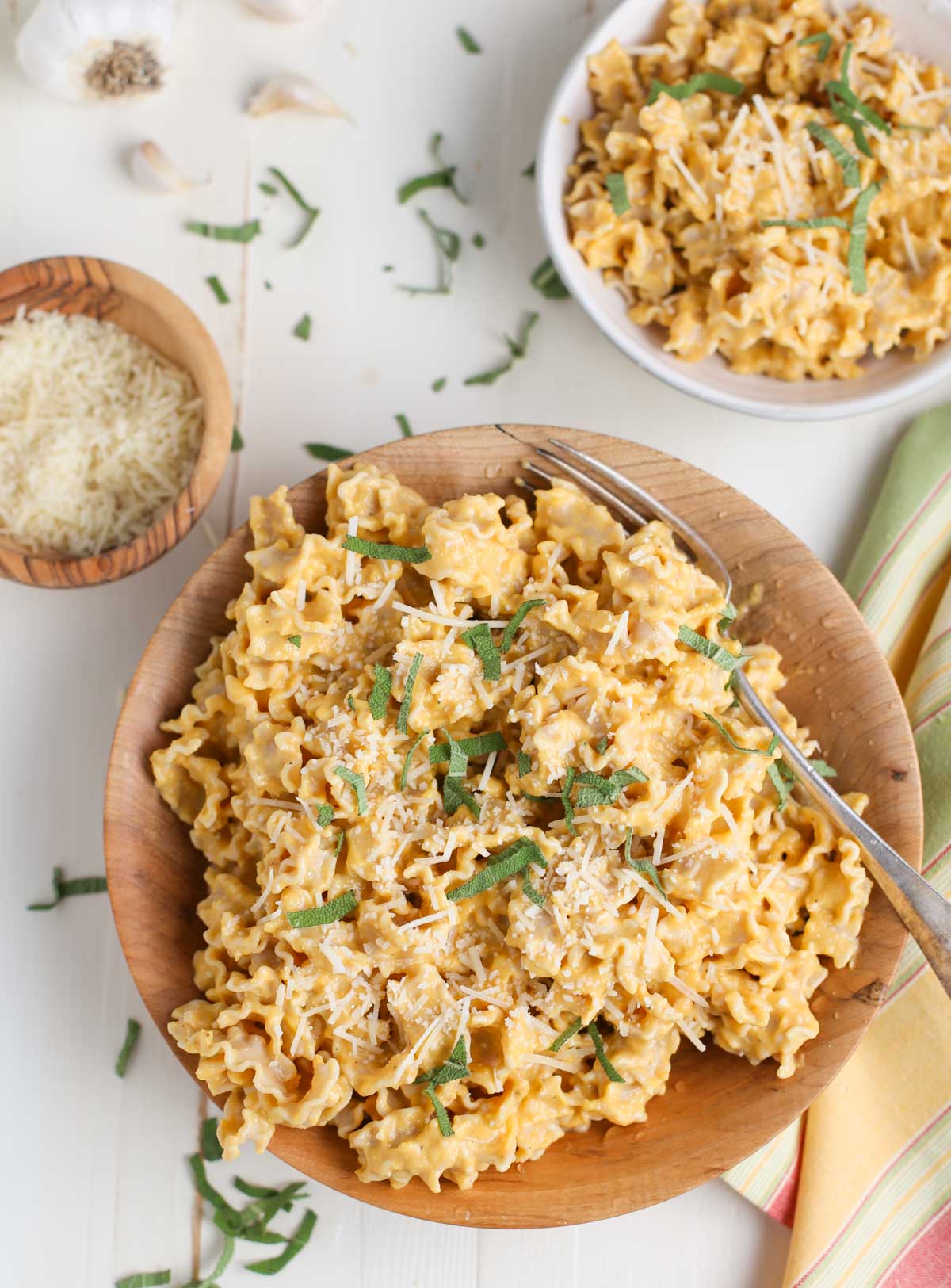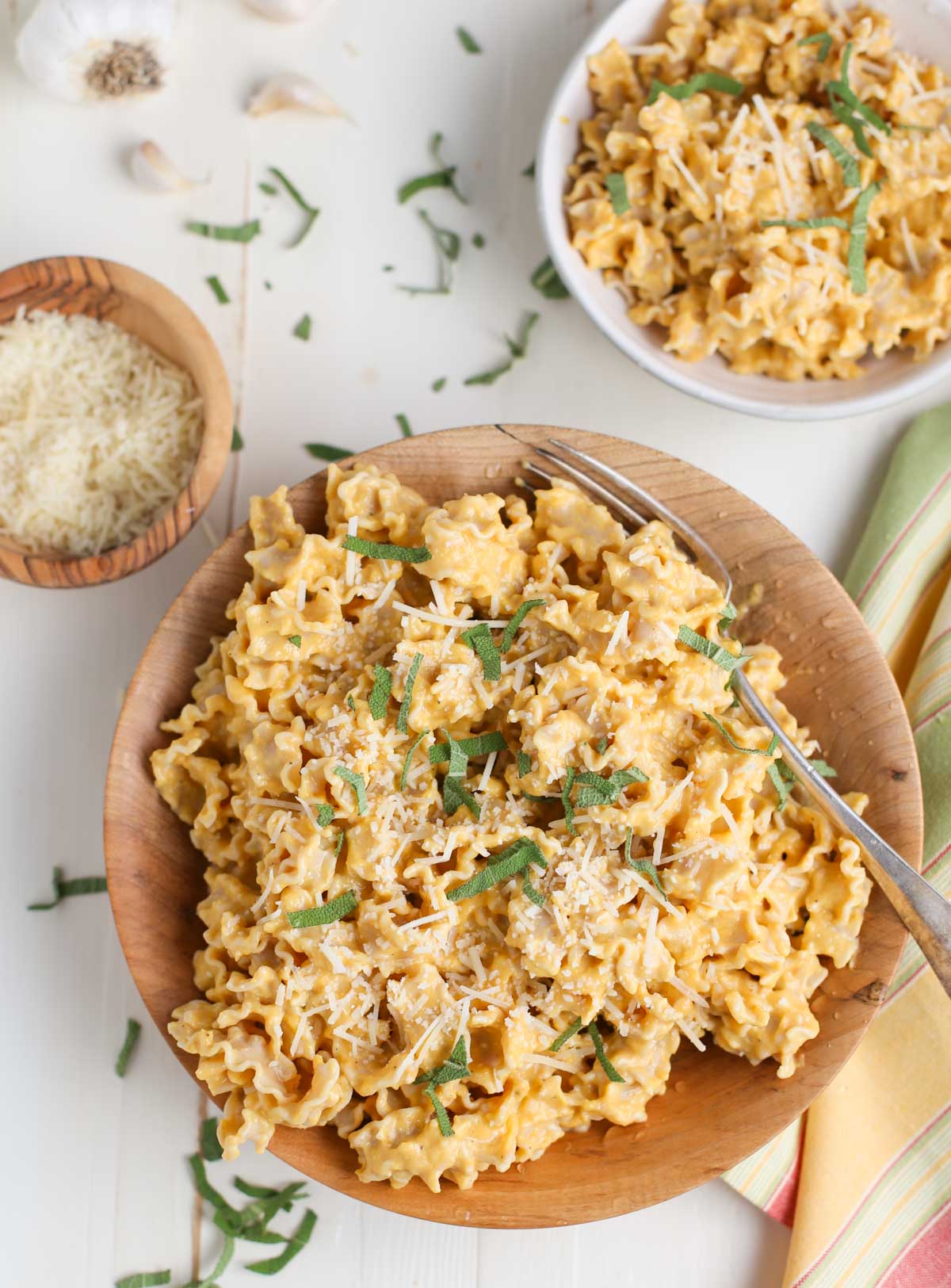 Because this Butternut Squash Alfredo was such a hit, I wanted to combine it with a more everyday pasta shape I could use all year round. I decided to make a second batch of sauce and tossed it with our new Good Day Pasta (low carb).  The sauce clings beautifully and the ruffles just add some "fancy" to the plate!
With 42% less carbs, you can indulge with less guilt! I shared some with the girls in the office (my official tasting panel), and they agreed – YUM! Learn more details about our Good Day Pasta here.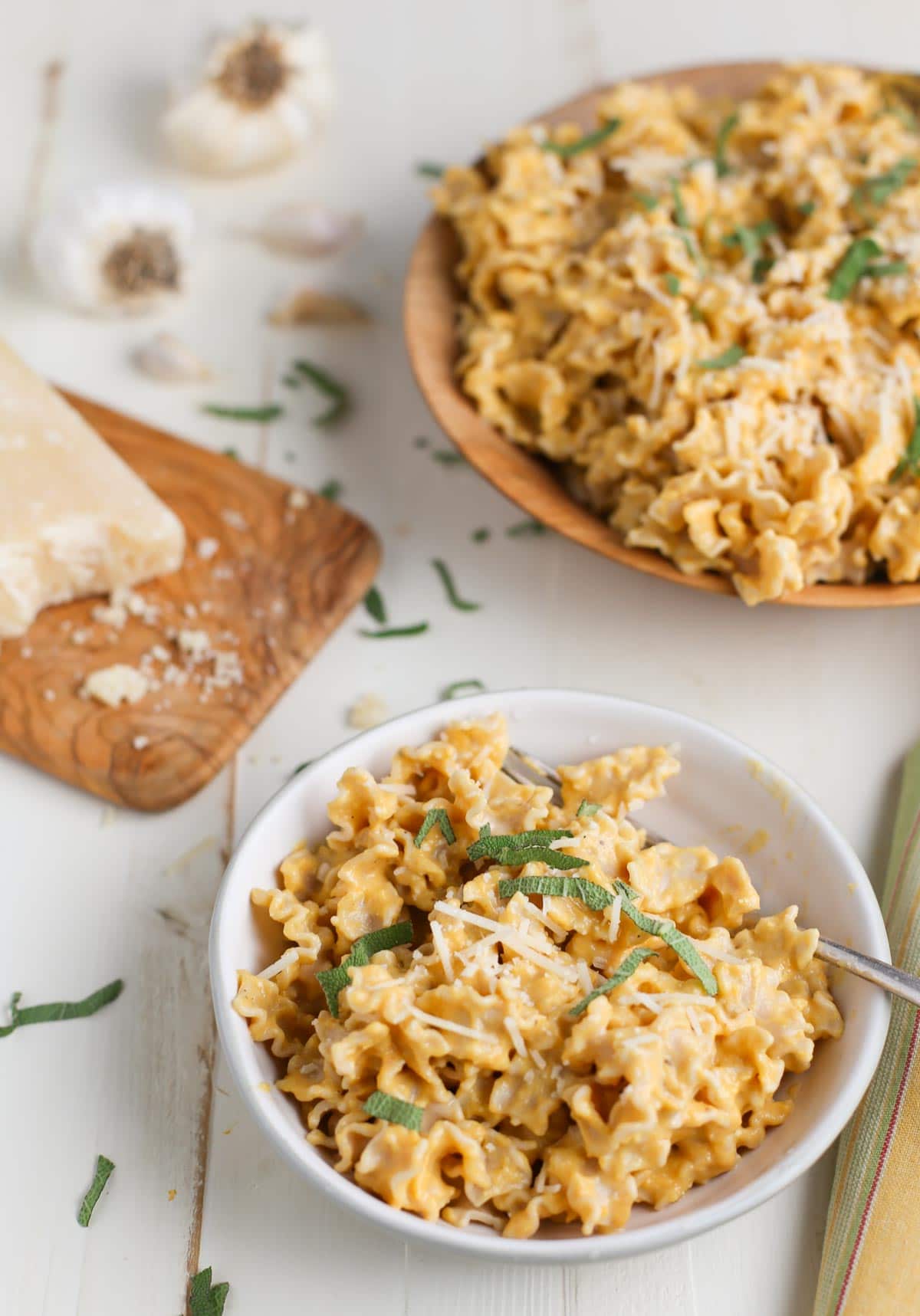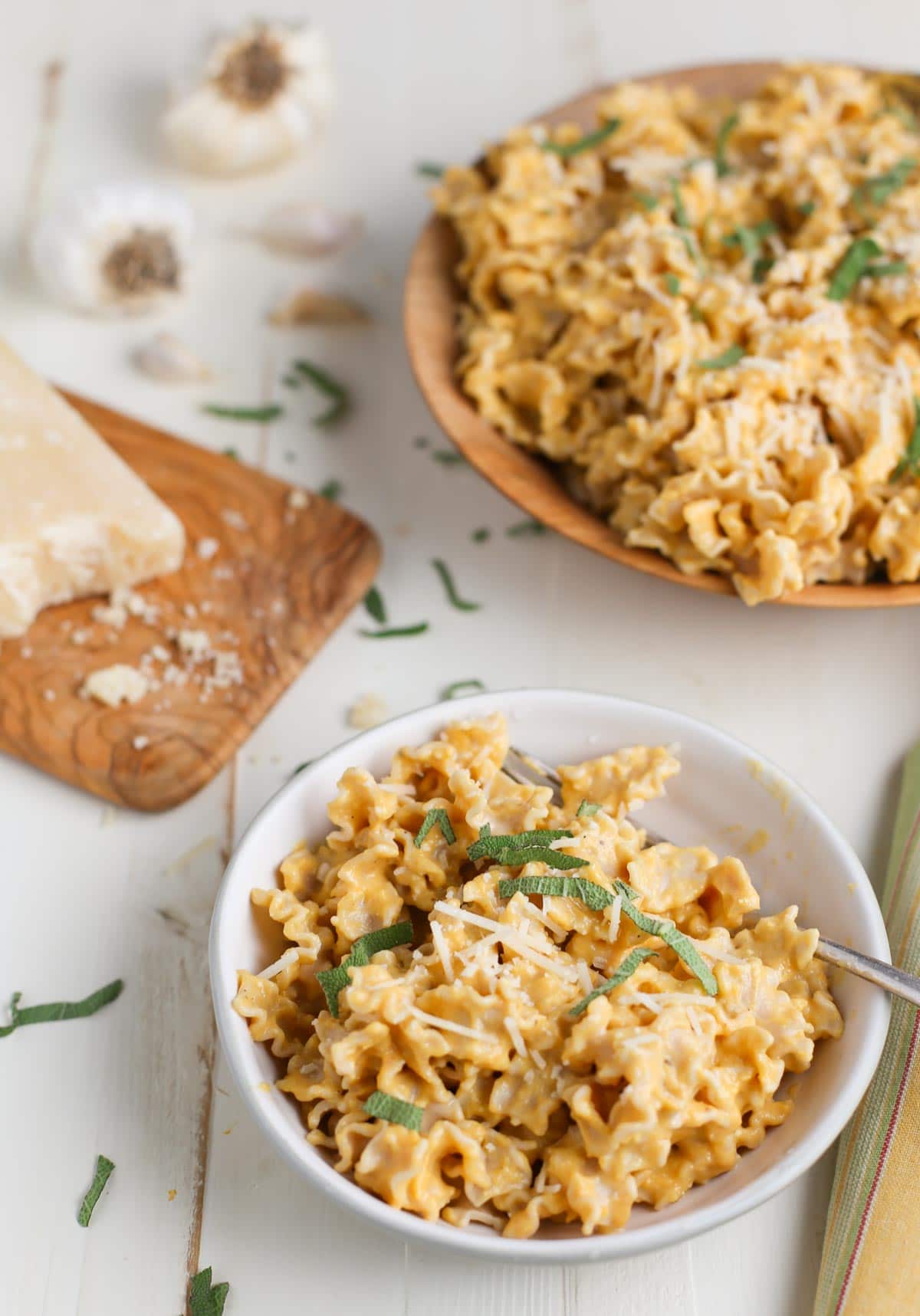 If butternut appeals to you, be sure to check out our other recipes, Butternut Squash Sauce over Gluten Free Tagliolini, Butternut Squash & Kale Cannelloni, and Healthy Butternut Mac and Cheese.  Tag us if you make this recipe or any variation as we'd love to see what you create!  #worldofpastabilities @worldofpastabilities
And for more happenings with Pastabilities, follow us on Instagram @worldofpastabilities, or Facebook @pastashoppeusa!  And remember, The World is Full of Pastabilities®!
Print
Butternut Squash Alfredo
Delicious simple Butternut Squash Alfredo! A wonderful side dish for any fall gathering…including Thanksgiving!
Ingredients
14 oz. bag of Fall Harvest Pasta, or 8 oz. box of Good Day Pasta (or whatever shape you prefer, you'll use the appropriate amount of sauce for the amount of pasta you cook!)
3–4 cups (approx. 1 ½ pounds) cubed butternut squash (1 inch cubes); I buy the precut squash from Trader Joe's or Costco, although you may still have to dice the precut pieces
3 cloves garlic, smashed
2 T. olive oil
1 t. kosher salt
Fresh black pepper
¾ cup half and half
¾ cup low sodium chicken or vegetable broth
½ cup grated Parmesan cheese, plus more for garnish
1/8 t. ground nutmeg
Fresh sage or parsley, chopped, for garnish
Instructions
Preheat oven to 425 degrees.
Toss butternut squash and garlic in bowl with oil and season with the salt and black pepper. Spread on a baking sheet and place in middle rack in oven.  Roast for approximately 30-40 minutes, tossing about half way through, until squash is tender and caramelized.
In the meantime, cook pasta according to package directions, drain, saving ½ cup pasta water. Rinse pasta with cold water, and toss with 1 T. olive oil. Set aside.
When squash is ready, remove and let cool for 10 minutes.  Add squash, half and half, broth, Parmesan, and nutmeg to a food processor, and blend for one minute or so until smooth.  If sauce needs thinning, add pasta water, a tablespoon at a time, until the desired consistency.
Pour sauce over pasta and gently combine until pasta is coated.  Garnish with fresh sage and additional Parmesan.  Enjoy!
Notes
Read blog post for lots of tips and ideas to either lighten this up, or make other variations!
Join our email list for fresh pasta recipes delivered to you every week!
Your information will NEVER be shared or sold to a 3rd party.