Healthy Butternut Mac and Cheese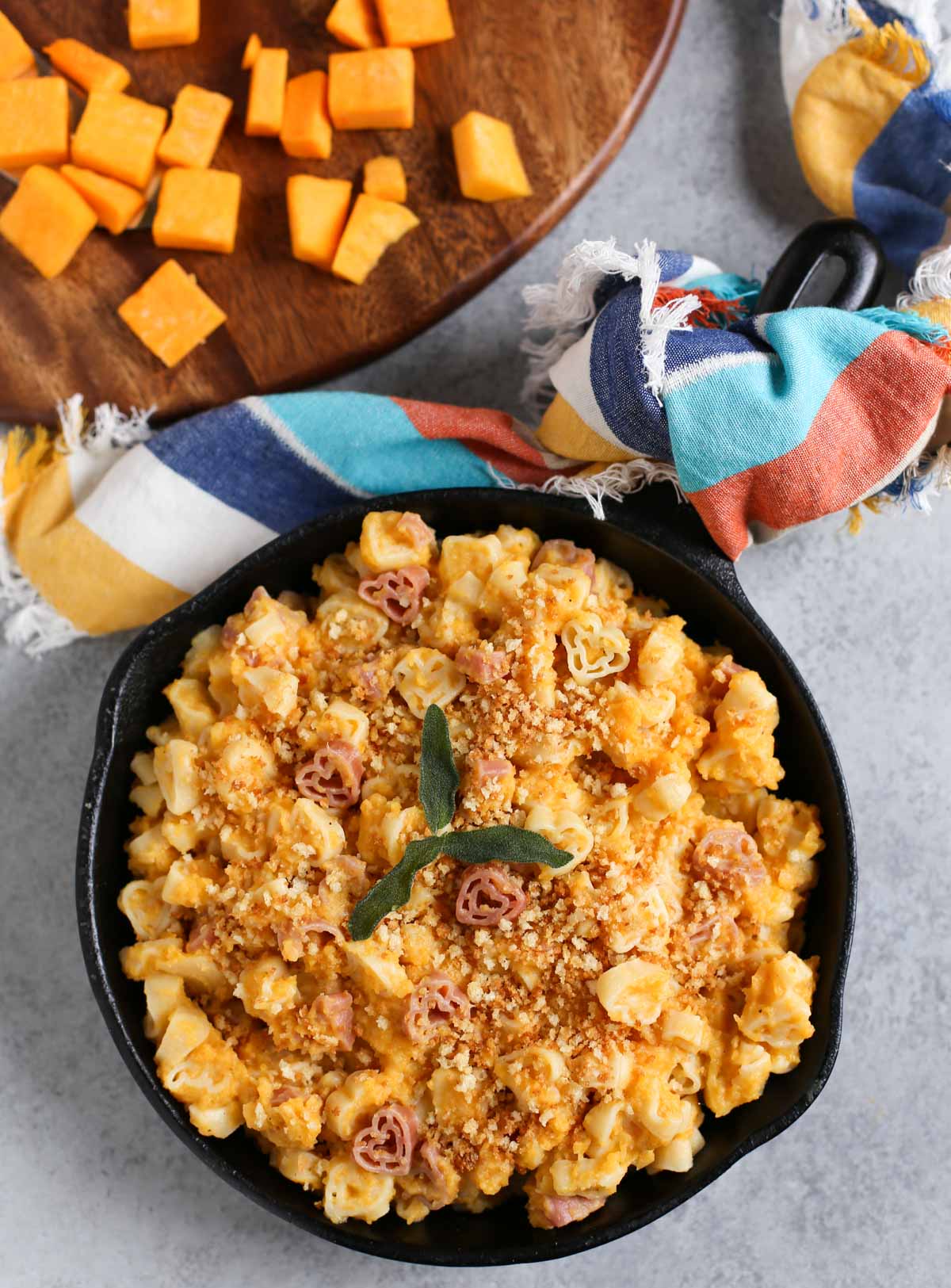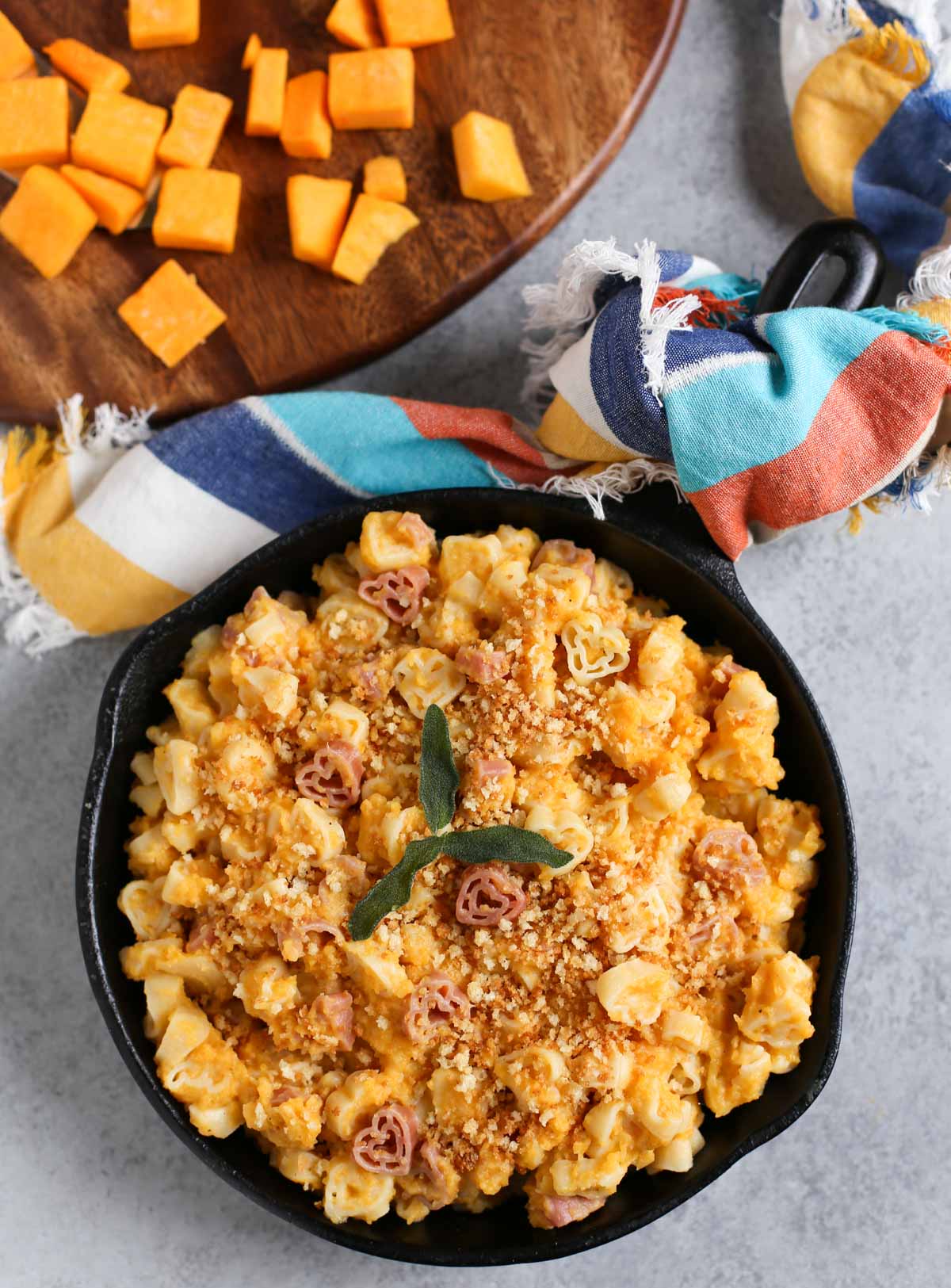 Ummmmmmm….that's with my fork up, eyes closed, and savoring every bite of this HEALTHY mac and cheese.  Well, healthy-ish Butternut Mac and Cheese.  Did you hear me??  I said "HEALTHY-ish" as in a mostly veggie-squashy mac and cheese.  I knew it was a home run when the boys ate a big bowl, with no complaints and a "more please" at the end.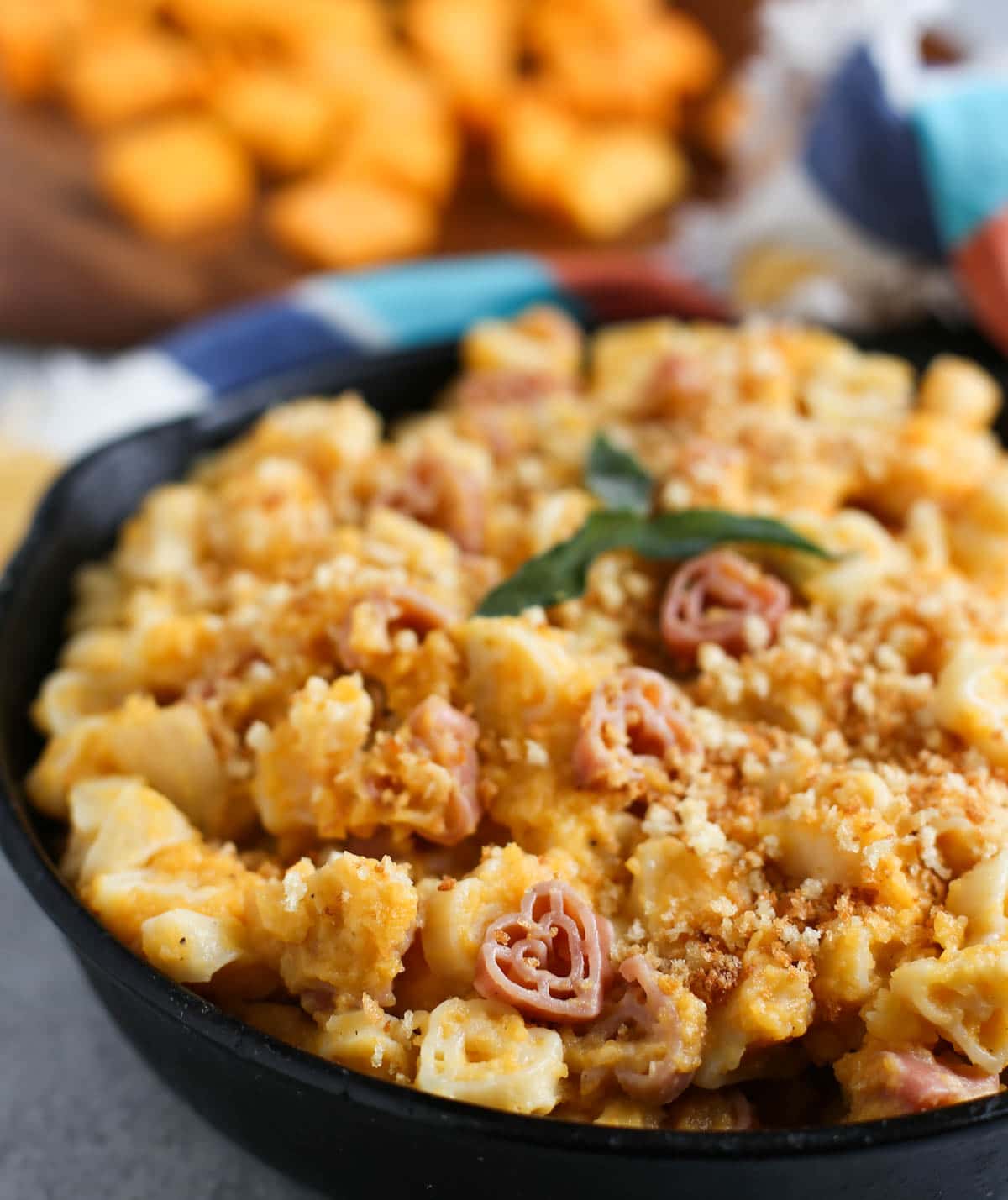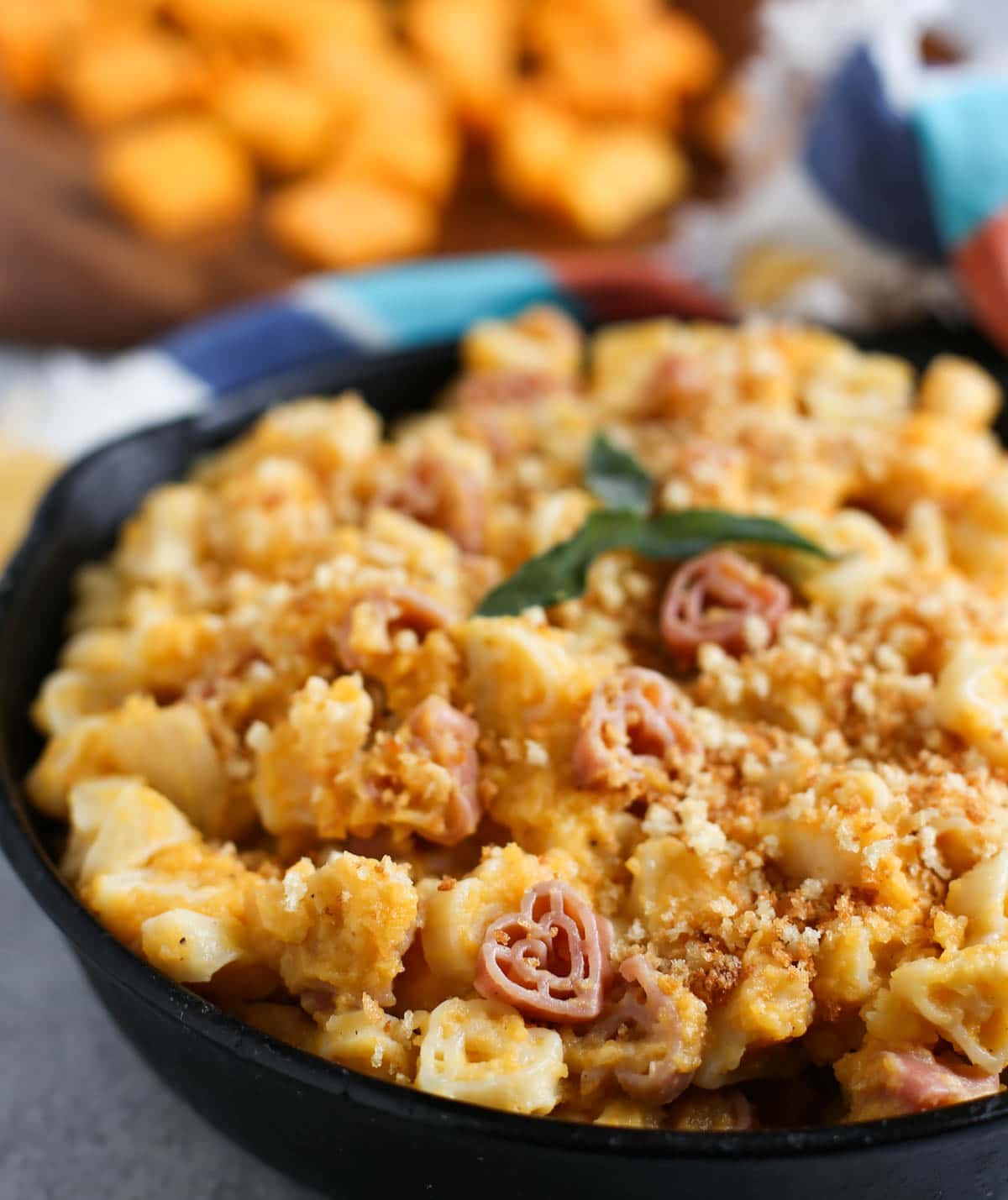 And when I saw the cover of Bon Appetit Magazine this afternoon, with the word "healthy-ish" at the top…I knew I was on the right track!  They recognize the trend of blending more healthy recipes into our everyday lives.  So much so that they are adding a new site to explore more healthy-ish ideas…yea!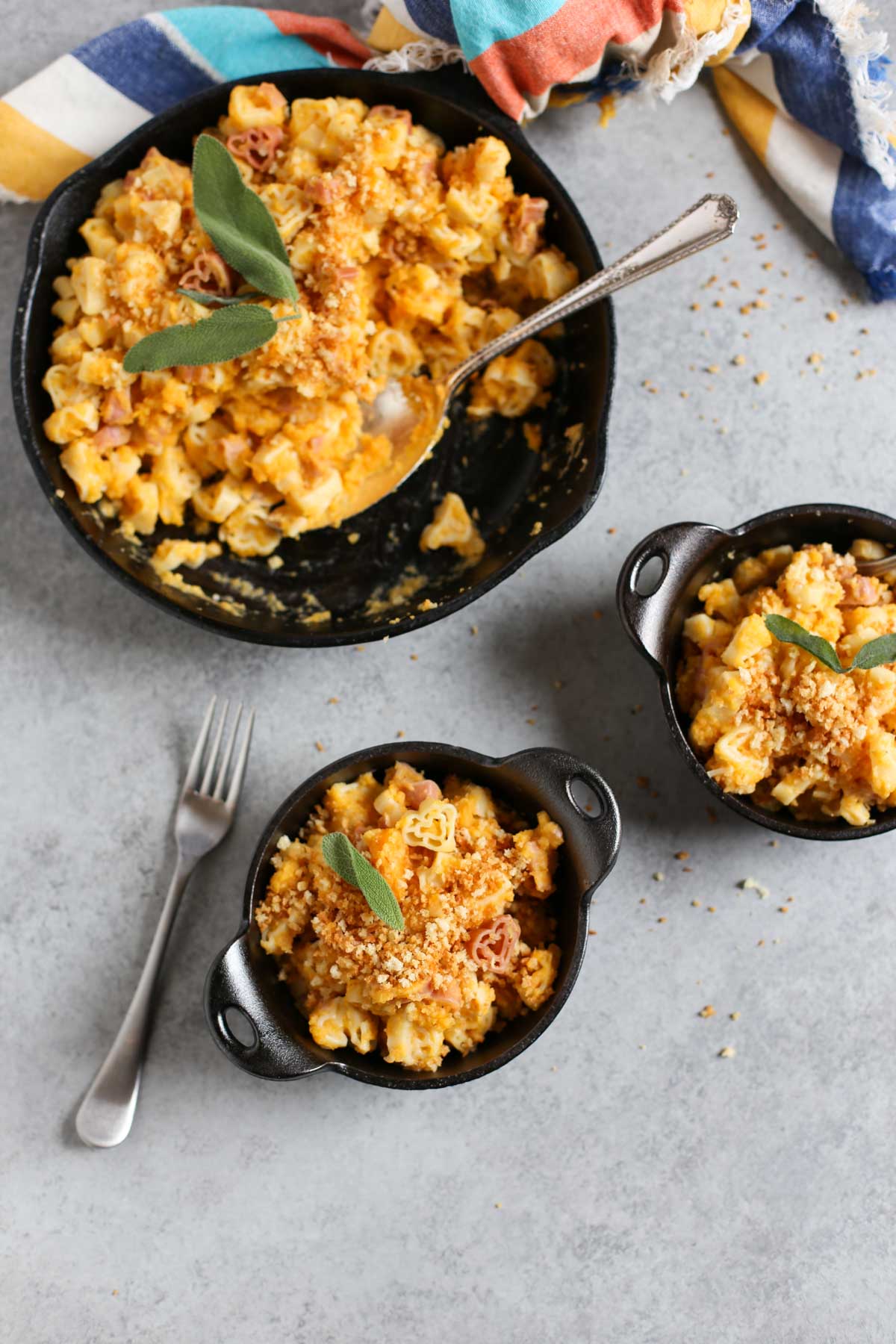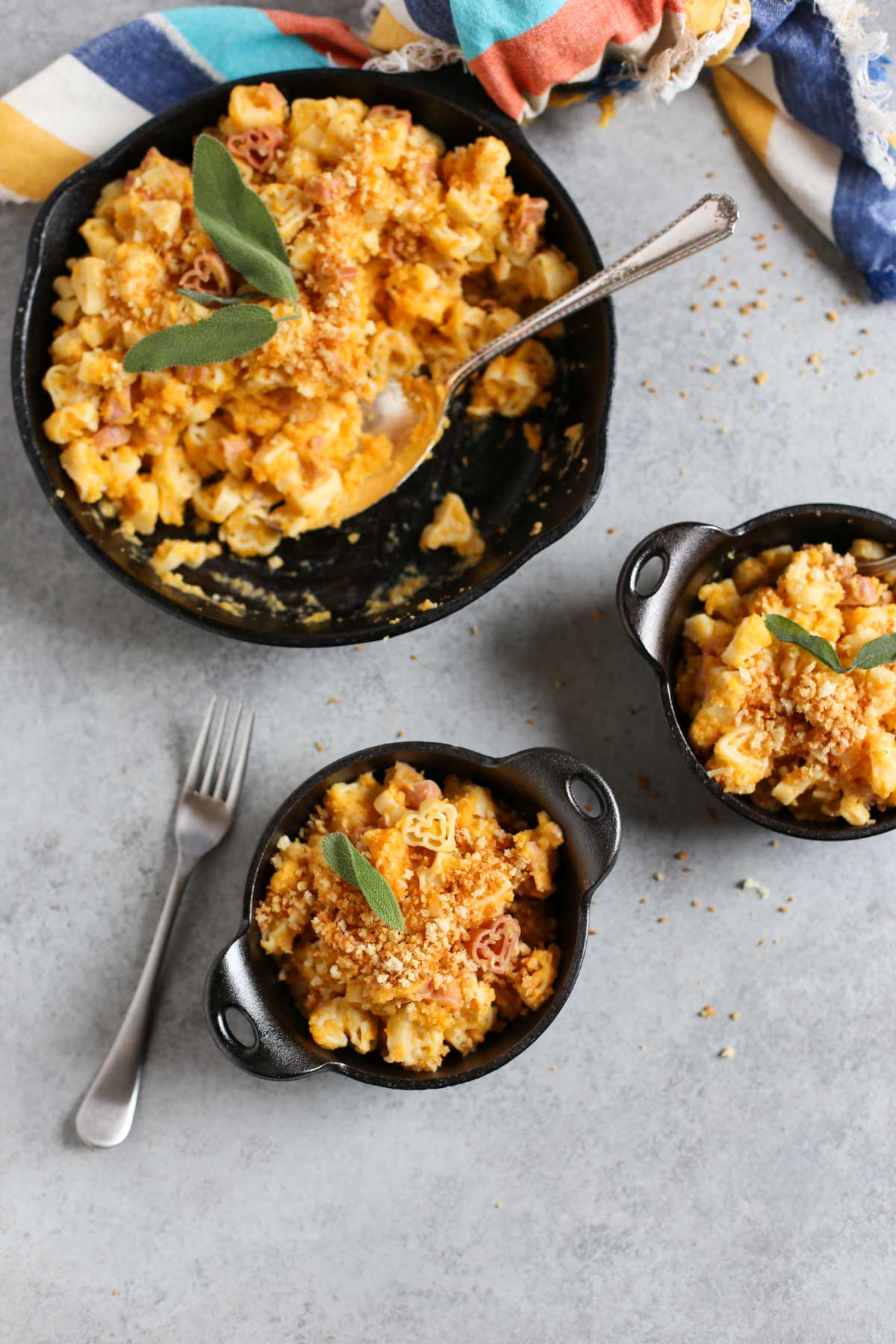 This is what we beg for at the beginning of the new year.  We are all trying to make better choices and this pasta recipe idea has been on my mind for months.  I love butternut squash…have you seen my Butternut and Kale Cannelloni recipe or  my simple Butternut Squash Pasta Sauce recipe?  I knew the versatile butternut would be perfect for this recipe and I had been dreaming of eating a bottomless bowl of mac and cheese guilt-free – AMEN!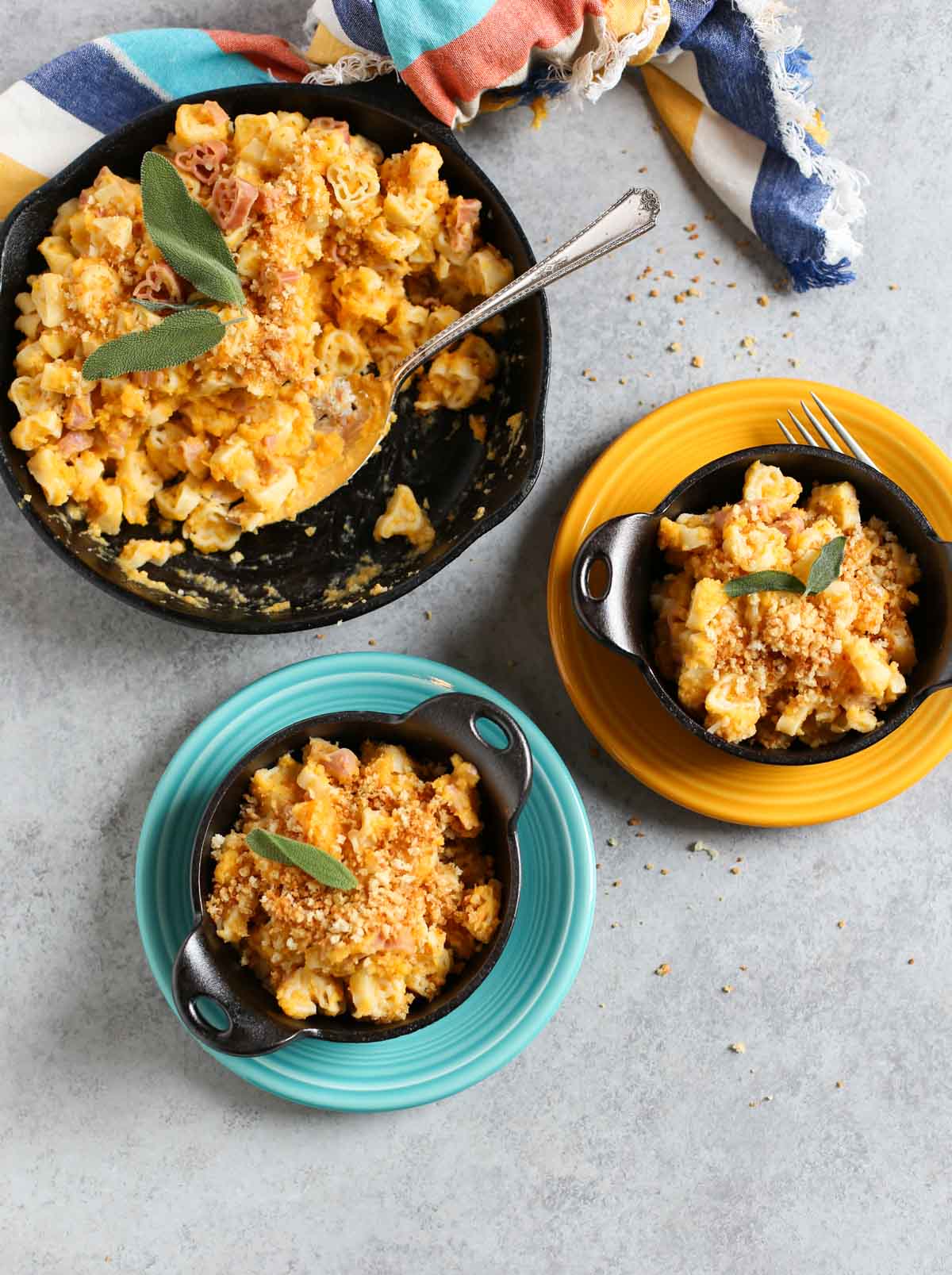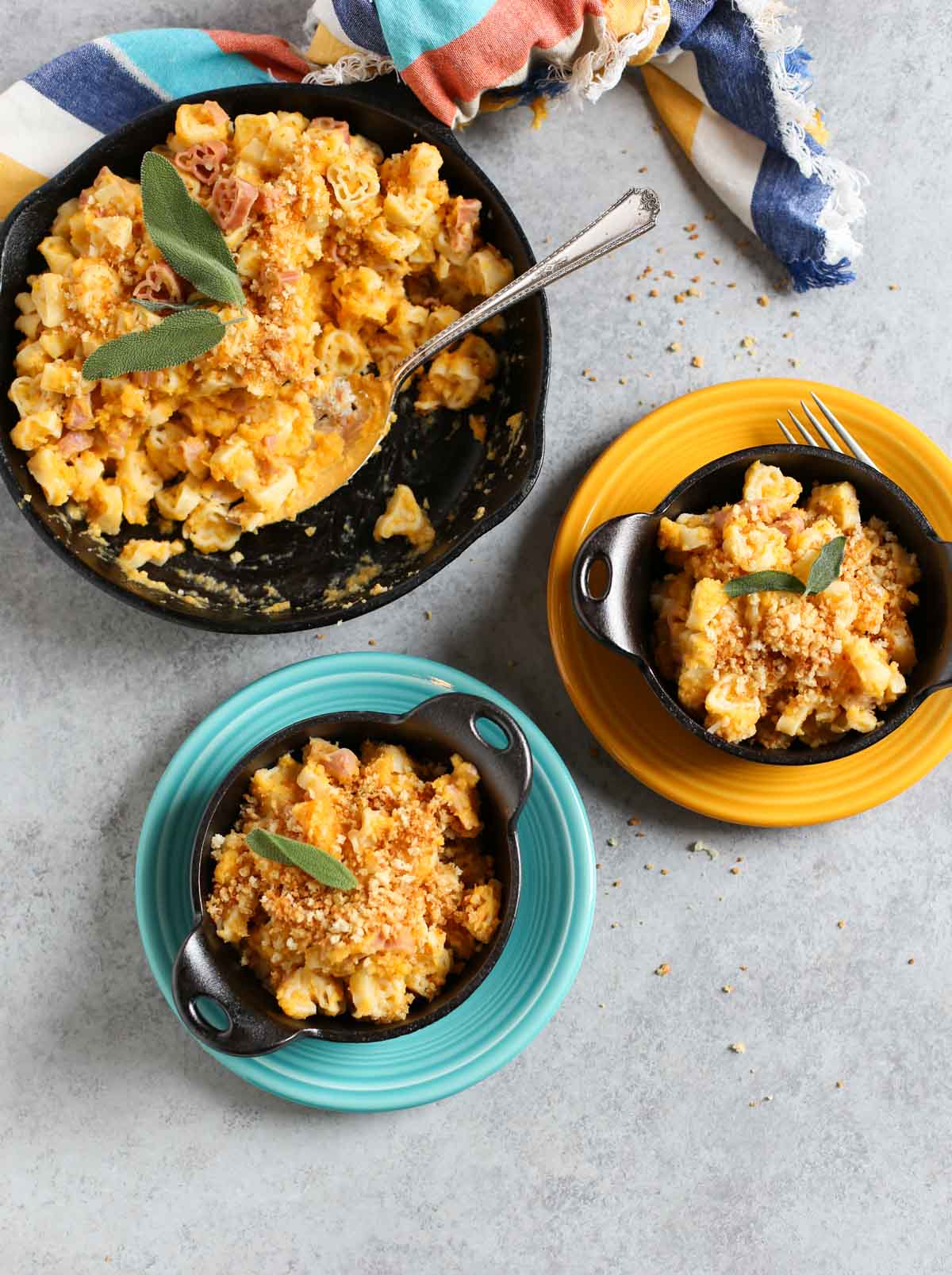 What does a successful healthy mac and cheese need to achieve?  A creamy yet slightly lumpy texture, a bright yellow/orange color, a somewhat cheesy taste with a little bit of sweetness, and a lot less fat and a lot more healthy goodness.  AND you need to be able to fool the kids…seriously. They are the ultimate truth-tellers.  And why not showcase our Heart Pasta…I mean, this is heart healthy-ish!  And I love these individual iron skillets from Lodge Cast Iron (a Tennessee original!)….the perfect way to have serve mac and cheese as a side item.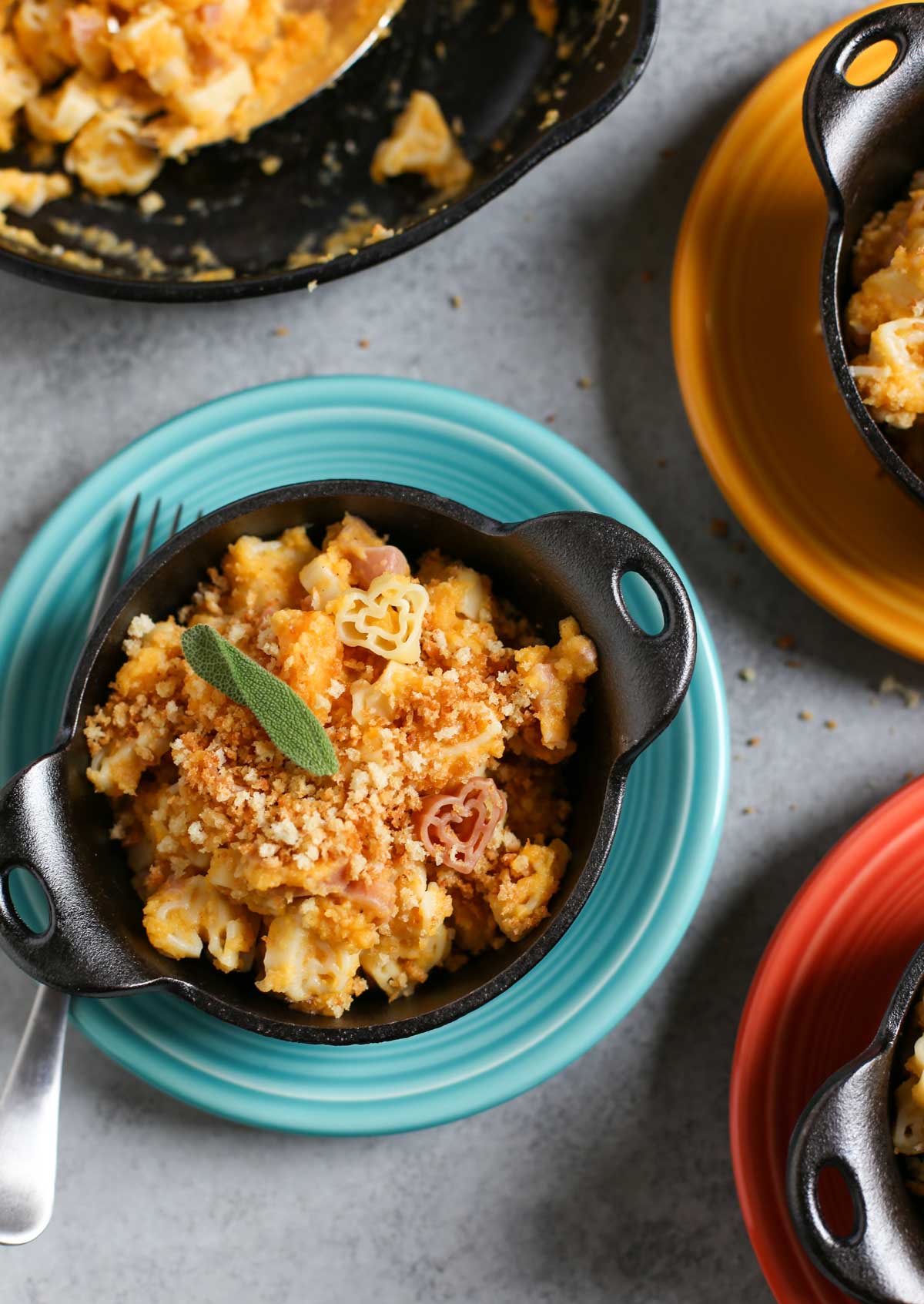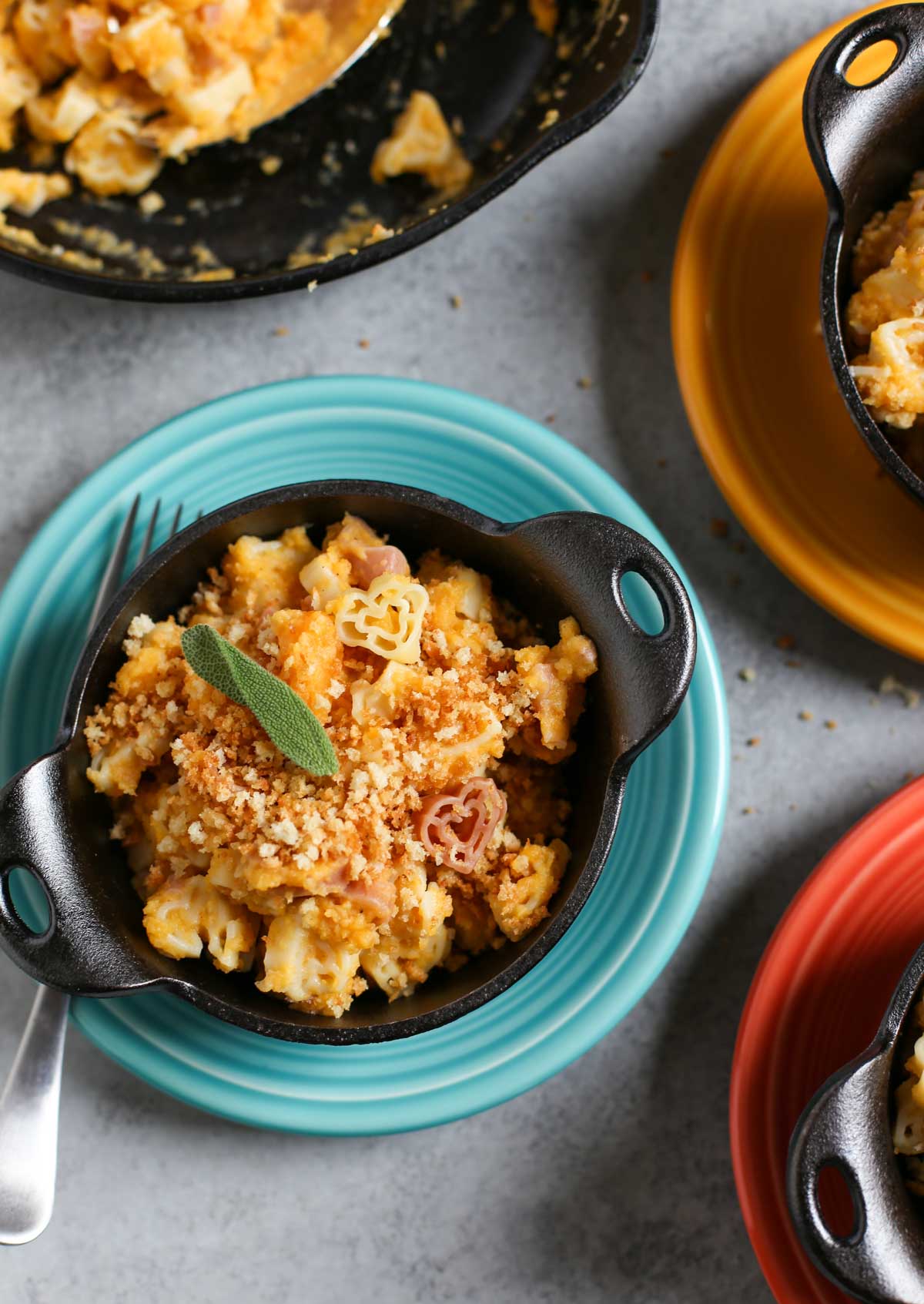 Garnishes and toppings for mac and cheese are the icing on the cake.  What do you add to Healthy Butternut Mac and Cheese?  First of all, I toasted some panko…yum!  Adds crunch and texture.  And I finally did something that I knew would be delish…I flash fried some sage leaves and sprinkled them on top.  They added some subtle flavor and a great light crunchy bite.  I think I like this "frying thing"!  New for me and I'm sure a surprise since I'm from the South.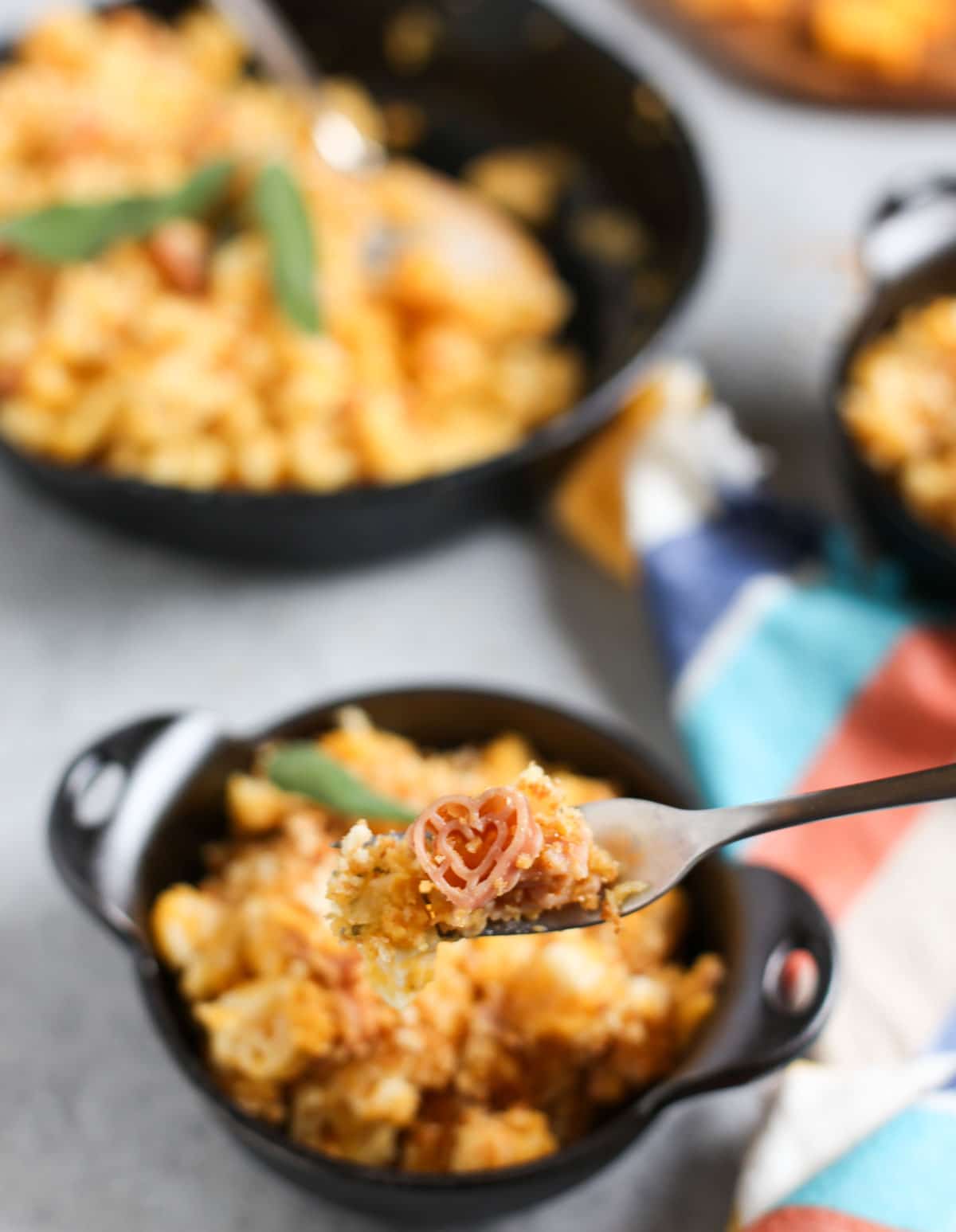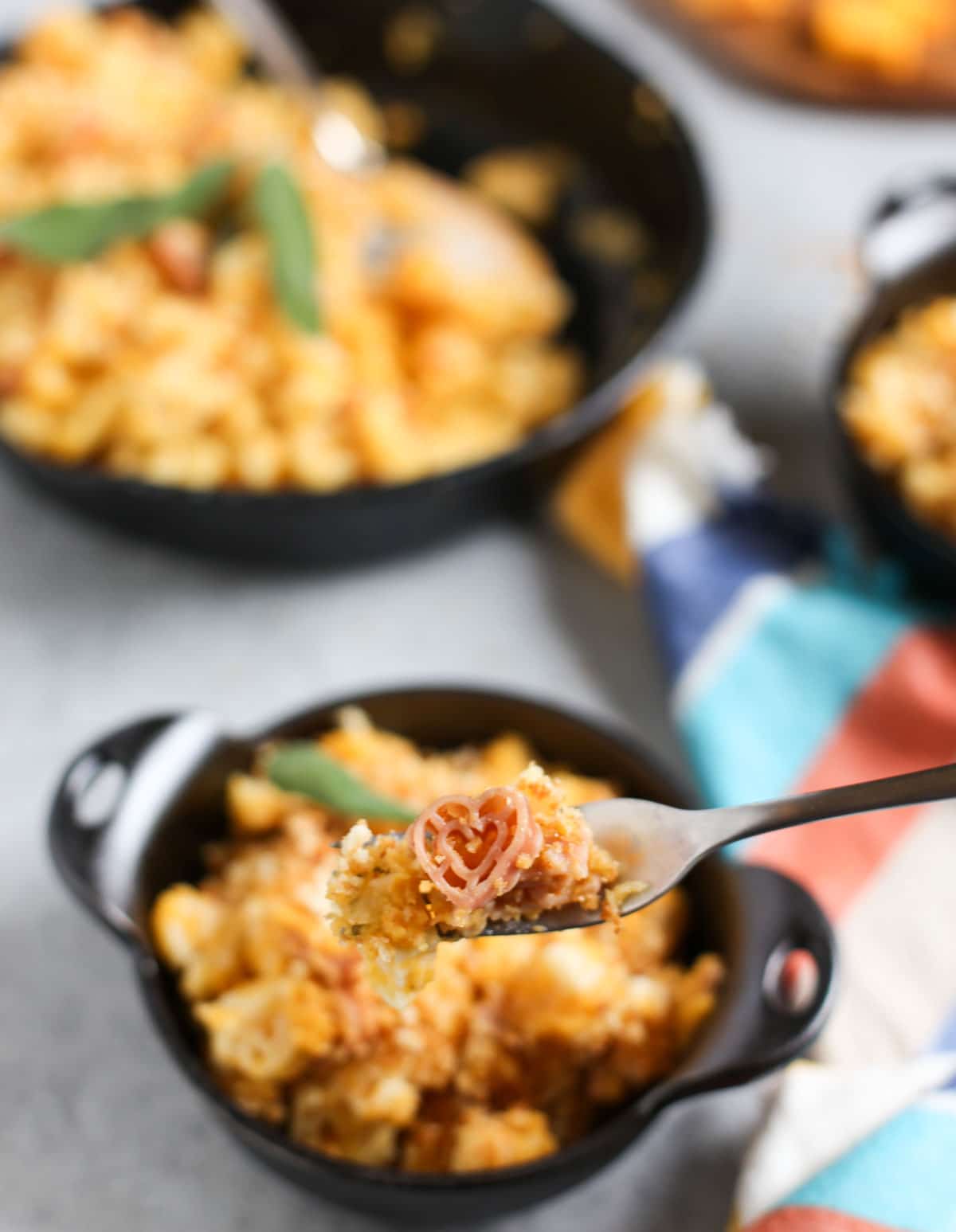 So… I'm going to be working on some more healthy-ish recipes in the coming weeks.  I asked our Wacky Wednesday Facebook people "what do you want to see more of this year?"  Feedback included whole wheat, healthy, more pasta salads, slow cooker ideas, etc…wow, good to know!  (If you don't follow us on Facebook, it's fun…we have a weekly Wacky Wednesday contest that is easy to participate with a chance to win a Pasta Goodie Box each week!)  And I would love for you to follow me on Instagram too!  Here's to a Healthy-ish New Year!
Healthy Butternut Mac and Cheese
A delicious blend of sweetness, cheesiness, and yumminess, Healthy Butternut Mac and Cheese hits the spot! Simple and a family favorite…make it now!
Ingredients
14 oz

. bag of Heart Pasta (or

14

–

16

ounces of another short pasta shape)

5

–

5 1/2

cups butternut squash (cut into 1-inch pieces, I used 2 packages of

12 oz

. Trader Joe's cut butternut squash – easy!)

4

T. olive oil (

2

T. plus

2

T. for breadcrumbs)

1

medium onion, diced

1 cup

2% milk (could sub skim milk)

1/2 cup

low sodium chicken broth

1/2 cup

Parmesan cheese, grated

1/2 cup

sharp cheddar cheese, shredded

1

t. kosher salr

1/2

t. black pepper

1/4

t. nutmeg

1/3 cup

panko breadcrumbs
For Crispy Sage:

1/2 cup

canola oil
fresh sage leaves
Instructions
Cook pasta according to package directions and rinse with cold water and set aside. Toss with some olive oil to avoid sticking.
Bring a large pot of water to a boil, and add cut butternut squash. Gently boil for 6-8 minutes until squash is fork tender.
While squash is cooking, in a medium saute pan, over medium heat, add 2 T. olive oil and saute onion until translucent for about 4-5 minutes.
When squash is done, drain and place back into pot, and over a low heat, add onion, milk and broth, salt and pepper. Using a immersion hand blender, puree squash mixer until smooth,
Add cheeses and nutmeg and adjust seasoning if needed.
Add pasta to butternut squash mixture and gently toss.
For toasted panko:
In a small pan, toss panko with 2 T. olive oil until slightly browned, stirring constantly. (about 5 minutes)
For crispy sage:
Bring canola oil to 350 degrees in a small sauce pan. (I used a candy thermometer to measure heat).
Drop single sage leaves into hot oil and leave for 15-30 seconds, depending on size of leaves.
Remove and place on paper towels to drain. Sprinkle with kosher salt. Can make a day ahead and leave out a room temperature.
To serve:
Whether in one large pan, or individual pans, place mac and cheese, top with panko and a few crispy sage leaves.
Enjoy! You'll love this!
Join our email list for fresh pasta recipes delivered to you every week!
Your information will NEVER be shared or sold to a 3rd party.