Roasted Tomatoes, White Beans, and Spinach with Whole Wheat Pasta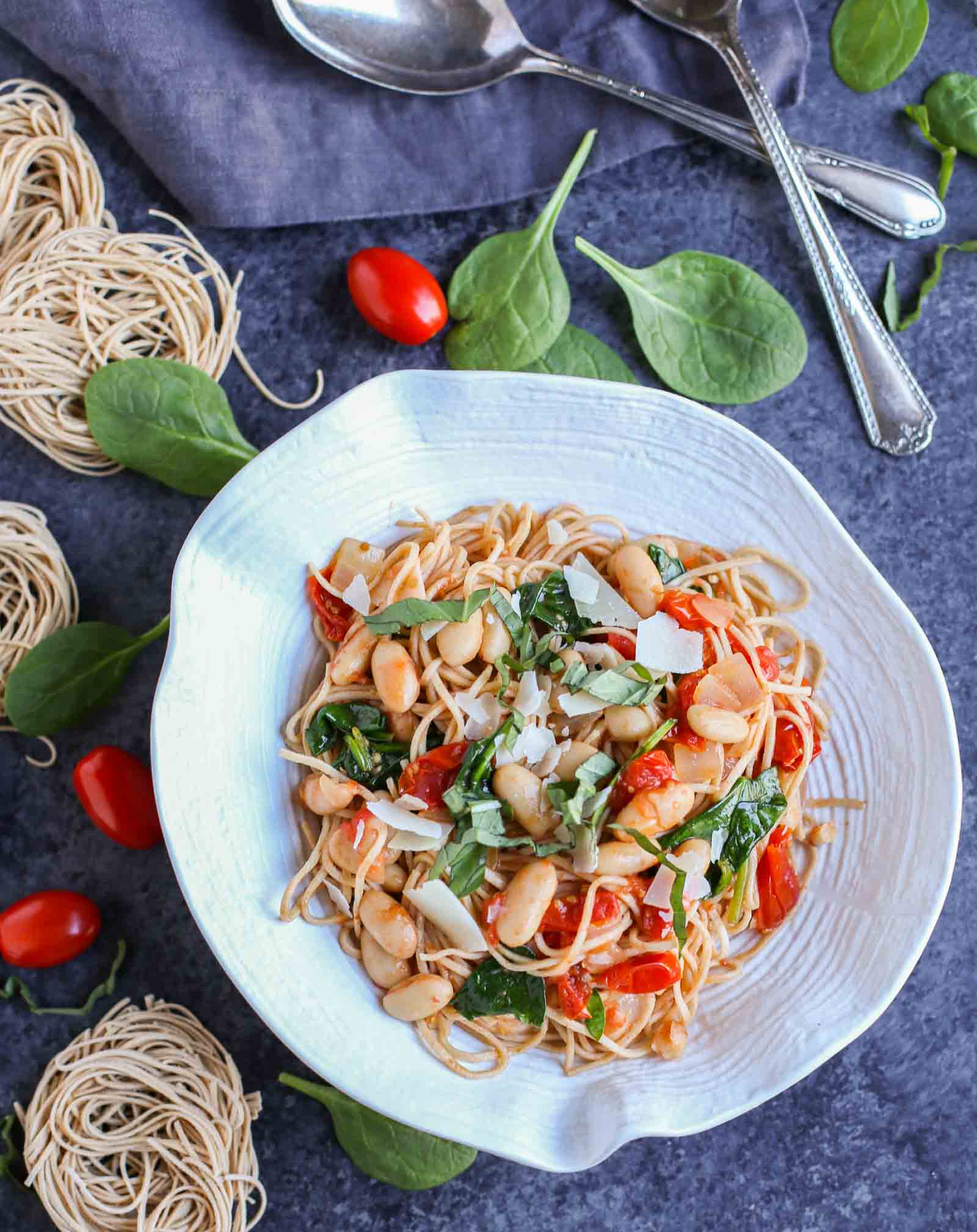 It's been a while since I've cooked our Whole Wheat Angel Hair Pasta, and as spring approaches I know we are all still focused on eating healthy this year…right?! You are going to love this Roasted Tomatoes, White Beans, and Spinach Pasta recipe…and fall in love again with Whole Wheat pasta.
One of my recent questions on our Facebook Wacky Wednesday contest was "Please share what you'd like to see for pasta recipes this year!" I love hearing all the ideas and what seems to be trending in terms of food interests. We had lots of requests for whole wheat pasta ideas and a lot of general "healthy" comments too.
What am I talking about? Follow us on Facebook, if you don't already, because we have a fun weekly Wacky Wednesday contest where folks answer a question and then we randomly choose a winner who receives a Pasta Goodie Box!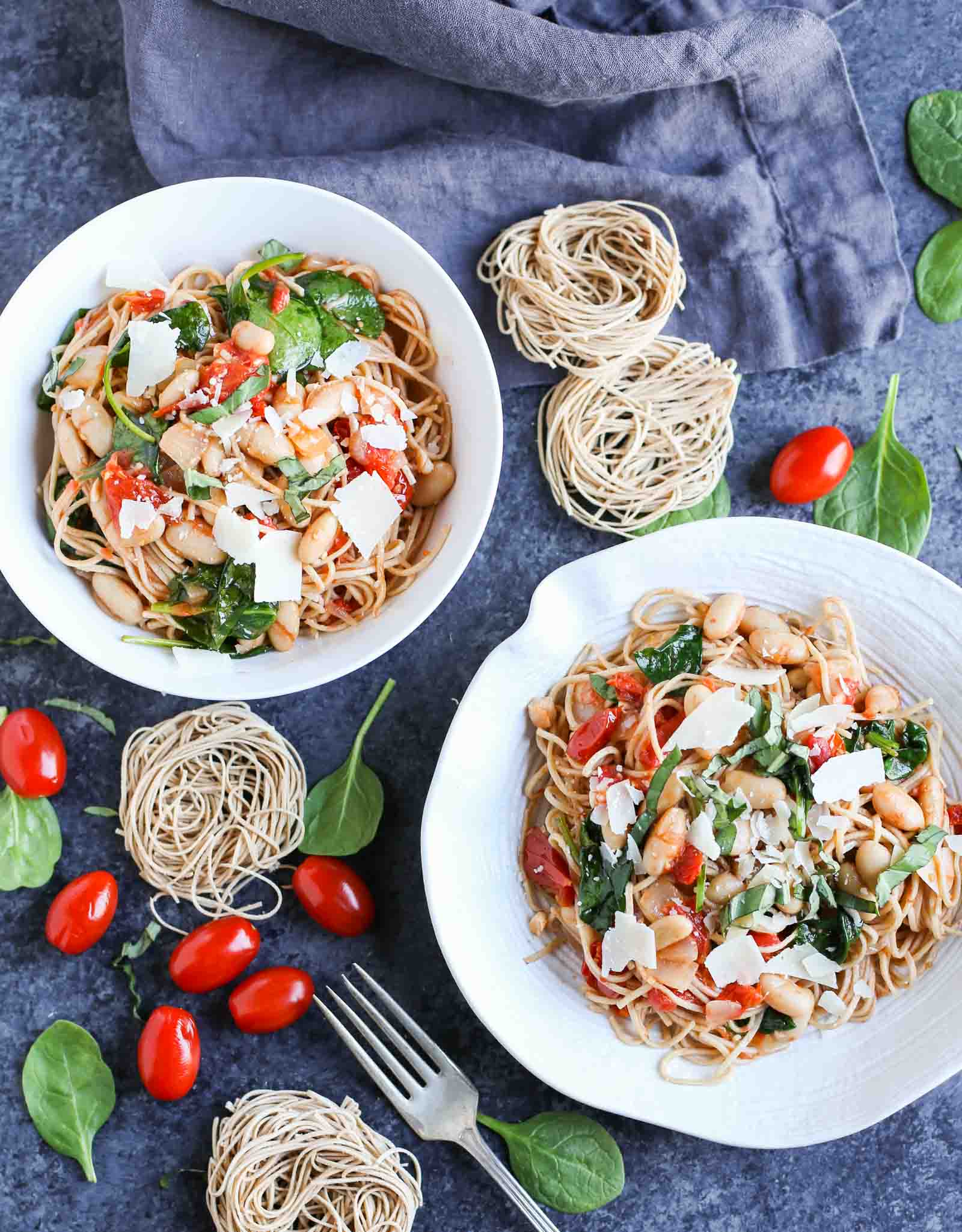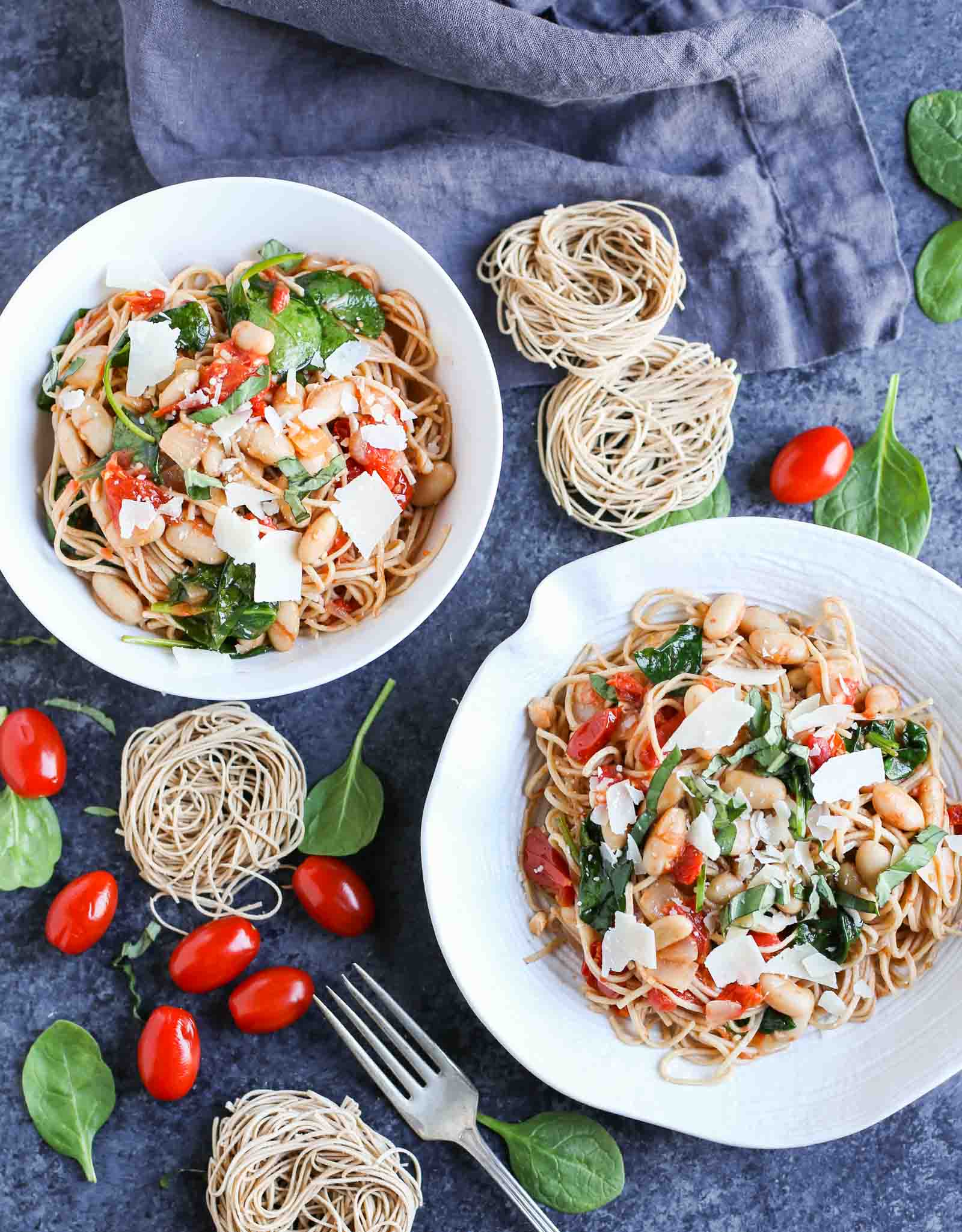 Anyway, I love pasta dishes that have lots of flavor without the calories of a fattening, heavy sauce. This Roasted Tomatoes, White Beans, and Spinach pasta recipe has two "steps" that help make the perfect sauce. And to call it "sauce" is probably a bit misleading. Basically, there is enough liquid between the roasted tomato "juice" and the "pasta water" to create a flavorful base for the pasta dish.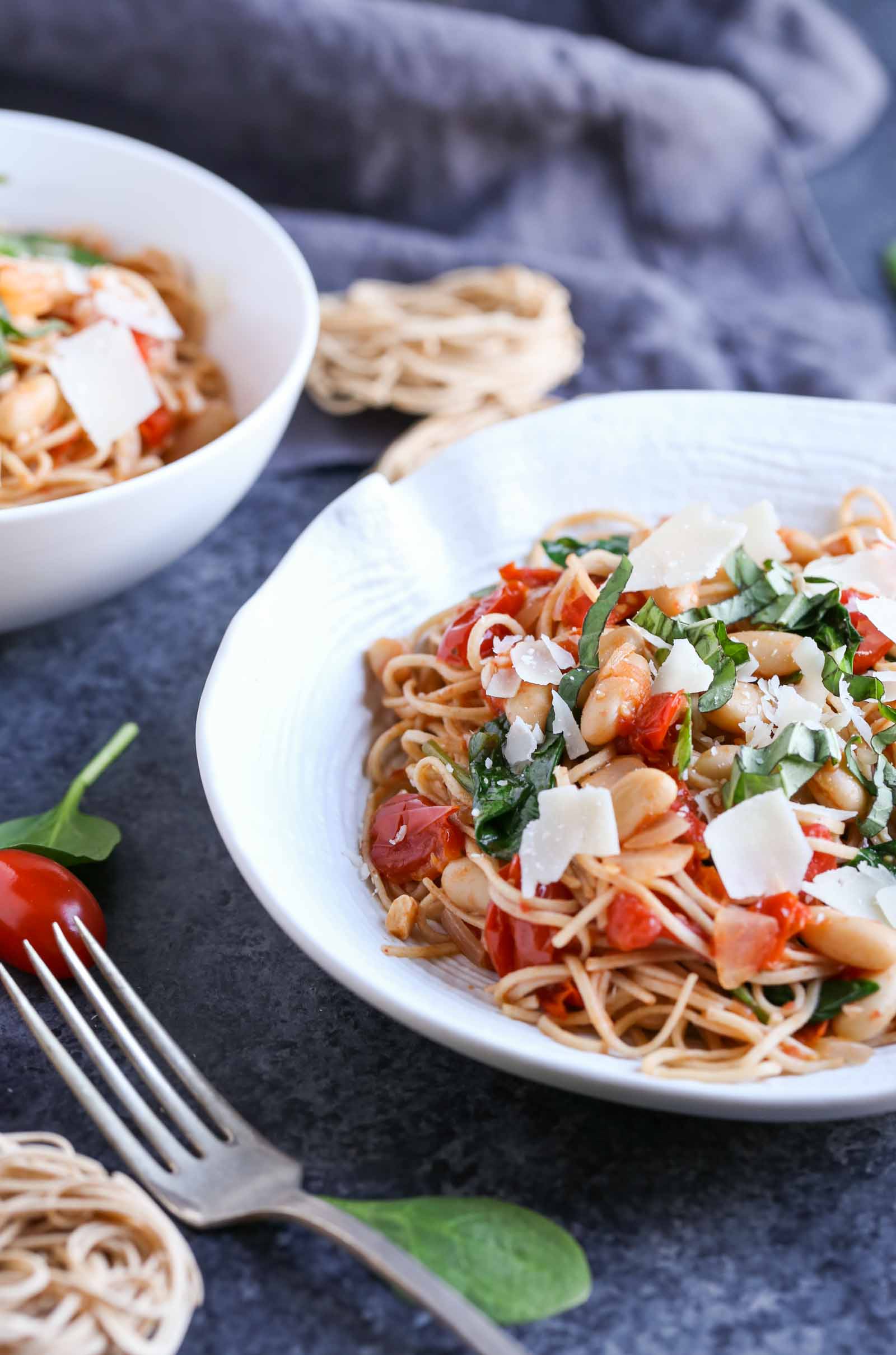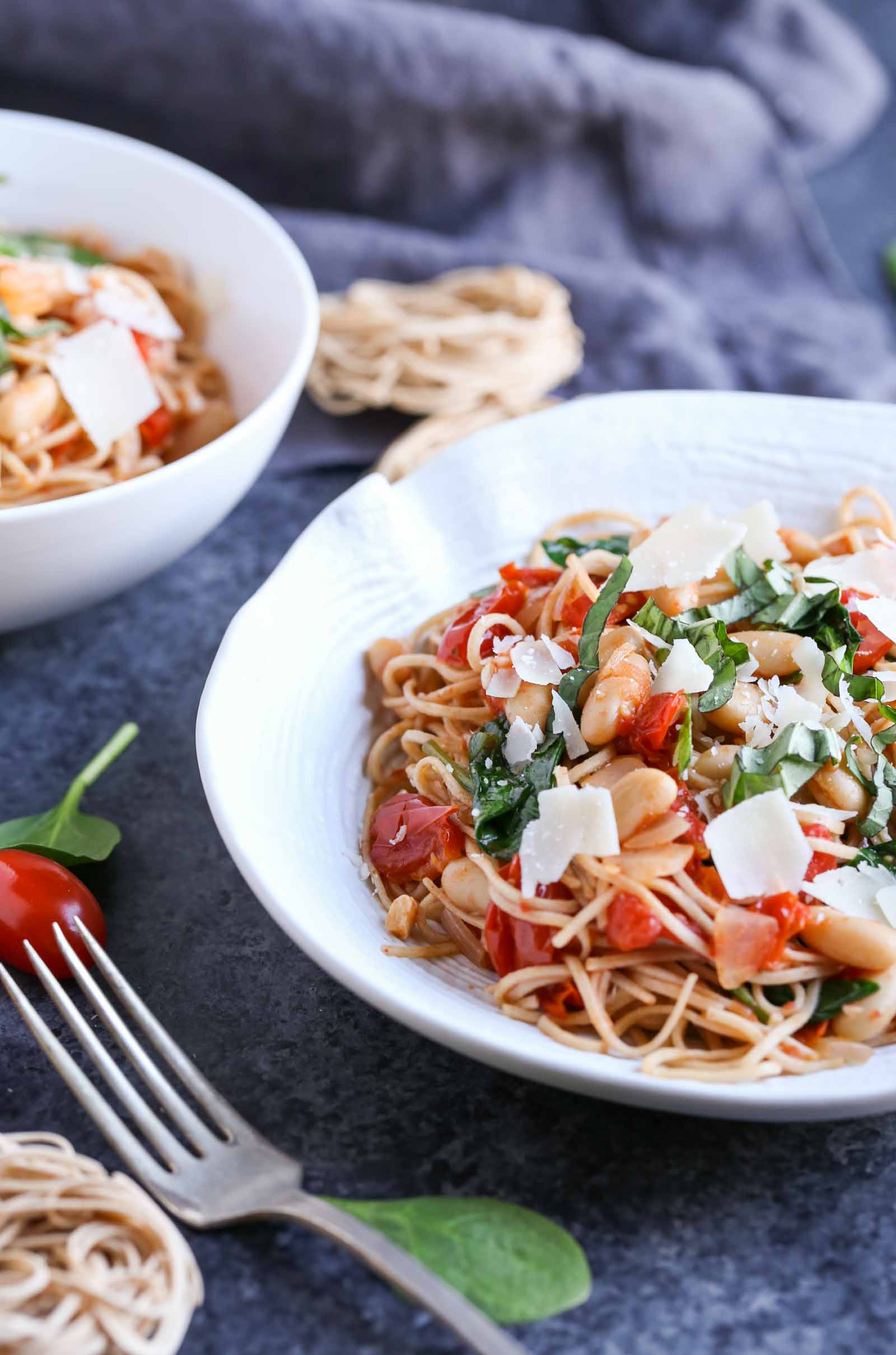 By roasting the tomatoes in a Pyrex dish or similar baking dish, you capture all the juices from the colorful and seasoned grape tomatoes. In fact, after this step, I could have just eaten the tomatoes as a side dish. They are melt in your mouth good! You do use some olive oil when roasting, but relatively speaking, it's very little for the amount of pasta this recipe makes.
Simplicity matters too, so I just used a can of Cannellini beans, drained and rinsed them with some water. The beans really add some substance and texture. With the other healthy ingredients, it's a "light" dish packed with protein and other goodness for your body!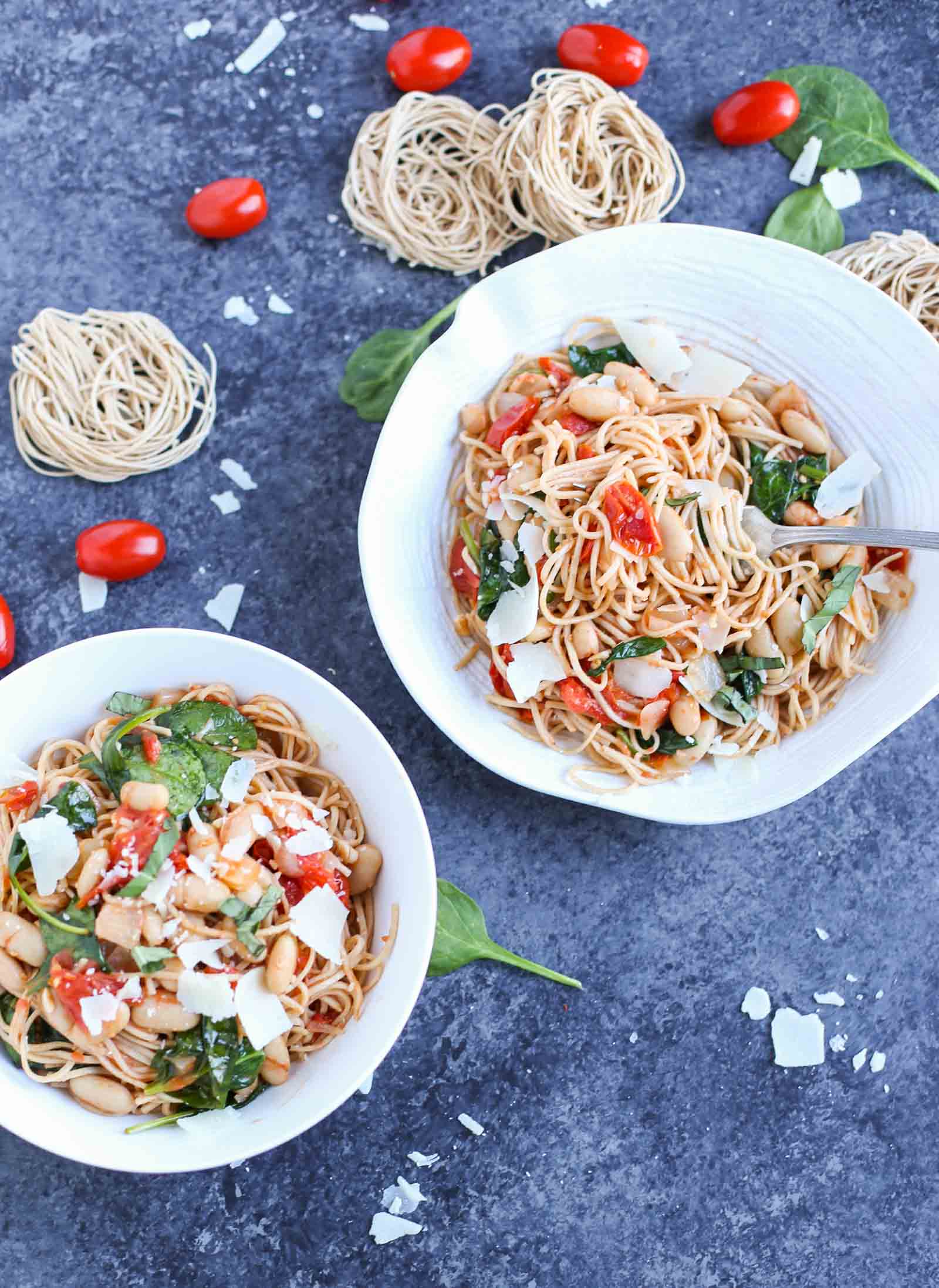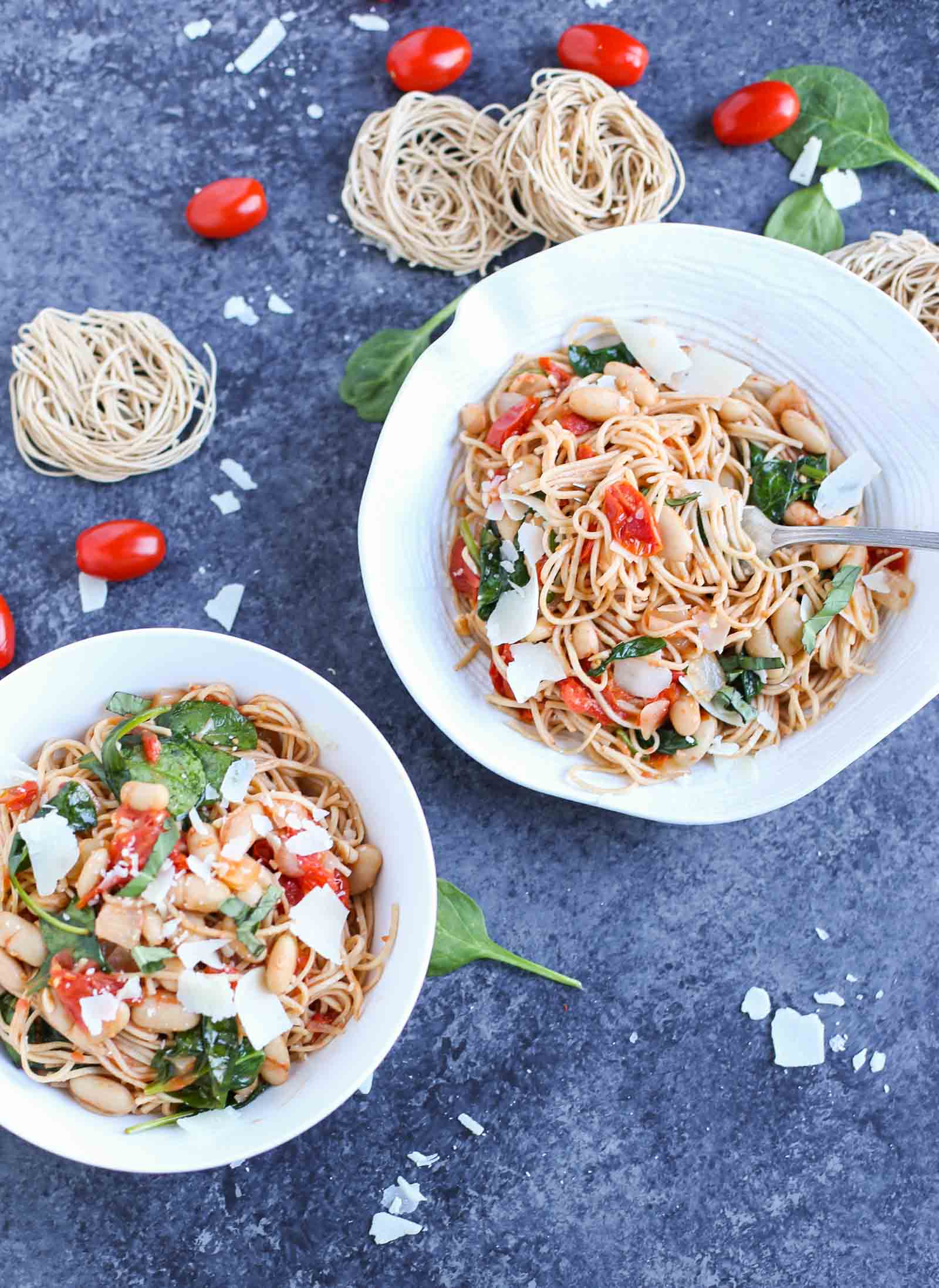 Whole Wheat Pasta+ Roasted Tomatoes+ Beans+ Spinach+ some other stuff = YUM!
Some people are afraid of whole wheat pasta. And I understand why. There are some gritty, tough, and chewy whole wheat pastas out there that I too would steer clear of…but not ours! We start by using a wonderful high quality 100% whole wheat flour out of the Dakotas. Our angel hair is "sheeted" not extruded like our fun shaped pasta.
The pasta dough is mixed and then formed into a flat sheet that is fed through multiple rollers until it is just the perfect thinness…and then gently fed through a die that cuts the sheet into thin angel hair! A pneumatic system whips these dainty hairs into the bird's nest shape.
And Viola! In fact, look at the pictures above and you can see some of the "uncooked" nests.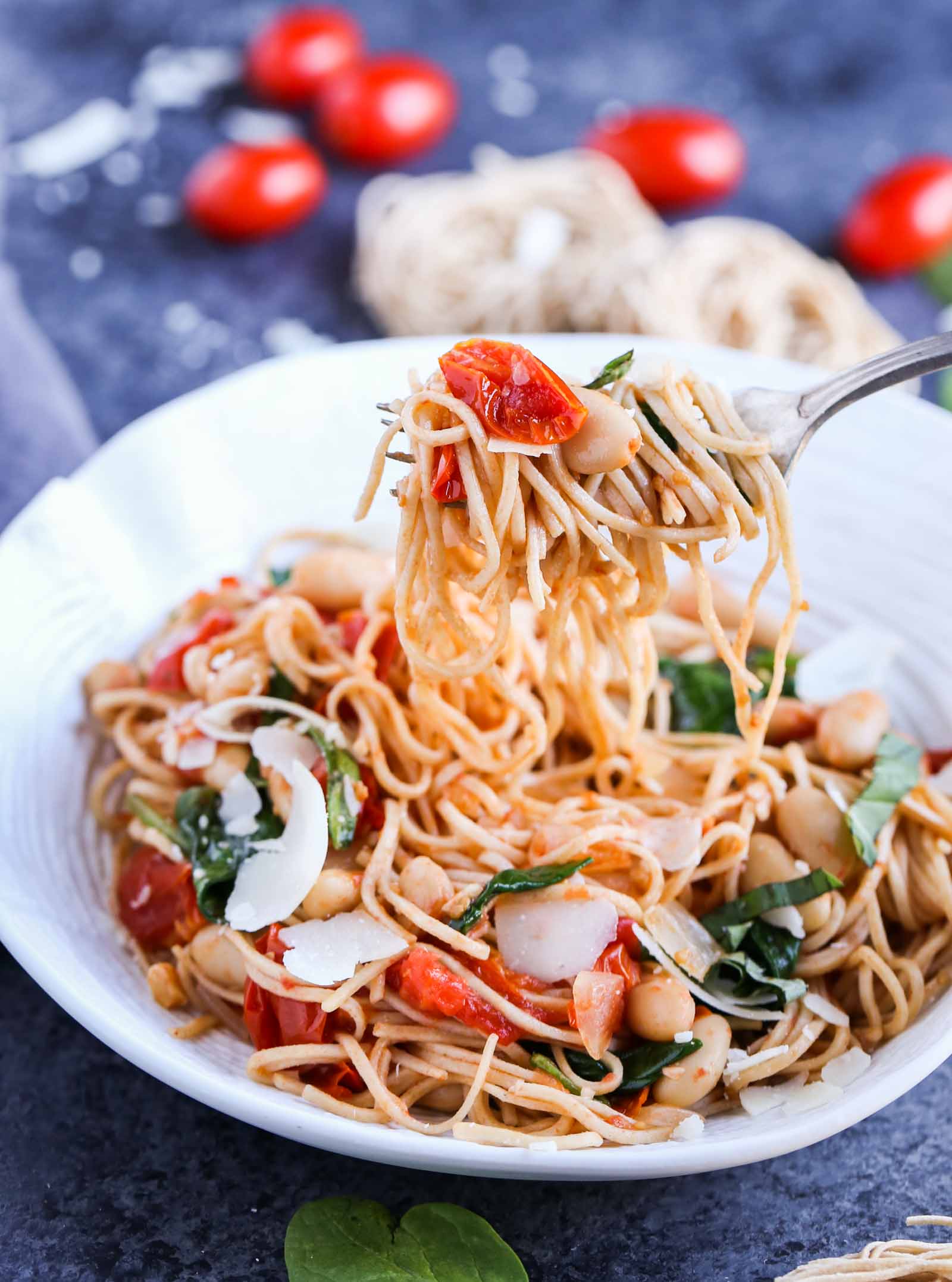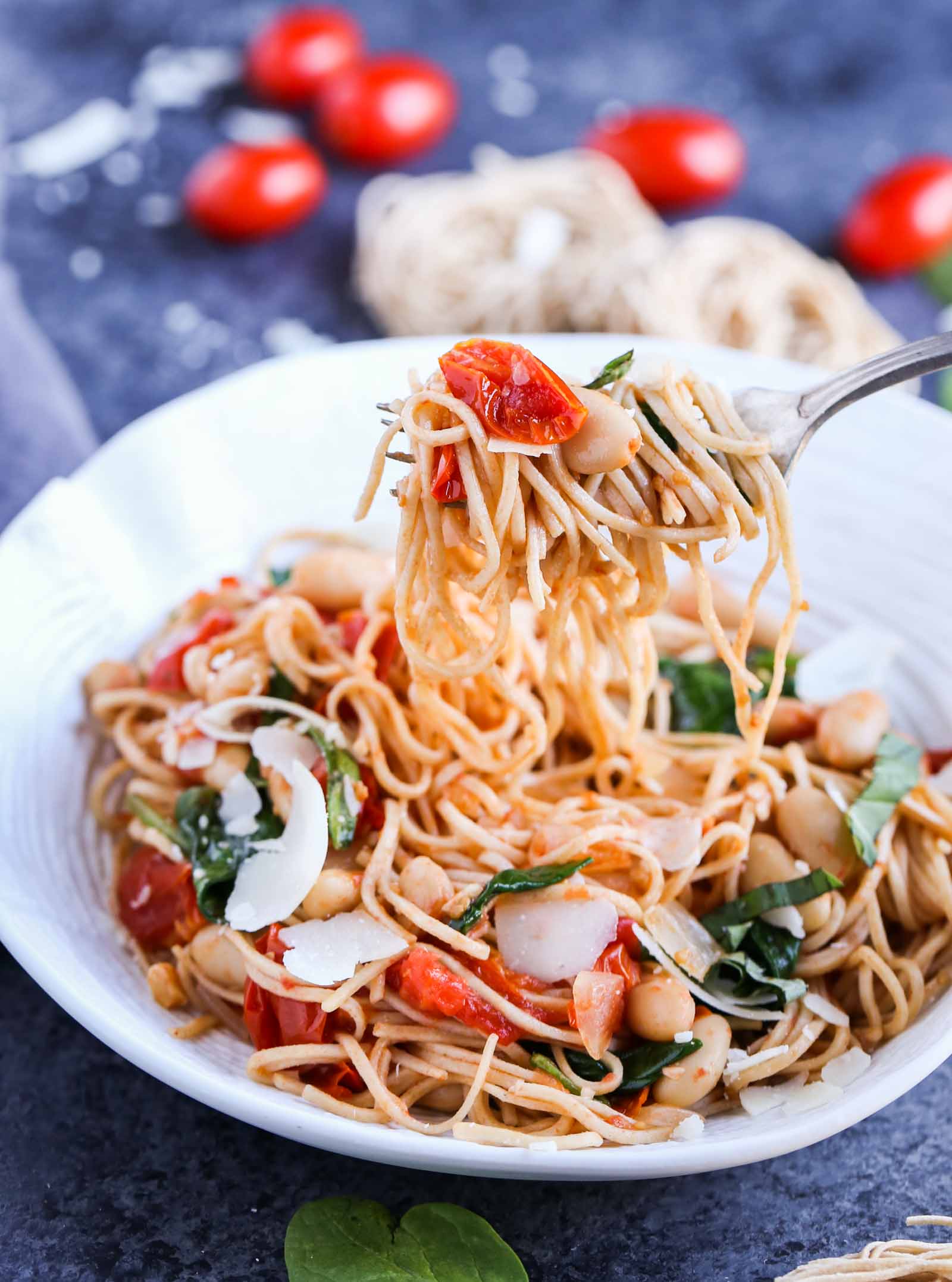 And yes, you can substitute different long pasta if you like. But the whole wheat pasta keeps the overall dish healthier with more fiber. Keep in mind that you can make this pasta dish a meal by itself. I know you are going to love it. Please share your thoughts once you make it!
Print
Roasted Tomatoes, White Beans, and Spinach with Whole Wheat Pasta
A healthy pasta dish full of protein and good vitamins! Filling enough to be a meal in itself!
Ingredients
12

–

14

ounces Whole Wheat Pasta (I used our Angel Hair nests)

3 pints

cherry or grape tomatoes, halved lengthwise

1/4 cup

+

2 Tablespoons

extra virgin olive oil

3

T. minced fresh garlic

1/4

t. crushed red pepper

2

t. kosher salt

1

onion, diced

1

15 oz. can of Cannellini Beans, drained and rinsed with water

4

handfuls of fresh baby spinach
Fresh basil, julienned
Fresh Parmesan, shaved or grated
Instructions
Preheat oven to 325 degrees. Toss together tomatoes, crushed red pepper, 1/4 cup olive oil, 2 T. of the garlic, and 1 t. kosher salt in a 9 x 13 baking dish. Bake for approximately 45 minutes until tomatoes soften and release their juices. You can do this a few hours ahead of time. Just let them stand and room temperature until ready to make pasta.
Cook pasta according to package directions, save 1/4 cup of the cooking water, drain and set aside.
While pasta is cooking, heat 2 T. of oil over medium heat and saute onion until translucent, approx. 5-6 minutes. Add beans and garlic and cook for another 2 minutes.
Add pasta, tomato mixture, spinach and saved pasta cooking water to pan.
Toss until spinach is wilted.
Top with fresh basil and Parmesan.
Enjoy!
Join our email list for fresh pasta recipes delivered to you every week!
Your information will NEVER be shared or sold to a 3rd party.