Arugula and Lime Pesto Pasta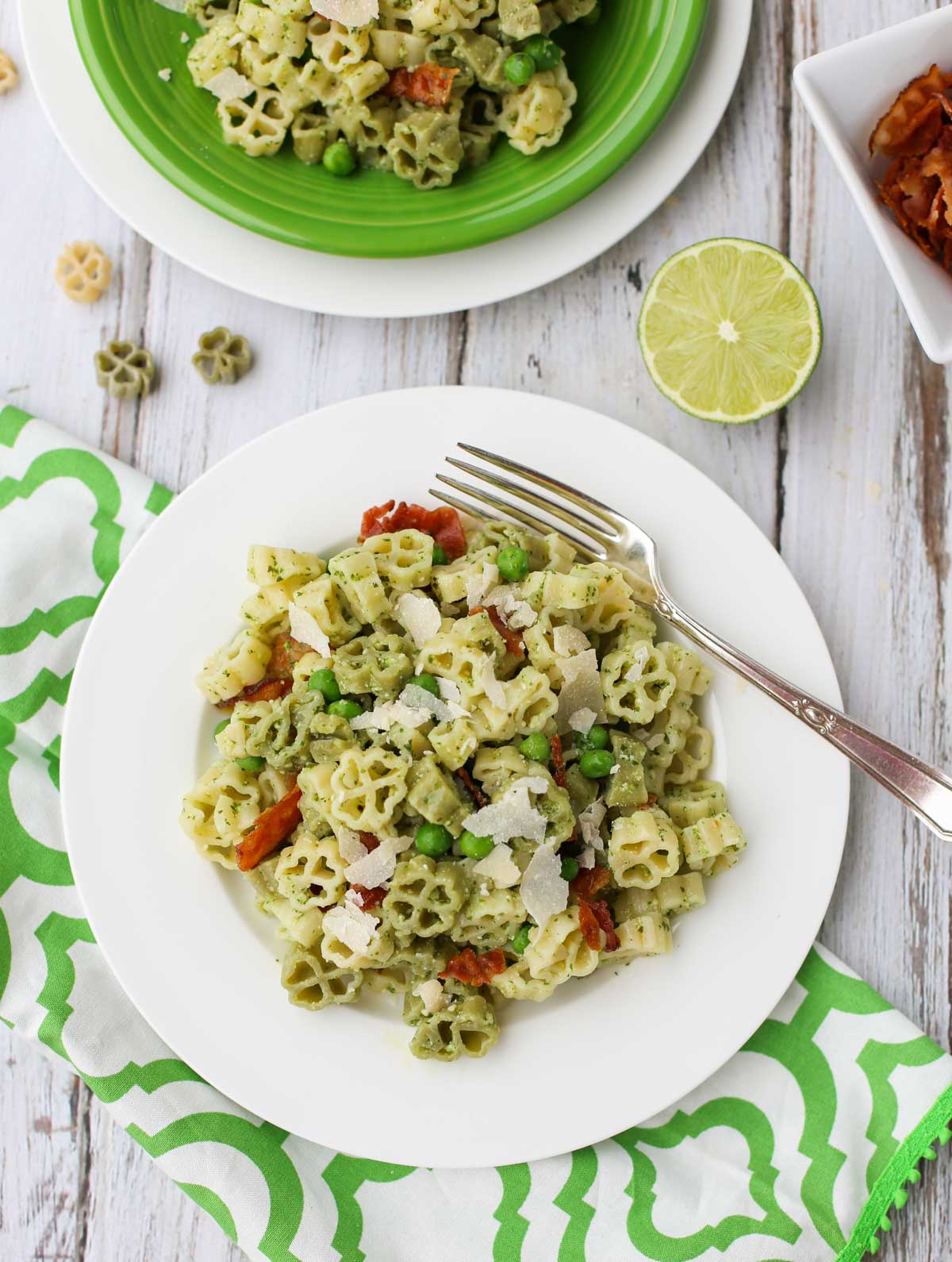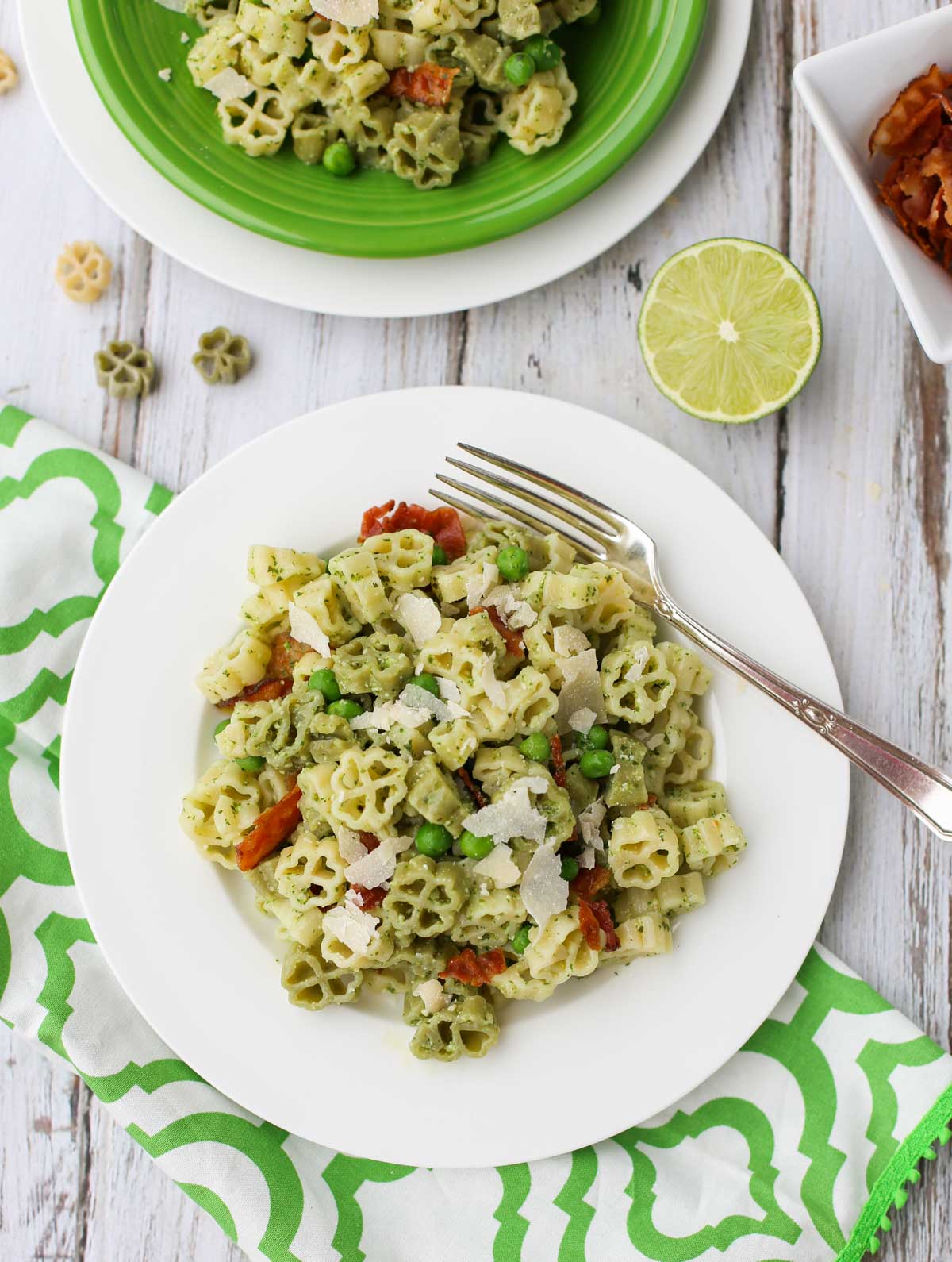 There is something about the bright green color associated with "March" that makes me so happy!  Maybe because it means the beginning of Spring, or maybe it is due to my Irish roots (actually Scotch Irish, so we "think" …awaiting the much anticipated Ancestry.com results I as type! Details to follow.)
What I do know is that March and St. Patty's Day promises lots of shamrocks and four leaf clovers which should guarantee us lots of good luck.  Lucky is exactly what I felt when I saw this bright green Arugula and Lime Pesto recipe in a cool foodie magazine called The Local Palate.  Granted, cooks are making pestos these days with all kinds of greens…but I had never seen this combo!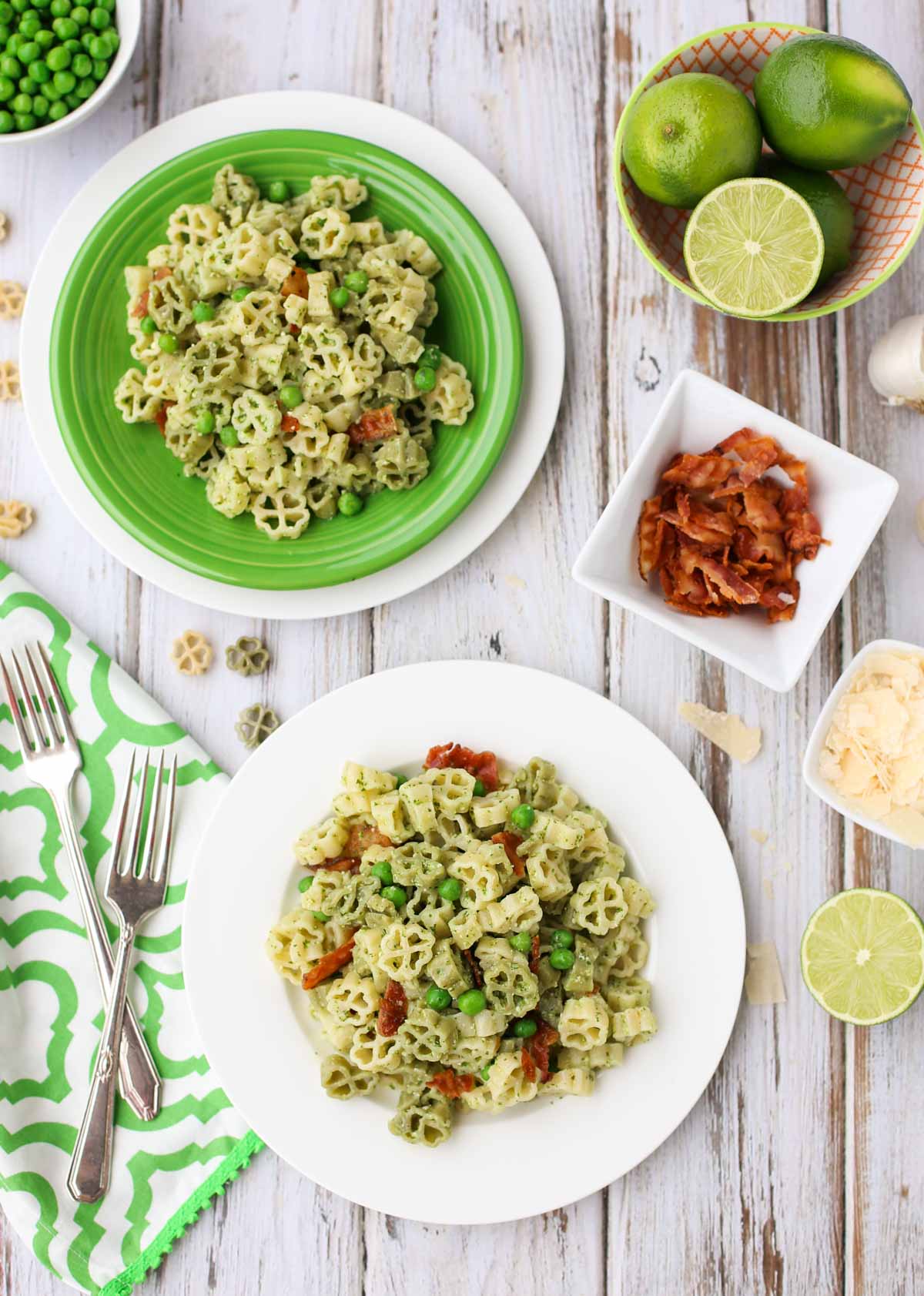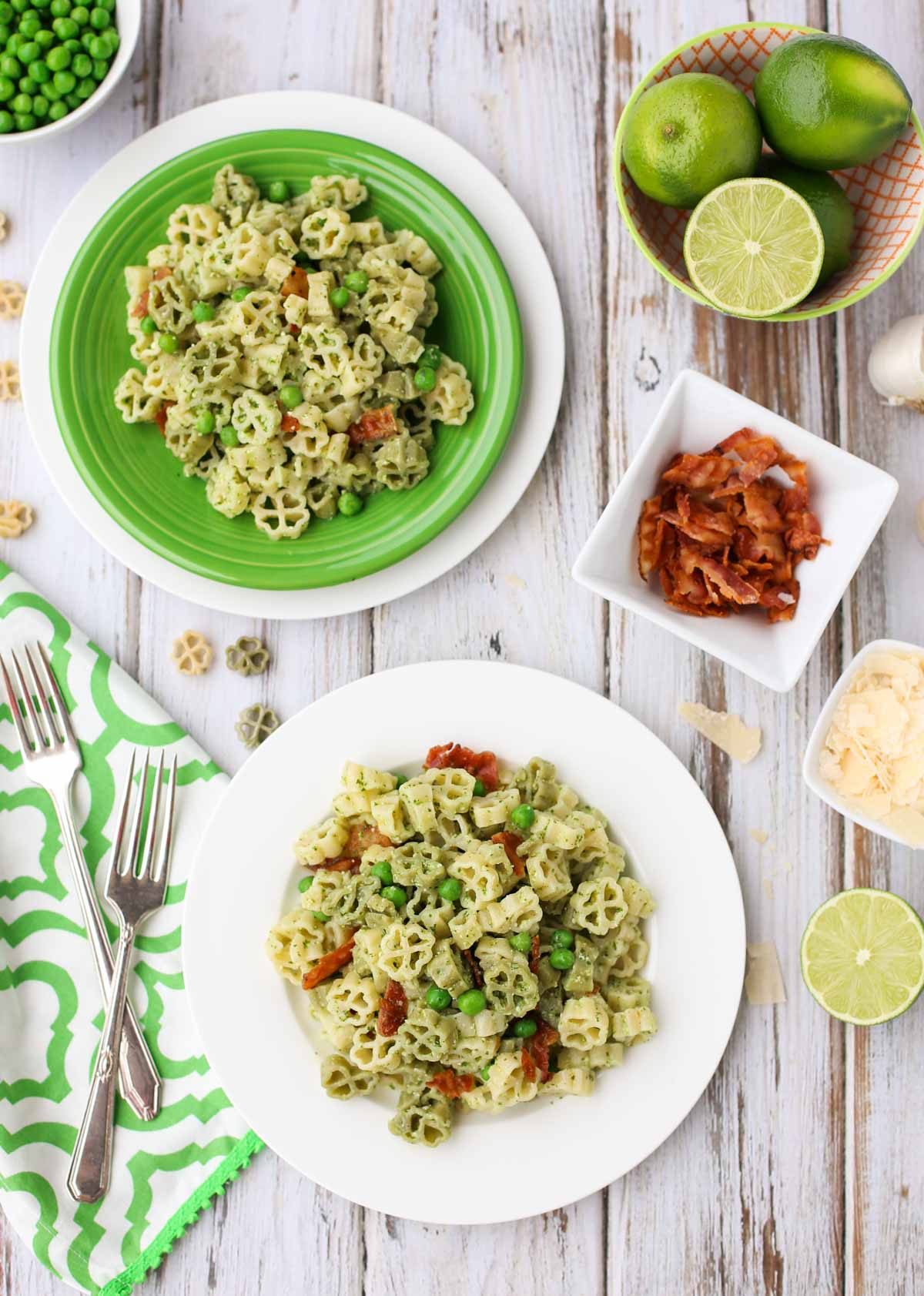 The green color immediately jumped off the page and the combination of arugula and lime caught my attention pronto!  I had to make this new twist on pesto and see what we had here…plus a pesto in early Spring?!  Why not, I'm ready!
Arugula is a leafy green that has a peppery and tangy taste.  I love it as an addition to my salad greens or just by itself.  Many stores these days carry "baby" arugula (sometimes organic but not always) which is a tamer version of regular arugula, and it's become a staple in my fridge.  Hot tip:  Try my quick and easy arugula salad which doesn't require an official recipe "post":  a couple of generous handfuls of baby arugula, fresh Parmesan to taste, and about ½ a lemon squeezed. Toss. Eat. Smile!  Option:  sometimes I add sliced grilled chicken, even store bought from the grocery counter. 🙂  This has become my healthy go-to lunch at least once a week!  Apologies for the side bar, but you NEEDED that simple salad recipe!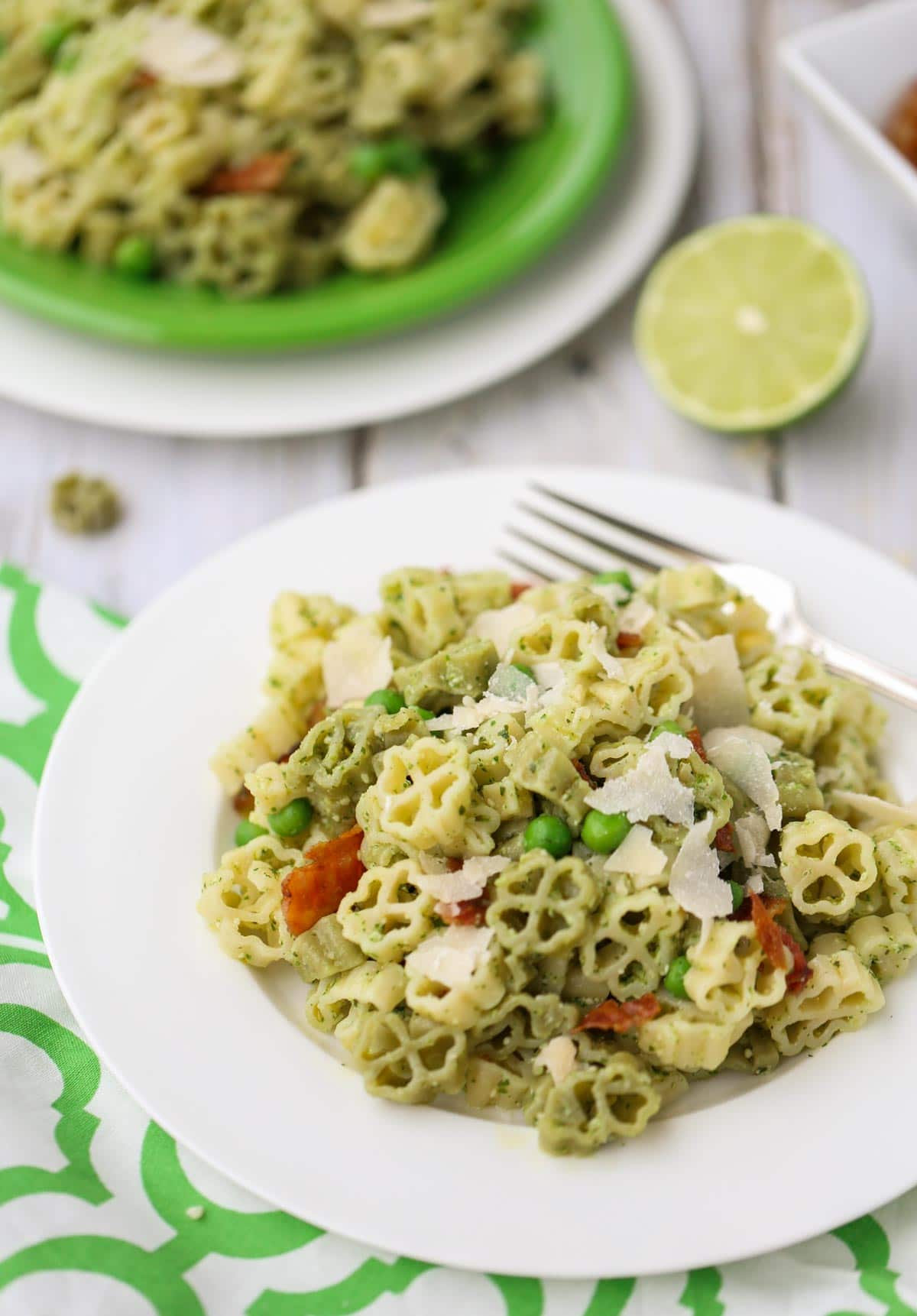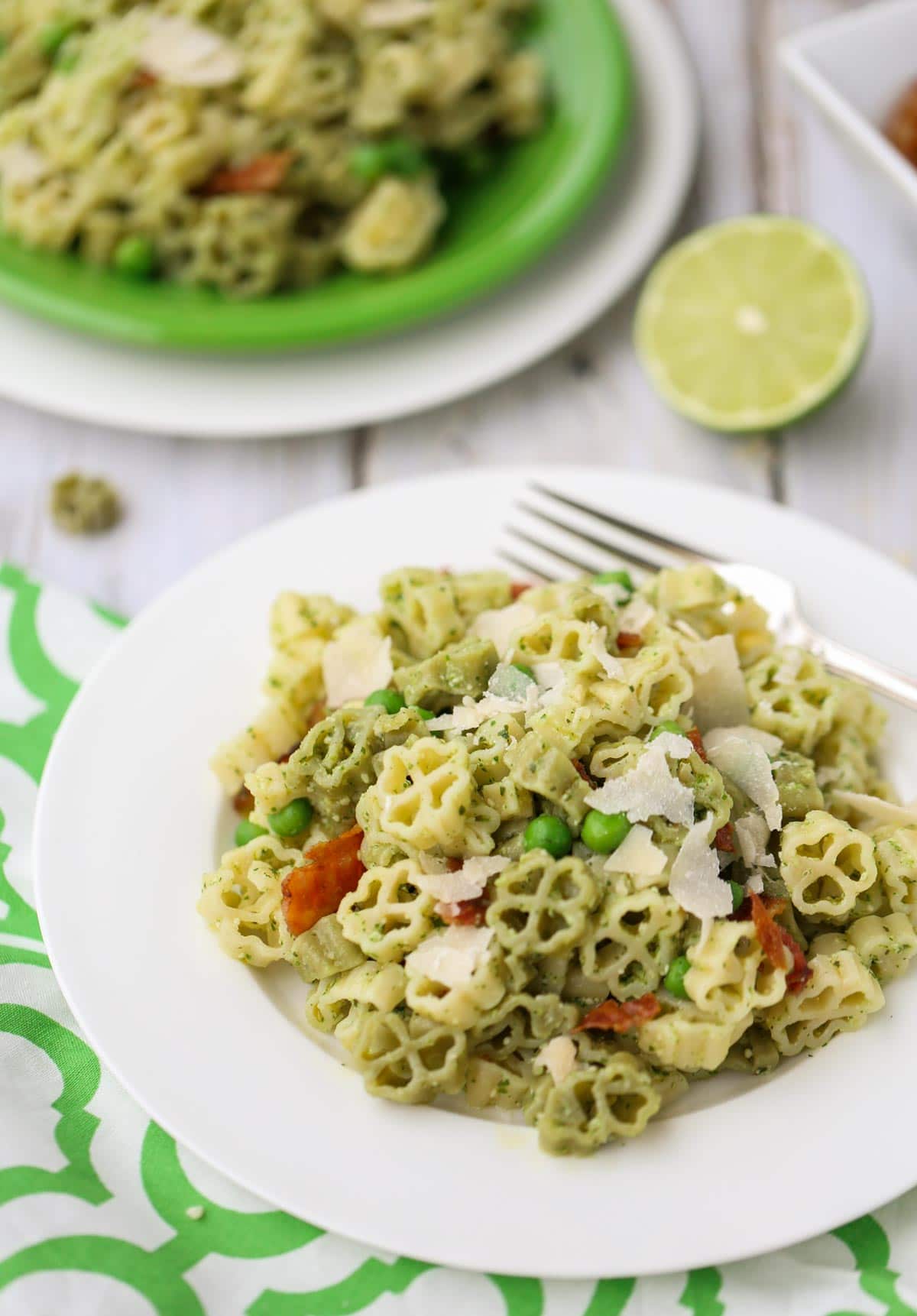 Limes.  In my mind I associate them with margaritas, tacos, sherbet, and Corona.  I've never seen a pasta recipe with the word "lime" in the description.  Are you intrigued yet?  This pesto was wonderful.  The lime flavor does come through and is a nice balance with the arugula.  For color and a bit of sweetness I added green peas, and for a bite of saltiness I crumbled some bacon and added it too.  I tried to find already diced pancetta and thought I'd do a quick saute and crisp it up, but the store was out!  Either one will be delicious when you enhance this already yummy Arugula and Lime Pesto!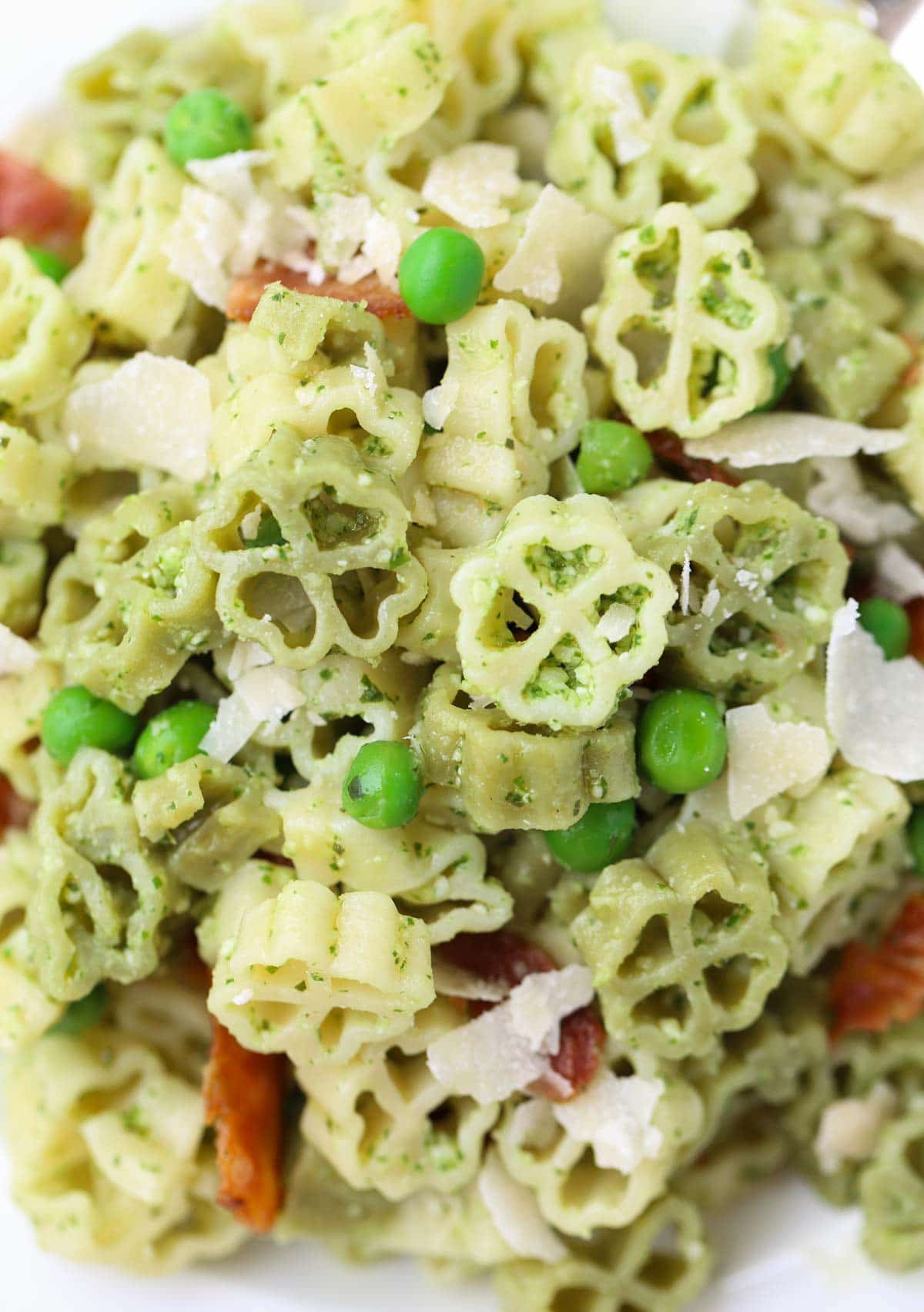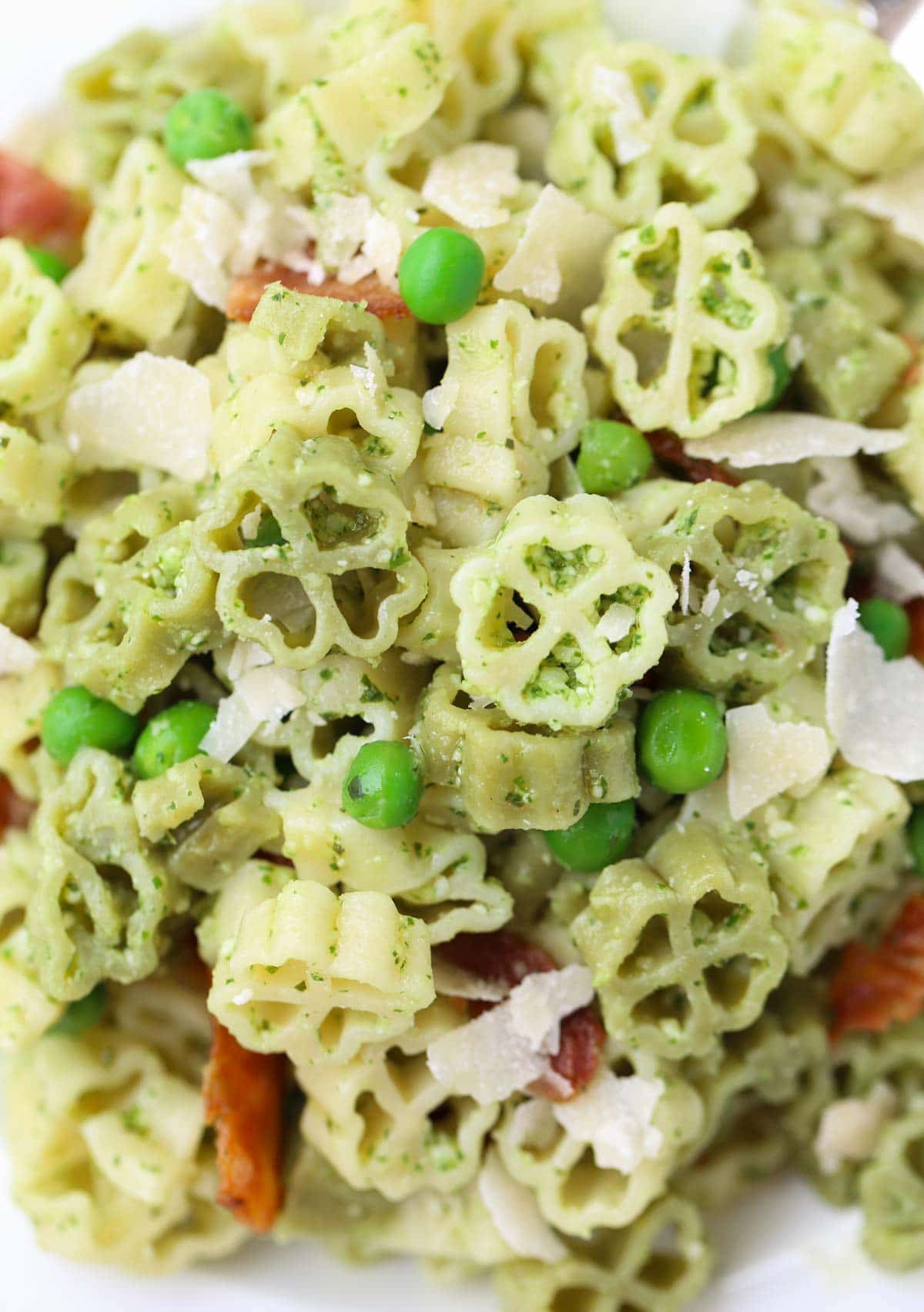 So let's celebrate all things that bring good luck (our Good Luck Pasta included) and serve something alternative to more traditional recipes like last year's Bacon, Brussels Sprout, and Corned Beef Pasta.  However you choose to celebrate, know that I wish you all lots of luck…with your family, jobs, health, the lottery :), this month and every month of the year!
Arugula and Lime Pesto Pasta
A pesto that surprises with a unique combo of arugula and lime! Delish! Recipe was adapted from TheLocalPalate.com.
Ingredients
1

14 oz. bag of Good Luck Pasta (or sub any short shape! Can use up to

16 ounces

)

4

cloves garlic, halved

1 cup

baby arugula

1/4 cup

fresh basil leaves, torn

1

lime, juiced

1 cup

extra virgin olive oil
pinch of salt

1/2 cup

grated Parmesan

10 oz

. bag of green peas, thawed

8

–

10

slices of bacon , cooked and crumbled
Shaved Parmesan for garnish
Instructions
In a food processor, add garlic clove halves and pulse until minced.
Add arugula, basil, lime juice, oil, and salt.
Blend until smooth.
Mix in grated Parmesan.
Cook pasta per package directions, saving 3/4 cup pasta water, then drain.
Add pasta back to pot, add pesto and gently toss until pasta is coated.
Add green peas and bacon and gently toss again.
Serve immediately with shaved fresh Parmesan!
Enjoy!
Join our email list for fresh pasta recipes delivered to you every week!
Your information will NEVER be shared or sold to a 3rd party.