Boursin® Pasta with Oven Roasted Veggies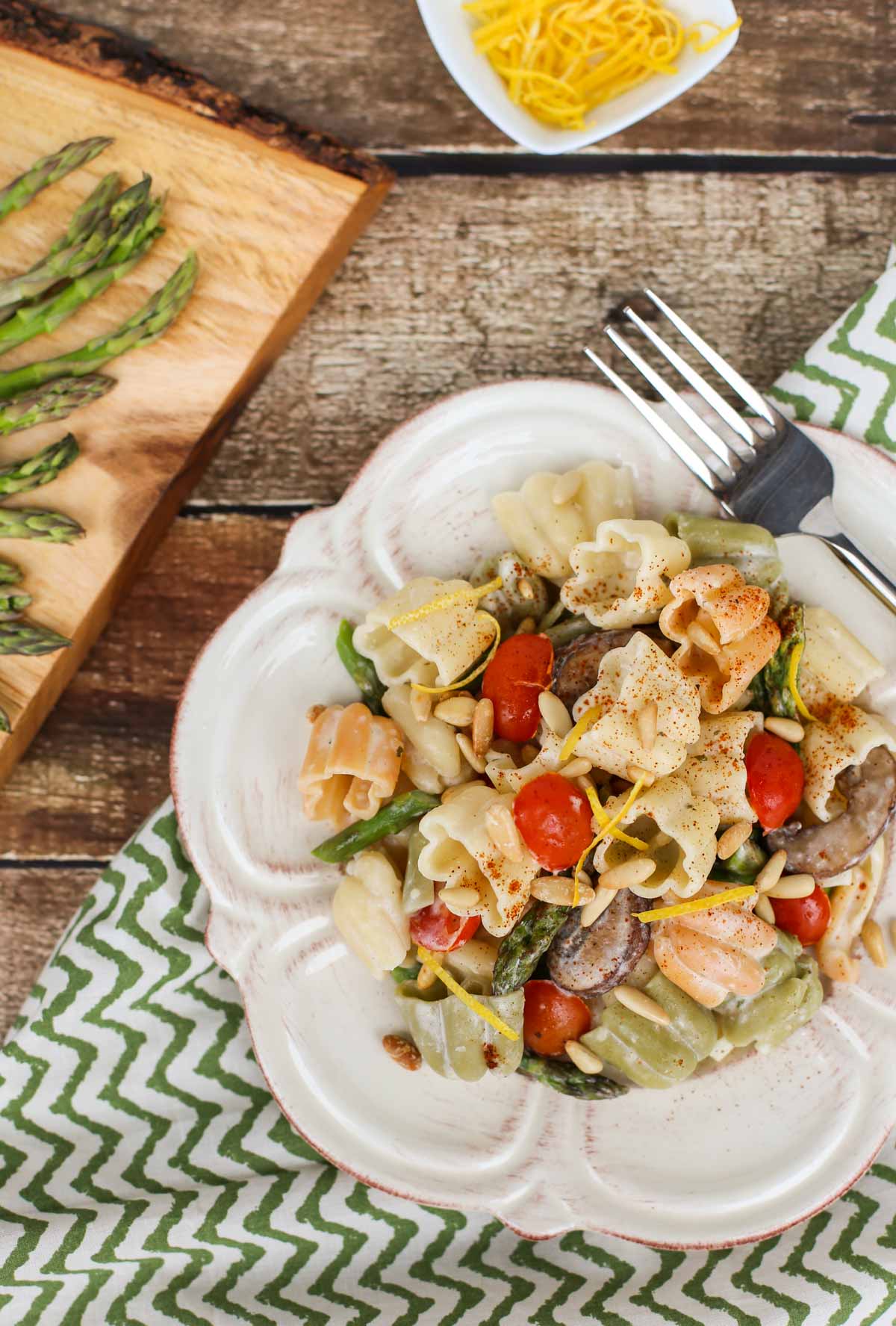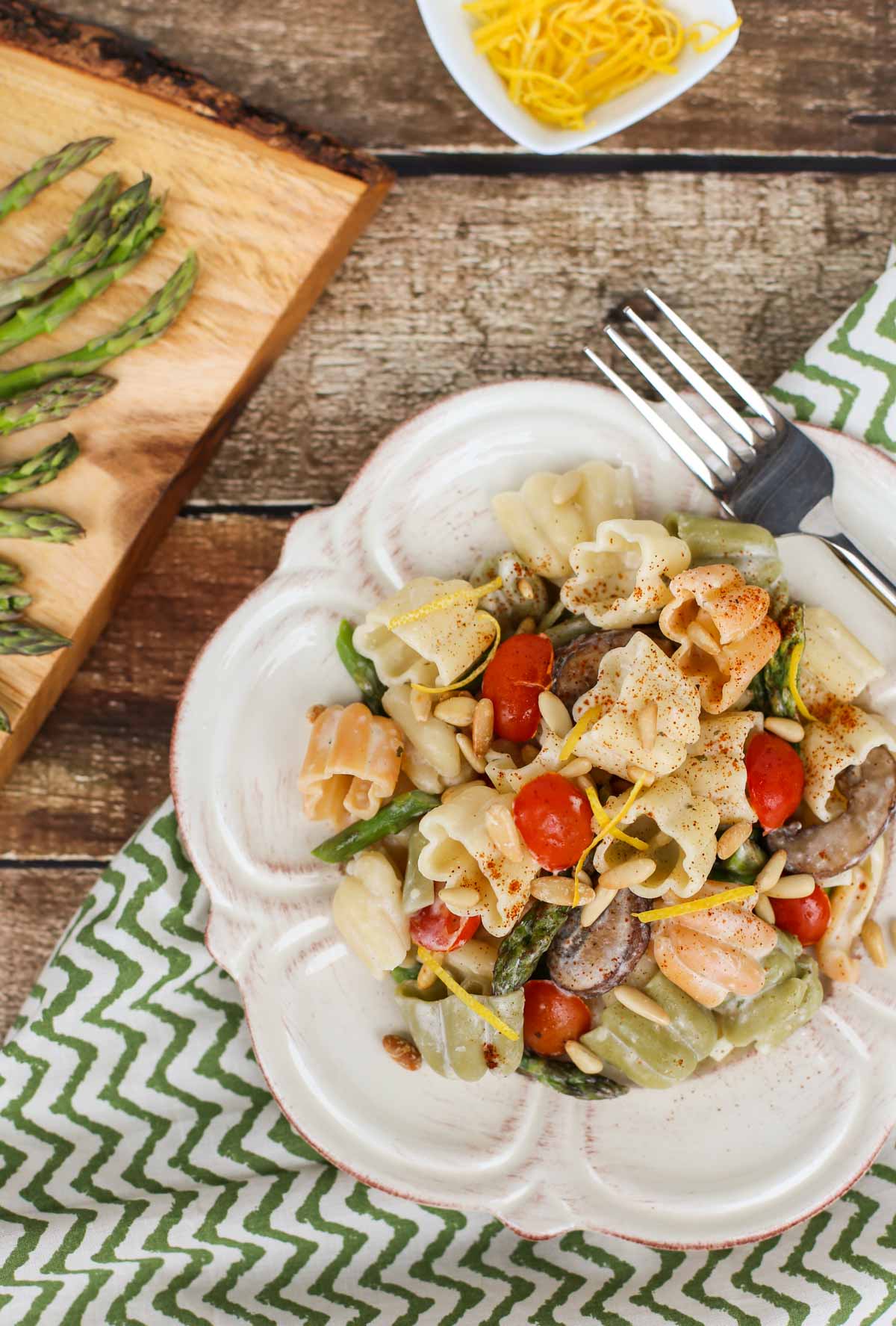 It's the time of year we begin to flirt with our outdoor grills…but are still very loyal our ovens, standing steadfast in our cozy kitchens. Boursin® Pasta with Oven Roasted Veggies may mark my farewell dish to the season.  I'm ready to break up and move on…how about you? (Sometimes a clean break is OK, or a temporary breakup on occasion is necessary!)
Our ovens have stuck with us during the long, cold, and rainy winter months and we've roasted about everything we could put out hand on.  Broccoli. Carrots. Cauliflower. Beets.  Every squash ever created.  It's time to reintroduce these vegetables and many more delicious finds to our forlorn grills.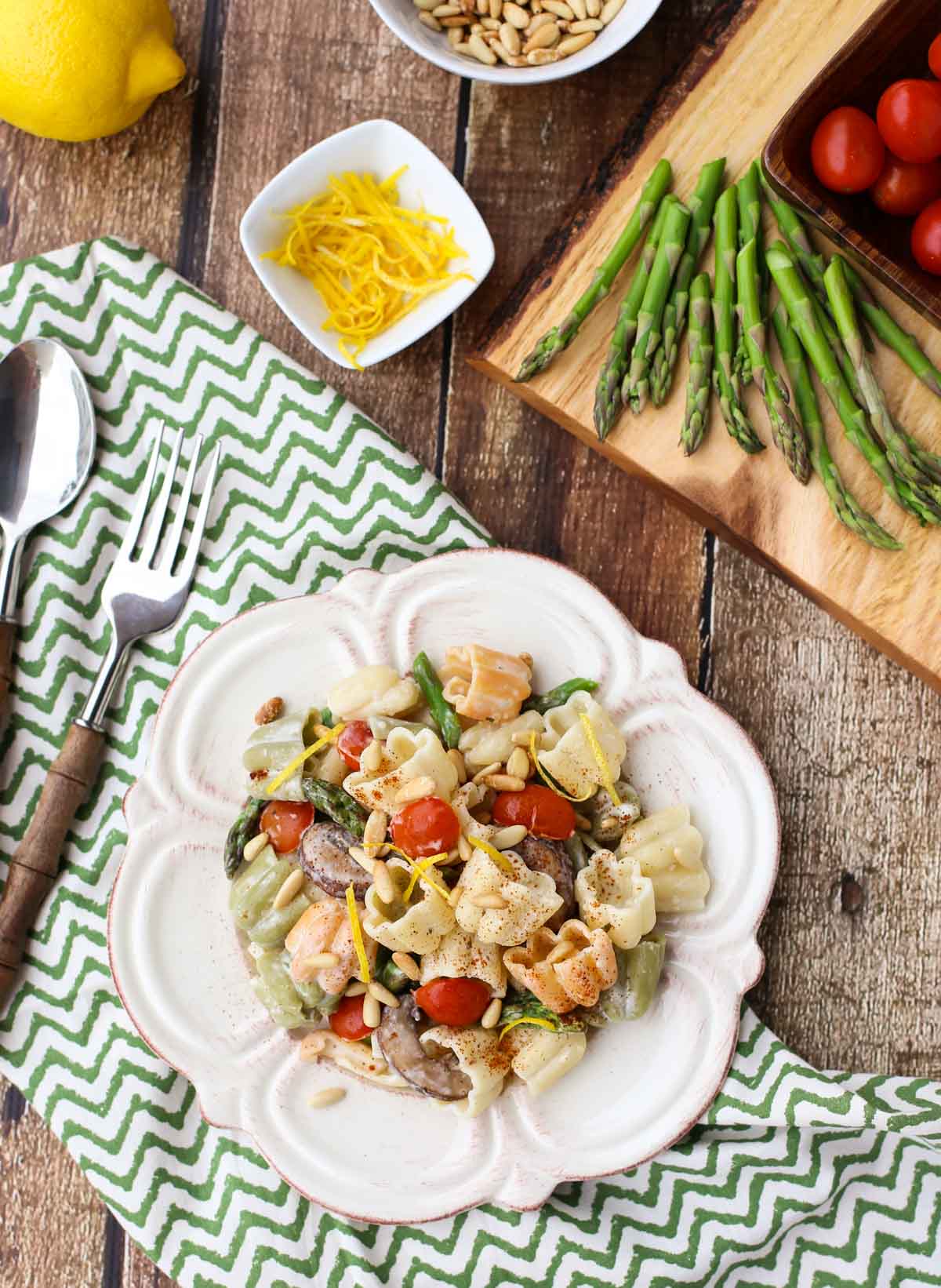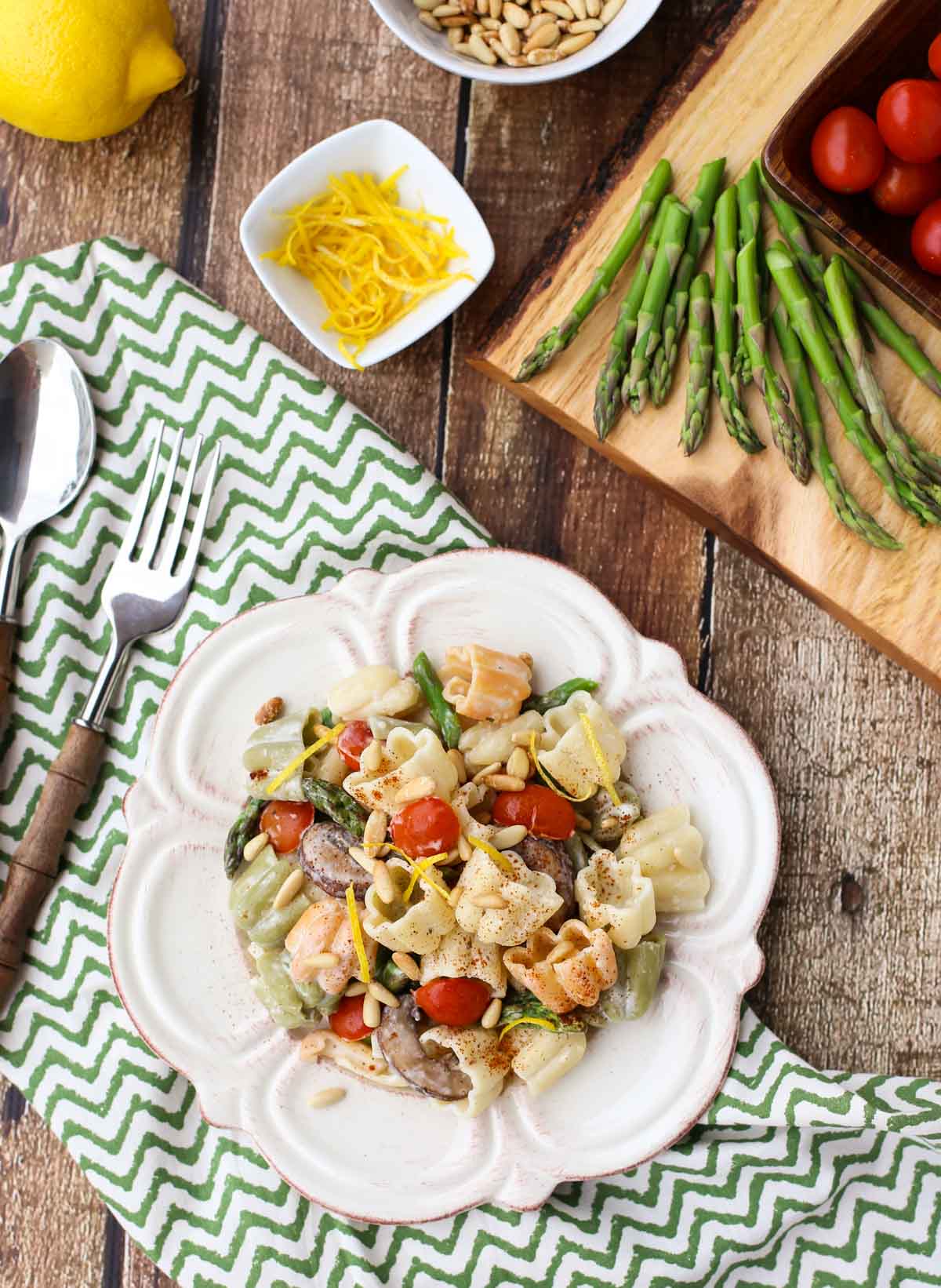 But wait!  Not yet.  Before you move your roasting pans to the back of the cabinet…enjoy this creamy, perfectly seasoned pasta dish.  It actually would make a fabulous side dish to any marinated hunk of meat hot off the grill.
Boursin® Cheese is one of those versatile ingredients that you need to remember and have on hand for all kinds of cooking – explore using Boursin® mixed with vegetables, incorporated in mashed potatoes, stuffed and rolled into chicken or pork, and spread on tarts.  Lots of great ideas on Pinterest and Google search. We know that the basic Garlic and Fine Herb Boursin® Cheese is an easy hit on a cheeseboard.  It's one of the more "fancy" cheeses my boys loved when they were little…they could spread the soft cheese and serve themselves.  Still a favorite today!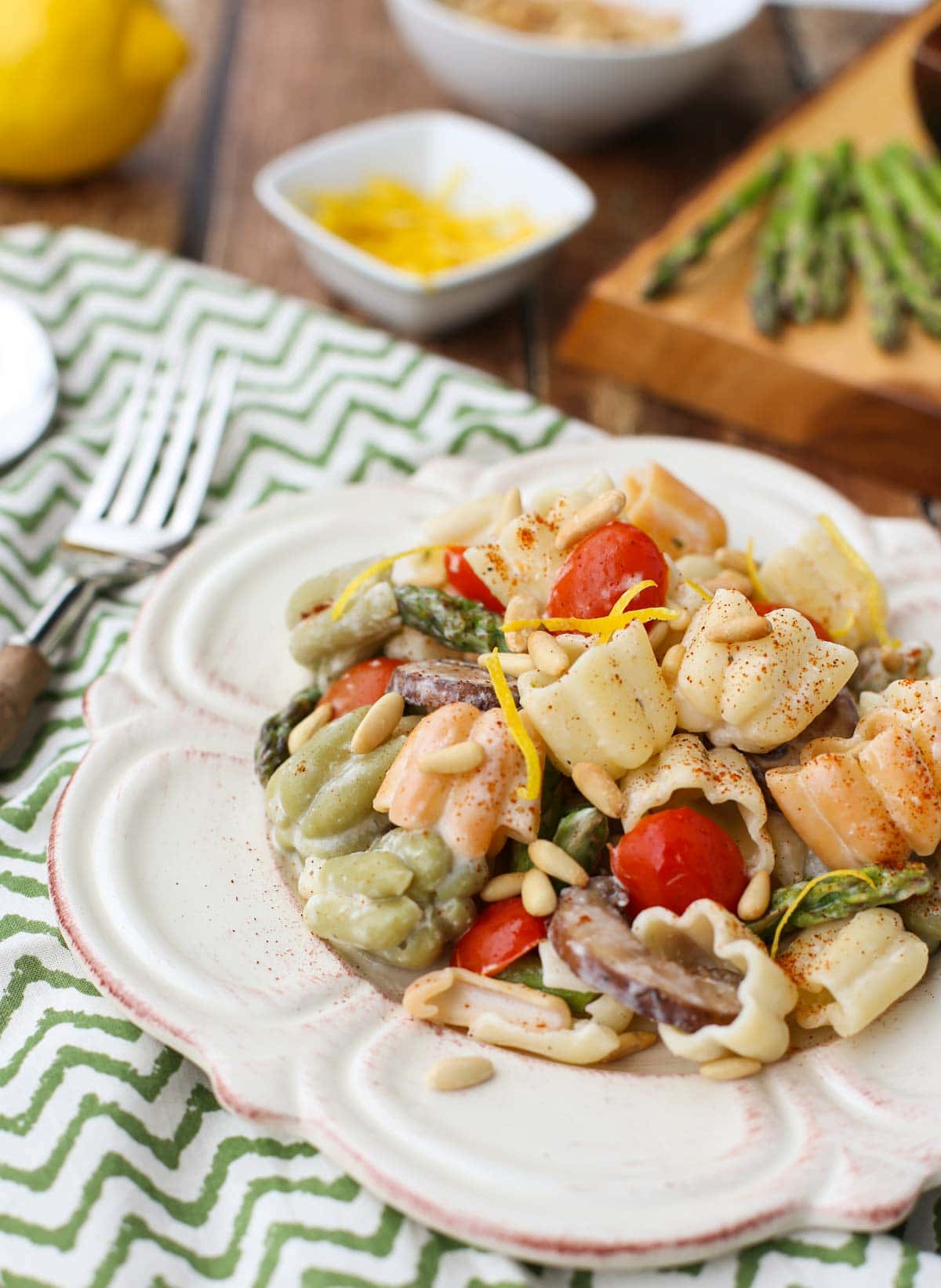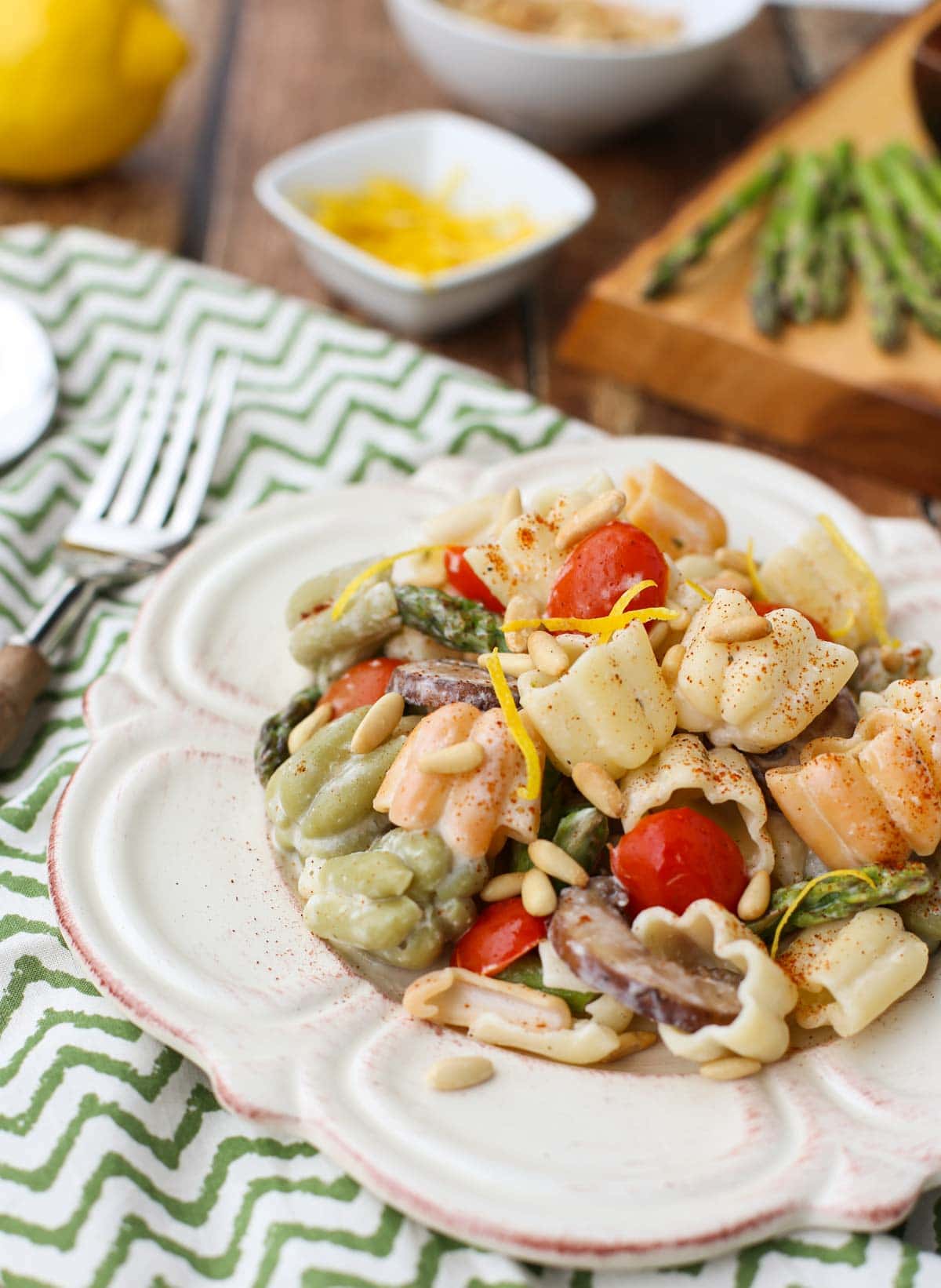 But today we are making an elegant and delicious pasta with Boursin® Cheese.  I wanted to use our Pumpkins (Zucchette Pasta) and find a sauce that would stick and be able to handle these big beautiful shapes.  Usually these pumpkins require a heartier sauce, like our Healthy Beef Ragu with Mint.  (Note:  We make these pumpkin shapes in  a regular durum wheat pasta flour.)
Boursin® Pasta with Oven Roasted Veggies is a bit lighter in taste and makes a colorful statement on your plate.  Get ready to fill up on veggies (and pasta) that taste incredible!  The sauce couldn't be easier with only the Boursin® cheese and some saved pasta water. And of course, the natural sweetness of the roasted vegetables only adds to the delicate flavor of the cheese.  Don't forget to top every plate with some chopped fresh tomatoes, toasted pine nuts, and a dash of paprika!  And lemon zest – a must!!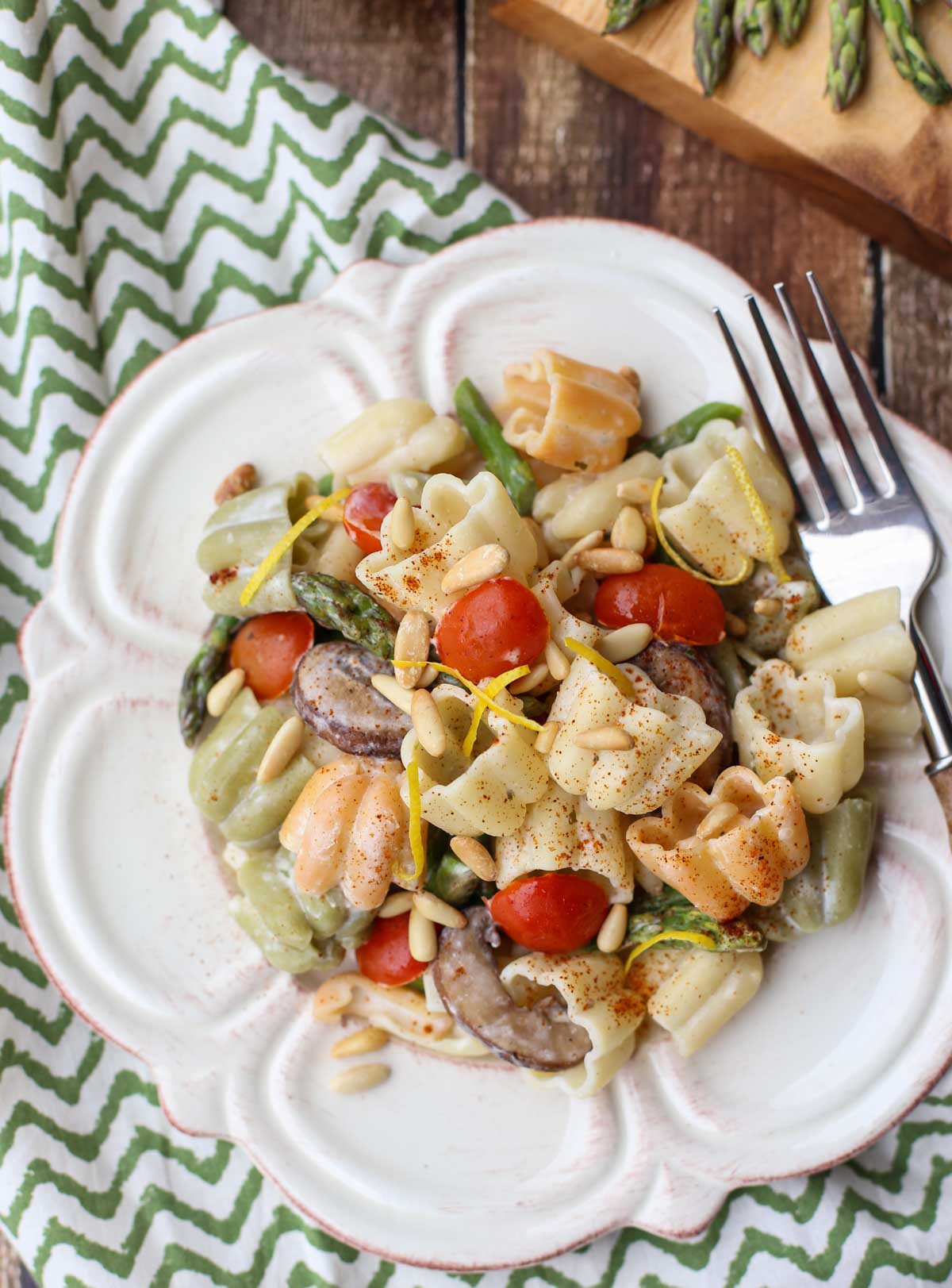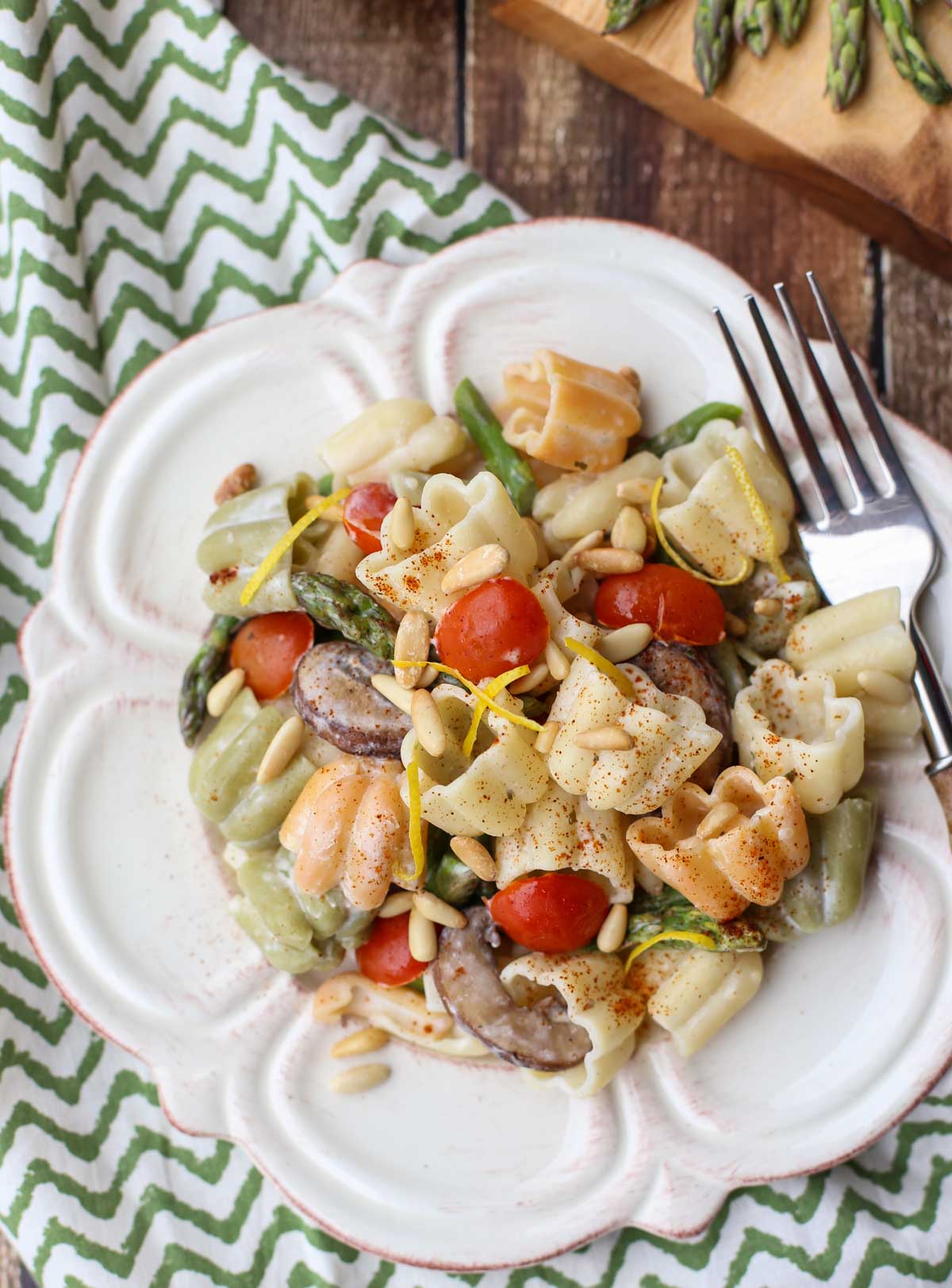 Enjoy this pasta dish, savor every bite, be strong, and blow kisses to your roasting pan and oven…step outside friends- it's grill time!
Print
Boursin® Pasta with Oven Roasted Veggies
Creamy and delicious Boursin cheese pasta sauce with sweet roasted veggies.  A great side dish for any grill night!
Ingredients
1 pint

grape or cherry tomatoes, halved + extra fresh chopped for garnish (optional)

1 1/2 cups

sliced mushrooms

16

or so spears of asparagus, cut into bite size pieces

2 teaspoons

olive oil
healthy sprinkle of salt and pepper

12 ounce

bag of Pumpkin Pasta

1

package (5 oz) of Garlic and Fine Herb Boursin Cheese

3/4

–

1

cup reserved pasta water
Zest of

one

large lemon

1/4 cup

pine nuts, toasted (garnish, optional)
Instructions
Preheat oven to 400 degrees.
Place all veggies on a foil lined baking sheet.  Toss with olive oil and salt and pepper.
Roast for approximately 20 minutes, until veggies are tender crisp.
In the meantime, cook pasta according to package directions.  Before draining, save 1 cup of pasta water for sauce.  Drain pasta.
Add Boursin Cheese to hot pasta pot and add 3/4 cup hot pasta water.  You can always add more, so start conservatively.  Cheese should begin melting and a loose cheese sauce should begin to appear.
Add roasted veggies and pasta to pot.  GENTLY toss.  Adjust seasonings as needed.  Add fresh lemon zest.
Serve with toasted pine nuts and chopped fresh tomatoes if desired!  Enjoy!
Join our email list for fresh pasta recipes delivered to you every week!
Your information will NEVER be shared or sold to a 3rd party.