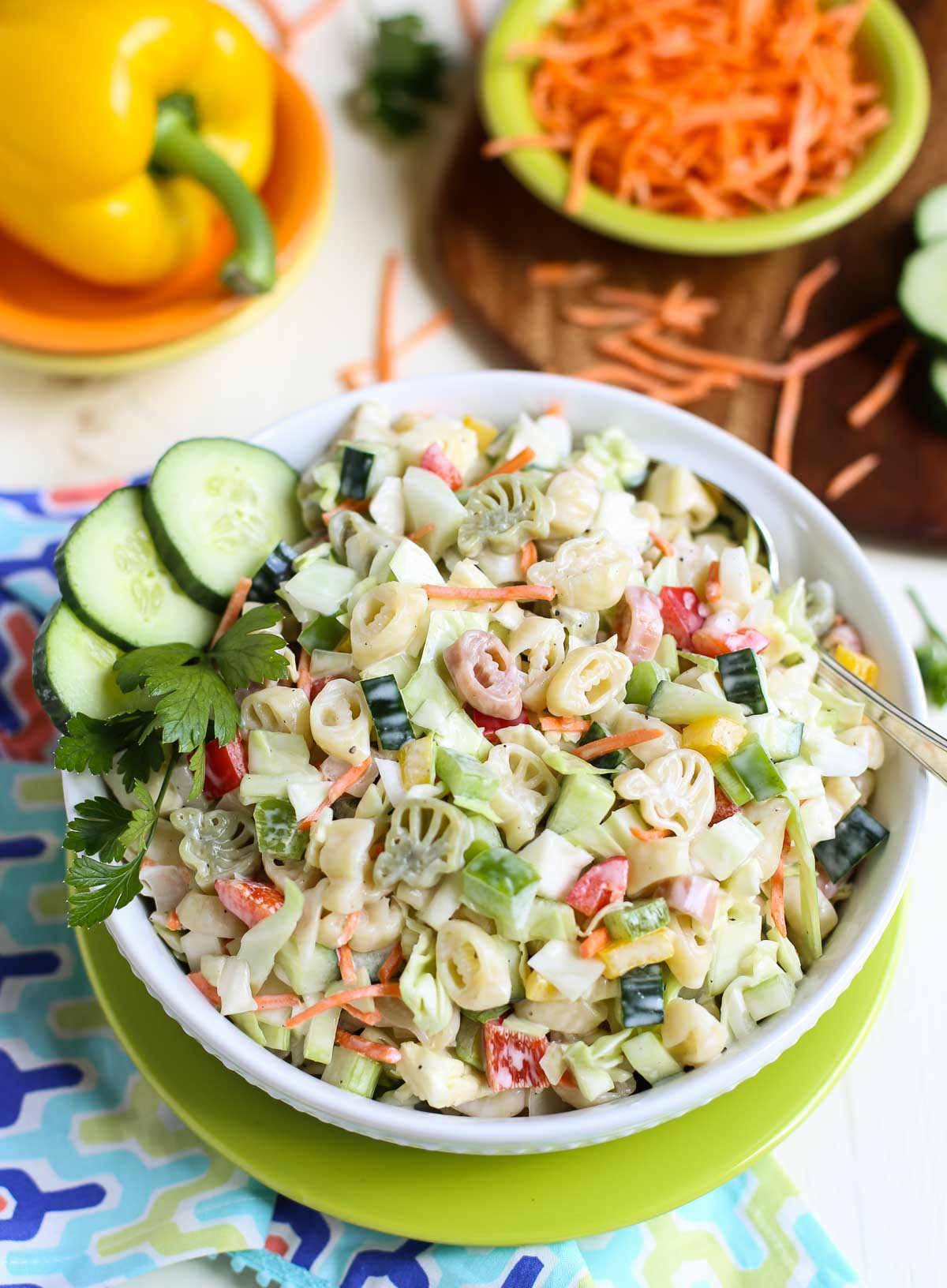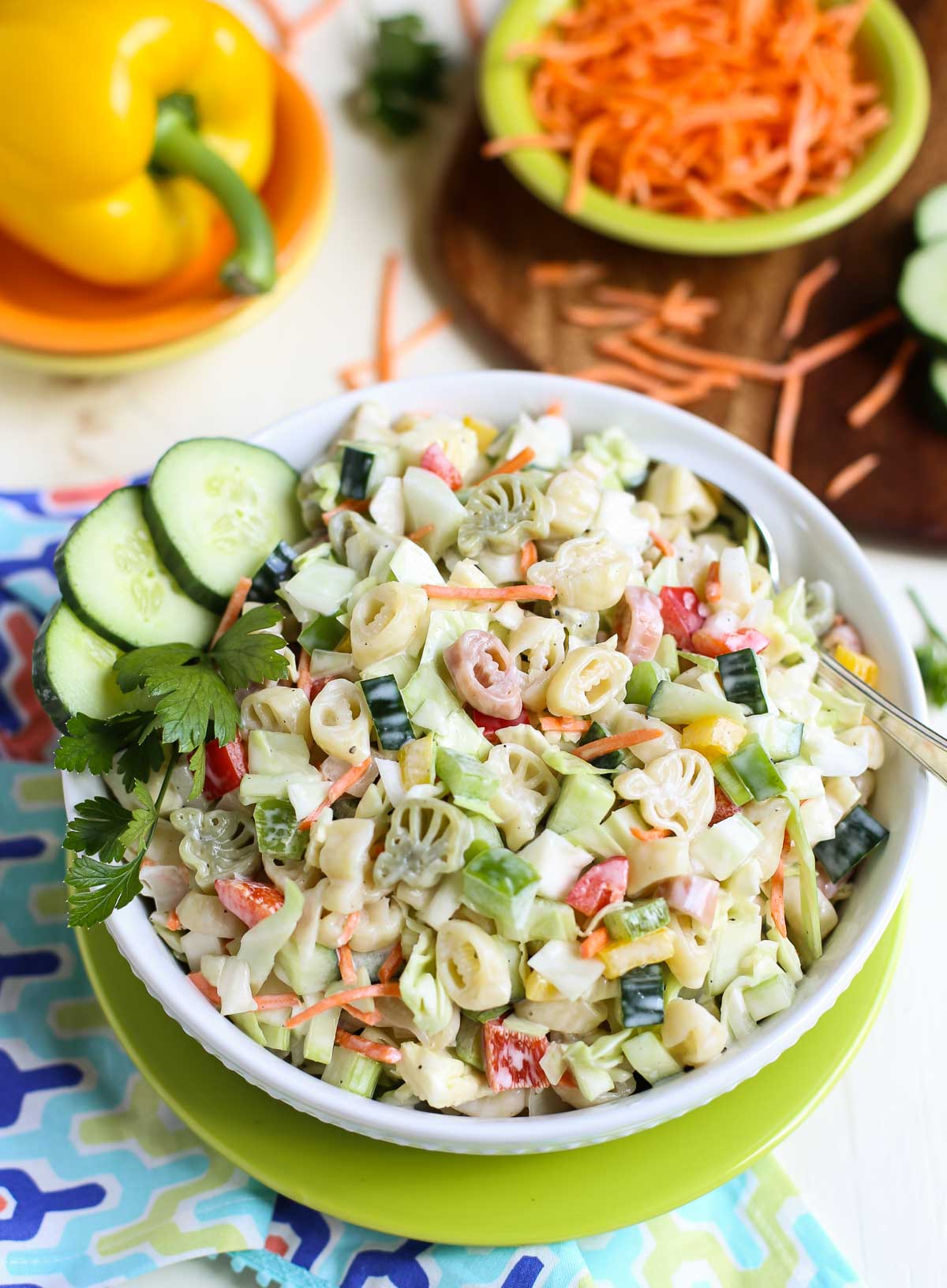 It's summer, it's hot, and we are all still grilling out and working the barbeque.  If there is one side dish that exemplifies "a BBQ side" it's 'ole Cole Slaw.  Depending on where you live, the local favorite may be a vinegar based or a creamy mayonnaise based sauce.  There are many renditions of slaw, but there is one thing though you can always count on: crunch.  That good 'ole sweet and tangy Cole Slaw crunch.
Now honestly, Cole Slaw has never been one of my favorite sides…until NOW!  Stop everything!  It's Pasta Slaw, Y'all! And it's going to change your thoughts on Cole Slaw, no matter where you stand with this classic side.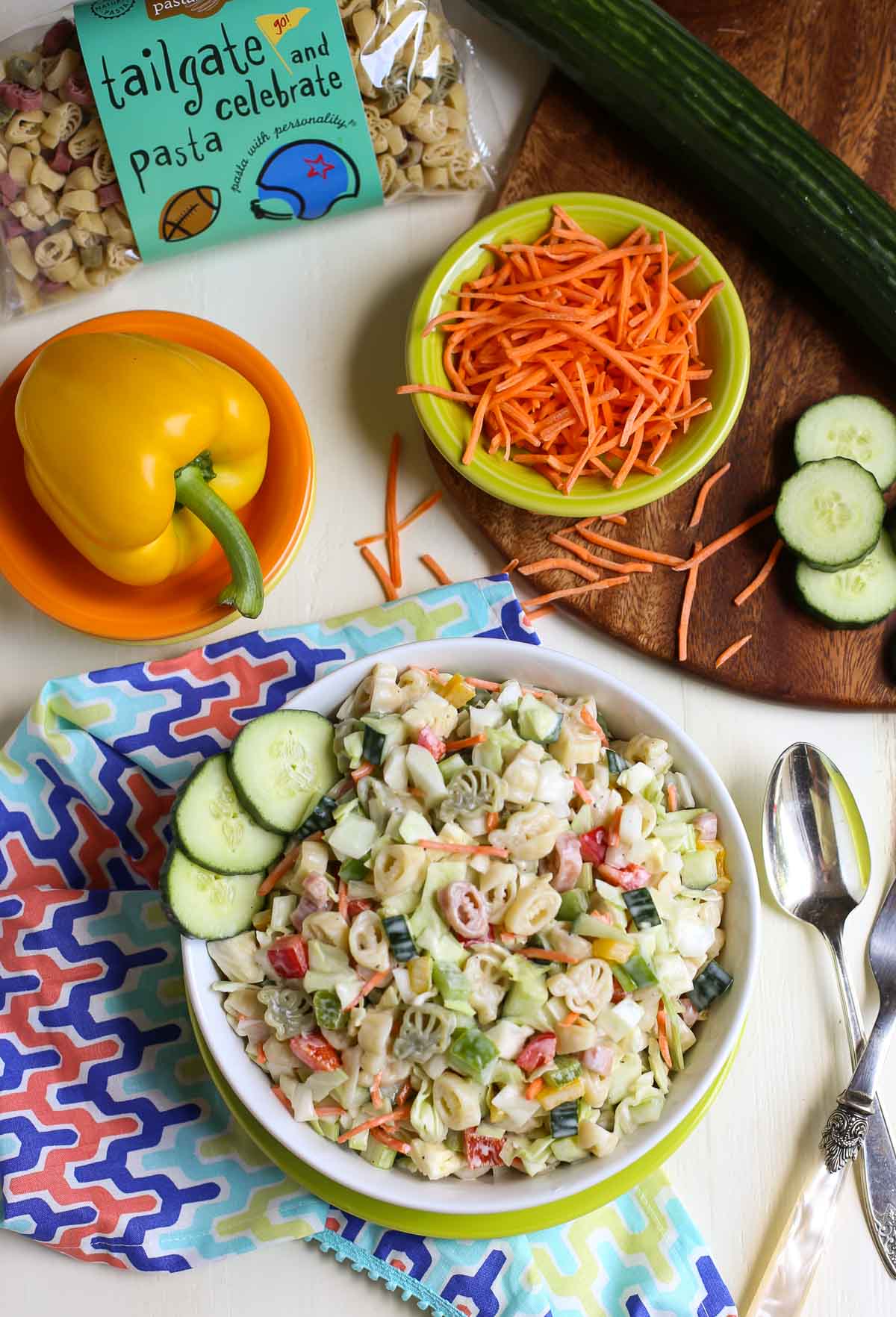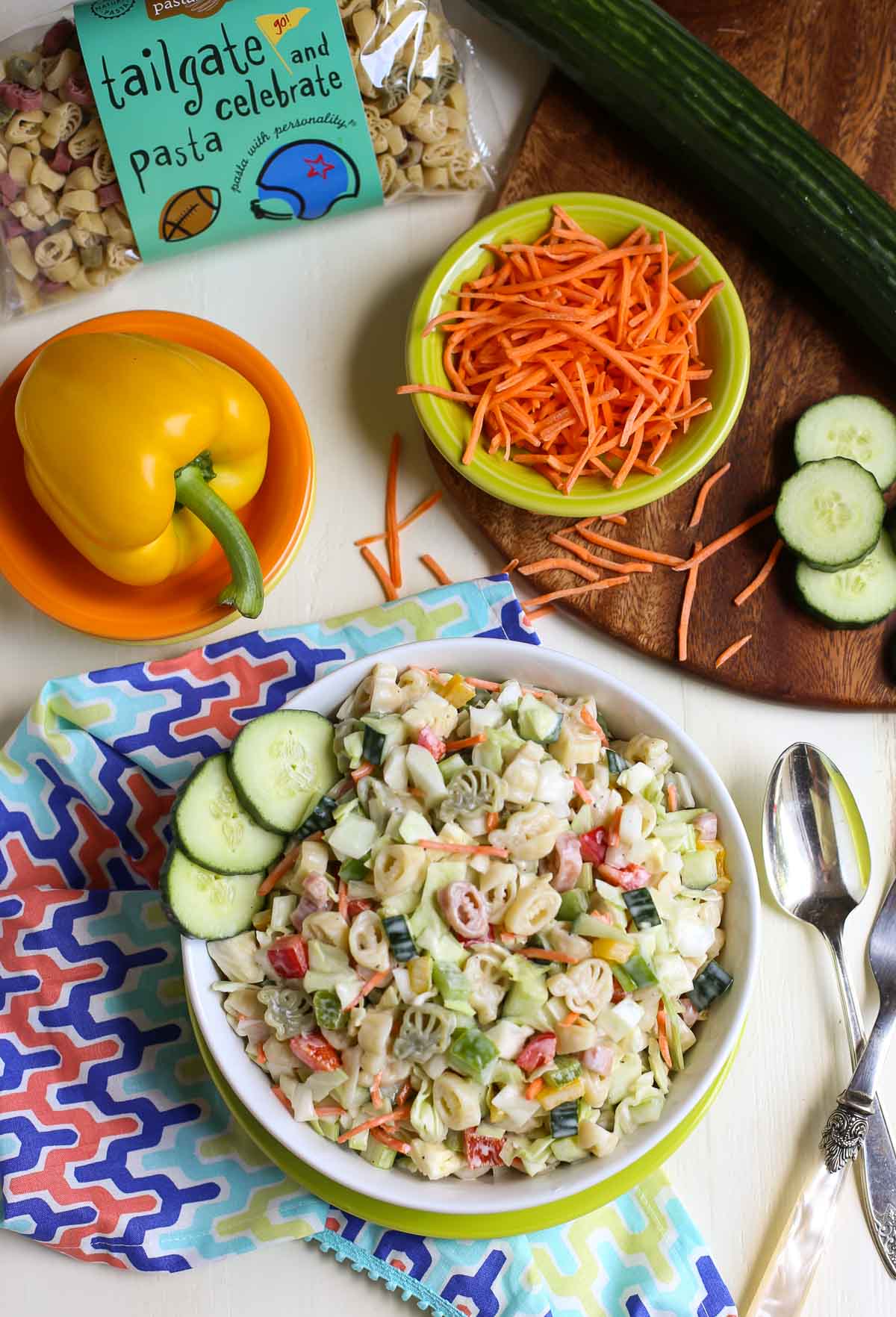 I came across a similar recipe on the internet, and immediately thought "Hum. Could this be real?"  Why would anyone want to add "pasta" to a Cole Slaw recipe?"  And then I remembered how popular and how very Southern a Macaroni Salad is around here…and Pasta Slaw is just a natural evolution, but even better!
Too much cabbage and your jaws get over worked.  You know the feeling.  And sometimes your stomach too!  This recipe included the normal green cabbage (or Savoy cabbage is good too!), and the expected shredded carrots, but also a bunch of colorful peppers, cucumber, celery, and onion.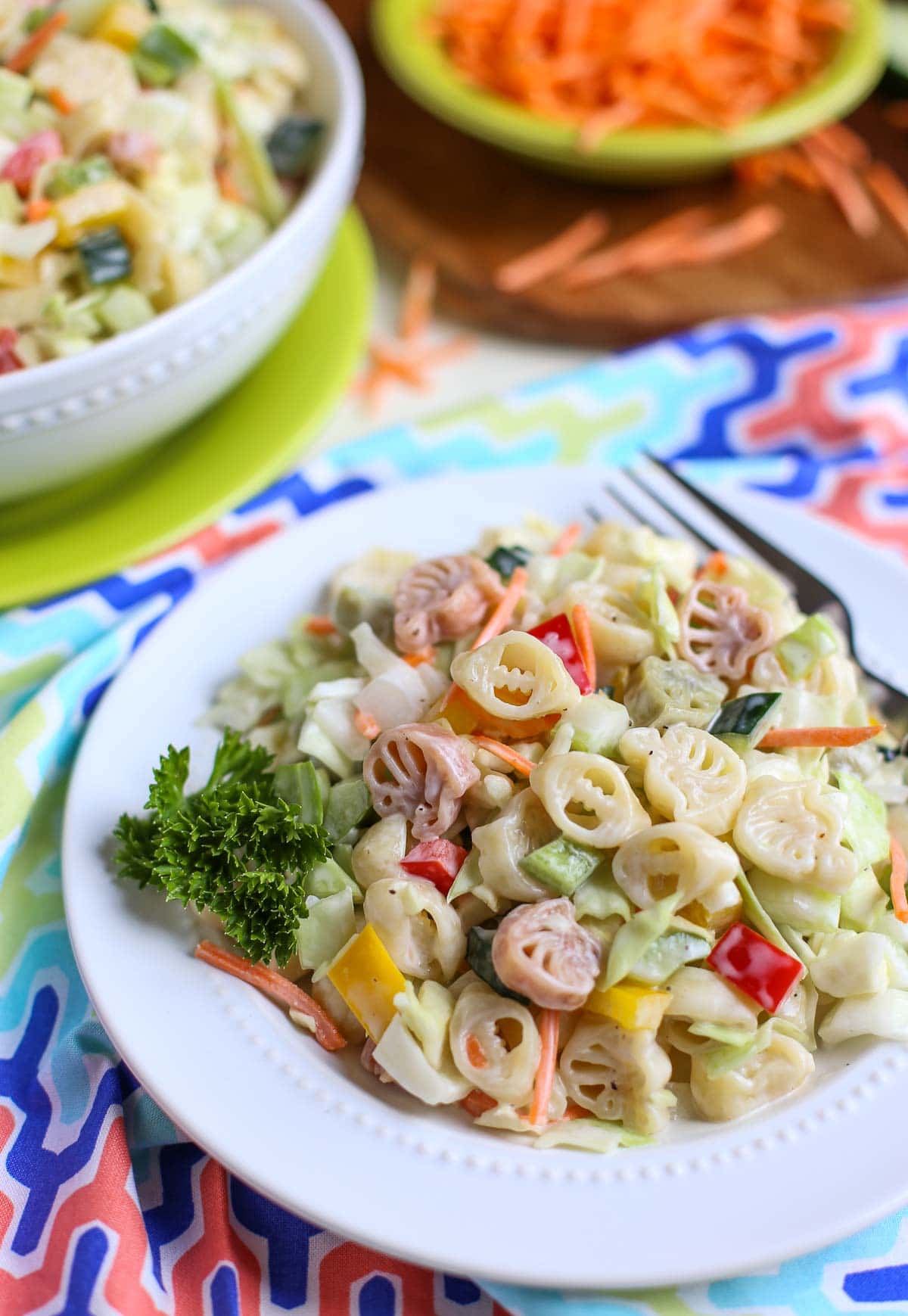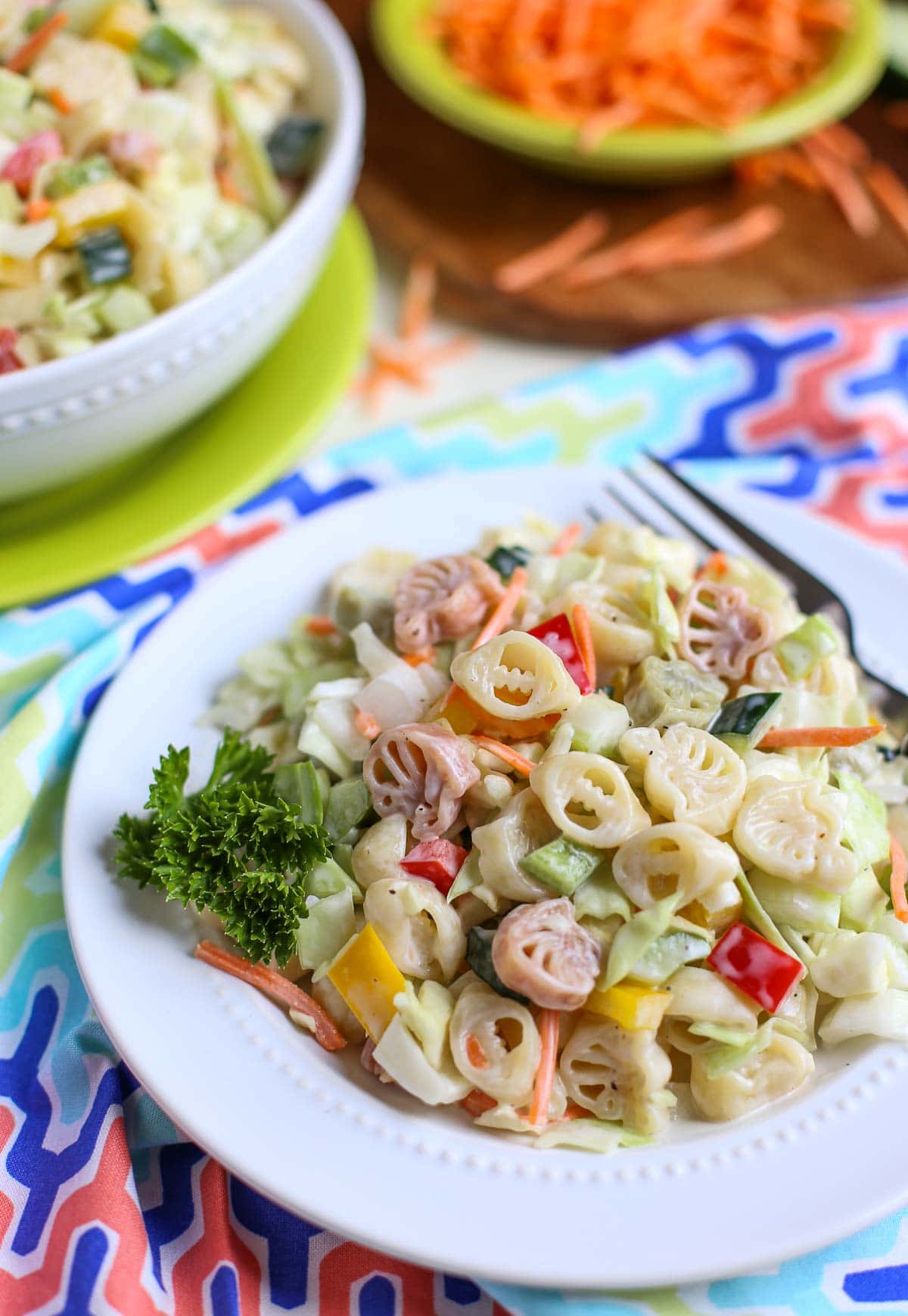 The dressing here is probably pretty traditional, but spread over all the veggies and pasta, it's not too much or too sweet.  You can use light mayo or regular, but I don't recommend Miracle Whip…that's just a little too sweet.
The pasta adds a softness and just the right chew that makes this slaw so satisfying.  I decided to use bite size Tailgate Pasta with the footballs and football helmets just anticipating the start of the school year and upcoming tailgating events or back to school picnics.  Any short pasta shape will do, of course, and you can change it up based on the seasons or the occasion.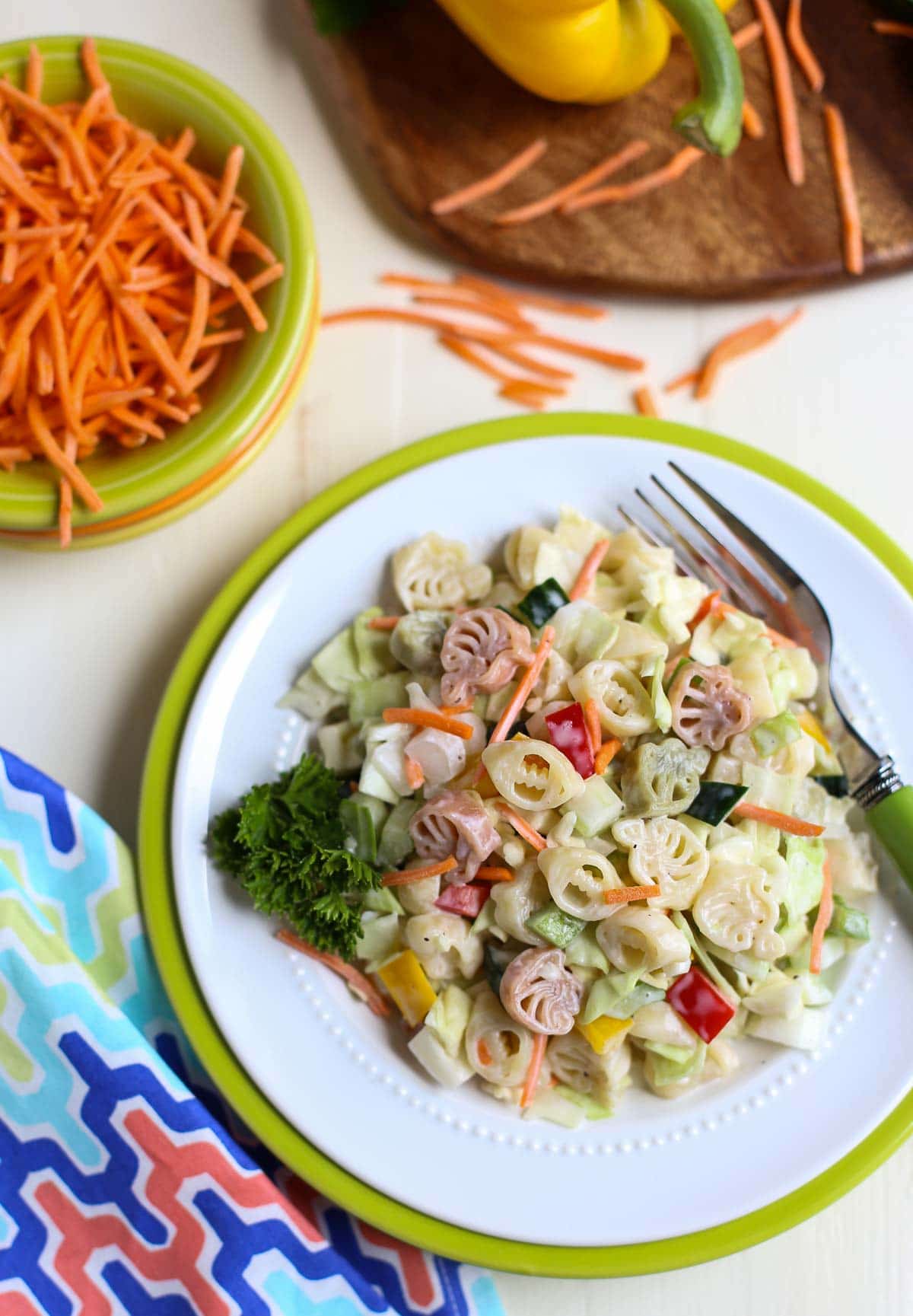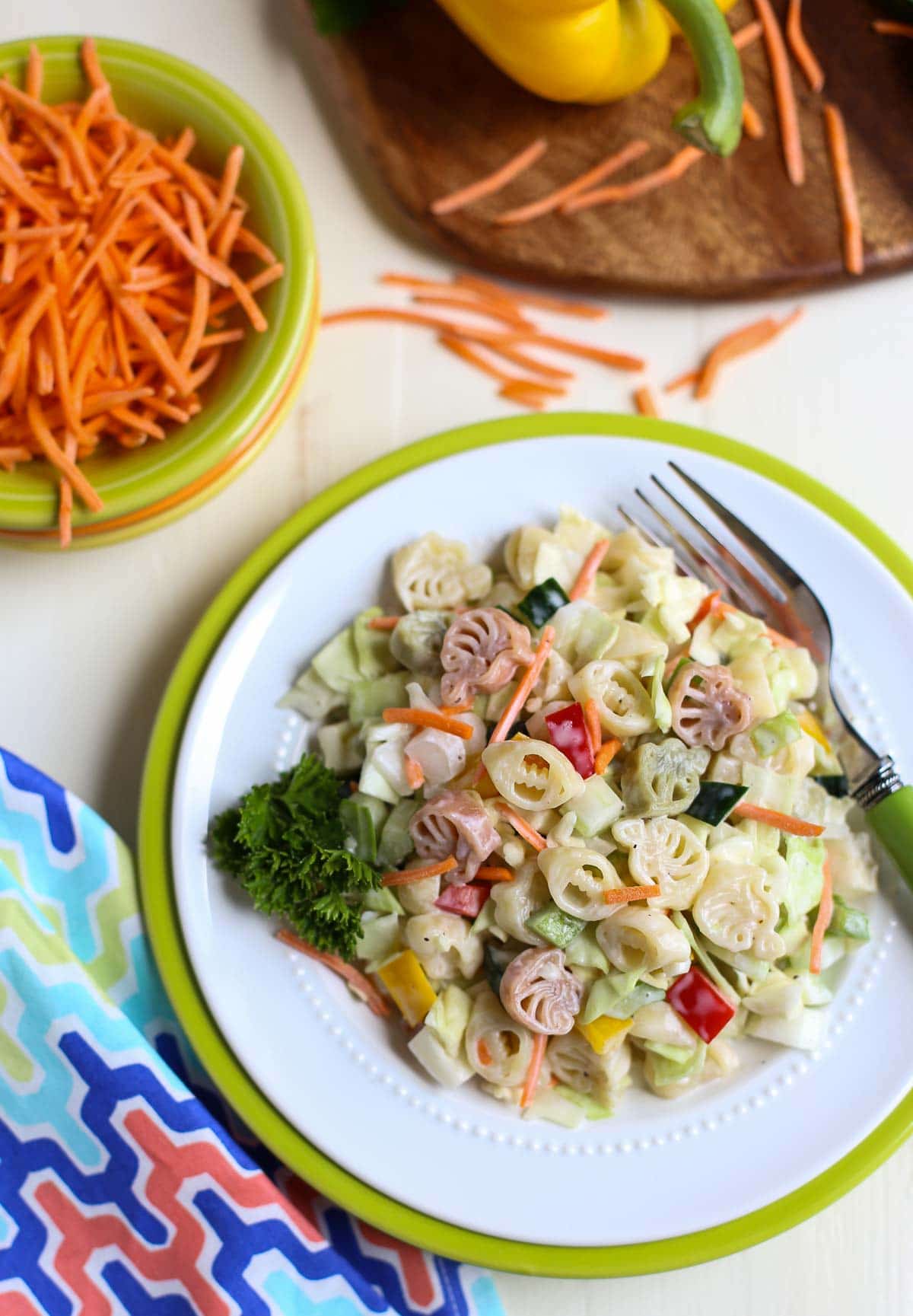 Flashback!  You'll need to also make our Tailgate Pasta with Beans and Corn.  This recipe is also one of my favorites, perfect too for the upcoming season or any BBQ.  Both are hard to stop eating!
This recipe makes a TON and I doled it out to friends to try after eating as much as I possible could (all before dinner, I couldn't control myself!).  Reponse?  All around great reviews!  And even a few, "I don't even eat Cole Slaw!" Which by the way, means you've created a winning recipe.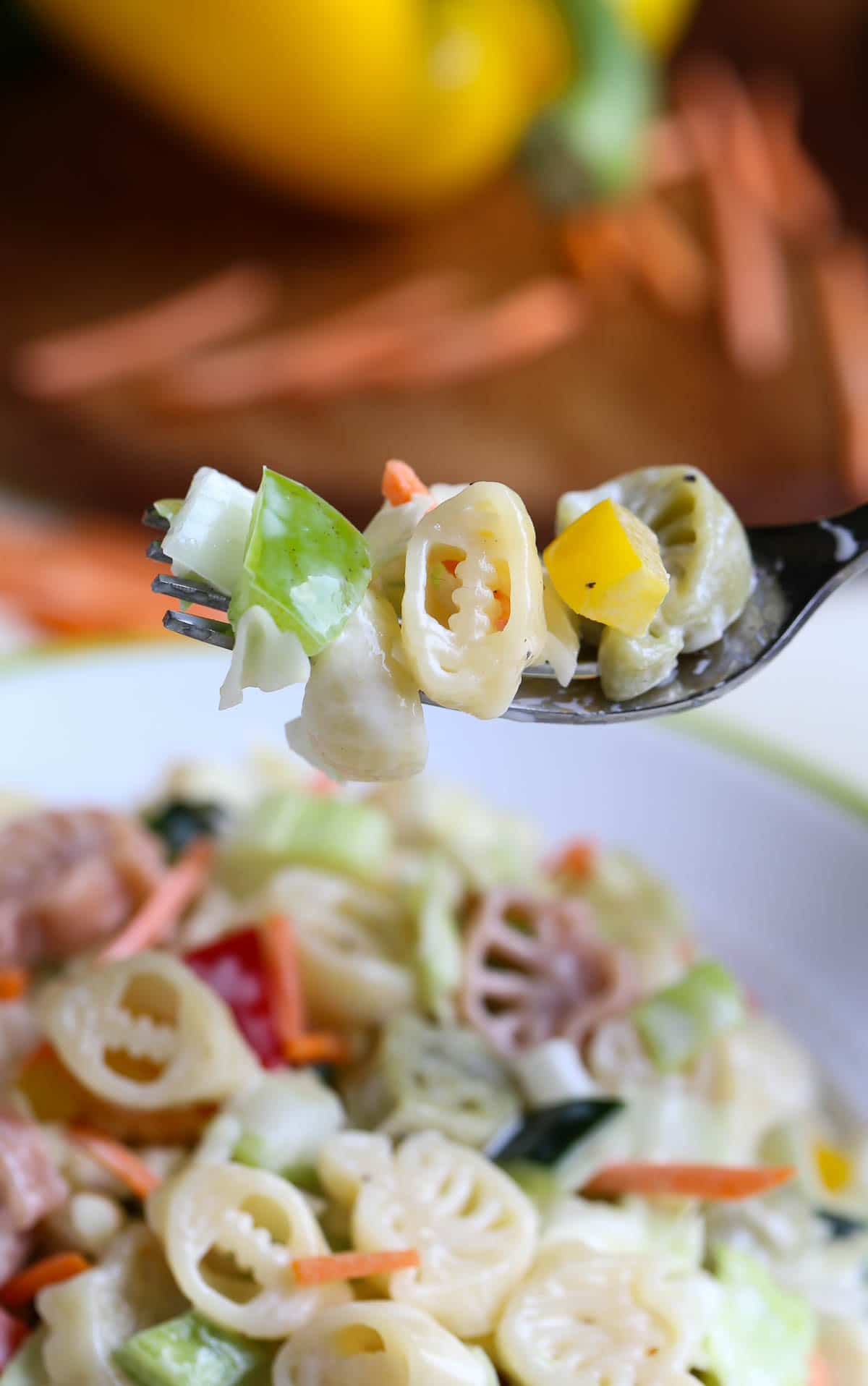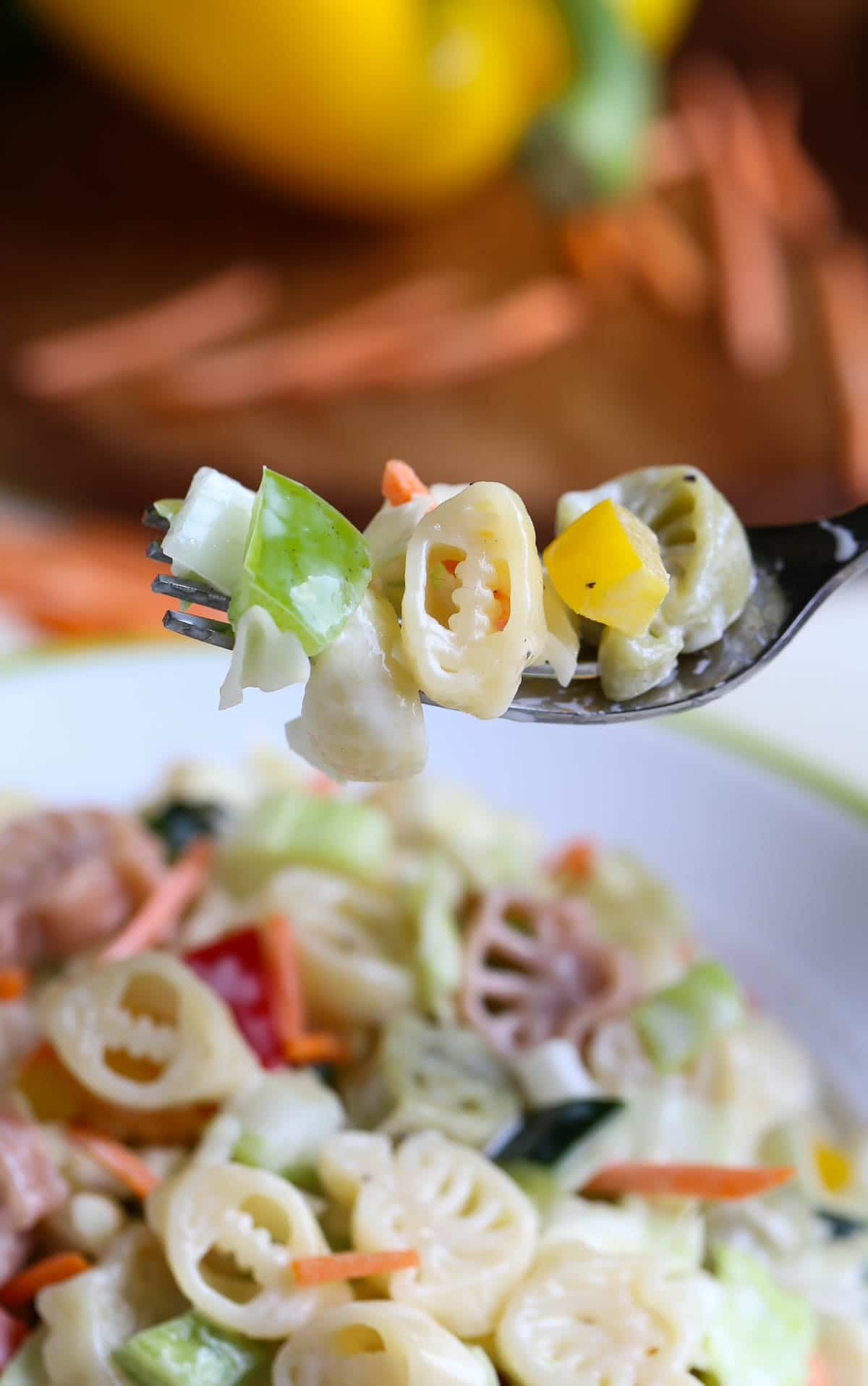 So enjoy this Pasta Slaw, over and over…I think you'll find reasons other than a BBQ to pull this one out.  Let me know how you like it- I'd love to hear!  Follow me on Instagram @thepastashoppe for more pictures and happenings from around here.  I'd love to connect with you!
It's Pasta Slaw, Y'all!
Sweet, tender, and crunchy, too!  The BEST slaw you'll ever make…take to a BBQ, picnic, or any event.  Sure to be one of the favorites!
Author: carey
Prep Time:

30

Cook Time:

7

Total Time:

37 minutes

Yield:

1

2

1

x
Ingredients
1

14 ounce bag of Tailgate Pasta (or any other shape – could be

12

–

16

ounces)

1

head cabbage, shredded (green cabbage or Savoy)

1

medium sweet onion, finely chopped

2

celery ribs, finely chopped

1

English cucumber, finely chopped

1/2

green pepper, finely chopped

1/2

red pepper, finely chopped

1/2

yellow pepper, finely chopped

1/2 cup

shredded carrots (purchase in a bag)
Dressing:

2 1/2 cups

Mayonnaise (you can substitute light)

2/3 cup

sugar

1/2 cup

apple cider vinegar

1

t. kosher salt

1/2

t. black pepper
Instructions
Whisk all dressing ingredients in a medium bowl and set aside.  Can be made ahead.
Chop and get all veggies ready.  Place all in a large bowl.
Cook pasta per package directions, drain, rinse with cold water.
Add pasta to veggies, and toss with about 3/4 of the dressing.
Serve immediately or refrigerate until ready to serve.  If making ahead, you may need to add the extra dressing before serving.  The pasta is porous and may soak up some of the dressing!  If you have extra dressing, just save for another night!  Dressing should be good for one week in refrigerator.
Enjoy!
Join our email list for fresh pasta recipes delivered to you every week!
Your information will NEVER be shared or sold to a 3rd party.