Roasted Vegetables with Sprouted Grains Pasta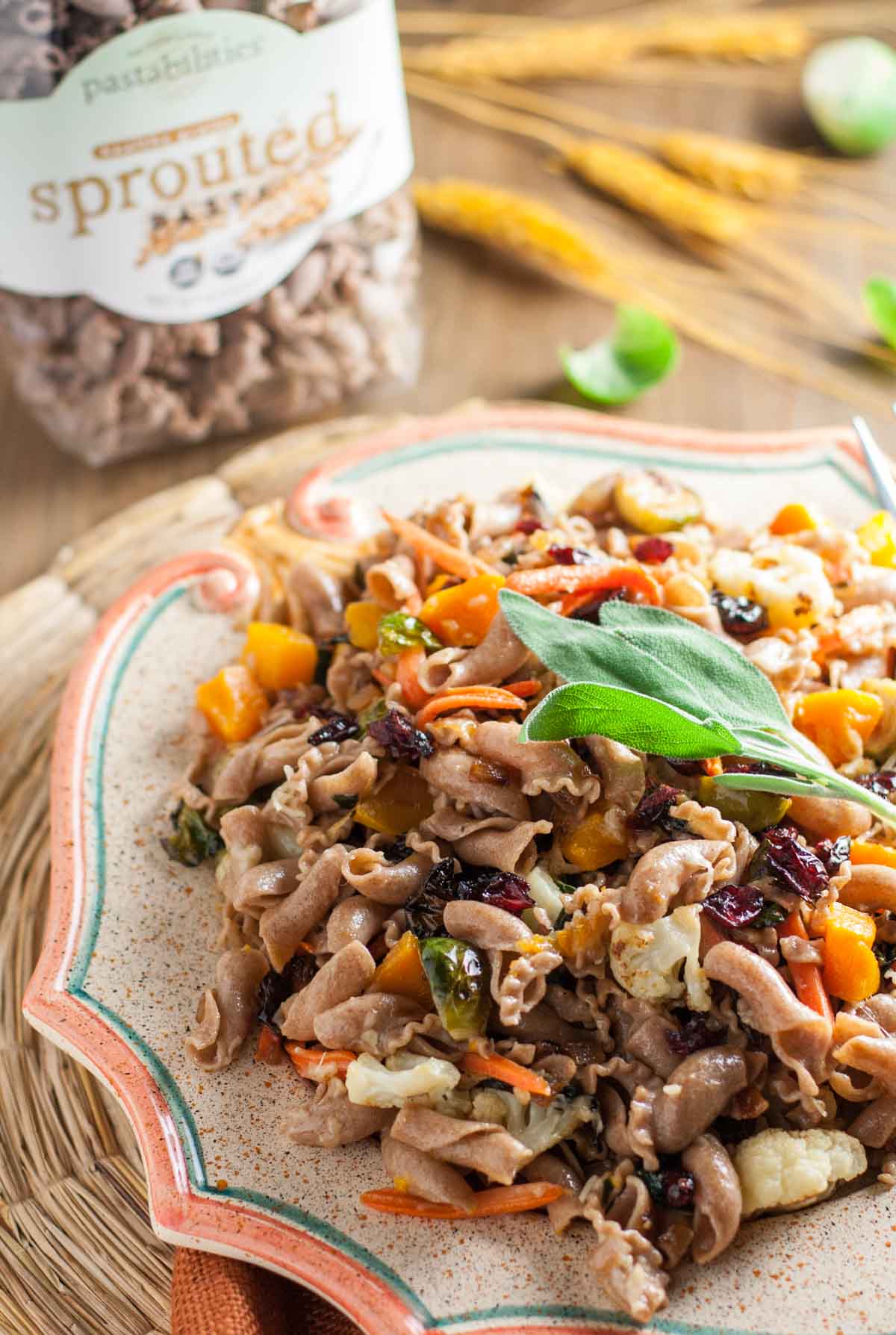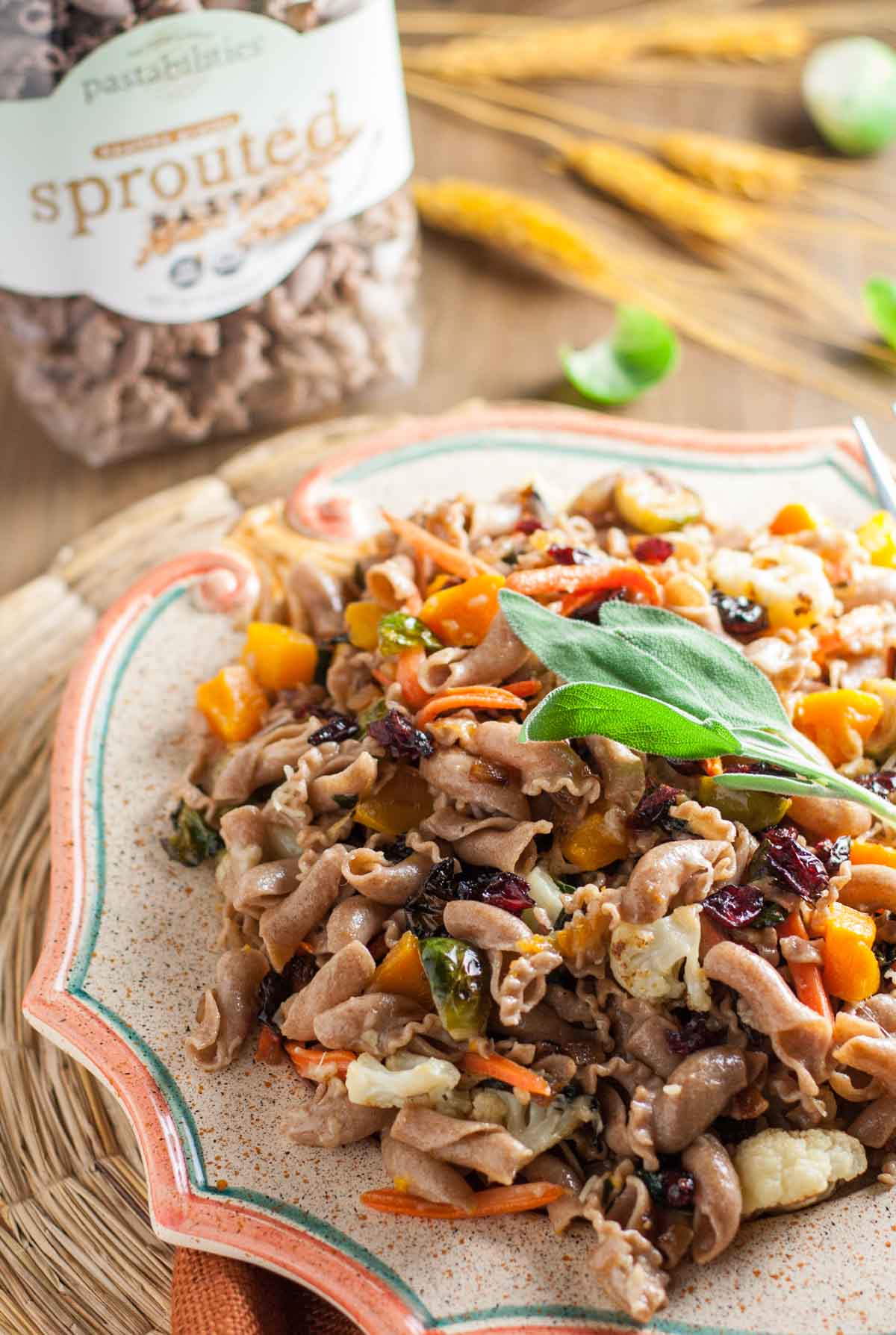 We've SPROUTED! And not only in the holiday spirit of increased waistlines. We've sprouted in multiple ways here at The Pasta Shoppe. Sprouting into all kinds of wheats and grains outside of our original "durum wheat" pasta offerings. Have you heard about sprouted, spelt, or kamut pasta? These are "alternative" grains to hard durum wheat, and they are taking the specialty pasta market by storm!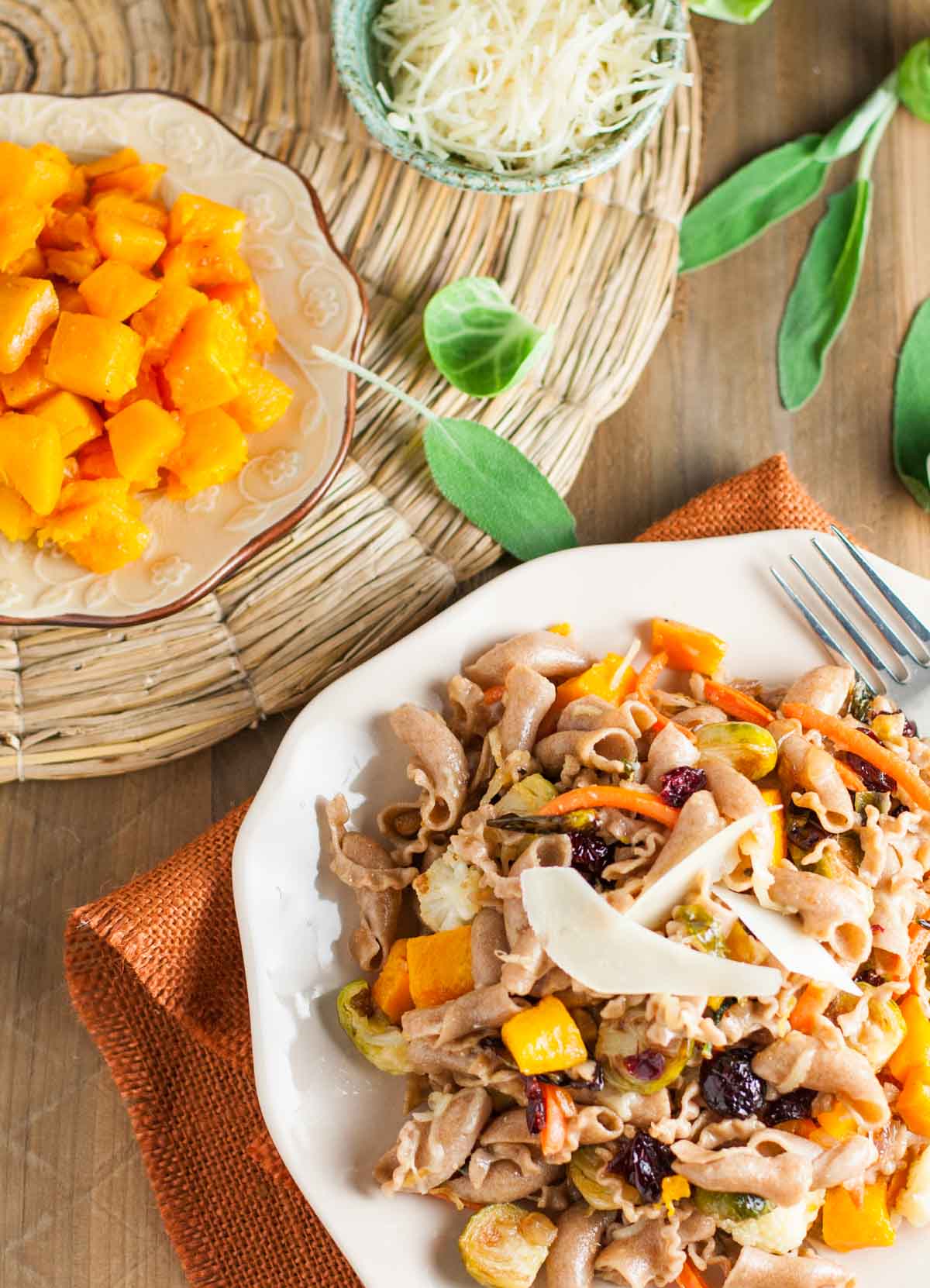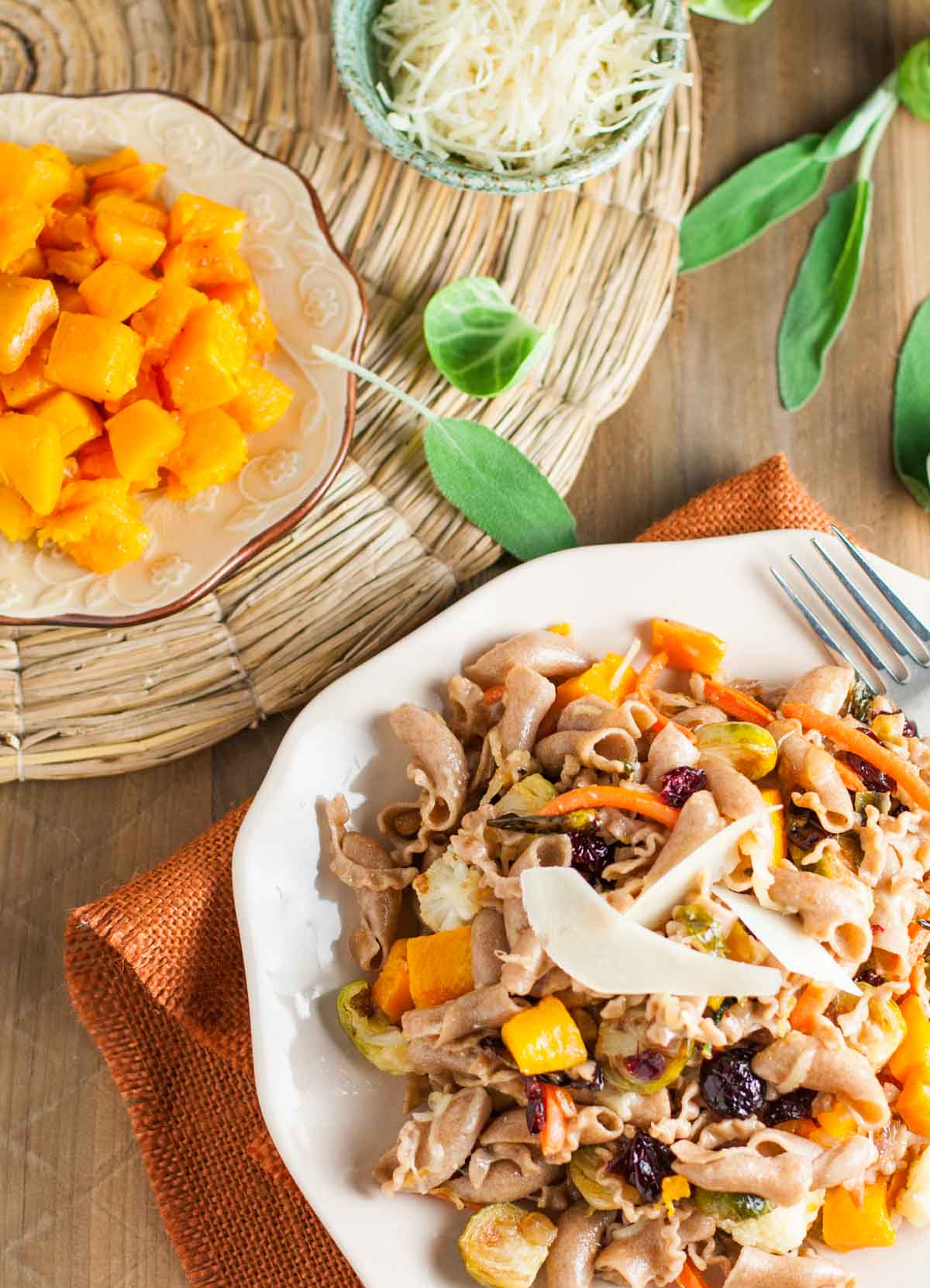 Today though I want to focus on and share our new Sprouted Grains Pasta. When paired with roasted carrots, Brussel sprouts, kale, butternut squash and a lemon brown butter sage sauce, you will "sprout" into a believer!
If you've read the post this far, you are either thinking, "Finally! I'm so happy! I love Sprouted Pasta!", or from the other camp, "Sprouted? What in the world are you talking about?" Ok, I'll admit it…I was from that other camp just over a year ago.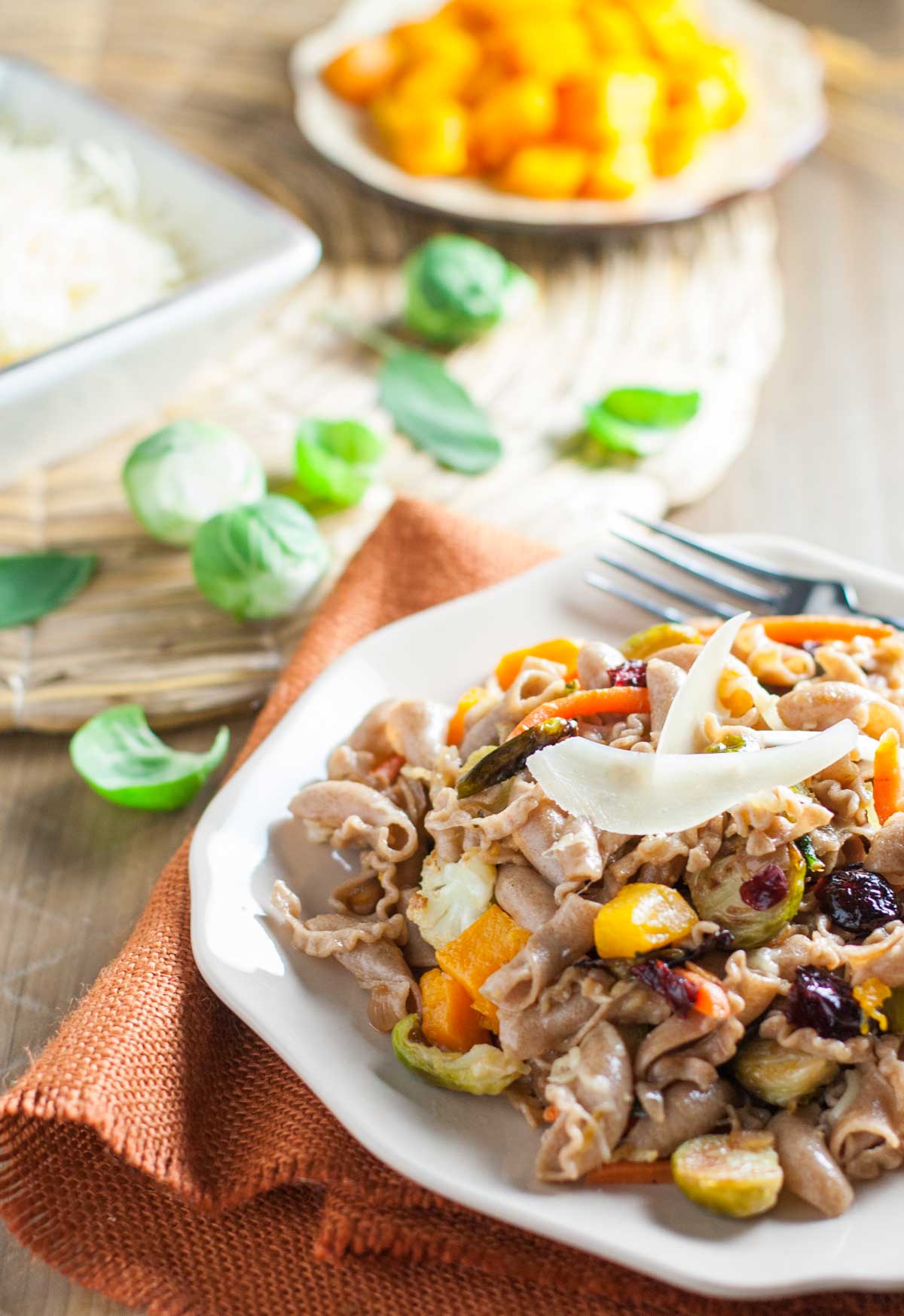 And then we were lucky enough to meet Janie Quinn. She is an entrepreneur, passionate advocate of sprouted whole grains, one of the nation's leading experts on authentic sprouted flour, and just an energetic, fun woman you'd love to be seated next to at a dinner party! Janie is the supplier of the Essential Eating Sprouted Flour we are using to create our Pastabilities® Sprouted Pasta.
So let's break it down! Here are some of the highlights and benefits about eating Sprouted Flour: (more in depth info can be found on Janie's website EssentialEating.com)
Sprouted Flour is easier to digest. It is not gluten free, although many customers with starch- or gluten-intolerance have reported they are able to digest sprouted flours and products.
Nutty, delicious flavor with no bitterness sometimes found in other whole grain flour.
Aids in weight loss, bowel regularity.
Helps to lower cholesterol, lower blood pressure, and may help better manage diabetes.
And something we can all benefit from…more energy for living!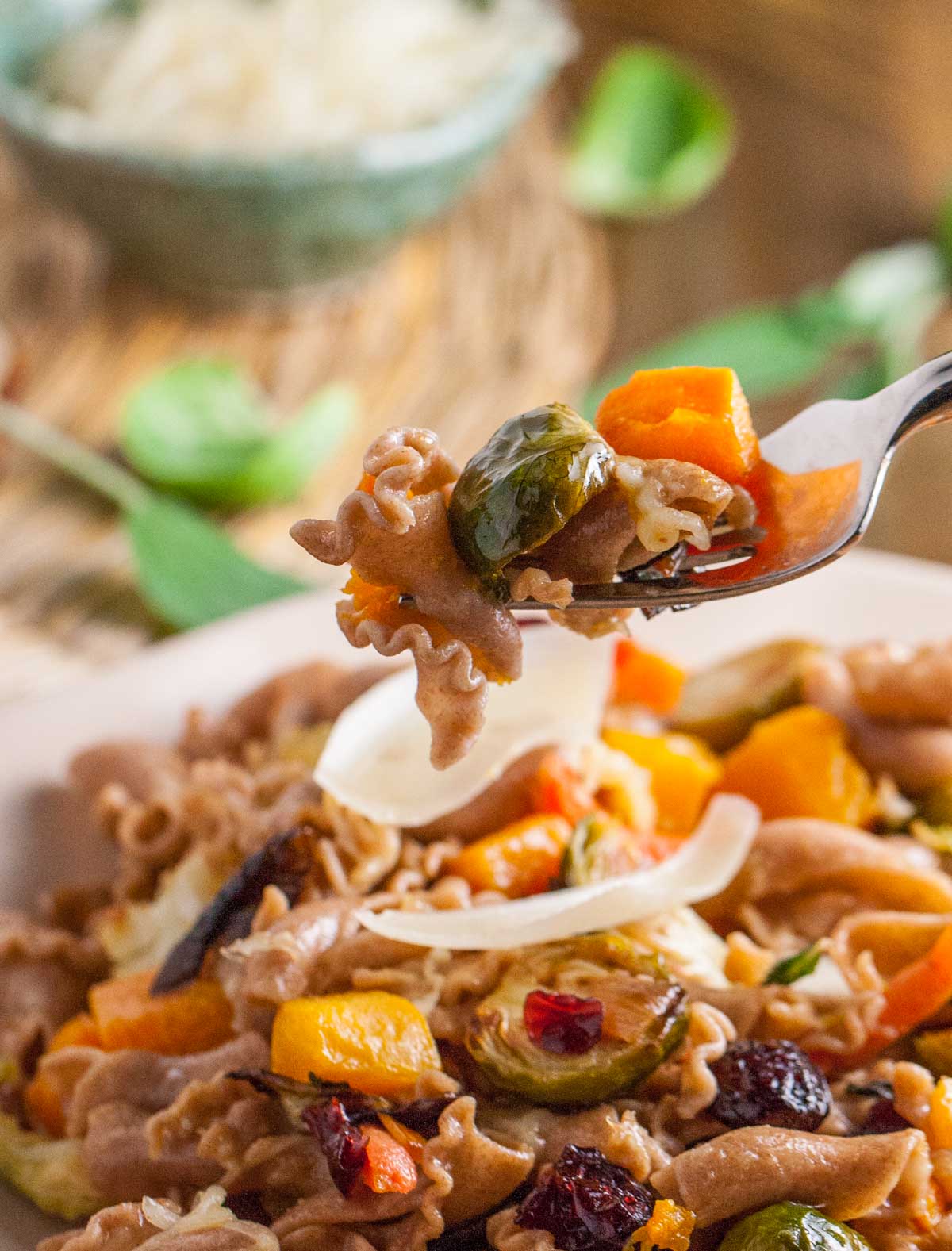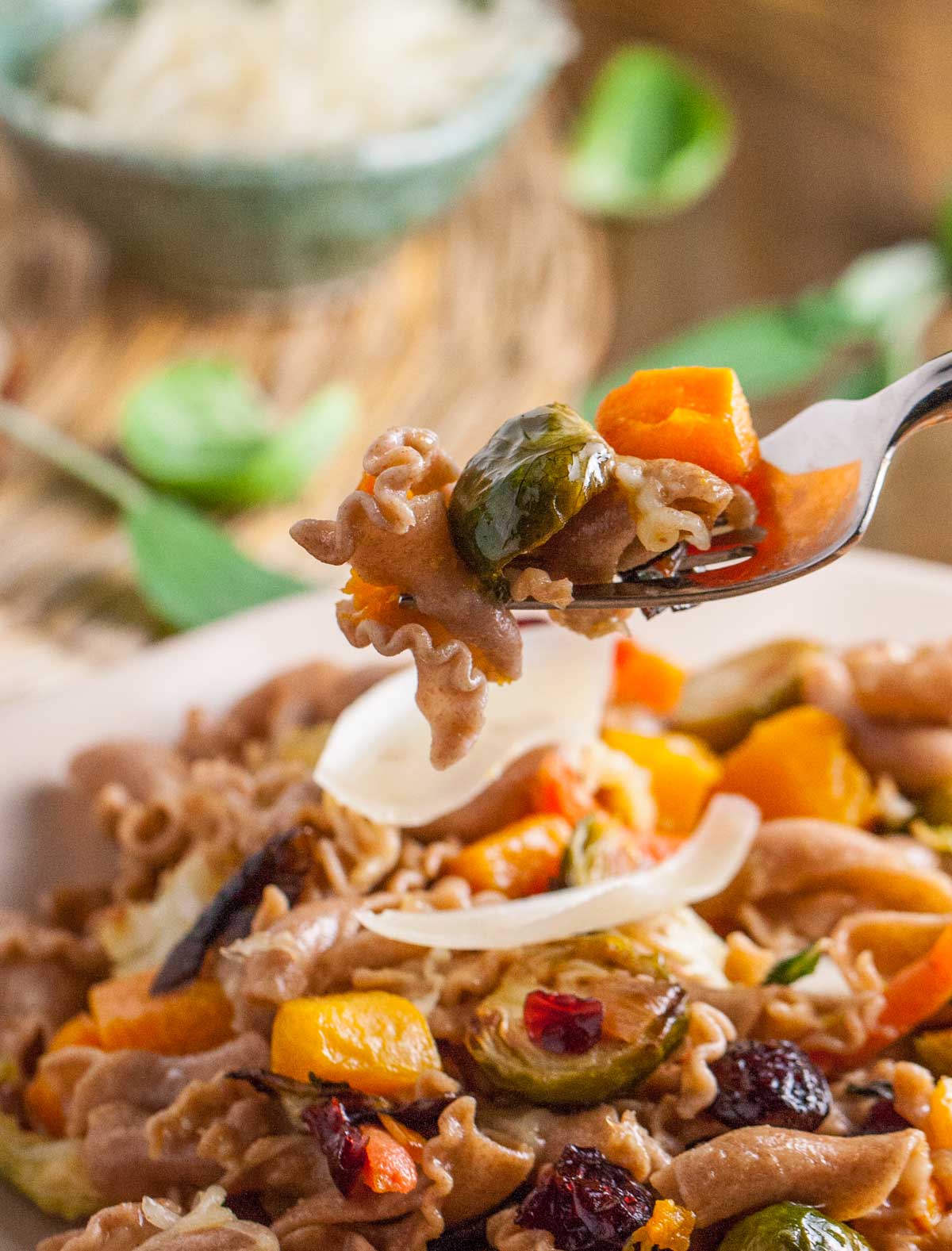 Can you ask for much more? No, but one other important fact about our Sprouted Pasta and the other Healthy Grains we are introducing…they are all Certified Organic and are non GMO. Woohoo!
We want to share our excitement about our new Sprouted Grains Pasta, so we have created a special offer just for you, our dedicated pasta friends. This coupon code will give you 20% off our Sprouted Pasta from now through Christmas!
Coupon Code: Sprout20
Enjoy this pasta recipe which is a "fall bounty" of flavor! The combination of textures and flavors is wonderful. Of course any pasta can be substituted if you don't have any Sprouted on hand…
Roasted Vegetables with Sprouted Grains Pasta
Sprouted Pasta is an alternative grain that is nutty and delicious with lots of health benefits! Combined with roasted veggies and a lemon brown butter sauce and topped with Craisins and fresh Parmesan – it's delicious! You can adjust the type or amount of vegetables and/or pasta to your liking…this recipe can be flexible!
Ingredients
12 oz

. bag of Sprouted Pasta (made with Essential Eating Sprouted Flour, or substitute any pasta on hand!)

1 cup

carrots, julienned

2 cups

butternut squash, diced

2 cups

cauliflower, cut into small florets

2 cups

Brussel sprouts, halved, plus some loose petals

1

–

2

cups kale leaves, torn or cut into bite size pieces, or use baby kale

2

T. olive oil

8

T. butter

2

shallots, diced
Fresh sage leaves (around 10)
Juice of

1/2

lemon
Zest of

one

lemon

1/4 cup

Craisins

1/2

t. kosher salt

1/4

t. black pepper

1/4

–1/2 cup grated Parmesan
Instructions
Cook pasta according to package directions. Make sure and reserve about 1/2 cup cooking water before draining pasta! Drain and toss with 1 T. olive oil. Keep 1/2 the pasta (about 6-8 ounces) for this recipe and put the balance in a zip lock for another meal!
Toss all veggies in 2 T. olive oil and roast in 400 degree oven for about 15-20 minutes, or until veggies are tender and kale is crisp.
In the meantime, heat the butter in a large skillet over medium low heat until the butter begins to foam. Add the shallots and cook for 1-2 minutes, until they begin to brown.
Increase heat to medium and add sage leaves, cooking until they turn crisp, about 1-2 minutes. Remove leaves from heat. Sage adds a nice flavor to the butter.
Add 1/4 cup cooking water to browned butter in skillet and stir. Add the roasted vegetables, Craisins and pasta to skillet. Toss gently and add salt, pepper, lemon zest, lemon juice, and 1/4 cup Parmesan. Toss again. Taste and adjust seasonings and cooking water if needed.
Divide pasta among bowl and top with additional Parmesan. Serve immediately and enjoy!
Notes
Depending on the time of year, you may want to include other vegetables. Feel free to create a combination that pleases you!
I tried to balance the amount of pasta versus vegetables. That too can be adjusted to taste.
Join our email list for fresh pasta recipes delivered to you every week!
Your information will NEVER be shared or sold to a 3rd party.