Creamy Roasted Red Pepper Pasta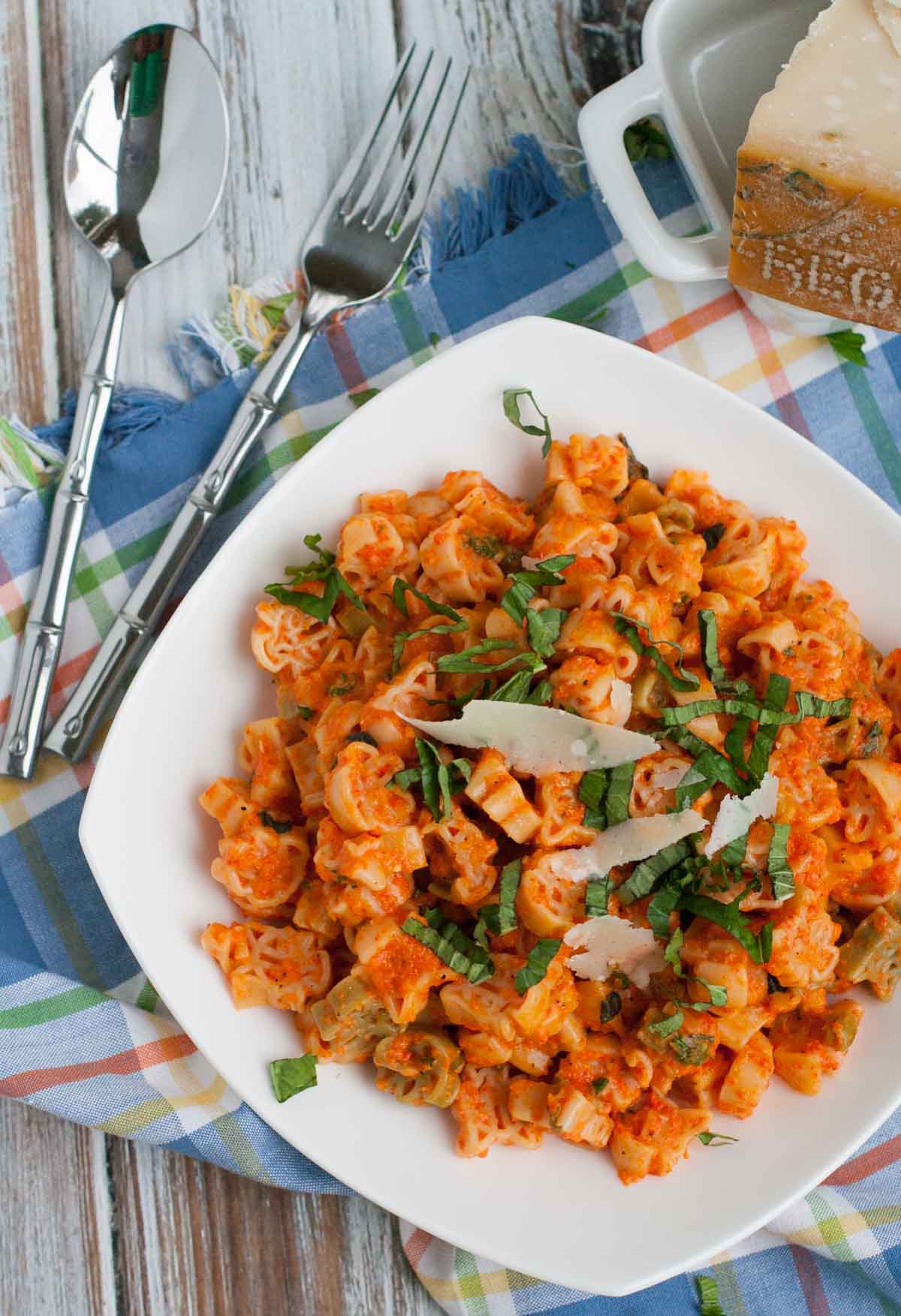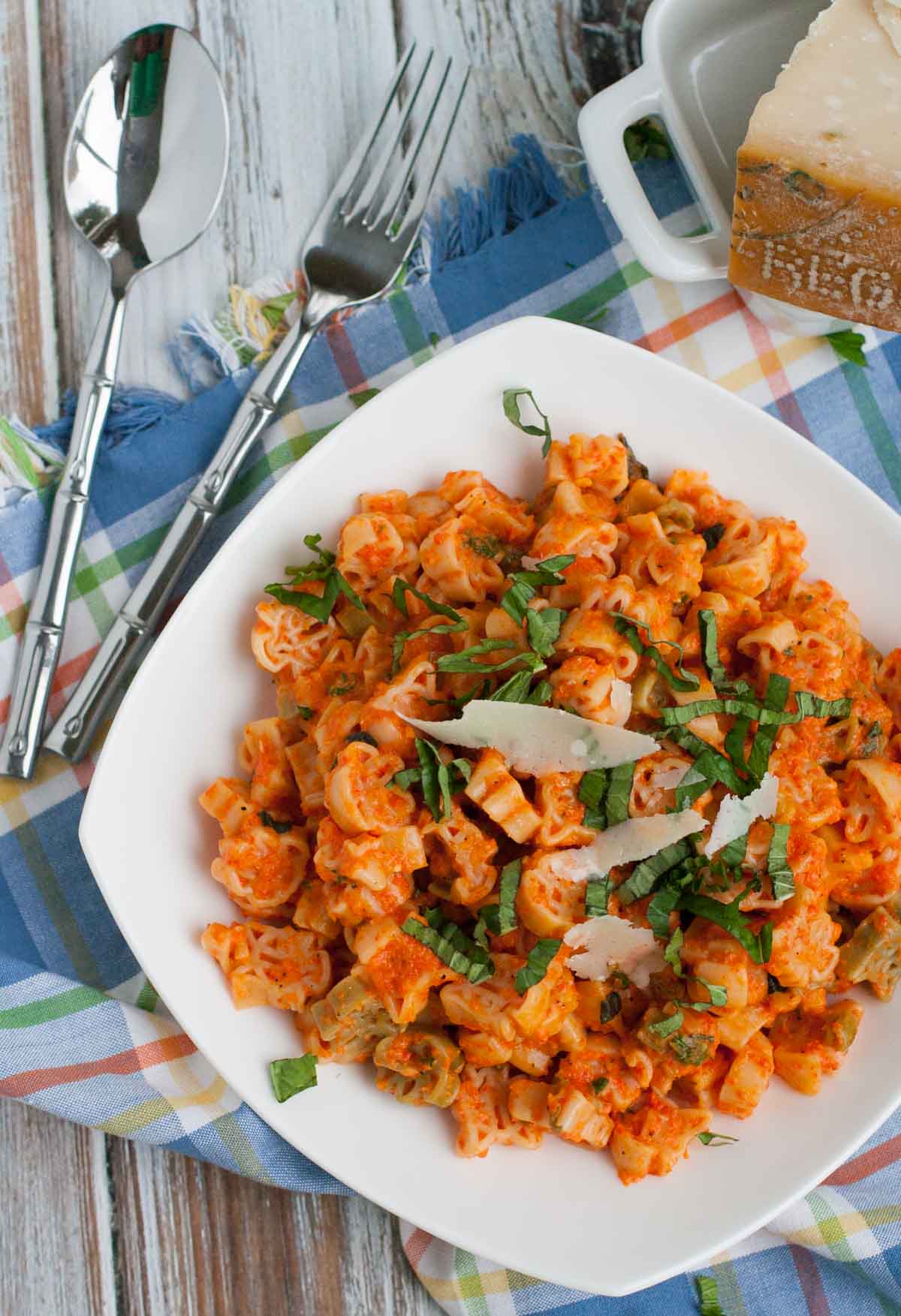 I love this time of year. That sweet spot between Thanksgiving and Christmas. Some days you succumb to comfort food and others you are "watching it" because of "the Holidays"…playing games with yourself because you know what's comin'. I admit it. I have that "push-pull" with my eating angels and devils. I can justify both frames of mind. 🙂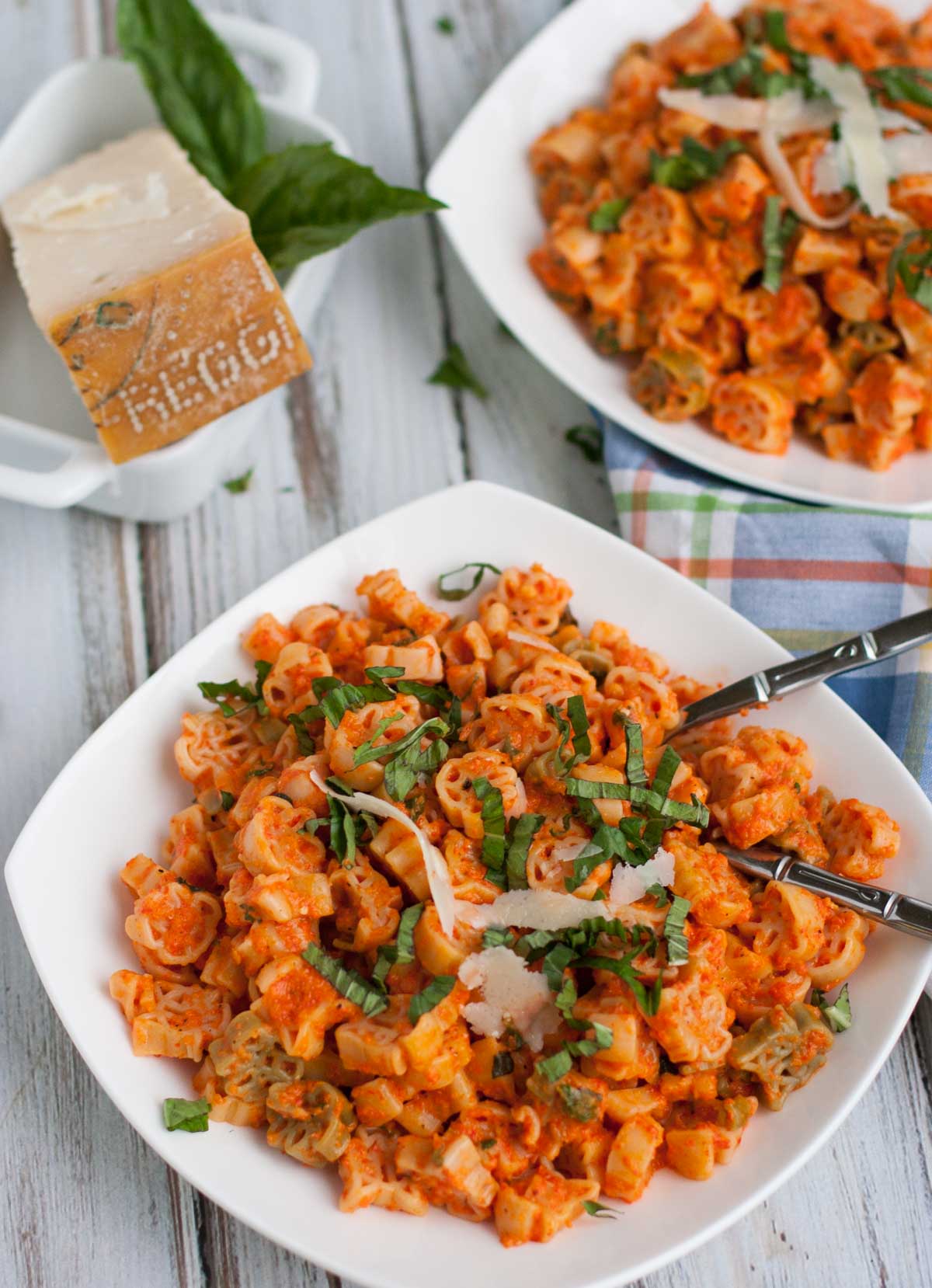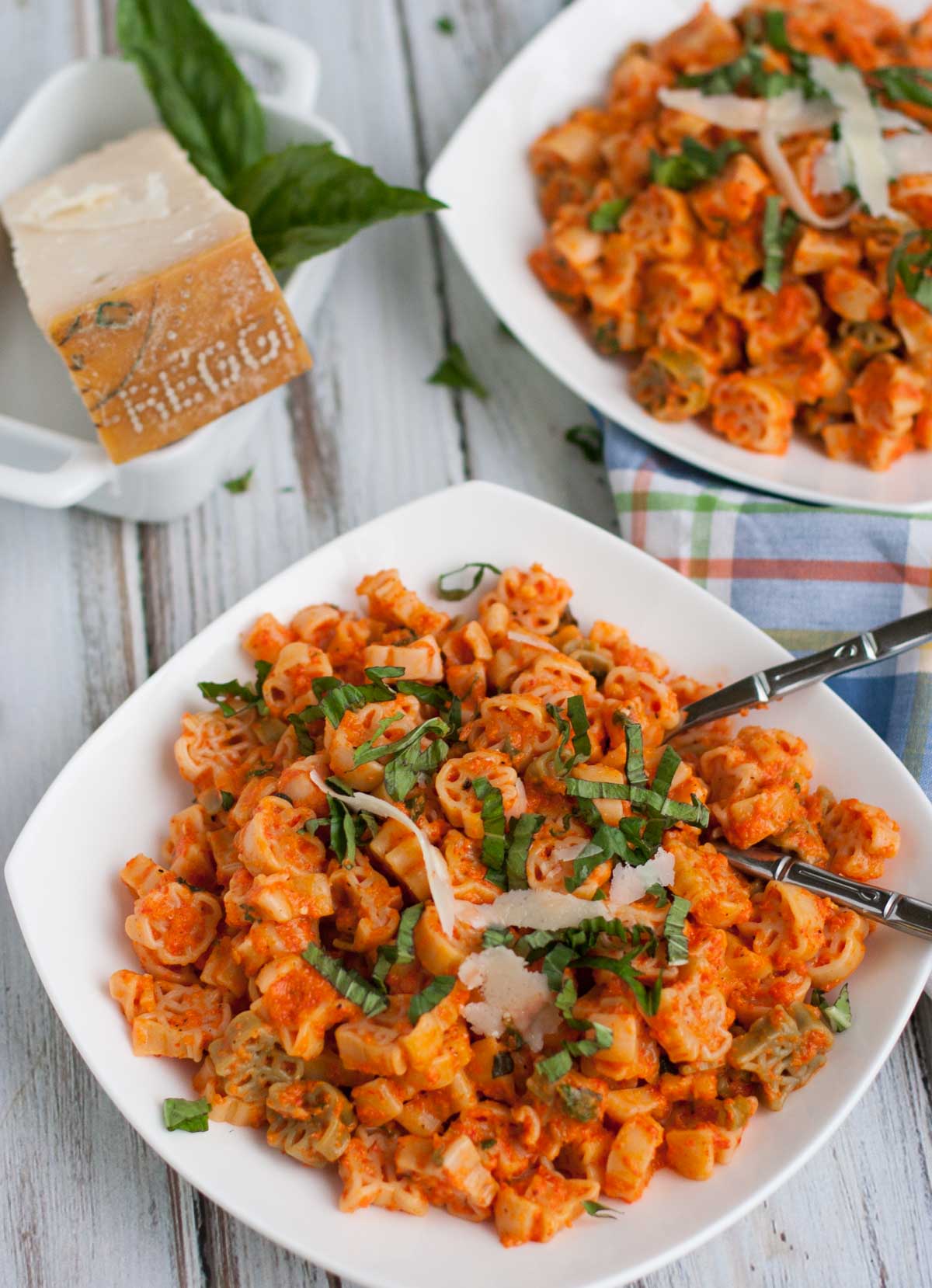 So here's a yummy, feel good, somewhere in between the above thoughts, easy recipe for Creamy Roasted Red Pepper Pasta. Easy! Did I say that? Easy is important and necessary too during these few weeks. We need time to decorate, plan, shop, wrap, and all the other details that need to be handled right before Christmas.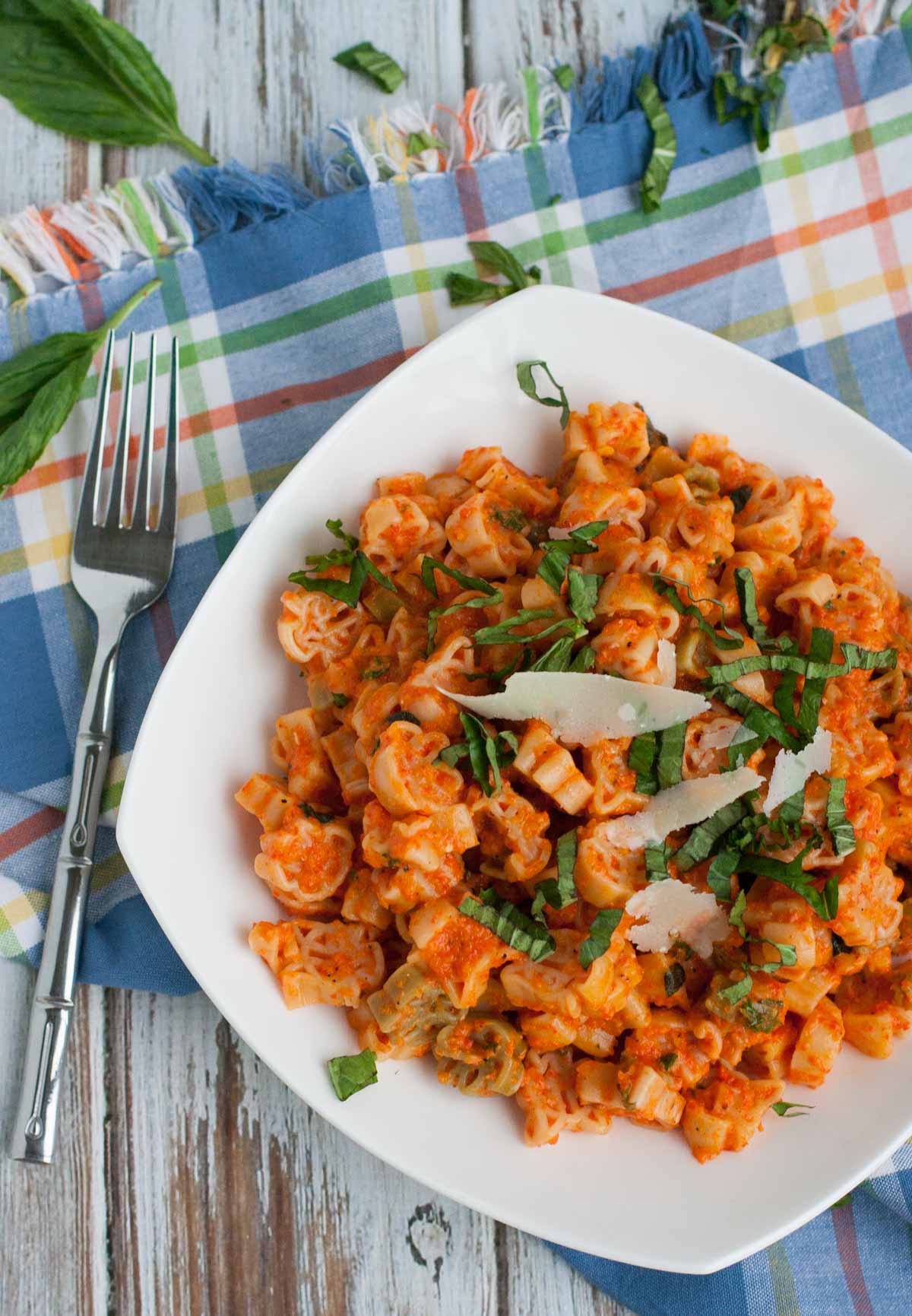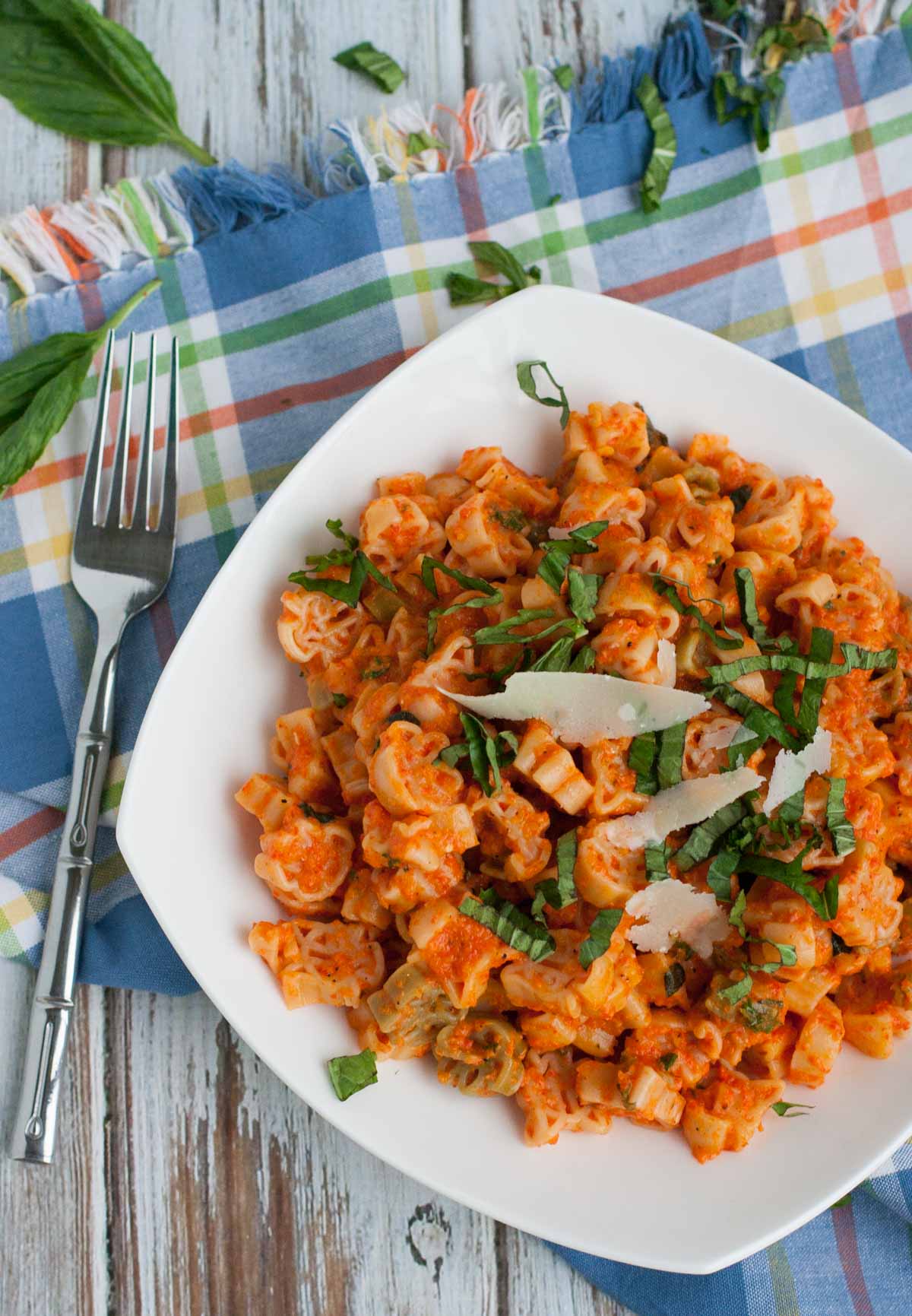 So on a night when you want to make a quick and DELISH pasta dish with a simple salad, this recipe is for you. Plus it is different! Red peppers rather than the expected tomatoes are a refreshing change. Roasted red peppers, either roasted that night on the grill or in the oven, or canned (super-fast and my personal preference due to time of year!), create a sweet and smoky flavor that is a wonderful base to this pasta sauce. And with a few other additions, including cream (!) and chicken broth, you are on your way to a simple red pepper pasta that can stand on its own or be a wonderful side dish to almost any meal.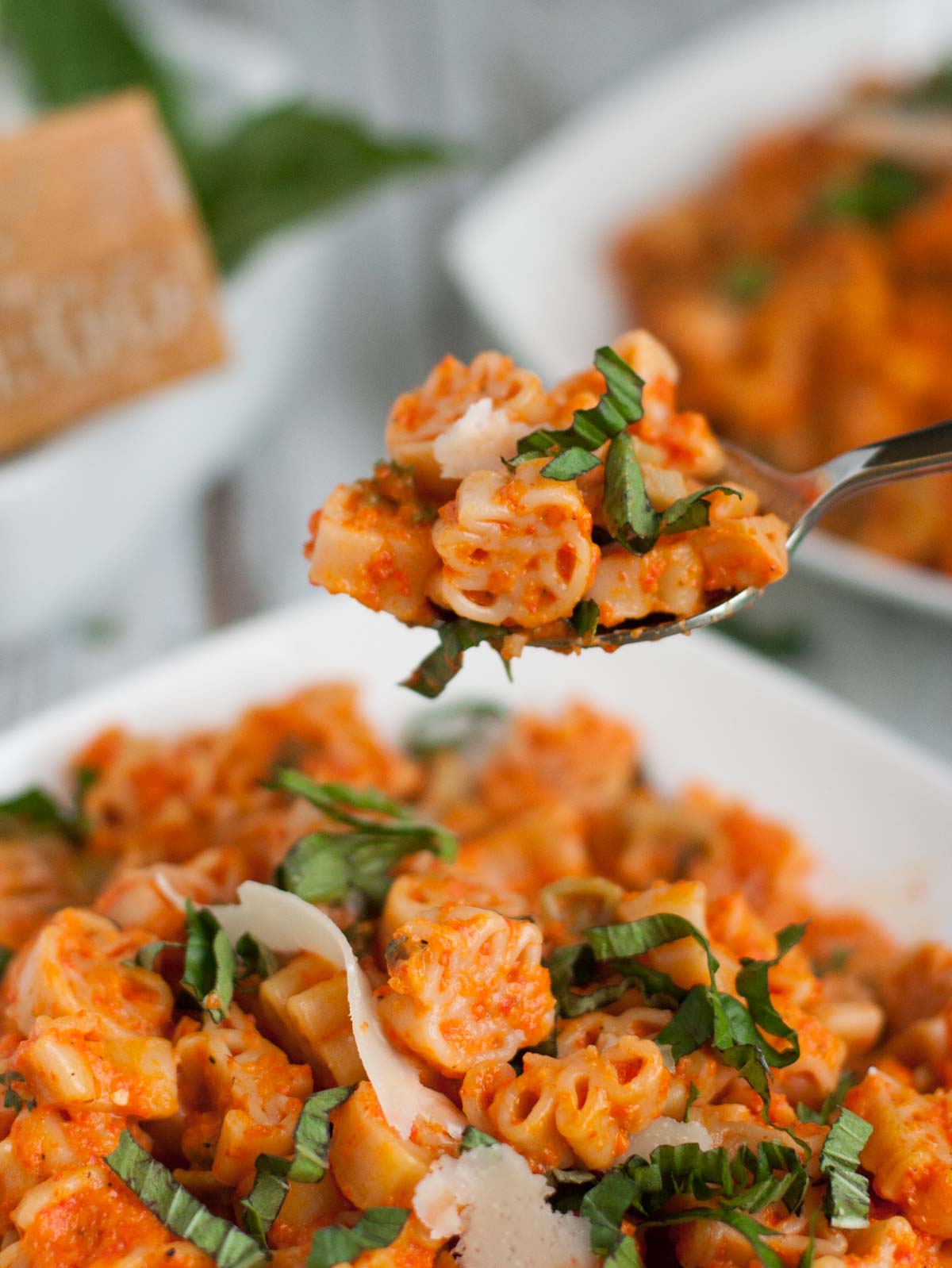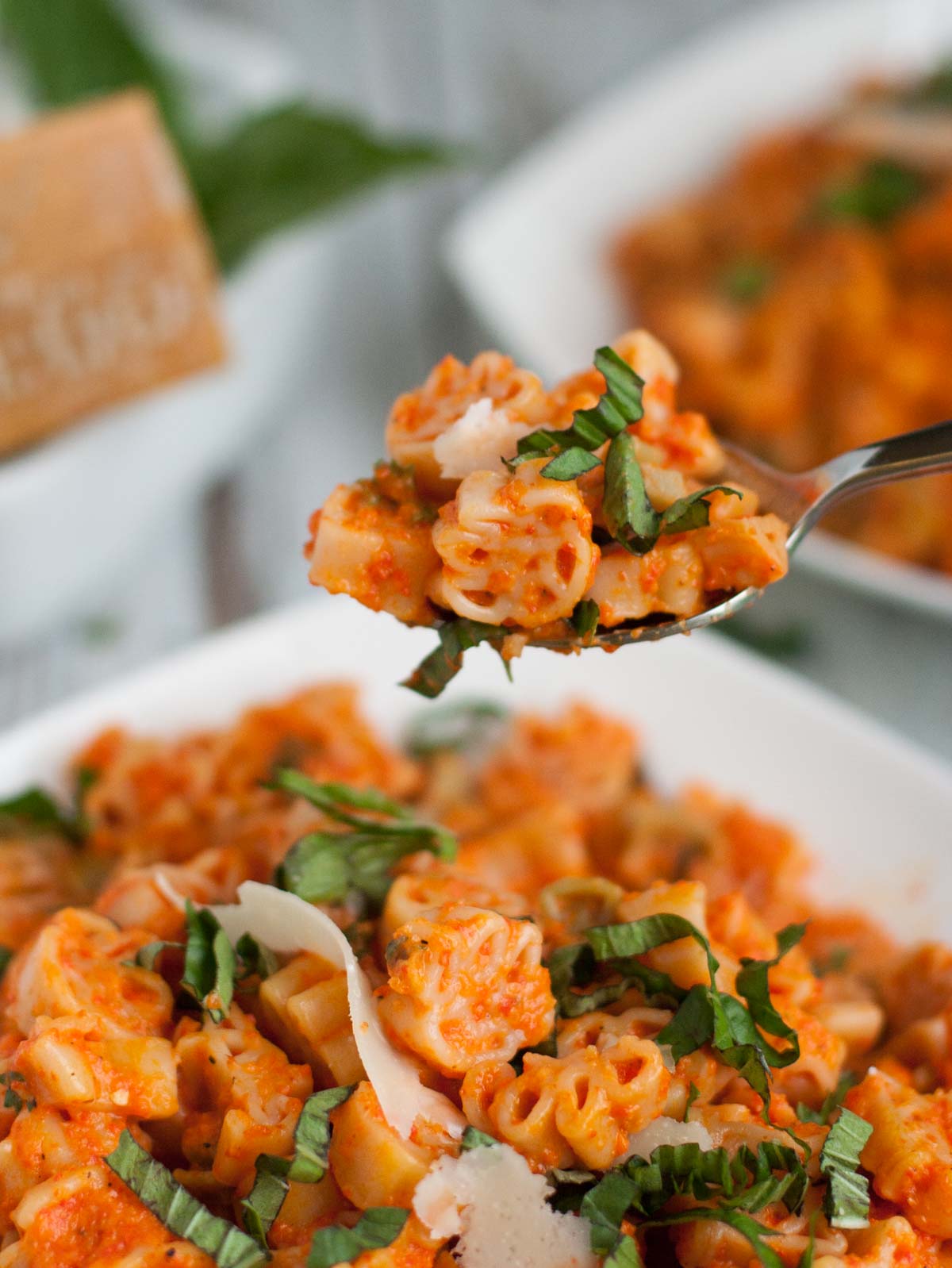 And use whatever pasta you still have in your pantry as we approach the year end. I used Cat Lovers Pasta….darn cute I must say…but any short shape can be substituted. This recipe is a sauce…but a thicker sauce. Reminds me of a sauce that must be related to the pesto family. And it's RED! Perfect for this time of year. Serving this just adds a little holiday charm.  For a green alternative, try our Kale and Walnut Pesto recipe.
Regardless of the time of year, we'll be making this often as my family loved it.  For now though, buckle down friends and enjoy the Holiday craziness!
Creamy Roasted Red Pepper Pasta
Roasted red peppers are a delicious alternative to tomatoes in this sauce. They add a sweet and smoky flavor!
Ingredients
14 oz

. Cat Lovers Pasta (or any other short shape, like penne, rigatoni, etc.)

1

T. extra virgin olive oil

3

T. butter

3

cloves garlic, chopped or minced

½

onion, diced

1

jar, 14-16 oz. roasted red peppers, chopped (I bought mine at Marshalls or TJMaxx!) , or 4 whole roasted red peppers, peeled, seeded, and chopped. Roast in oven, on grill, or over gas flame.

1 cup

chicken broth

¼ cup

heavy cream

1 ½

t. kosher salt

½

t. black pepper

½

t. red pepper flakes or Aleppo Pepper

½ cup

fresh Parmesan plus more for garnish

2

T. fresh parsley, chopped

4

T. fresh basil, chopped
Instructions
Add olive oil and 2 T. butter to a large pan over medium heat. Sauté onions and garlic until transparent.
Add roasted red peppers to pan and heat thoroughly.
Place mixture into food processor, or blender and run until pureed.
Add last T. butter back into pan over medium heat, and pour red pepper mixture.
Add salt, pepper, and chicken stock and stir.
Add cream, Parmesan and fresh parsley and combine. Adjust seasonings if necessary.
Add pasta to pan and thoroughly combine.
Served topped with fresh basil and additional Parmesan! Serves 4-6.
Join our email list for fresh pasta recipes delivered to you every week!
Your information will NEVER be shared or sold to a 3rd party.