Mighty Minestrone Soup (High Protein)
Ooohhhhh friends!  Get ready for the yummiest, comfy-est, happy-it-is-soup-season soup! Mighty Minestrone Soup delivers the health that we want – with the flavor our taste buds demand. PLUS it is high in protein and chock full of delicious veggies!  So, if you are about to run a marathon – GREAT! This is for YOU! And if you are like most of us, we'll just be sitting around the fire, enjoying every delicious bite!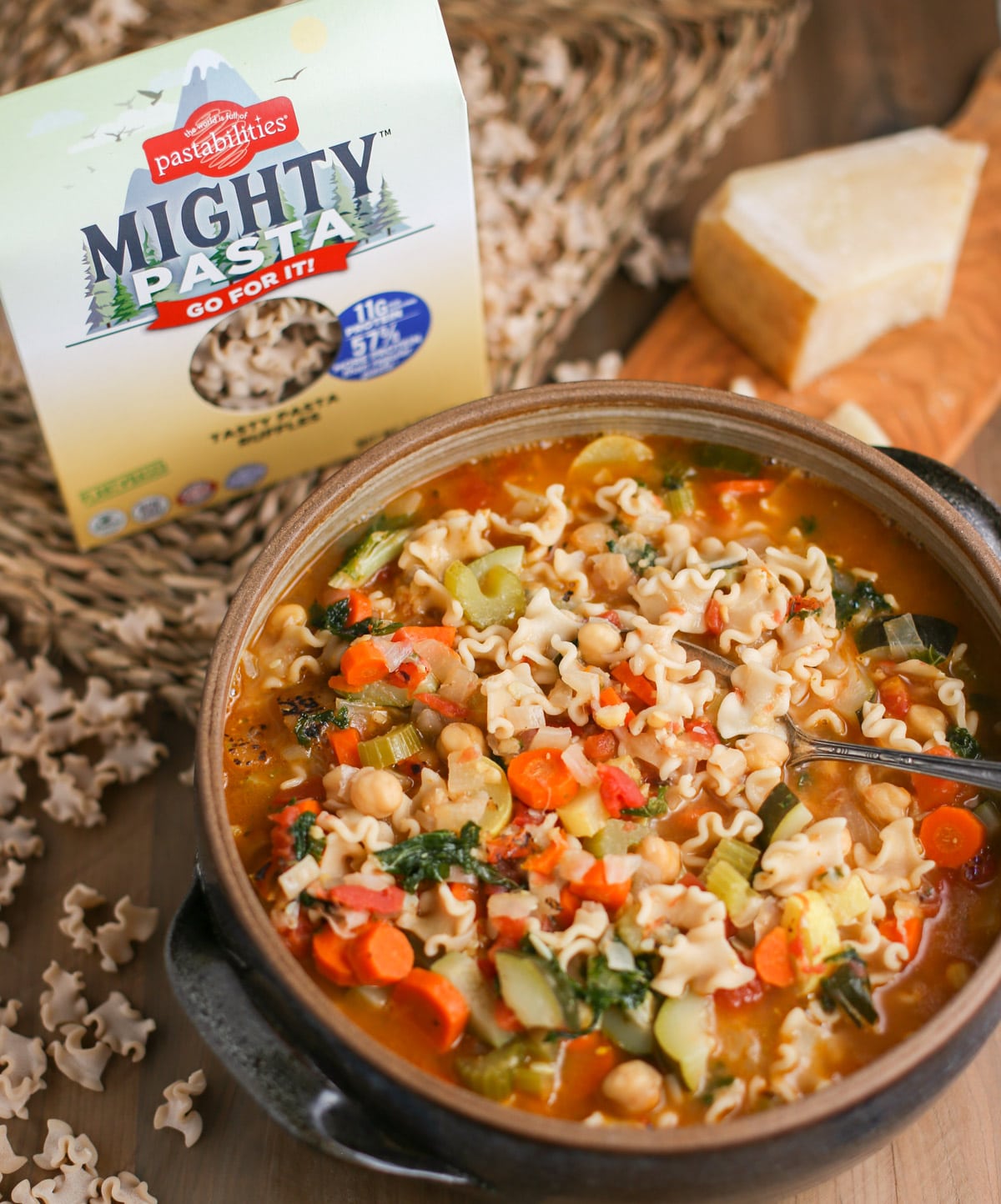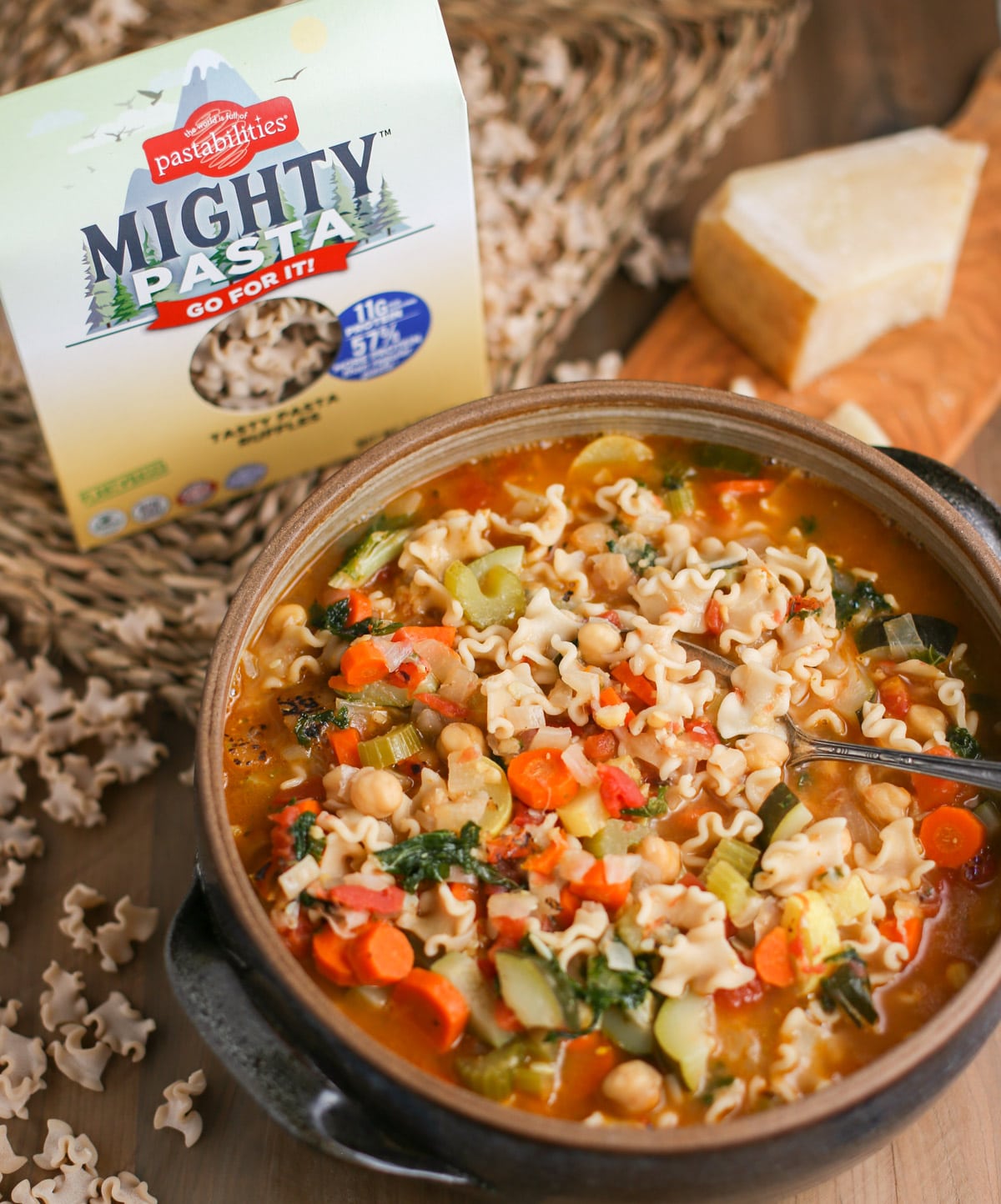 Traditional Italian minestrone soup is a hearty soup combining of a tomato broth base, seasonal vegetables and some beans (kidney, white beans ,etc). Since we were trying to make this higher in protein, we decided to use chickpeas, which are a definite go-to for "protein" AND our new Mighty Pasta Ruffles, which have 57% more protein that regular pasta! Double whammy!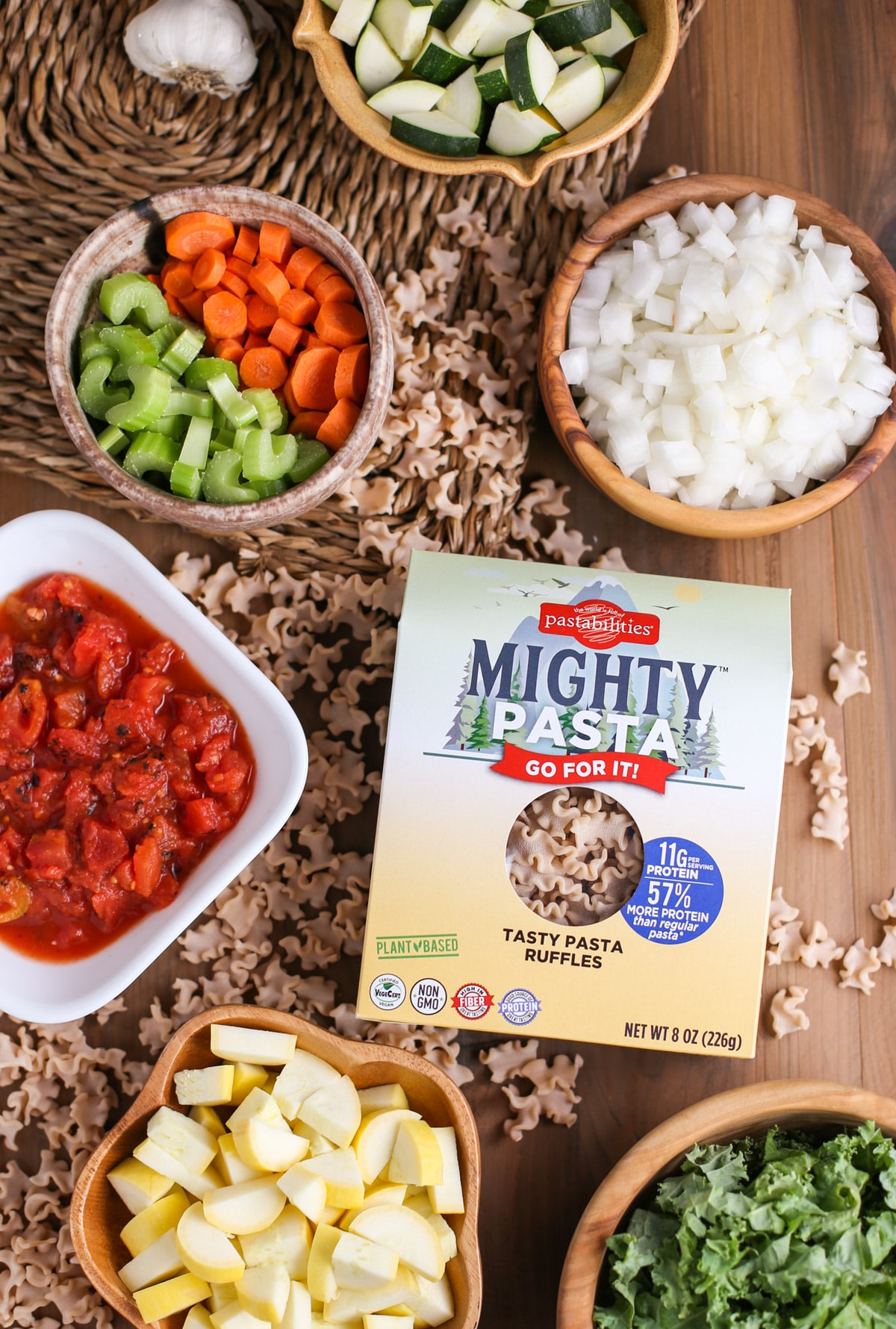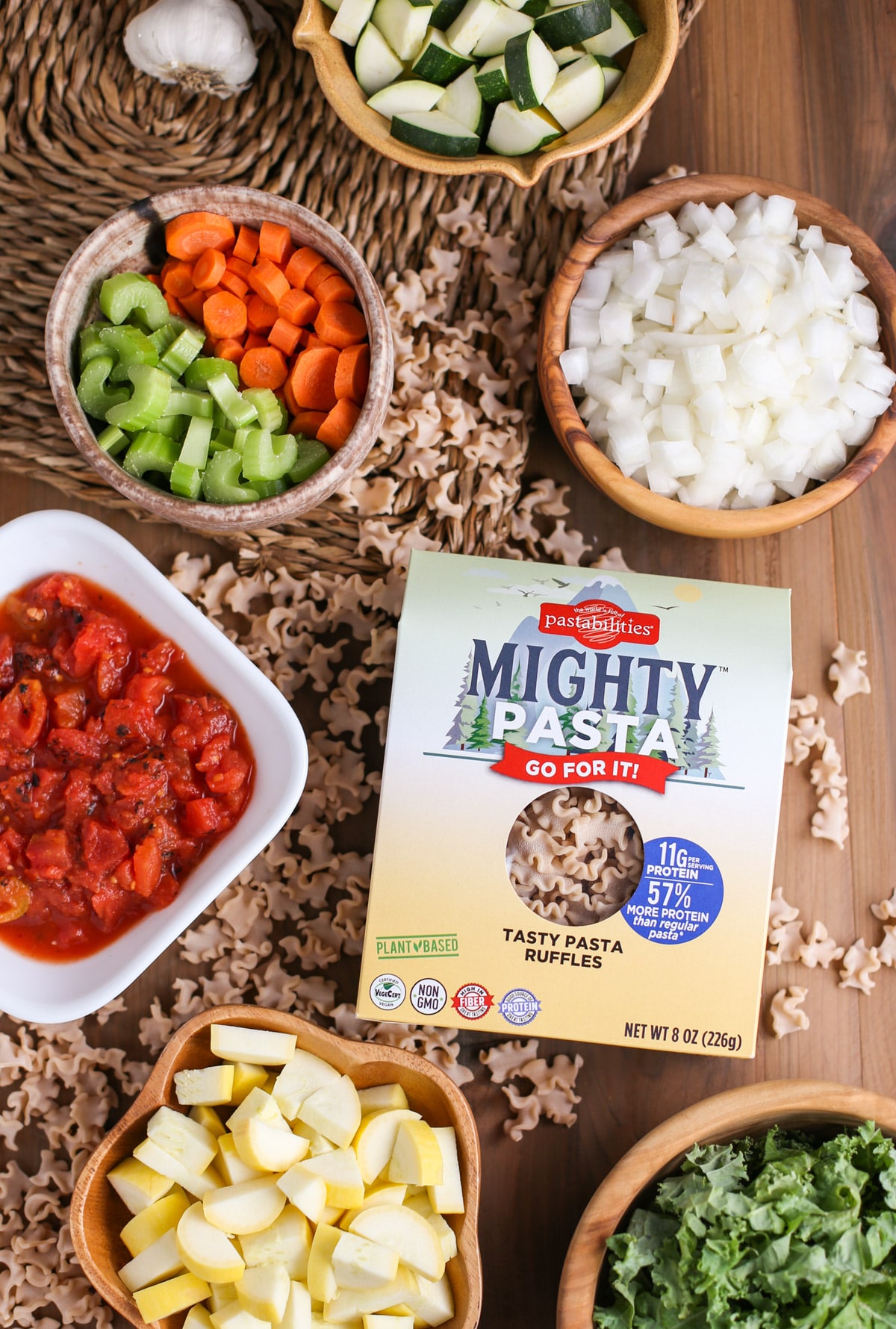 The nice thing about any minestrone recipe is that it is flexible.  So feel free use whatever vegetables are in season and on hand!  I had a bag of kale leftover from a salad earlier in the week, plus I can't seem to get enough of the squash and zucchini combo. Plus we added some depth and punch with the Parmesan rind and basil pesto.

What vegetables can I use in my minestrone soup?
Scour the fridge and find any leftover veggies!
Potatoes, sweet potatoes, green beans, peas are also great options
Instead of kale, substitute fresh spinach, collard greens, or cabbage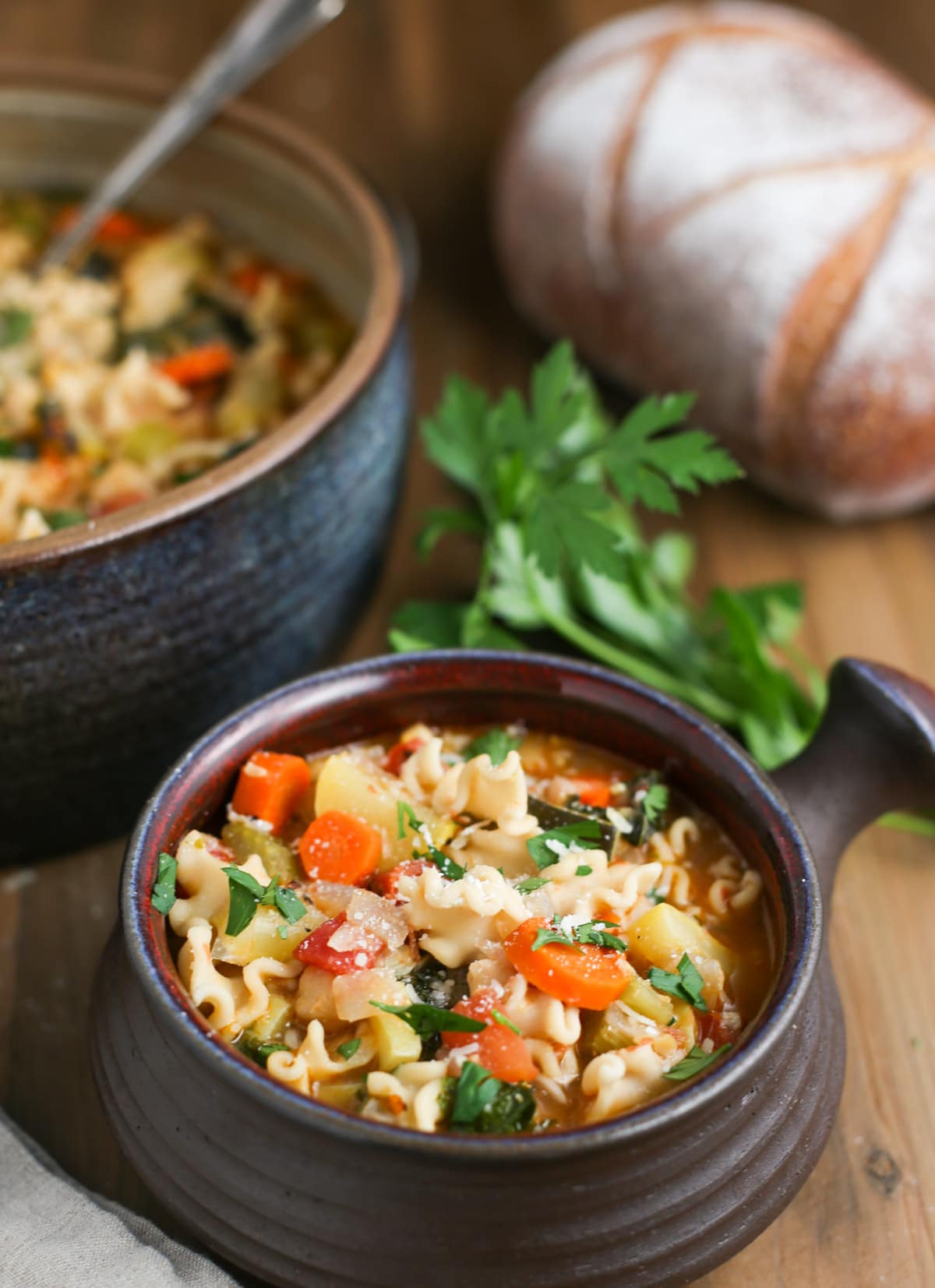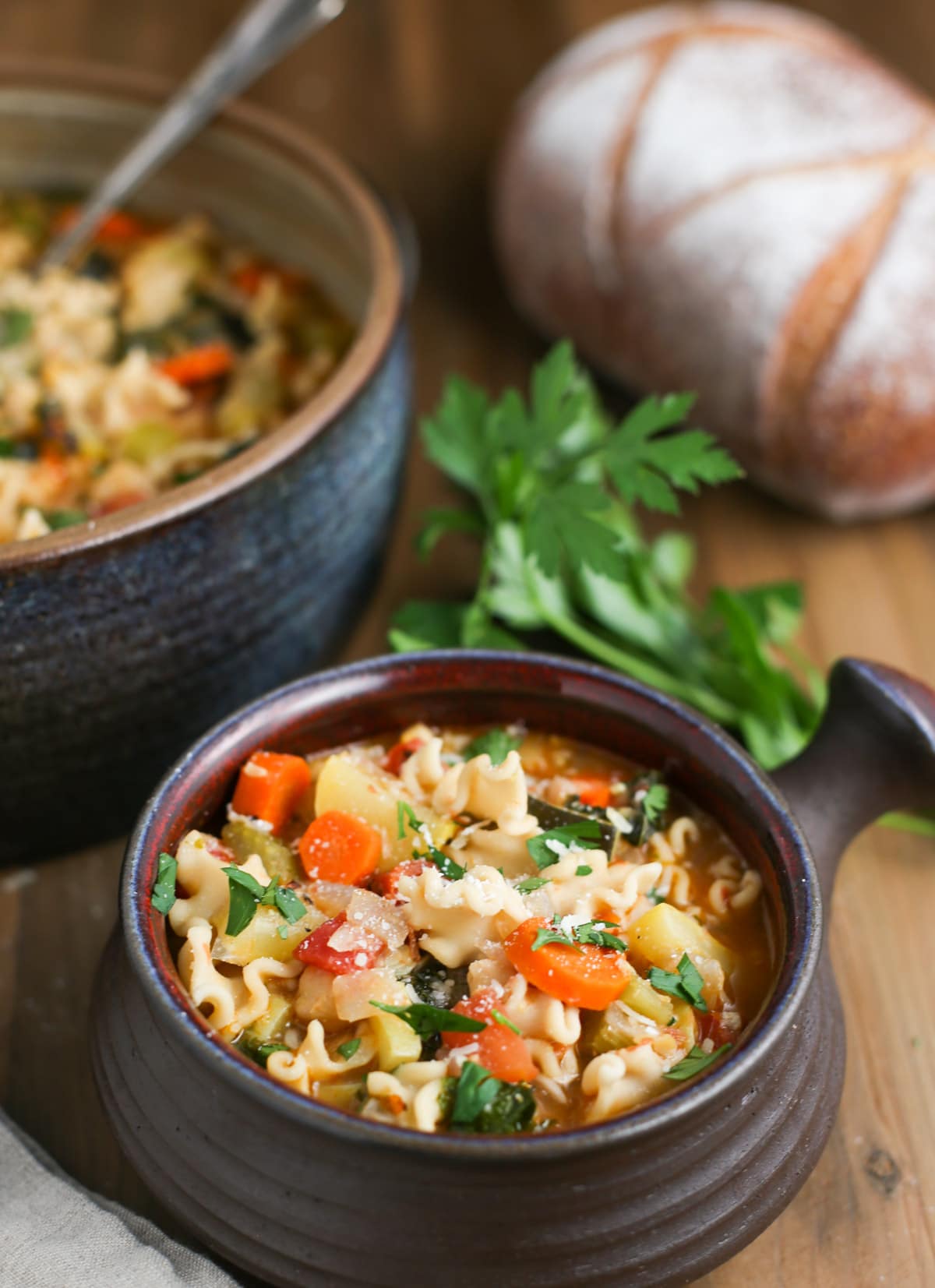 Why is this the best minestrone soup?
Higher in protein than the regular soups
The Parmesan rind and basil pesto add layers of flavor
Easy to make and can be frozen for later!
Affordable ingredients, most in your pantry already
Feeds your whole family (4-6 happy people)
Leftovers make for a great lunch, and like most soups…may taste even better!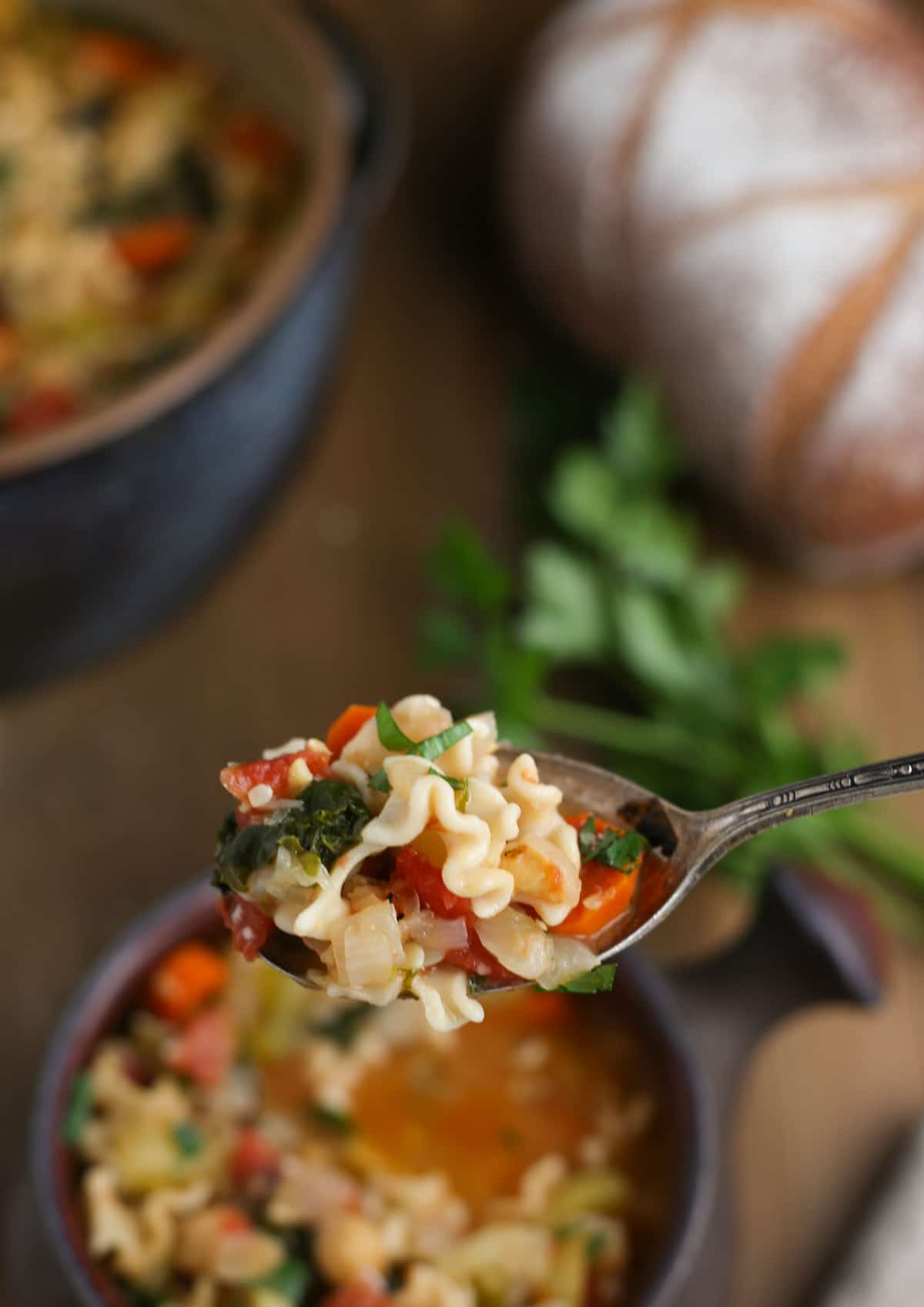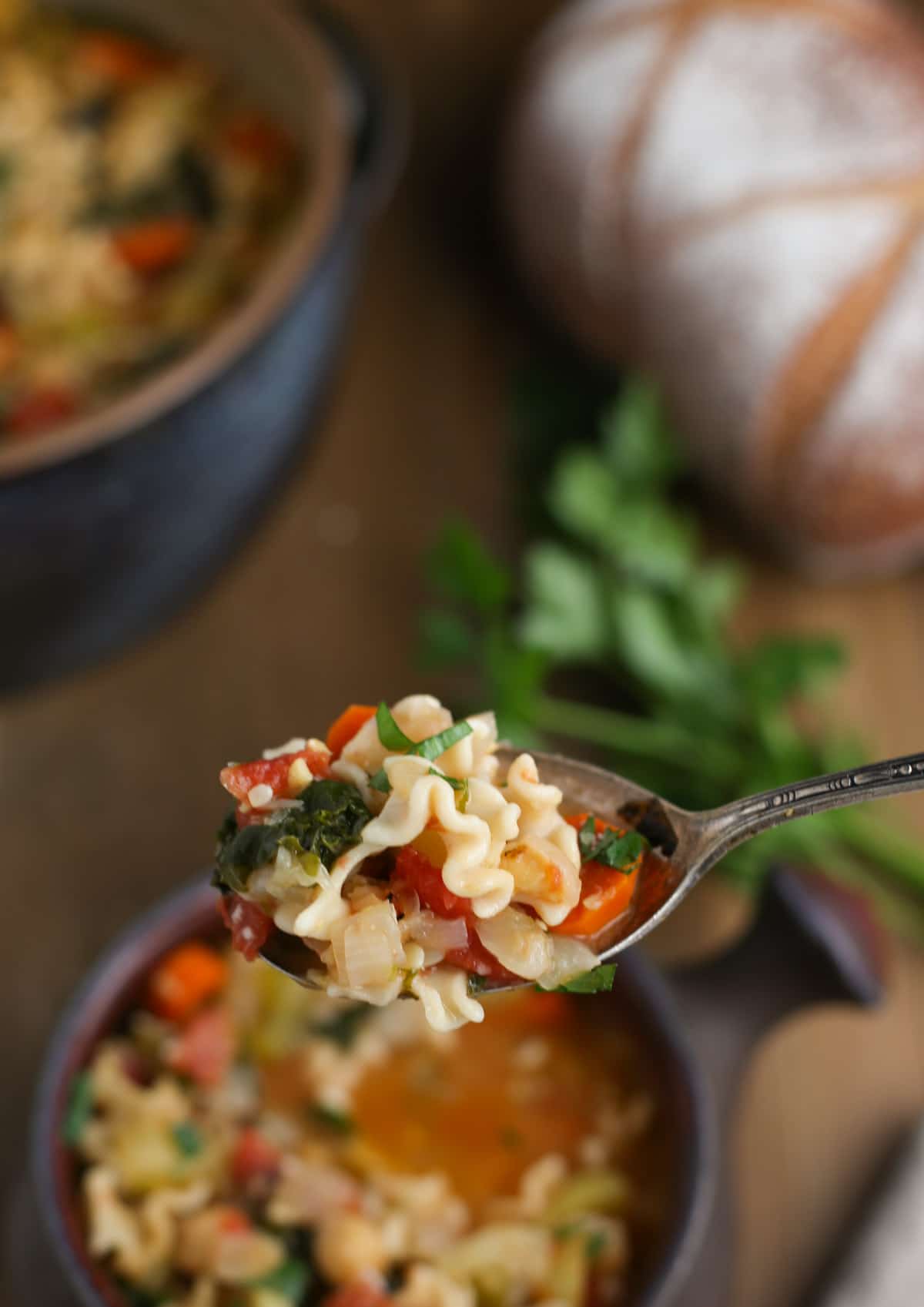 Can this minestrone be made vegan?
YES! Our pasta is plant based so no problems there
YES! Just use vegetable broth
YES! Skip the Parmesan rind and basil pesto!  And instead, add fresh chopped basil and garnish with your favorite vegan shredded cheese!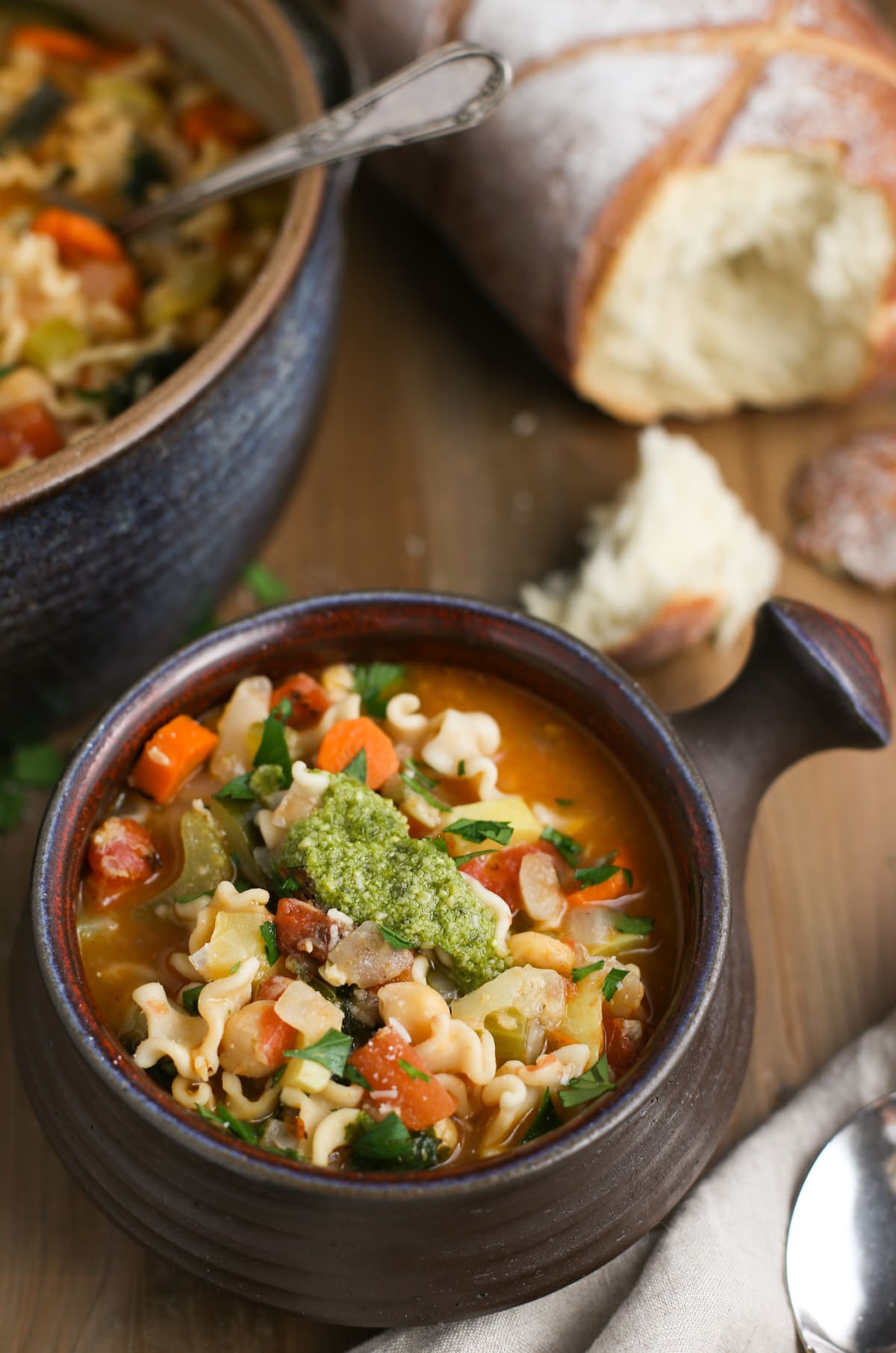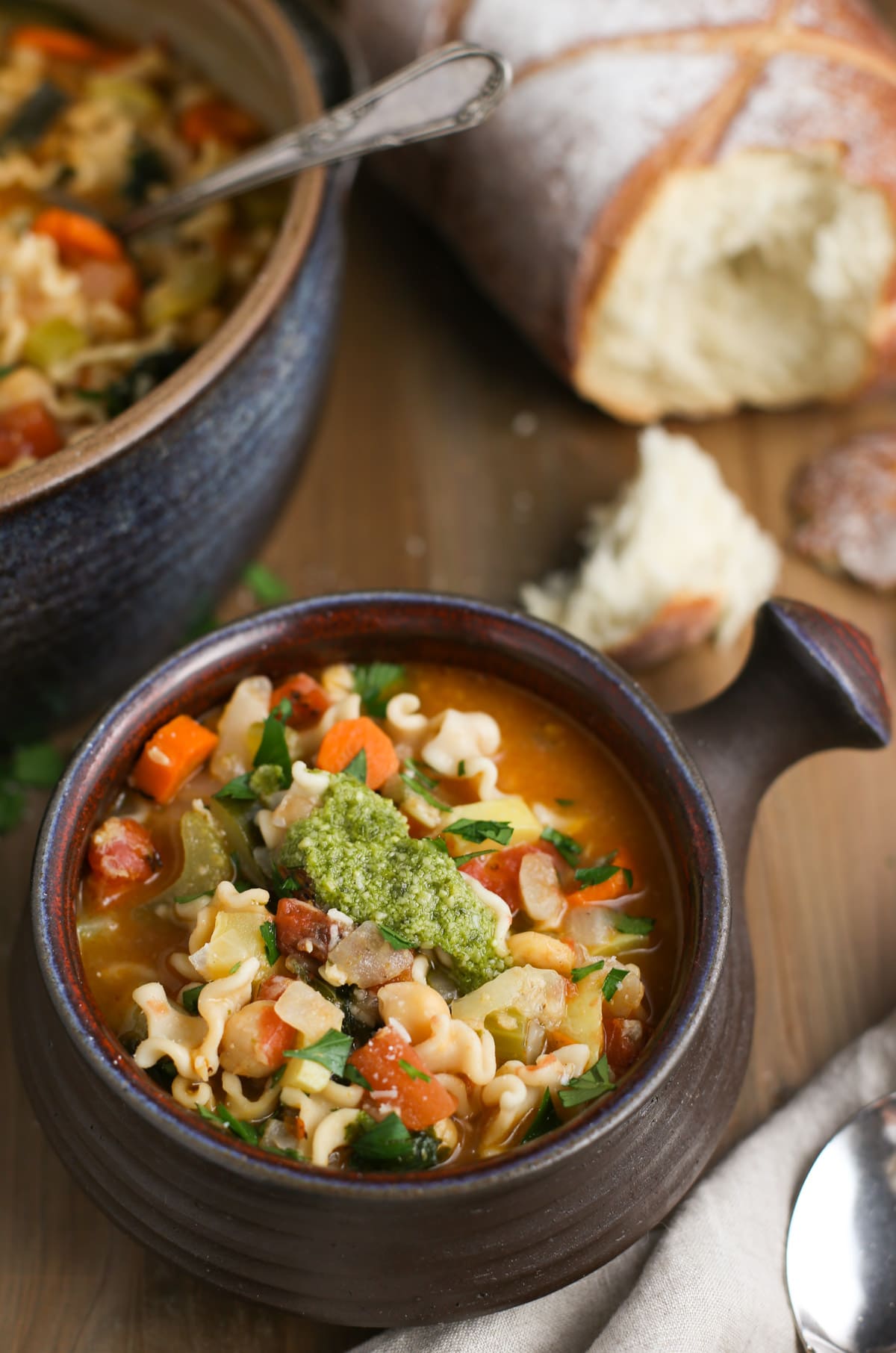 This fabulous soup can be enjoyed as soon as the kale is wilted and seasonings are adjusted. Garnish each bowl with some grated Parmesan and fresh chopped parsley.  And offer some fresh crusty bread alongside for dunking….just because.  Our Mighty Pasta adds some wonderful taste and texture and all the extra goodness of high protein and also high fiber! We can't wait to hear how you like it!  Enjoy this healthy soup!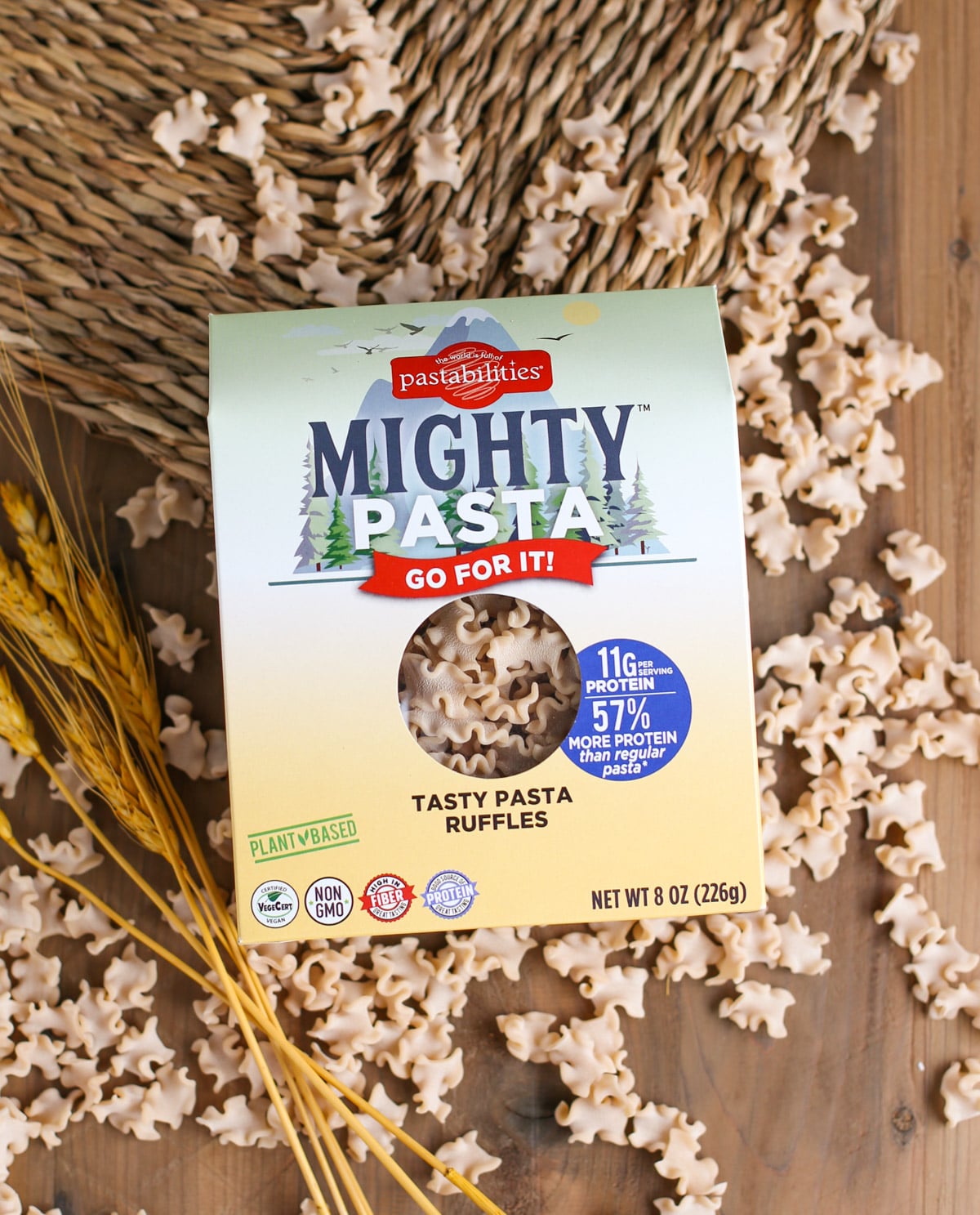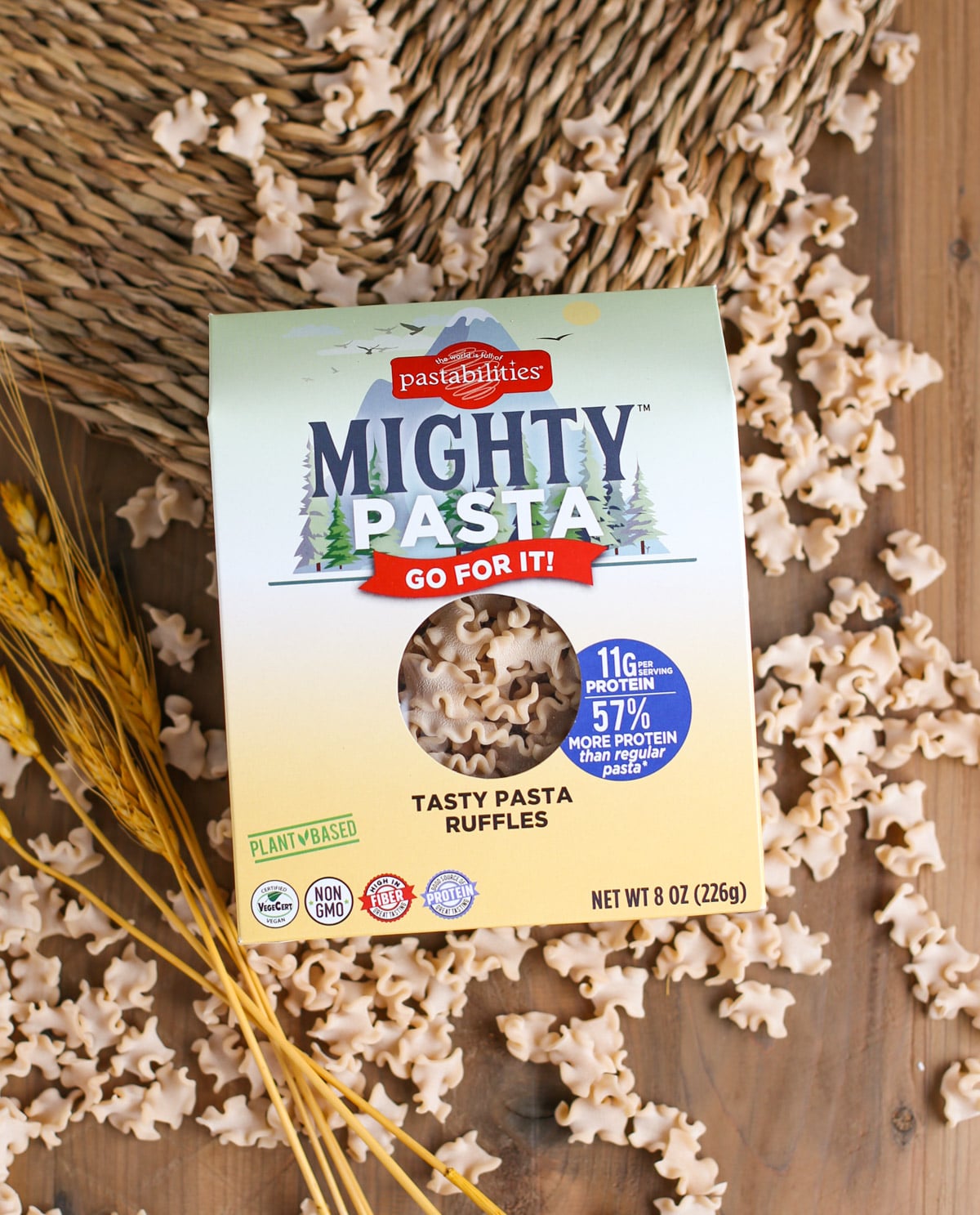 And for more Pastabilities fun, please follow us:
@worldofpastabilities – Instagram
@pastashoppeusa – Facebook
Print
Mighty Minestrone Soup (High Protein)
Delicious and full of flavor – you'll love our Minestrone Soup! Use whatever veggies you have on hand…and enjoy!
Ingredients
1 medium onion, diced
3 celery stalks, chopped
3 medium carrots, diced
1 medium zucchini, diced
1 medium yellow squash, diced
2 cloves garlic, minced
2 Tablespoons olive oil
2 Tablespoons butter
2 teaspoons kosher salt
1 (15 oz) can chickpeas (garbanzo beans), drained and rinsed
2 (14.5 oz) cans fire roasted tomatoes
8 cups vegetable or chicken broth
1-piece Parmesan rind (approx. 2×3)
8 oz. box of Mighty Pasta (or any other short shape like penne, rotini, or orzo)
½ lemon, squeezed and juiced
3 cups fresh kale, chopped, or baby kale
2 T. basil pesto
Kosher salt and black pepper, to taste
Parmesan cheese, grated for garnish
Parsley, chopped, for garnish
Instructions
In a large stock pot or Dutch oven, melt butter and olive oil over medium high heat , and add the onions, and add 1 teaspoon kosher salt.  After onions soften, add carrots and celery, and sauté for another 3 to 5 minutes.
Add the zucchini, squash, and garlic and cook until softened, about 3-4 minutes.
Add the chickpeas, the broth, the tomatoes with their juices, and the Parmesan rind.
Stir to combine, bring to a boil, and then reduce and simmer for 10 minutes.
Add the pasta and continue to simmer for another 9-10 minutes until pasta is al dente!
Remove the Parmesan rind, add the lemon juice, the fresh kale, and also 2 T. of basil pesto.  Stir until thoroughly combined and kale begins to wilt.
Taste and adjust seasonings if needed.
Serve immediately and garnish with extra Parmesan and fresh parsley. Enjoy!
Join our email list for fresh pasta recipes delivered to you every week!
Your information will NEVER be shared or sold to a 3rd party.