Quick Holiday Chicken Noodle Soup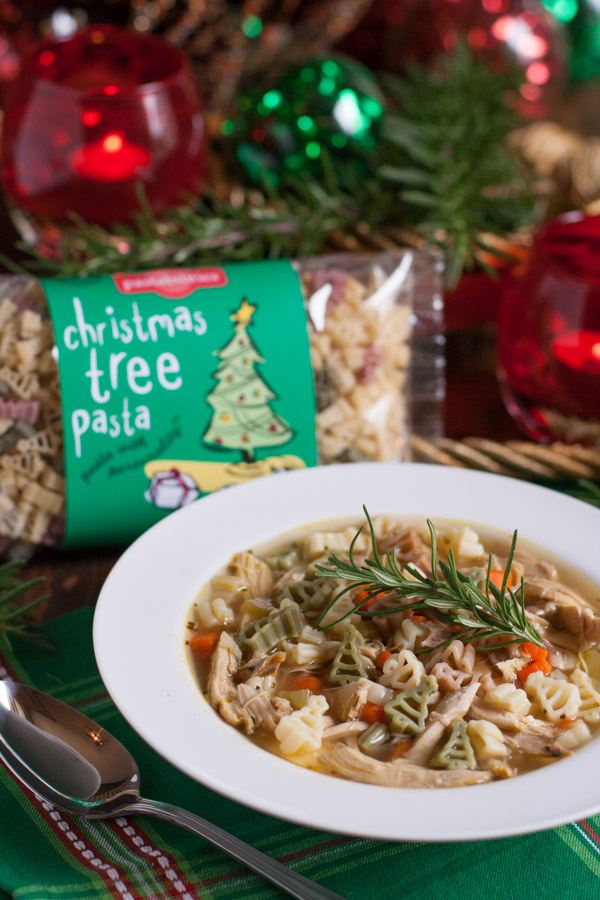 We are all coming off a long, huge, just-one-more-bite of my favorite dish weekend of over eating.  We all lost control!  Excuse me, but I feel totally comfortable speaking of the all of us.  Is that OK?  Is that wrong?  Are you ready to hear about my Quick Holiday Chicken Noodle Soup?
I always enter the holiday weekend thinking I can keep it together…but somehow the mix of cooking traditional holiday fare, attending some of our closest friend's annual turkey fry (love the Bloodies and Birdies event!), and reuniting with family and dear friends seems to always end up with the same Sunday after Thanksgiving "oops, I ate too much" ending.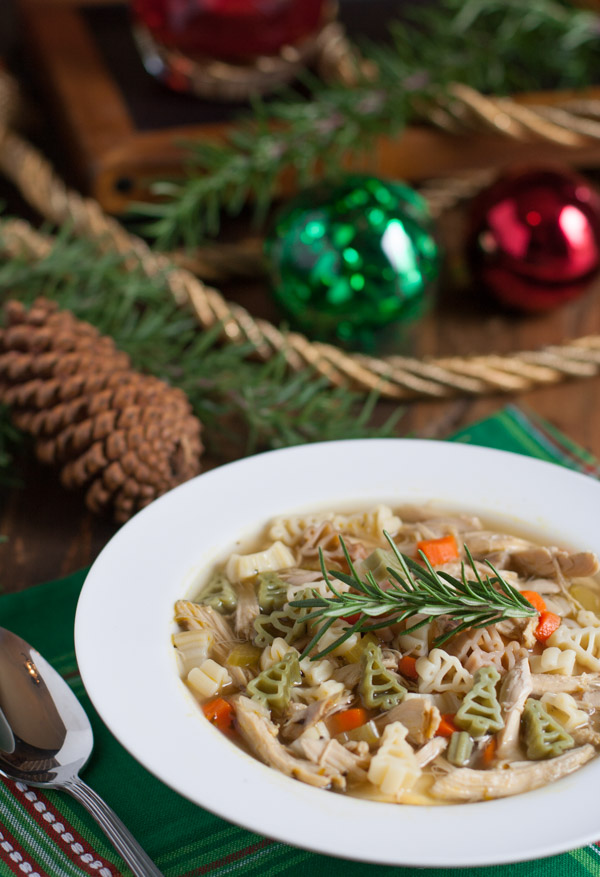 And let's not forget the drinking wine, playing fun dinner table games (at least I think they are fun), laughing a lot, and just being together during this special holiday.   Another year, another success?!  Of course! It's all these things that make the holiday weekend special and memorable for each one of us.  And I promise to make it up any misbehavior at the gym this week. 🙂
But when you are sitting here at the first week of December, you do start to think about eating a bit healthier in the coming weeks before Christmas.  To ward off any guilt of what's coming.  So you need quick, easy, and reasonably healthy dinners.  And possibly something you can make ahead, reheat later, and eat on for a few days.  There seem to be too many nights of parties, school events, and get-togethers on top of a regular busy schedule.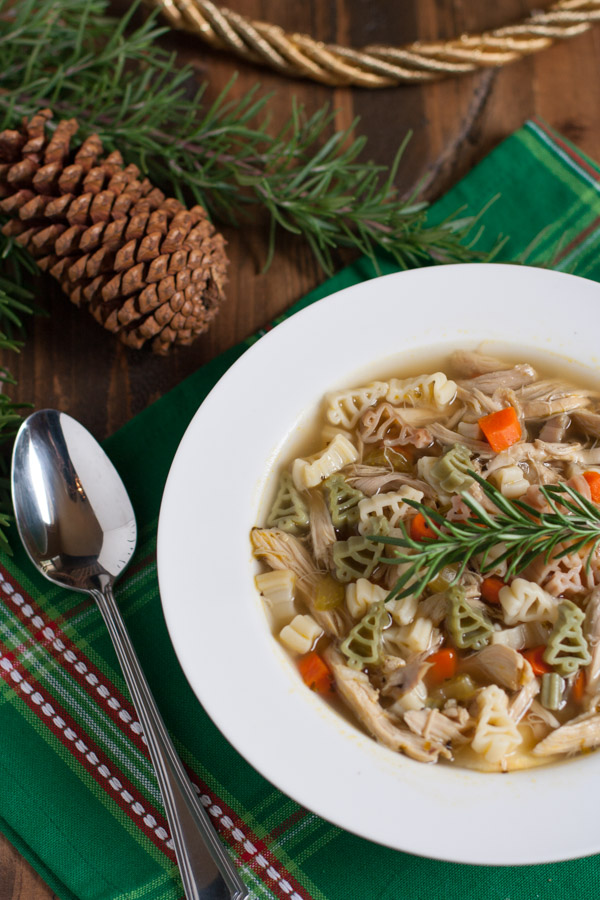 Quick Holiday Chicken Noodle Soup offers a great solution for at least a couple of nights and/or lunches.  Quick because the prep time is kept to a minimum…hello, rotisserie chicken!  Holiday because you can use cute holiday shaped pasta!  And chicken noodle soup is a go-to for most families.  If you are a real noodle soup fan, you can also check out a different variation on my post about Turkey Leftover Soup.
Here though the Christmas Tree Pasta is the highlight – I love the way the colors and shapes stand out! Of course, any of our fun holiday shapes would substitute just fine.  Or use any short shape like penne, small bow ties, etc.   We challenged one of my blogging friends, Susie, at Simply Sated, to use our Christmas Tree Pasta for a fun holiday recipe.  Check out her post Broccoli, Apple, and Bacon Pasta Salad….yum!  I can't wait to try that recipe!  I'd love to hear about any of your holiday pasta recipes…so please send my way!  I wish you all the luck in reining in the eating from now until Christmas.  I'll make my best effort too! 🙂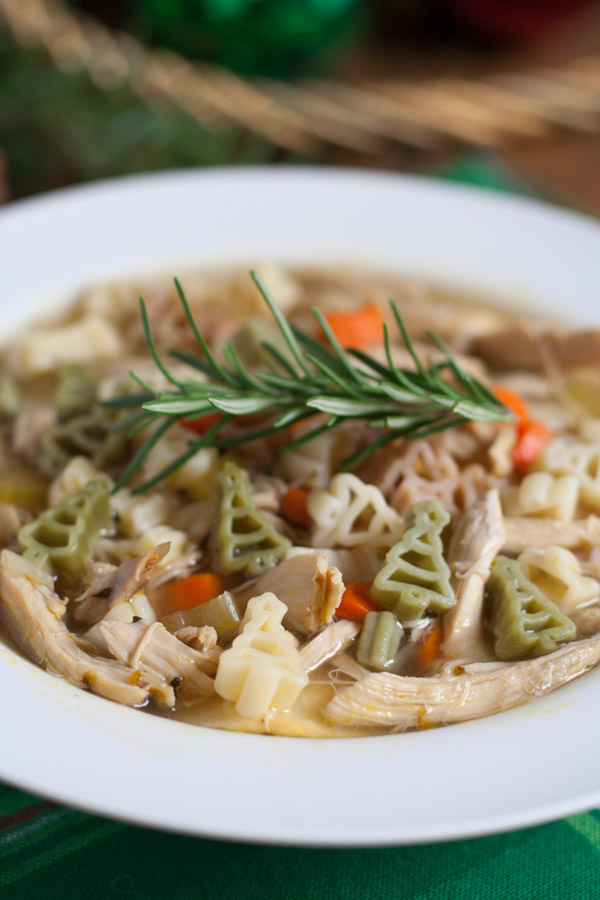 If you are interested in browsing our selection of holiday pasta, visit The Pasta Shoppe.  And if you have any fundraising needs in the coming year, please consider Fun Pasta Fundraising…a healthy and unique program!
Print
Quick Holiday Chicken Noodle Soup
A healthy quick holiday soup that the entire family will love!
Ingredients
1 1/2 cups

Christmas Tree Pasta (or any other short shape!)

2

–

3

cups shredded or diced chicken (I used rotisserie chicken)

1

T. butter

1/2 cup

chopped onion

2

stalks celery, chopped

3

carrots, sliced

4

cans chicken broth (

14.5 oz

)

1

can vegetable broth (

14.5 oz

)

1/2

t. dried basil

1/2

t. dried oregano

1/2

t. salt

1/4

t. black pepper
fresh parsley and Parmesan cheese for garnish
Instructions
Melt butter in a large pot over medium heat. Sauté onion, celery, and carrots for approximately 5 minutes until tender.
Add broths, chicken, seasonings, and simmer for 10 minutes.
Add pasta and simmer for an additional 8 minutes.
When pasta is al dente the soup is ready to serve!
Notes
Leftover soup may require additional broth. Pasta tends to absorb liquid!
Join our email list for fresh pasta recipes delivered to you every week!
Your information will NEVER be shared or sold to a 3rd party.