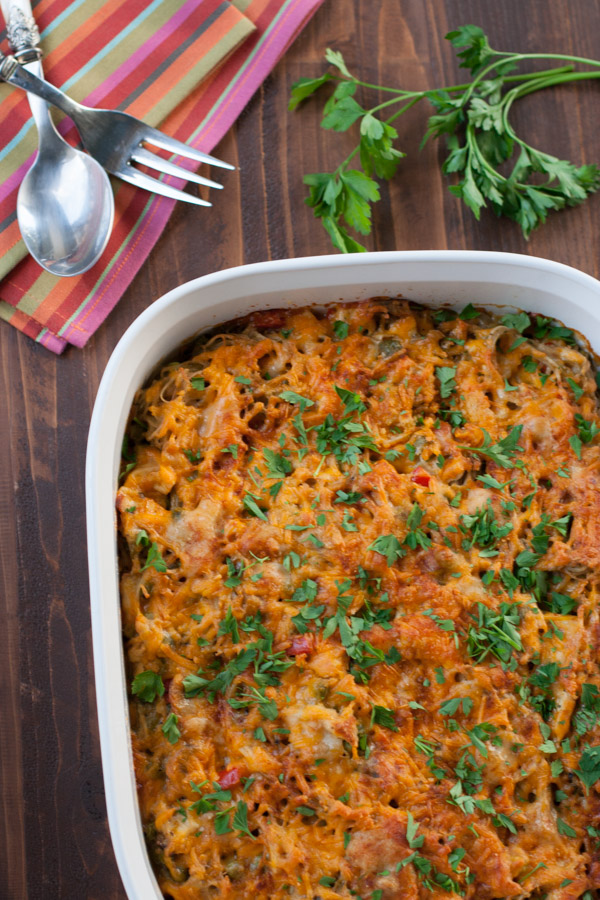 It's getting close…but it's not too late!   The thought of Thanksgiving leftovers is still out there and in fact, your turkey for the "big day" is probably still in the freezer.  If you are hosting company over the holiday, which we do every year (best company EVER! – my sister Kathy and her family :)) then it is your responsibility to come up with the leftover meal plan…sorry, but it is.  And if you don't, then the leftovers will take up too much room in the fridge and haunt you for days…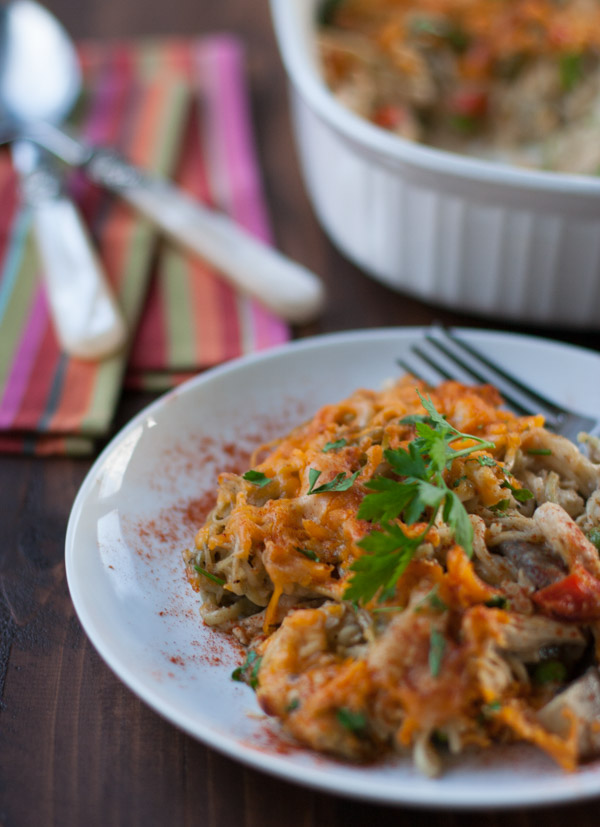 I've already shared Turkey Leftover Soup as one "day after" idea, but I couldn't resist another yummy alternative, Turkey Tetrazzini.  We asked our Facebook friends what they liked to make with their leftovers, and Turkey Tetrazzini kept coming up!  Today it's my Mom's version.  It's a Cookie specialty and yes, she is sharing it with us.  And for those of you who don't know my mother "Cookie" personally, she is an amazing, inventive cook and longtime cooking teacher and caterer here in Nashville.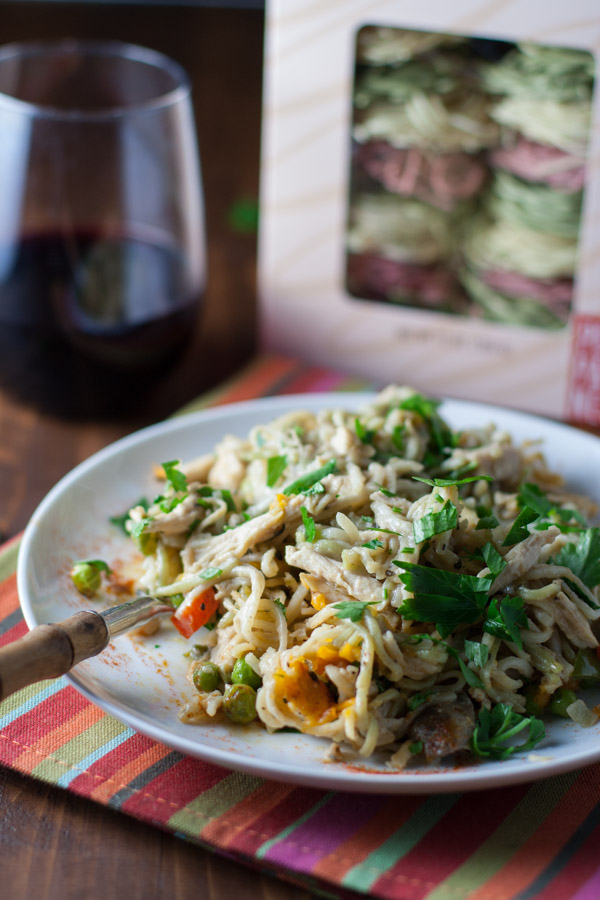 When it comes to creating interesting, flavorful twists on classic recipes, Cookie can add fun and flair.  Most people who have taken her cooking classes over the years still regularly make her recipes, and have adopted them as their own family favorites.  That is quite a compliment!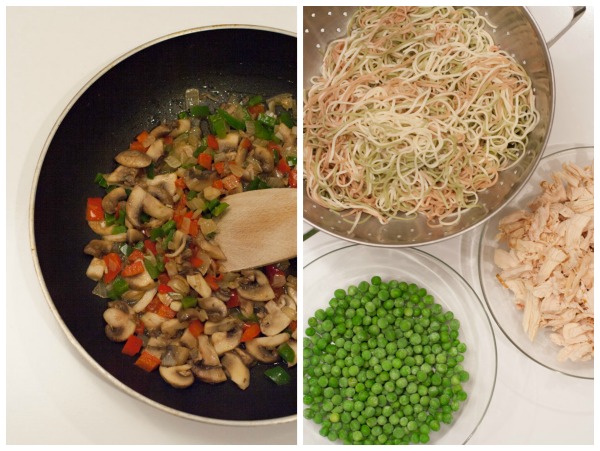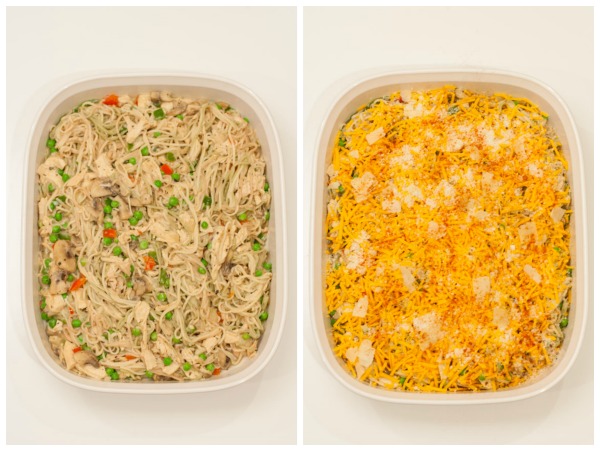 Turkey Tetrazzini is one of Cookie's special creations – homey, cozy, gimme-some-more now goodness.  The sautéed mushrooms, and peppers with the peas, turkey and noodles (tri-color angel hair) are all good – but when combined with the creamy, succulent sauce…WOW!  And what is that? in that sauce?  Sherry?!  Yeah!  What doesn't improve with a little sherry?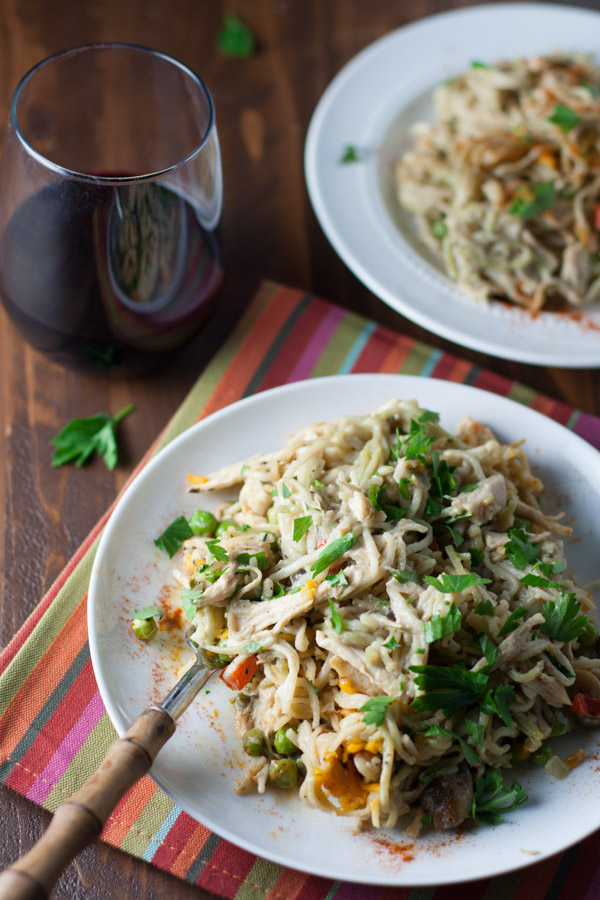 I made this Turkey Tetrazzini with our Tri-Color Angel Hair pasta, but you can substitute egg noodles or any other long shape.  I love the texture of angel hair instead of a wider, denser noodle.  Here you maximize the number of noodles and the texture and feel in each bite.   If you are interested in checking out our pasta selection, you can visit The Pasta Shoppe.  Or if you have fundraising needs, please go to Fun Pasta Fundraising.  All good healthy fun!
So take a look in your fridge after Thanksgiving and pull out your turkey…and get ready for another great family meal together!

Turkey Tetrazzini (for turkey leftovers!)
Turkey Tetrazzini (with turkey leftovers) will surprise your guests and make everyone happy! (Can be made with chicken, too!)
Author:
Carey | World of Pastabilities
Ingredients
8 ounces of Tri-Color Angel Hair Pasta (or other long noodle!)
½ lb. sliced mushrooms
⅓ c. chopped red pepper
⅓ c. chopped green pepper
½ c. chopped onion
¼ c. + 2 T. butter
¼ cup flour
1 cup half and half
2 cups chicken broth
5 T. dry sherry
1½ t. salt
½ t. pepper
2 t. white Worcestershire sauce (or regular)
½ t. dried marjoram
½ t. dried basil
½ t. dried thyme
4-5 cups diced or shredded turkey
½ package (approx. 6 ounces) of frozen peas (uncooked)
1½ cup grated sharp cheddar cheese
¼ cup or more grated Parmesan cheese
Paprika
Instructions
Sauté mushrooms, onions, and peppers in 2 T. butter over medium heat. Stir constantly until softened. Remove vegetables and set aside.
In same pan, melt ¼ cup butter and cook over medium heat for several minutes, stirringg until well blended.
Add half and half, chicken broth, and dry sherry and whisk until it comes to a boil and is slightly thickened.
Add salt. pepper, Worcestershire, marjoram, basil, and thyme. Stir until well blended.
Add turkey, pasta, peas, and reserved vegetables to pan.
Turn off heat and combine thoroughly.
Turn into a well greased (or oil sprayed) 9" x 13" (3 quart) baking dish.
Top with cheddar and Parmesan cheeses. Dust with paprika.
Bake uncovered at 350 degrees for about 40-45 minutes or until hot throughout. If made ahead and refrigerated, bake for about an hour.
Enjoy!!