A delicious, creamy, easy-to-make weeknight dish, Creamy Broccoli Pasta will become a staple in your weekly menu game plan!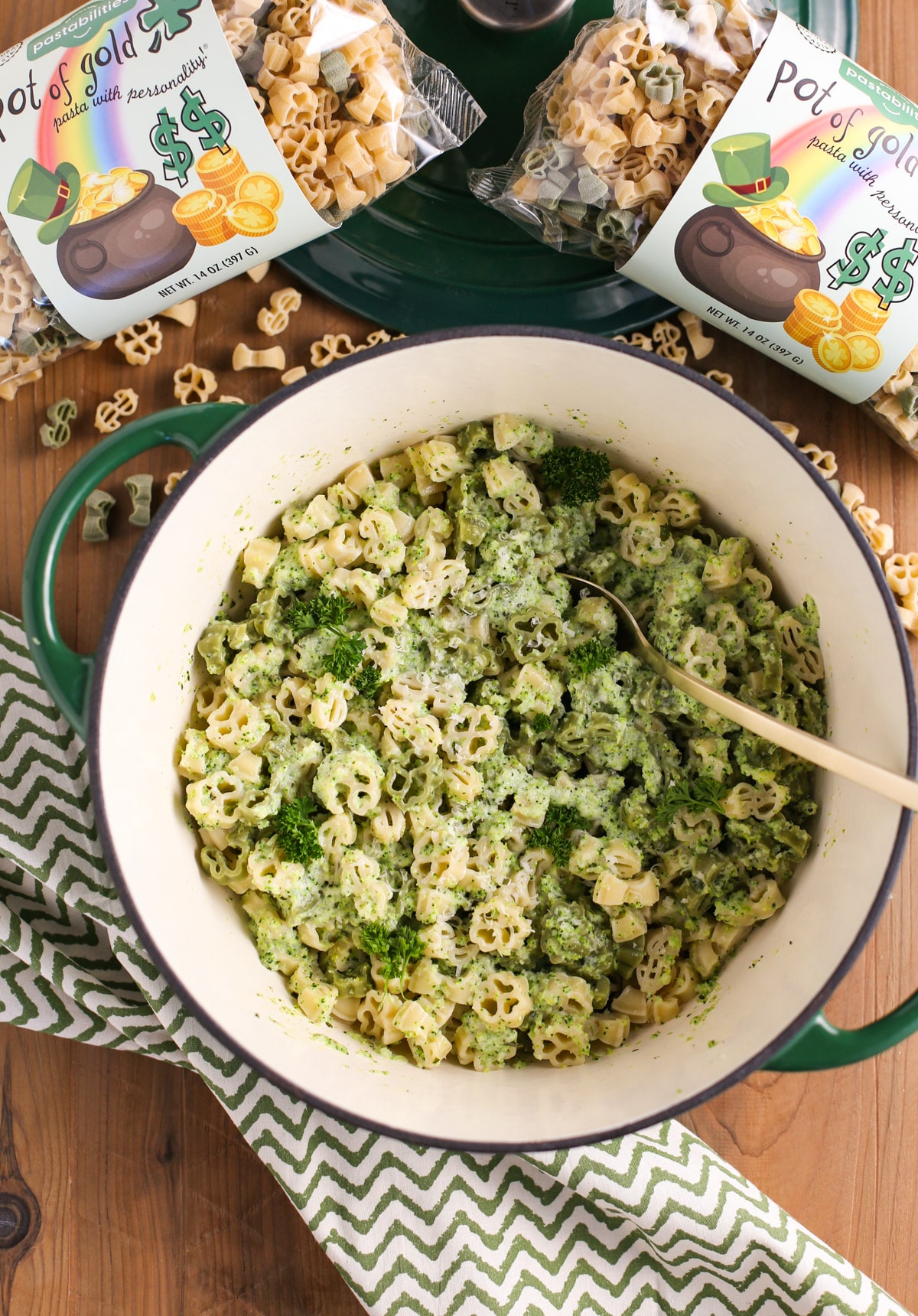 If you told me that a pasta dish with broccoli would become a favorite, I would never believe you. I do love green veggies, but broccoli was about near the bottom of my list…but not anymore!
Creamy Broccoli Pasta is one of the easiest and most versatile dishes I've ever made. The texture is wonderful and looks more like pesto, and the flavor will fool any of the "anti-broccoli" folks out there, kids included!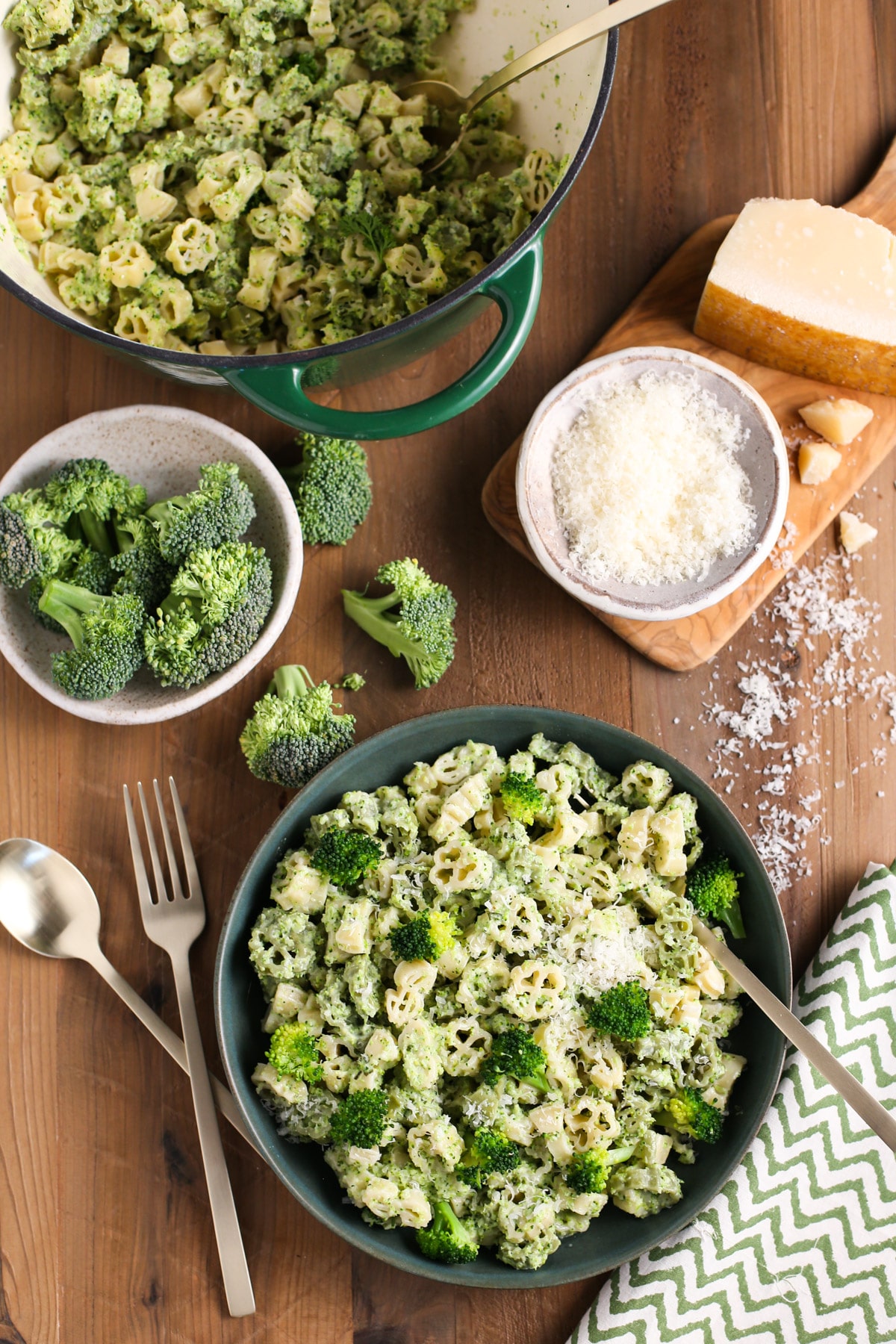 I loved this idea for a March recipe too…the beautiful green color is perfect for St. Patrick's Day or any Springtime occasion. I wanted to show off our new Pot of Gold Pasta which combines cute shamrocks, clovers, and dollar signs. Honestly, you WILL have found a Pot of Gold when you make this recipe!
Creamy Broccoli Pasta begins with the steaming or boiling of broccoli florets. That's simple enough for even a beginner cook. I decided to save some of the small florets to add to the individual bowls as sort of a healthy garnish. Also, these little bunches of fresh broccoli make the dish look healthy…OK, I have to say it now…this is a "splurge" dish, not a healthy go-to!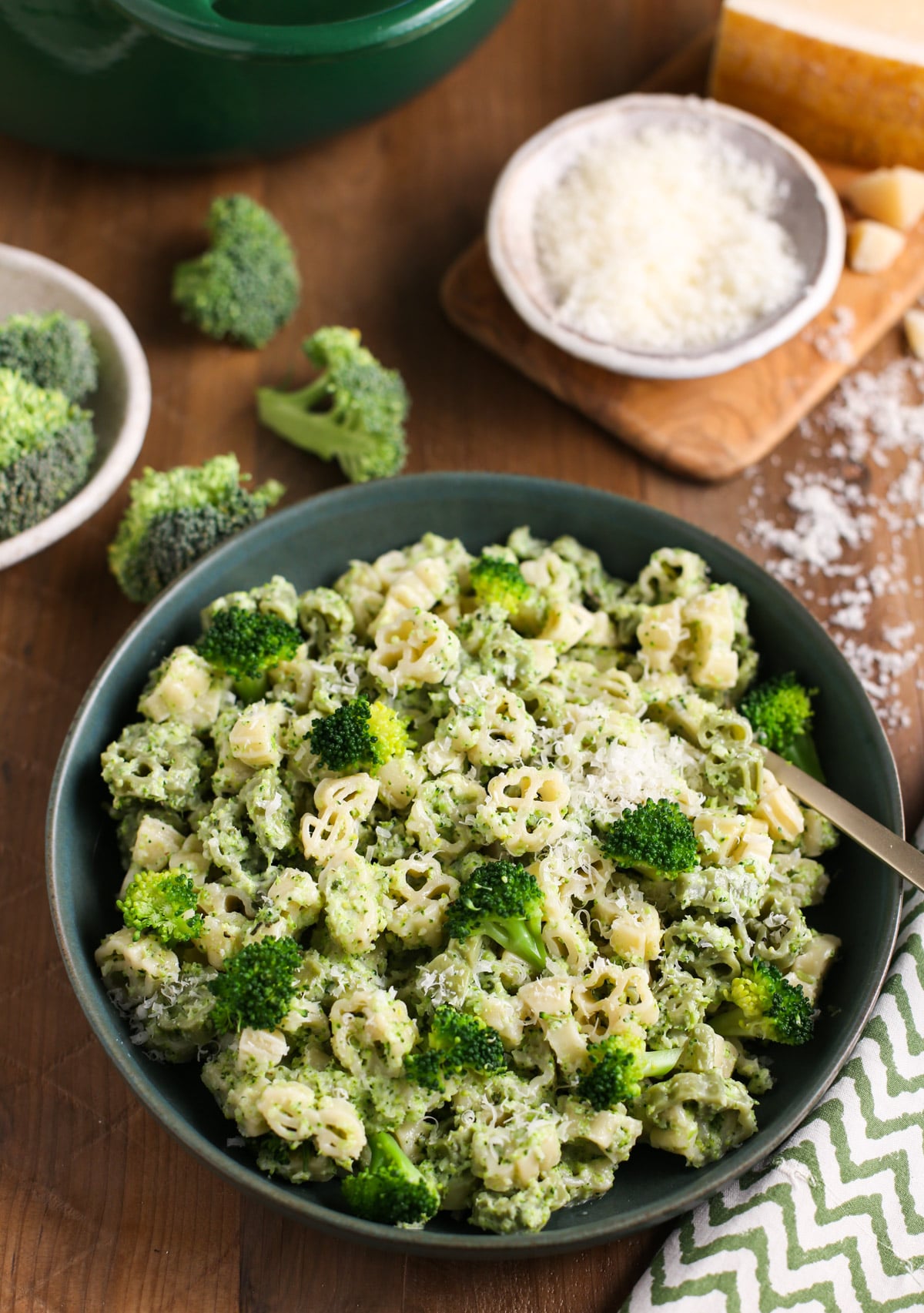 You can guarantee a delicious flavor when fresh Parmesan Reggiano and heavy cream are included in the recipe lineup. But when you can put all the ingredients in a food processor and just whirl it around a few times and create a wonderful sauce…now that is heaven! And an easy weeknight option.
I highly recommend grating your own block of Parmesan cheese! Hand grating may seem like a lot of extra work, but it is worth the time. The flavor and freshness cannot be recreated.
The handy pre-packaged grated cheese in bags is super convenient but does contain anti-caking and moisture-absorbing ingredients, and the flavors just aren't as good.
For this recipe, where cheese is the main ingredient, the freshly grated cheese really makes a difference. Note: Regardless of your choice, never use powdered cheese in the green canister! 🙂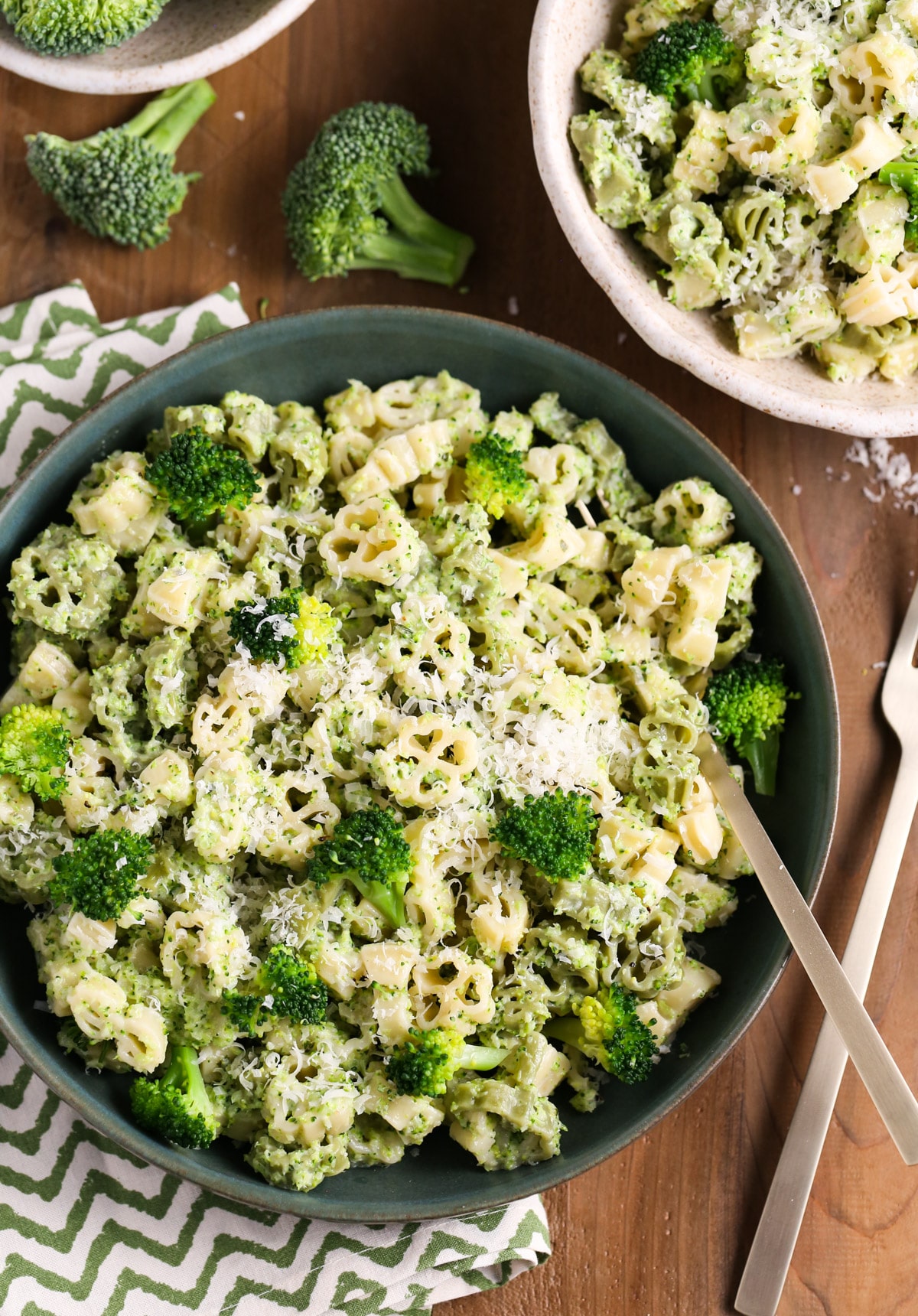 Creamy Broccoli Pasta Recipe
Why all the fuss about broccoli? Did you know broccoli is considered a Superfood? Here are just a couple of broccoli health highlights:
Broccoli is loaded with fiber and antioxidants. Plus more goodness!
Broccoli is a good source of calcium and promotes bone health, and teeth health.
Broccoli may be good for eye health. In my 50's I need this…
Broccoli may support the immune system and may help regulate blood pressure.
Wow…and the list goes on. For more information about the health benefits of broccoli, check out this Healthline article.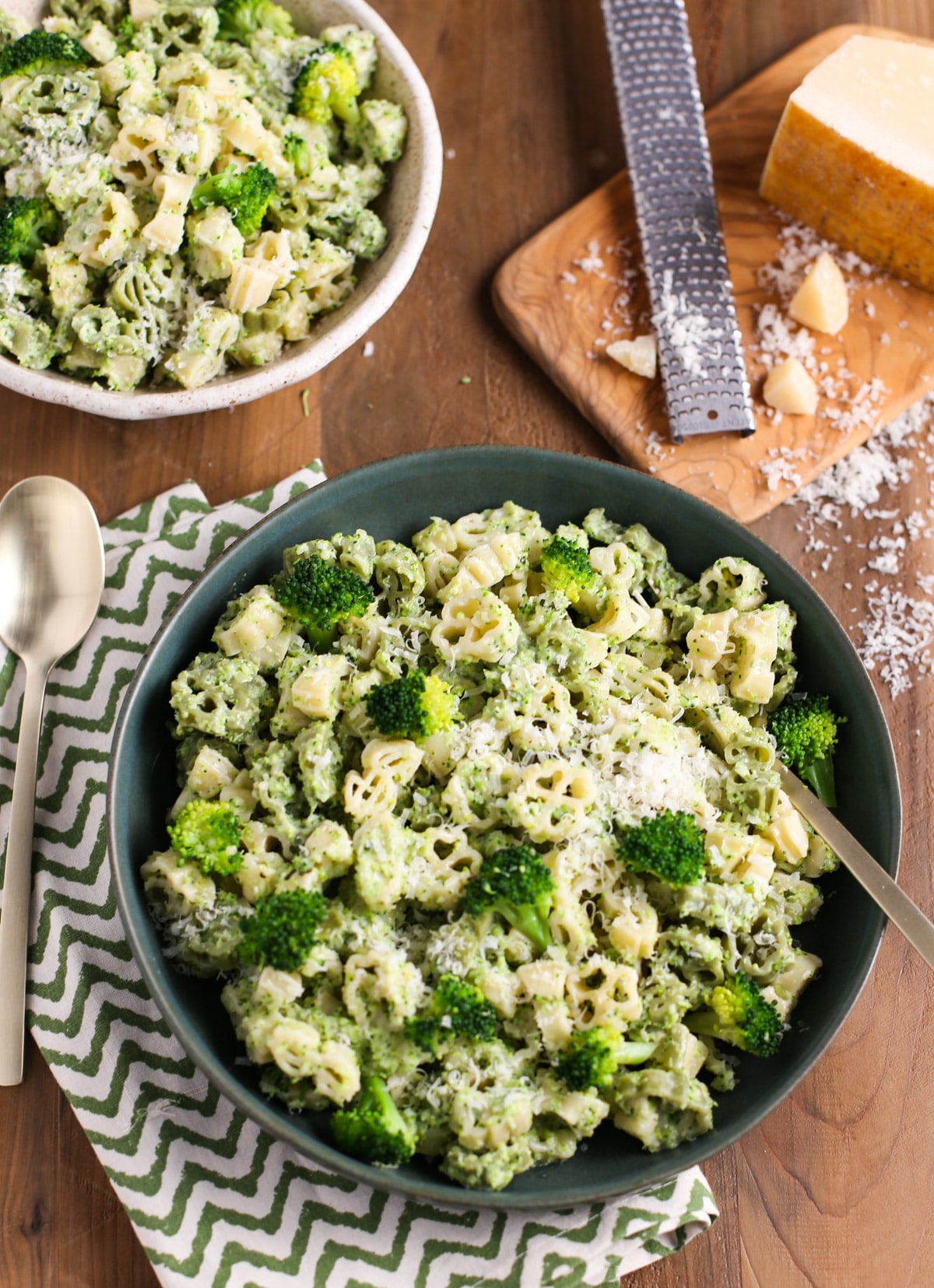 If you are serving this as a main course, Creamy Broccoli Pasta plus a colorful side salad will make a deliciously simple dinner. Add some grilled chicken, pork, or steak, and make this your starchy side dish, along with some additional vegetables or a salad.
Really, the flavors of this sauce will blend easily with about any menu. I've served this pasta as a main dish, and as a side dish. I even took some leftovers to the office for lunch, serving it cold with some leftover grilled chicken….it was delish!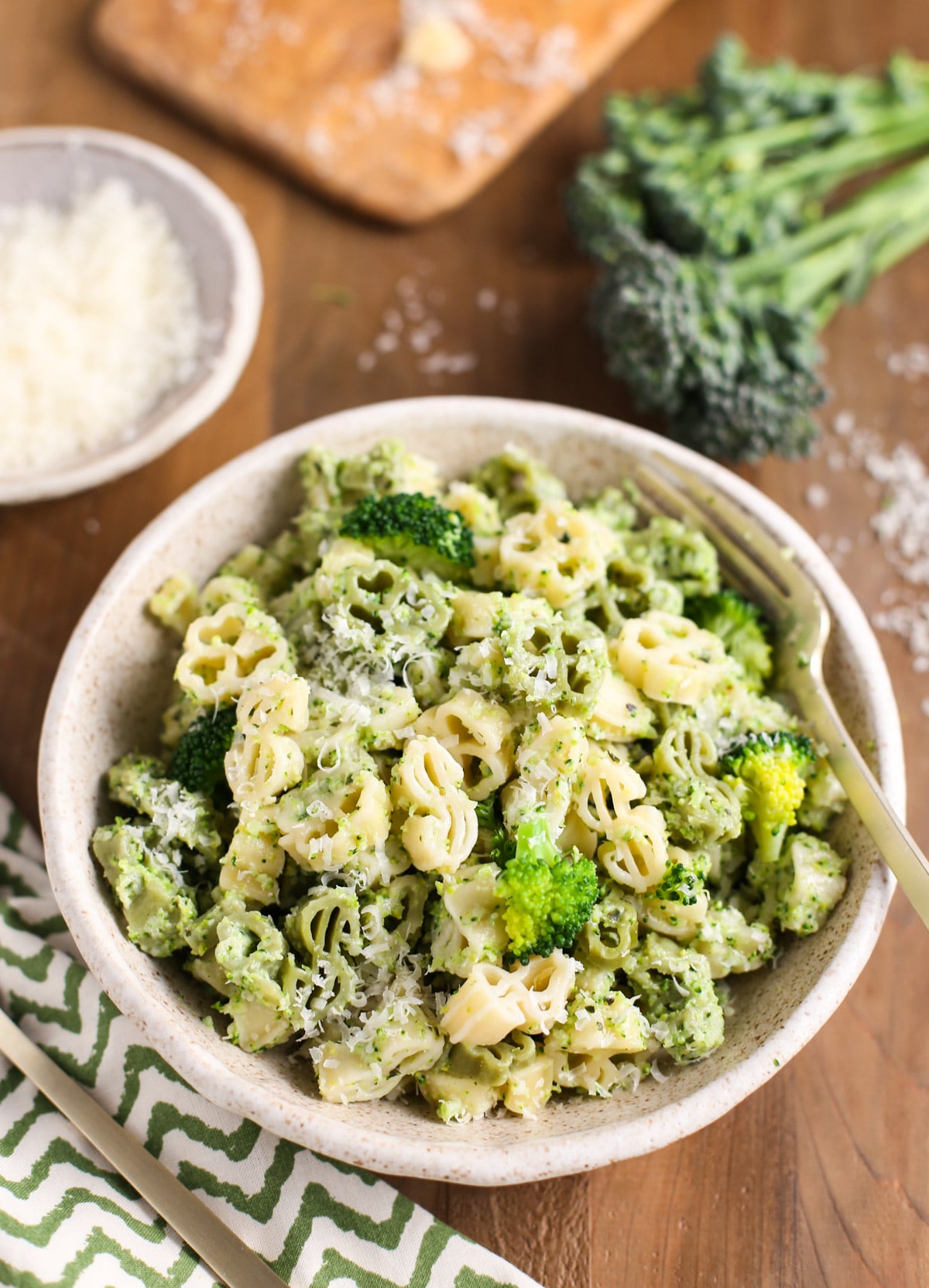 Creamy Broccoli Sauce for Pasta
What are some other tips or ideas to elevate this delicious creamy broccoli sauce?
Frozen broccoli florets can also be substituted, or even the broccoli found in the handy steam bags. Cook as directed and then add to food processor.
Use a combo of cheeses! Cheeses with strong flavor are needed to achieve the deliciousness and strength of the sauce. You can use ½ Parmesan and ½ Pecorino Romano. Again, the hard fruity and nutty cheeses from Italy are perfect. Try your own combo!
Steam cauliflower florets and broccoli together and use this combination of veggies for a twist on taste. It's another way to hide more veggies in a delicious pasta dish!
Substitute ½ heavy cream and ½ half and half to lighten up the dish overall. You might find that your sauce may be a little thinner in consistency. And be sure to adjust your seasonings if needed. I may even try some even lighter alternatives for the future…stay tuned.
Add diced grilled chicken or shrimp to add some protein and bulk to the dish. Great for a main dish.
Top with chopped grape or cherry tomatoes for some color and added nutrients!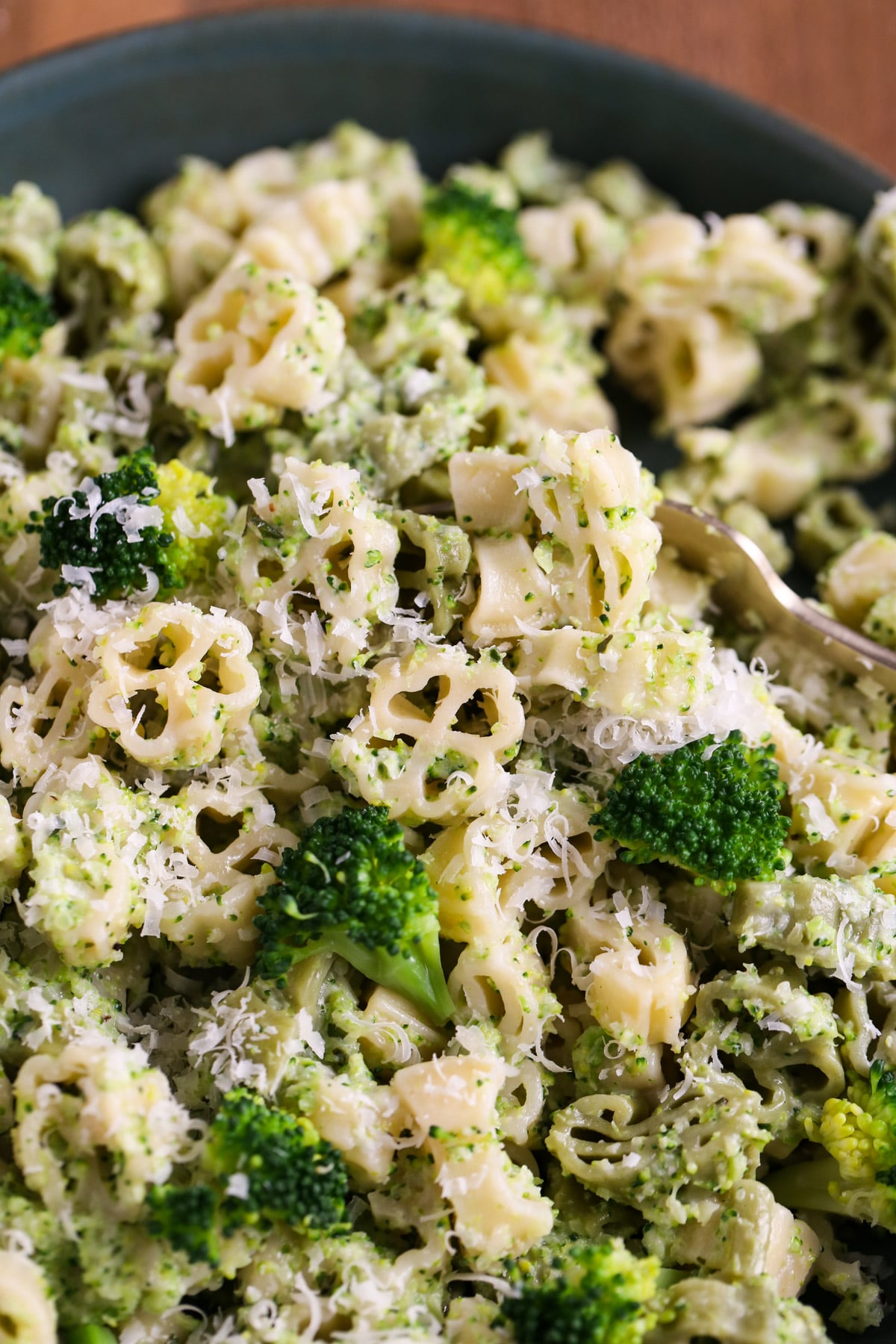 So here are the facts about this recipe. If we can mix broccoli into our pasta dishes and be happy about it, then the experimenting should go on, don't you think? I love discovering a new dish that becomes one in my repertoire of menu ideas. Please make this recipe and let me know how it goes!
For more happenings at Pastabilities follow us on Instagram @worldofpastabilities or on Facebook @pastashoppeusa. We'd love you to share your fun at the table with us!
Print
Creamy Broccoli Pasta
Creamy Broccoli Pasta is a luscious pesto-like dish that can be enjoyed as a main or side dish! Easy to make and on the table in 30 minutes!
Ingredients
14 oz. bag of Pot of Gold Pasta (or any other short shape)
5 cups broccoli florets
3 T. butter
2 cloves, garlic, minced
¼ cup fresh basil leaves, torn or 2 t. dried basil
1 cup grated Parmesan cheese (I grated Parmesan Reggiano for the best flavor, but other grated Parmesan cheeses will work)
¾ cup heavy cream
1 t. salt
½ t. pepper
Fresh parsley, chopped for garnish
Instructions
Steam broccoli: In a medium pot add about 1 inch water and broccoli.  Bring to a boil, cover the pot, and steam until the broccoli is tender, about 5-7 minutes.
Drain broccoli. Save about ½ cup of small broccoli florets and add the rest to a food processor.
Add the butter, garlic, basil, Parmesan cheese, cream, salt, and pepper to food processor and pulse until mixture looks like a pesto-like texture. Taste and adjust salt and pepper if needed.
Cook pasta according to package directions.  Drain and add to a large bowl.
Pour creamy broccoli over hot pasta and gently combine.
Serve in individual bowls and top with extra broccoli florets, fresh Parmesan, and parsley!
Notes
For best flavor, grate your own Parmesan Reggiano and skip the pre-packaged cheese!
Join our email list for fresh pasta recipes delivered to you every week!
Your information will NEVER be shared or sold to a 3rd party.