Mac and Cheese Soup with Veggies
We are still in the midst of soup season and I'm lovin' it! This Mac and Cheese Soup with Veggies will be a family favorite…perfect for a cold & frosty night!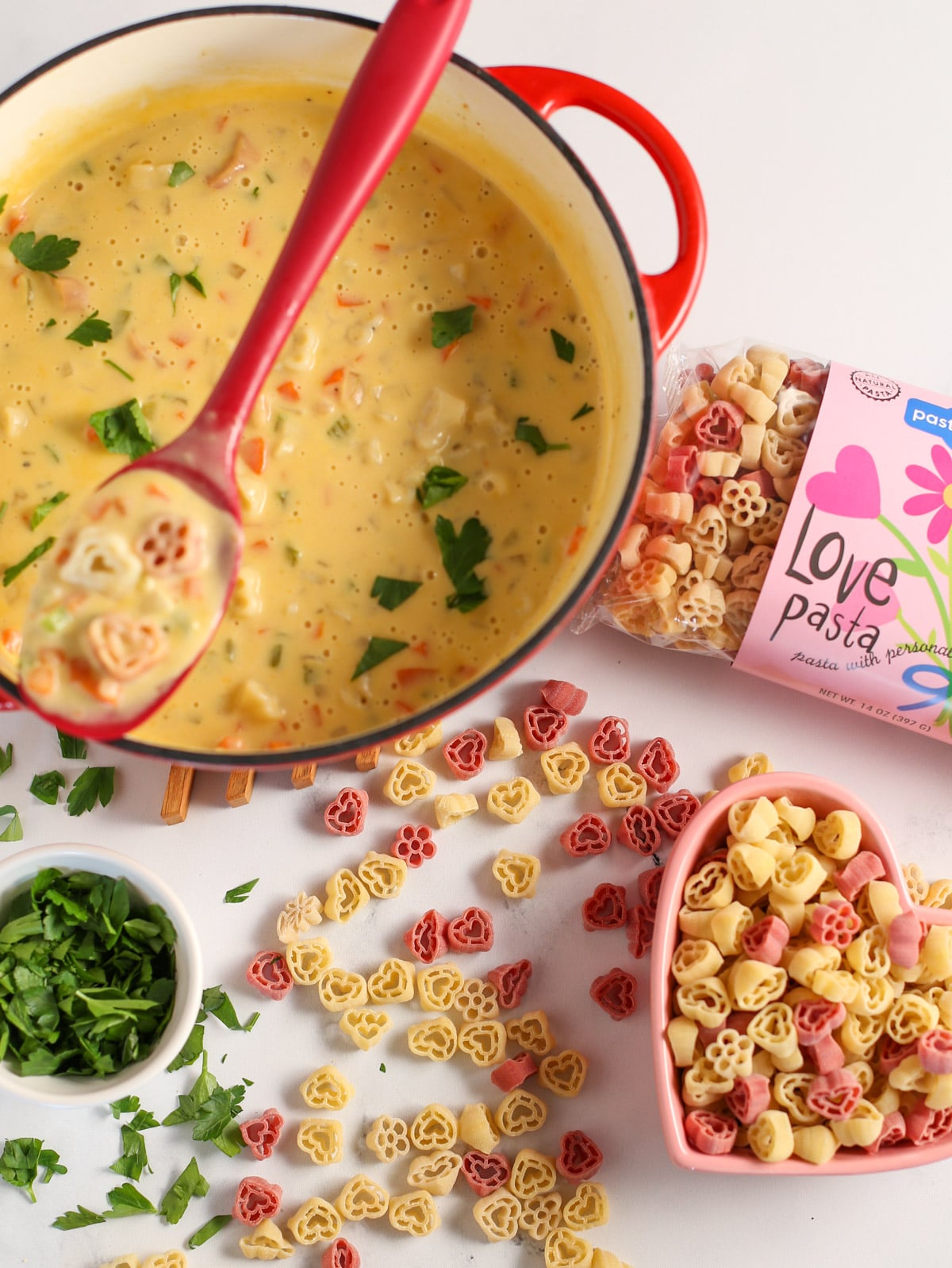 My soup craze continues…it's so nice to have some soup in the fridge for snacking, lunches, or a quick dinner. Most of the soups I've been making are broth-based, so this creamy Mac and Cheese Soup with Veggies makes for a nice change.
And why not make one of America's favorite dishes, macaroni, and cheese, into a soup? There is NO WAY your family will turn down a Mac and Cheese Soup!
It's kid-friendly which puts this at the top of the soup list. Plus it delivers the same familiar taste of macaroni and cheese, but not quite as heavy…and we've snuck in some veggies that you and your kids will hardly notice!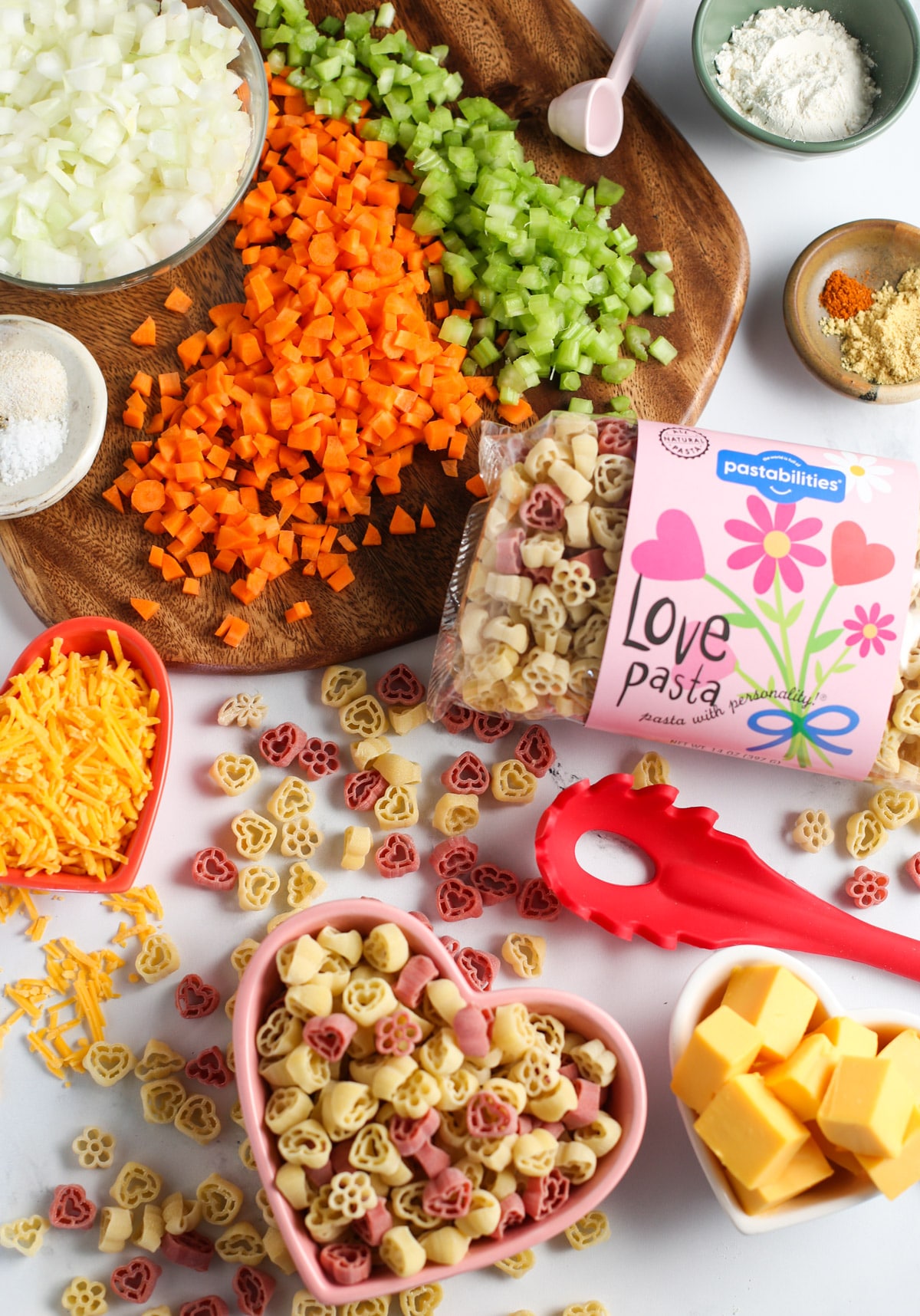 Plus, what a fun idea to serve for the upcoming Valentine's holiday? I've used our new Love Pasta, which is full of hearts and flowers, making it fun and adding to the "hearty"-ness of this soup.
Of course, you can make this any time of year and substitute all kinds of fun shapes…you can check out our entire selection here!
Easy Mac and Cheese Soup
You'd think that the name would mean it's super heavy…but it's not. This recipe uses chicken broth and milk (even non-dairy if you prefer) for the base. Both cheeses add the creamy and cheesiness you expect, but not as heavy as you might think.
And great news – this Mac and Cheese Soup will be ready in less than 30 minutes!
The seasonings are pretty simple – dry mustard, salt and pepper, and just a teaspoon of Worcestershire. And a dash of cayenne pepper adds a slight zip.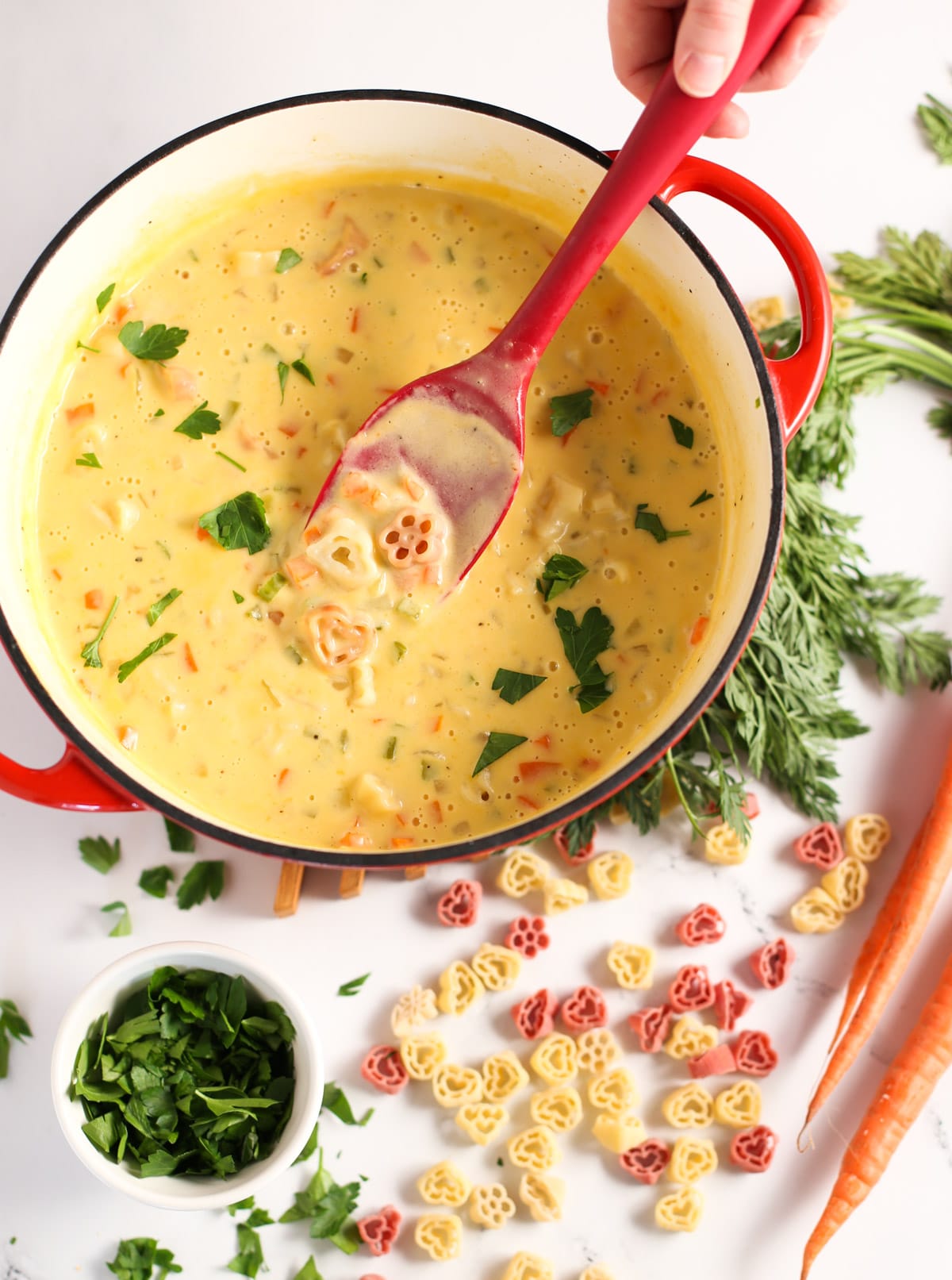 Finely chopping the vegetables is the key to adding the flavor and adding some nutrition. I love the color these little bites add too to the overall presentation. Next time, I might even add some finely chopped broccoli too!
Macaroni and Cheese Soup with Velveeta
Sometimes our ears hurt when we hear the "V" word?! It kinda goes against all our thoughtful New Year's resolutions. But it's only 8 ounces of Velveeta, and really is necessary to get the creaminess we crave. So don't let that stop you from trying this liquid gold! And no worries, shredded cheddar cheese is a part of the recipe too.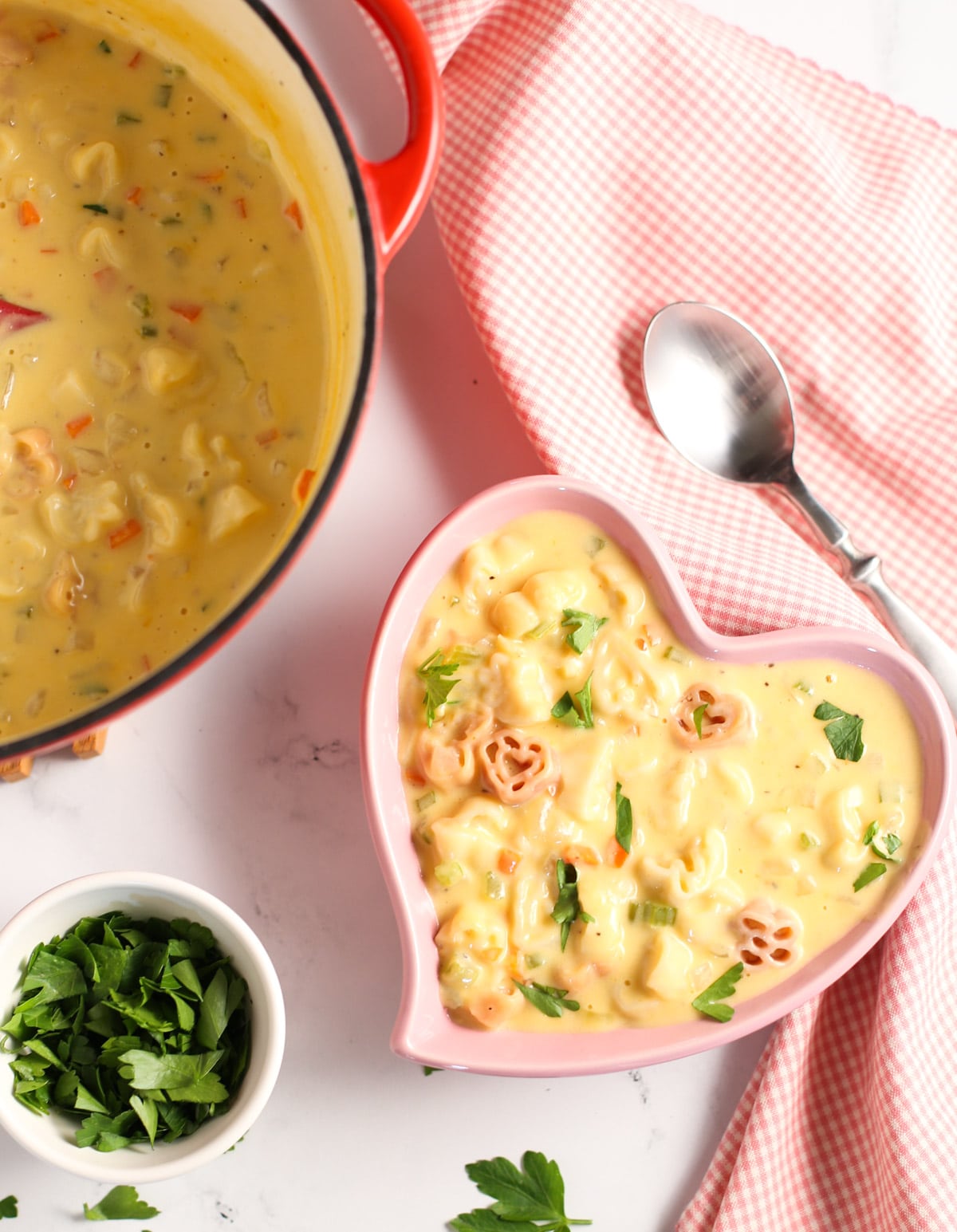 Ideas for Mac and Cheese Soup Recipe
Improvising is always fun, especially when making soups. Often, I'll go to the fridge and pull out any veggies that are on the brink of expiration and incorporate them into my next soup creation. For Mac and Cheese Soup recipes, the ideas are endless!
Why not try some of the following:
Add more veggies: broccoli, zucchini, squash, peppers (all finely chopped of course)
Add diced ham
Add a can of Rotel – the diced tomatoes and peppers will add some nice spice!
Make with different shredded cheeses: Four cheese blends, pizza blend etc…
Adding some cayenne pepper to this recipe adds just the right amount of spice…but it is optional. Be sure and adjust the seasonings before you are serving. Like all recipes, you can add more if you think something is missing!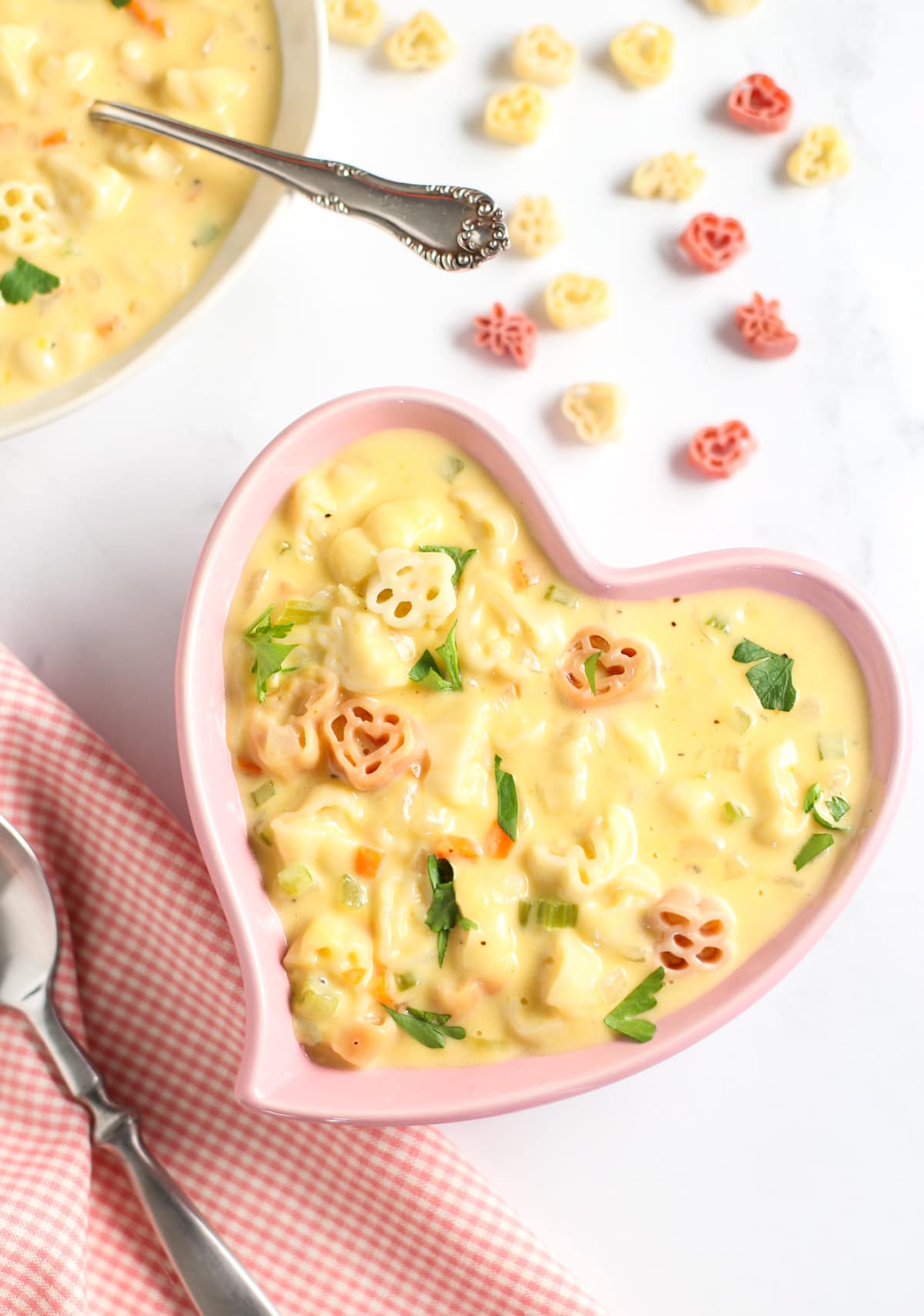 If you've explored our website, you can see we offer lots of boxed macaroni and cheese options, even plant-based for kids and adults.
Those are great to have on hand for a quick dinner, but when you are in "mac mode" and ready to dig into your kitchen, try some of our other macaroni and cheese recipes:
Healthy Butternut Mac and Cheese
Light Mac and Cheese with Tomatoes
And look at this close-up! Just makes you want to take a quick bite!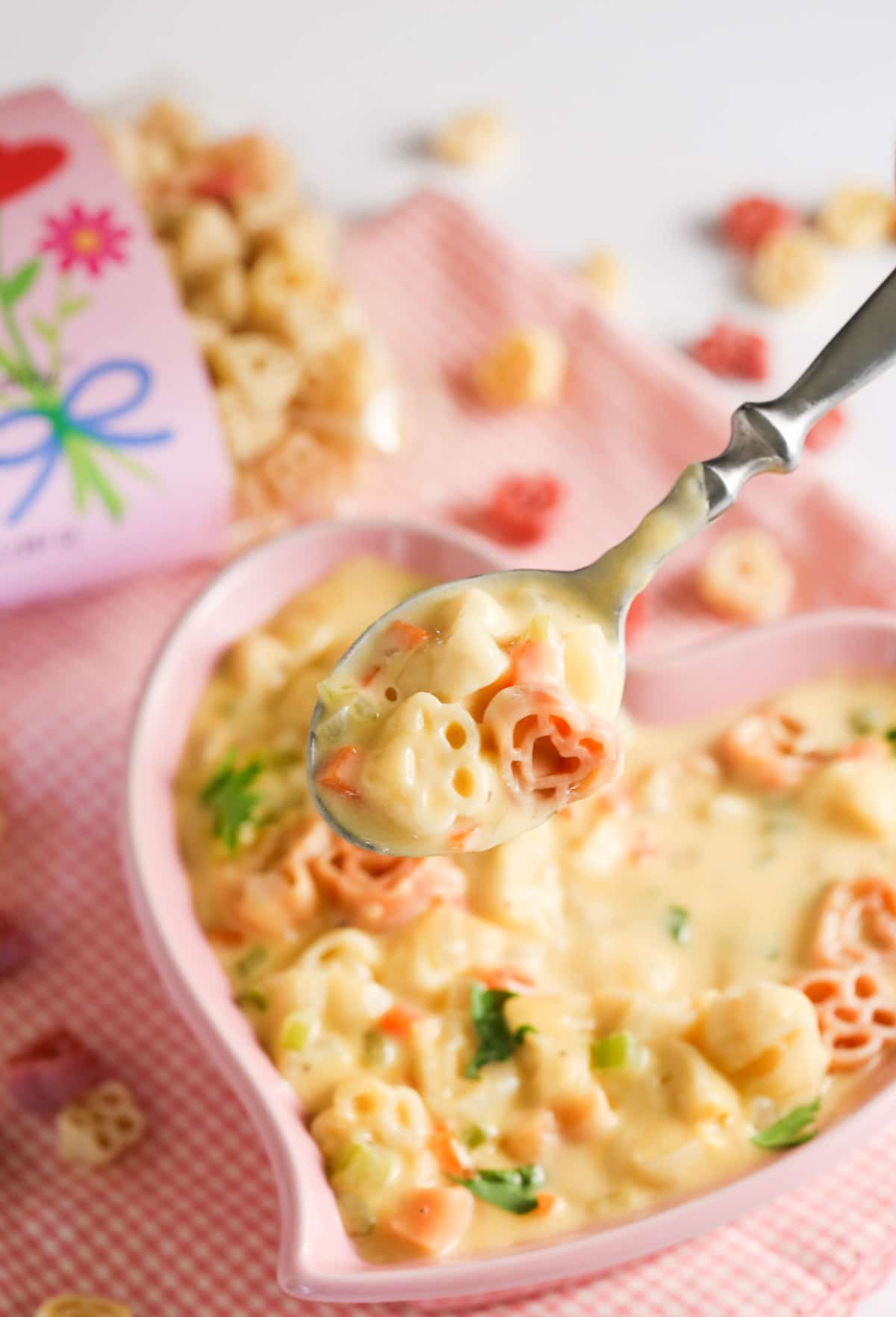 We can't wait to hear how you LOVE this soup! Please comment and send us your feedback. For more happenings at Pastabilities follow us on Instagram @worldofpastabilities or on Facebook @pastashoppeusa. We'd love you to share your fun at the table with us!
Print
Mac and Cheese Soup with Veggies
This easy mac and cheese soup recipe is kid friendly fun. Made with Velveeta, cheddar cheese and fun shaped pasta, it'll be your new favorite comfort food.
Ingredients
7 oz. Love (Heart & Flower) pasta (1/2 bag, or approx. 2 cups), or any other fun shape
4 T. butter
1 large carrot, finely diced
1 celery stalk, finely diced
1 medium onion, finely diced
3 T. all-purpose flour
2 cups chicken or vegetable broth
2 cups milk (2% milk, skim, or even oat milk)
8 oz. Velveeta, cut into cubes
1 cup shredded sharp cheddar cheese
1 t. Worcestershire sauce
1 t. dry mustard
½ t. kosher salt
½ t. garlic salt
¼ t. black pepper
Dash of cayenne pepper (optional)
Fresh parsley, for garnish
Instructions
Cook pasta according to package directions, but approximately one minute less, so it is al dente in texture. The pasta will continue to cook once in soup, so you don't want to overcook! Drain and rinse with cold water.
In a large pot or Dutch oven, melt butter over medium heat.  Add the carrots, celery, onion, and sauté until veggies are tender approximately 4-5 minutes.
Add flour to veggies and stir until combined, about 60 seconds.
Gradually add and whisk in the milk and broth.  Add the Worcestershire, dry mustard, both salts, pepper, and cayenne (if desired). 
Bring to a simmer and cook until slightly thickens. 
Add Velveeta and stir until melted.
Remove from heat, stir in cheddar cheese, and then pasta.
Serve!  Garnish with fresh chopped parsley for some color!
Join our email list for fresh pasta recipes delivered to you every week!
Your information will NEVER be shared or sold to a 3rd party.