Baked Mac and Cheese Bites
There is no doubt these Baked Mac and Cheese Bites will become a family favorite! Whether served as little appetizers or as a fun side dish…they will be the star of your next gathering!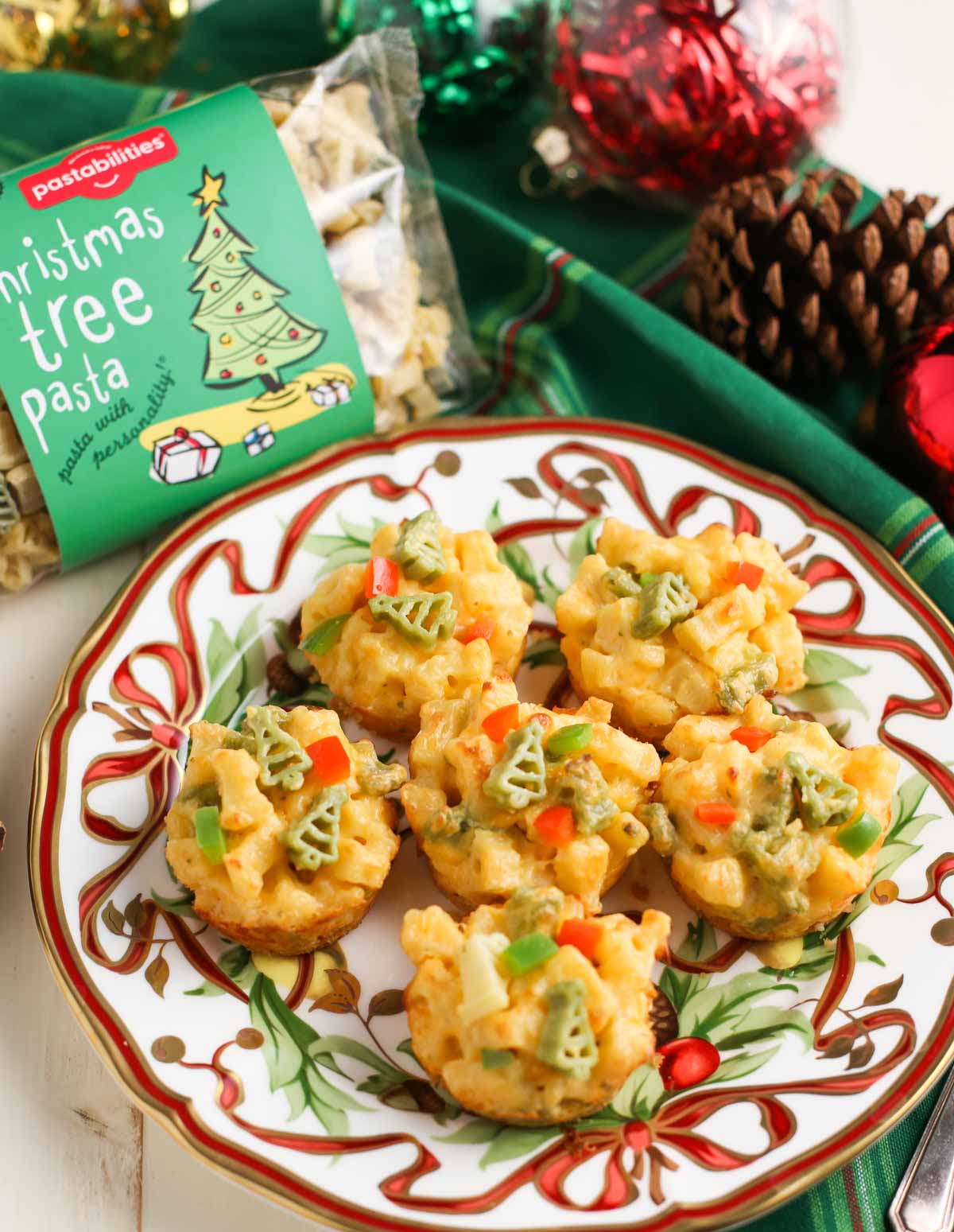 Mmmmm…macaroni and cheese…something that most of us have been dreaming about since we were kids. There is nothing more satisfying than a bowl of that creamy cheesy goodness. And we've come a LOONNGG way since the original blue box.
Lots of flavors, pasta shapes, and even vegan mac and cheese options! It's a new frontier for "macs for everyone", and these "bites" just give us one more way to enjoy everyone's favorite food.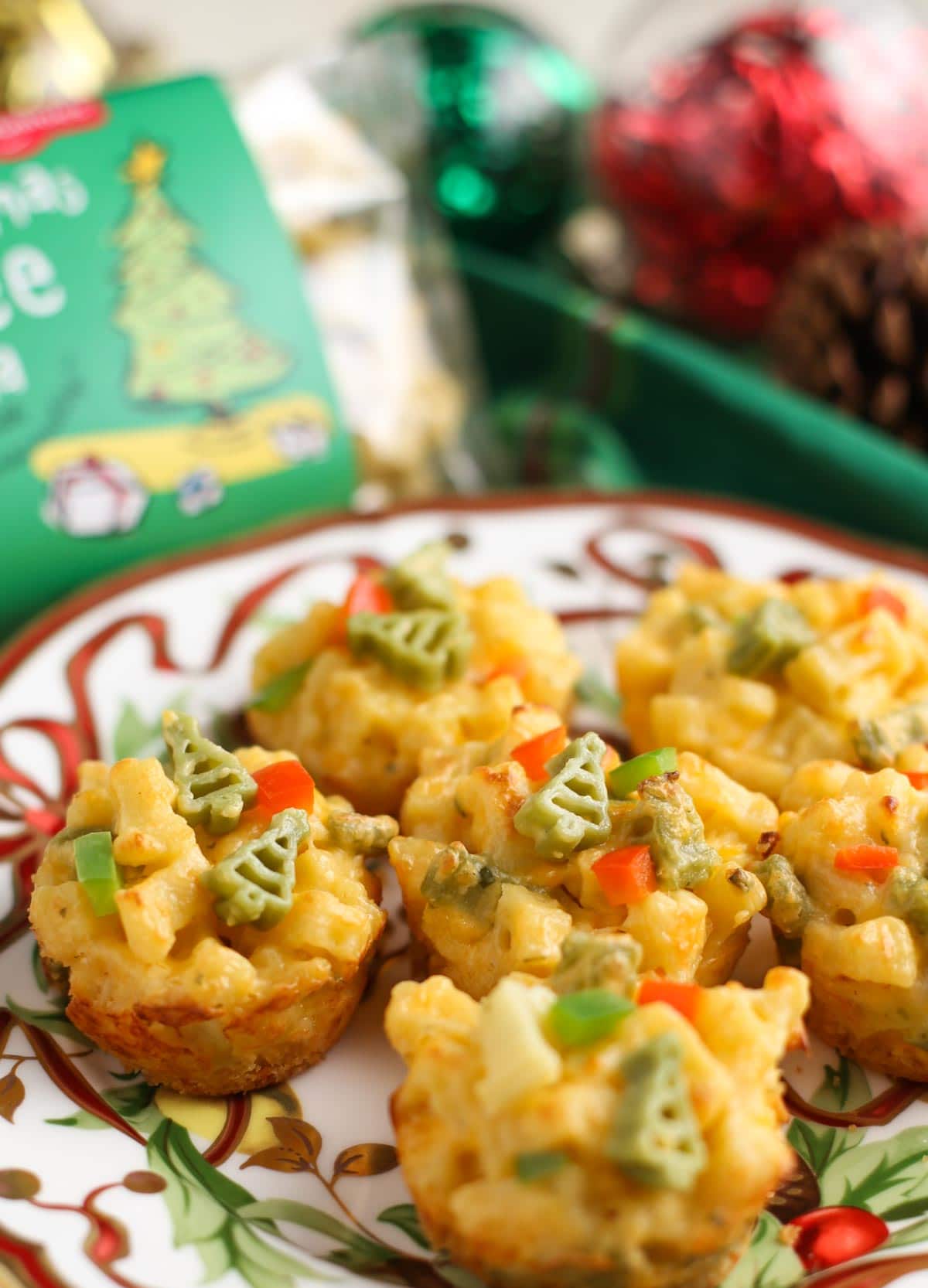 I'd been thinking about these baked mac and cheese bites for months. Wouldn't it be fun to use our Christmas Tree Pasta and create little bite-size apps for our holiday gatherings?
But I was torn because Christmas dinner could really be perked up with a little cup of Christmas mac.
Most family occasions call for casseroles and comfort food, so a macaroni and cheese side dish seemed like a no-brainer.
So, in an attempt to satisfy both my creative thoughts, I decided to test and create both options. (Yes, we are having these on the 25th. And yes, I've served them multiple times so far this holiday season!)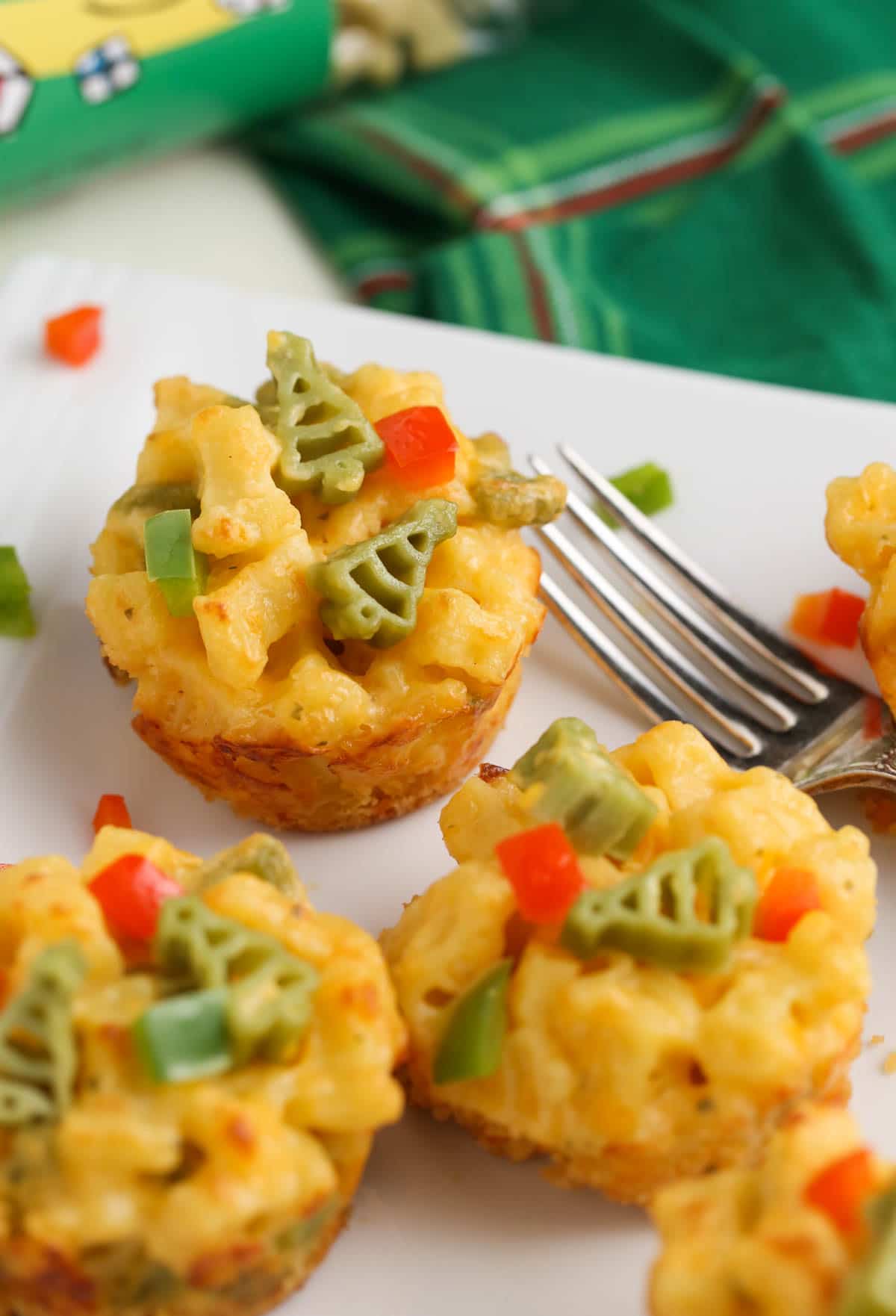 Homemade Mac and Cheese Bites
The great news is that this homemade mac and cheese bites recipe is easy. And full of flavor. And just so darn cute. And they can be made ahead.
It checks lots of boxes for a busy mom who wants to cook but doesn't have a ton of time.
The first step is making the crust. Three simple ingredients to create a sort of "base" for the bites. We need these little guys to stick together and there is nothing better when Ritz crackers, butter, and cheese are involved.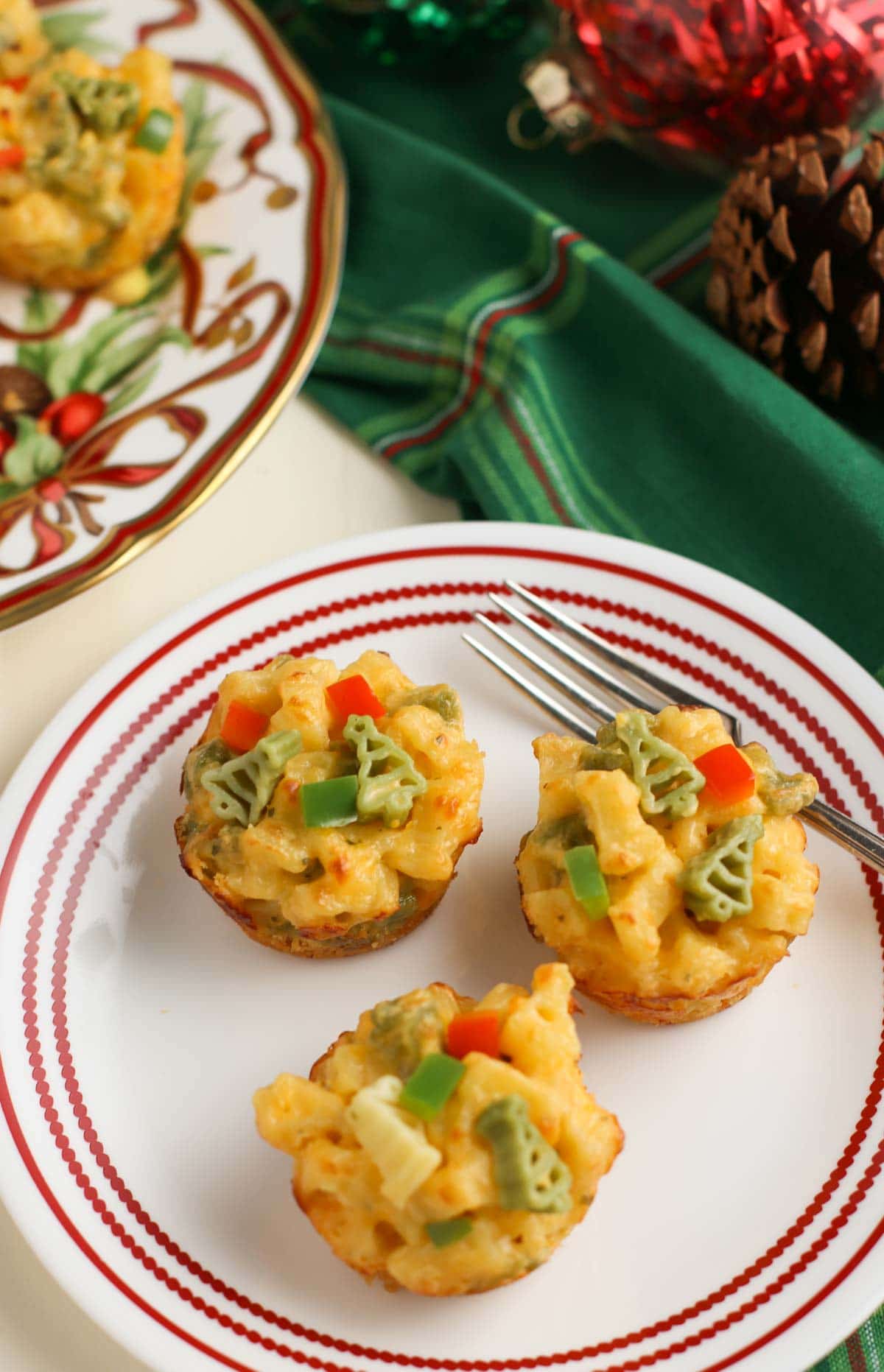 I find that my crust works out best when I use my Cuisinart to whirl the crackers around until they are crushed fine. Takes about 1 minute and when added to the melted butter and mixed with the shredded cheddar, you will have a tasty crust perfect for these bites.
One other note: I buy the already shredded packaged cheddar cheese and use a knife to chop the cheddar shreds into even smaller pieces before mixing them into the crust.
This makes for a more consistent crust texture and is easier to work with especially with the mini muffin tins.
How to Make Mac and Cheese Bites
For this time of year, Christmas Tree shaped pasta seemed like the perfect choice. But my mind has already wandered to Game Days and the thought of little football or basketball pasta bites! Or Valentine's Day, St. Patrick's Day, and all the upcoming holidays.
It's endless fun because any of our pasta shapes could work. Soccer party – yes! Dinosaur Birthday Party – so fun! Just use your imagination.
Or, if you don't have any Pastabilities shapes in your pantry, just use plain ole elbow macaroni. (It hurts me but do it 😊).
The soft herbed cheese I used was the Boursin brand. They make multiple flavors like garlic and herb or shallot and chive. Both work for this recipe.
And other flavors and brands can be substituted like Alouette among many others. Just choose a flavor combo and experiment.
The recipe is pretty foolproof. The seasoned cheeses add just enough flavor and creaminess to the recipe making these bites hard to resist. So much more flavor than your regular mac and cheese!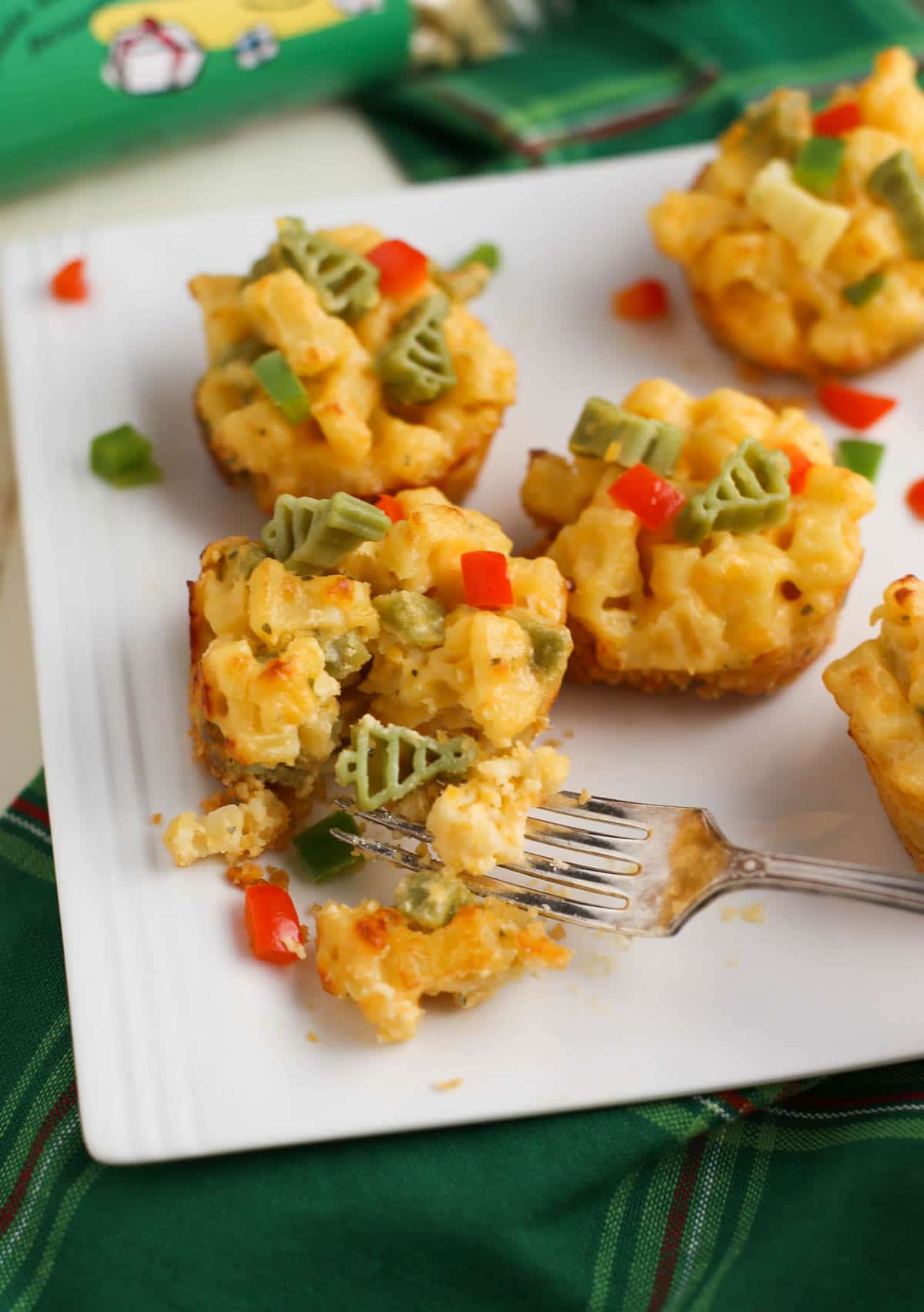 How to make mac and cheese bites just takes a few steps. Making a quick "roux" with butter and flour is the first step for the cheese sauce. This will act as a thickening agent and help the overall consistency of the bites.
You'll add the milk and continue to whisk until you have a slightly thickened base. After you add the cheddar cheese and the other ingredients, and you have a smooth cheesy sauce, you are ready to add the pasta.
When your cheese and pasta are combined and you are ready to fill the cups, I've learned that using your fingers and pressing down on the mixture helps fill the cups and gets rid of any holes or gaps in the muffin tin.
Our pasta pieces are a bit bigger than regular elbow macaroni, so we need to take a little more care. This will ensure a full cup with a more uniform shape when you serve these homemade mac and cheese bites!
If you are making the side dish "bigger" bites, then your yield will be about 18 cups. I love the size of these on a plate, as it's the perfect amount of mac for an individual serving.
Mac and Cheese Appetizers
For the appetizer little bites, you'll make approximately 4 dozen or 48 little bites…plenty for any party! And they will disappear quickly as I've witnessed here at home over the past few weeks – the perfect finger food.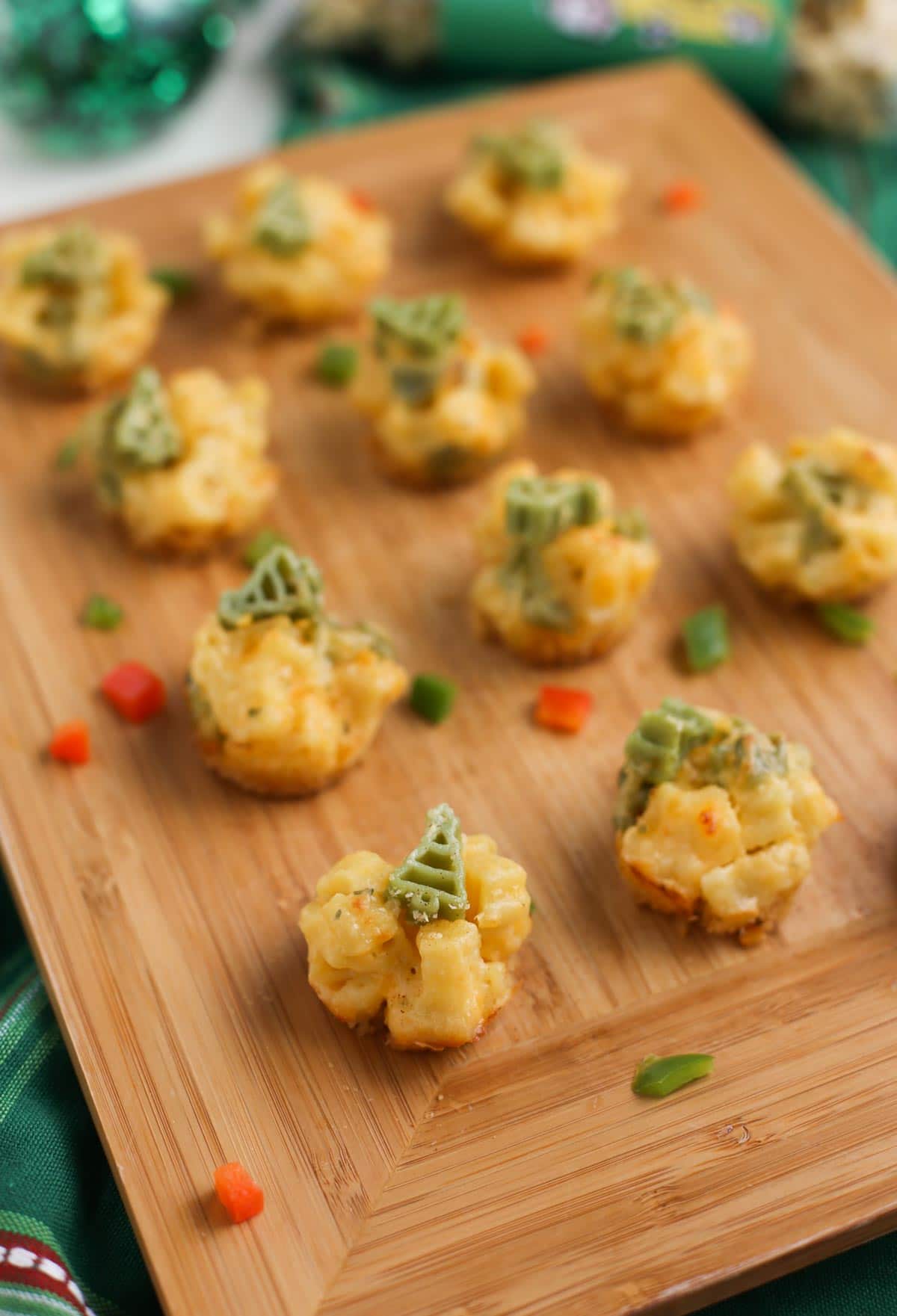 You'll only need about 2-3 teaspoons of filling for these delicious mac and cheese appetizers. Take some time to carefully fill each one! I've got a few more notes below to ensure your recipe success.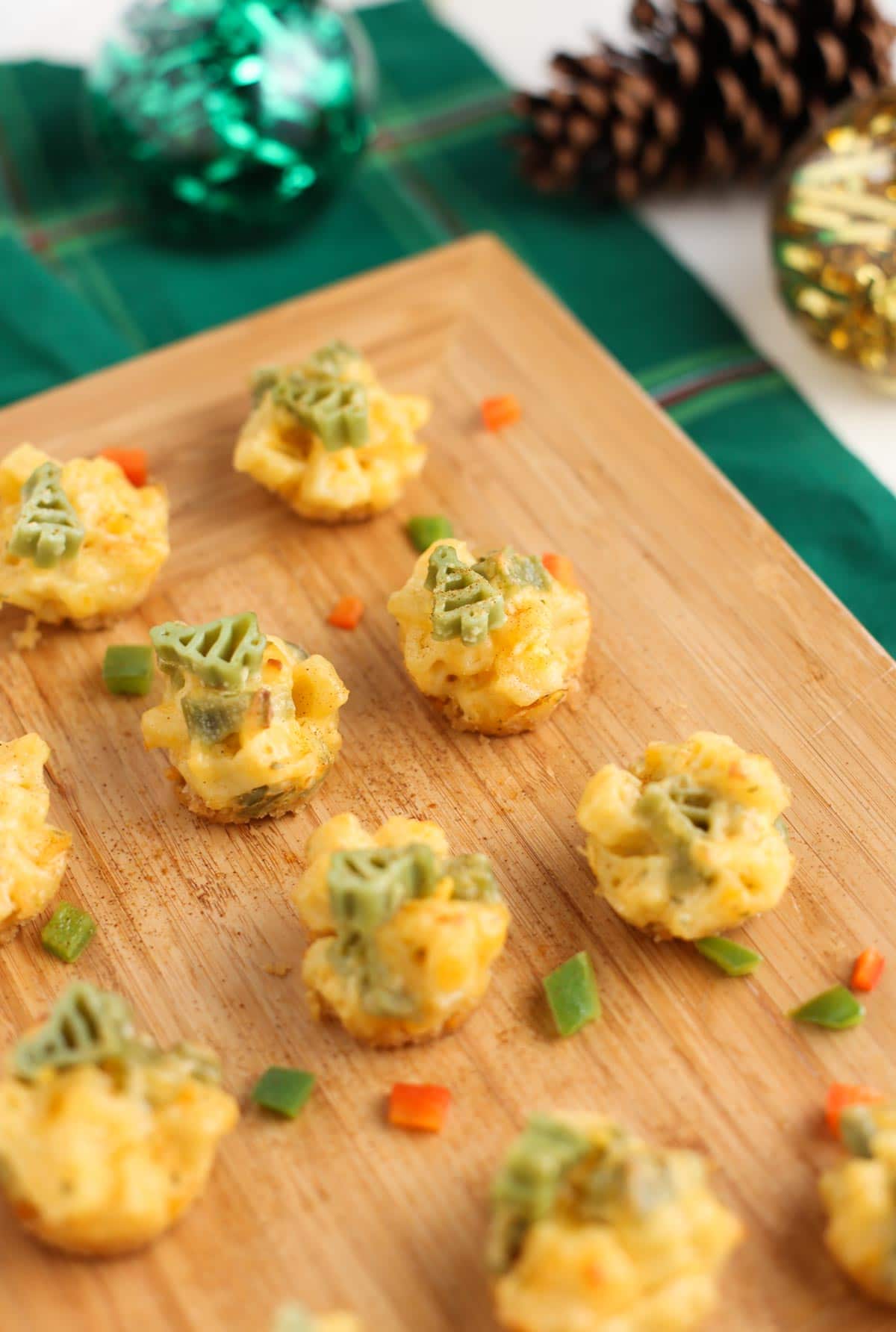 Easy Mac and Cheese Bite Recipe Tips
Do not try and take the bites out of the pan too early! They need their rest, or they will fall apart!
To emphasize the Christmas theme, or whatever occasion you are celebrating, use some of the leftover cheesy mixture in the pan as "glue" to help stick the extra pasta pieces on top of the bites!
You can make bites 1-2 days ahead and refrigerate. Place on a plate or baking sheet and cover tightly with plastic wrap. Reheat bites in 350-degree oven for 10 minutes.
Mini mac appetizer bites take less time, approx. 8 minutes.
You can freeze bites up to 4 weeks. Bring to room temperature before reheating in 350-degree oven for 8-10 minutes, depending on size.
To add some holiday color to bites, I diced some red and green peppers and sautéed them briefly with a teaspoon of olive oil. Then I sprinkled over the tops and on my platters too. Pretty!
In lieu of peppers, paprika can also be used to garnish macaroni bites!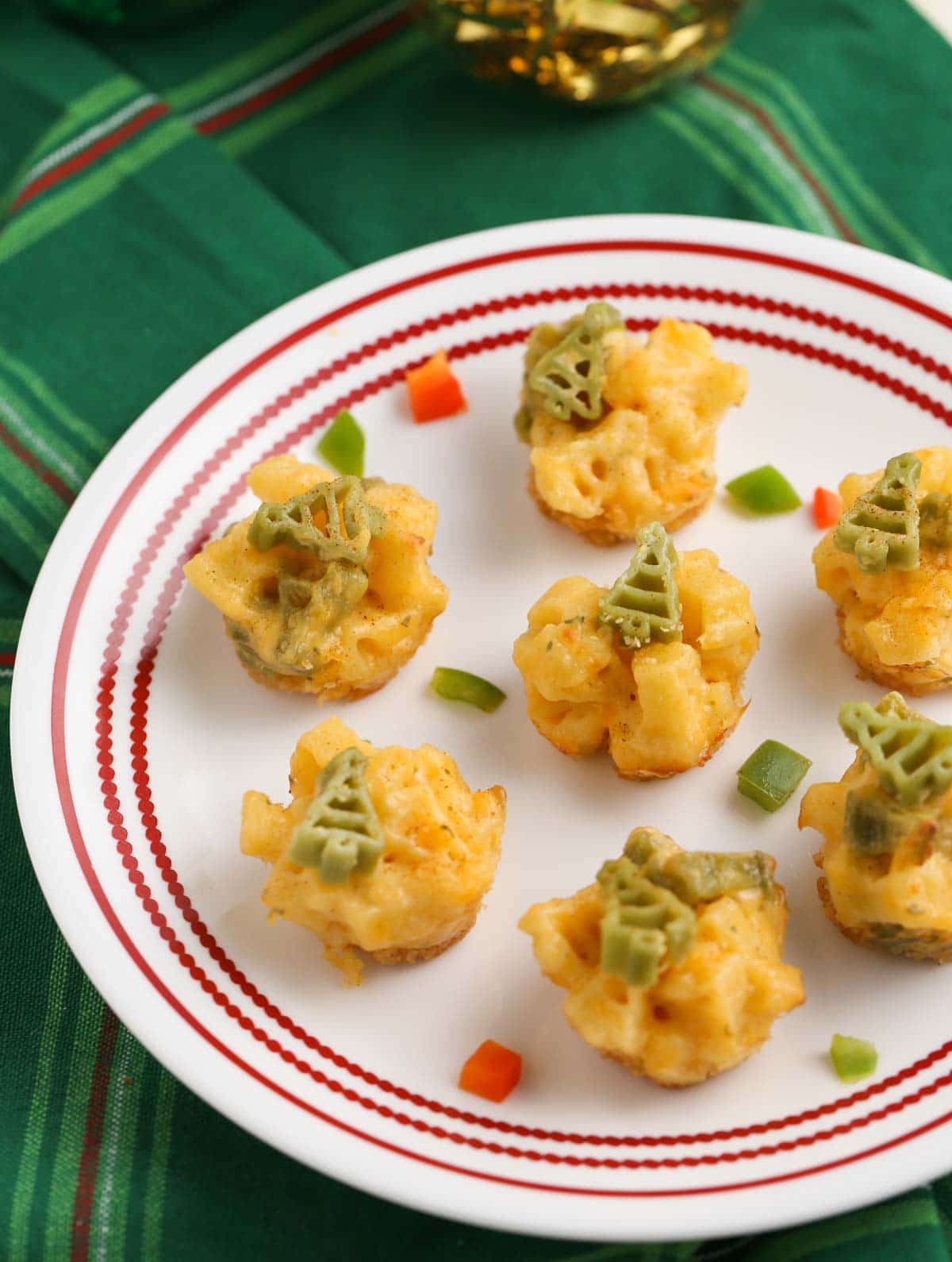 We've got our plates full of macaroni and cheese here at Pastabilities. Whether it's an easy weeknight dinner with our boxed Organic Mac and Cheese in fun shapes for kids, our recipes for Homemade Mac 'n Cheese, Healthy Butternut Mac and Cheese or this latest Baked Mac and Cheese Bites, we know you'll find lots of ways to make this combo work for your family!
For more happenings at Pastabilities follow us on Instagram @worldofpastabilities or on Facebook @pastashoppeusa. We'd love you to share your fun at the table with us! Enjoy friends and Happy Holidays!
Print
Baked Mac and Cheese Bites
Fun and delicious mac and cheese bites! Perfect as a side dish or an appetizer for any holiday or occasion!  Use your imagination and let the fun eating begin!
Ingredients
For the crust:
1 sleeve Ritz crackers, crushed (a little over 1 cup)
6 T. butter, melted
¼ cup shredded cheddar cheese
For the macaroni filling:
14 oz. bag of Christmas Tree Pasta (or any fun shape!)
2 T. olive oil
2 T. butter
2 T. flour
¾ cup milk
2 ½ cups shredded sharp cheddar cheese
5 oz. of Boursin garlic and herb cheese, or any flavor or herbed cheese
¼ cup sour cream
2 large eggs, room temperature, and lightly beaten
Salt and pepper to taste (just a pinch)
Red and/or green peppers, diced for garnish (optional)
Instructions
Preheat oven to 375 degrees.
This recipe will make 18 regular muffin size bites for a side dish, or approximately 4 dozen mini bites for an appetizer.
Whichever direction you decide to go, spray the muffin tins with cooking spray.
For the crust, whiz the crackers in a Cuisinart until finely crushed.
Melt 6 T. butter and add cracker crumbs and ¼ cup shredded cheddar in a bowl.  Stir until well combined.
For the regular muffin tin, you'll place 1 T. of the mixture into the bottom of each muffin cup.
For the mini muffin pans, add only 1 teaspoon to each cup. 
Press the mixture down firmly until it is packed and note that some of the mixtures may go up the sides of the cup. This will provide a solid base for the bites.
Get your pasta ready!  Cook pasta according to package directions, but make sure to take off the heat about 1 minute early, so the pasta is al dente.
Drain pasta, rinse with cold water, and toss with 2 T. olive oil. 
Set aside pasta and reserve about ¼ cup of pasta shapes to use as a garnish on top of the bites (I like to set aside the colored ones!).
In a medium saucepan, over medium heat, melt 2 T. butter, then add flour and whisk until combined. 
Add milk and whisk constantly until the mixture begins to thicken about 1-2 minutes.  Reduce heat to low.
Add cheddar, Boursin cheese, sour cream, and beaten eggs.  Stir until cheese is melted and the mixture is thoroughly combined.  Add salt and pepper to taste.
Add pasta to the mixture and gently combine until all pasta is coated.
For a regular muffin tin, add a heaping ¼ cup of mixture into each cup, on top of the crust. For a mini muffin tin, you'll only use about 2-3 teaspoons of filling for each bite.
Using your fingers, press the mixture down into each cup to help fill the gaps around the cup.
Bake for 12-14 minutes.  Remove from the oven and garnish each bite with one or two pieces of reserved pasta.
Let mac and cheese bites rest for about 10 minutes to ensure they will hold together.
Run a sharp knife around the edge of each cup and gently remove the bite. 
Serve immediately!
Join our email list for fresh pasta recipes delivered to you every week!
Your information will NEVER be shared or sold to a 3rd party.