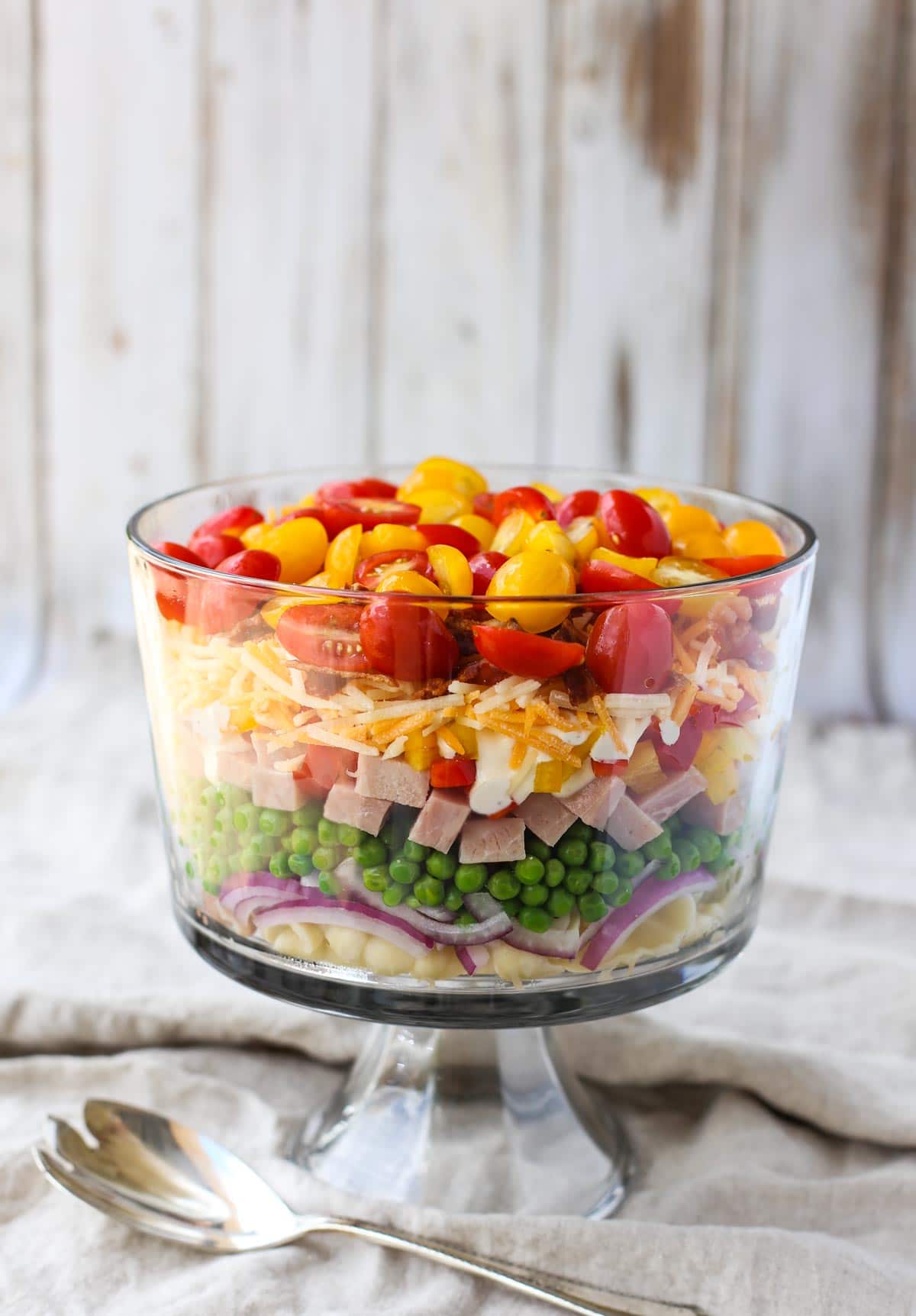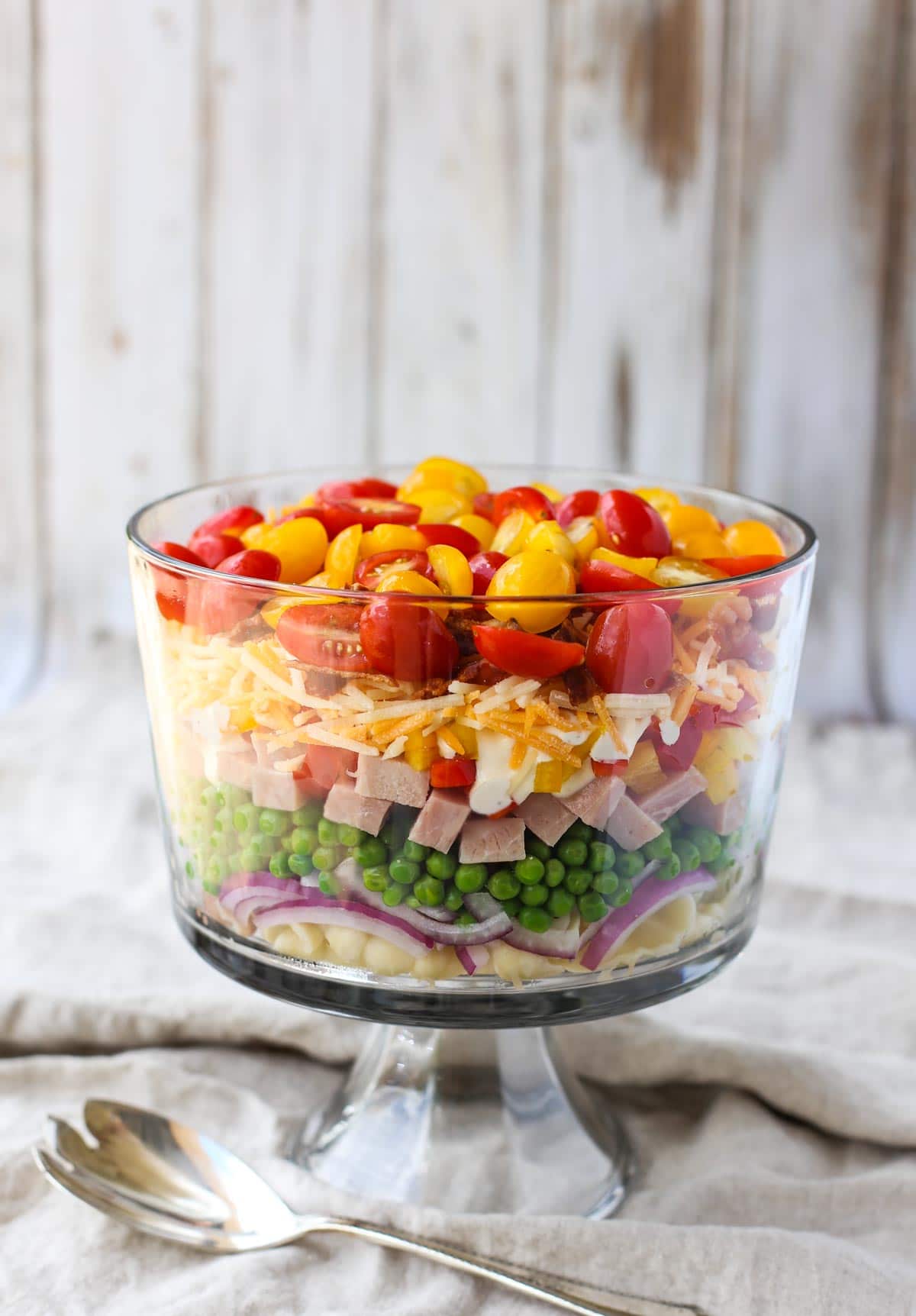 Yep…you heard it right. Nine Layer Pasta Salad. Nine incredible layers of wonderful textures and flavors. Could it have been less? Sure, but I had a hard time leaving out any of the yummy layers. And like my husband John always says, "Why do when you can overdo?!" Love that about him.
This Nine Layer Pasta Salad is the perfect for events like family reunions, tailgate parties, or potluck suppers. It can be a little tricky to "mix up" before serving, but by that time you've made your grand entrance and gotten all the "kudos" for your fabulous presentation and hard work!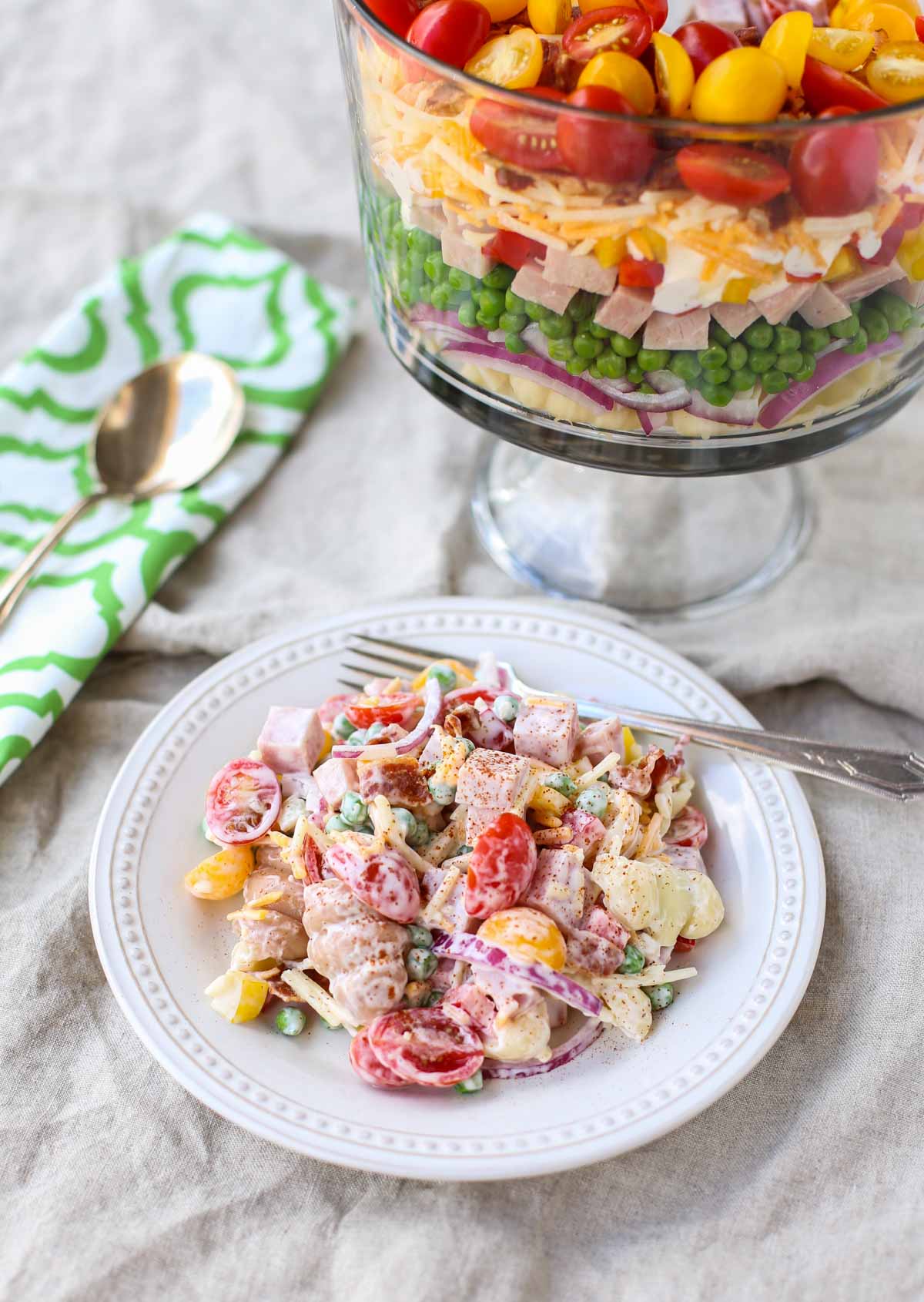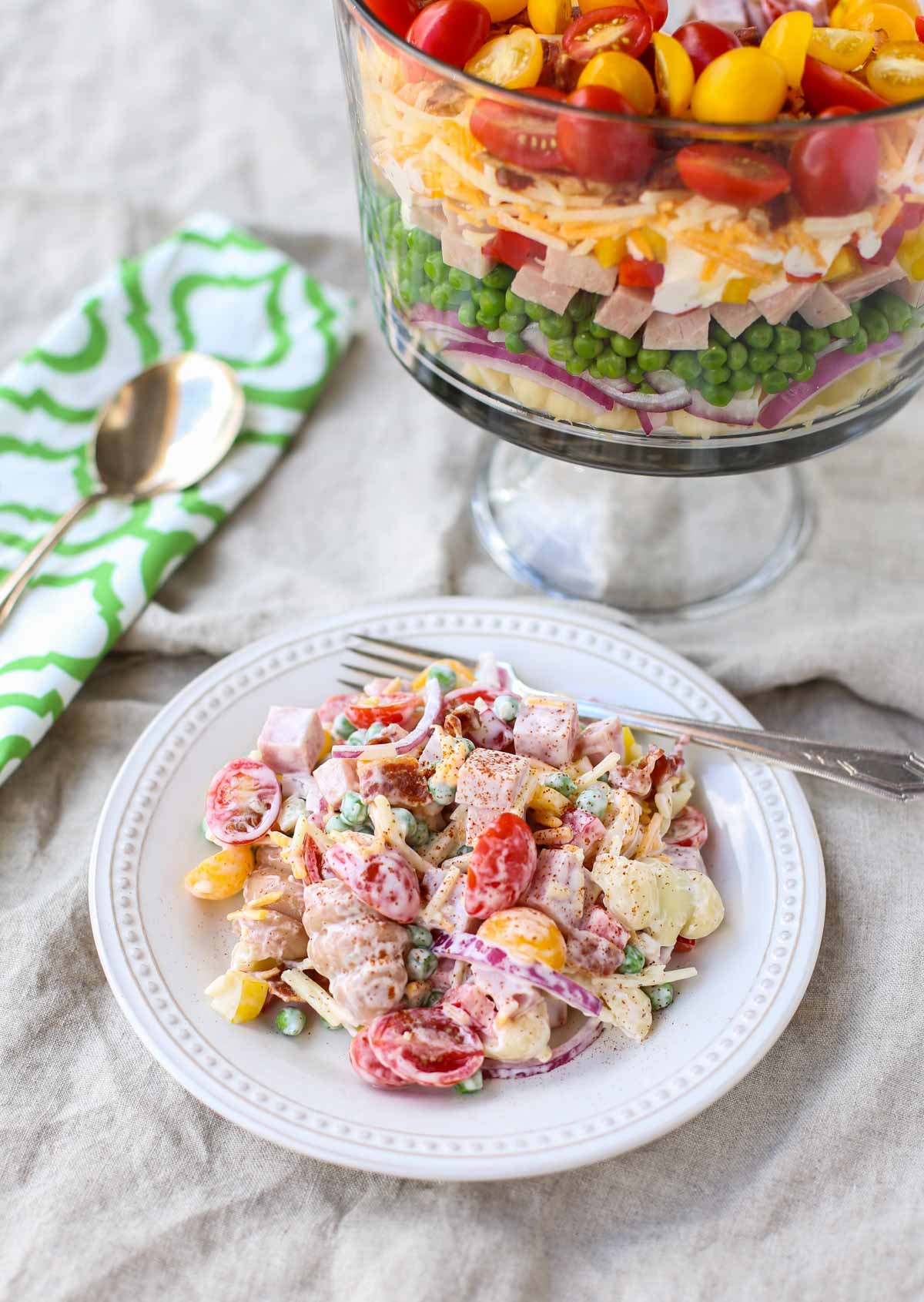 There is just something about layers that is so appealing. Bring on the seven layer Mexican dip. Or a layered Italian goat cheese torta with sundried tomatoes and pesto….or my latest favorite combo of goat cheese, mint pesto and fig jam. Lasagnas too are layers and textures of yum. Do you remember my Tailgate Timballo recipe? A million layers of goodness there. I also love tall layered cakes with creamy frosting in between each layer. And my love of layers isn't exclusive to foods….nothing better than layering up for a cool fall night. First a tank, then a cute cardigan, next throw on a scarf, with a cozy vest or coat. Aaahhhh…..it's almost fall and layer time.
OK…now look at this! It's time to break down each layer.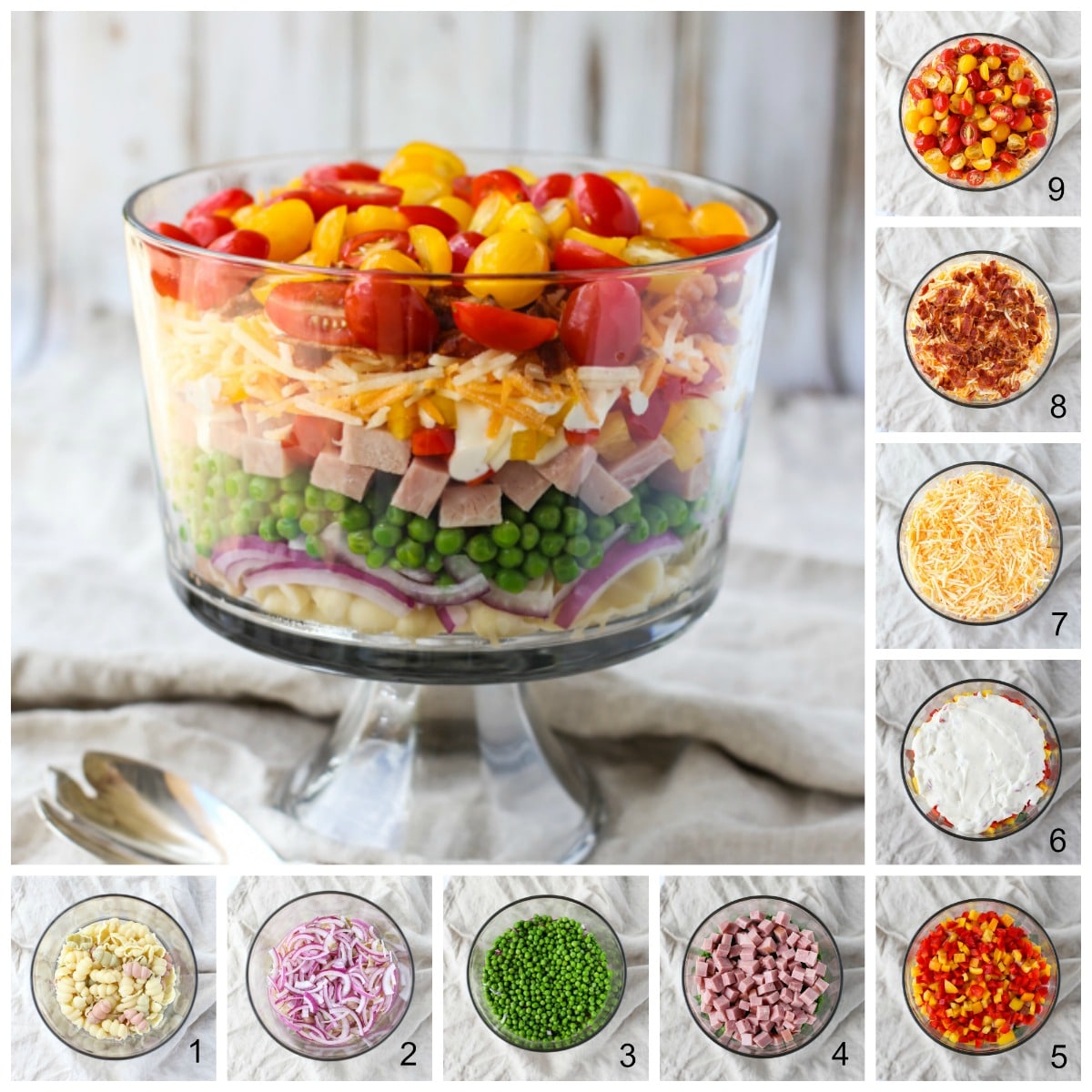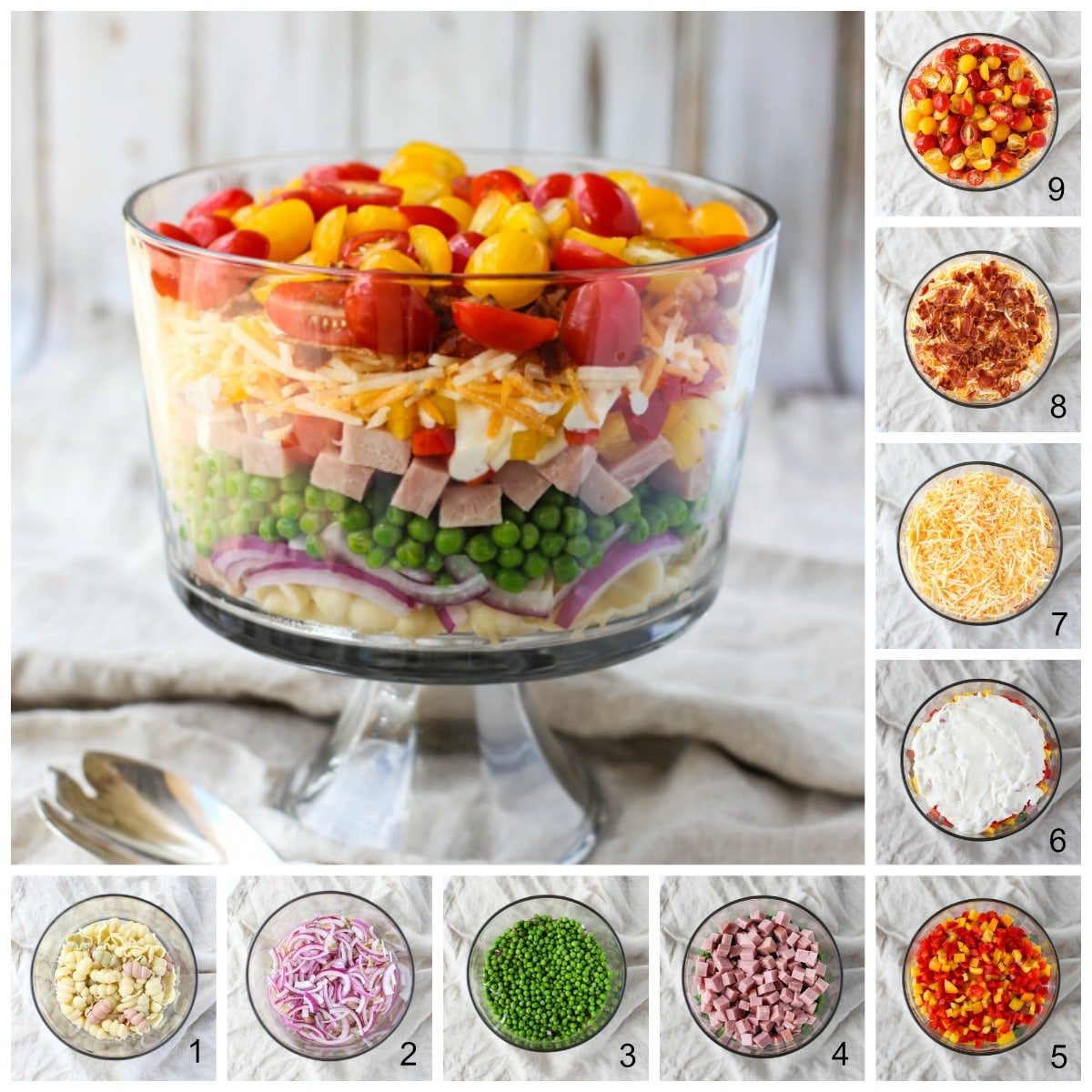 Nine Layer Pasta Salad


I used our beautiful Italian Inspired Seashells. You can use any short shape that suits you.
Red onion. Crunchy, fresh slices.
Green peas. Steamed just for a minute. Bright and firm.


Diced ham. Easy enough. You can buy this already diced, or I used a ham steak and diced it myself.
Fresh peppers! Why not use two colors of these sweet peppers?
The dressing….creamy combo of mayo and ranch…what could be better?


Shredded cheese. I used an Italian blend. There are so many combinations out there, so use what you like.
Salty, smoky crumbles. You know I love the pre-cooked microwavable bacon.
Grape or cherry tomatoes. Again, two colors. Sweet and juicy. What a pretty topping! Voila!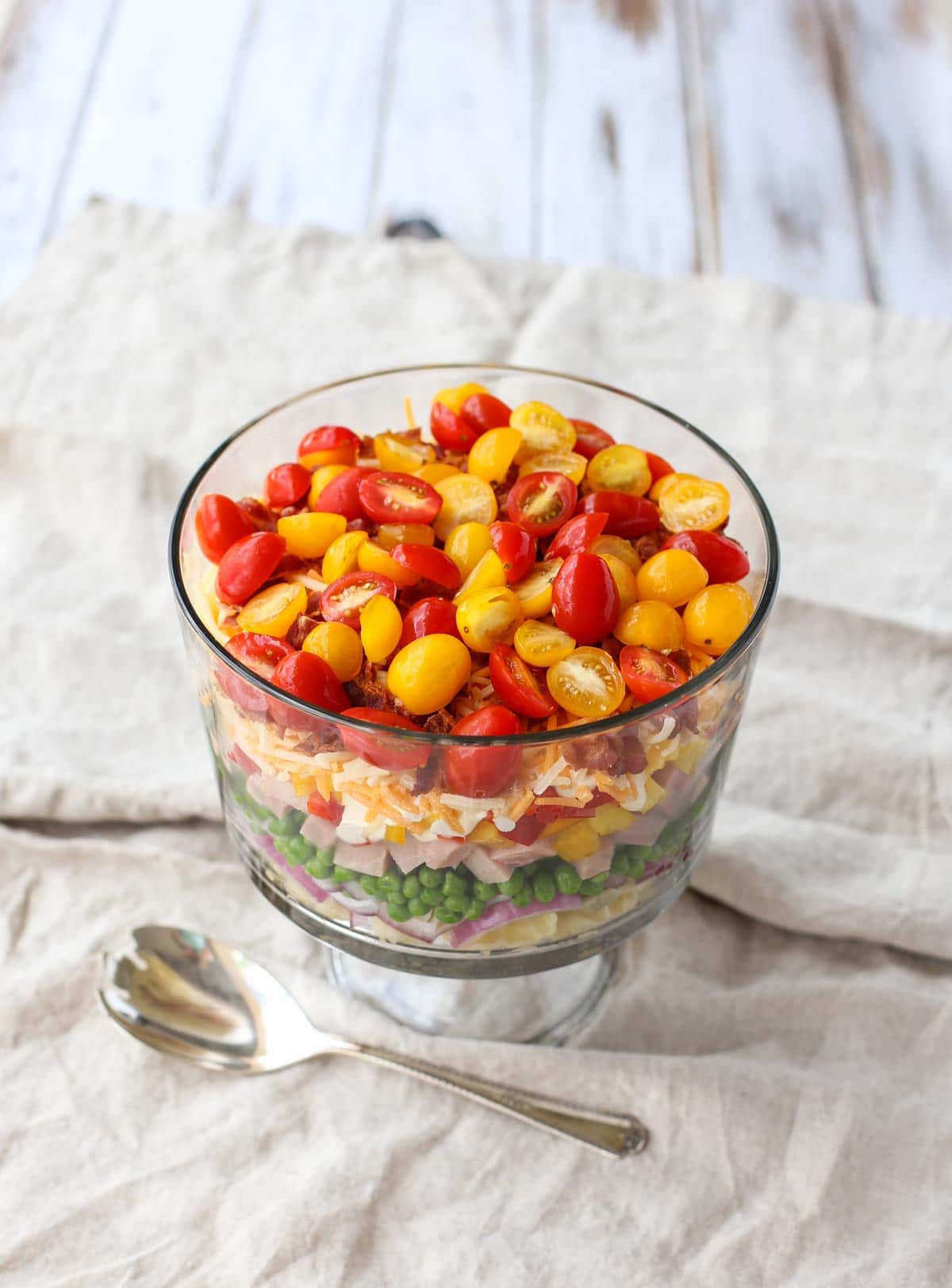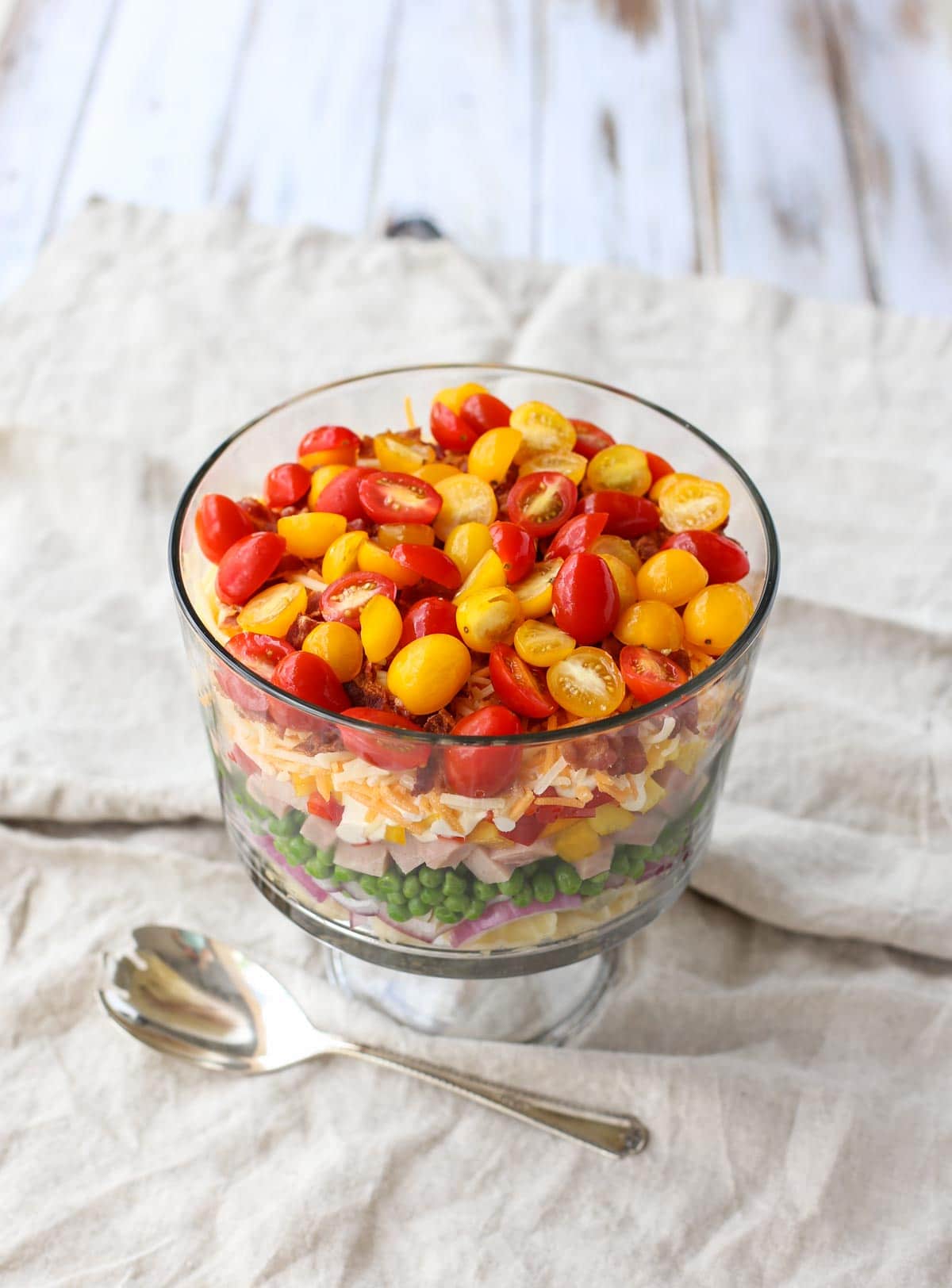 Doesn't this make a beautiful statement? Each layer does take a little prep time, but it's worth it. This salad must be presented in a glass bowl for obvious reasons. I preferred a trifle dish because of its height and pretty stand which makes it look so important.
Now when it is mixing time, take your time. Carefully combine the layers and serve immediately. Your guests and family will love it. Mine sure did.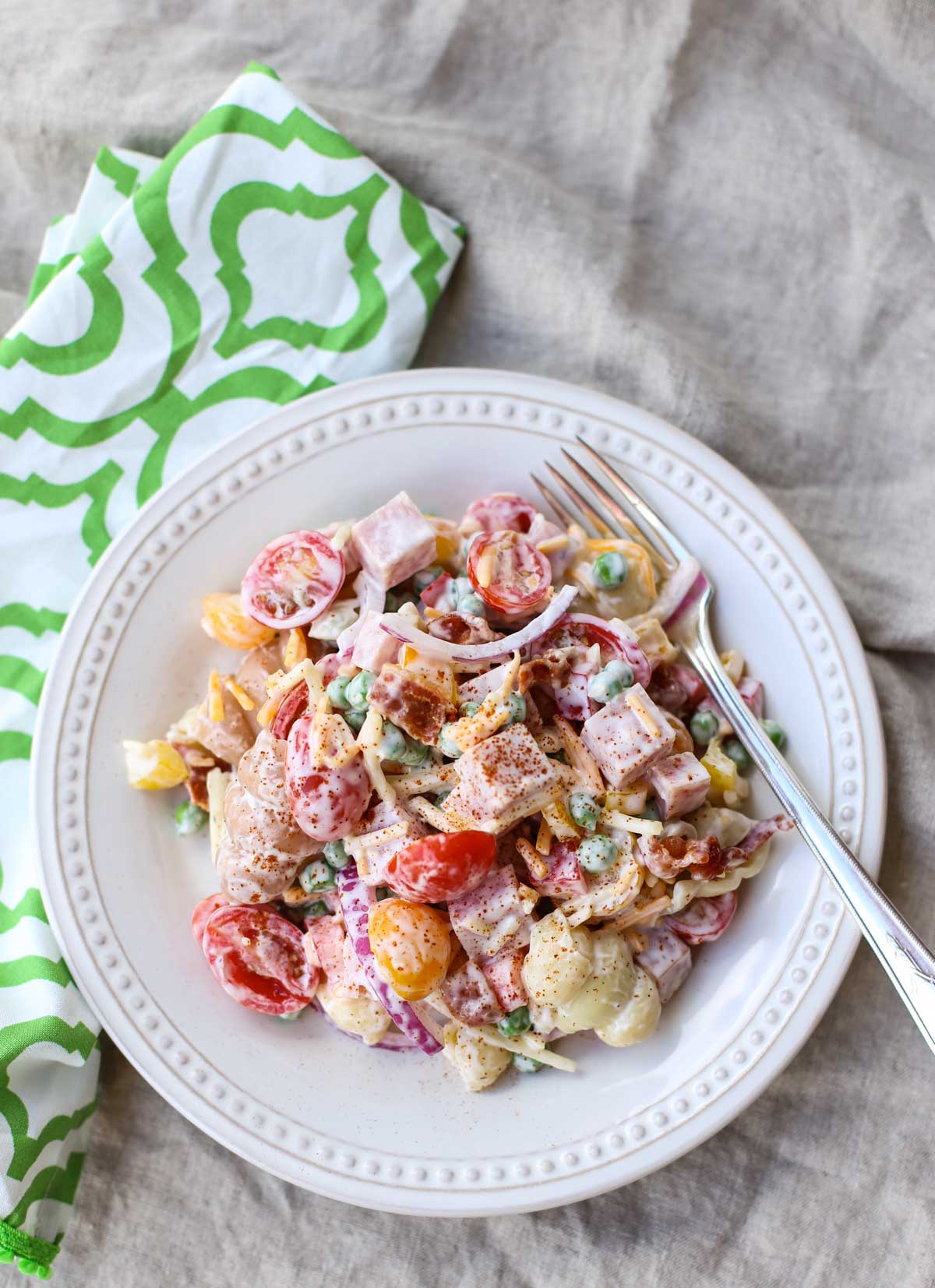 Nine Layer Pasta Salad is a bit of a traditional recipe but I know it will become a favorite for your entertaining. I'd love to see pictures of what you create. Again, you have creative license to add, subtract, or substitute ingredients. That's what makes it fun and easy!
Side note: I've recently begun posting on Instagram and would love for you to follow me! Also, we have a Wacky Wednesday contest weekly on our Facebook page, so join there too and be entered to win. I appreciate you reading my recipe posts and hope that you are inspired to cook some more pasta!
Nine Layer Pasta Salad
Nine layers of goodness with flavors galore! Enjoy!
Ingredients
3 cups

pasta, more or less depending on size of bowl.

1

red onion, sliced

1

10 oz. package of green peas, thawed, briefly steamed, drained

6

–

8

oz. smoked ham, diced

1

red pepper, diced

1

yellow pepper, diced

1/2 cup

mayonnaise (can use light mayo)

1/2 cup

ranch dressing

1

package of shredded cheese, 1-2 cups (I used Italian blend)

6

slices bacon, crumbled (I used pre-cooked and microwavable)

2 cups

grape or cherry tomatoes, halved
Instructions
Cook pasta according to package directions, rinse, and toss with 1 T. olive oil, set aside (you'll use part of the package, approx. 3 cups for the salad, and save the rest)
Mix mayo and ranch dressing.
Layer pasta salad in the order listed above beginning with pasta at the bottom.
Refrigerate several hours to chill.
Present to guests!
Gently toss before serving.
Join our email list for fresh pasta recipes delivered to you every week!
Your information will NEVER be shared or sold to a 3rd party.