Pasta's Pasta Primavera with Chicken – Go Boston Bruins!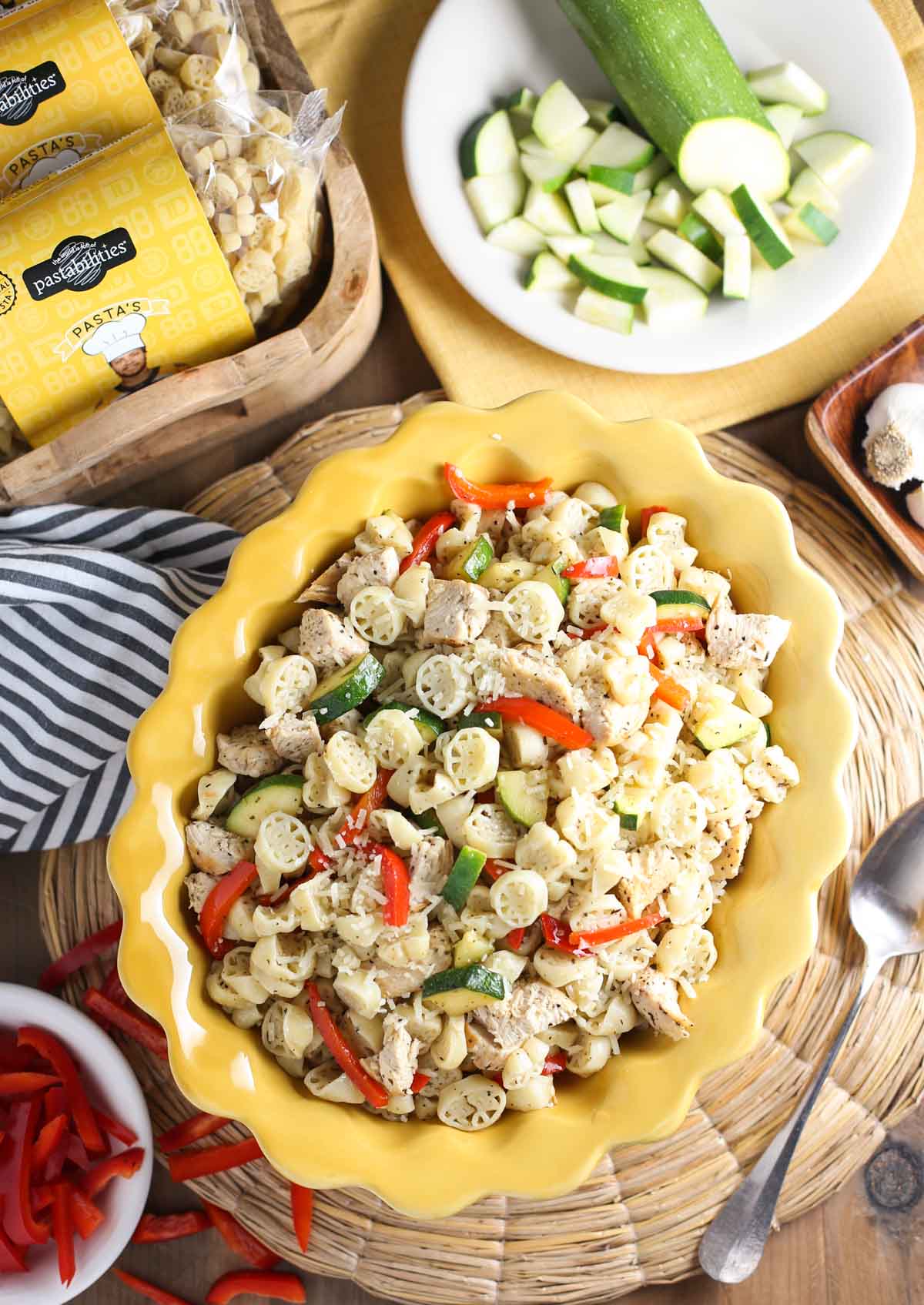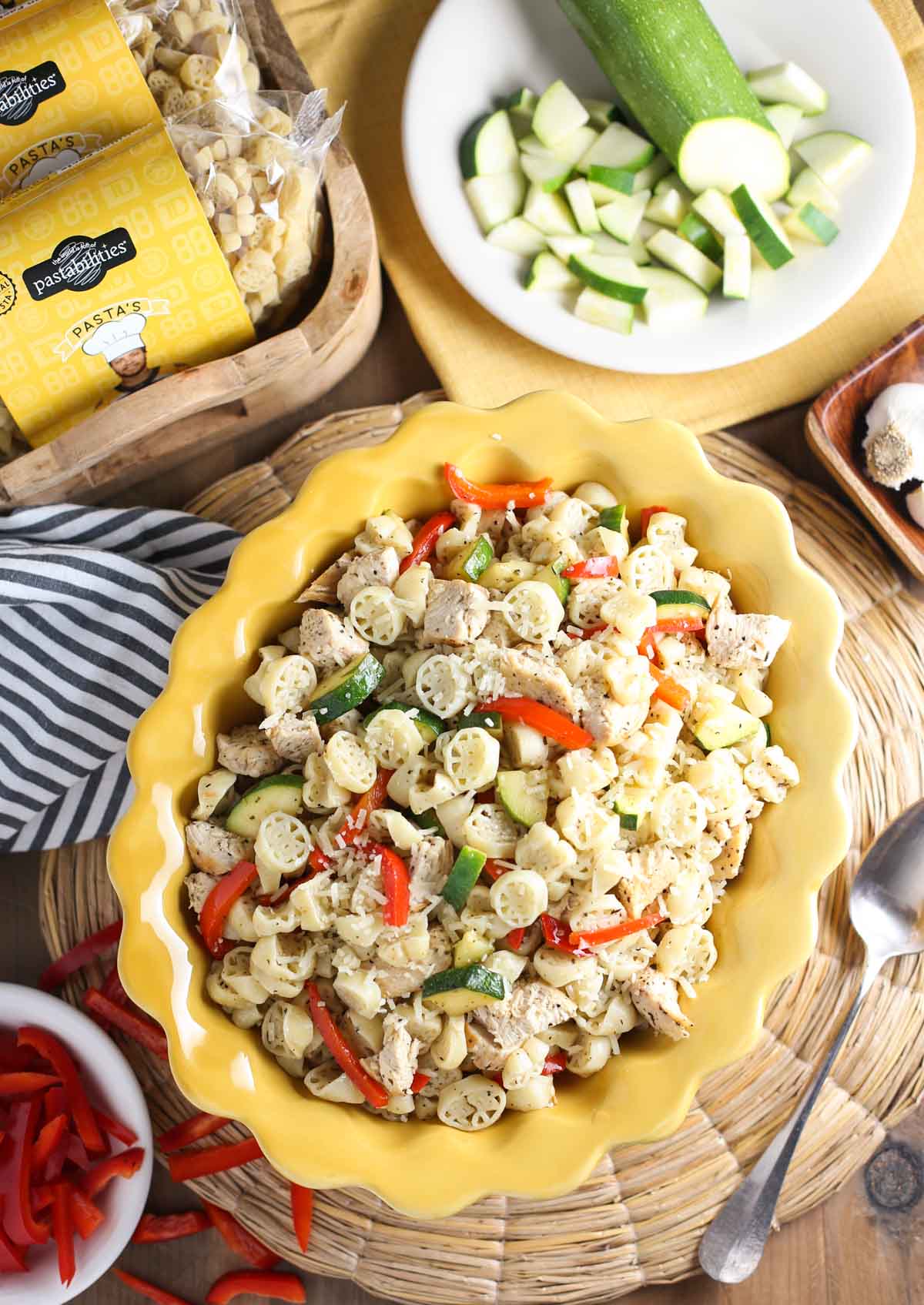 Custom pasta and custom projects are so much fun. Over the years, we've met so many creative people and had the chance to participate in some really fun pasta projects. This one is one of the BEST yet! Do you see the iconic pasta logo? It's the Boston Bruins! Hockey Royalty! And it's National Pasta Month! Pasta's Pasta! #88! What? What is all this?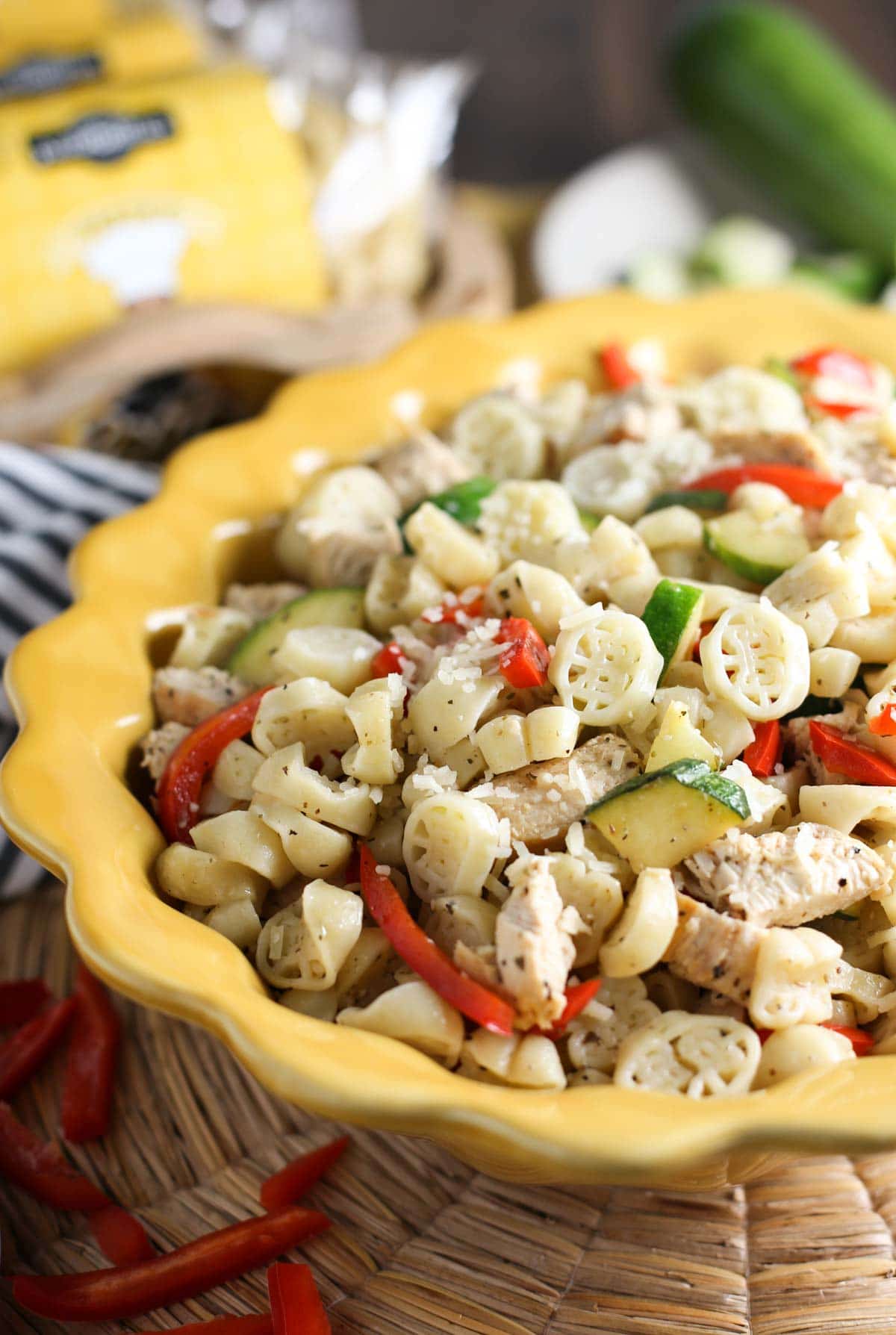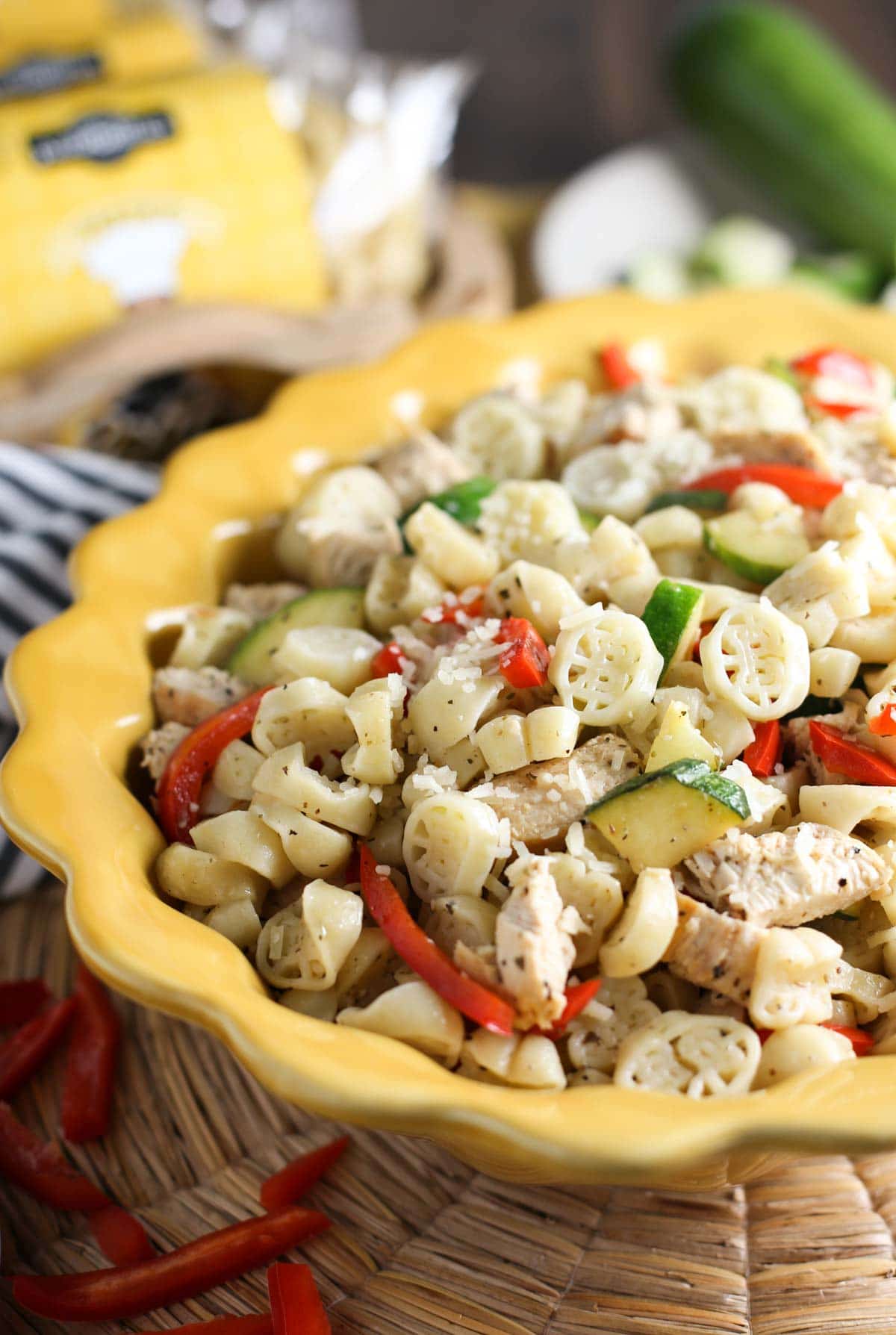 So, if you aren't following the Bruins every move like one of their fanatical fans…let me explain. The Bruins landed a young gun named David Pastrnak who is from Czechoslovakia. #88. He is one of the youngest NHL players and about 22 years old. He is known for his incredible offense as a sniper, he knows how to shoot the puck with deadly speed and accuracy. And he scores a lot. Watch out. I mean it. Pastrnak's popularity in Boston led the Bruins fans to nickname him "Pasta" and this is where our "Pasta" story begins…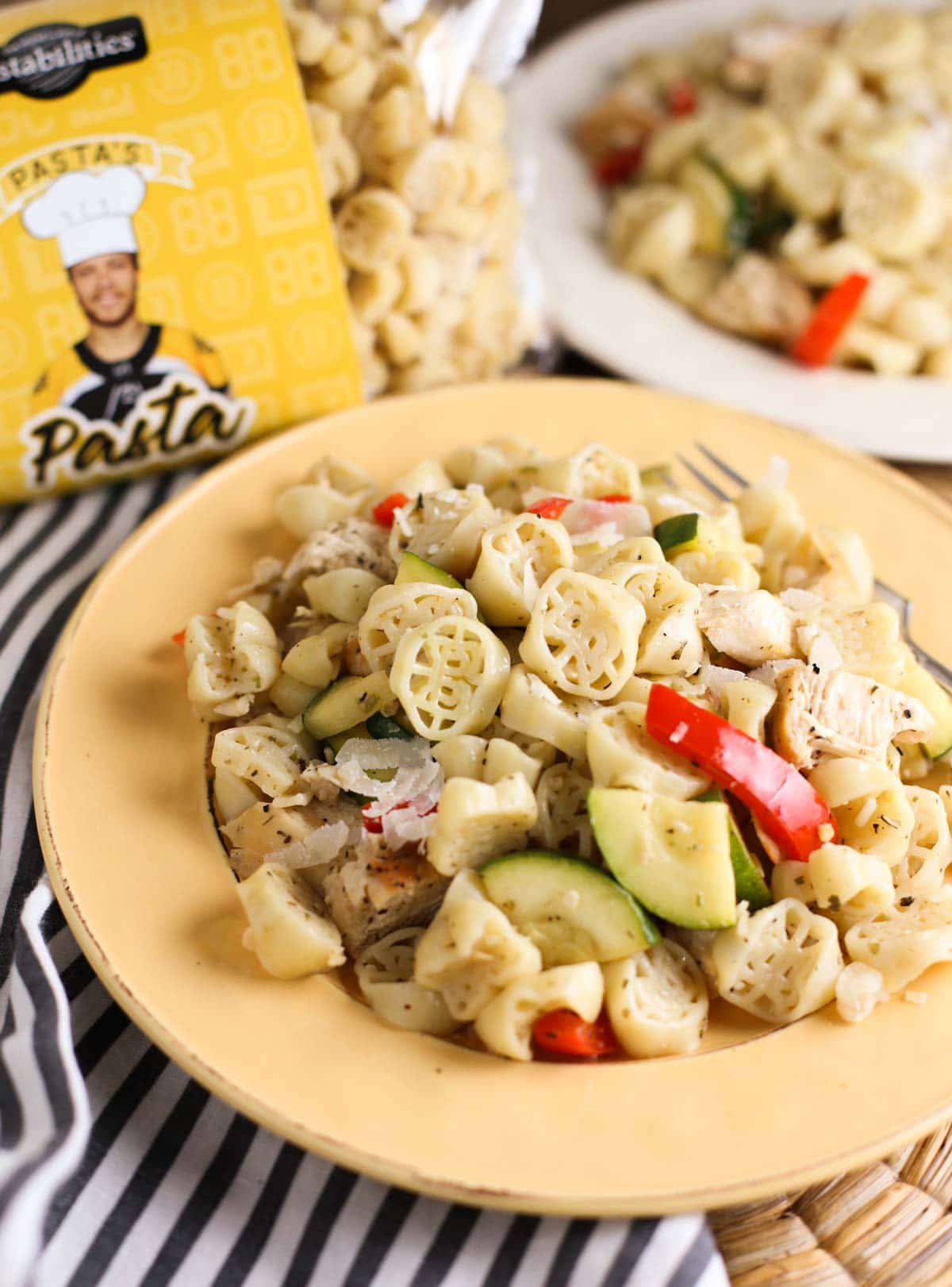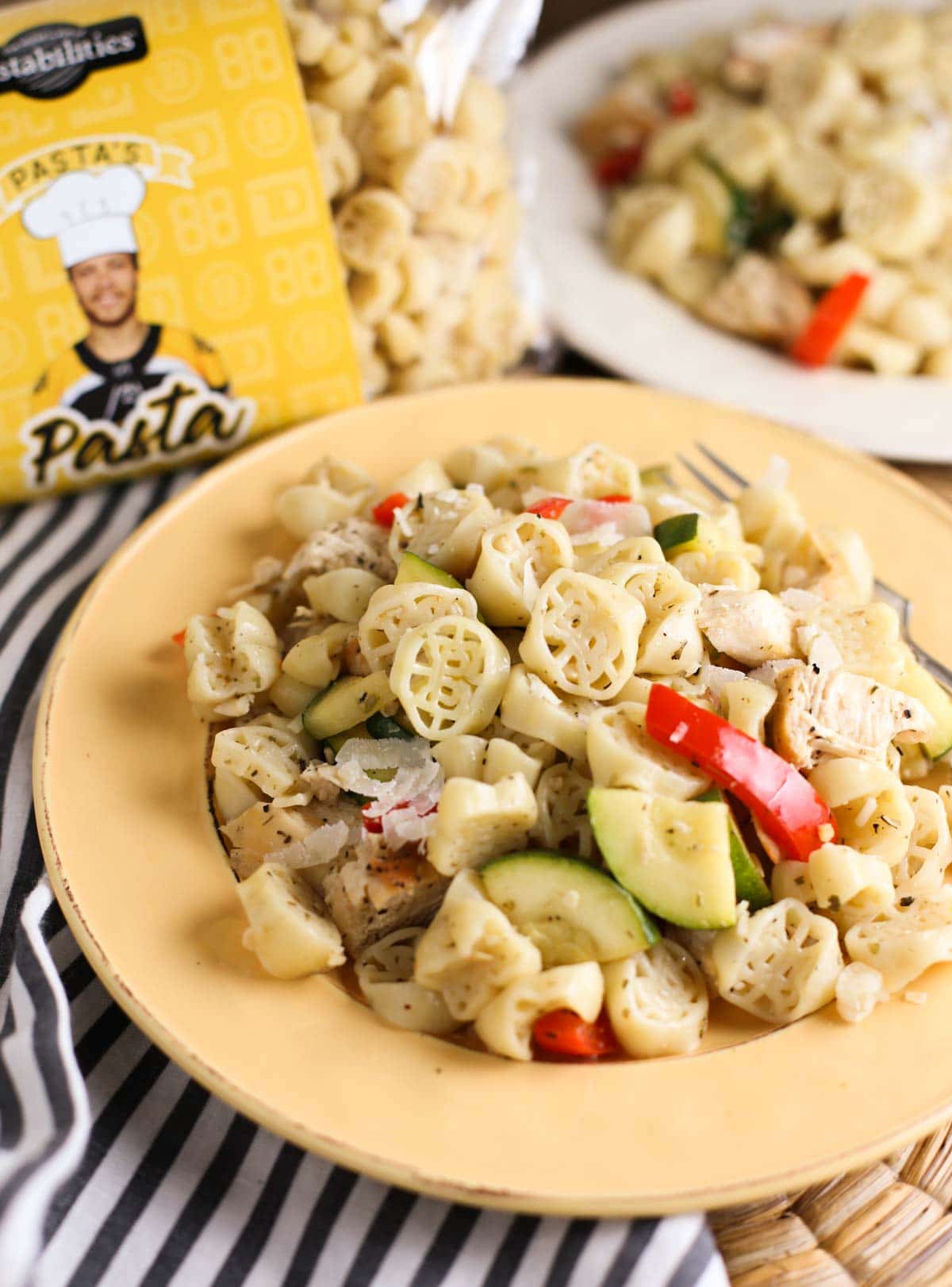 So, Saturday night, October 27th, at the Bruins hockey game, bags of "Pasta's Pasta" will be given out to thousands of lucky fans! A combination of Bruins "B" pasta logos with the number 88 in pasta…it's the perfect pasta mix for a "hat trick" of a hockey meal. I mean, I'm imagining the fans making a pasta dinner when they watch the next away hockey game at home in front of the big screen. In fact, I think that is probably good luck for the team! ?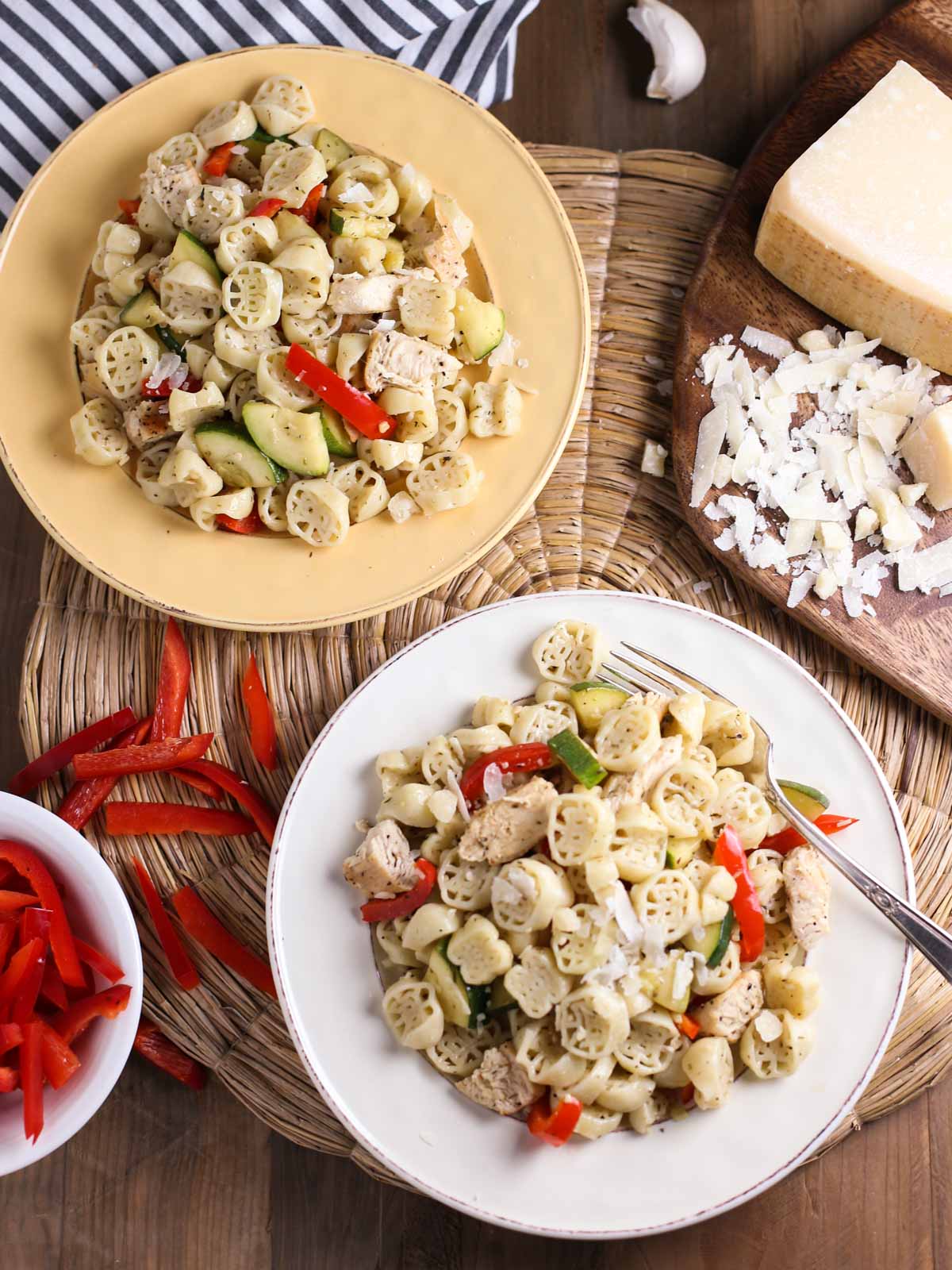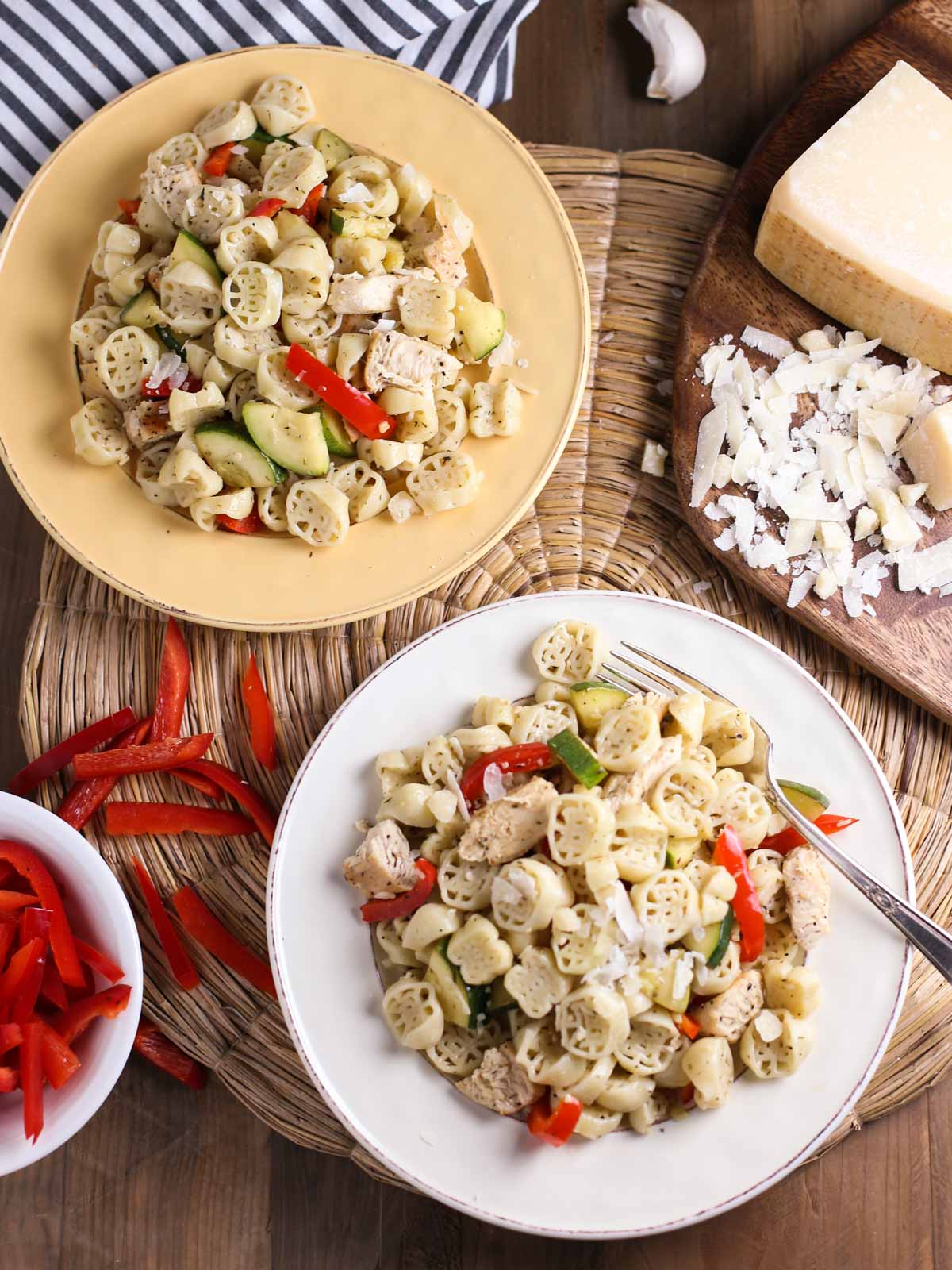 Do you wonder how all these young guys skate so fast? Besides youth (haha!), they have incredible support from the trainers and nutritionists. And Julie Nicoletti, a Bruins Sports Nutritionist provided this incredible pasta recipe known as "Pasta's Pasta Primavera with Chicken" and believe me it's a winner.
This recipe is light, full of veggie goodness and pieces of juicy sautéed chicken. Of course the pasta cooked up perfectly and the flavors, although pretty simple, really come together for a pasta dinner your entire family will rally around. Carb up for the big game – right?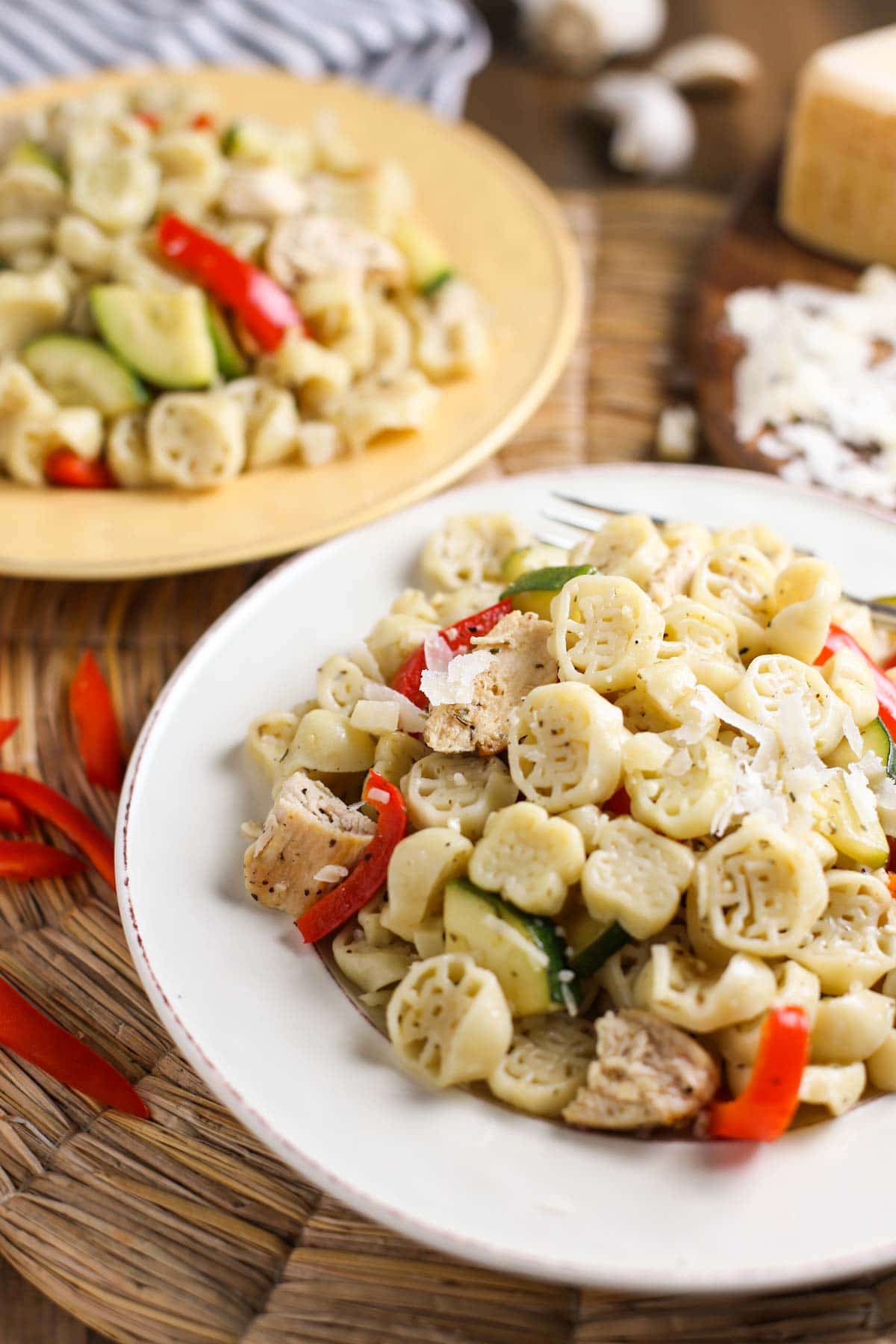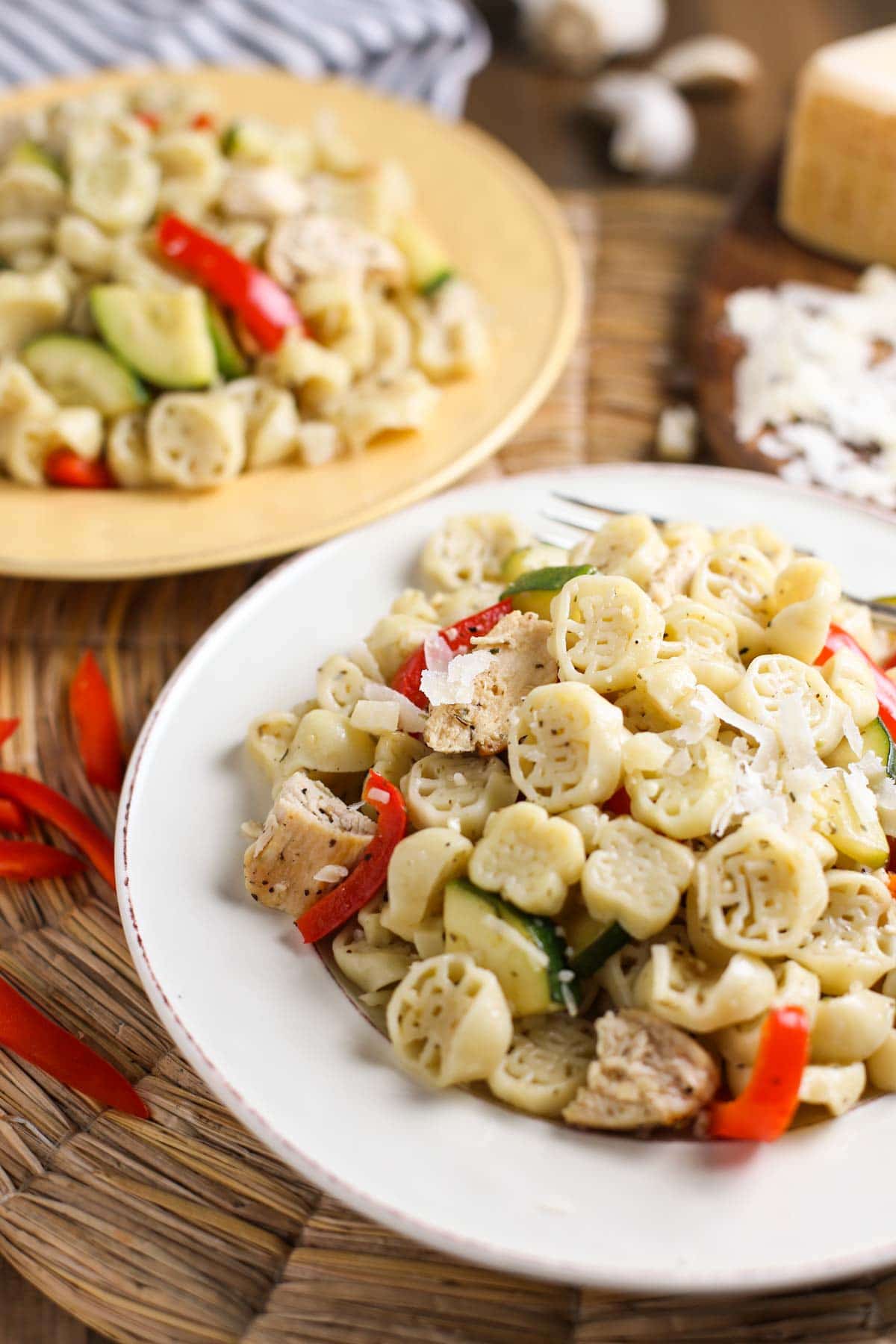 When I made Pasta's Pasta, I decided to julienne the red peppers and dice the zucchini in bite size pieces…just to make the dish more interesting. And I was happily surprised about the chicken! I think I've been stuck in "grill mode". I had not pan sautéed chicken in years…and the light seasoning on the chicken breasts cooked in some olive oil….yum…I mean juicy and browned and absolutely delish!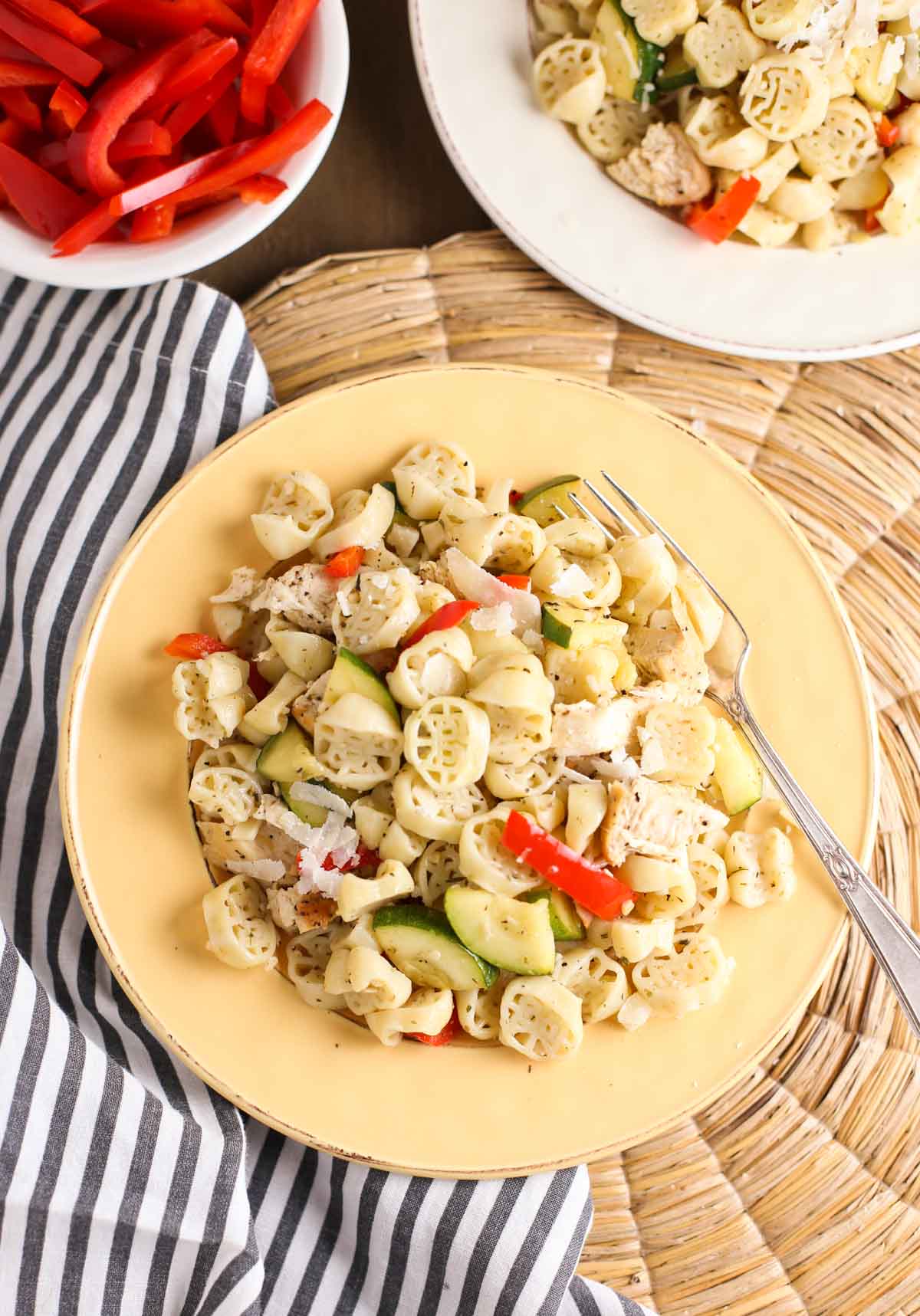 Top the pasta with a generous amount of Parmesan and you are ready to serve! Whether you are a Bruins fan, or just a pasta fan, Pasta's Pasta Primavera with Chicken is a simple, healthy, recipe for all to enjoy. And if you were lucky enough to be a Pasta's Pasta recipient – congrats! Enjoy!
Happy National Pasta Month everybody! Go Bruins!
Pasta's Pasta is brought to your kitchen by TD Bank and the Boston Bruins.
Pasta's Pasta Primavera with Chicken – Go Bruins!
A delicious recipe
Recipe Provided By Julie Nicoletti, Boston Bruins Sports Nutritionist and Owner of Kinetic Fuel
Ingredients
14 ounce

bag of Pasta's Pasta

1/4 cup

Olive Oil, divided

2

Chicken Breasts
Salt and Pepper to taste

1 tablespoon

minced Garlic

1

medium Zucchini, sliced thinly

1 cup

Red Bell Pepper

1 tablespoon

Italian Seasoning Blend

½ cup

Chicken Bone Broth or Chicken Stock
Grated Parmesan and Red Pepper Flakes for topping
Instructions
Cook the pasta according to package directions till al dente.
Season the chicken breast with salt and pepper.
Heat 2 tablespoons of olive oil in a large pan and slide in the chicken breast. Cook on both sides for 4-5 minutes each until each chicken breast is cooked through.
Remove the chicken breasts and let them rest. Once rested for 4-5 minutes, slice the breasts or cut into small bite sized pieces based on your preference and set aside while you cook the pasta.
In the same pan, add the remaining oil and garlic. Sauté the garlic on low heat until fragrant. Add zucchini and red bell pepper slices. Sauté the vegetables for 2-3 minutes.
Add the cooked pasta, Italian seasoning blend, salt, pepper and bone broth or chicken stock. Toss well until the pasta is lightly coated with olive oil. Add in chicken.
Top with grated parmesan and red pepper flakes. Serve immediately and enjoy Pasta's favorite pasta dish.
Join our email list for fresh pasta recipes delivered to you every week!
Your information will NEVER be shared or sold to a 3rd party.