Margherita Pasta with Chicken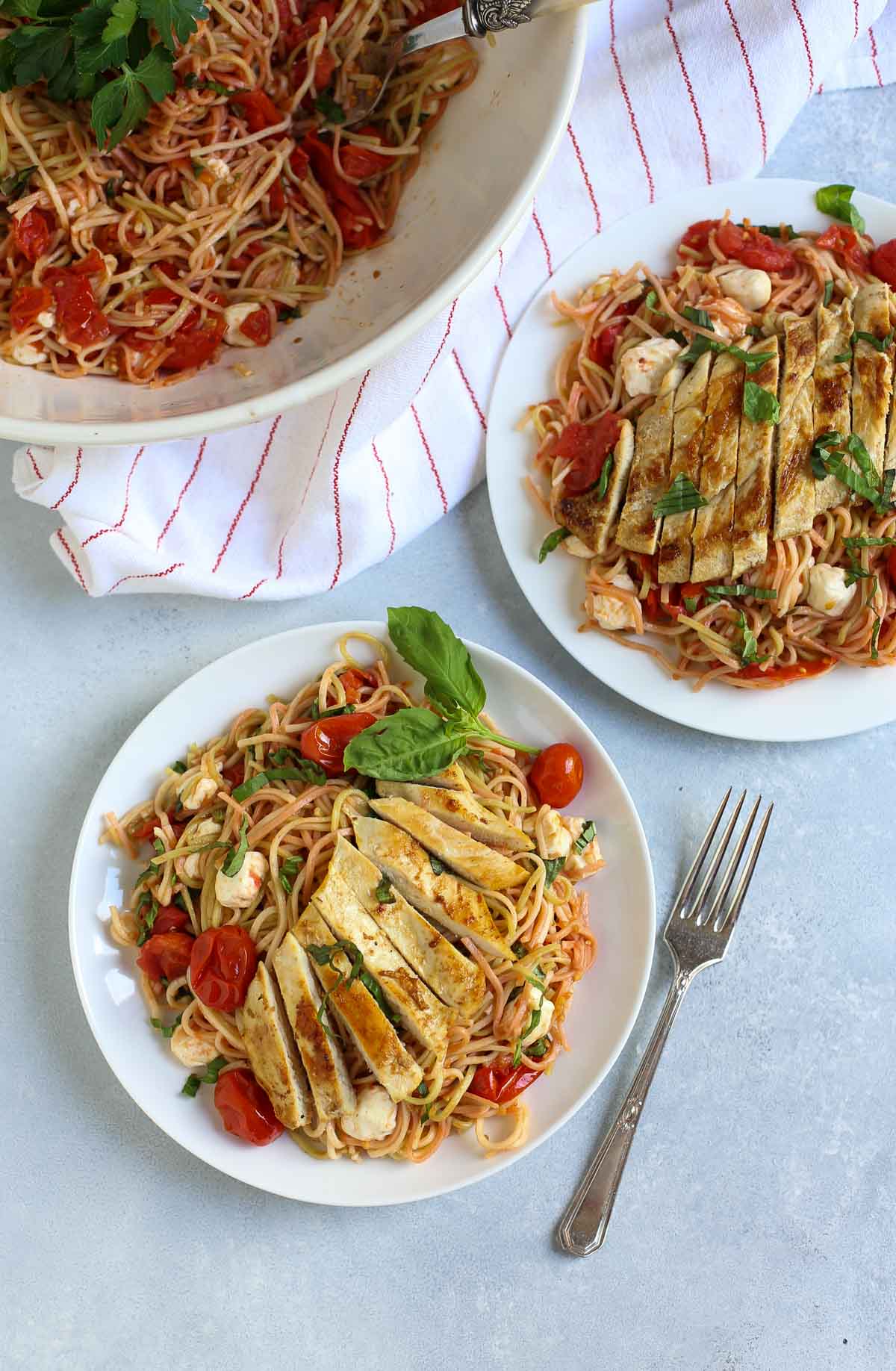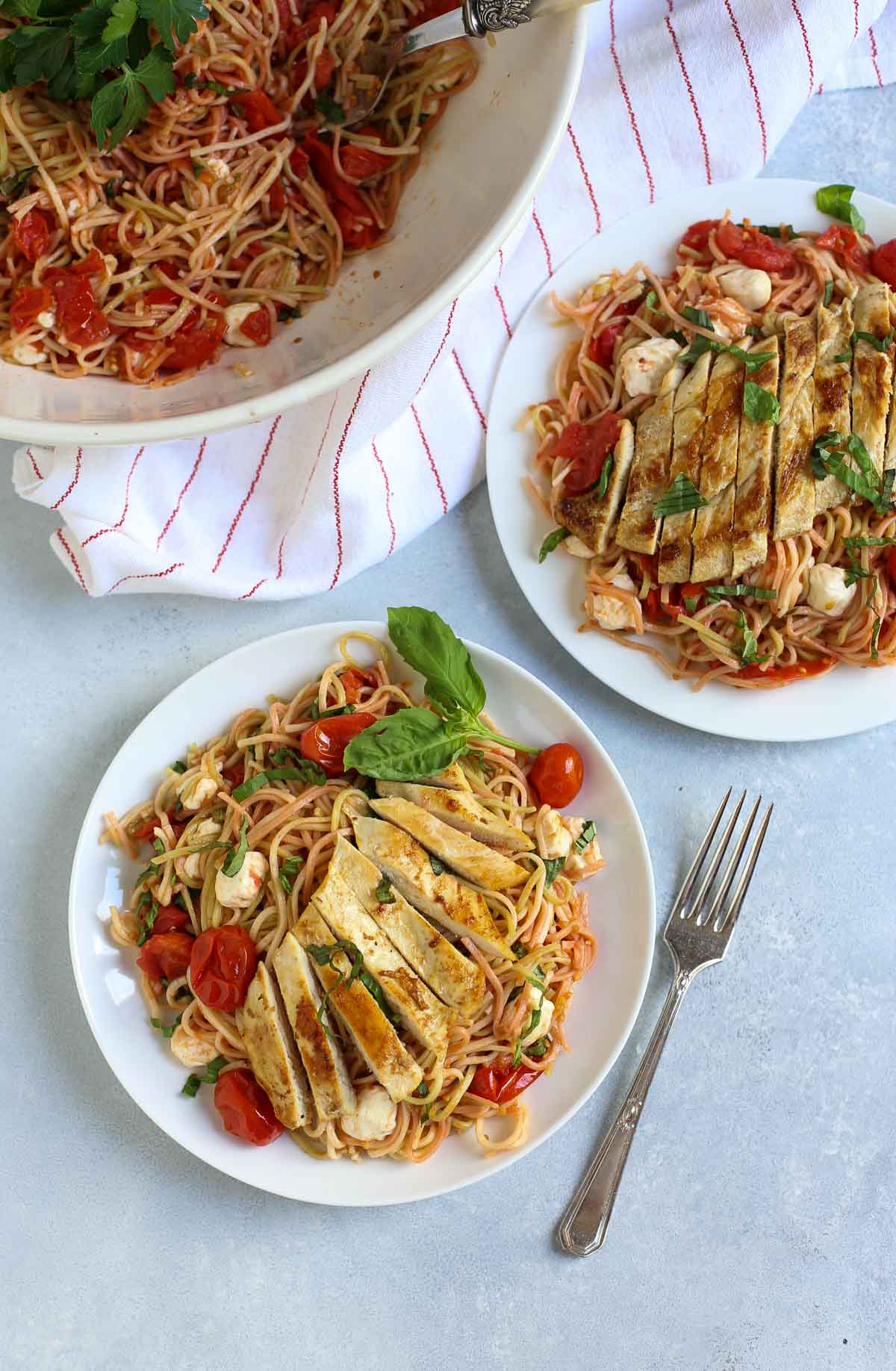 Do you ever find yourself in a fabulous Italian restaurant with umpteen delicious pasta and Italian offerings…and your eyes are drawn to the simplest thing on the menu?  Margarita (or Margherita) Pizza just jumps off the page. Sometimes amidst the wonderful choices, our hearts and tummies just long for the simplicity.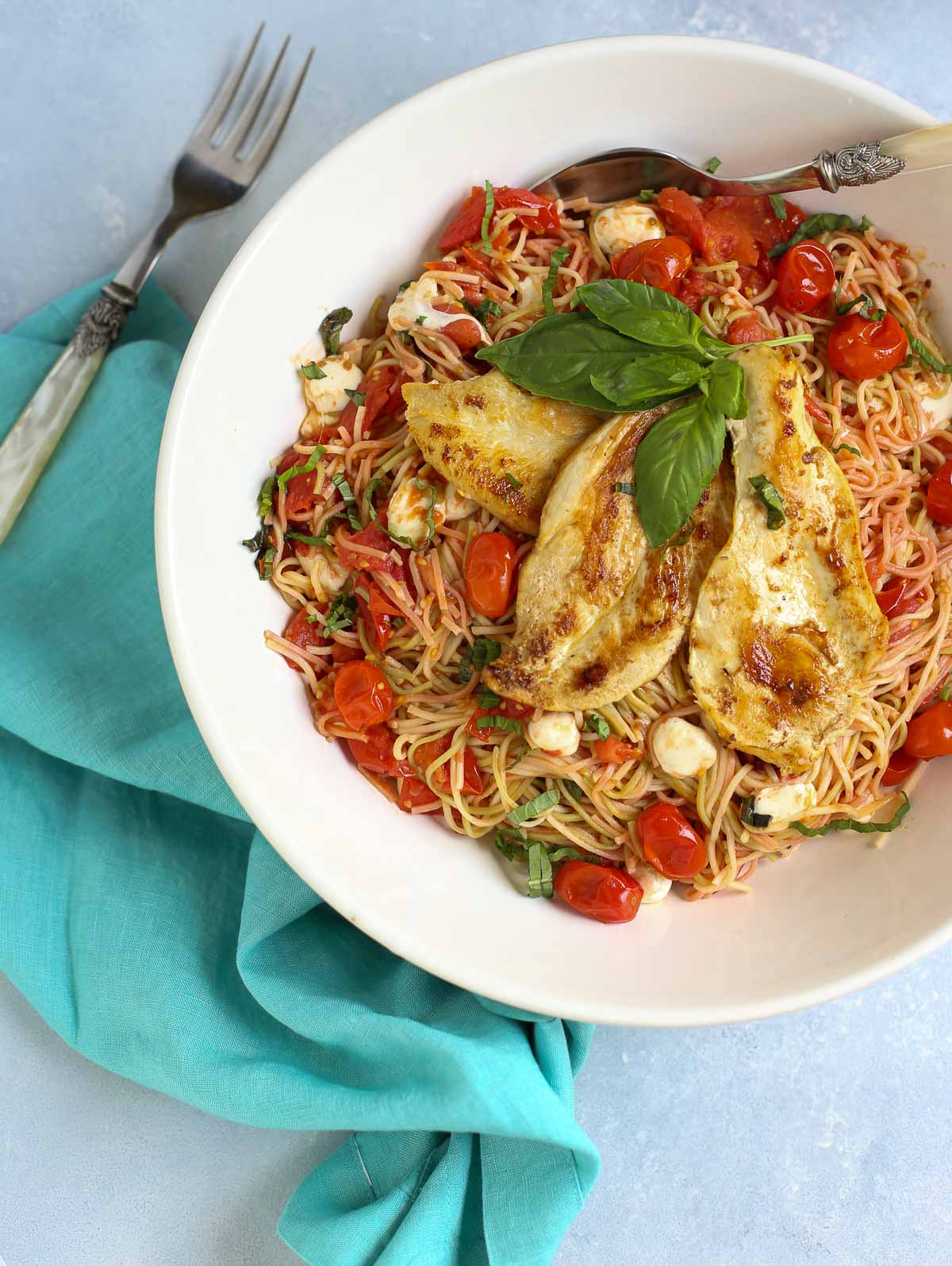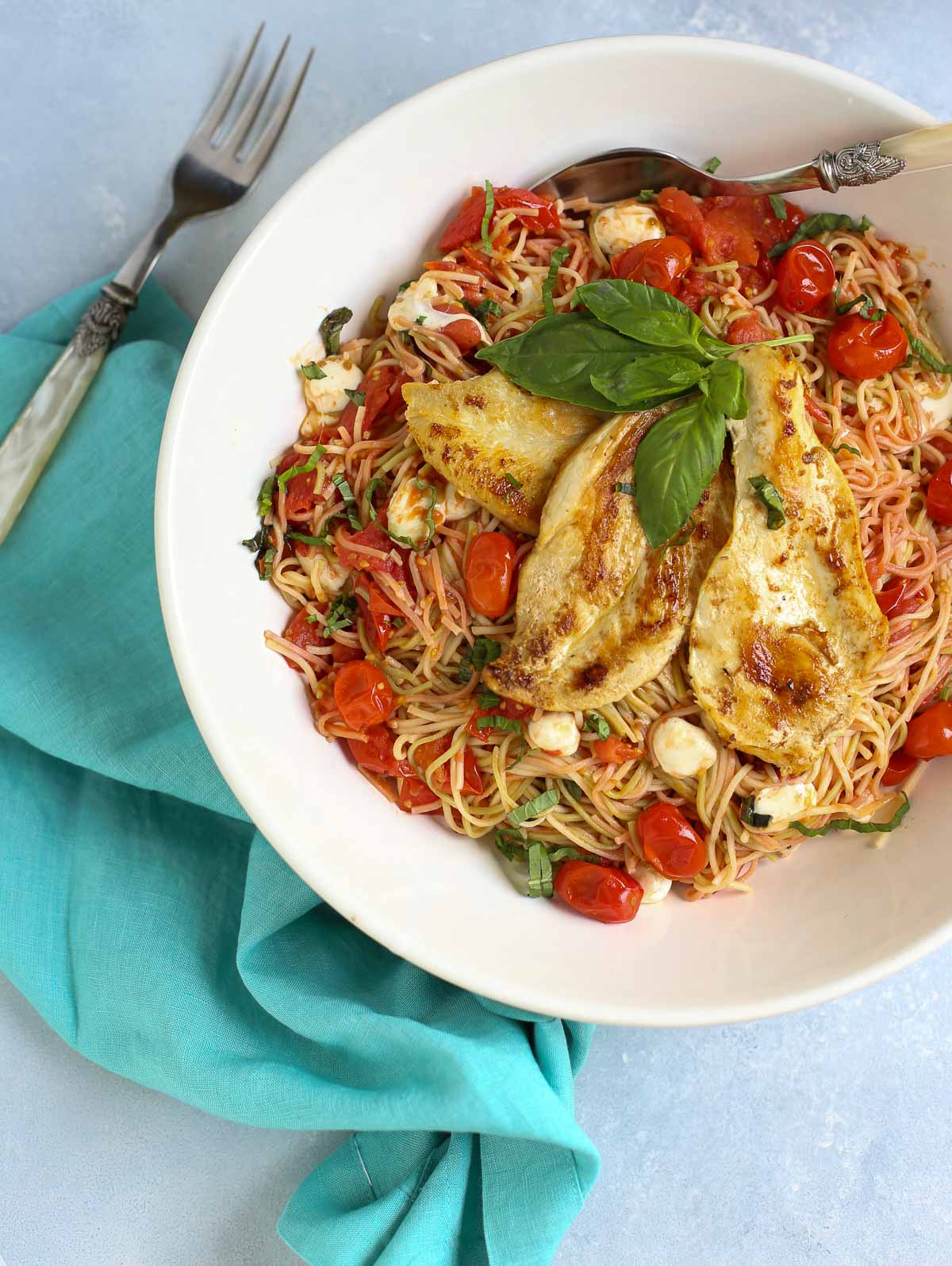 Why is that?  The pureness of the ingredients?  The clean taste of fresh tomatoes, fresh mozzarella and fresh basil are hard to beat.  And it is beautiful to look at…never overdressed.  And rarely does it disappoint.  Just thinking about this makes me want to eat a large, thin, crispy one right now.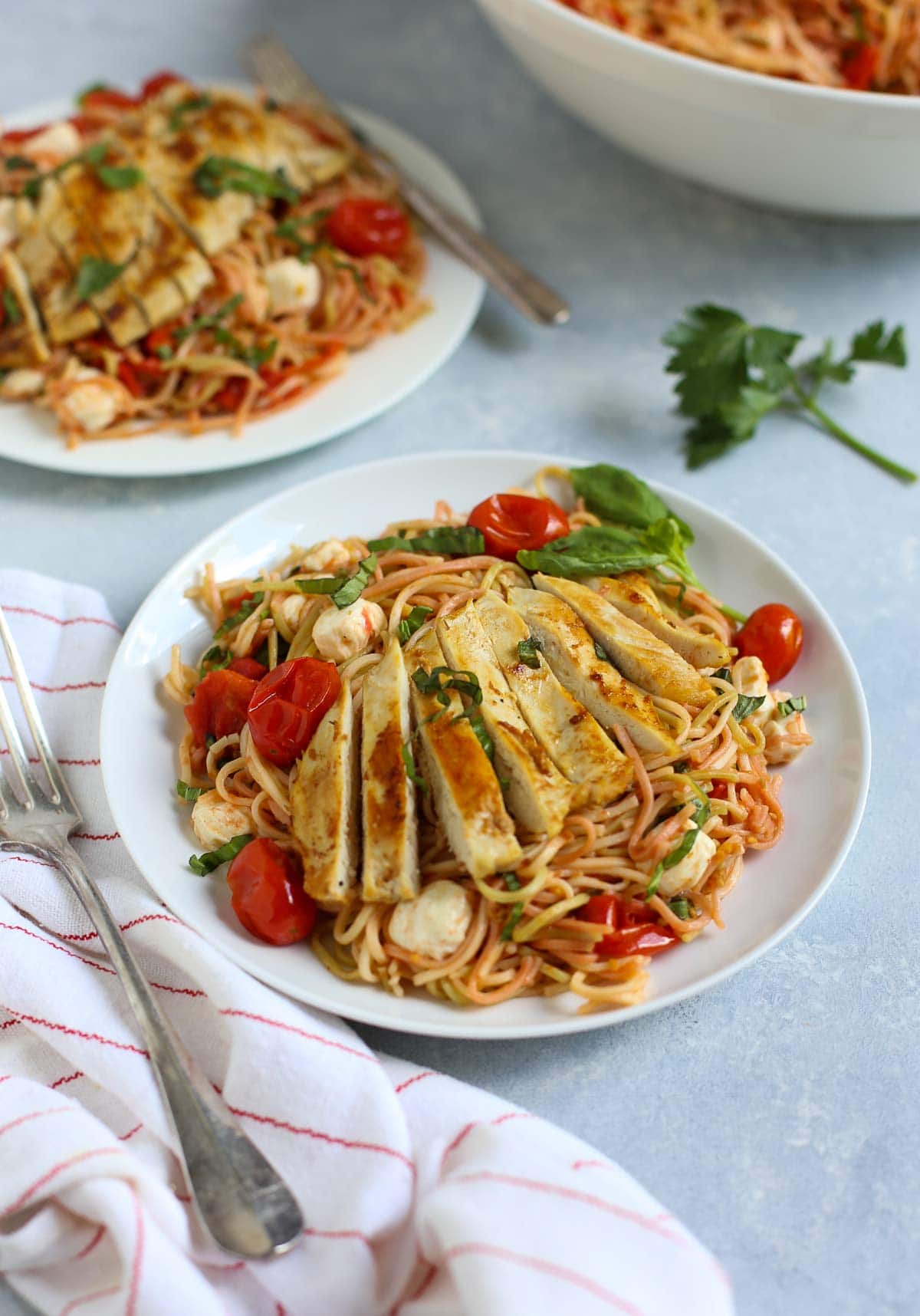 So why not a Margherita Pasta?  They are practically sisters.  And we'll add some pan sautéed chicken for the main entrée tonight.  Doesn't that sound wonderful?  Pasta and Pizza, all in one dish!  Clean, fresh, and perfect for a Spring or Summer dinner.  Margherita Pasta with Chicken….yum!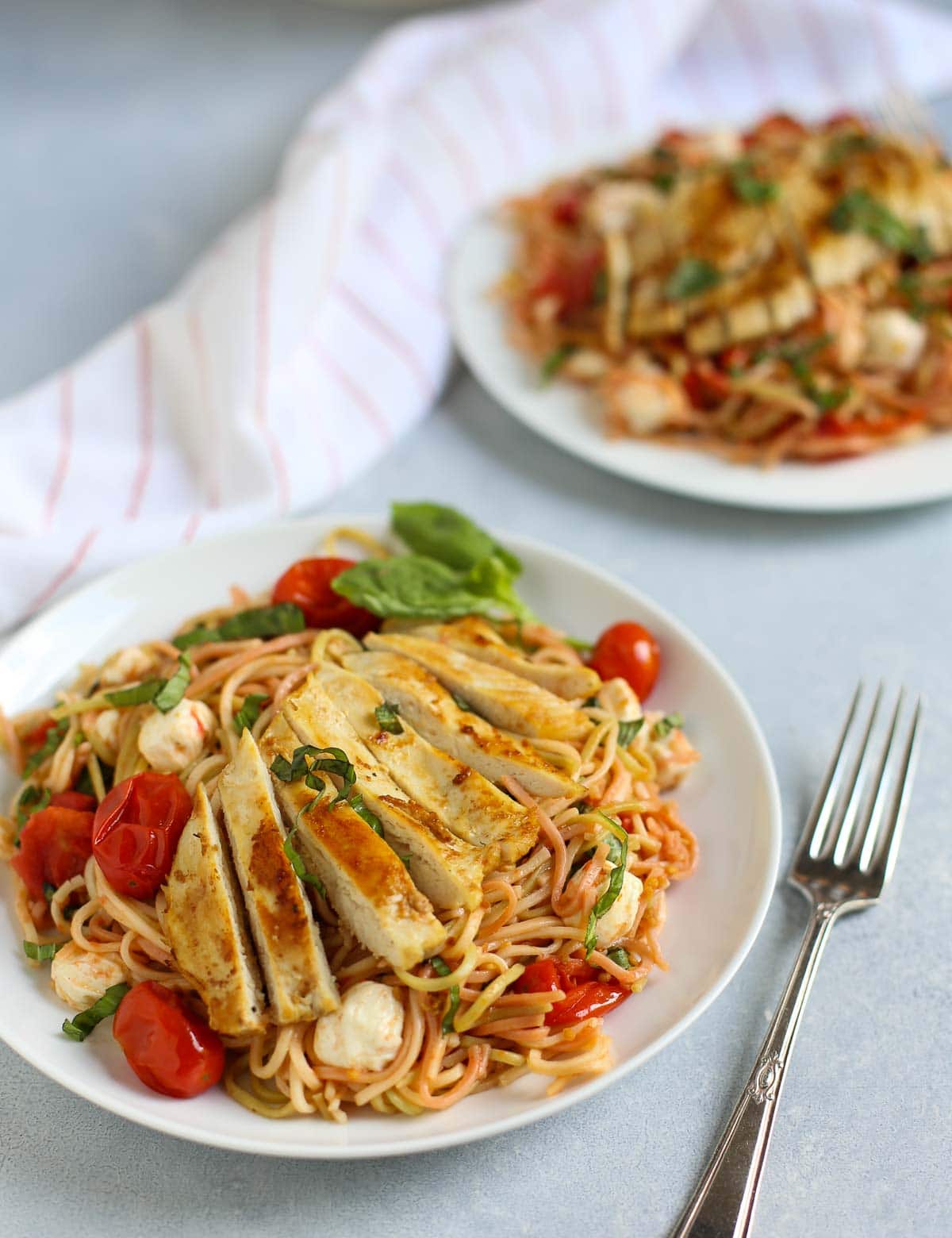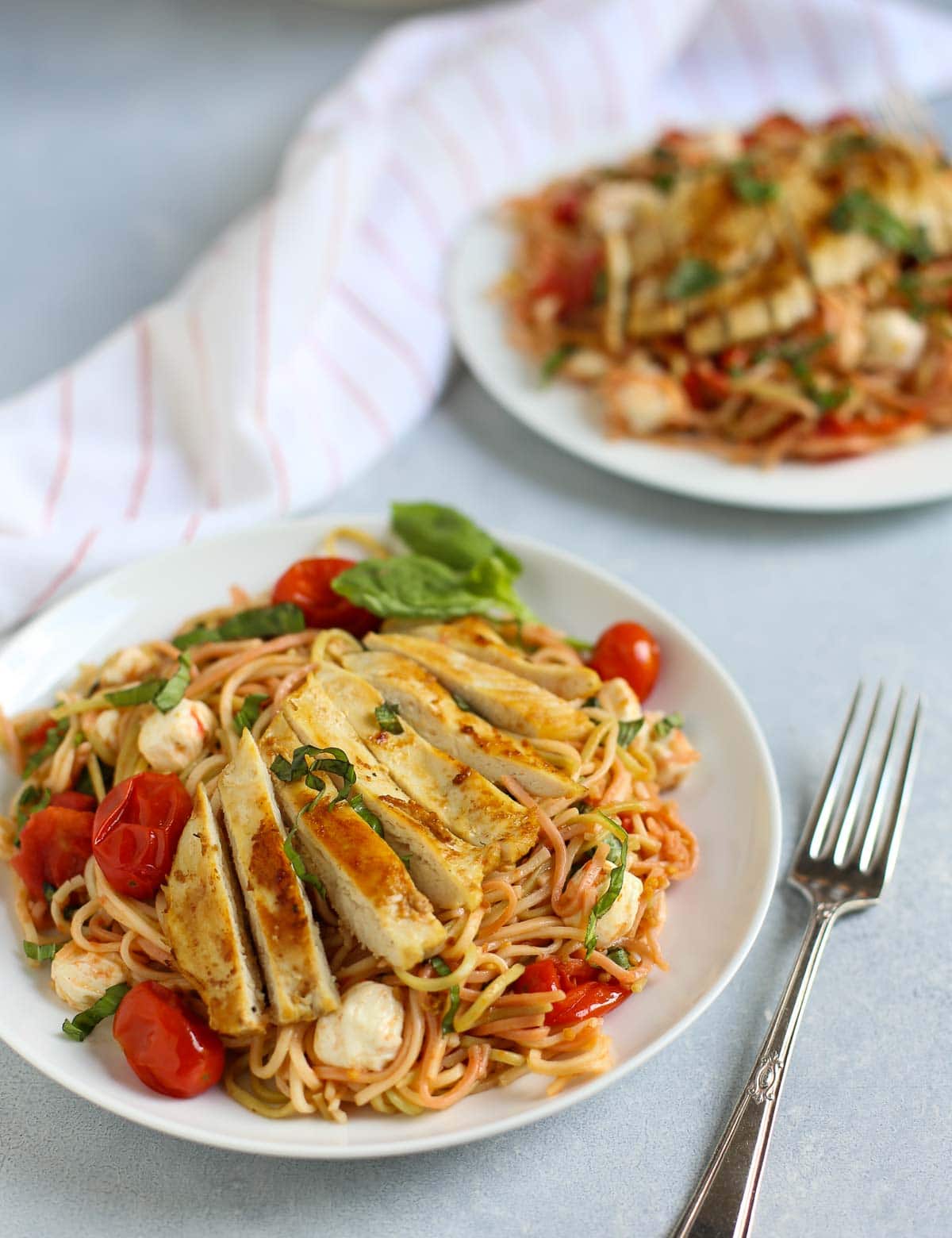 Legend has it that the Margherita pizza was created by a Napoleon baker, Raffaele Esposito, in 1889 to honor the Italian Queen Margherita de Savoia.  Note that the colors are representative of the Italian flag.  There is of course much controversy about the origins of the infamous pizza, and if you are interested, read this investigative article by Zachary Nowak…it's fun.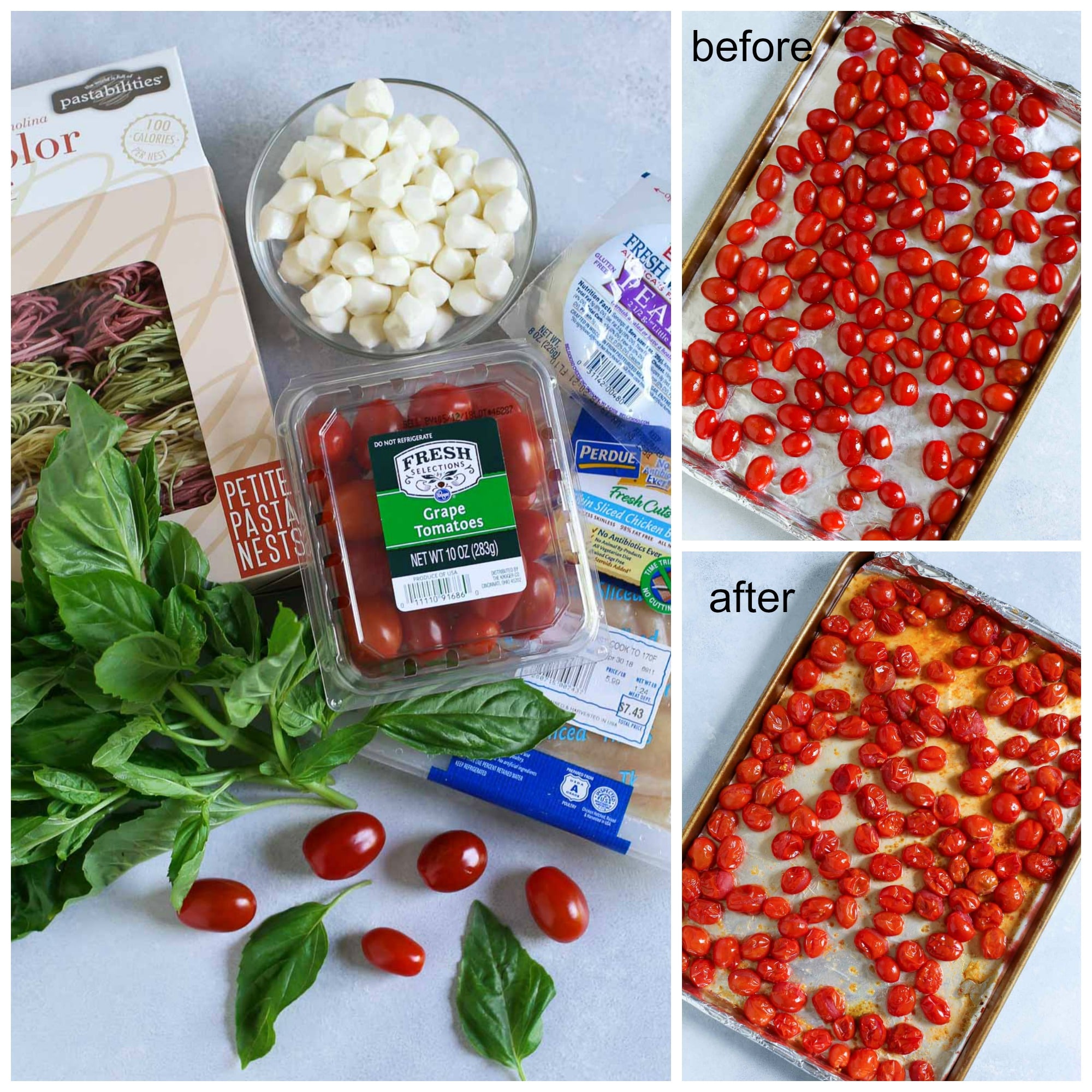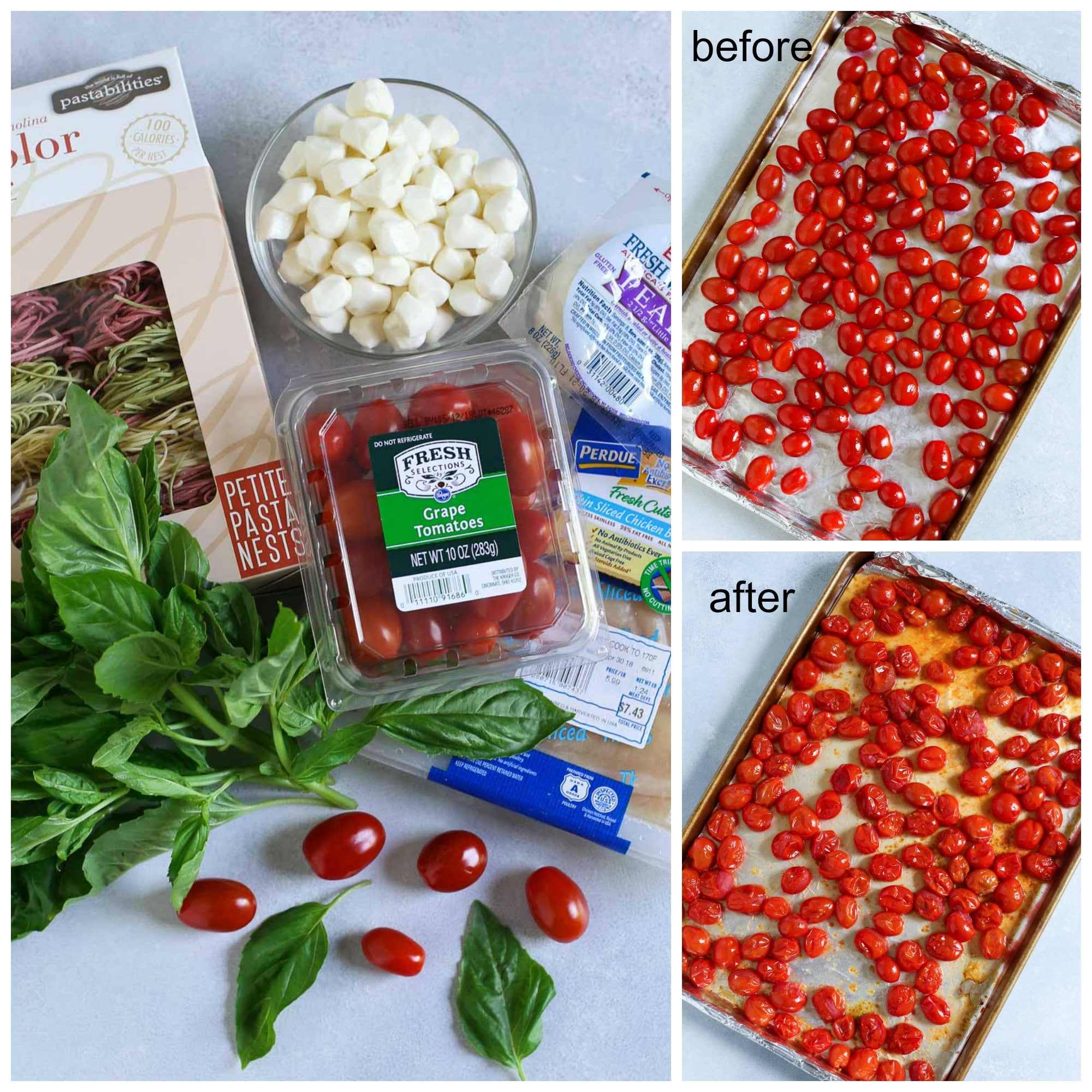 So to keep with the pureness of this dish, we are going to make our tomato sauce with fresh grape tomatoes.  I decided to roast them first, just for a few minutes, to bring out their maximum sweetness, before putting them in a pan to crush them into a luxurious sauce. You want to save a few tomatoes whole too – to add little bursts of flavor to the dish.
And my latest favorite discovery…Mozzarella Pearls!  Yes Ladies – pearls!  It's tempting to eat them right out of the package! I love these bite size mozzarella bursts as an easy option for so many recipes and salads…you just separate the little pearls and use them as you wish!  (I don't recommend trying to string them for a pearl necklace….:))
And when considering which pasta to use, I opted for our Tri-Color Angel Hair Pasta Nests.  Might as well go all the way with the tri-color theme.  This would be wonderful though with our Spinach Basil Garlic Angel Hair or even just the Classic Original.  And if you have a box of spaghetti, linguine, or even fettuccine in the pantry, any long pasta will work fine!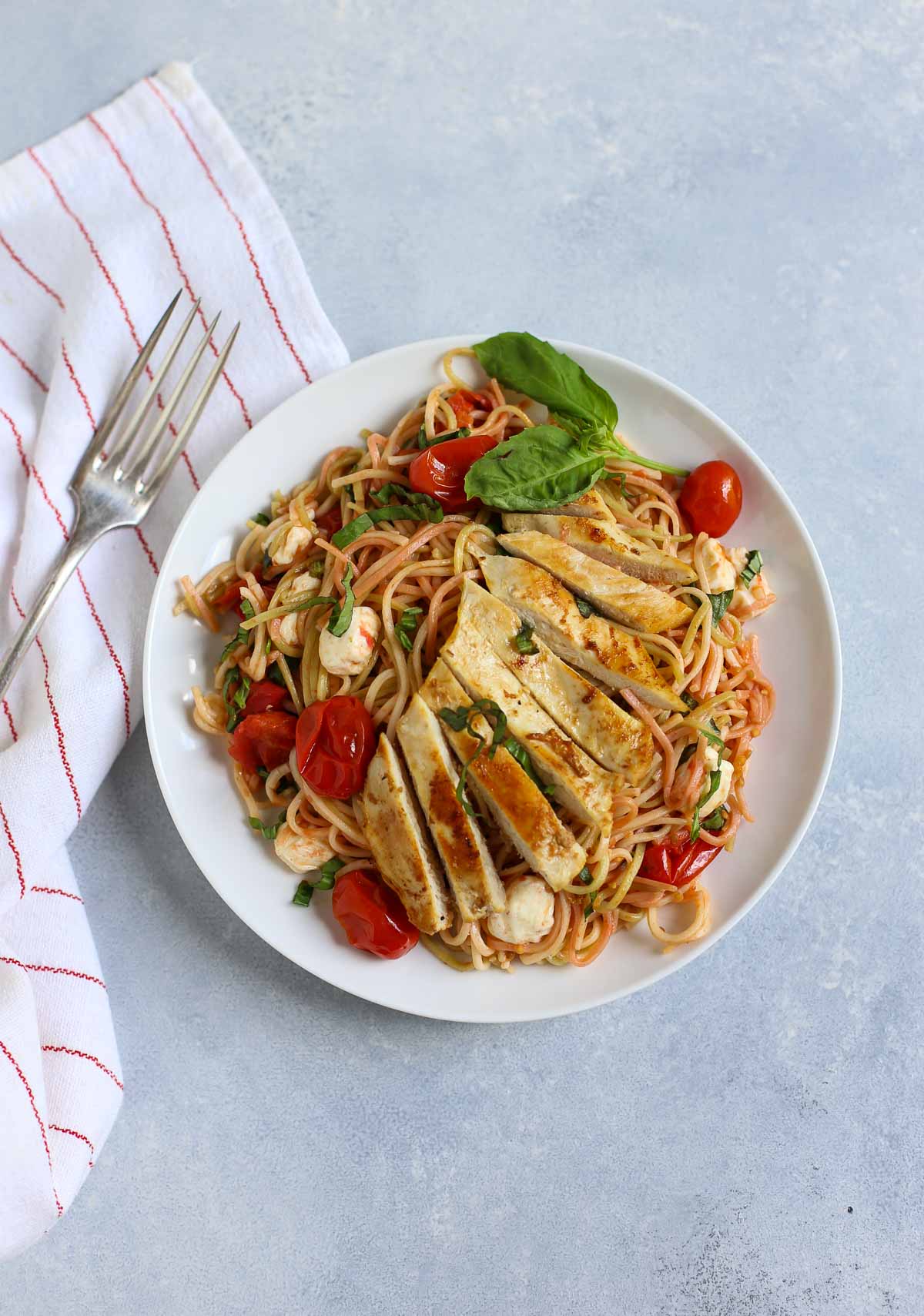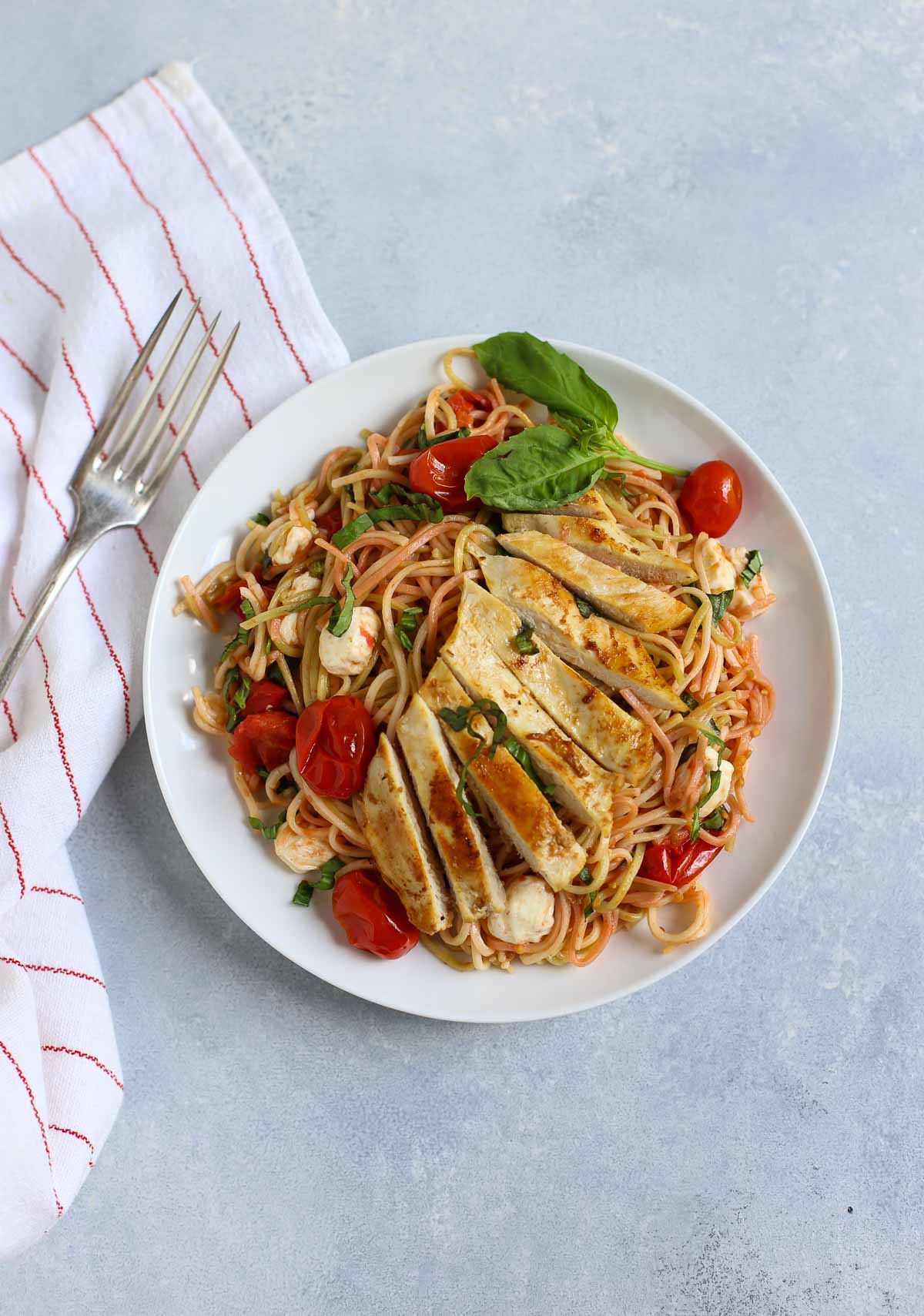 With all the rain we've had here in Nashville recently, I haven't even planted my basil yet! ☹  This dinner has inspired me to get on it this week.  Fresh basil isn't abundant yet, even in the stores…but I've made do with some store-bought basil.  Side Bar: Fresh basil, and all herbs, for that matter as so expensive!  It is so easy to buy few plants and just grow some yourself.  Find some old pots of planters and just start with a few.  It is a wonderful gift to yourself.  After overplanting for years, I now only grow the herbs I use most frequently…lots of basil, parsley, rosemary, and fresh mint.  The rest I purchase.
So keep it simple and enjoy this classic Margherita Pasta…and have fun these first weeks of summer!
Print
Margherita Pasta with Chicken
Your favorite pizza has gone PASTA!  Fresh and delicious – you'll be happy to make this again and again!
Ingredients
12–16 ounces Pastabilities® Tri-color Angel Hair Pasta (or any other long shape)
1–1/2 pounds boneless chicken breasts, I used one package of thinly sliced breasts, approximately 5 thin breasts
2 T. olive oil
8 cups grape tomatoes (approx. 4 – 10 oz containers)
½ t. red pepper flakes
¼ t. Aleppo pepper
8 ounces fresh mozzarella pearls (or more)
1 cup thinly sliced fresh basil
Salt and pepper to taste
Instructions
Cook pasta according to package directions, drain, and reserve 1/2 cup of pasta water.
In a large saute pan, heat olive oil over medium high heat. Season chicken with salt and pepper and add chicken to pan and saute for 3-4 minutes per side, until cooked thoroughly.  Transfer chicken to a plate, and slice.
To the same large saute pan, add roasted grape tomatoes.  As tomatoes are warming up, use a potato masher, and crush about half of the tomatoes, saving some tomatoes as whole.  Add red pepper flakes and Aleppo pepper and season tomatoes with salt and pepper to taste.
Add the cooked pasta to the tomato sauce and begin to toss with tongs gently.  Add the reserved pasta water to loosen up the sauce, and pasta is coated with sauce.
In a large serving bowl, place pasta, add mozzarella pearls, and fresh basil.  Toss gently until thoroughly combined.  Adjust seasonings if necessary.
For individual plates, add pasta and top with sliced chicken.  Add more fresh basil and even Parm if you desire!  Enjoy!
Join our email list for fresh pasta recipes delivered to you every week!
Your information will NEVER be shared or sold to a 3rd party.