Skillet Chicken Pasta with Asparagus & Goat Cheese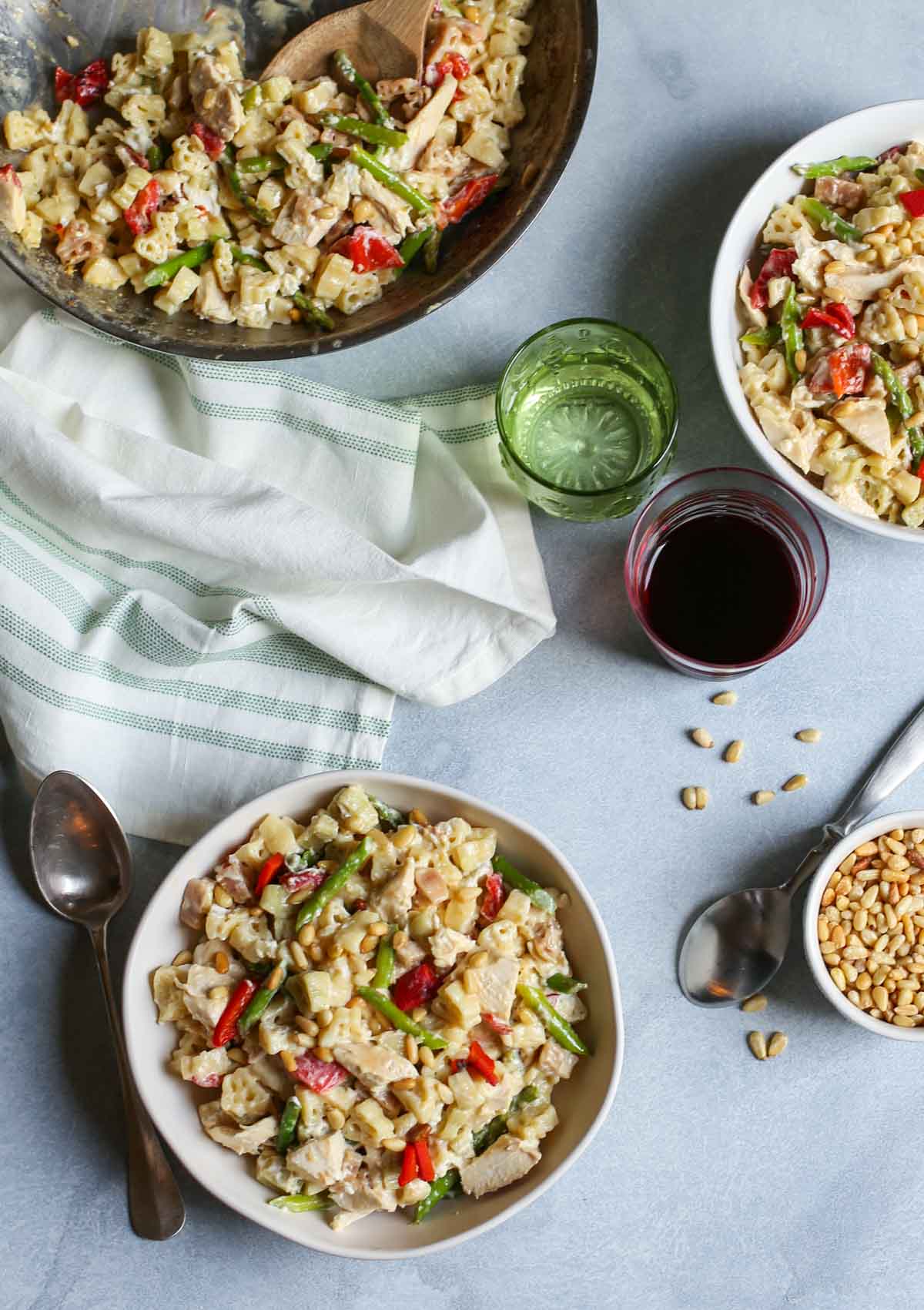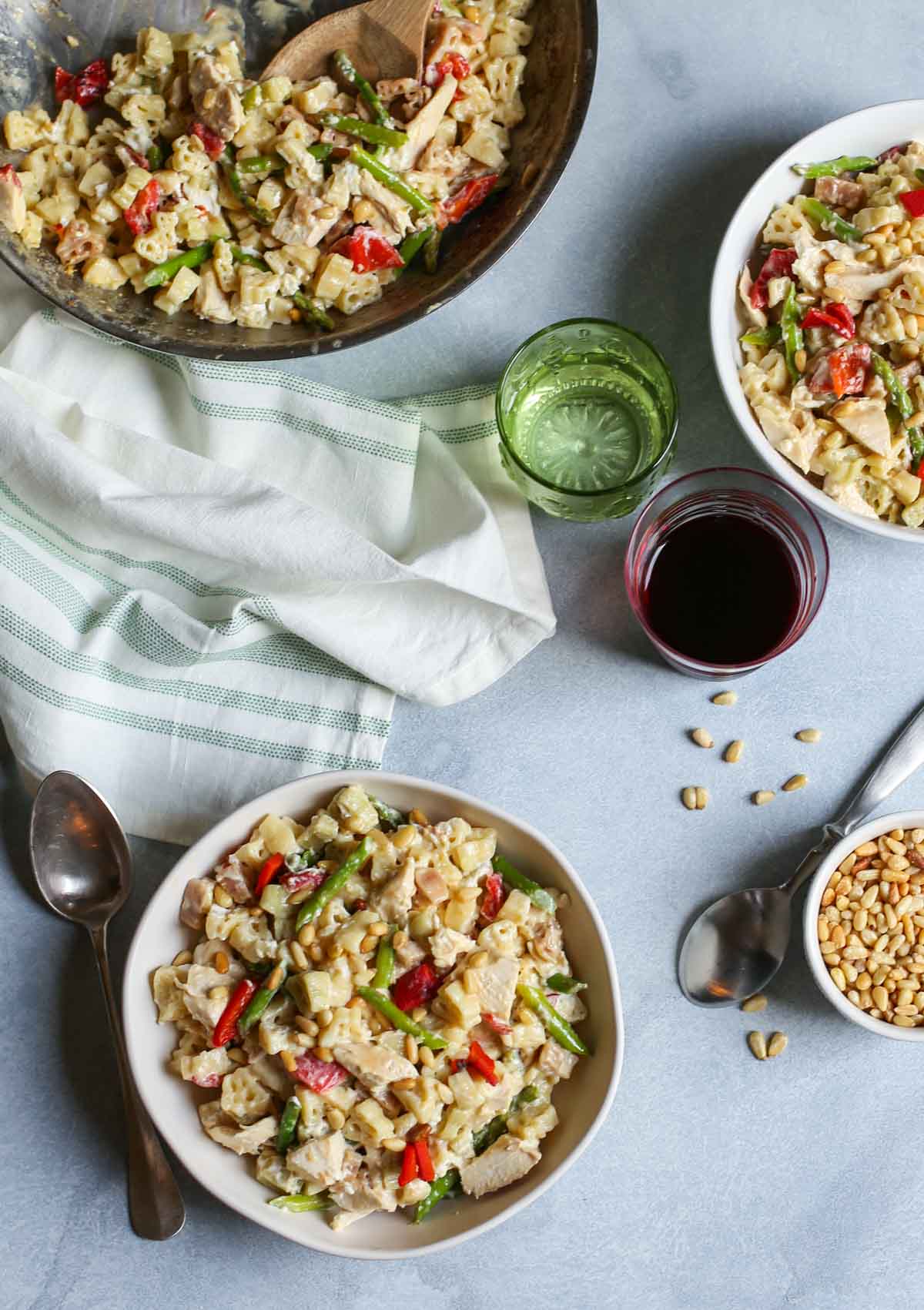 Skillet recipes and One Pot recipes are all the rage. Have you noticed? I guess all of us want something quick and easy and the fewer pots to clean the better. My husband John teases me all the time about how many pots, pans, and dishes I use to make a meal…so here is my attempt to make an "almost" one pot skillet pasta dish, Skillet Chicken Alfredo.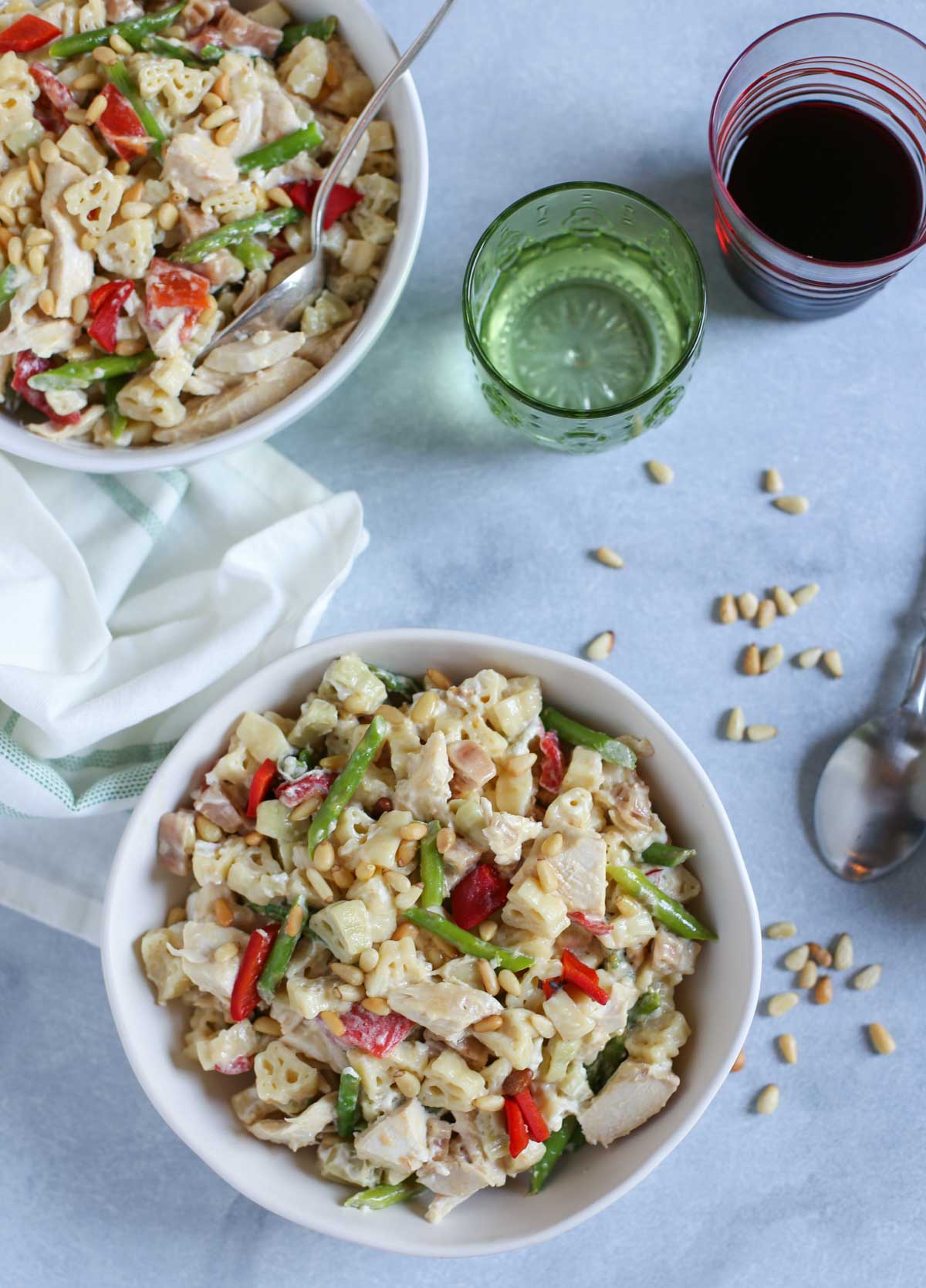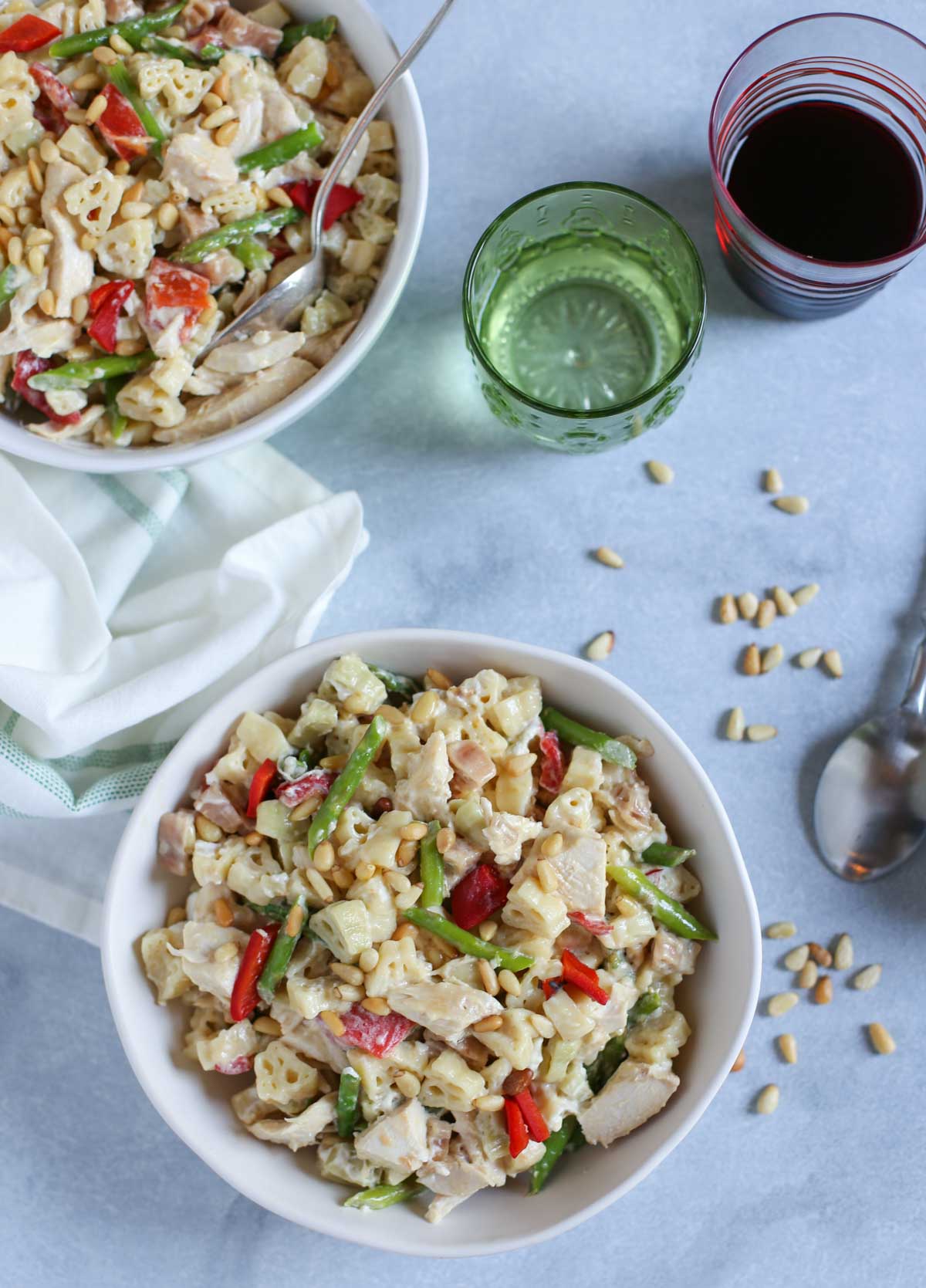 Just using the word "skillet" conjures up images of my grandmother's (Momo's) cast iron skillet and all the goodness that goes along with it. My favorite memory is her skillet cornbread and I have yet to perfect that one. And there is something very appealing about stirring all those delicious ingredients together, building flavors as you go, and serving it right out of the hot pan.
This recipe is pretty simple and a few key steps are combined to make it even easier – like throwing in the asparagus into the pasta water just a few minutes before the pasta is ready. Done. In just two pots. Adds some bright green to the finished dish and some healthy bites for the family.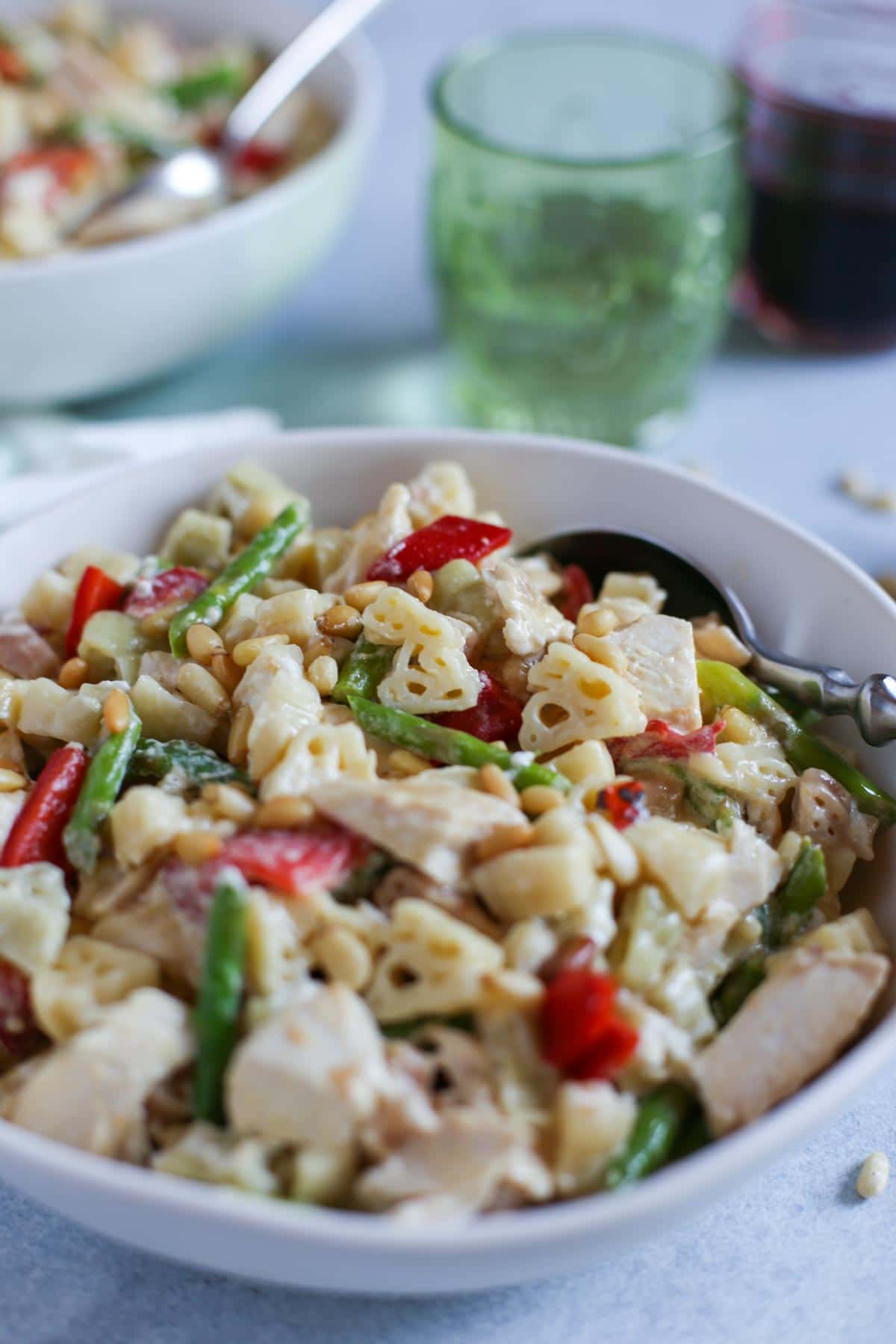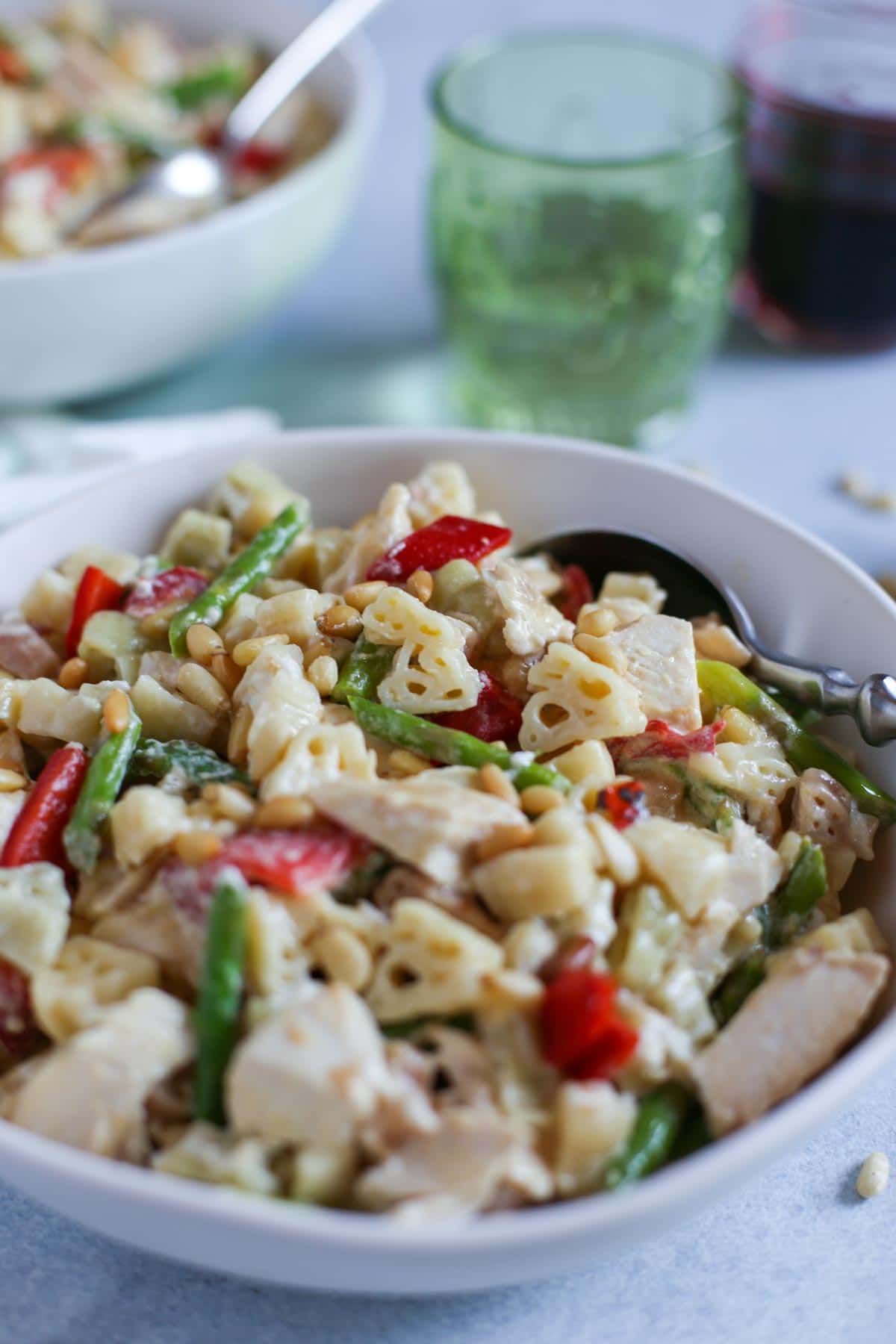 I also used rotisserie chicken and chopped it up instead of cooking chicken breasts…just another time saver. I did brown the chicken In the skillet just for looks and to give myself something to deglaze when making the alfredo. Because alfredo can be a little drab in color and presentation, I also added some chopped red pepper. You can roast these yourself but again I opted for ready to go red peppers. Actually grabbed them from the olive bar at the grocery store. This is super easy and cost efficient when you only need a little of an ingredient that isn't used very often.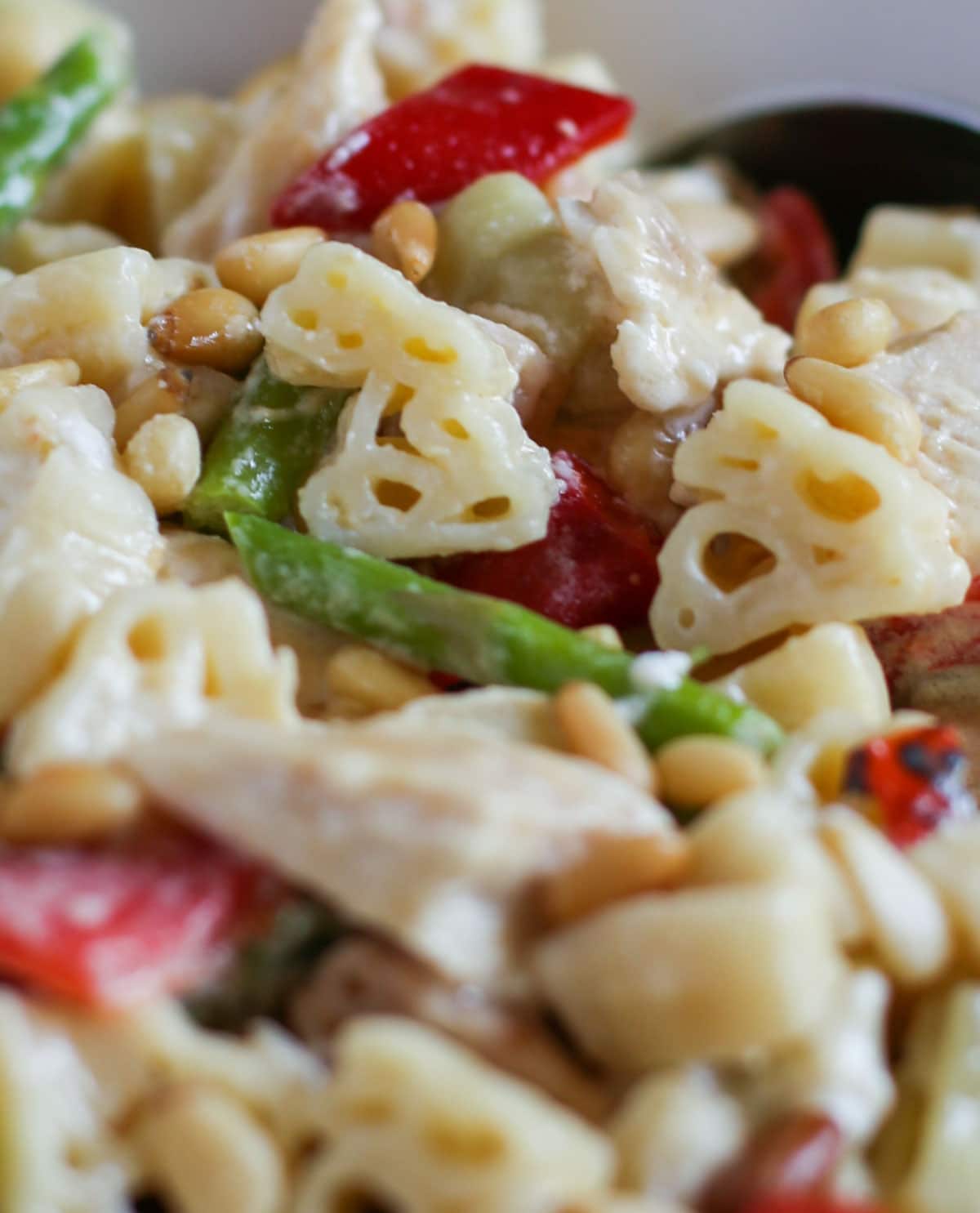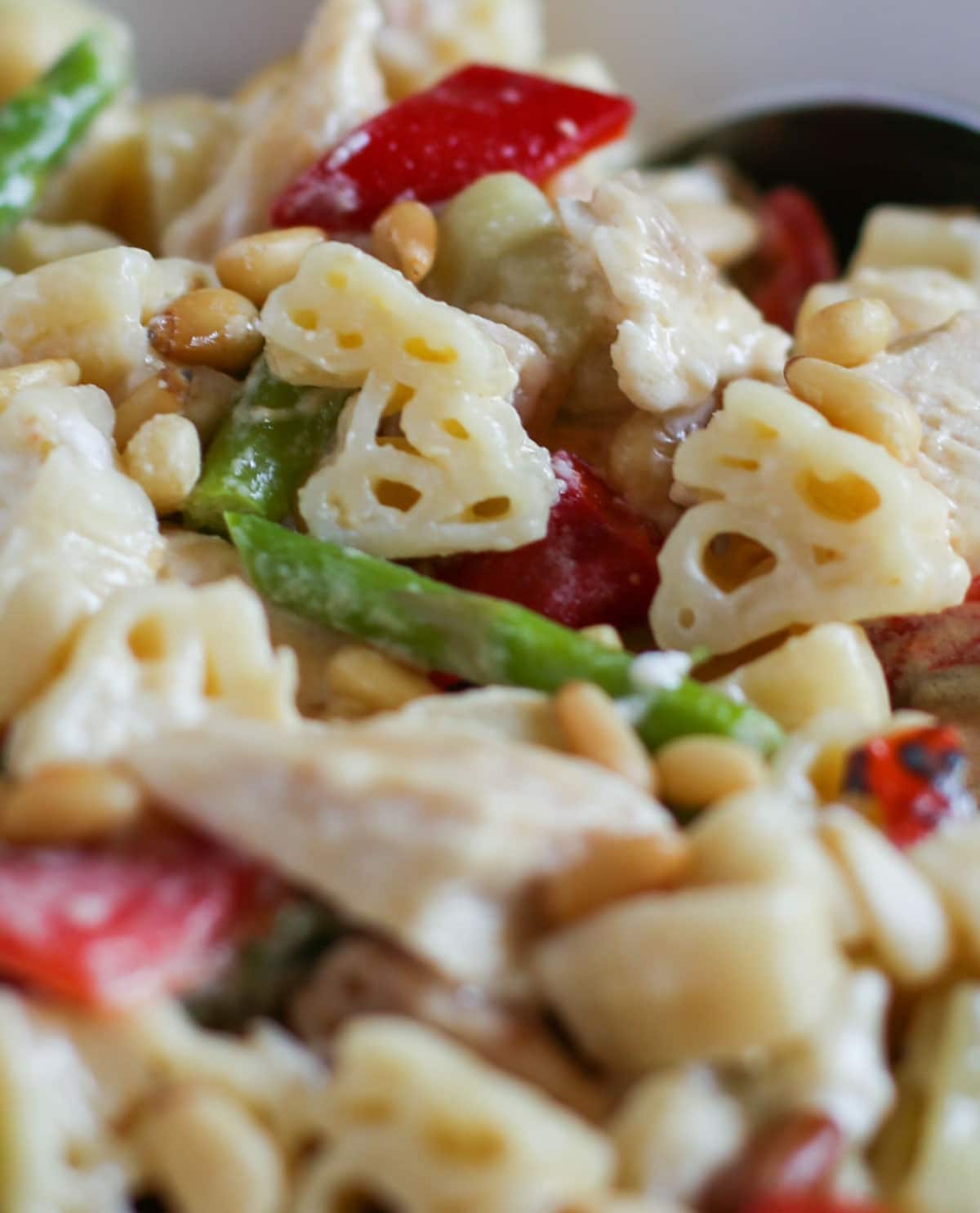 The alfredo sauce itself is not heavy with cheese and is really quite delicious. Adding goat cheese at the end is a tasty surprise for your taste buds. Skillet Chicken Alfredo is just plain ole satisfying. Your family gets a protein, some veggies, pasta, and a totally delicious meal…and you get to wear a gold medal for your first skillet event!
With Easter around the corner, I used out Bunny Hop Pasta. It is a great bite size shape that works well in these types of dishes. Feel free to substitute any short shape and also sub out other holiday shapes as well! And if this recipe sounds good to you, I think you'd also enjoy our Light Fettuccine Alfredo or this Creamy Oriental Pasta Salad.
Skillet Chicken Pasta with Asparagus & Goat Cheese
Simple more of less one pot dish…comfort food that will please the entire family!
Ingredients
14–16 ounces dry pasta (Bunny shapes or any short shape!)
1 bunch asparagus spears, trimmed and cut into 2 inch pieces on the diagonal
1 ½ lb. skinless, boneless chicken breast, seasoned with salt and pepper, or approx. 4 cups rotisserie chicken, chopped
1 T. olive oil
3 T. unsalted butter
2 T. garlic, minced
2/3 cup white wine
2 cups heavy cream
2/3 cup chicken broth
2 egg yolks
1 cup roasted red peppers, chopped, approx. 2 whole red peppers
1 cup goat cheese crumbles
1 cup pine nuts, toasted
Parmesan cheese, shredded or grated
Salt and black pepper to taste
Instructions
Cook pasta according to package directions.  In the last 2 minutes, add asparagus.  Drain, and rinse with cold water.
Sauté chicken in oil in a pan or skillet over medium heat until cooked through, approx. 8-10 minutes. Remove and slice into bite size pieces. Or sauté chopped rotisserie chicken until browned, approx. 5-6 minutes.
Add butter and garlic to pan, and swirl and cook about 1 minute, until fragrant.
Add wine and deglaze pan, until reduced by almost half.
In a bow, whisk cream, chicken broth and egg yolks.  Add to sauté pan. Add pasta and asparagus, and increase heat until you bring to a simmer, stirring often and sauce is thickened about 3-5 minutes.
Add the peppers, goat cheese crumbles, and pine nuts.  Toss gently and season with salt and pepper.
Serve and enjoy!  Pass Parmesan cheese on the side!
Join our email list for fresh pasta recipes delivered to you every week!
Your information will NEVER be shared or sold to a 3rd party.