BBQ Chicken Pasta – Comfy Food Time!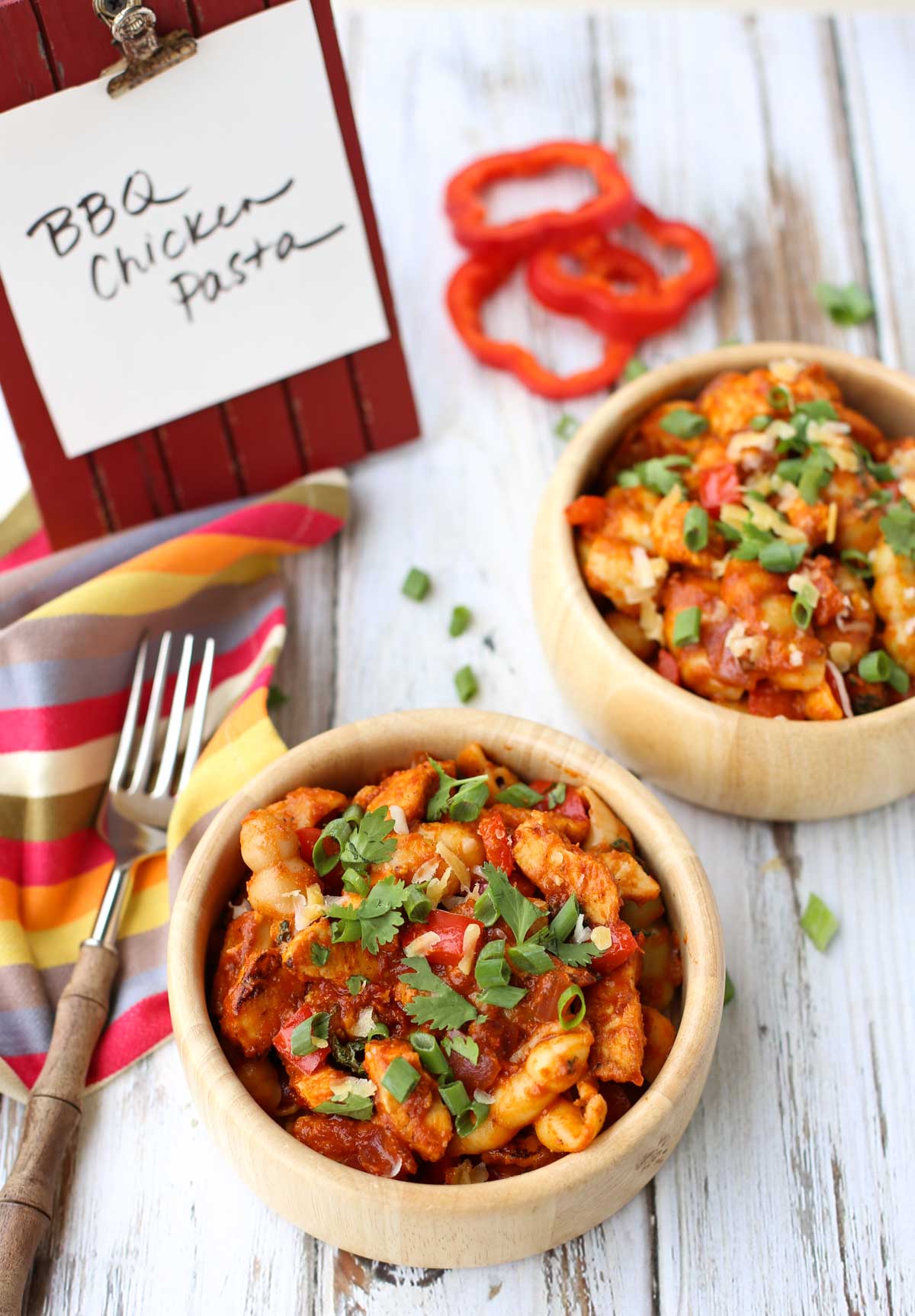 Don't be a chicken!  Chicken – hot, fried, grilled, skewered, cajun'd, oven baked, or BBQ'd…it's virtually a national pastime.  Here in Music City, you see "hot chicken" on almost every menu, at every price point, from appetizers to the main dish.  Even Anthony Bourdain got into the craze, highlighting a Nashville institution, Bolton's, on his recent visit.  And Bolton's is just one of multiple "hot" chicken spots to check out when you are exploring Nashville.  But with BBQ chicken, you not only get hot, but get the best of "hot" and "sweet".  And with this BBQ Chicken Pasta recipe, believe me, there's nothing to be chicken about!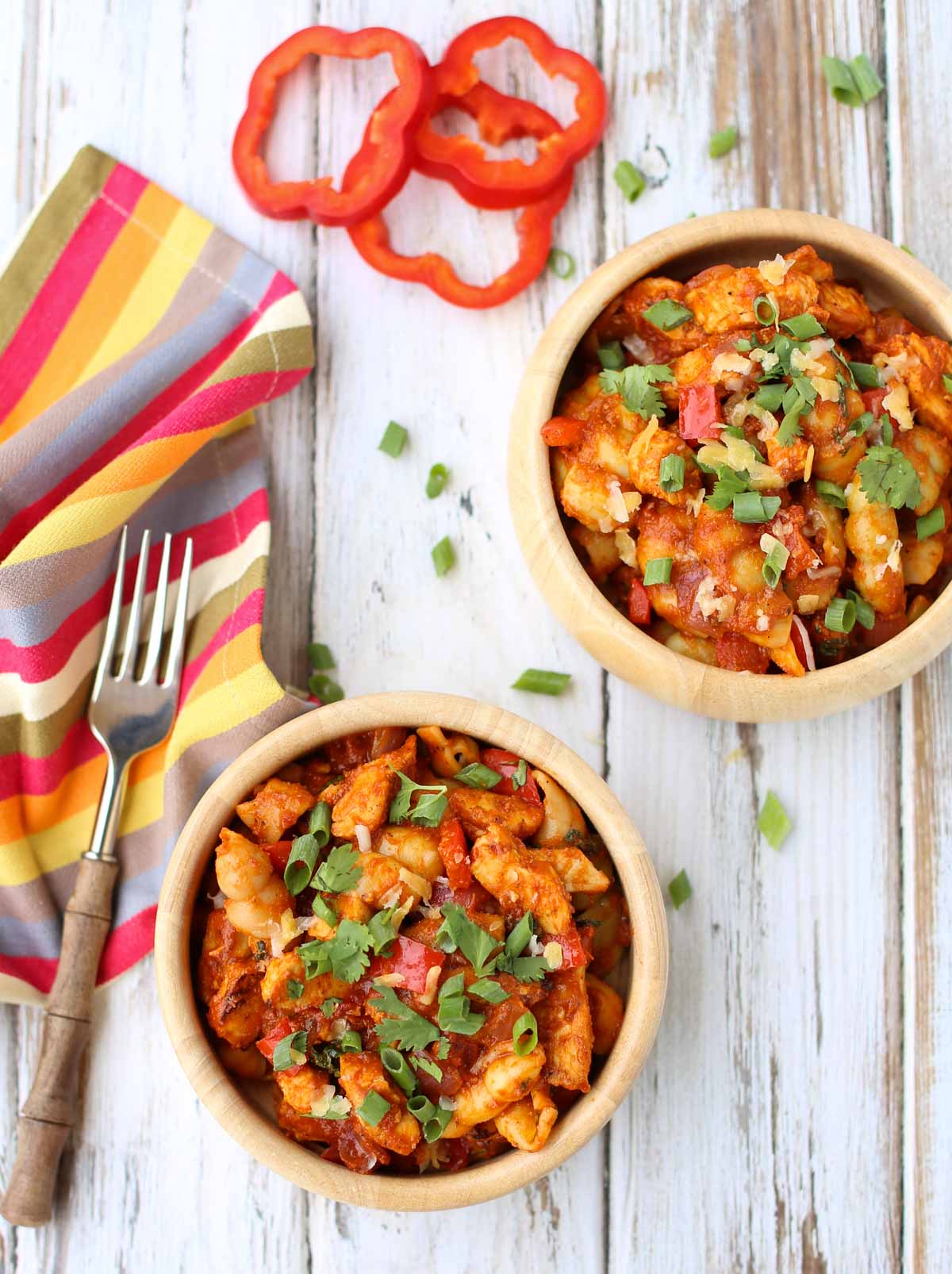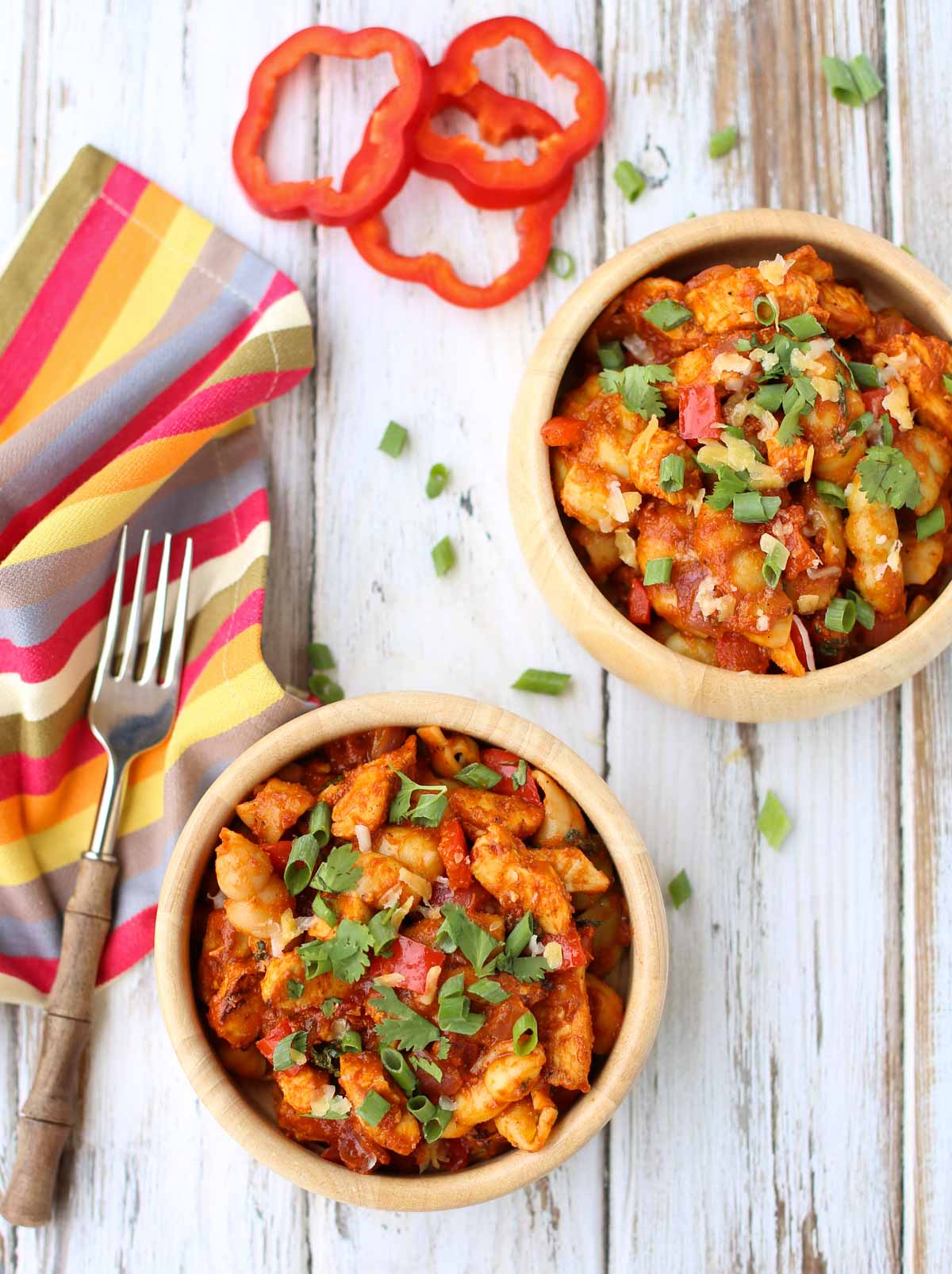 Chicken is affordable and always readily available at stores.  It comes whole, in parts, injected, seasoned, frozen, frozen grilled in strips, etc.  There are so many options now, it will make your head spin.  I've mentioned before my latest favorite is the organic chicken I buy in bulk at Costco.  The flavor is delicious and its moistness is hard to beat.  But in a pinch, I do like to incorporate frozen grilled chicken strips or rotisserie chicken.  How did we function before these cooking conveniences?
So today I want to keep it simple.  BBQ!  BBQ Chicken is what you usually think of during the summertime, but I'd like to reintroduce it as a fall tailgating and comfort foody weekend dish.  This beauty of this is that it is simple, hearty, and quick to prepare.  I served this to the kids and my nieces on a casual Friday night and they just loved it.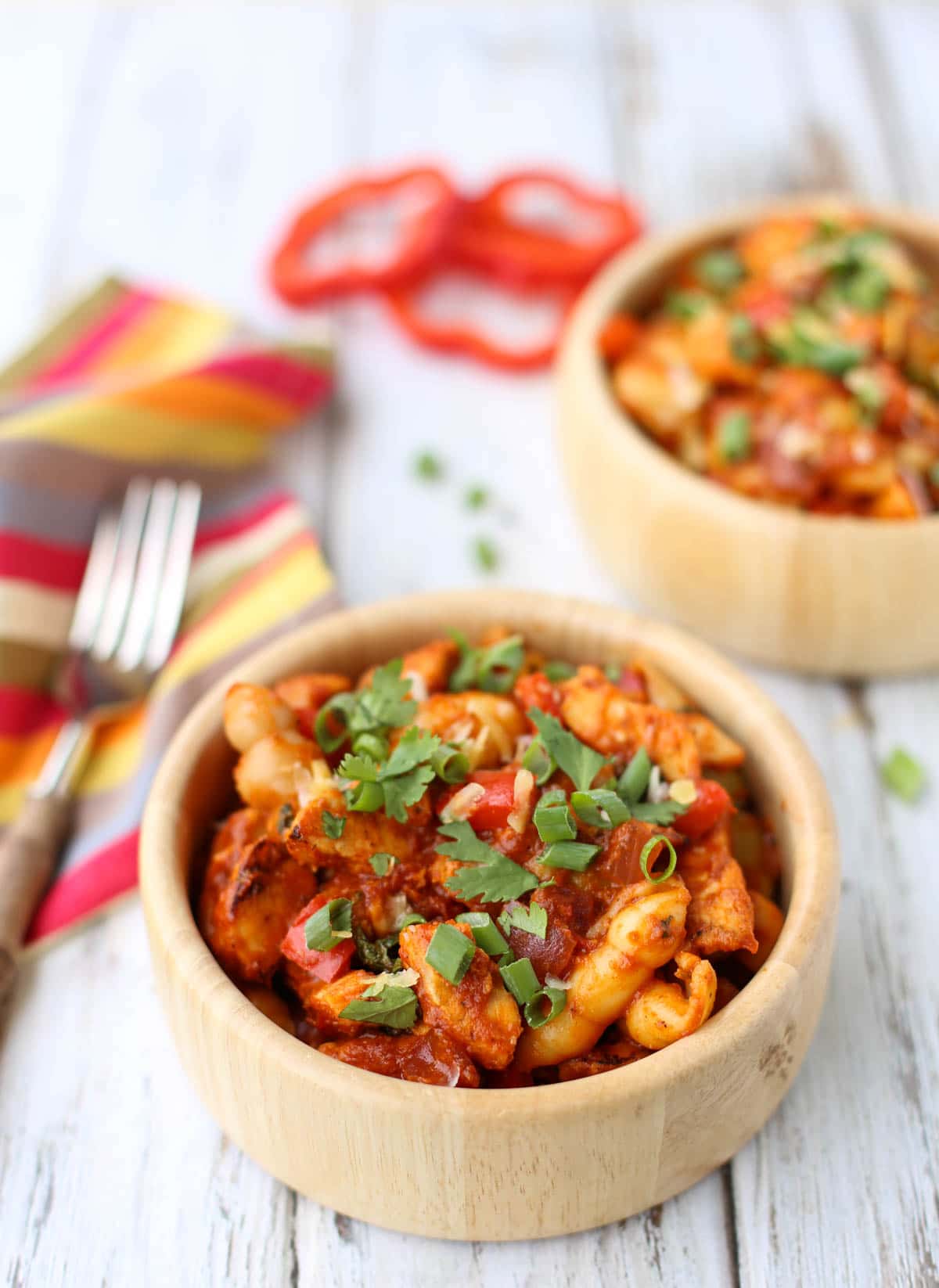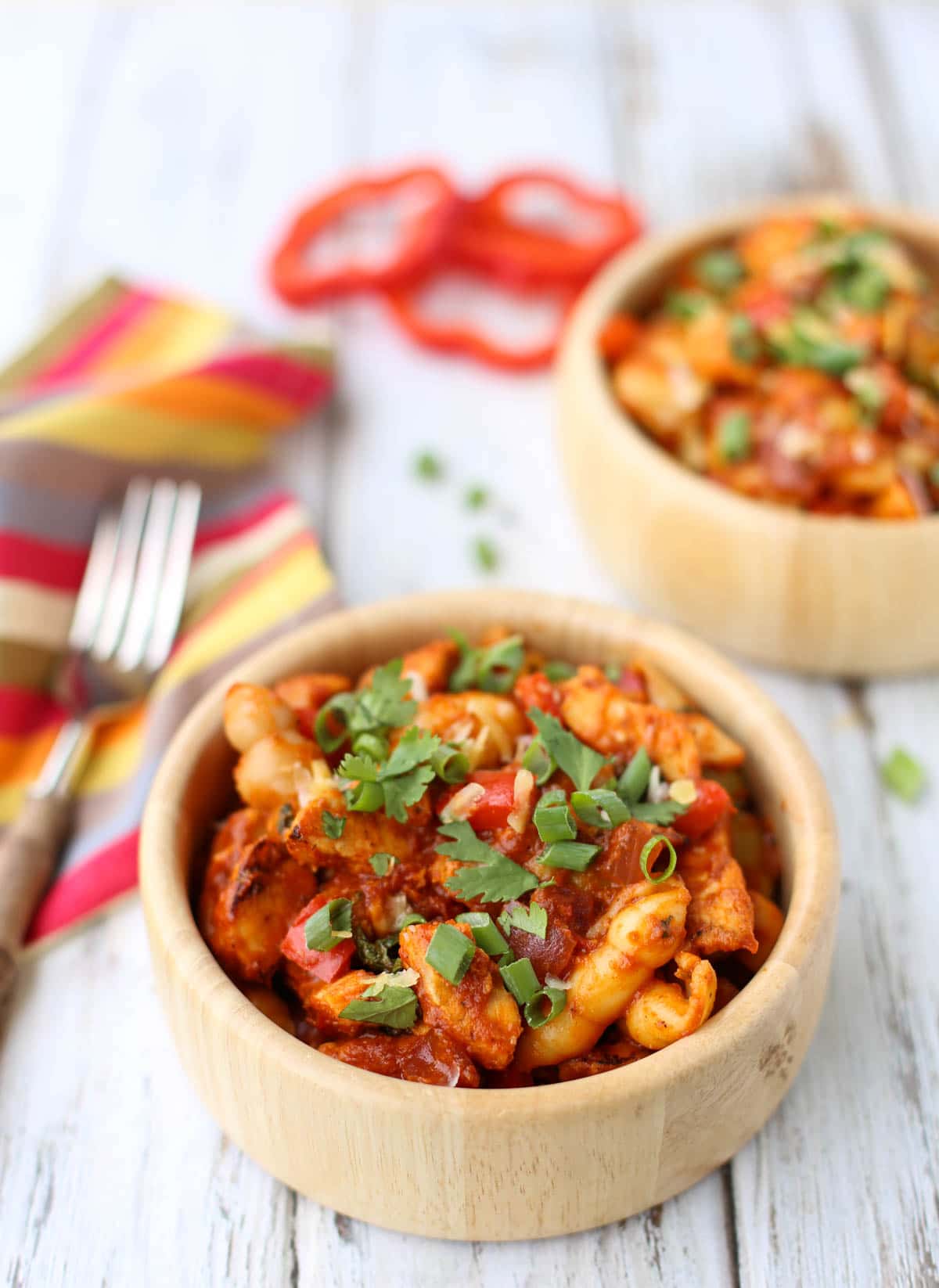 Because it calls for a bottled BBQ sauce, this dish can head in many different directions.  Whatever your favorite BBQ sauce may be, pull it out!  You like it on the sweet side?  Sassy side?  More heat?  Go for it.  When added to the marinara sauce the BBQ sauce flavor becomes tempered and a new pasta sauce category is born…it's "lick your fingers" good.  This recipe reminds me of another casual weekend favorite, our Bacon Cheeseburger Pasta.  Try it too!
Now, the toppings play an important role here.  Shredded Gouda, either smoked or regular, and provolone cheeses, chopped green onions and cilantro…yum!  Curl up on the couch, turn on the TV, and enjoy this comfy dish.  This is an easy recipe that you can pull off in a moment's notice!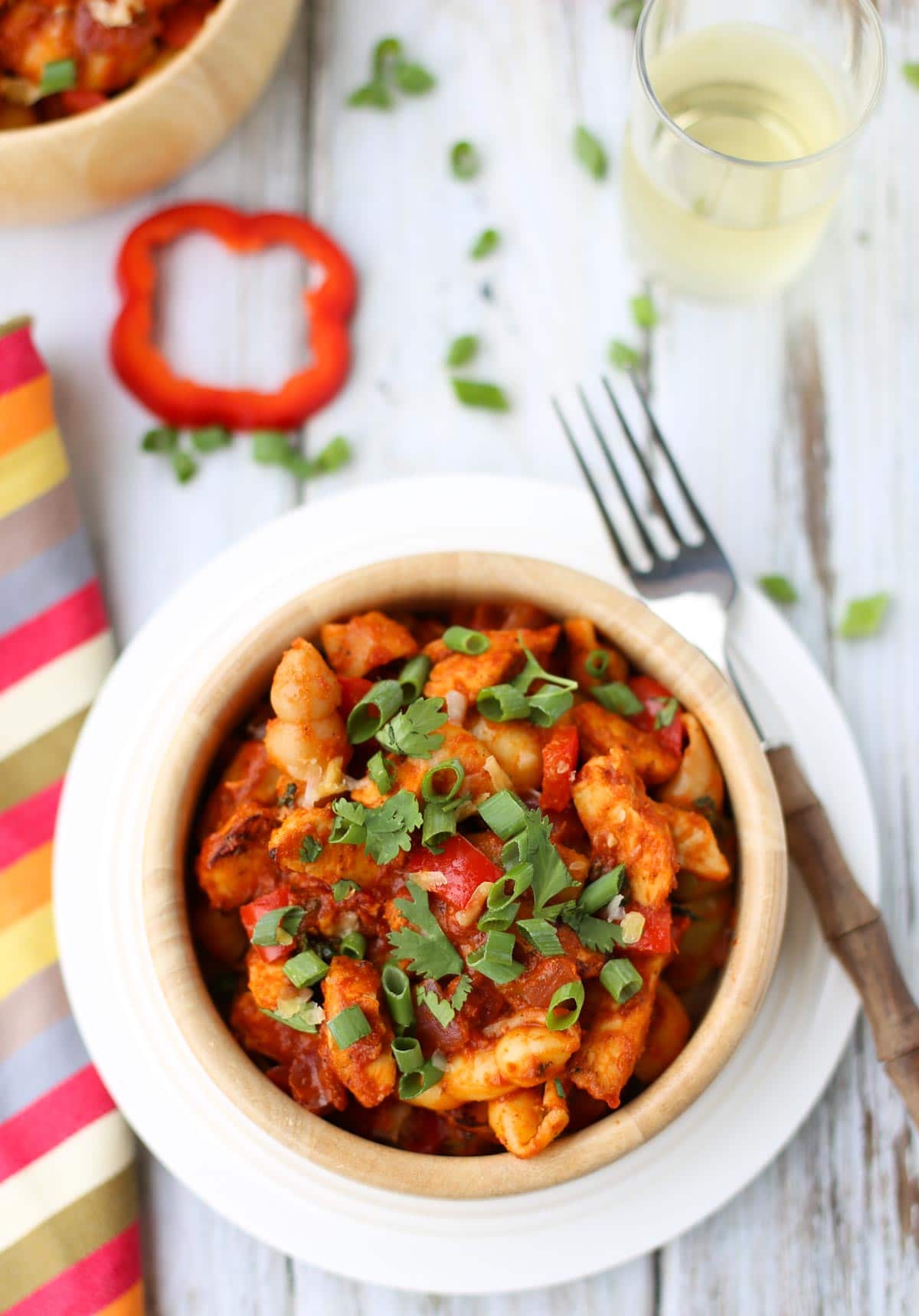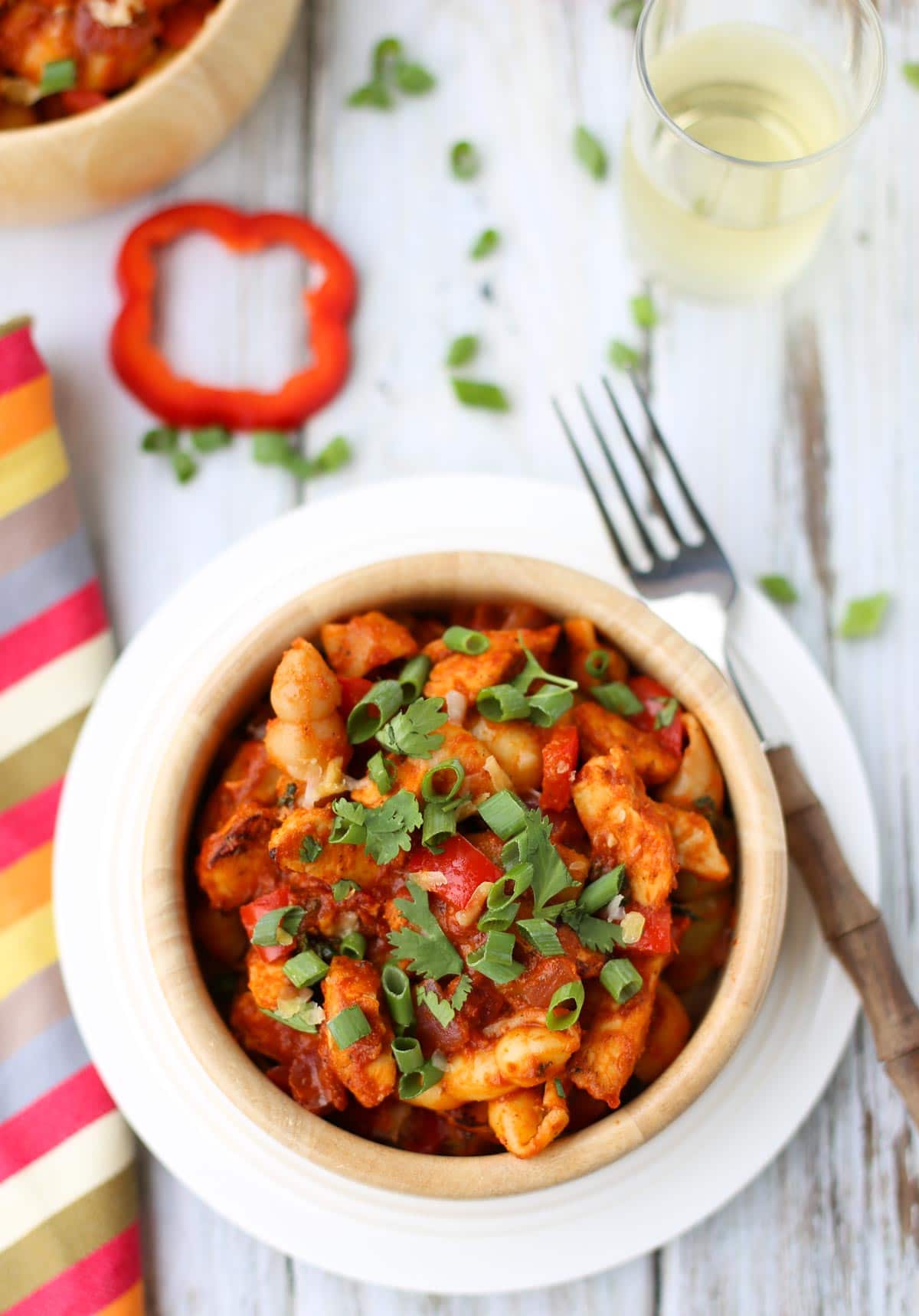 If you enjoyed this post, please consider commenting, sharing it with your friends and subscribing to my blog.  It's free!  You can also follow me and share my posts on Pinterest and Instagram: @thepastashoppe
Also, join me on Facebook!  We have a weekly Wacky Wednesday contest, where we give away a Pasta Goodie Box to a randomly chosen winner!
Print
BBQ Chicken Pasta – Comfy Food Time!
Easy comfort food dish for some casual weekend entertaining. Lots of short cuts to make this BBQ Chicken Pasta a go-to!
Ingredients
1

14-16 oz. bag of pasta

1

red pepper, sliced or chopped

1/2

red onion, diced

1

t. garlic, minced

1

T. olive or vegetable oil

1 cup

marinara sauce

1/2 cup

BBQ sauce (I used hickory smoked, but use whatever you like)
Salt, pepper, cayenne, and cumin powders to taste

3 cups

cooked, diced chicken (I used the frozen grilled chicken strips, followed the package instructions to reheat, and then diced the chicken, but you can also use rottisserie chicken)

1/2 cup

shredded Gouda cheese

1

bunch green onions, chopped and fresh chopped cilantro for topping!

1/2 cup

shredded provolone cheese
Instructions
Cook pasta according to package directions, drain, rinse, and set aside. (toss with a little olive oil so it doesn't stick together)
Saute red pepper, onion, and garlic with 1 T oil over medium heat, until veggies soften.
Add marinara and BBQ sauces to pan, and bring to a boil, then reduce to simmer.
Add seasonings to taste. Will depend on choice of BBQ sauce Start with 1/4- 1/2 t. of each seasoning, except cayenne powder, where you may want only a dash! Adjust as desired.
Add cooked chicken to sauce and combine.
Pour hot sauce over cooked pasta and toss.
Top with 1/2 the cheeses, toss again.
Serve each bowl topped with additional cheese, green onions and cilantro!
Join our email list for fresh pasta recipes delivered to you every week!
Your information will NEVER be shared or sold to a 3rd party.