Nashville-Style Cowboy Spaghetti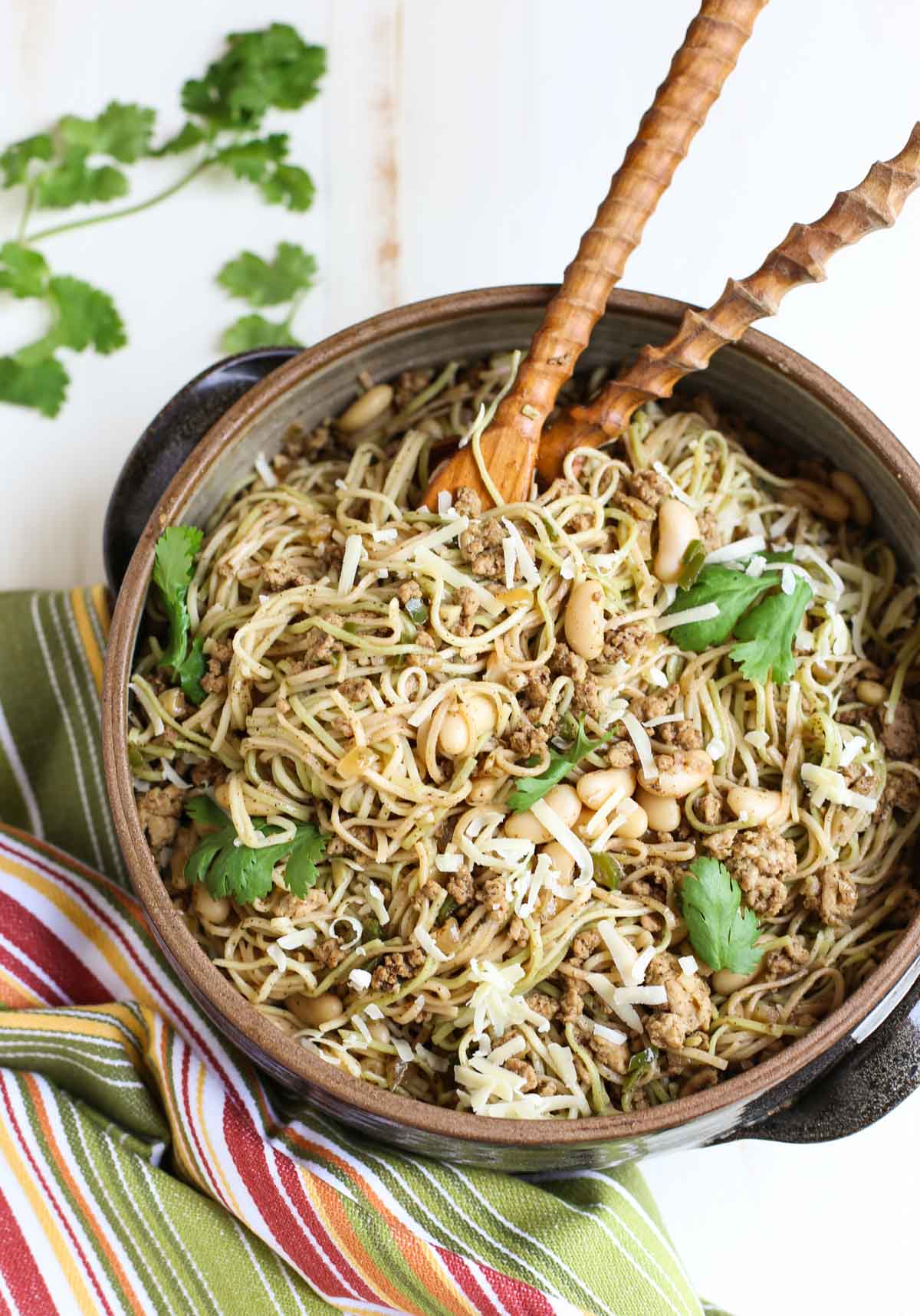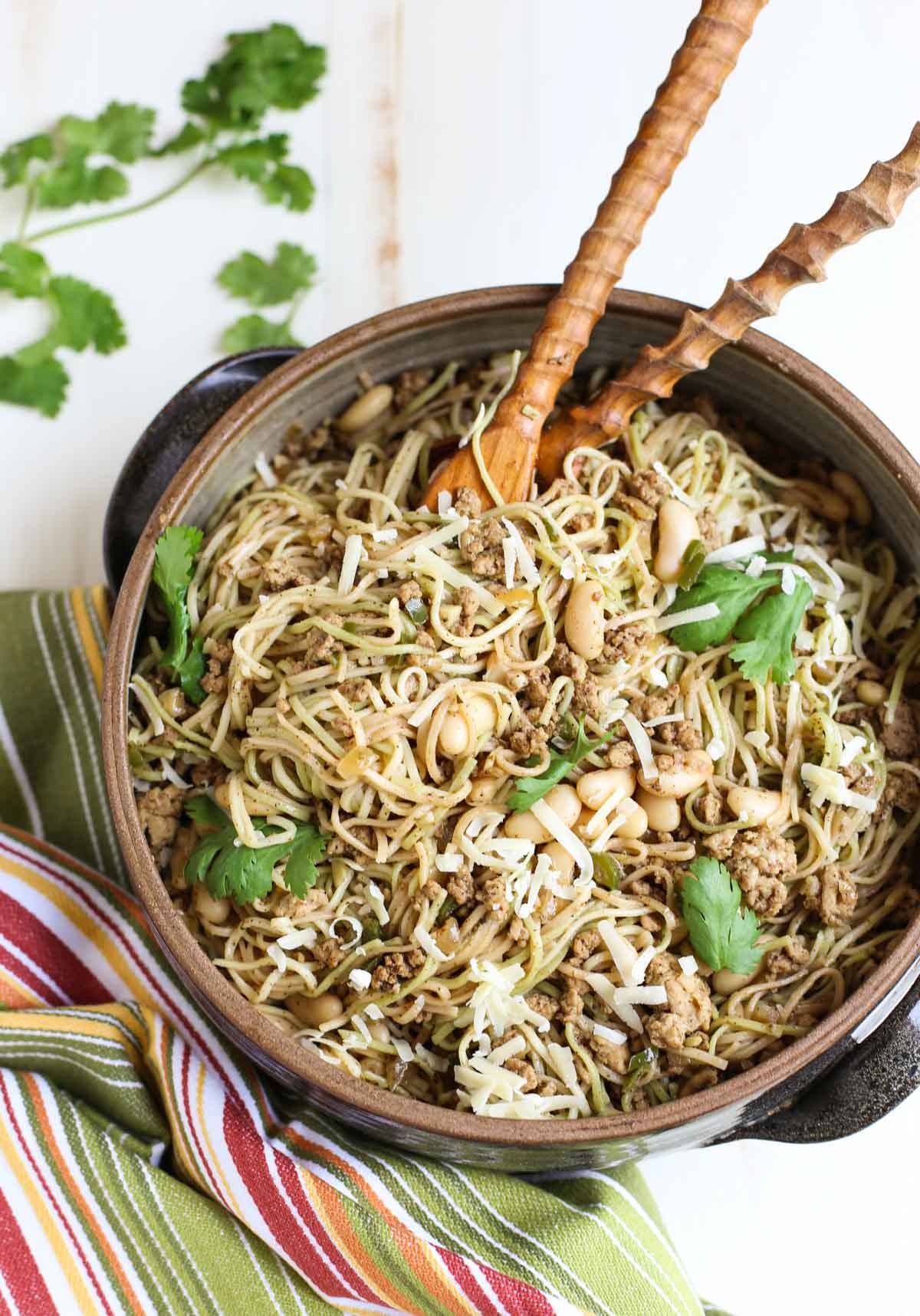 I love my hometown Nashville.  And I love cowboys.  Cowboy anything.  (Ssshhhhh, my husband is from New Jersey).  Anyone who knows me, knows I REALLY love my cowboy boots…all of them.  Some are over 20 years old.  I grew up in this small town (now, not so small) and love all things that blend our sophisticated and charming Nashville with a little splash of cowboy.  And my latest crush is this Nashville-Style Cowboy Spaghetti.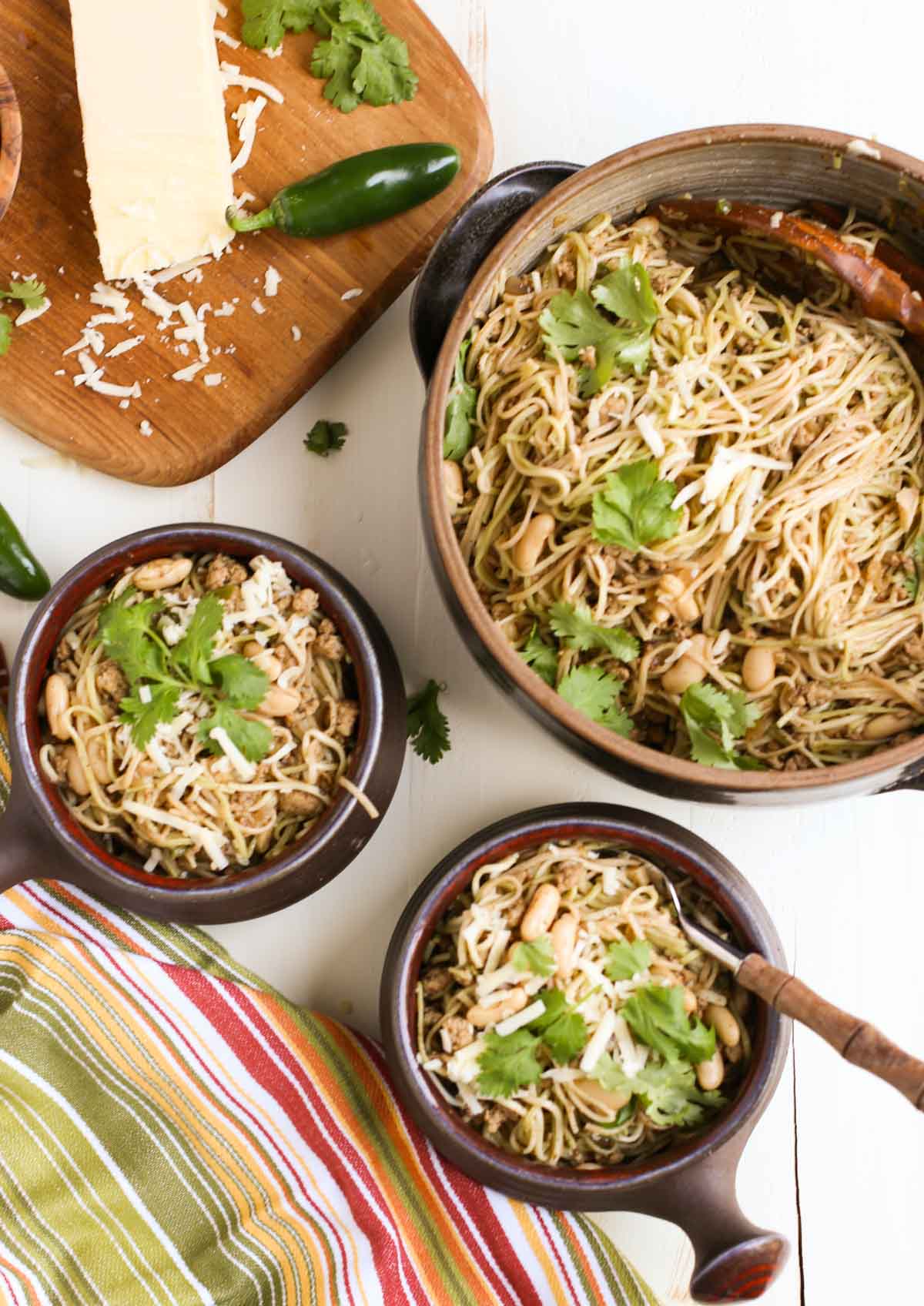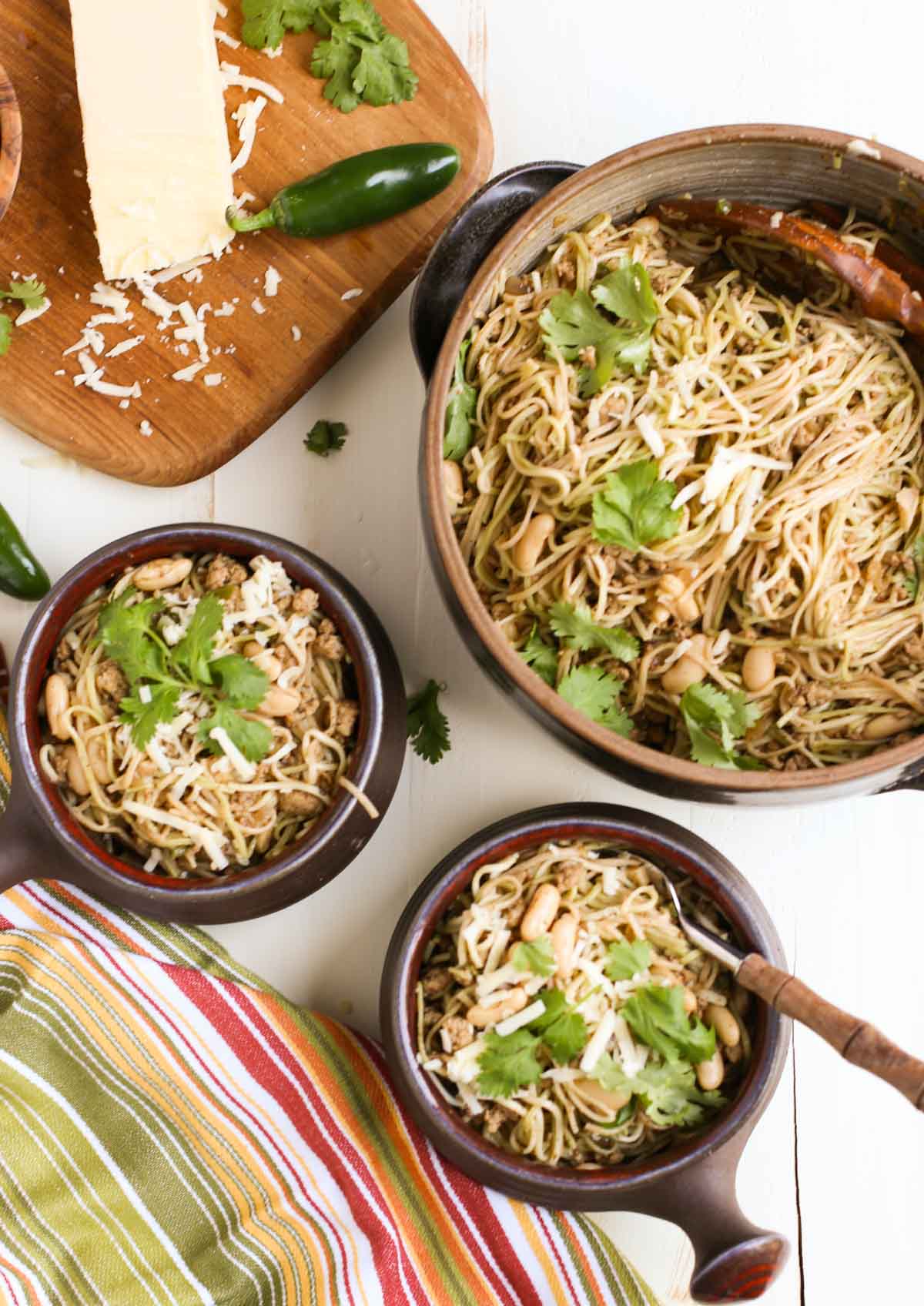 So what makes this dish so Nashville you might wonder?  Well, let's start with our Angel Hair Pasta…aka "Nashville Spaghetti" …made right here.  (2020 UPDATE:  We no longer make our angel hair pasta, but plenty of other specialty pasta shapes) What makes our Angel Hair so special is that it is "sheeted" pasta – made in long pasta sheets that are fed through a long die and then carefully cut into angel hair strands and gently whipped into little nest shapes.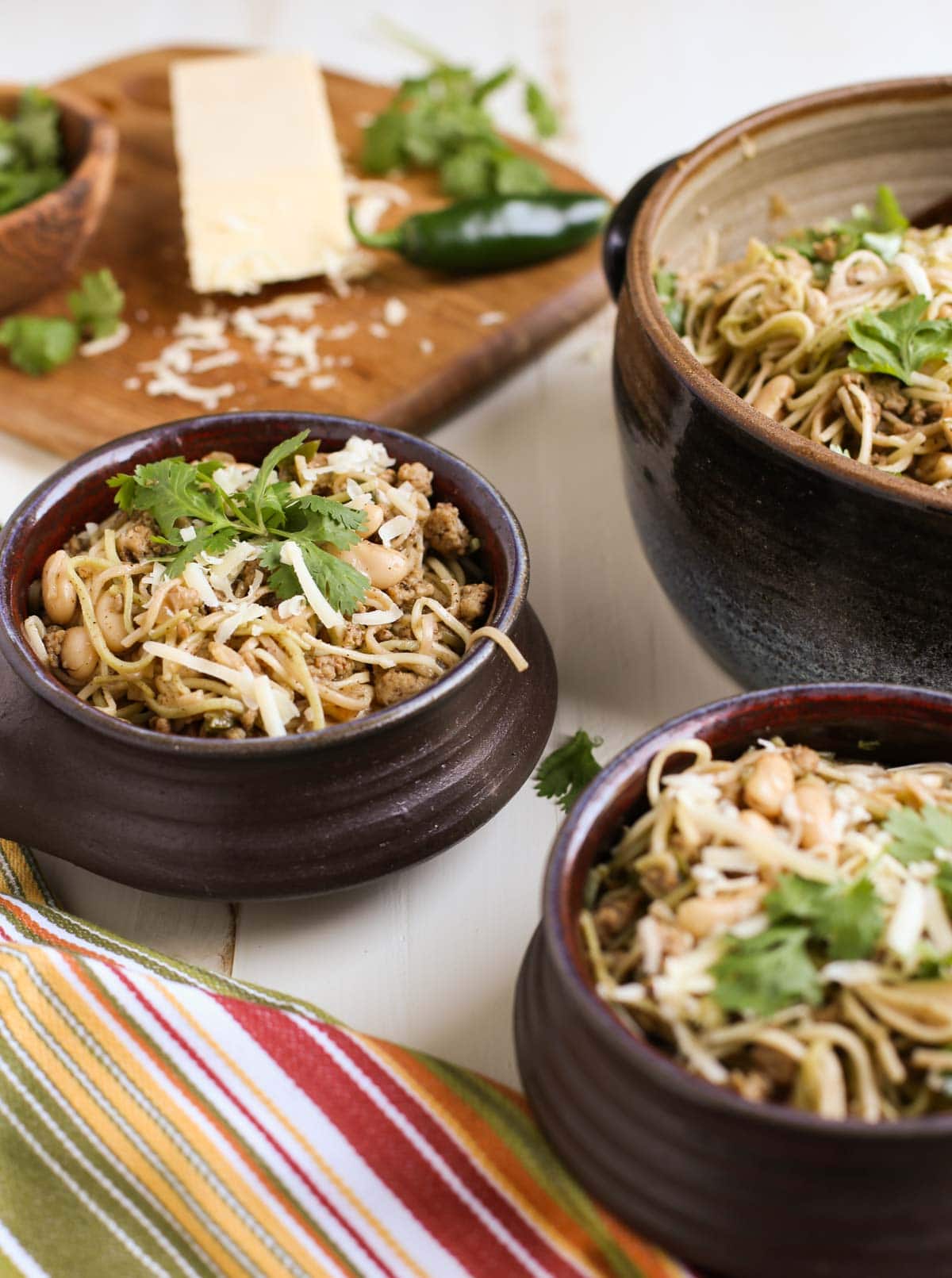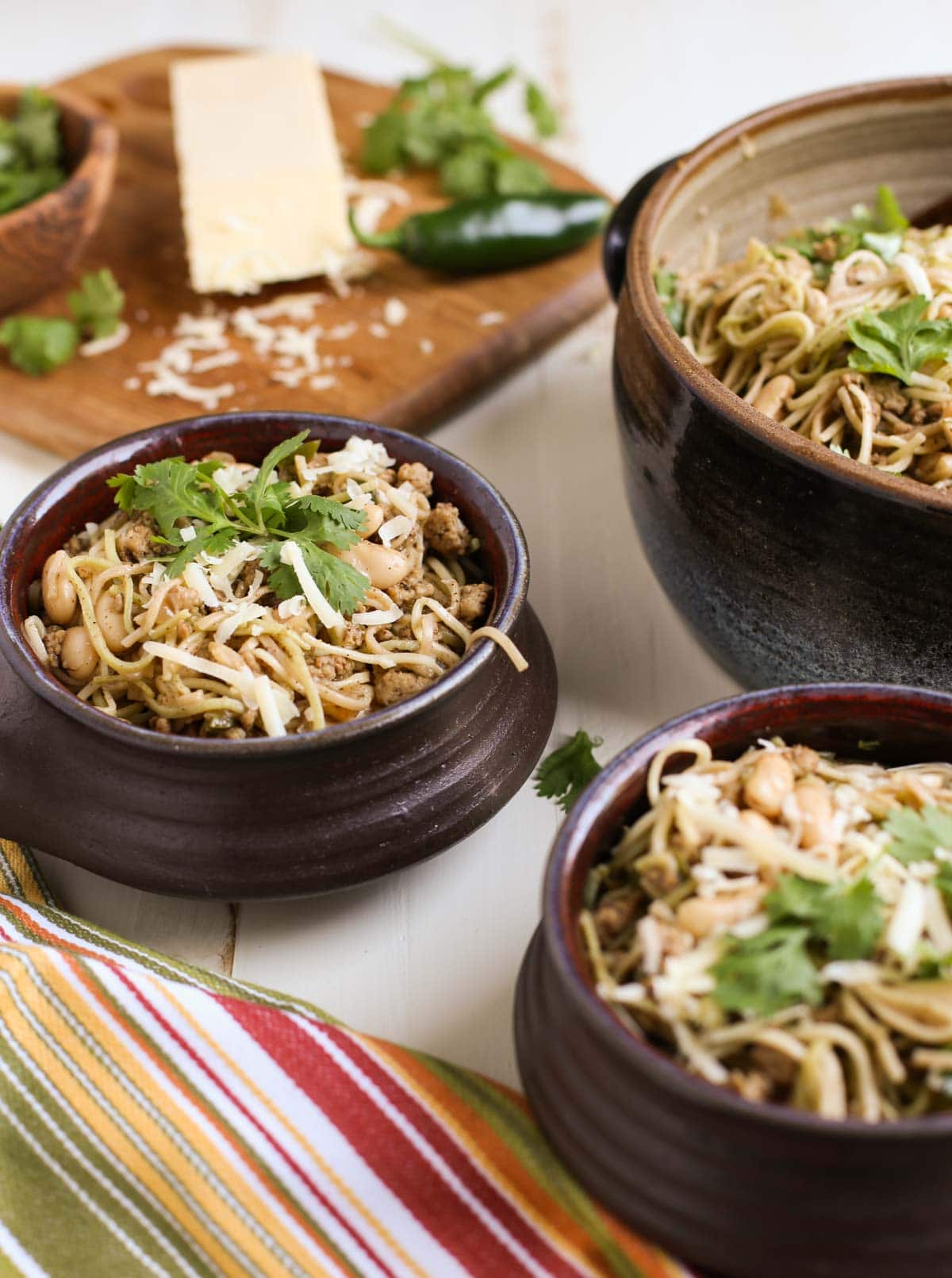 Commercial angel hair is extruded though a die (imagine a play dough machine), which there is a ton of pressure applied to the pasta and the pasta texture becomes denser and the noodles more slippery.  Our pasta has a fluffy and light texture and sauce clings to it. (OK, OK…enough of the pasta lesson ?)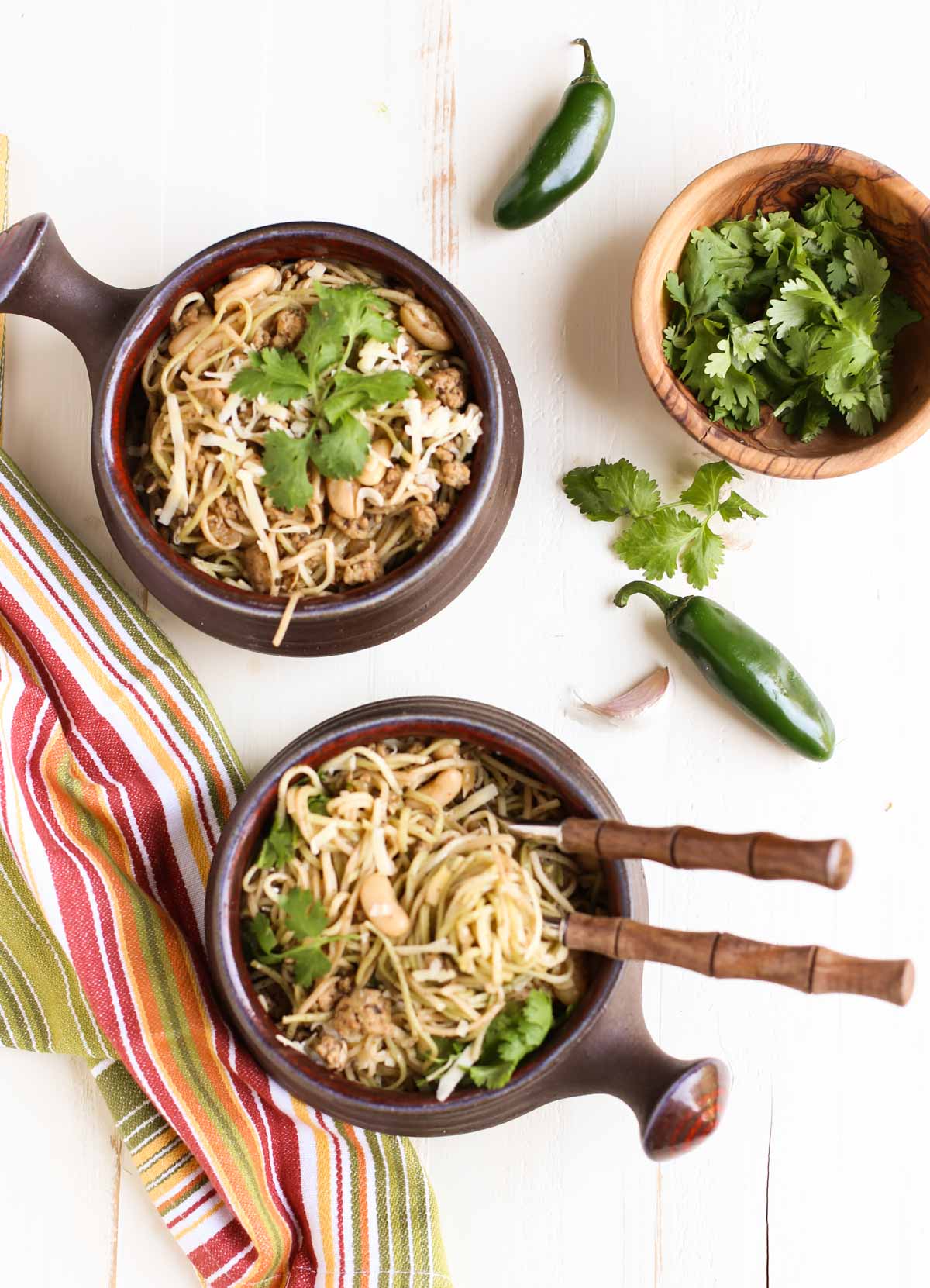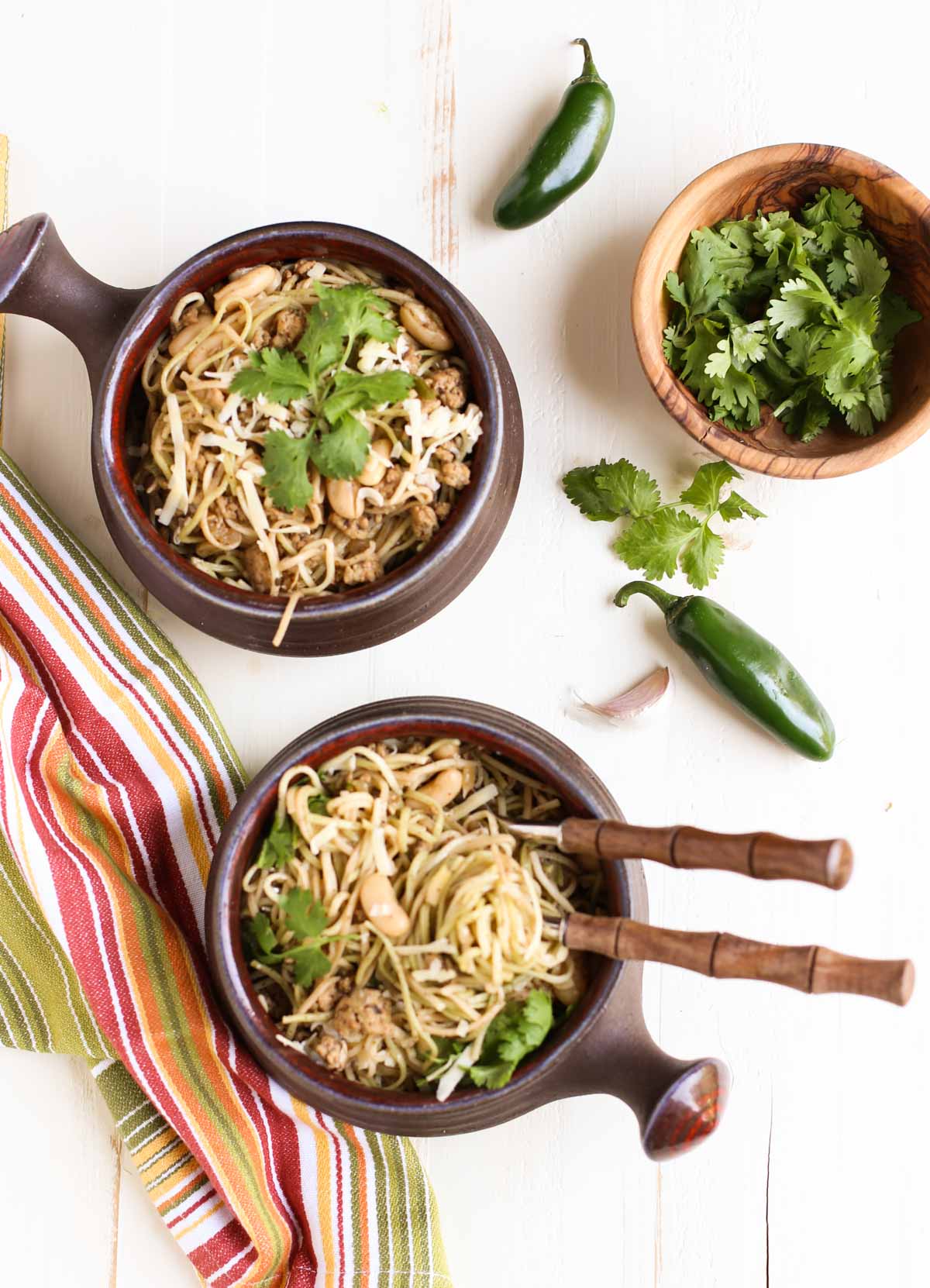 Nashville-Style Cowboy Spaghetti is a little bit sweet, a little hearty, and a bit sassy too.  Just like a lot of my fun Nashville friends….and even like some of the "Nashville" characters you see on TV.  It's just good solid pasta dish with lots of tasty flavors.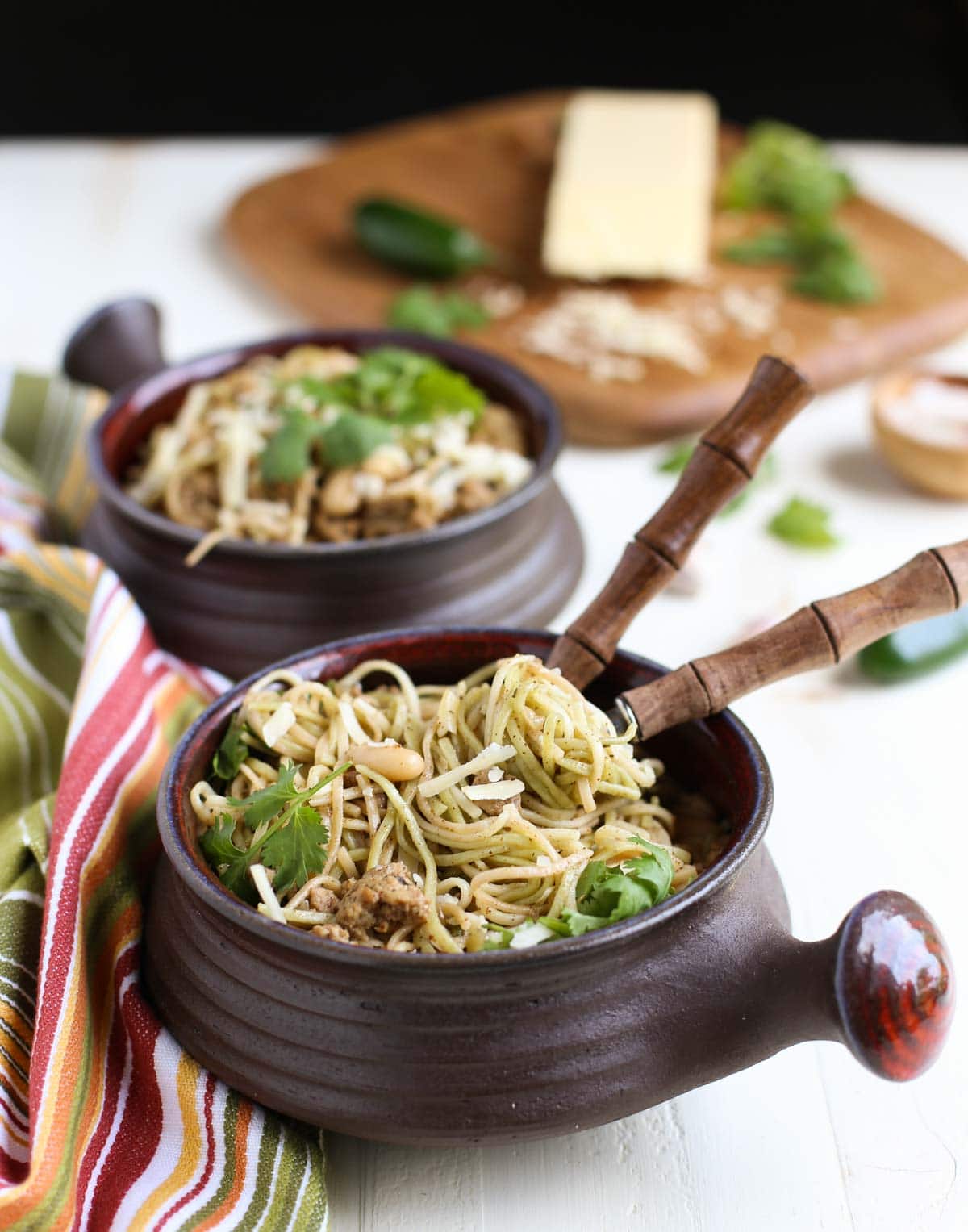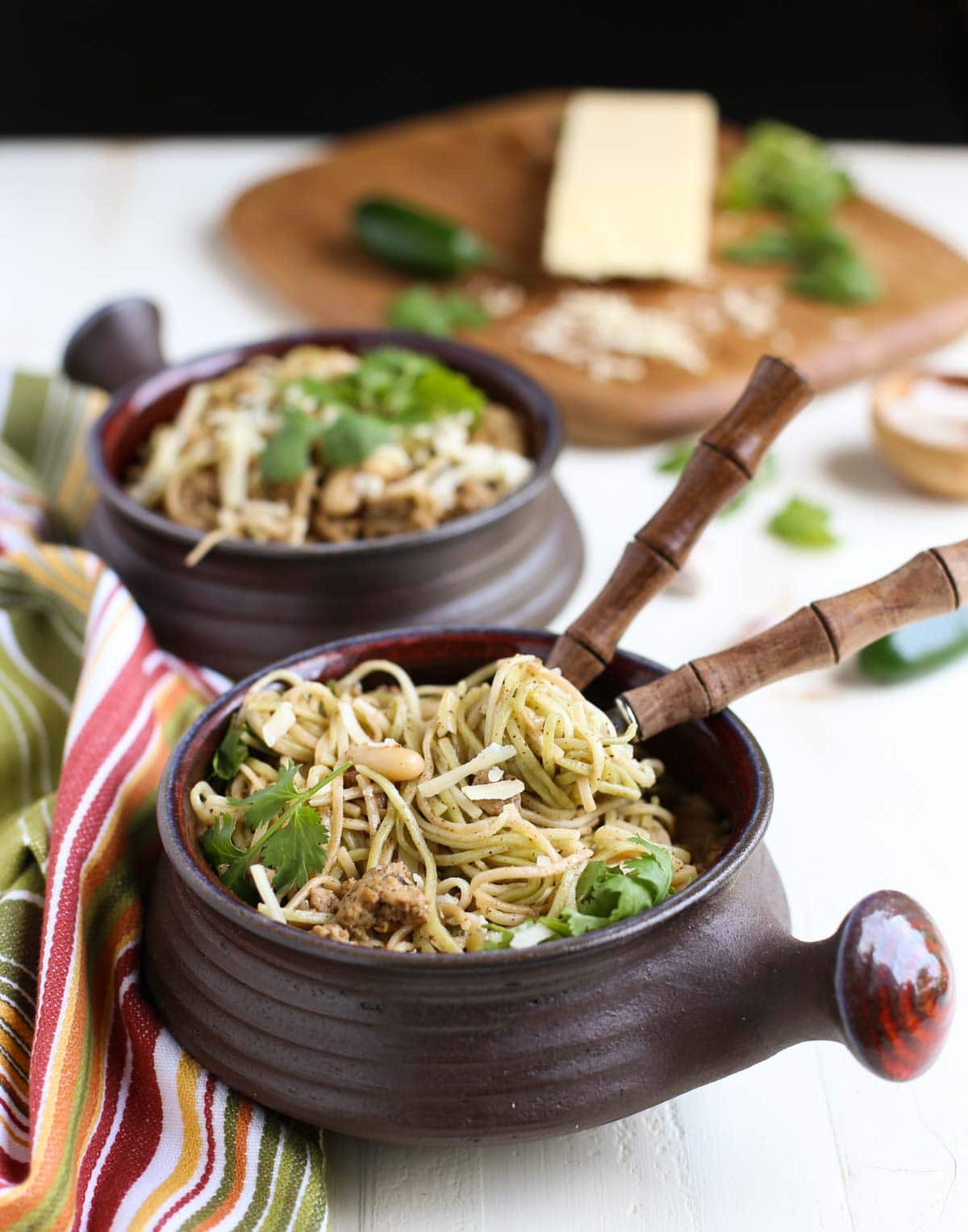 And what makes it Cowboy?  The flavorful beans and ground chicken combo make the sauce a bit like a chili.  A laid-back cowboy kind of chili.  The cumin, coriander, ancho chile powder and jalapenos add some subtle but deep flavors that leave your family begging for more.  Nashville-Style Cowboy Spaghetti is a perfect combo of your favorite bowl of chili and spaghetti – what could be better? (besides a new pair of Lucchese boots?!)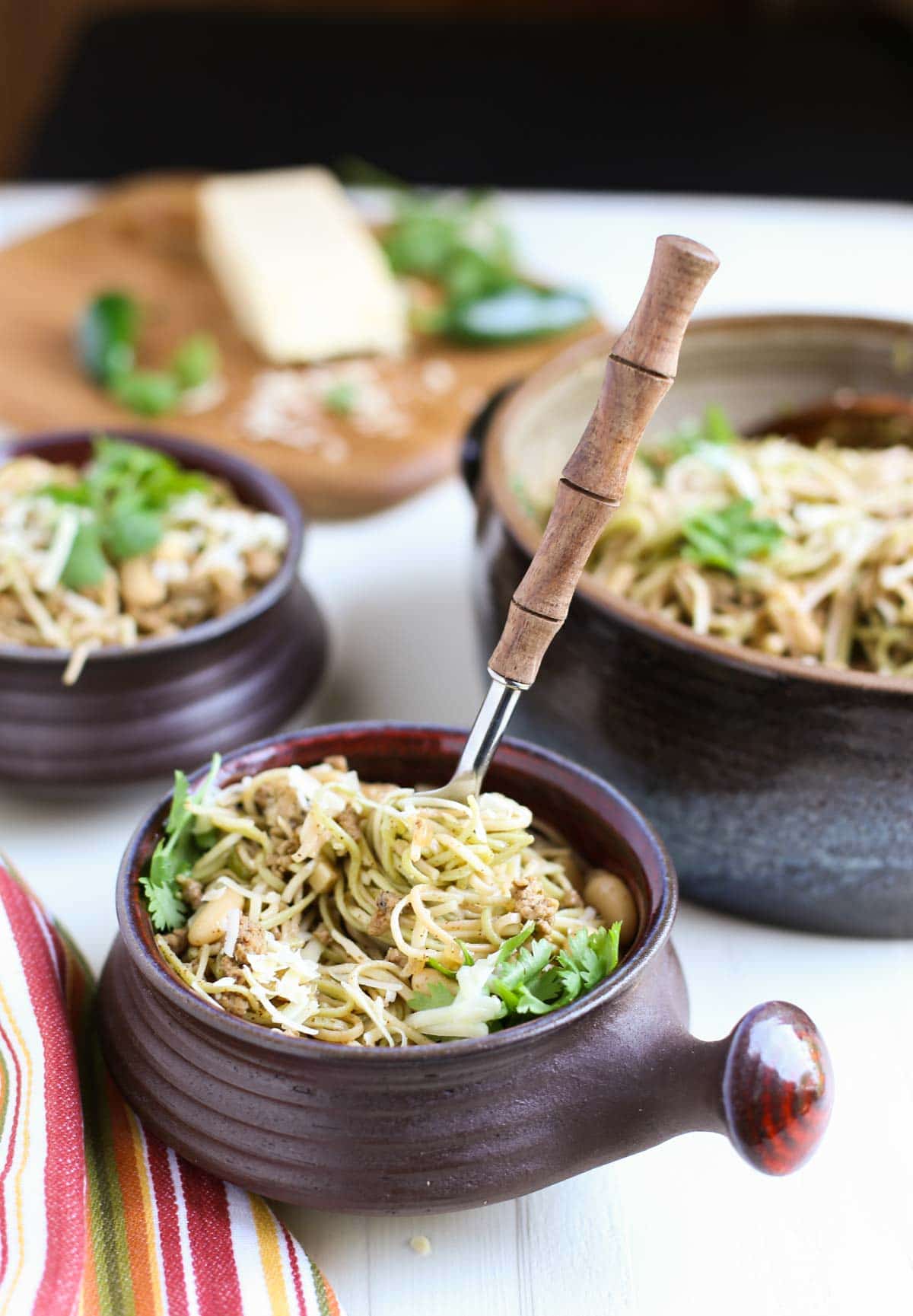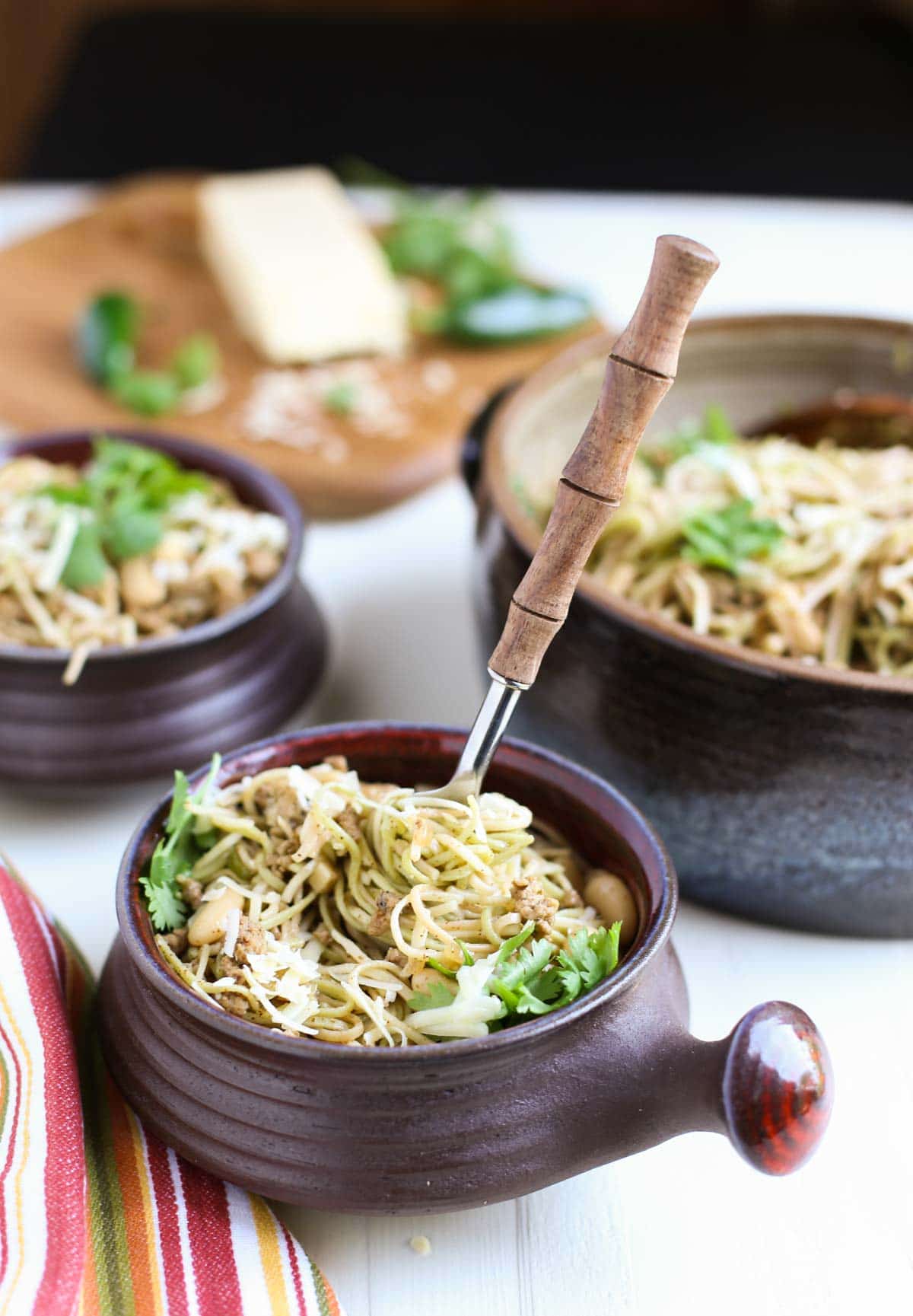 So, I encourage you to give this recipe a try. It's surprisingly different from your typical spaghetti dishes.  It's comfort food at its best and perfect for these cold winter nights!  Some other go-to winter dishes are Mini Ricotta Meatballs and Taco Bolognese, and Beef Ragu with Mint. Stay Warm!
And for more happenings with Pastabilities, follow us on Instagram @worldofpastabilities, or Facebook @pastashoppeusa!  And remember, The World is Full of Pastabilities®!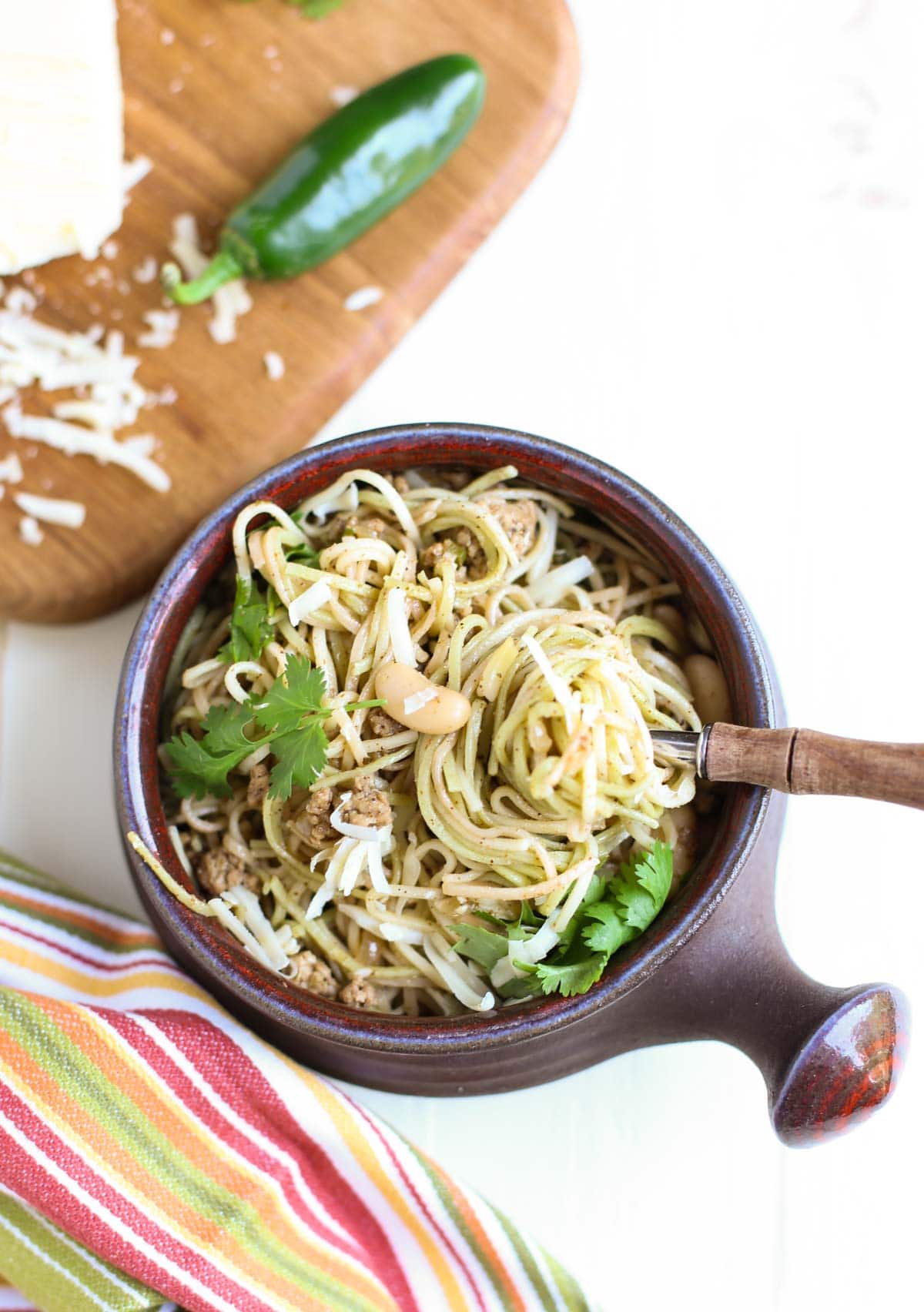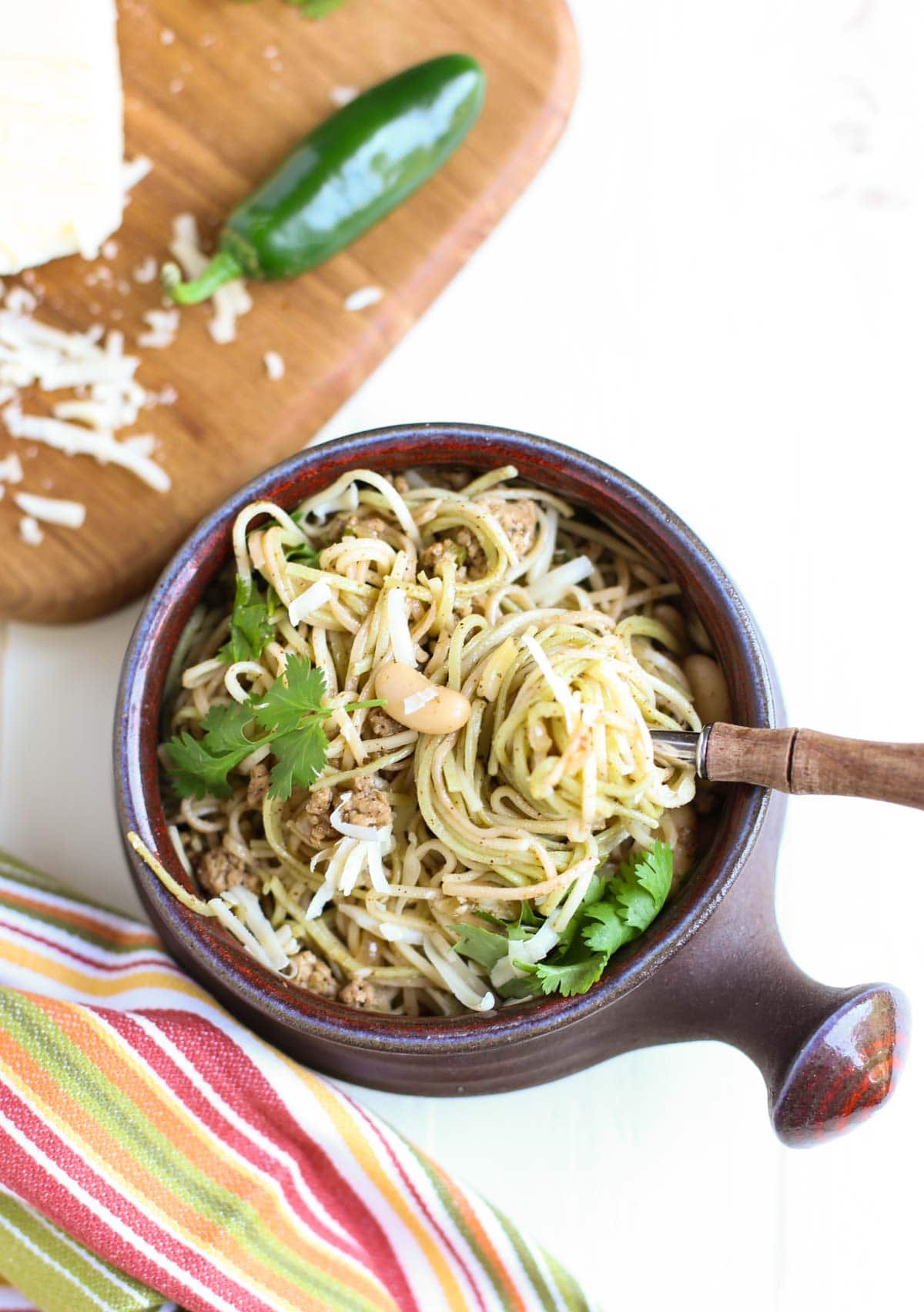 Print
Nashville-Style Cowboy Spaghetti
Nashville-Style!  Hearty, Delicious and Sassy too!  A great combo of subtle chili-like ingredients with Angel Hair Pasta.
Ingredients
2 T. olive oil
1 pound ground chicken
1 t. salt
½ t. black pepper
1 small onion, finely chopped
2 jalapenos, finely chopped
4 cloves garlic, finely chopped
1 T. cumin
1 T. ancho chile powder
1 T. Worcestershire sauce
1 ½ t. ground coriander
1 t. oregano
1 cup chicken broth
1 T. light brown sugar, packed
1 can cannellini beans, drained and rinsed
12 ounces Tri-Color Angel Hair Pasta Nests (or 12–16 ounces angel hair, spaghetti, or some other long pasta)
¼ cup cilantro, chopped (can sub parsley)
Grated Parmesan (1/2 cup or so)
Instructions
In a large skillet, brown ground chicken over medium high heat, until browned and cooked thoroughly, approximately 6-8 minutes.
Add the onion, jalapenos, garlic, cumin, chile powder, Worcestershire, coriander, and oregano.  Stir and cook for about 3-4 minutes, until onion softens.
Add the chicken stock and brown sugar, and stir. Add the beans, reduce heat and simmer sauce, stirring occasionally.  Now its time to cook the pasta!
Cook pasta according to package directions.  Reserve ½ cup of the cooking water, and then drain the pasta.
Add pasta, cooking water, and about ¼ cup Parmesan to sauce, and combine. (tongs work well!)
Serve in bowls topped with fresh chopped cilantro and additional Parmesan.  Enjoy!
Join our email list for fresh pasta recipes delivered to you every week!
Your information will NEVER be shared or sold to a 3rd party.