Creole Shrimp with Lemon Basil Pasta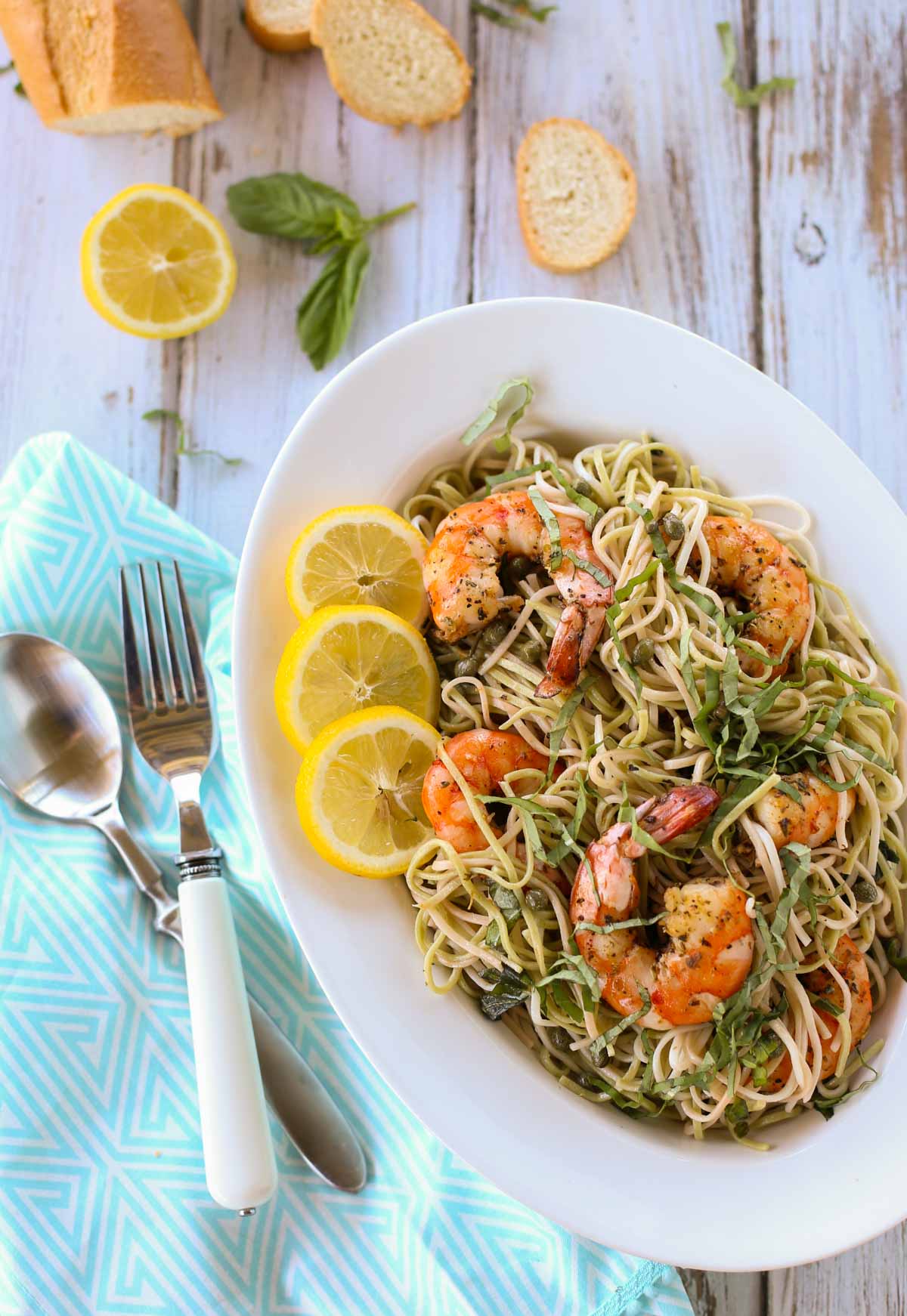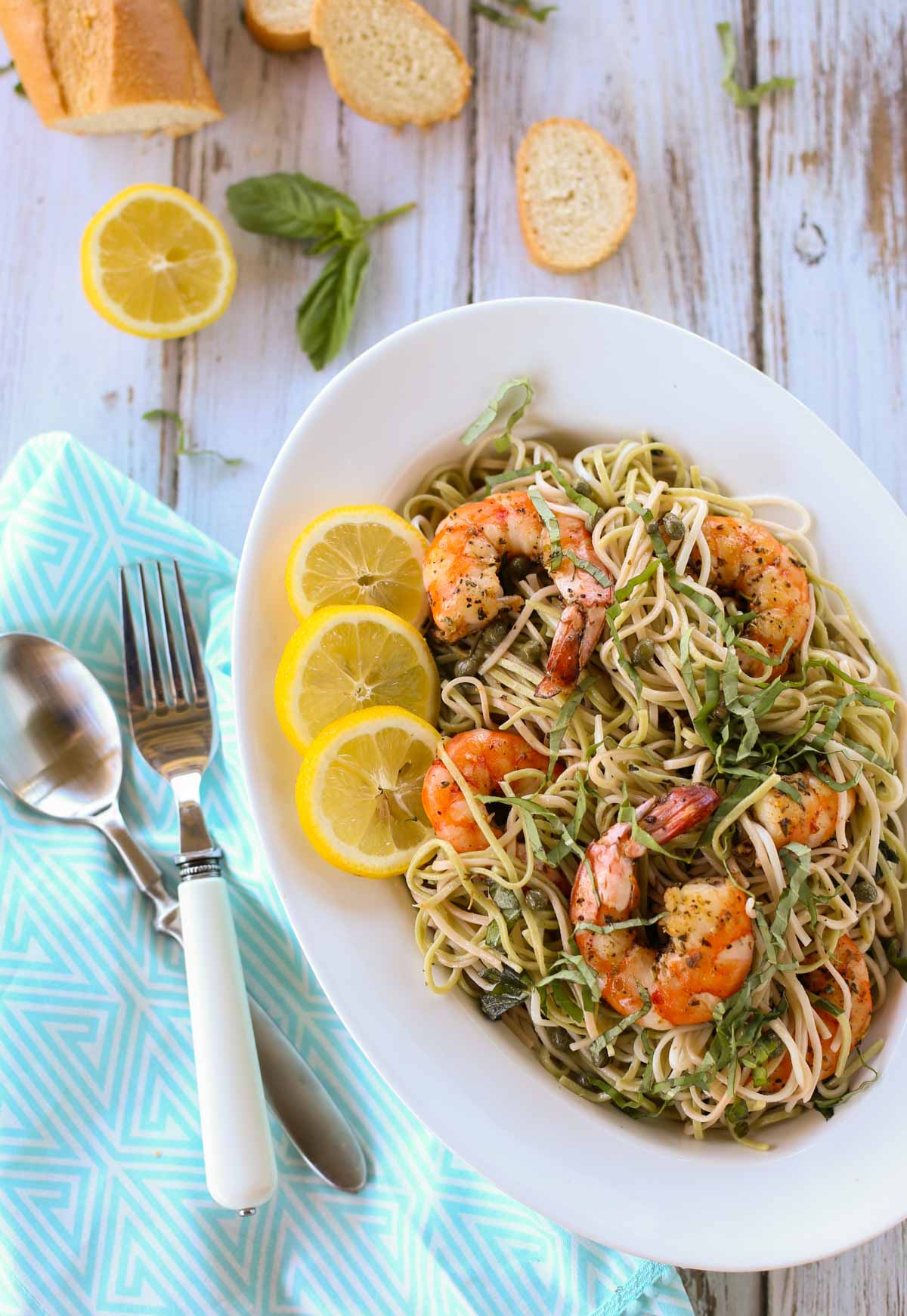 I just love summer.  And all the flavors summer keeps at the tip of our tongues.  I can't seem to get enough of certain flavors:  citrus, basil, rosemary, melons, and of course seafood… (notice I conveniently left off ice cream, Mexican pelatas, M &M's, and fruity desserts).
After an incredible week with my family at the beach, reminiscing about the flavors that are so Americana (hello Supreme Pizza Pasta Salad), I couldn't help but continue the cooking craze.  We had enjoyed the pepperoni and Italian flavors of the pasta salad, and we needed to balance this out with a little zesty lemon and spice.  Plus –  it was definitely time for some seafood. I mean people, we are at the beach.  So it was time for this Creole Shrimp with Lemon Basil Pasta!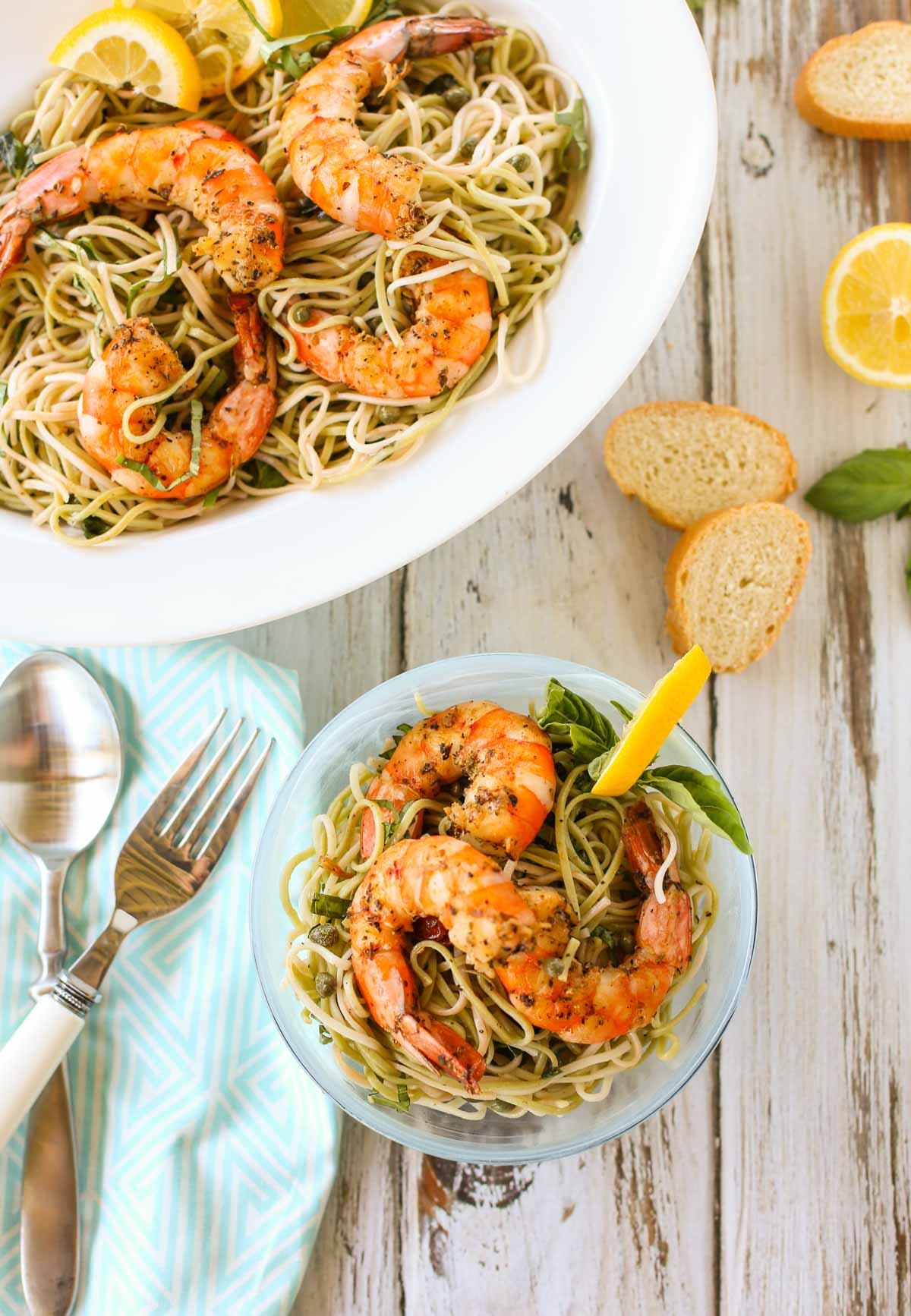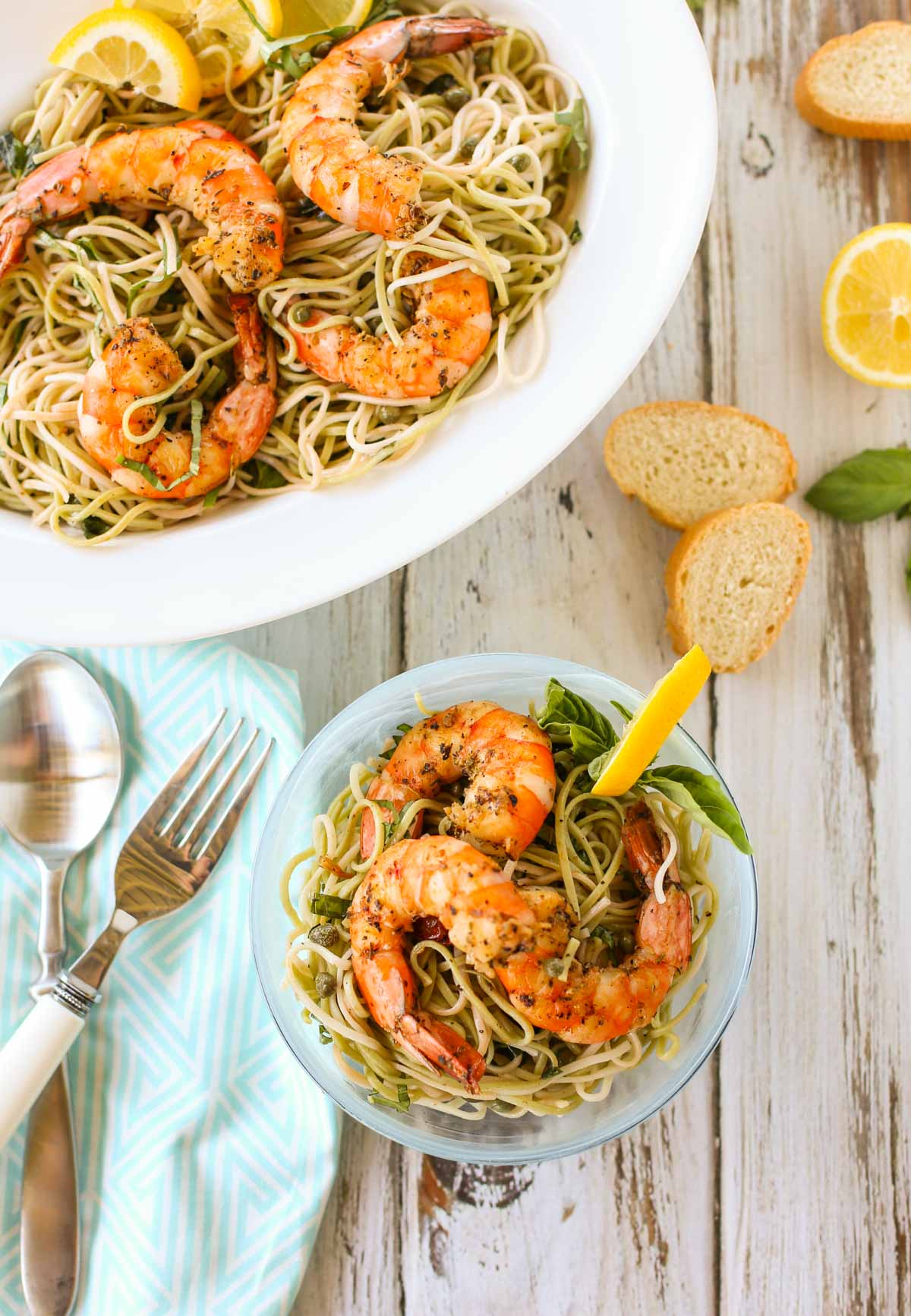 I'm like a "kid in a candy store" being in Florida and visiting some of the local seafood markets.  Is it wrong to spend as much time at "Buddy's Seafood Market" as I do in Saks?  PS: The fashion police were a no show…:)
It's always a struggle to decide what to cook.  The variety of fish and shellfish is extraordinary and the recipes are flashing before my eyes as I glance up and down the icy display. Grilled? Sashimi? Pan Seared? Baked? All of the above?  Help!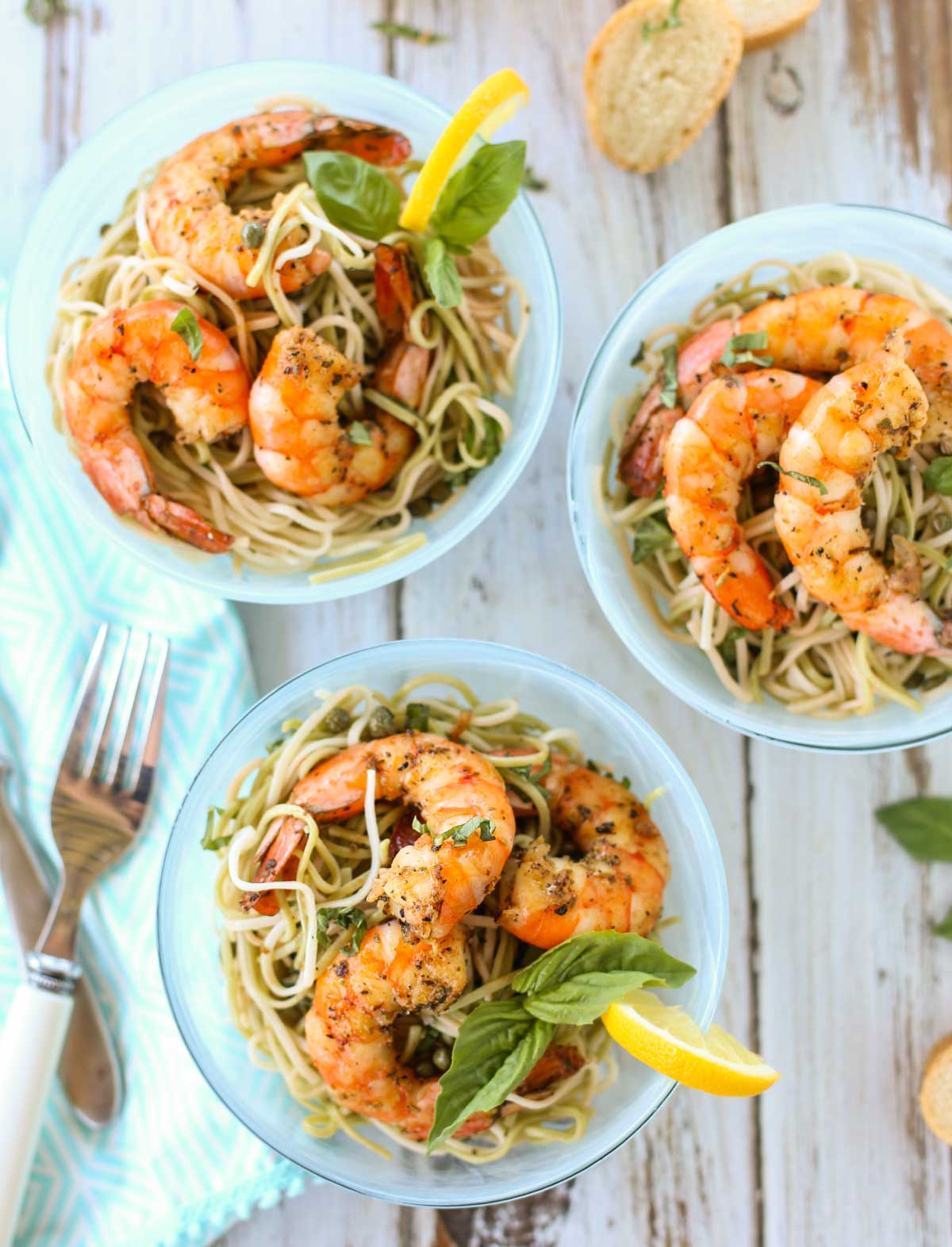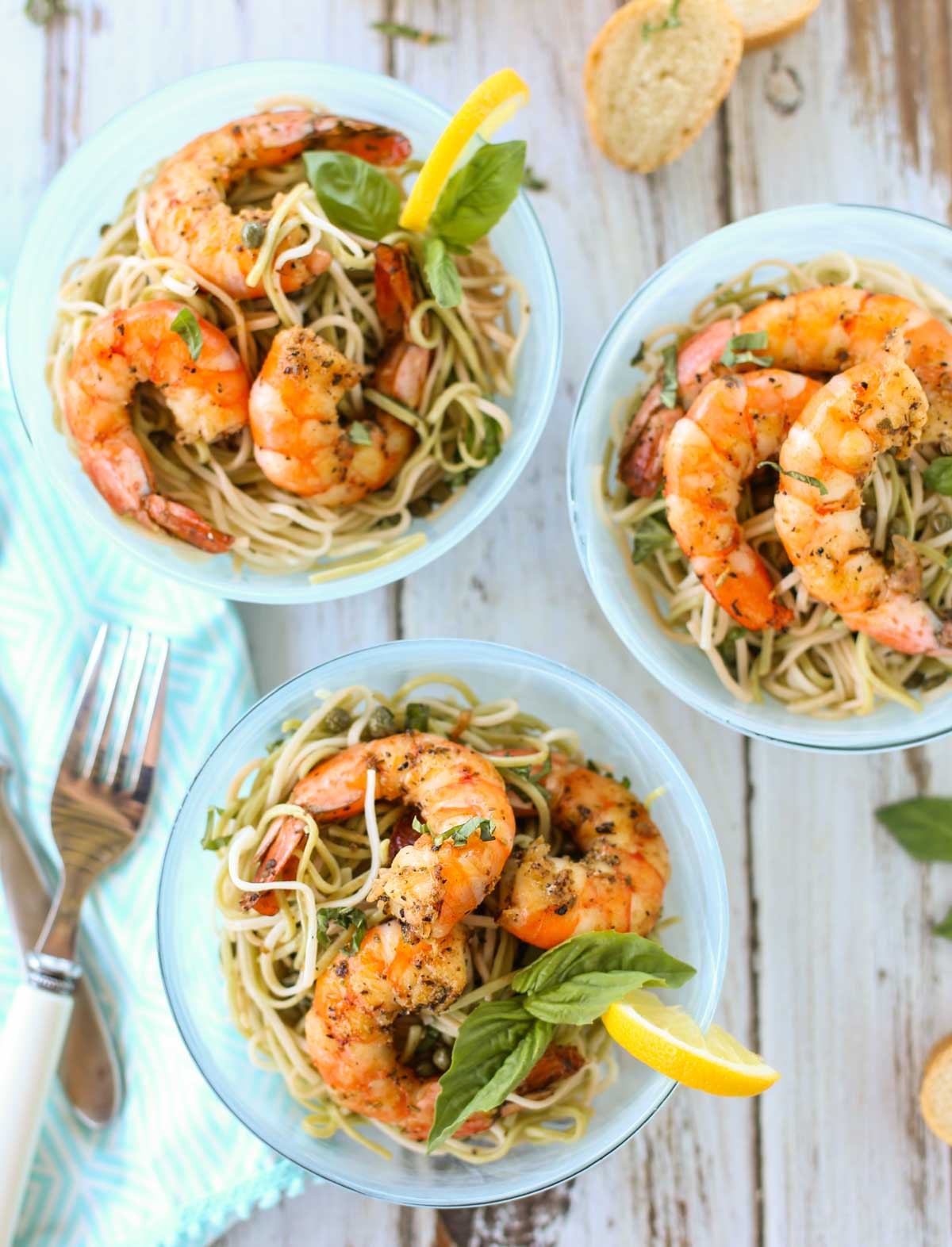 I couldn't resist though, these enormous fresh juicy shrimp.  Honestly, if there is a selection, I always tend to look "up" the ice…to the largest catch of the day.  These were beyond jumbo…and I was a happy customer.  Again, my nickname is Surf and Surf.
It is wonderful to cook shrimp with "shells on", especially for any shrimp boil type recipes, but my favorite style is to have shrimp just big enough to leave with "tails on".  It's elegant yet still easy to eat.  If the shrimp are medium size or smaller, I recommend taking the tails off and just incorporating into the dish.  Believe me, this is not a negative!  It's just more practical and often times, when you are land locked, it's the only way to go.
But for this recipe, we went "tails on"!  First, make this delicious lemony basil pasta that is wonderfully yummy on its own.  Next, top with some spicy, warm, Creole shrimp…and wow – what a fabulous dish!  Enjoy this summertime fun and celebrate these flavors of summer!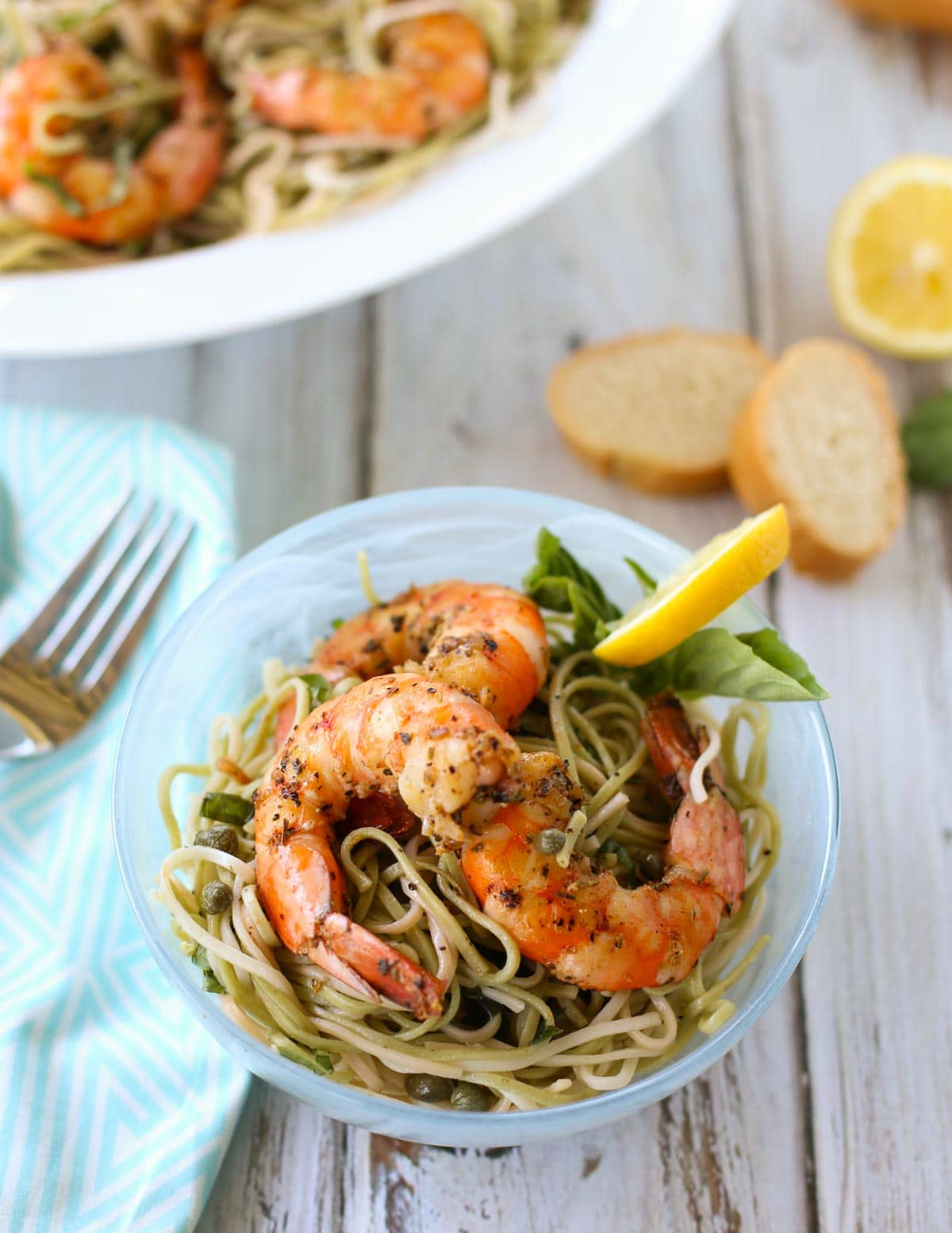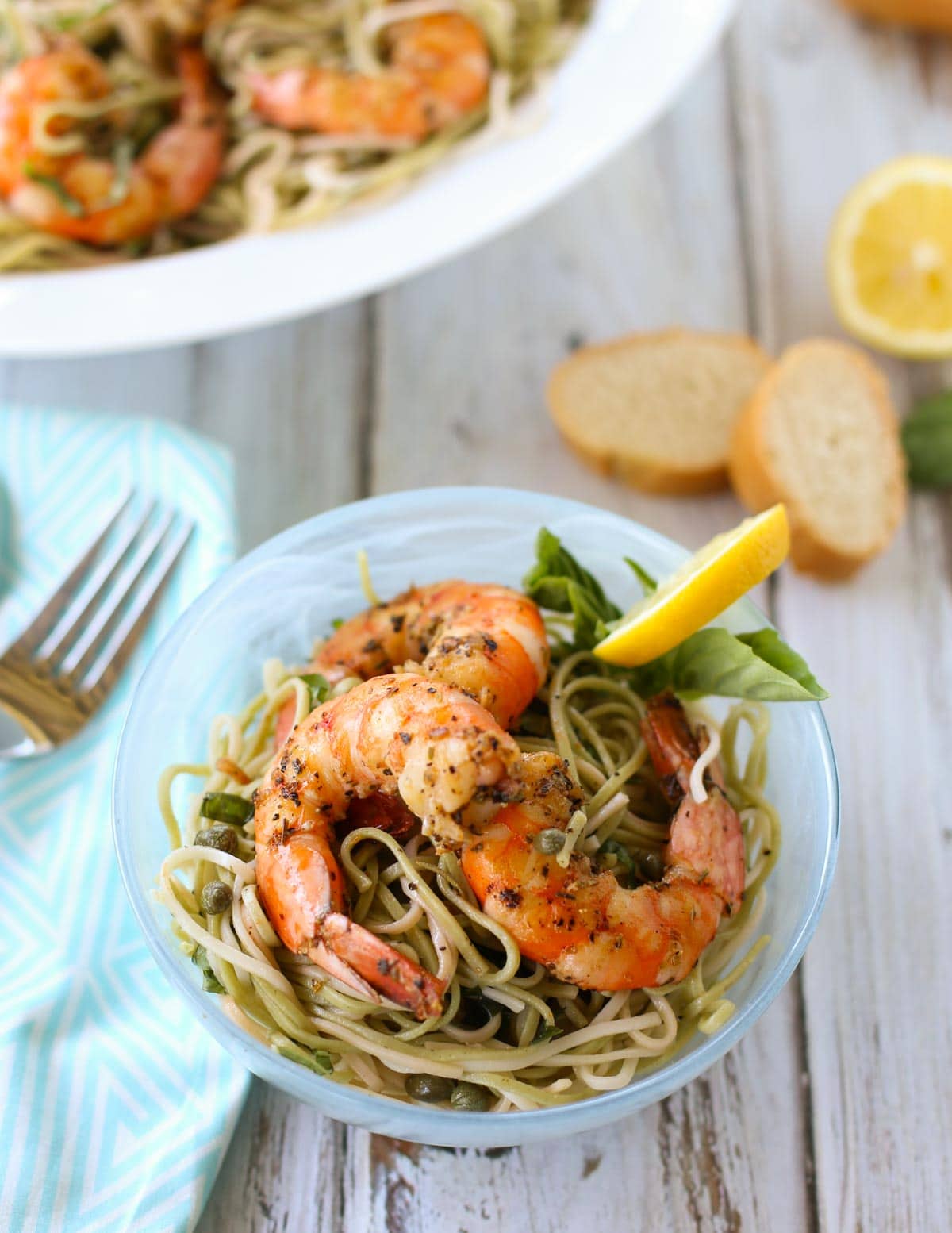 Creole Shrimp Pasta with Lemon Basil Pasta
Delicious Creole Spicy Shrimp atop a tangy lemon pasta, a perfect blend of flavors and textures! Serve for dinner at the beach or any poolside gathering. A wonderful simple treat for all! Yum!
Ingredients
1

–

2

lbs of fresh shrimp (depending on size, serve

3

–

5

shrimp per person), peeled with tails on

2

t. Creole seasoning

1

T. dried crushed rosemary, or leaves, crushed in a mortar and pestle

1

T. dried oregano

1

t. cayenne pepper

2

t. kosher salt

2

t. ground black pepper

2

cloves garlic, minced

2

T. olive oil

12 ounces

Angel Hair Pasta (or substitute other long pasta)

1/2 cup

fresh basil, chopped or julienned

4

T. capers, drained

4

T. extra virgin olive oil

4

T. fresh lemon juice

1

t. salt

1/2

t. fresh ground black pepper
Instructions
Mix Creole seasoning through minced garlic in a bowl.
Toss shrimp with Creole mixture.
Add olive oil to saute pan and heat to medium high heat. Pam saute shrimp about 2 minutes a side until shrimp begin to curl and turn pink. You can also grill the shrimp in a grill pan or skewers. In all cases, do not overcook shrimp! Set aside.
Cook pasta according to package directions and drain.
Place pasta in a large bowl and add fresh basil, capers, extra virgin olive oil, lemon juice, salt and pepper. Toss until combined.
Serve pasta on plates and top with Creole shrimp.
Top with extra capers, fresh basil, or lemon slices.
Enjoy every bite!
Join our email list for fresh pasta recipes delivered to you every week!
Your information will NEVER be shared or sold to a 3rd party.