Supreme Pizza Pasta Salad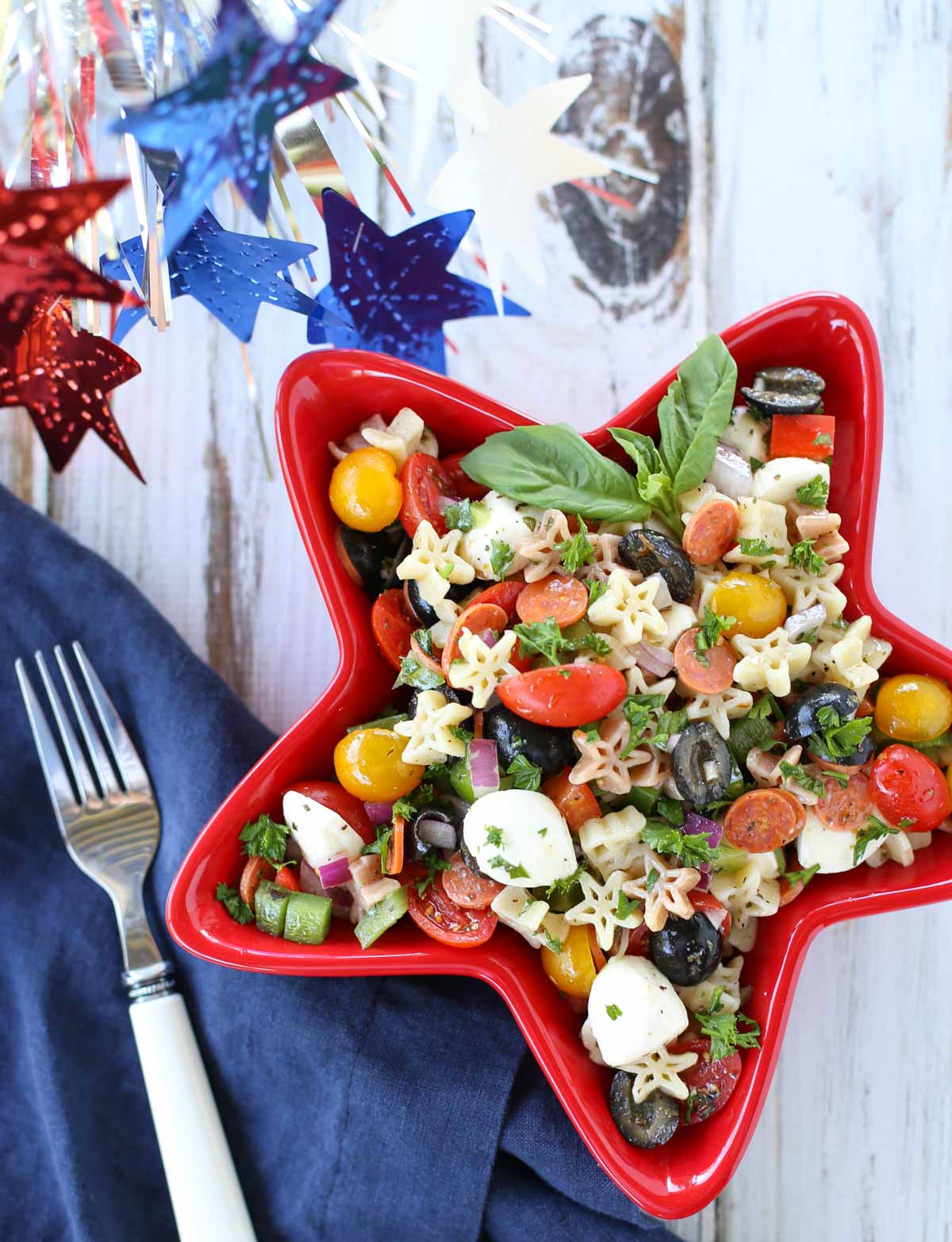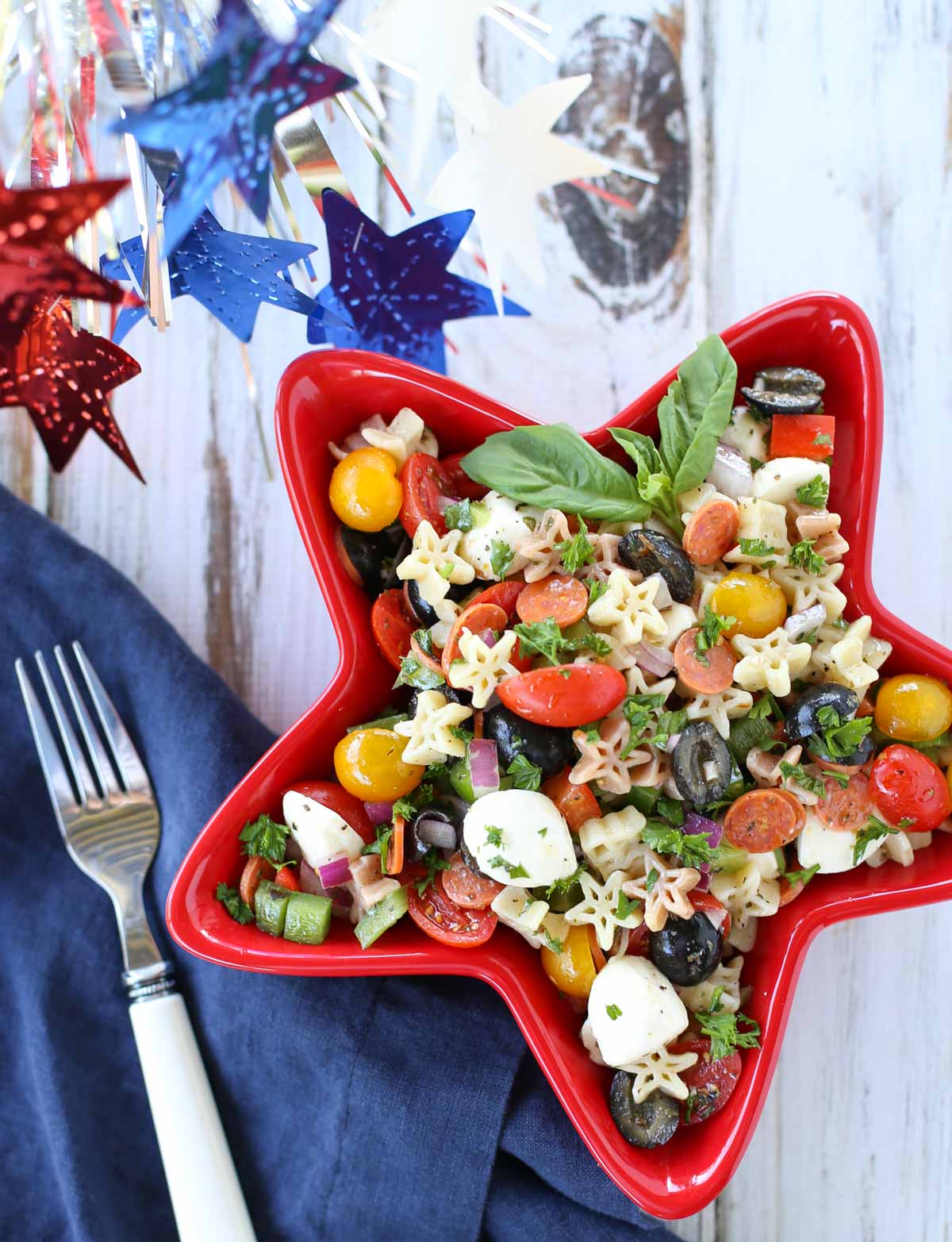 What a week!  Lots of celebrating around here between the birthdays of America, my sweet husband John, and my niece Presley, who requested to be quoted as saying "This Supreme Pizza Pasta Salad is amazing!"  We are all together down here in Rosemary Beach for our annual summer vacation…such a special time for my entire family to be together…playing games, eating seafood, cooking, beaching, reading, and just hangin' out.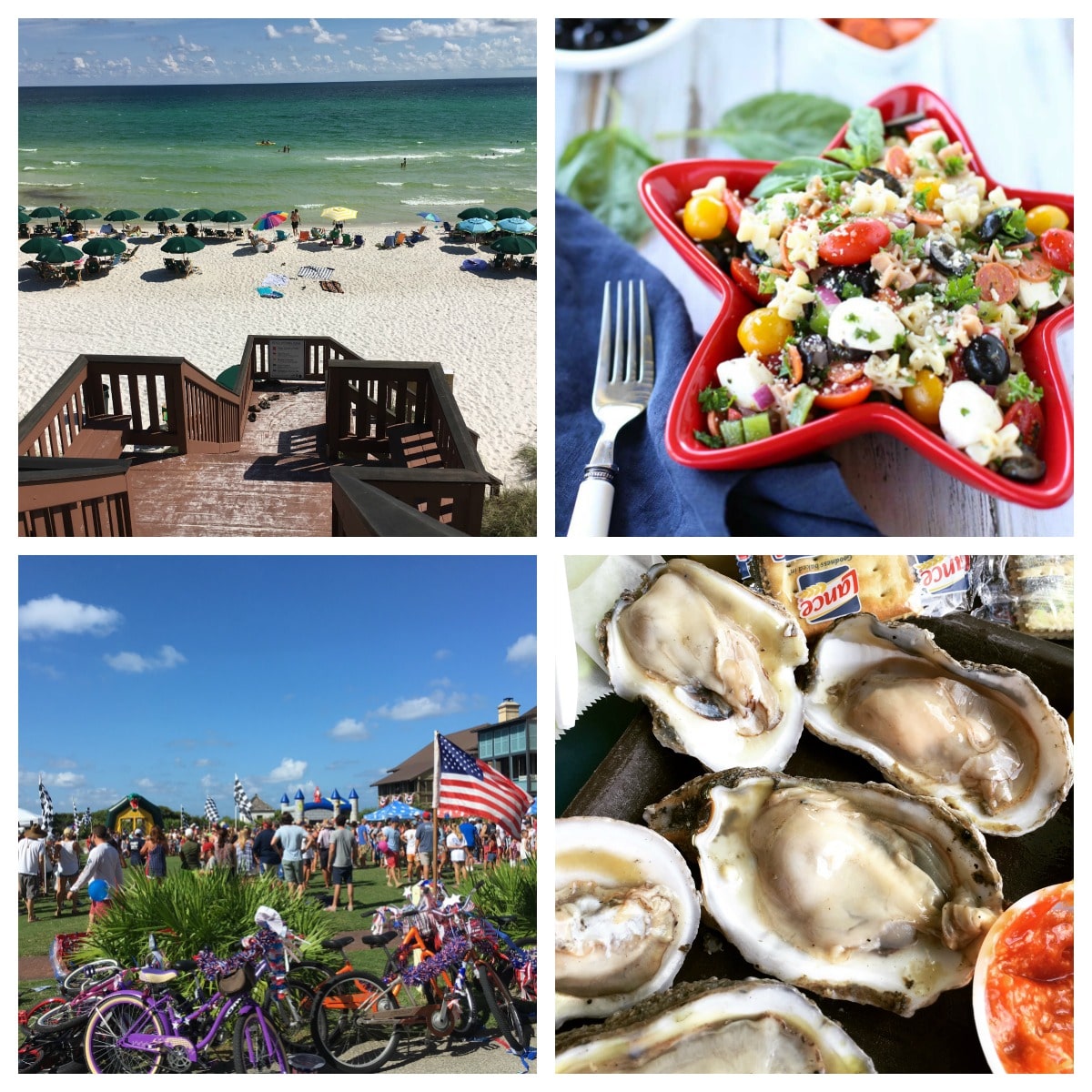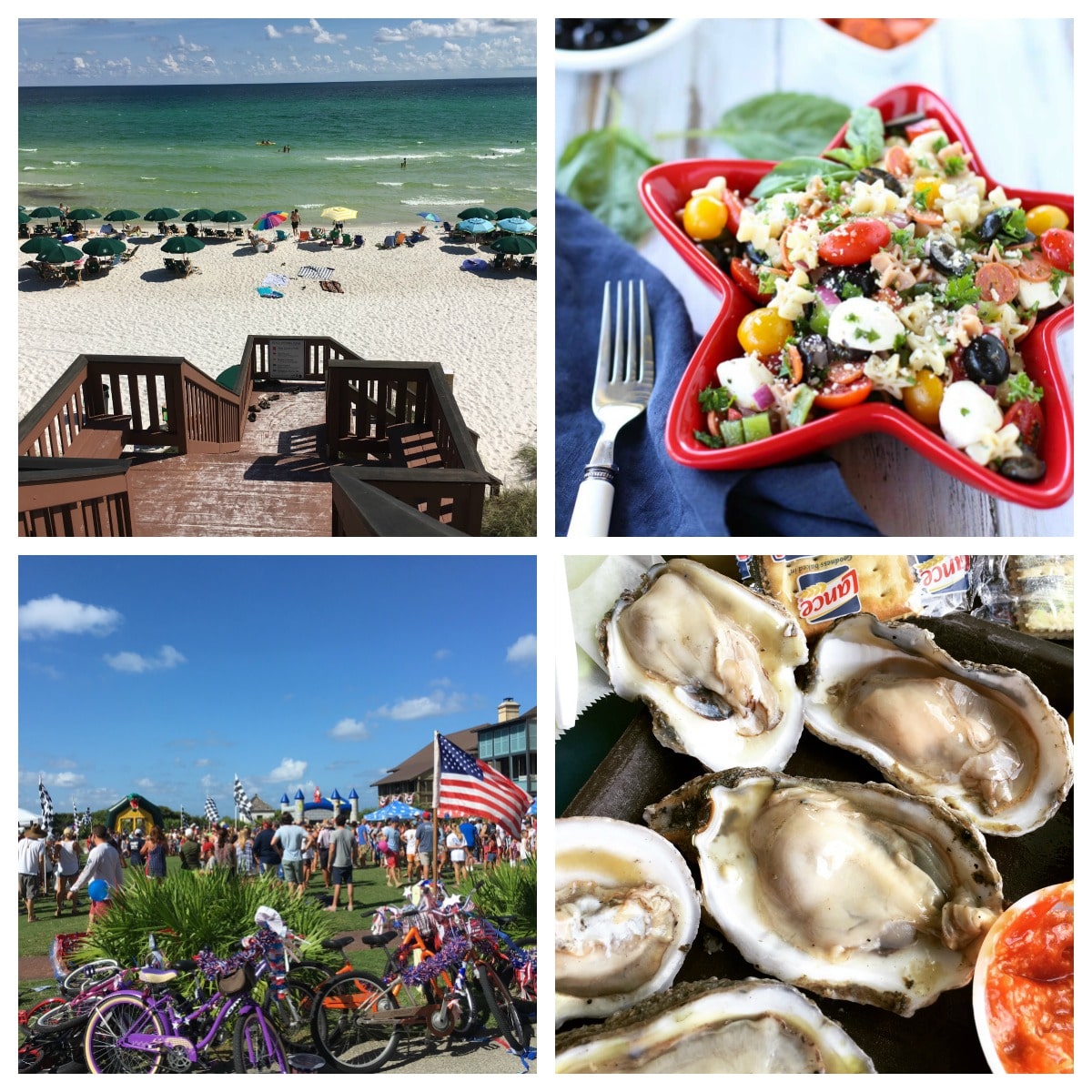 And certain foods just come to mind during this week.  It doesn't get more American than cobblers, pies, hamburgers, watermelon, fried chicken, BBQ, hot dogs, and 'za…pizza that is.
So it seemed perfect to make this pasta side dish and embrace the flavors of one of our favorite things to eat…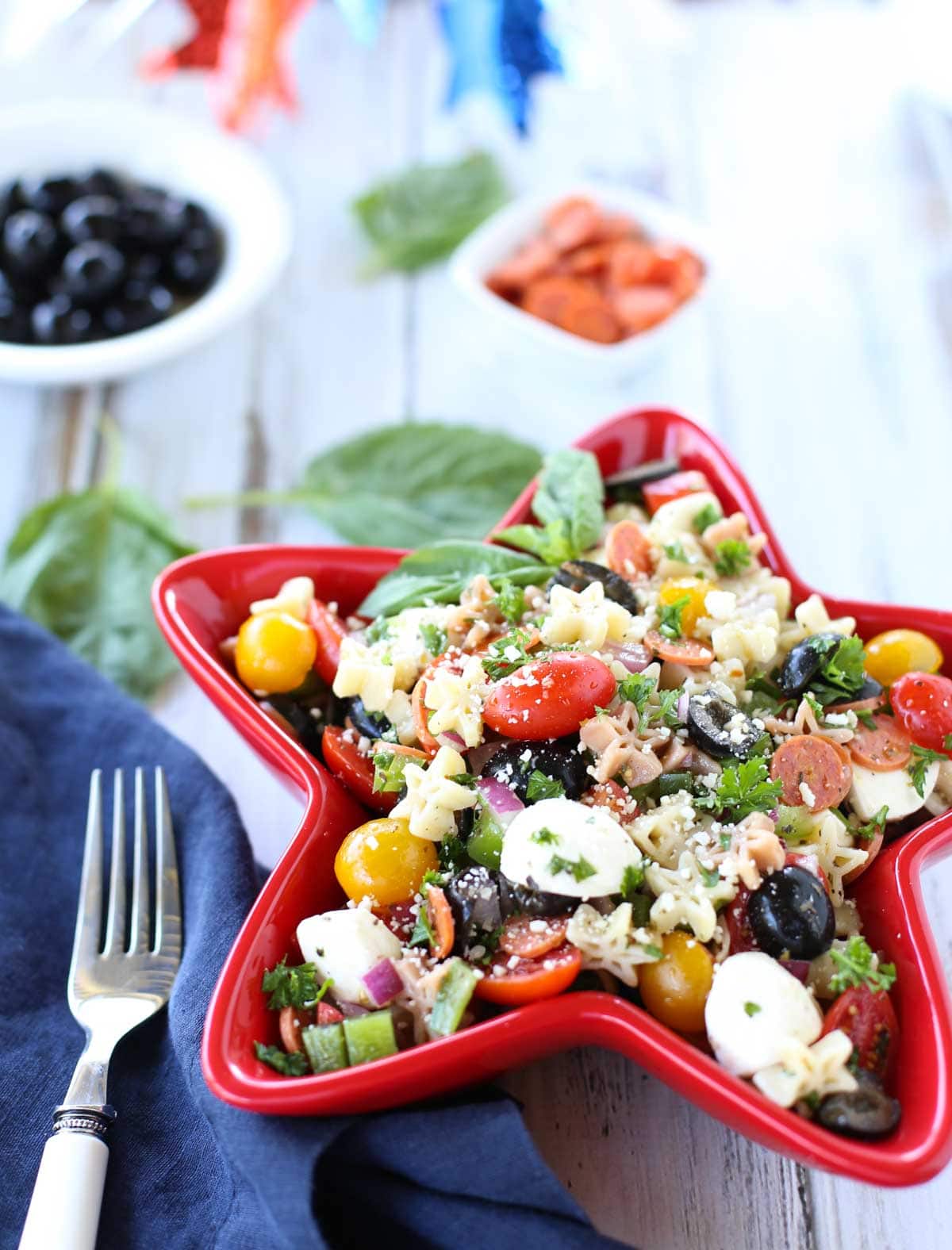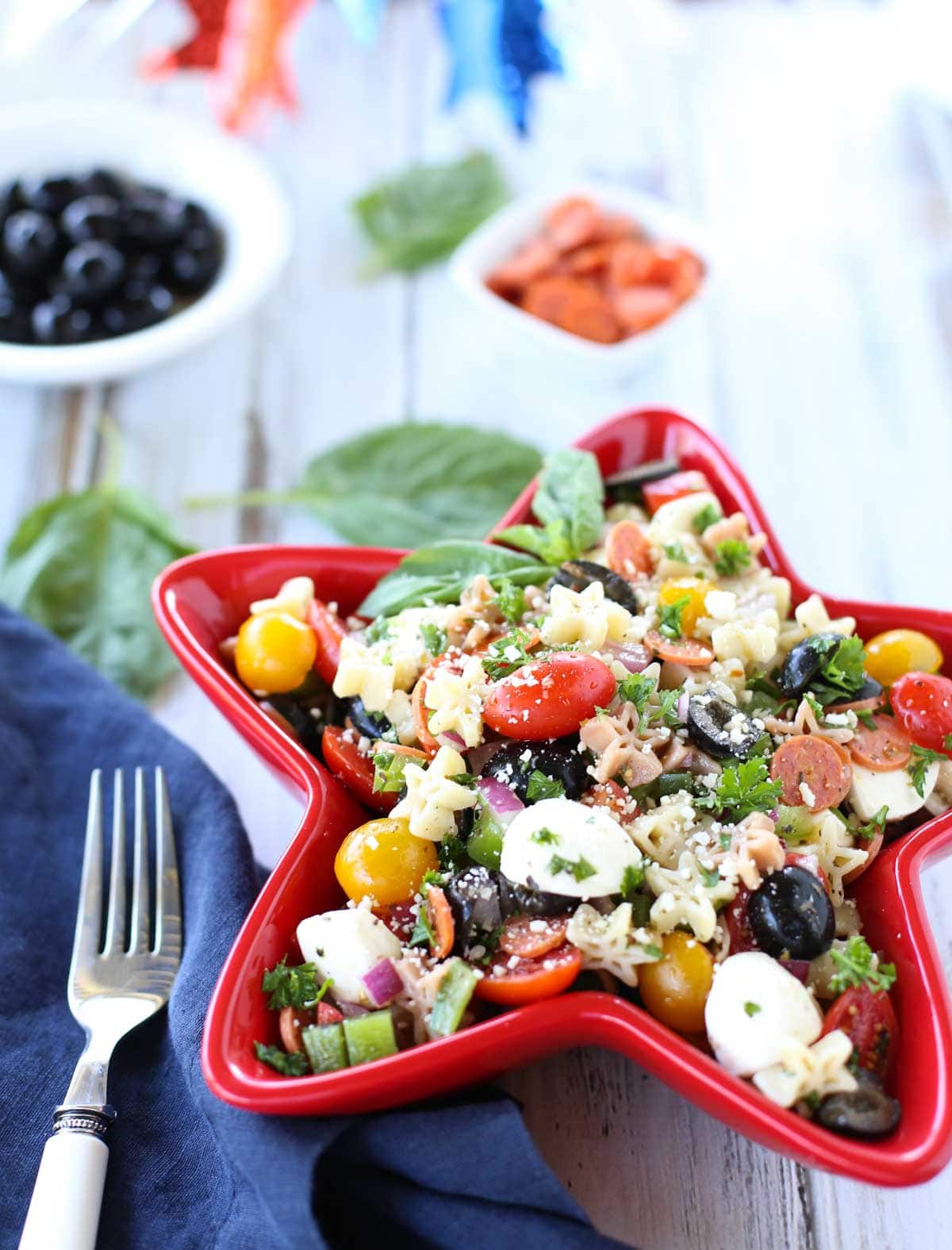 It's the lightness of the vinaigrette that I especially love.  It doesn't "take over" like some strong dressings like to do.  This Supreme Pizza Pasta Salad shows off the combination of sweet, salty, crunchy, peppery, tangy goodness of all the ingredients…everything you remember you love about a supreme pizza.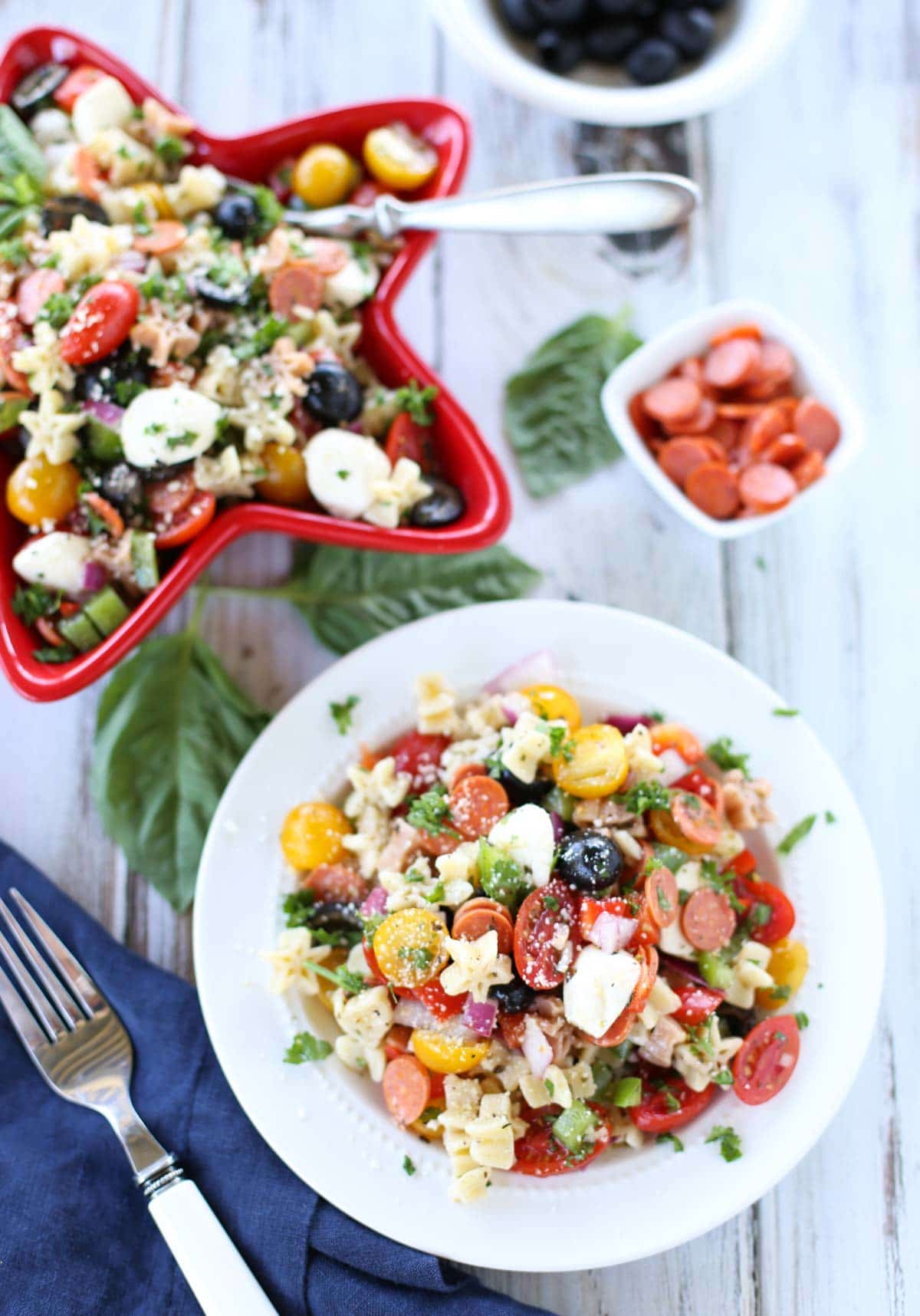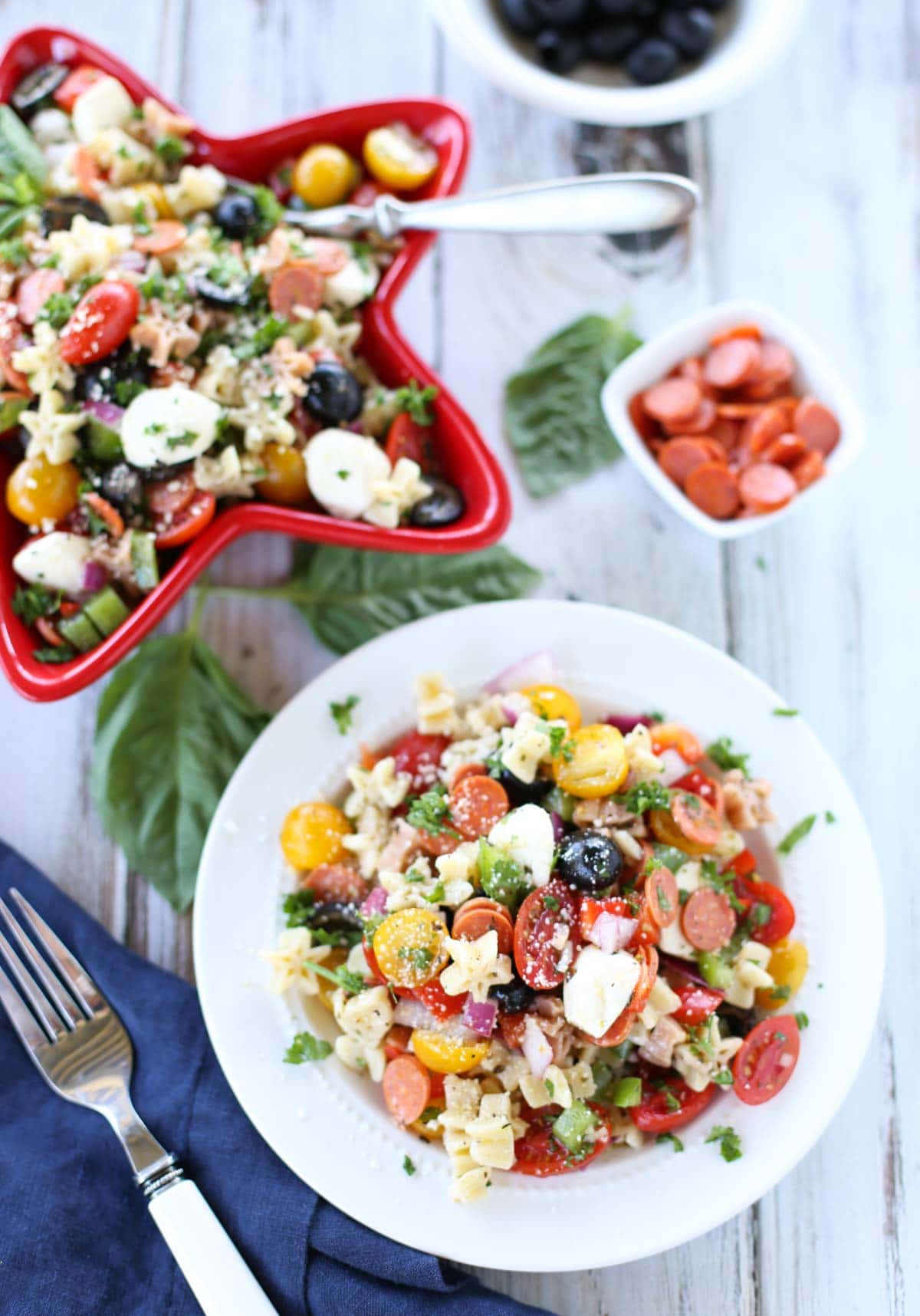 We served this cold salad alongside fresh raw oysters, baked oysters, grilled oysters (can you tell "oysters" were a theme for the week, too?), ribs, corn, and fresh fruit…yep, we were a little eclectic this year…and we loved every bite.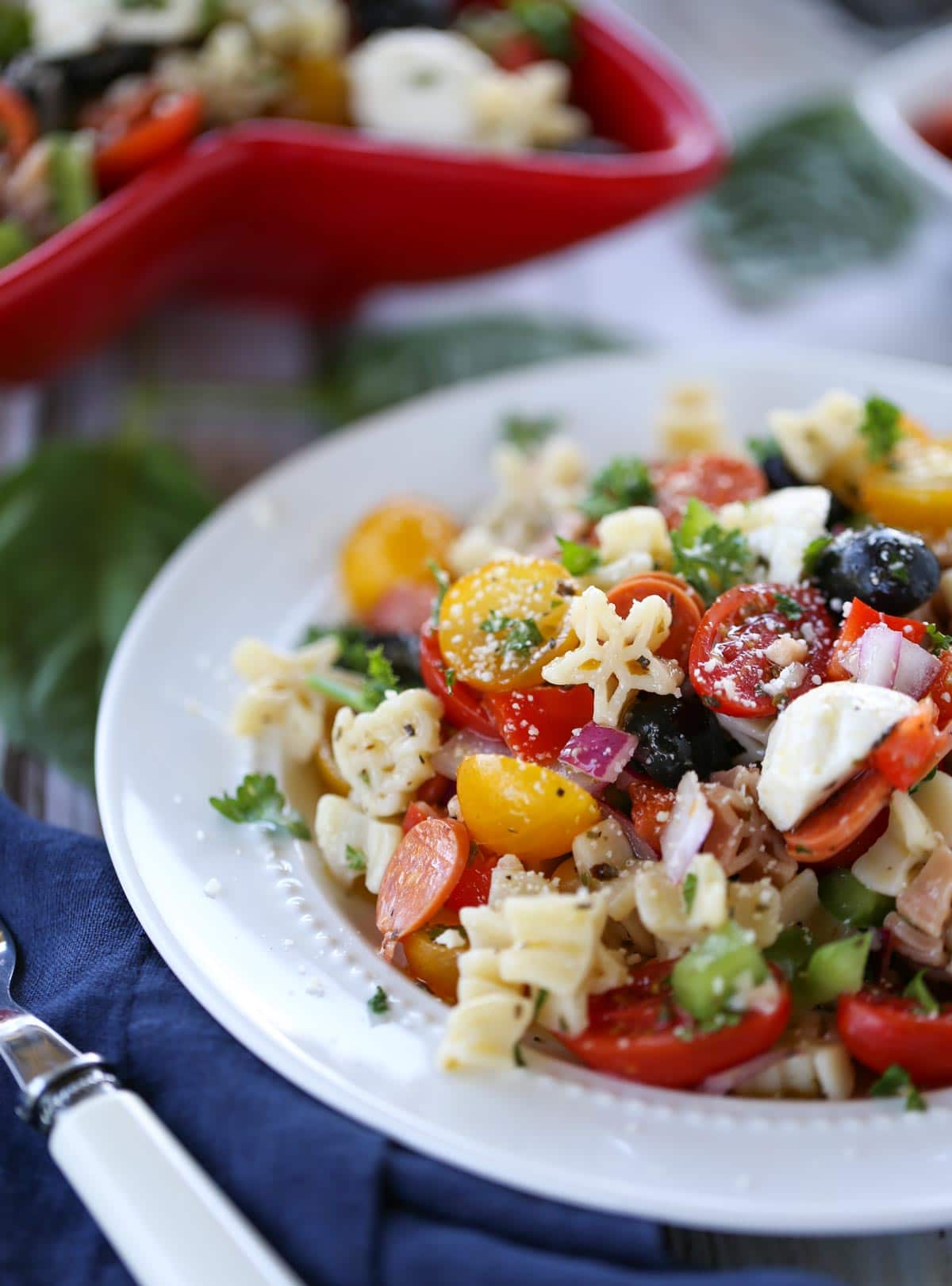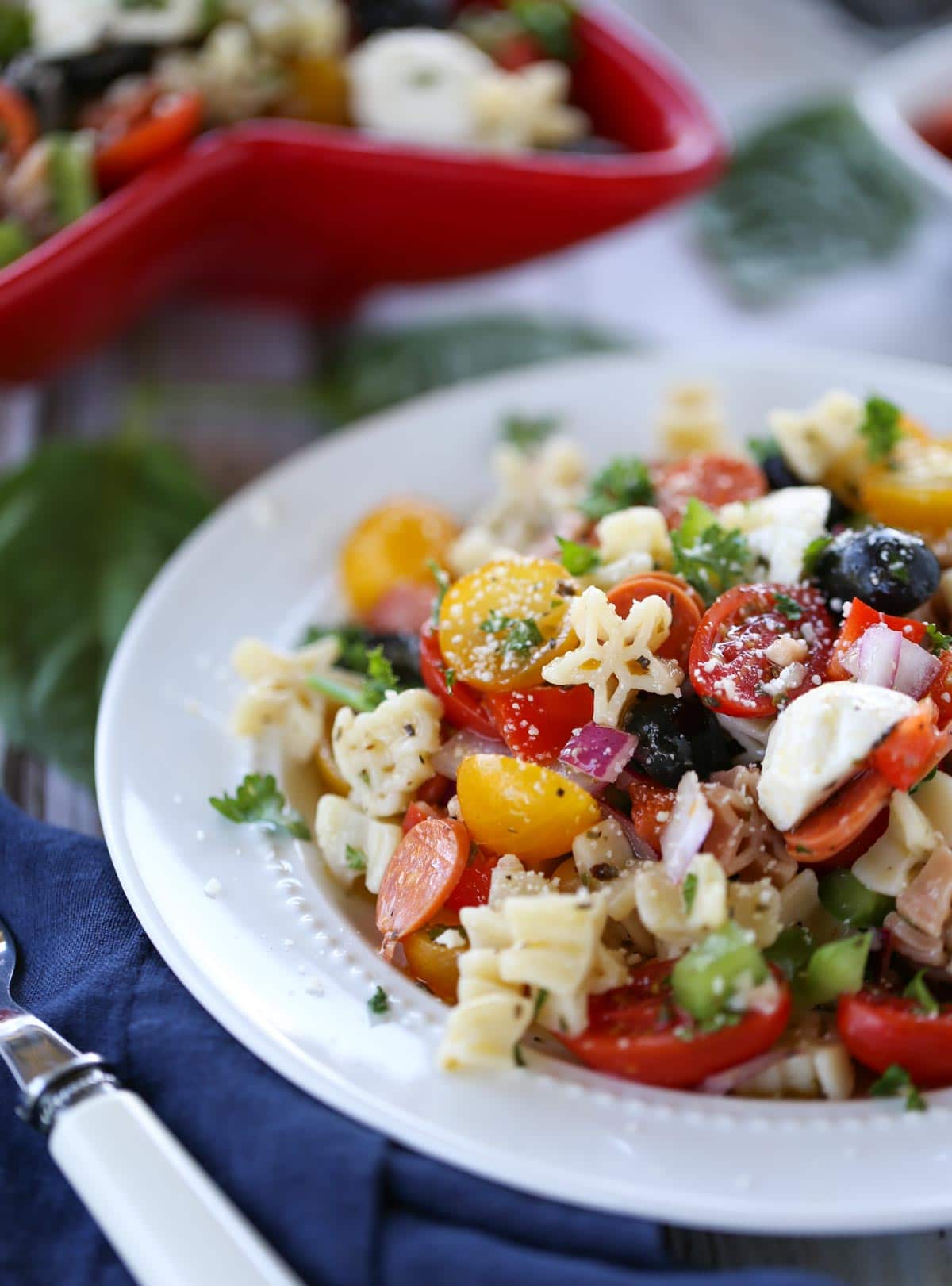 Pizza themed pasta recipes are something that appeal to everyone.  If a "warm" pizza pasta is calling, then you must try our Pepperoni Pizza Pasta.  Yum.  And I'm already thinking of some others to test – sausage?  white pizza? Mediterranean?    Gosh, I have a weakness for pizza!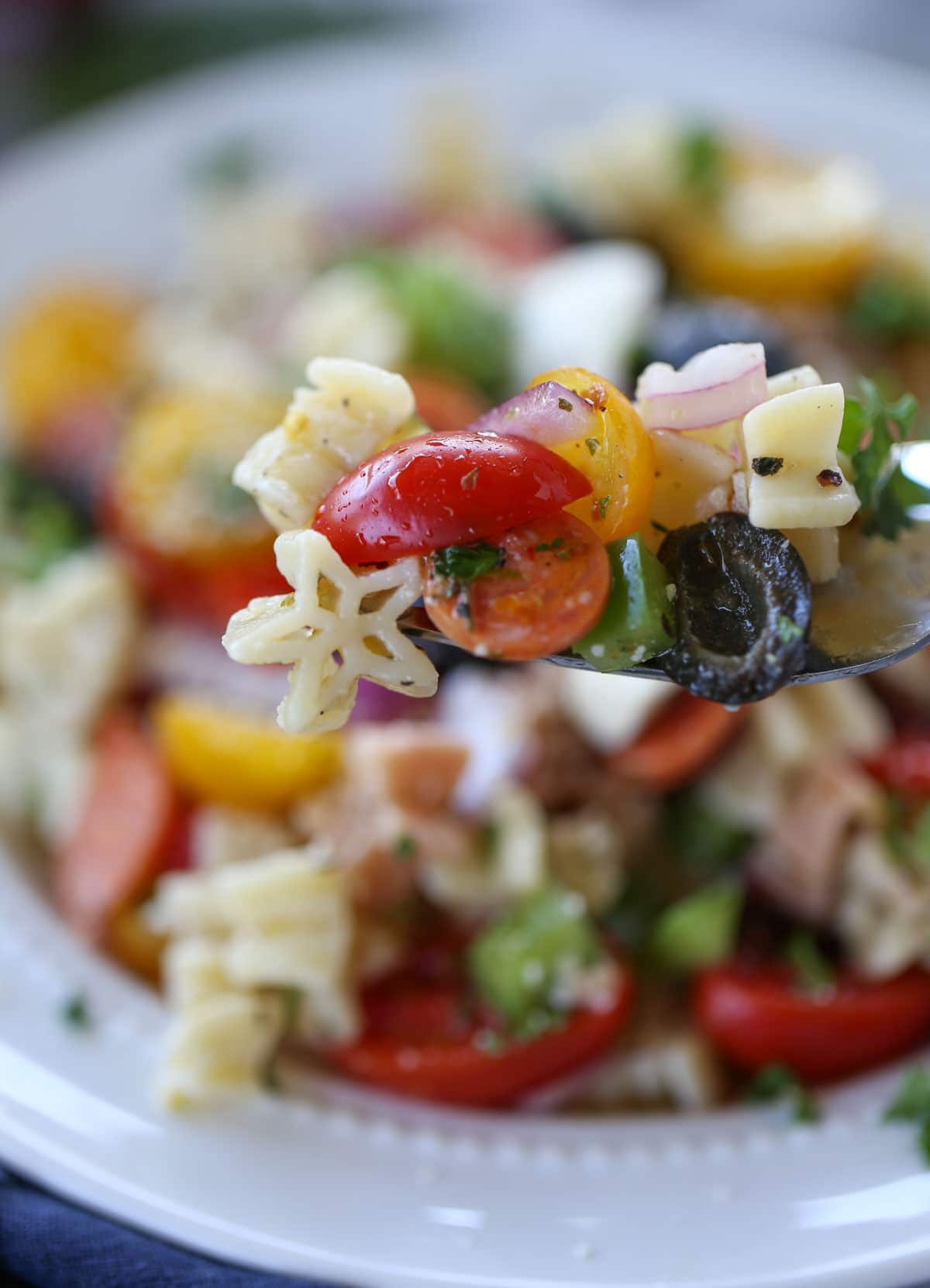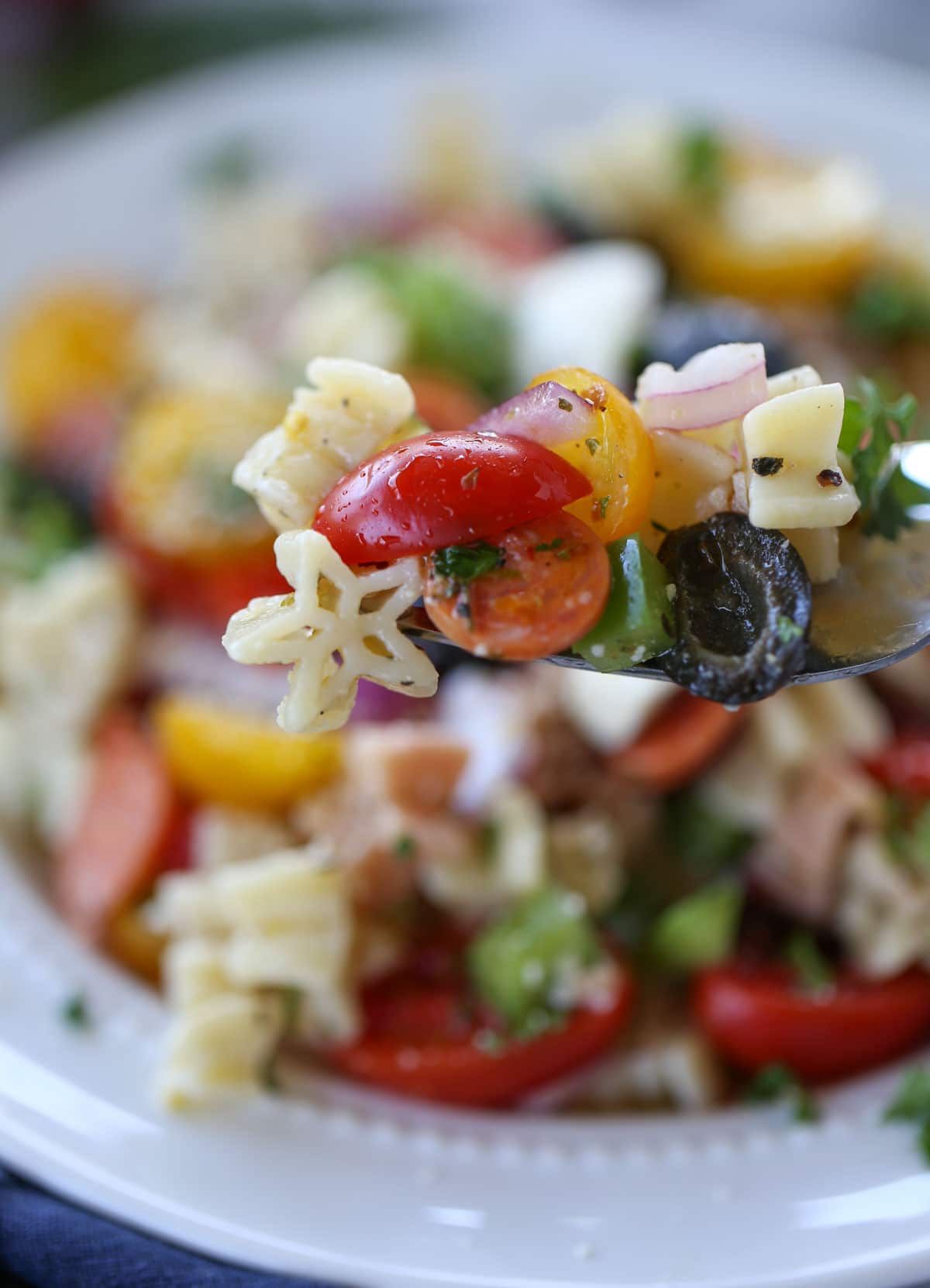 The pasta choice can be entertaining too.  I had to feature our American Pride Pasta for the day…flags and stars, but have fun choosing shapes that fit whatever the occasion.  And let me know if you have any other pizza pasta recipe ideas…I'd love to know!
Supreme Pizza Pasta Salad
Your favorite pizza ingredients combine to make a delicious pasta salad…perfect for any summer grill night!
Ingredients
8 ounces

of fun shaped pasta (any shape will do; I used

1/2

bag of American Pride Pasta)

1 cup

mini pepperoni slices

2 cups

quartered fresh mozzarella balls (marinated or plain)

2 cups

halved grape tomatoes (use a combo of red and yellow for color!)

1/2 cup

sliced black olives

1/2 cup

diced red onion

1/2

red pepper, diced

1/2

green pepper, diced

1/4 cup

grated Parmesan cheese plus more for garnish

14 cup

fresh basil, chopped plus more for garnish
Dressing:

1/2 cup

olive oil

1/4 cup

red wine vinegar

2

cloves garlic, minced

1/2

t. oregano

1/2

t. garlic salt

1/2

t. basil

1/4

. t. red pepper flakes or

1

dash Tabasco

1/3

t. kosher salt

1/4

t. black pepper

2

T. fresh parsley, finely chopped plus more for garnish
Instructions
Cook pasta according to package directions. Drain and rinse with cold water. Toss with 1 T. olive oil and set aside. Put half of pasta in a zip lock in fridge for later! (I cooked a 14 oz. bag)
Whisk all ingredients for dressing on a small bowl.
Combine pasta and all ingredients with dressing in a large bowl.
Top with more fresh parsley, basil, and Parmesan cheese.
Serve immediately or refrigerate until ready to serve. Can be made hours ahead, but preferably not overnight as pasta will absorb the dressing!
Enjoy!
Join our email list for fresh pasta recipes delivered to you every week!
Your information will NEVER be shared or sold to a 3rd party.