Pasta Salad with Tuna, Apple, and Dried Cranberries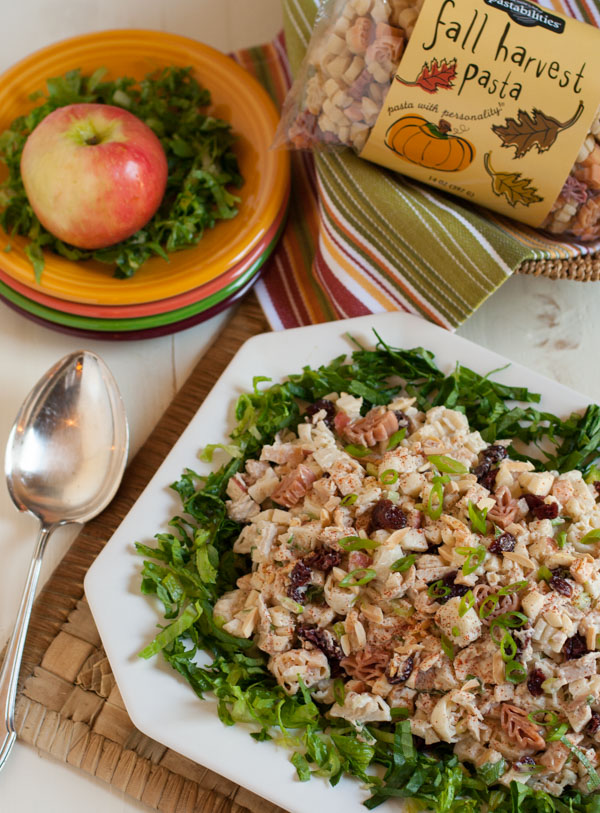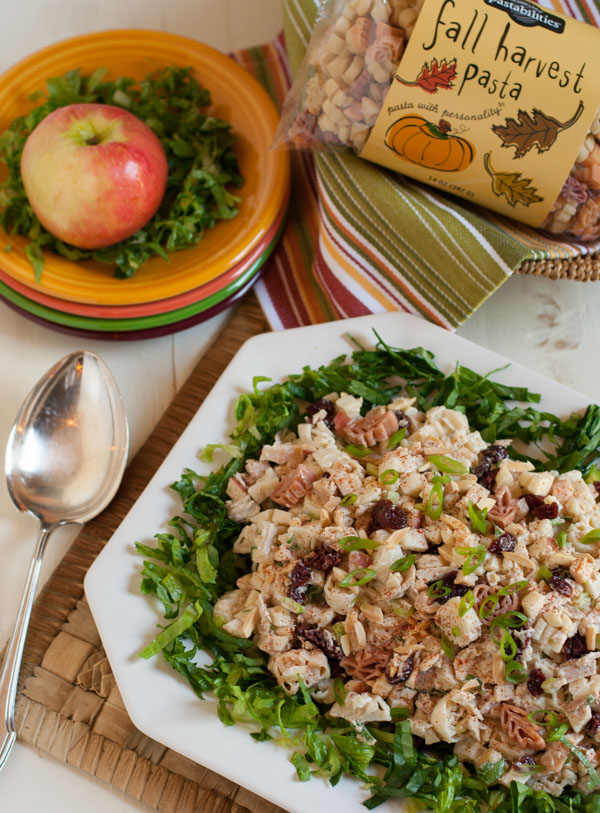 Please welcome back Mary Clarke, aka "Cookie", my mother and the most extraordinarily talented cook I know.  This is her second time as a guest blogger!  She is a former gourmet cooking teacher, has built a successful catering business here in Nashville, and is known for her creative, absolutely delicious flavors, and beautifully garnished dishes.  One can usually find her in her kitchen "headquarters" testing some new creations or teaching one of her grandchildren how to make cookies.  Take it away Cookie!
"Tick tock, tick tock" – does the clock really start running faster after Halloween? (Father Time has surely been slapped with a speeding ticket by now!)
School is back in full force (and may I inject a tribute to all teachers), and Fall transitions us from the slower pace of summer with a big jolt, thrusting us into new routines and tighter schedules with the holidays just around the corner. And we still need food – just faster – and I mean good, nutritious food.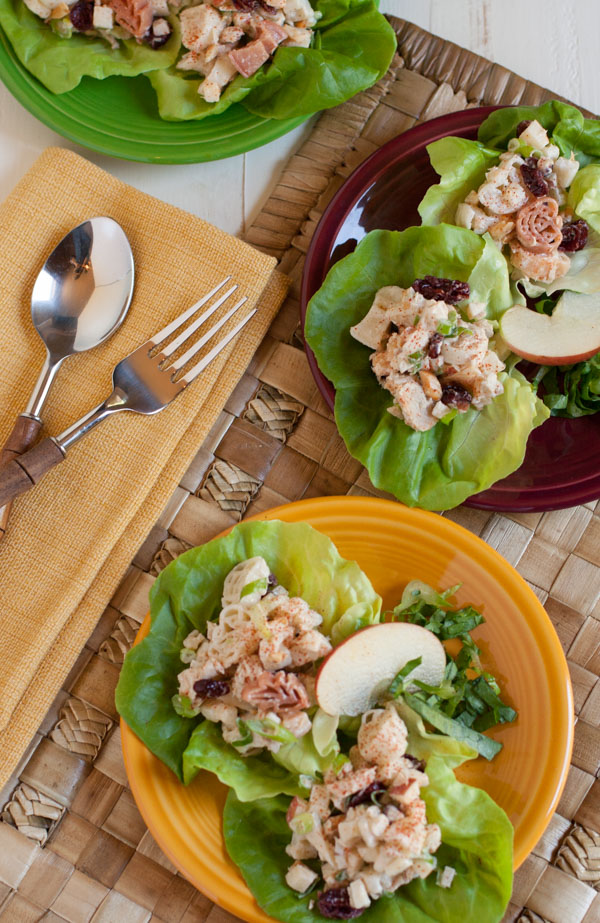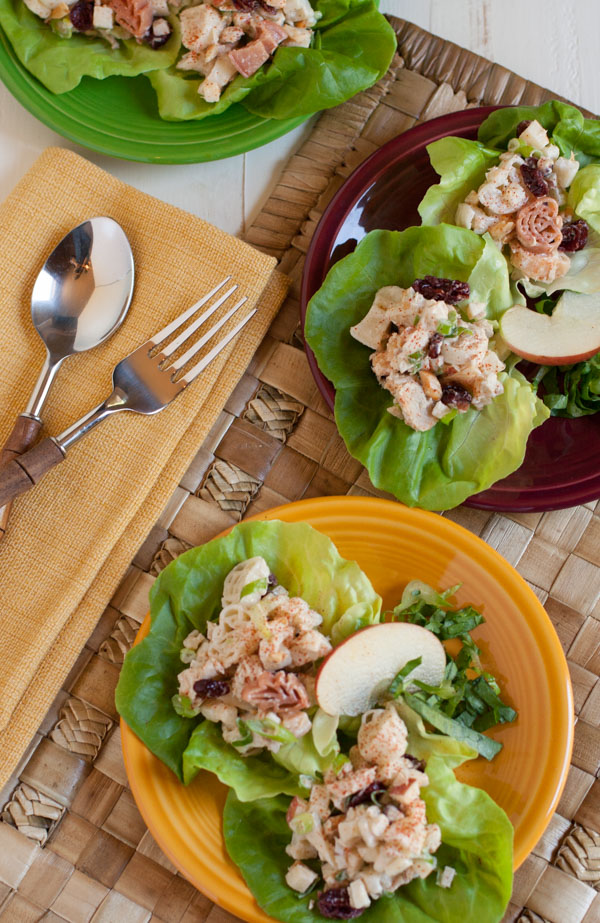 "Tick tock"…we head to the market, and what do we see? Flowering mums in vivid colors, pumpkins in all sizes, and glorious apples – yes, apples, apples, and more apples! Interestingly, 7,500 varieties have been identified globally – wow! Most of us feel blessed to be offered up to 10 varieties in any one location.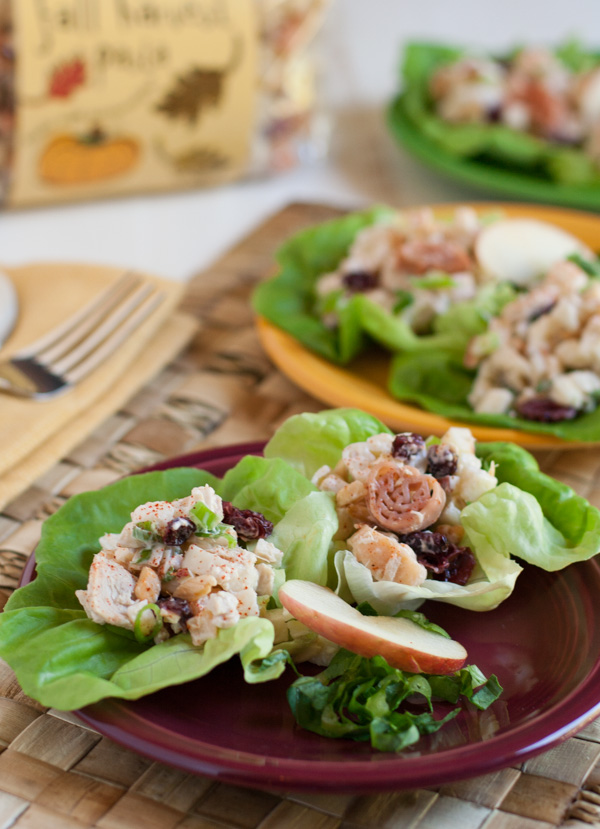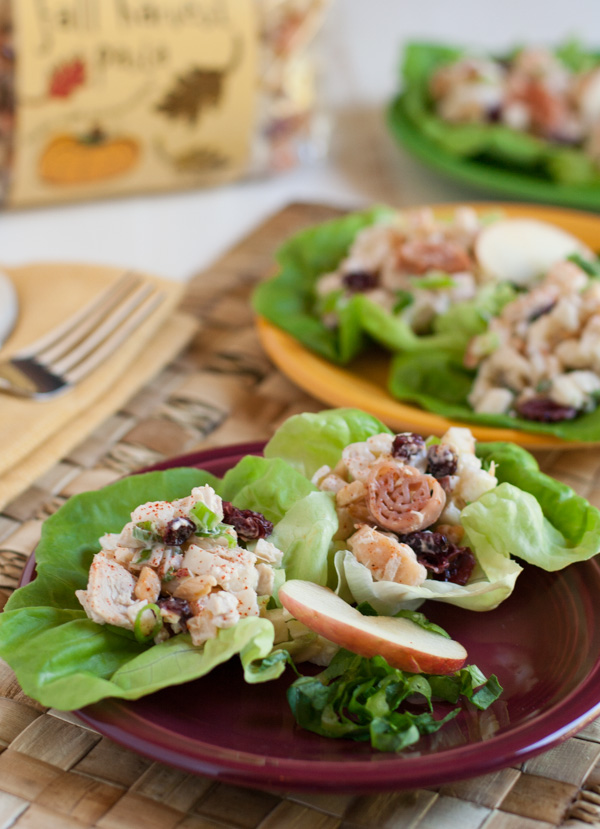 Apples have long been the most popular portable non fridge fruit snack (with bananas and grapes following closely) for both children and adults.  So when I grab an apple and jump in my car, munching joyfully, I'm then faced with how to dispose of the core and always ponder…if I throw it out the window, am I littering or simply nourishing the wayside soil? No, I never do…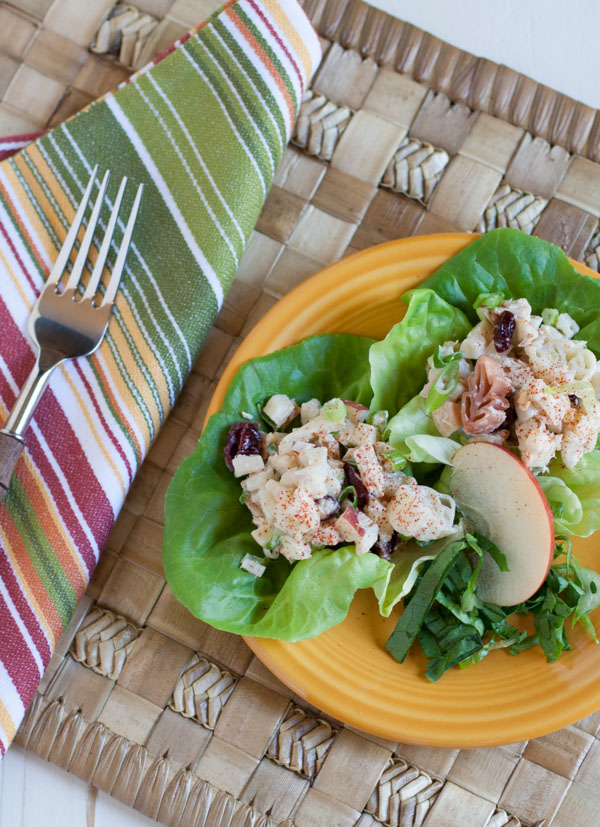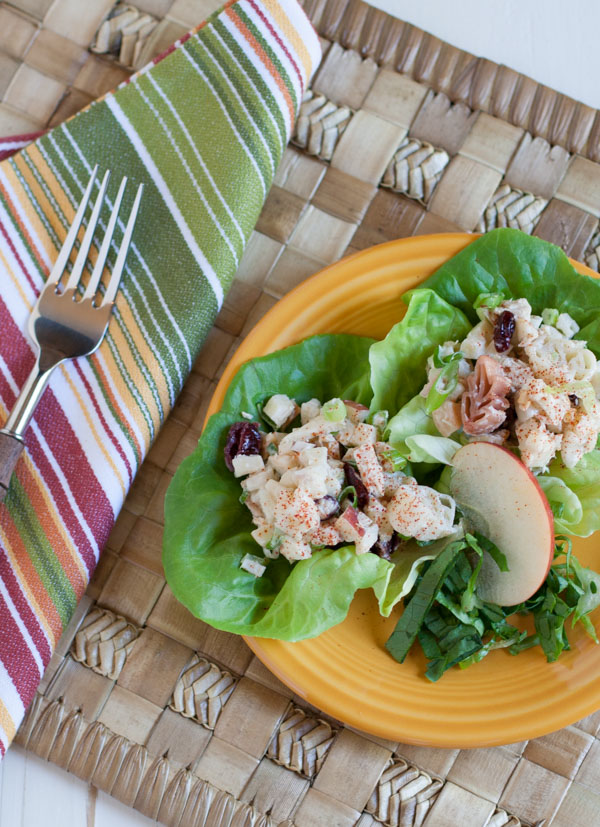 Back to our need for good food fast, one of my favorite "go to" quickie homemade lunches and/or snacks is easy and packed with good energy from pasta and apples, and protein from tuna! Good lookin' salad, don't you think?  You might also want to try our Tuna Pasta Salad with Green Beans.
Perk up your expectations and try this updated take on a time honored classic, tuna salad!  Love it in a wrap too!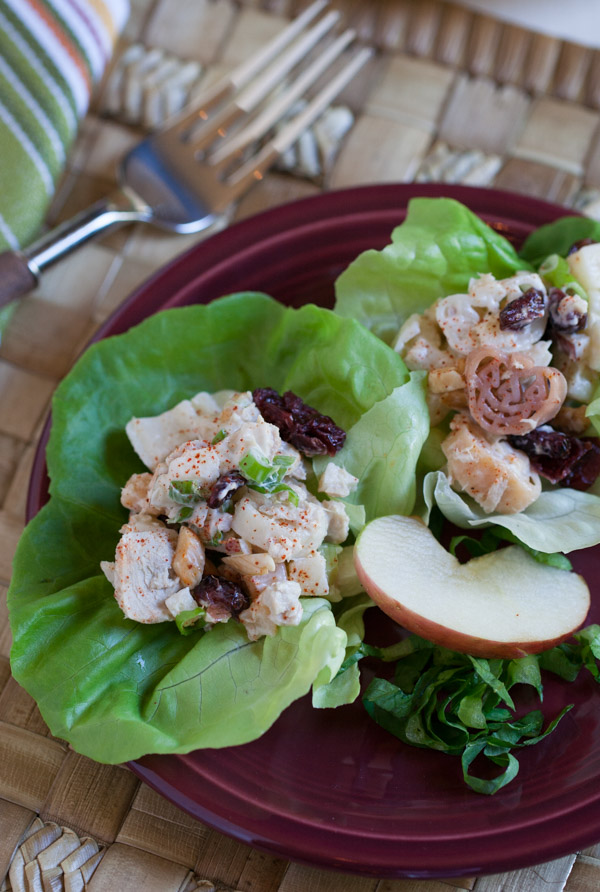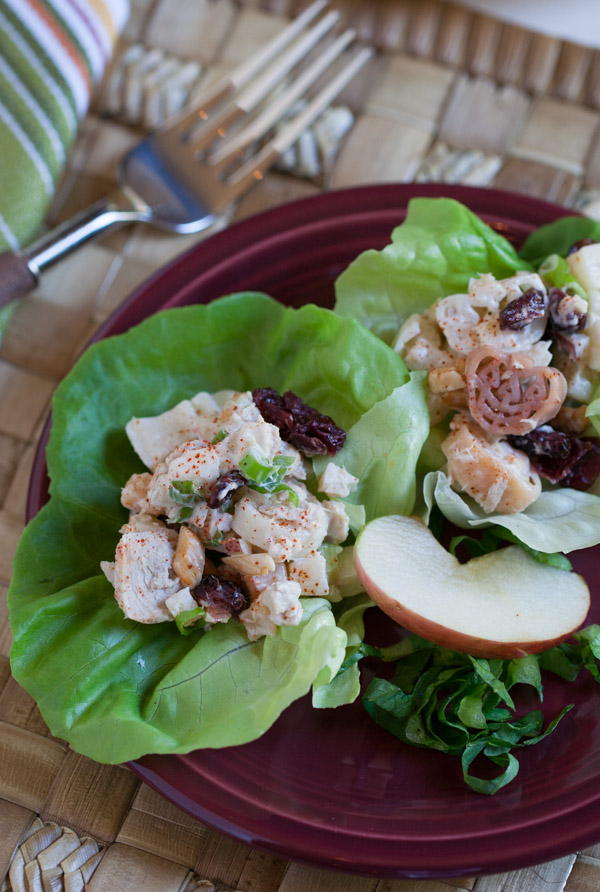 Side line grandmother's memory of Fall: When our first born grandson (Carey's) was in preschool, his teacher greeted the class with this challenge question: Class, tell me, when the weather changes and leaves begin to fall off the trees, what "season" is it? Clarke immediately waved his hand in exuberant enthusiasm, and when called upon, exclaimed, "It's hockey season!" Thanks to his Dad and love of the sport, he, at 16, still plays the game…sweet memory!
Thank you again, my darling Carey, for asking me to blog yet a second time.  Just felt i needed to get apples in before the pumpkin "mania" delights us to death…but I'm sure Carey, you'll get your own take on pumpkins soon!
Love,
Mom (Cookie)
Pasta Salad with Tuna, Apple, and Dried Cranberries
Pasta Salad with Tuna, Apples, and Cranberries is a perfect lunch or snack! Crunchy and fresh, it's an everyday favorite! Use any short pasta shape!
Ingredients
Approximately

1/2

bag or 7-8 ounces pasta, cooked according to package directions. (Use any short shape of pasta)

2

–

5

oz. cans of tuna packed in water, preferably white albacore, drained, or more to taste.

1 cup

dried cranberries

1

large Fuji or Honeycrisp apple, chopped, or any sweet, crisp variety

4

green onions, chopped

1/2 cup

slivered almonds, toasted (save some for garnish)

1/2 cup

mayo or Miracle Whip (fat free or reduced fat OK)
Salt and pepper to taste if needed
Romaine lettuce for garnish, or butter lettuce for cups or wraps
Instructions
Cook pasta according to package directions, drain, and rinse with cold water.
Carefully combine and toss all ingredients in a large bowl.
Adjust seasonings to taste with salt and pepper.
Serve pasta salad over a bed of Romaine lettuce or in individual Butter lettuce leaves as a wrap!
Enjoy!
Notes
1) Amounts of ingredients can be added to or subtracted from, according to what you like best and what you might have on hand.
2) Amount of mayo or Miracle Whip will need to be adjusted either way but use only enough to bind ingredients. This salad is not meant to be "creamy" or "swimming in mayo" like so many others – use just enough – these flavors blend well and crunch happily together on their own.
Join our email list for fresh pasta recipes delivered to you every week!
Your information will NEVER be shared or sold to a 3rd party.