Homemade Gnocchi with Chunky Meat Sauce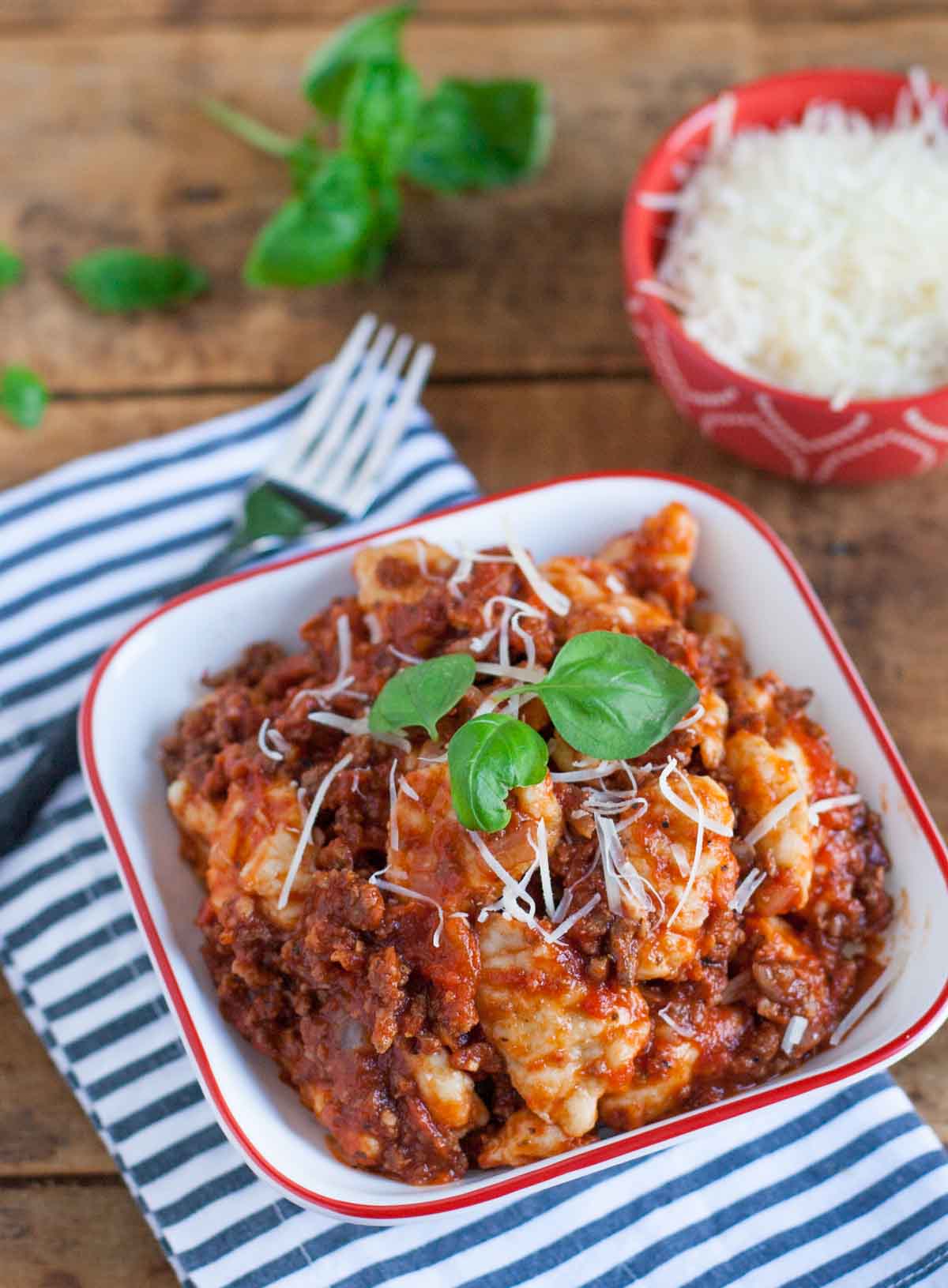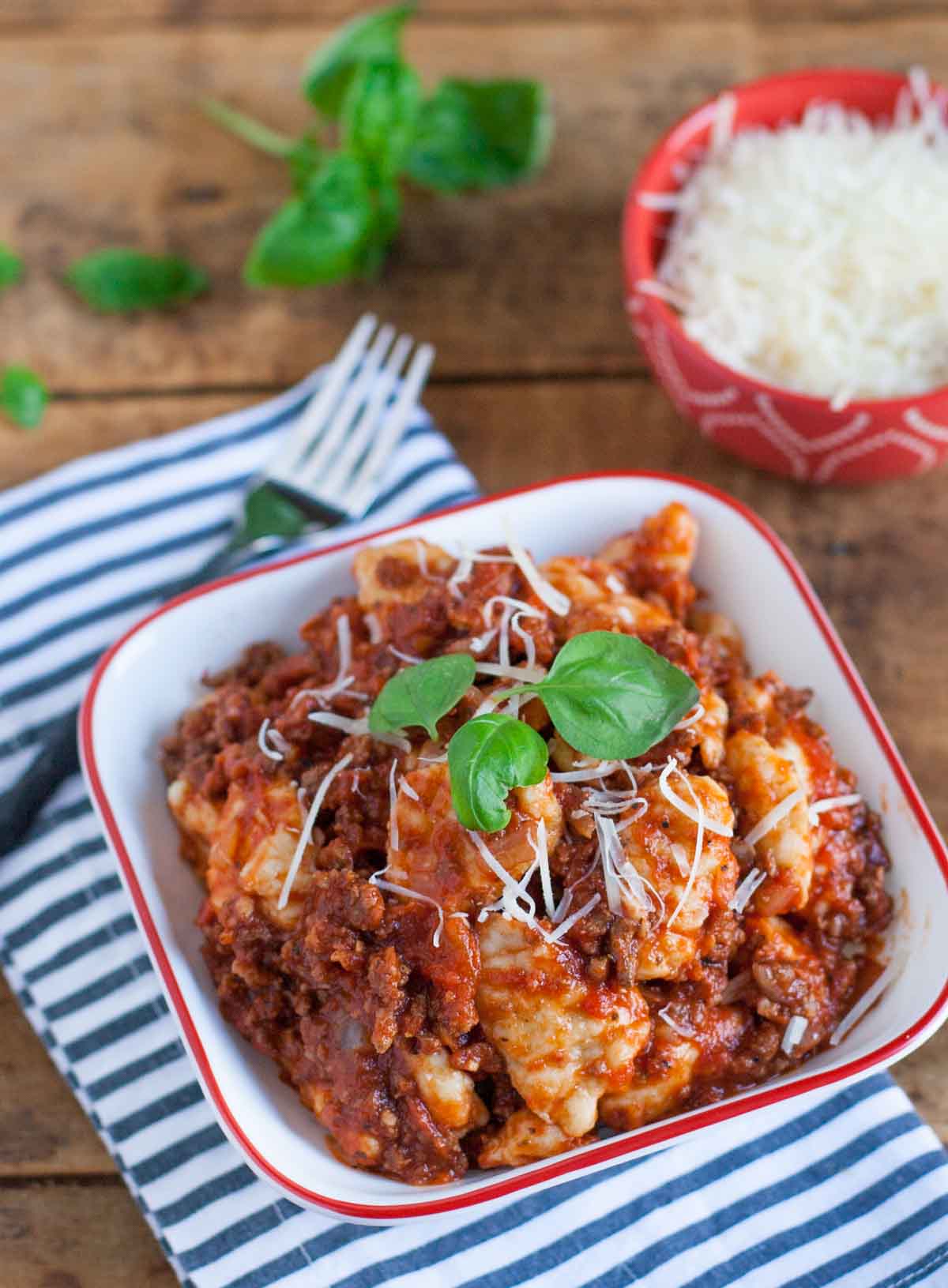 Have you "dug out" yet??  You know…the snow!  The snow came and went here in a hurry…in about three days flat.  We were though, for those few glorious days, transported to a winter wonderland.  Hot chocolate, no schedule, sleeping in, wet clothes everywhere, eating homemade gnocchi, & happy, smiling, tired kids!  It was fun while it lasted…
This past weekend we had sunny blue skies and warm temps almost reaching to the 70's.  What is going on?  We know it's way too early to be thinking about Spring.  But it doesn't matter what the weather is when you are talking about gnocchi, and I mean homemade gnocchi!  Nothing better.  But we have a couple things to clear up here before I show you how easy it is to enjoy the light and fluffy puffs of homemade goodness.
First- we have to address the pronunciation. Everyone is very confused!  Do I say "NO-Key" – with a long o?, or "Guh- NOCK-Key"?  Or do you pronounce it "NYO-key"– where your tongue hangs at the roof of your mouth, while you roll the NNEOO sound? Or "NYAK-key?"  (does any of this sound familiar?)  So the answer is>>>>>>>>not so clear.  Most claim Americans and Italians just say it differently.  Americans say "No-key", and Italians say "NYAK-key".  Your choice friends!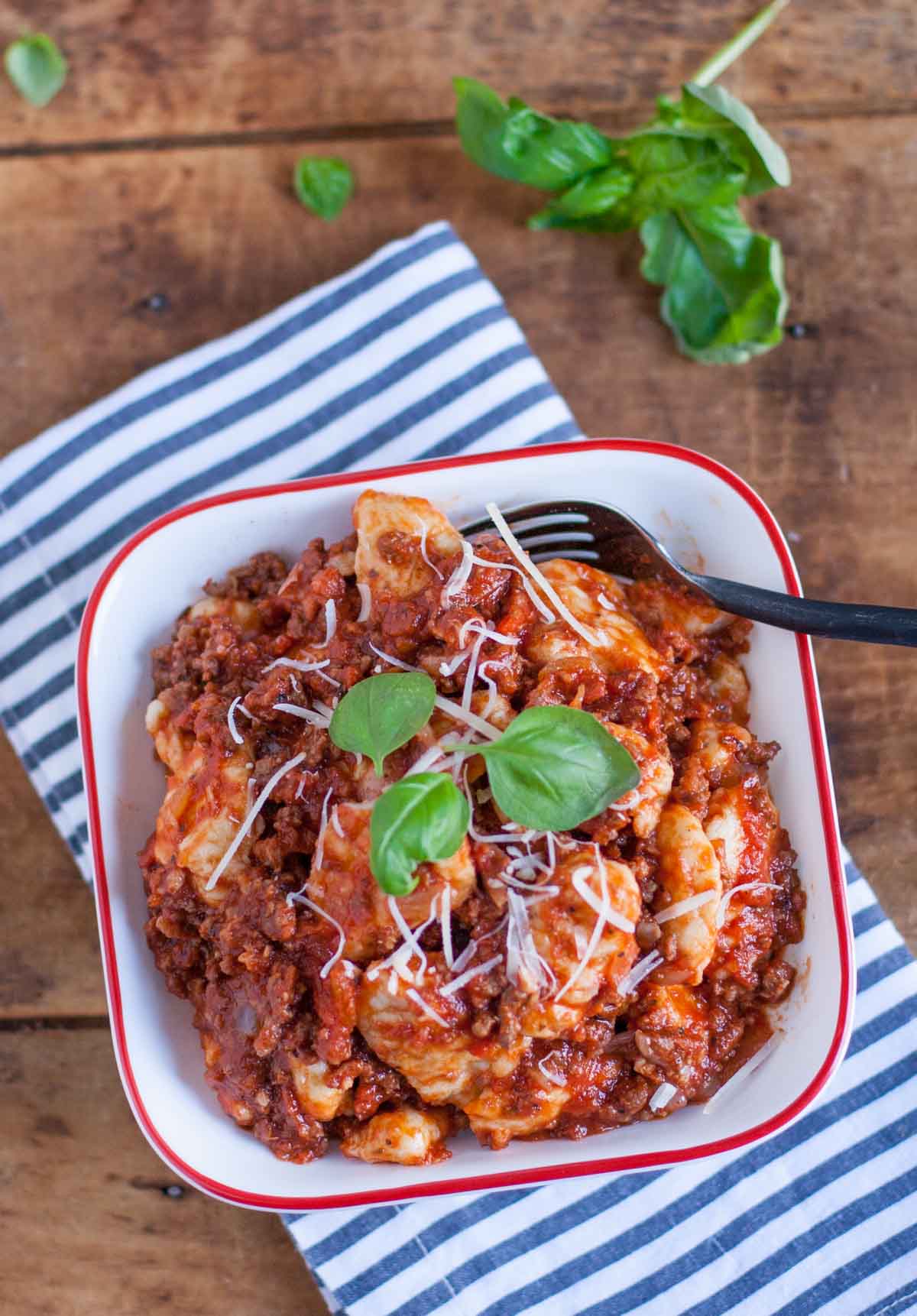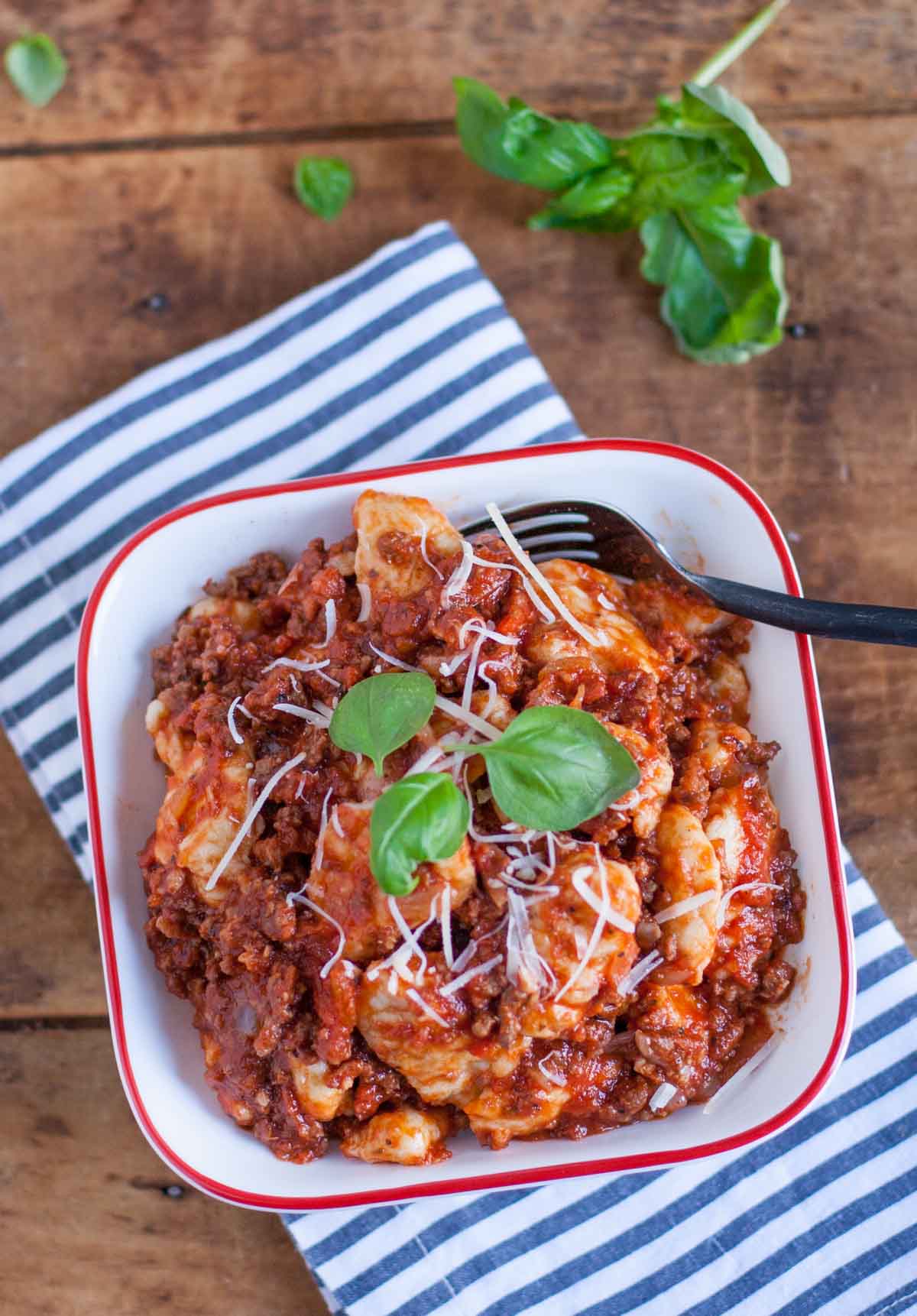 Second – so what exactly is "gnocchi" anyway?  Besides my boys' favorite dish to order at any Italian restaurant, especially with vodka sauce?  Gnocchi is a light, fluffy dough dumpling, usually made with potatoes and wheat flour but includes many variations made with cheeses like ricotta, vegetables like sweet potatoes and kale, etc.  They cook fast in boiling water, rising to the top when they are ready to go.  Gnocchi can be served with a variety of sauces ranging from pestos, like my Everyday Basil Parsley Pesto, butter sage sauces, peas and pancetta, to a variety of tomato sauces.  You'll see it on menus as a first course or offered as an entrée.
Gnocchi is not "pasta", per se, but rather a nice alternative when you are in the mood for something a bit different.  Its lightness makes it elegant and fun to eat, yet it is quite filling.  You can purchase gnocchi at grocery stores if you are short on time, but the texture is never as good as making it at home.  And making gnocchi is easy…I promise!  No special equipment needed.  No experience needed.  Just dive in and try it! 🙂
This homemade gnocchi recipe is a good basic that can be eaten with any of the sauces I've mentioned.  I served it to my son and his three buddies on one of the snow days.  Because they are teenage boys, I thought it would appeal to their carnivorous sides if I made a chunky meat and sausage sauce to go along with it.  Boys and meat – always a winner. (I see you boy moms nodding your heads!)
I started with our Classic Marinara Sauce recipe and added 1 pound of local smoky sausage and 1 pound of ground chuck.  I just browned the meats in a skillet, drained the fat, and added it to my marinara sauce.  The more meat you add, the chunkier the sauce will become.  You can use Italian sweet sausage, Chorizo, chicken sausages, or anything that sounds good to you.  It's hard to go wrong adding anything to this delicious marinara sauce.  In fact, I doubled the recipe, and still have half in my freezer for another snowy day off!
Homemade Gnocchi
So, here is a quick tutorial on making homemade gnocchi.  Start with russet potatoes, peeled, quartered, and cooked in salted, simmering water.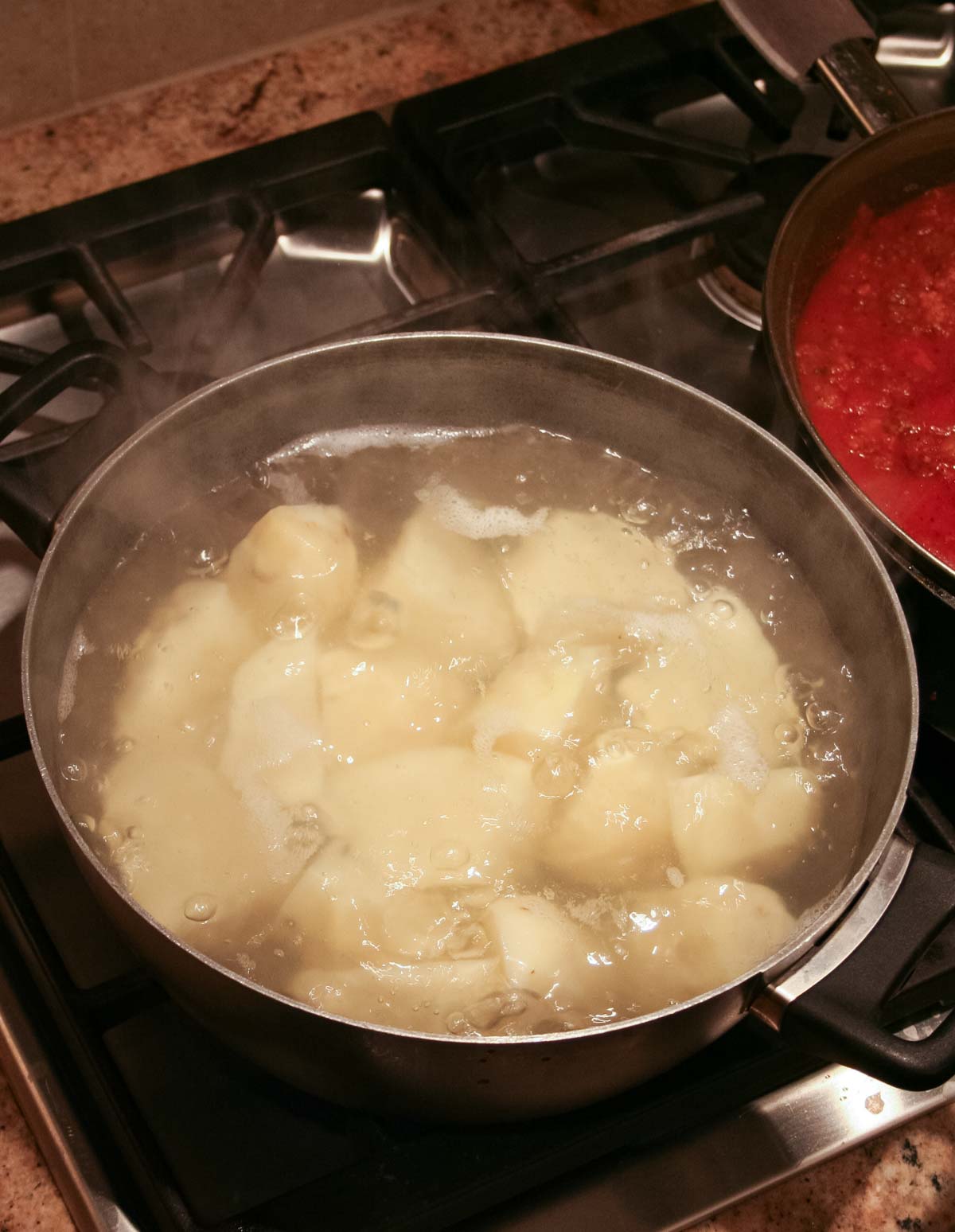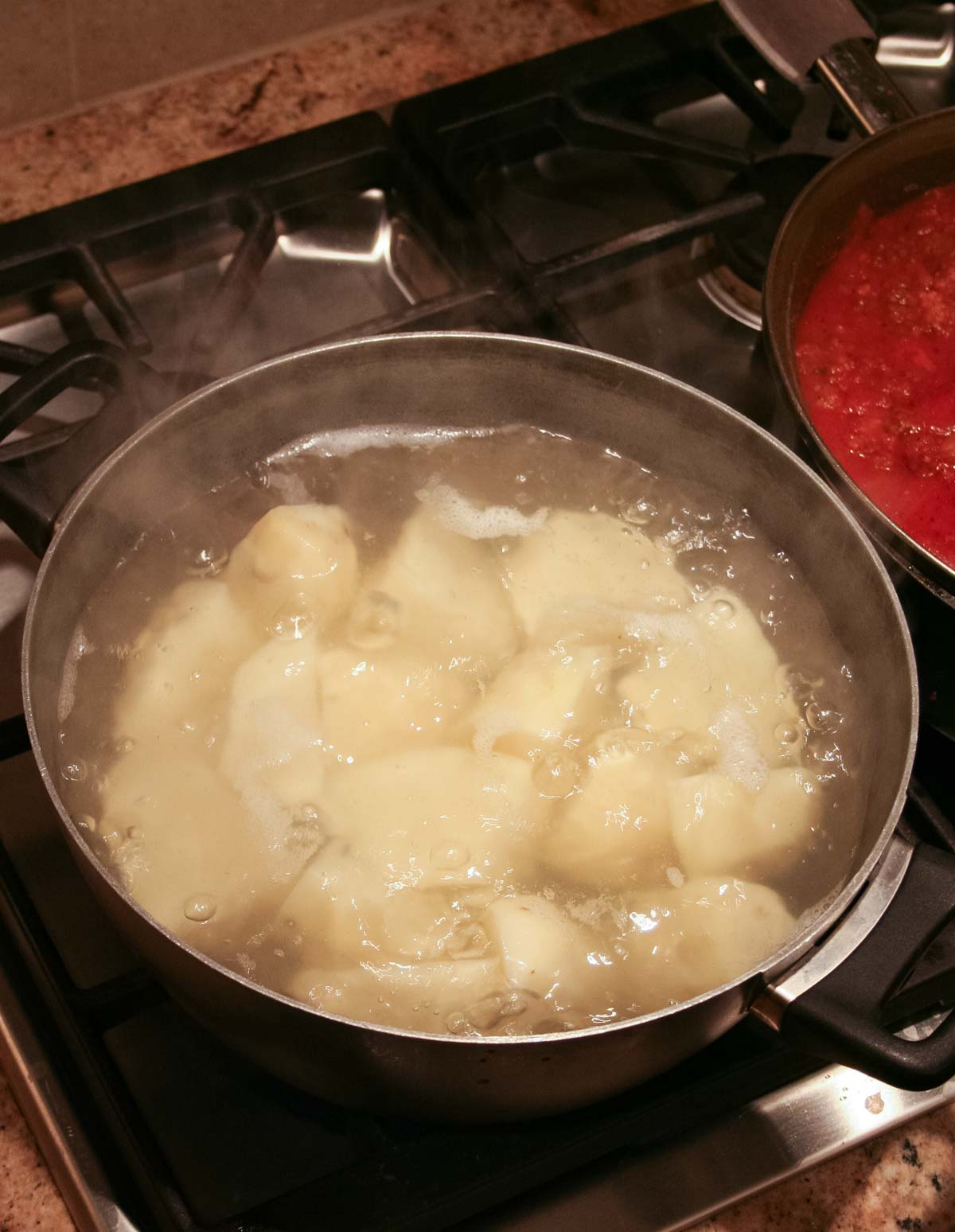 Cool potatoes slightly and run them through a food mill or ricer.  And then cool potatoes completely.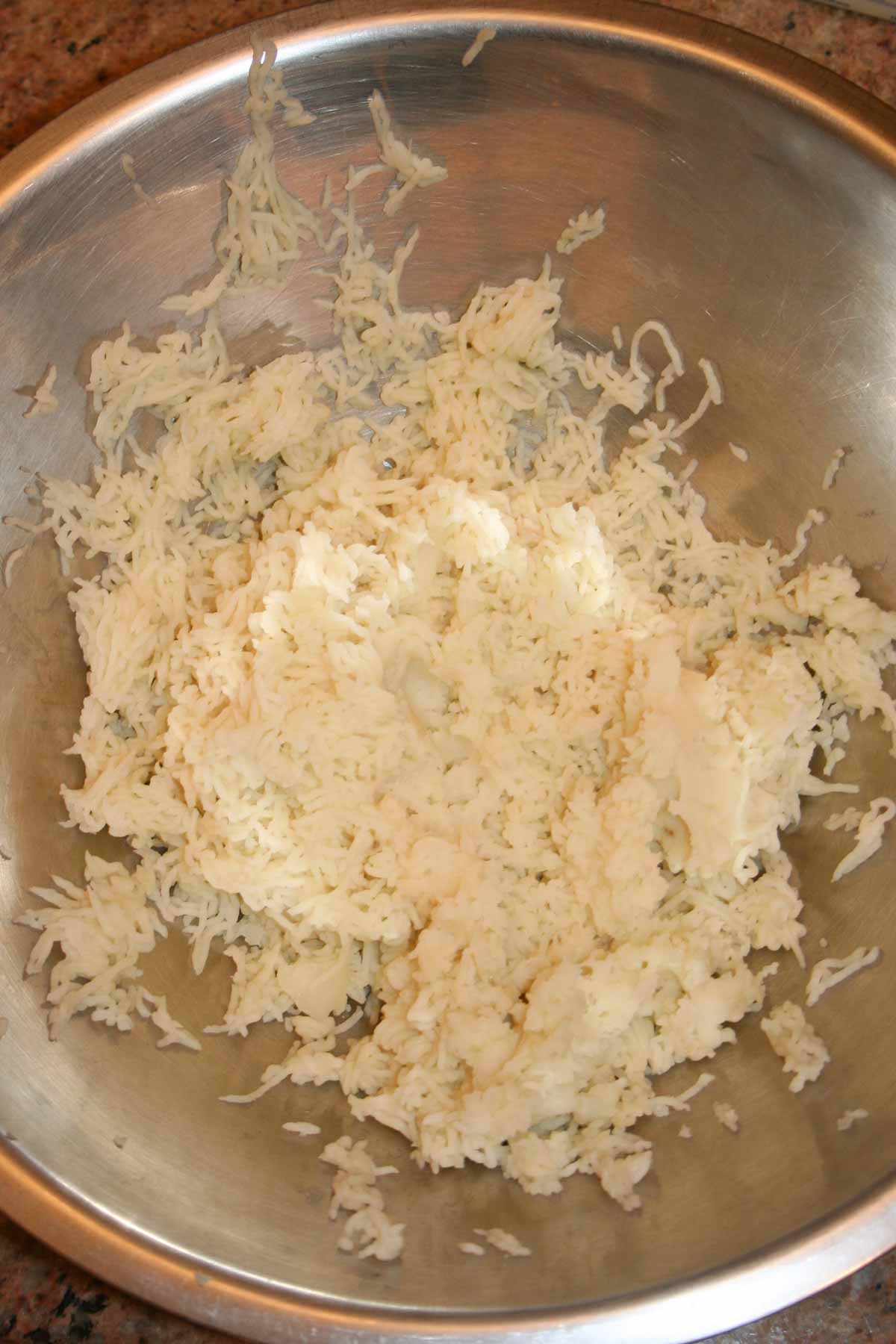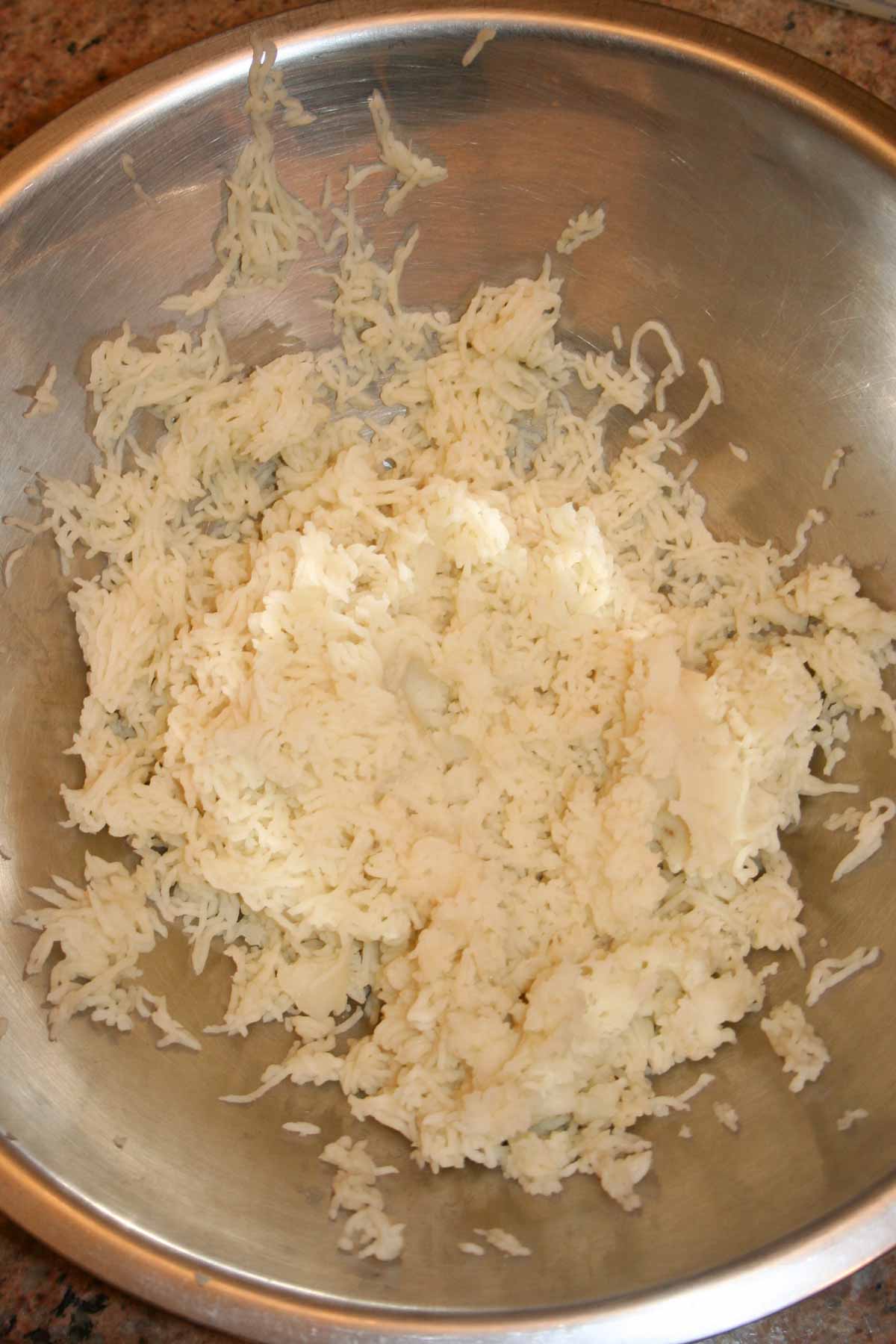 Add the butter, and eggs and mix well.  Add enough flour to form a smooth stiff dough.  Do not over knead dough – we want a light texture!
On a flour dusted surface or counter, take a chunk of the dough and roll it with your hands into a long snake, about ¾" thick.  Using a knife, cut into bite size pieces.  Using your hands, roll each piece over the teeth of a fork, to get some nice grooves.  The sauce will cling to these indentions.  (I couldn't take a picture of this as I was home alone!)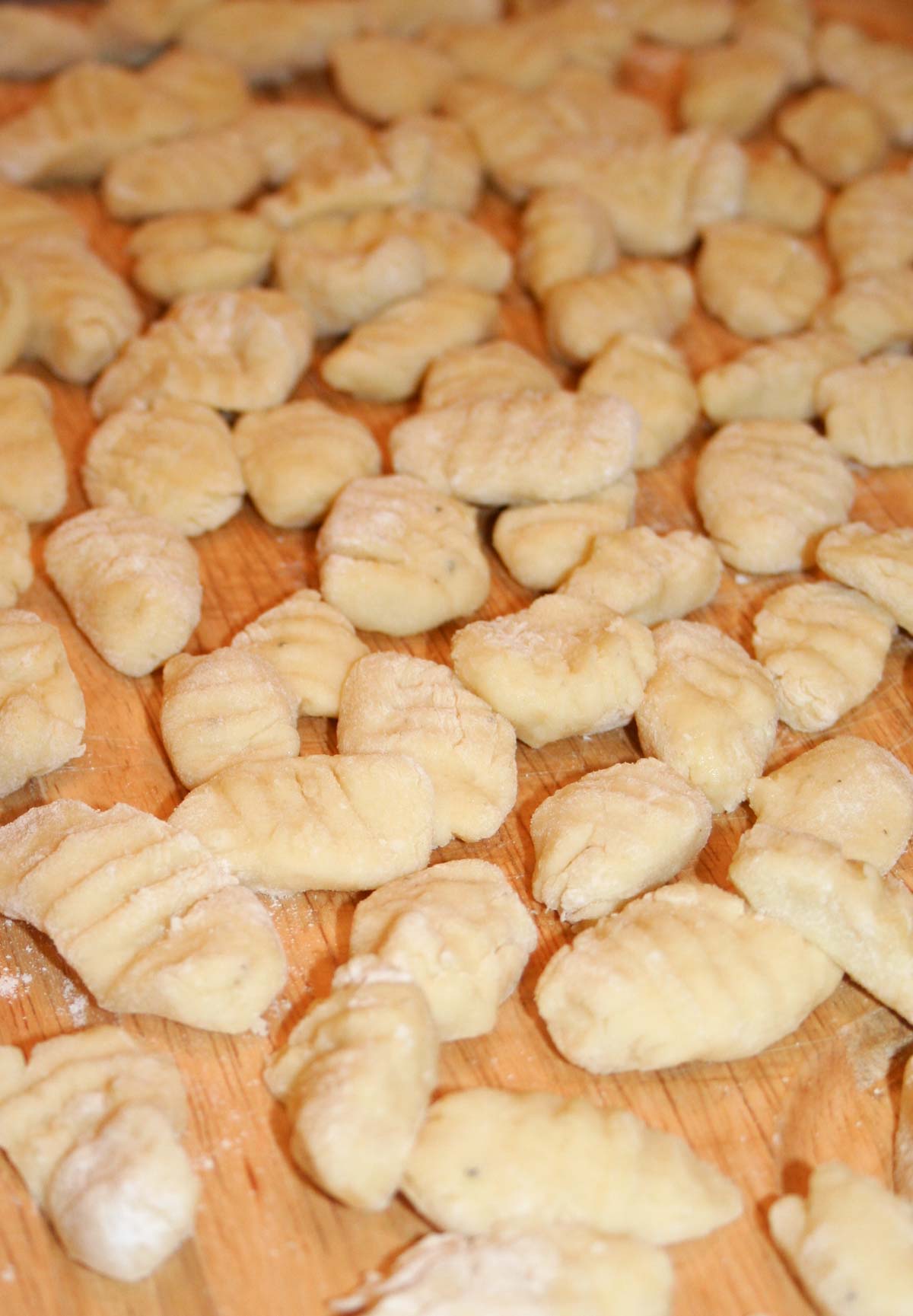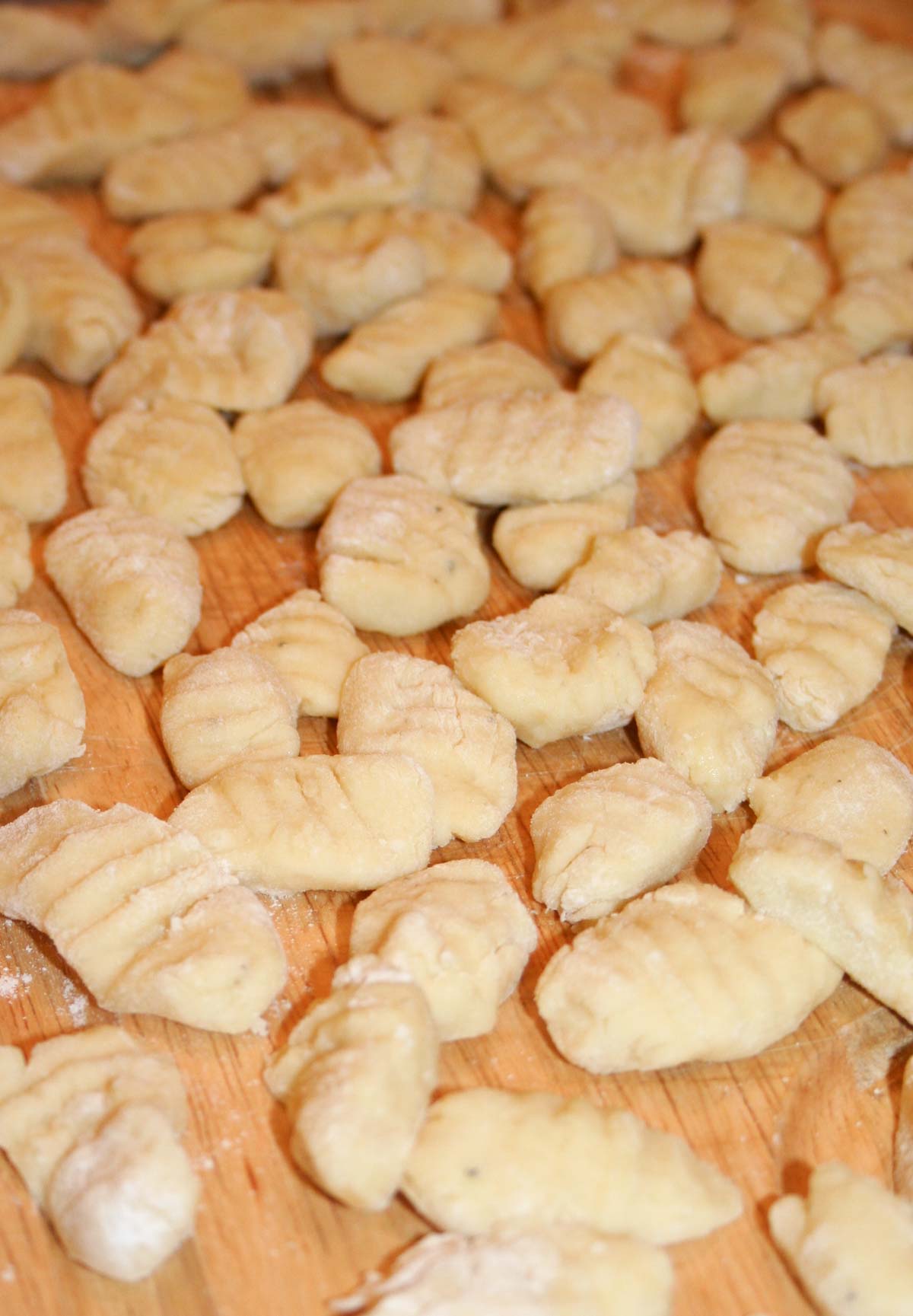 I said "no special equipment needed", but you can use a gnocchi board, and I think I'll add that to my pantry wish list.  Some people make a small indention with their finger as they roll the dumpling over the grooved board.  Again, just another pocket to capture the yummy sauce.  And you'll see too, that some chefs serve gnocchi with a smooth surface and no grooves.  There are lots of ways to present your gnocchi – you can decide what you like best.
When you place the gnocchi into boiling water, they sink to the bottom of the pot.  Within 4-5 minutes, they float to the top, telling you, "We are ready!"  Drain the gnocchi, and top with your sauce of choice.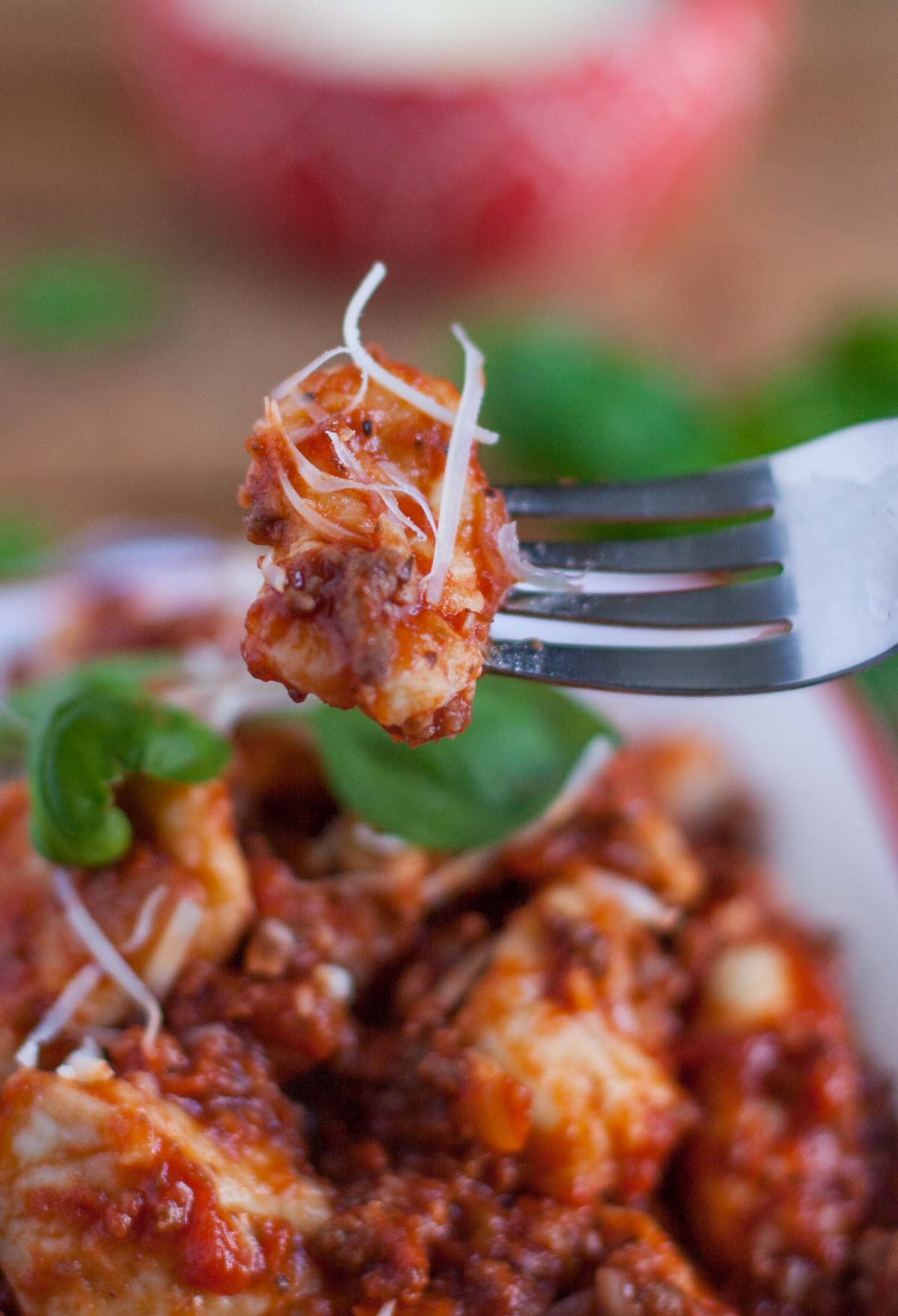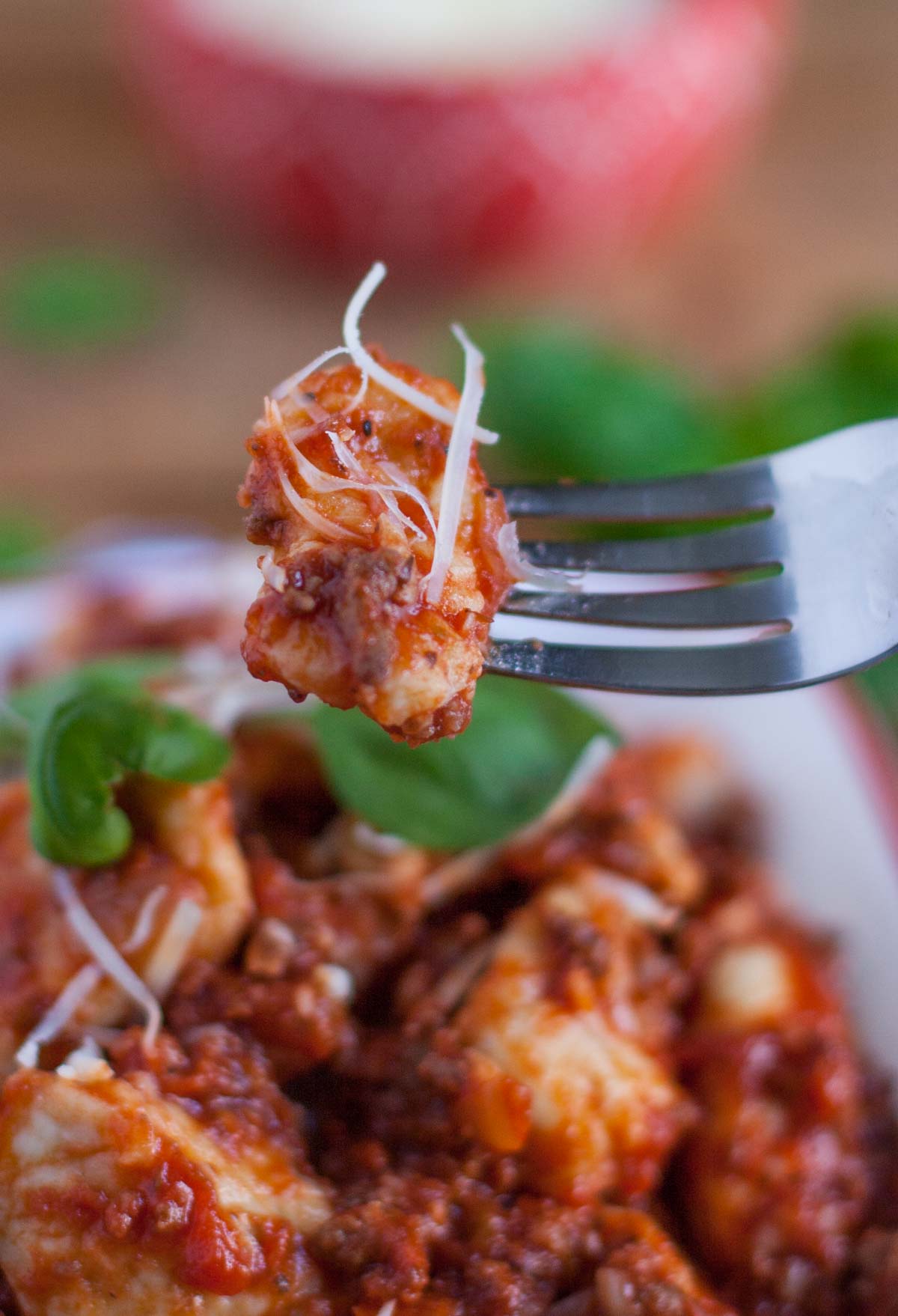 Enjoy your homemade gnocchi pillows and savor each bite!  Making gnocchi is fun and can be a memorable group activity with your kids or friends.  There is nothing better than making a small mess while cooking together, sharing some laughs, and enjoying homemade food.  I'd love to hear about your experiences and other recipes making homemade gnocchi!
Homemade Gnocchi with Chunky Meat Sauce
Light and fluffy pillows of goodness! This homemade gnocchi is made with potatoes and flour and is a basic go-to recipe. Serve with all kinds of sauces – and enjoy!
Ingredients
1 1/2

pounds of Russet potatoes, peeled and quartered

1 ounce

of butter, melted

1

egg, beaten

1

egg yolk, beaten

5 ounces

of bread flour (I used King Arthur)
Salt and ground white pepper to taste
Fresh Parmesan and fresh basil leaves for garnish
For Sauce:
Begin with Classic Marinara Sauce, and add 1 pound each of browned sausage and ground beef.
Or enjoy gnocchi with pestos, butter sauces, or your sauce of choice!
Instructions
Cook potatoes in salted, simmering water, until just tender. Test doneness with a sharp knife. When knife can penetrate middle of potato piece with ease, they are ready.
Drain potatoes, cool slightly and run through a food mill or ricer. Then cool potatoes completely.
Add butter, both the egg and egg yolk and mix well.
Add enough flour to form a stiff dough. Season with salt and pepper. I used about 1 t. salt and 1/2 t. pepper.
Mix with hands and knead slightly to form a smooth dough. Do not over knead, or your gnocchi will be tougher than desired.
Take chunks of dough at a time, and roll out into a long snake, about 3/4″ in width.
Cut bite size pieces of dough with a knife.
With hands, roll each piece over a fork to make grooves. Use a gnocchi board if you have one!
Cook gnocchi in salted boiling water for 4-6 minutes, until gnocchi rise to the top! That is the sign they are ready.
Drain and serve with your sauce! Top with fresh Parmesan and fresh basil!
Notes
Your gnocchi does not need to be exactly uniform in size and look. Don't be afraid to try this and experiment a little!
Making gnocchi is fun and can be a memorable activity if made with family or friends!
Join our email list for fresh pasta recipes delivered to you every week!
Your information will NEVER be shared or sold to a 3rd party.