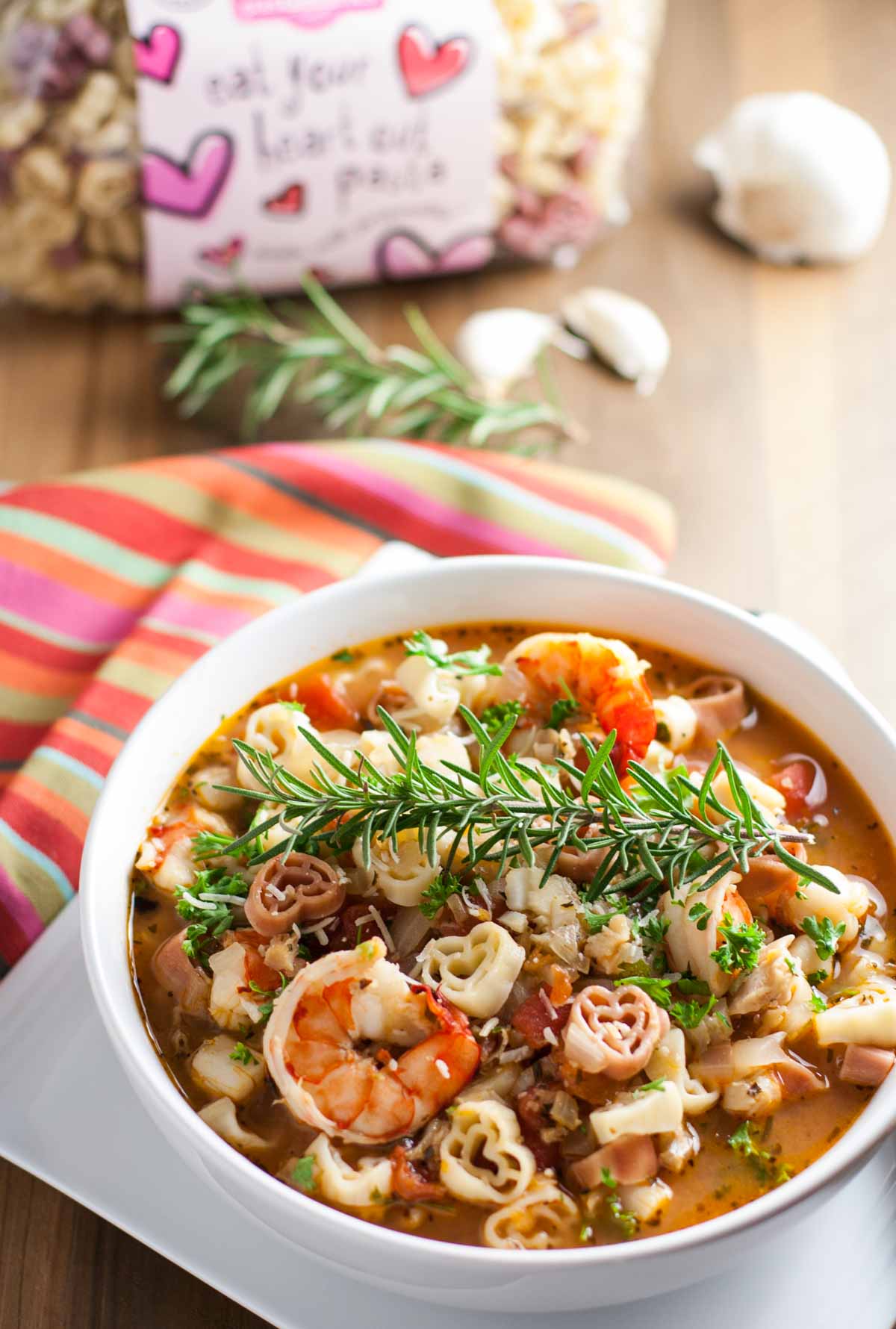 I hope you all have some fun Valentine's plans.  It really doesn't matter what you do…I say skip the roses, at least on this day (overpriced) and hold off on the chocolate (still working on those resolutions?!).
Valentine's Day should be spent with those you love – whether it's your spouse, kids, extended family, or friends.  Celebrating love is IN…and in my opinion, celebrating with "seafood" is always IN and highly appreciated.  (Are you reading this sweetie?!)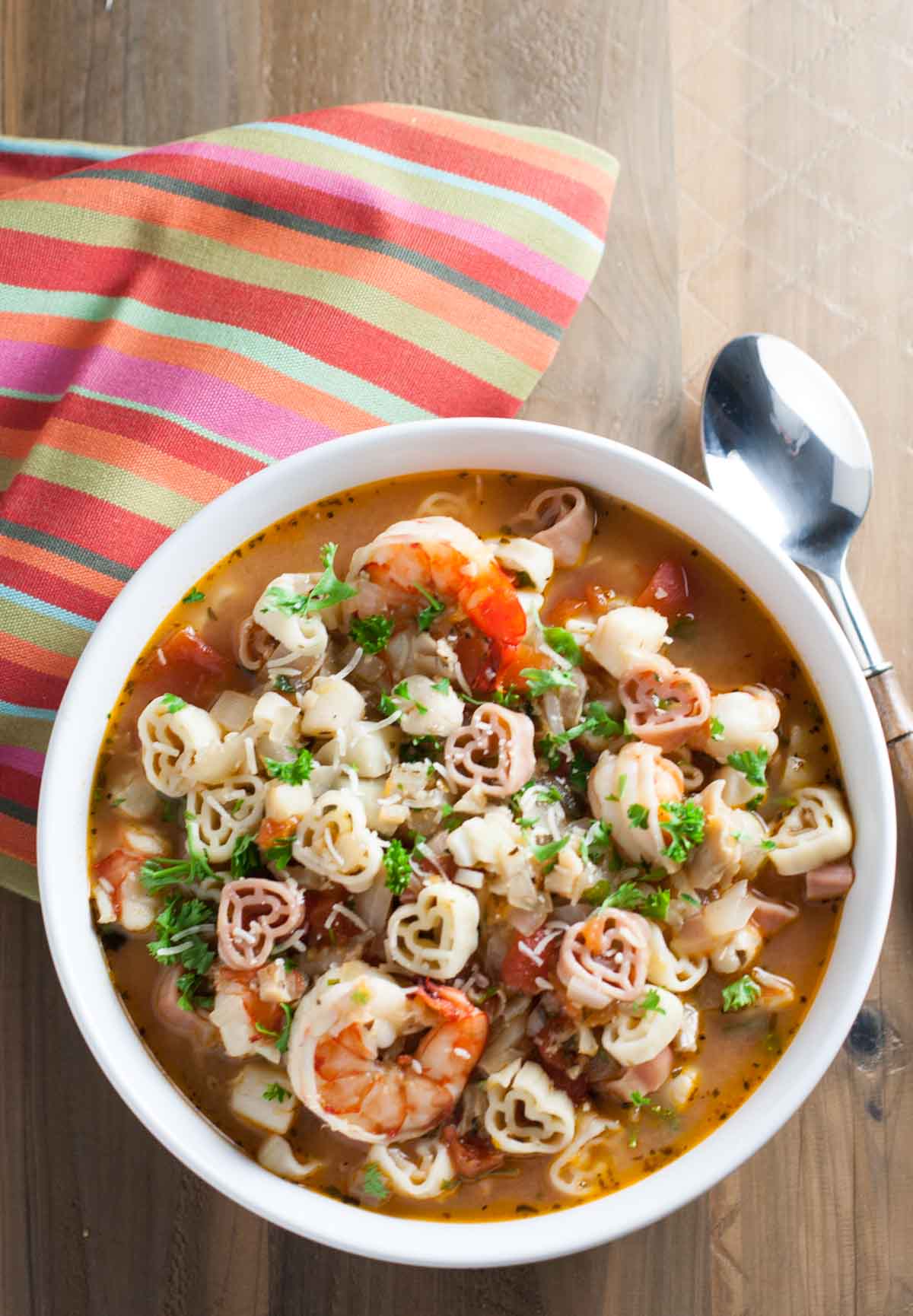 Please say hello to one of my loves – Cioppino.  I've been making this delectable fish stew for years.  Introduced to me by my wonderful mother, Cookie, the "real story goes" that it originated in San Francisco, California in the late 1800's by Italian immigrants working on fishing boats.  Their access to fresh fish and shell fish makes me drool…and the components are fairly simple – fresh fish, white wine, tomatoes, plus a few others, but the flavor combination is simply elegant.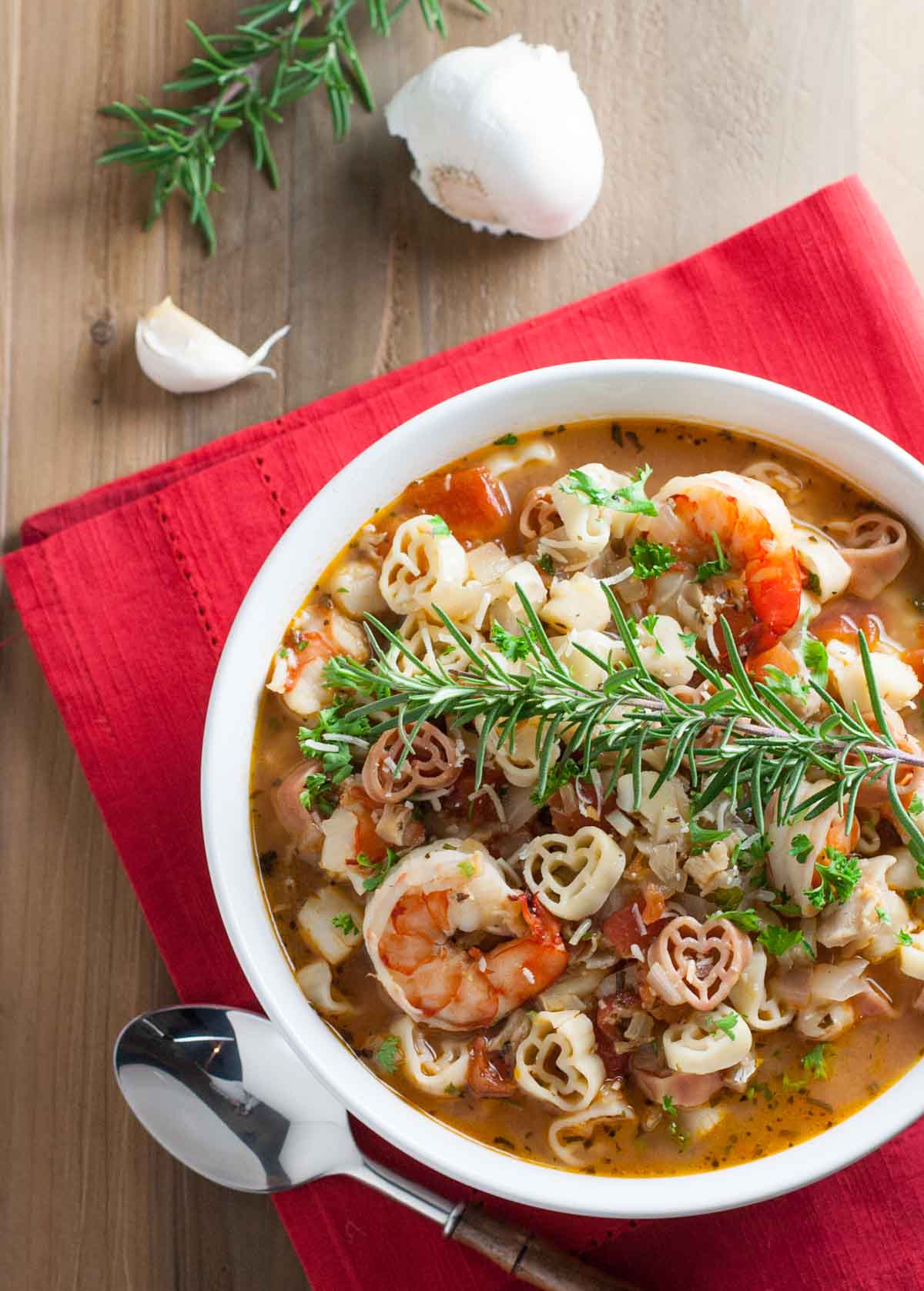 The simple truth – we celebrated Valentine's Day a little earlier this week.  I needed to make a delicious yet memorable dish for my three boys (2 sons + husband) because this weekend is "divide and conquer"!  I'm off touring colleges with our older son, and John is busy attending exciting basketball and hockey tournaments with our younger son.  These opportunities are rare and special and we are embracing the fun!:)
Quick Cioppino with Heart Pasta
So, back to my Valentine's dinner.  First of all, this recipe is SIMPLE…you do not have to have clams in the shell, or mussels, or other shellfish with real "hard" shells on hand.  In fact, the ease and flexibility of this dish also makes it a charmer.  You can run to the store and buy a few key items and be serving this within a couple of hours.
Now, it would be terrific if you were entertaining guests for a special night, and your schedule allowed to track down some fresh shellfish in shells…but believe me, this version is easy to eat and lacks nothing when you are talking great taste.  Go ahead…make it and challenge that statement!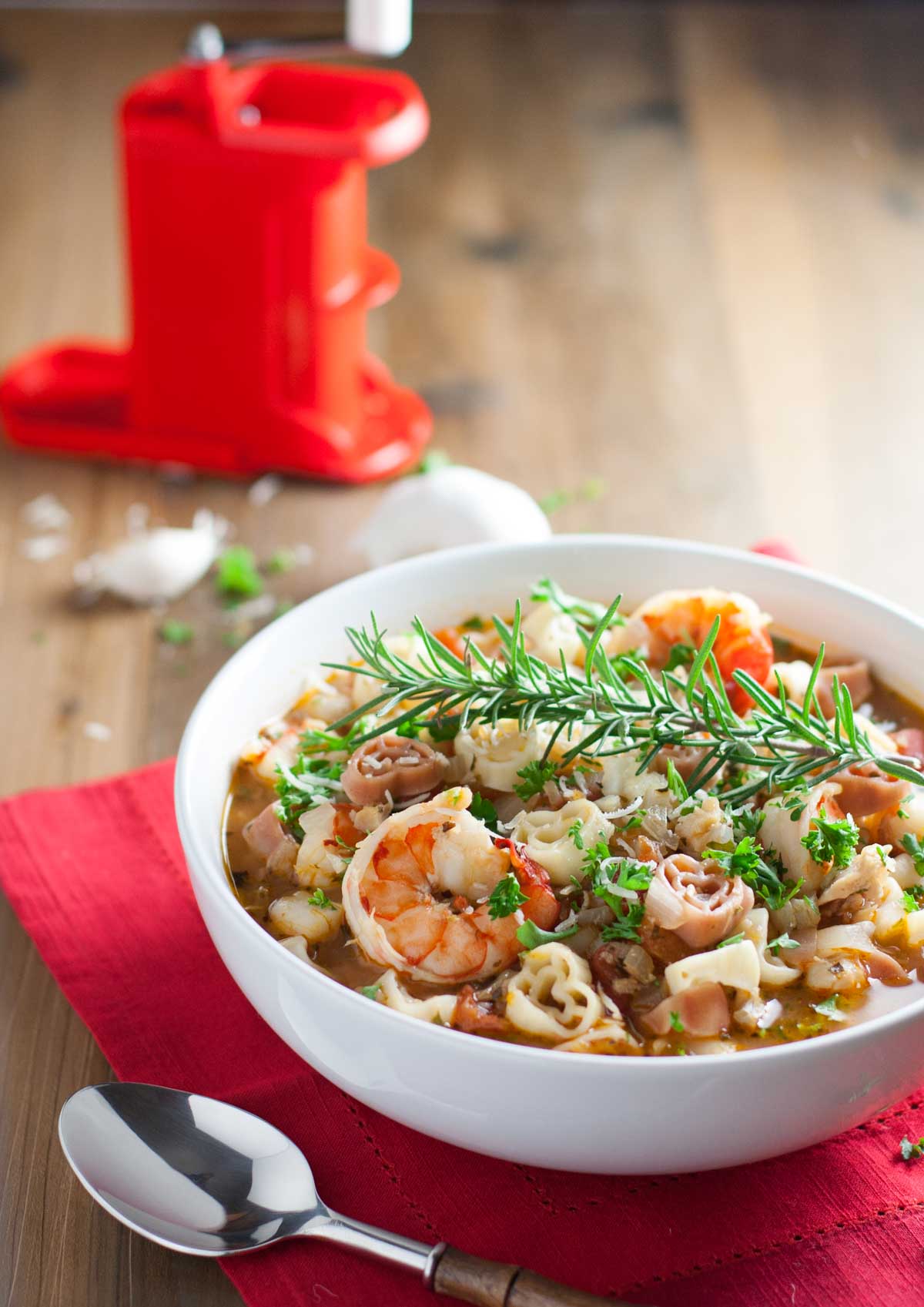 Ok, there are a few more timely shortcuts…but again, I have kids.
And I haven't even mentioned the HEART pasta!?  Wasn't it clever for me to integrate these adorably delicious bites of pasta into my fish stew?  You may be thinking "cheeeeesy", but I say it's sweet and appropriate for a Valentine celebration!  Or really, anytime you serve this, your guests will love the hearts…just a sprinkle of hearts….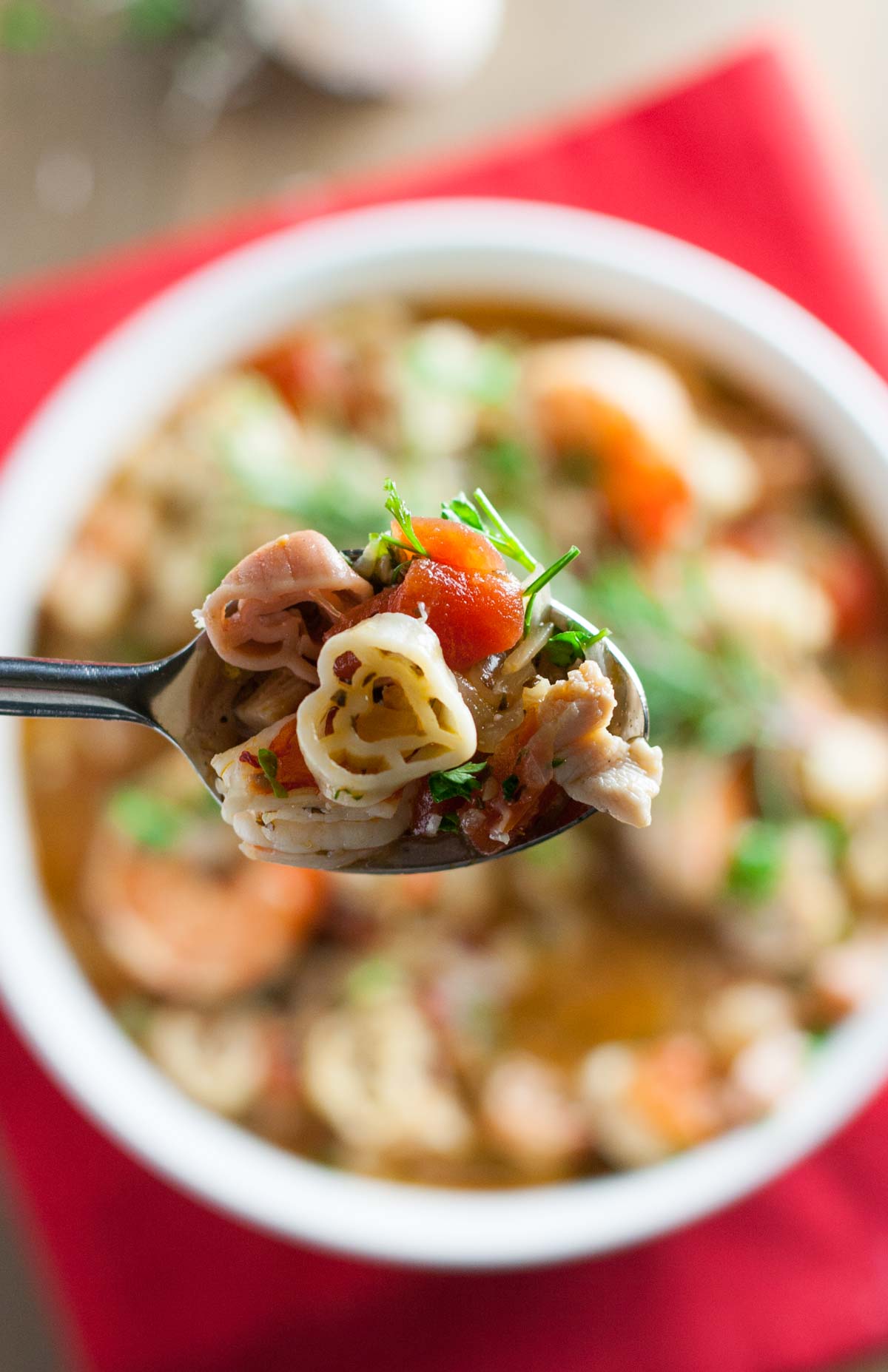 Not too make too much about simplicity, I'd put this Cioppino up against anyone's recipe.  I feel strongly about this dish, and I've posted a few of my faves in the past, that I don't want you to miss….so check these out too – that's a heartfelt "Valentine"!
Angel Hair with Garlic and Spinach
Enjoy Cioppino and these too!
XXX OOO
Quick Cioppino with Heart Pasta
A wonderfully delicious fish stew…perfect all year long. You can substitute lots of fish and shellfish and make this a little different every time! A family favorite around here…yum!!
Ingredients
14 oz

. bag of Heart Pasta (or any other short pasta can be substituted, or pasta can be left out all together)

3

T. olive oil

1

medium onion, diced (approx.

2 cups

)

2

–

3

cloves garlic, minced (depending on size…you can't overdo the garlic!)

2

t. fresh rosemary, or

1/2

t. dried

1/2

t. dried basil

1/2

t. dried oregano

1/4

. t. dried crushed red pepper

1

28 oz. can of diced tomatoes, with juice

2

8-ounce bottles of clam juice

3/4 cup

dry white wine

1

t. salt

12 ounces

cod, or other white fish, cut into

1

" pieces

1/2

–

1

pound uncooked, peeled, deveined shrimp (if larger in size, I'll cut them into bite size pieces, and maybe leave a few whole)

1/2

pound bay scallops

2

cans chopped clams, drained

1/3 cup

chopped parsley
Fresh Parmesan for garnish
Instructions
Cook pasta according to package to directions, drain, rinse with cold water, and toss with 1 T. olive oil.
Heat 3 T. oil in a large pot over medium heat. Add onions, garlic, herbs, and red pepper.
Saute for approximately 5-6 minutes until onion is transparent.
Add tomatoes, clam juice, wine, and salt, and bring to a boil.
Reduce heat, and simmer for 15 minutes, stirring occasionally.
Add all seafood and a couple of tablespoons of fresh parsley.
Simmer until all seafood is opaque in center, but do not overcook! This should take approx. 3-5 minutes (depending on size of shrimp, pieces of fish)
Adjust seasoning to taste.
Add as much heart pasta as desired to cioppino! I added 1 1/2 cups of cooked pasta, and saved the rest for another meal.
Serve bowls of cioppino topped with fresh parsley and fresh Parmesan! Make sure some heart pasta is showing on top! Hint: Add a few pieces of heart pasta on top of bowl to make sure your sweethearts know they are loved! 🙂