Snowman Pasta with Crispy Pancetta, Peas & Parmesan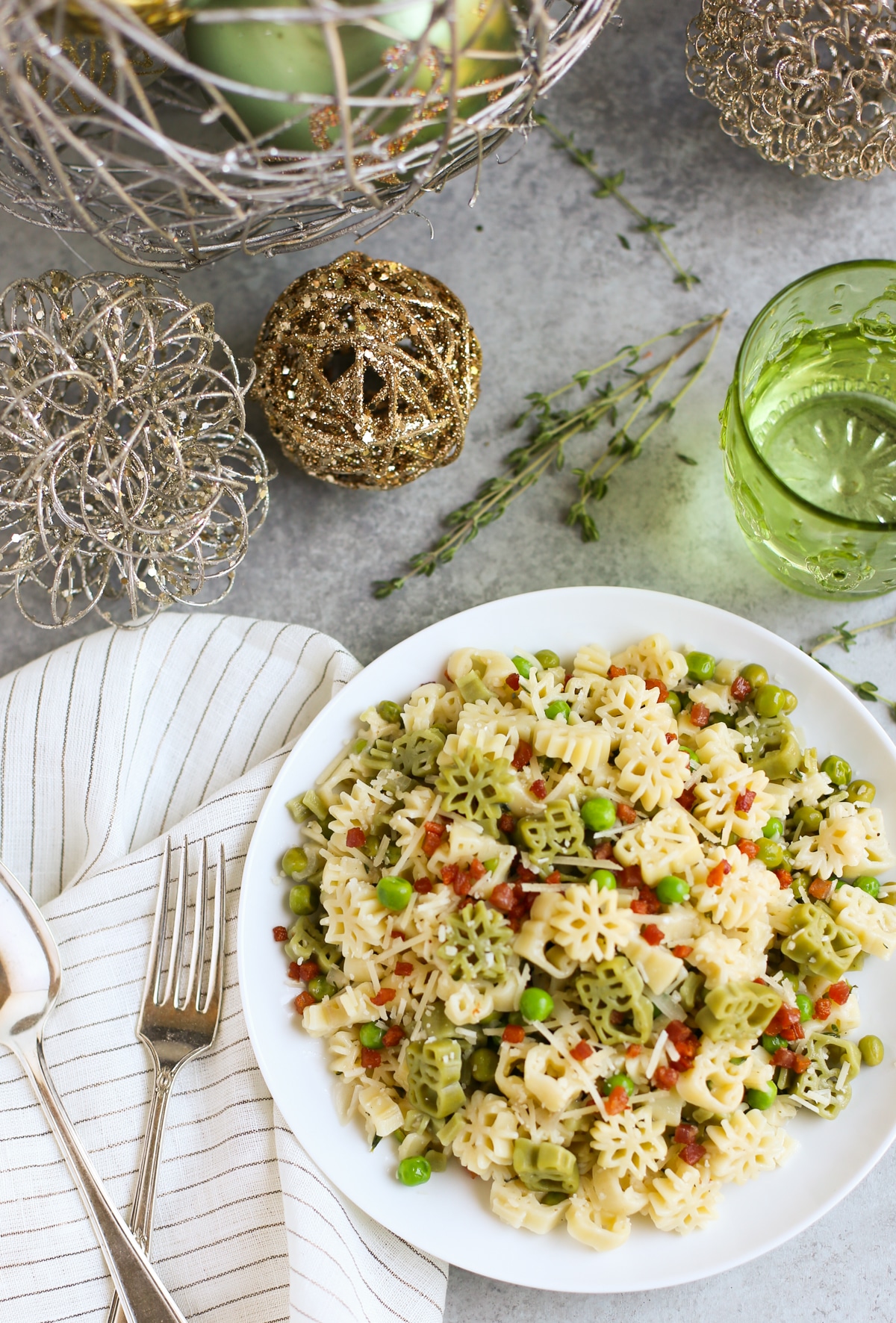 When you see "crisy pancetta", isn't the first word that comes to mind Y-E-S!! Those little bits of heaven! Especially now that the stores offer pre-diced and chopped pancetta. Look for it near the deli section. It makes cooking so much easier and convenient. Plus the crispy bites just add so much flavor to this pasta dish and so many other dishes for that matter…scrambled eggs for example. Try it…home run.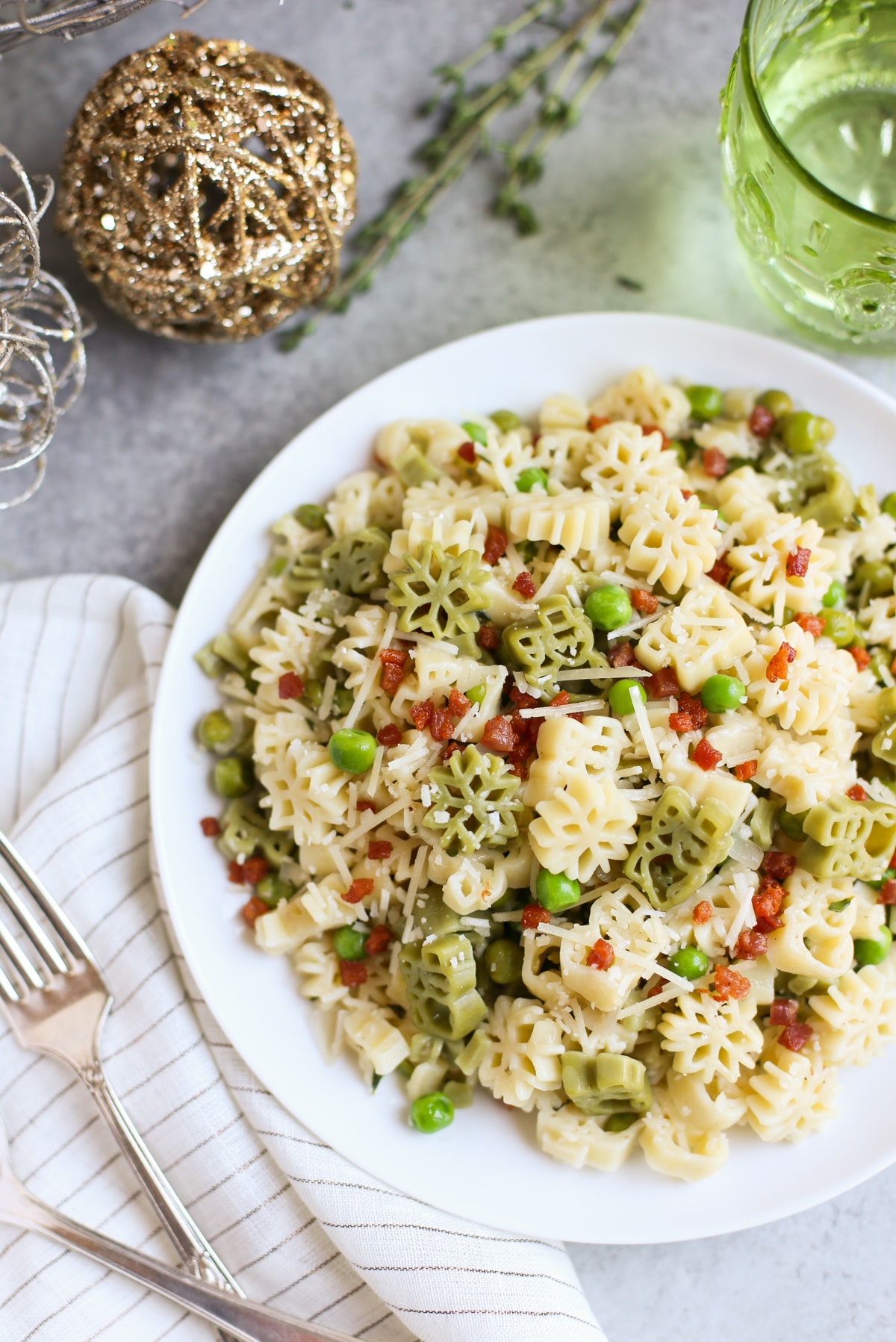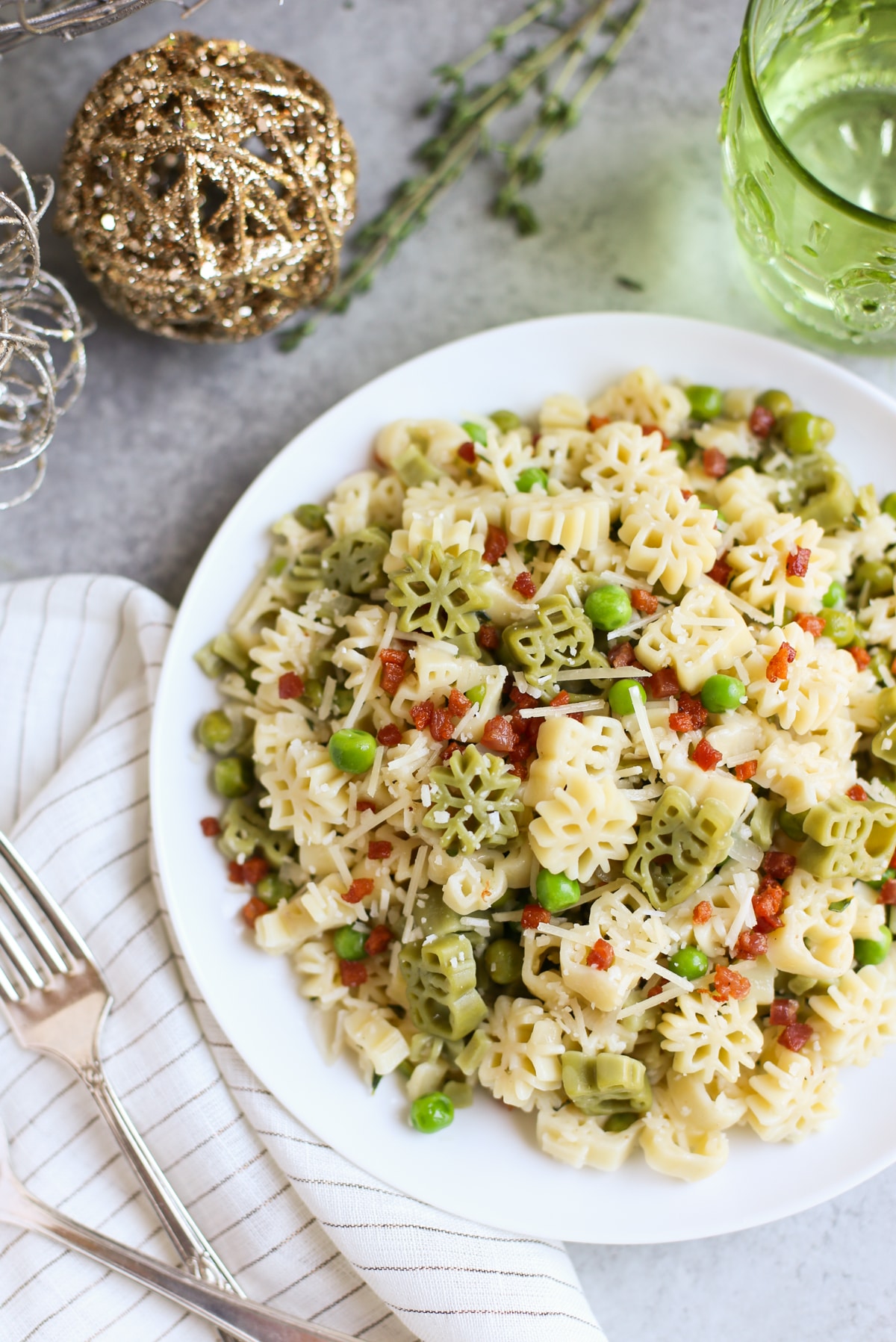 This holiday season, we are all looking for side dishes to add to the expected turkeys, hams, beef tenderloins, pork tenderloins, etc. And at this point after Thanksgiving, we've all eaten our share of mashed potatoes. So why not mix it up with a pasta dish? Especially if you can show off with some adorable Snowman Pasta. These are some of my favorite shapes – snowmen and snowflakes – so festive and the perfect forkful!
I really like the simplicity of this dish…especially this time of year. We need quick, colorful, balanced dishes. Few ingredients, but a dish that delivers in flavor. Our Snowman Pasta with Crispy Pancetta, Peas & Parmesan brings together ingredients that kids love too!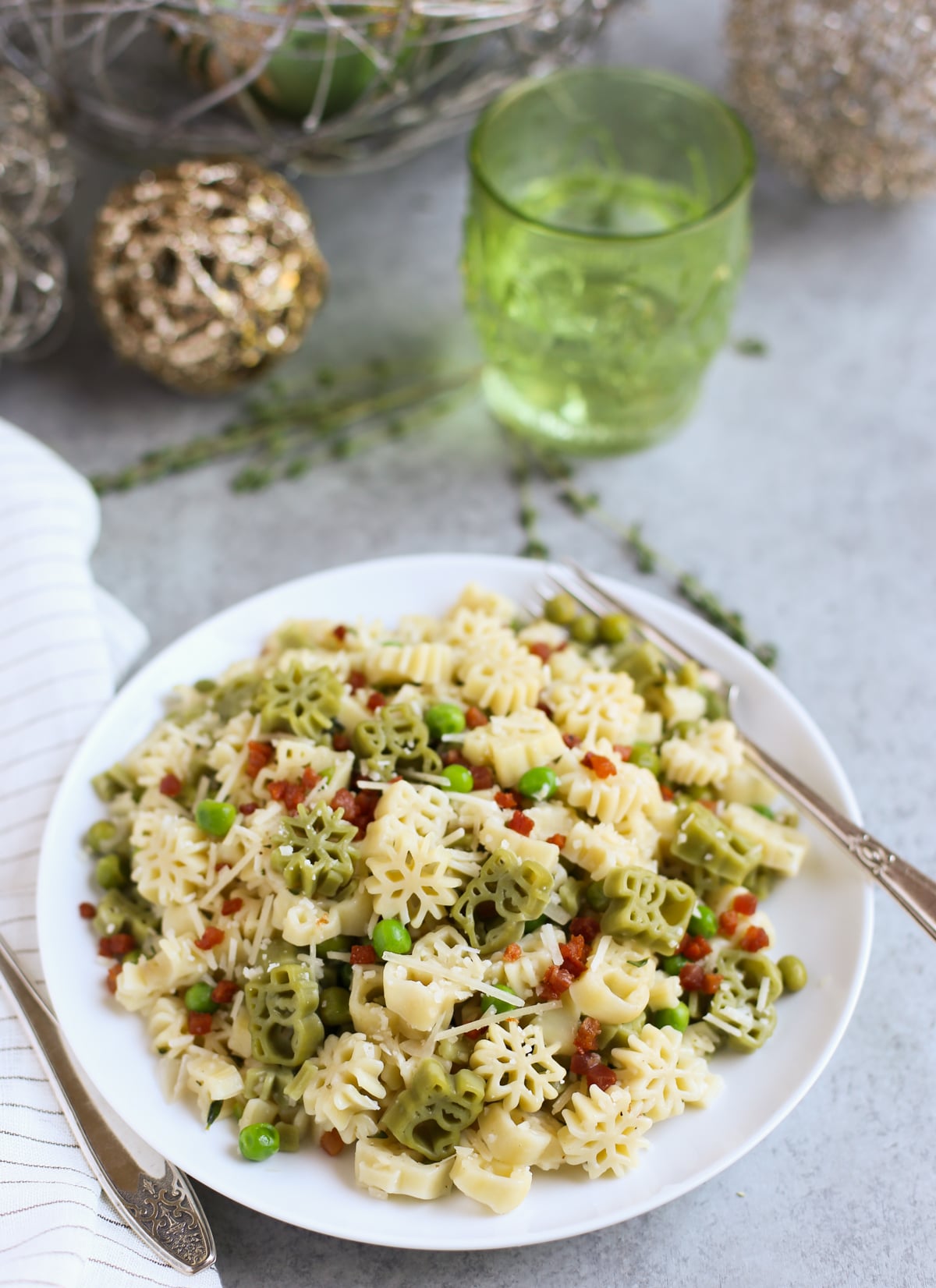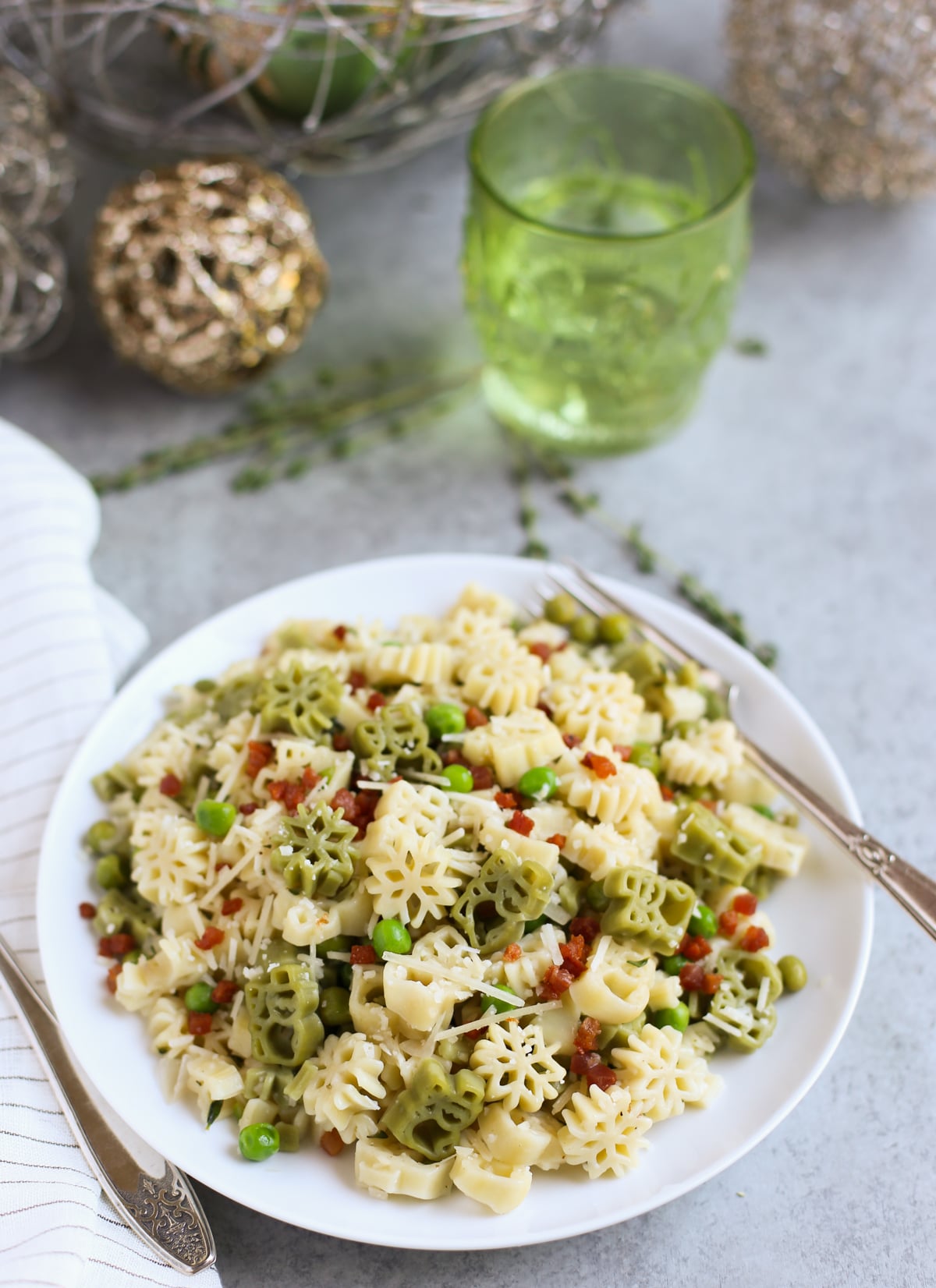 So, a couple things to emphasize. Save the pasta water! Save the pasta water! Yes…I've made this mistake, even after reading the instructions, just due to our normal cooking instincts. BUT…the pasta cooking liquid/water is so flavorful and can round out all the flavors and add some needed juices to the dish. It becomes an integral part of the sauce.
Also, make sure your pancetta is crispy! Now, keep yourself near the pan. If your pieces are small, they can go from crispy to burnt in just a few minutes.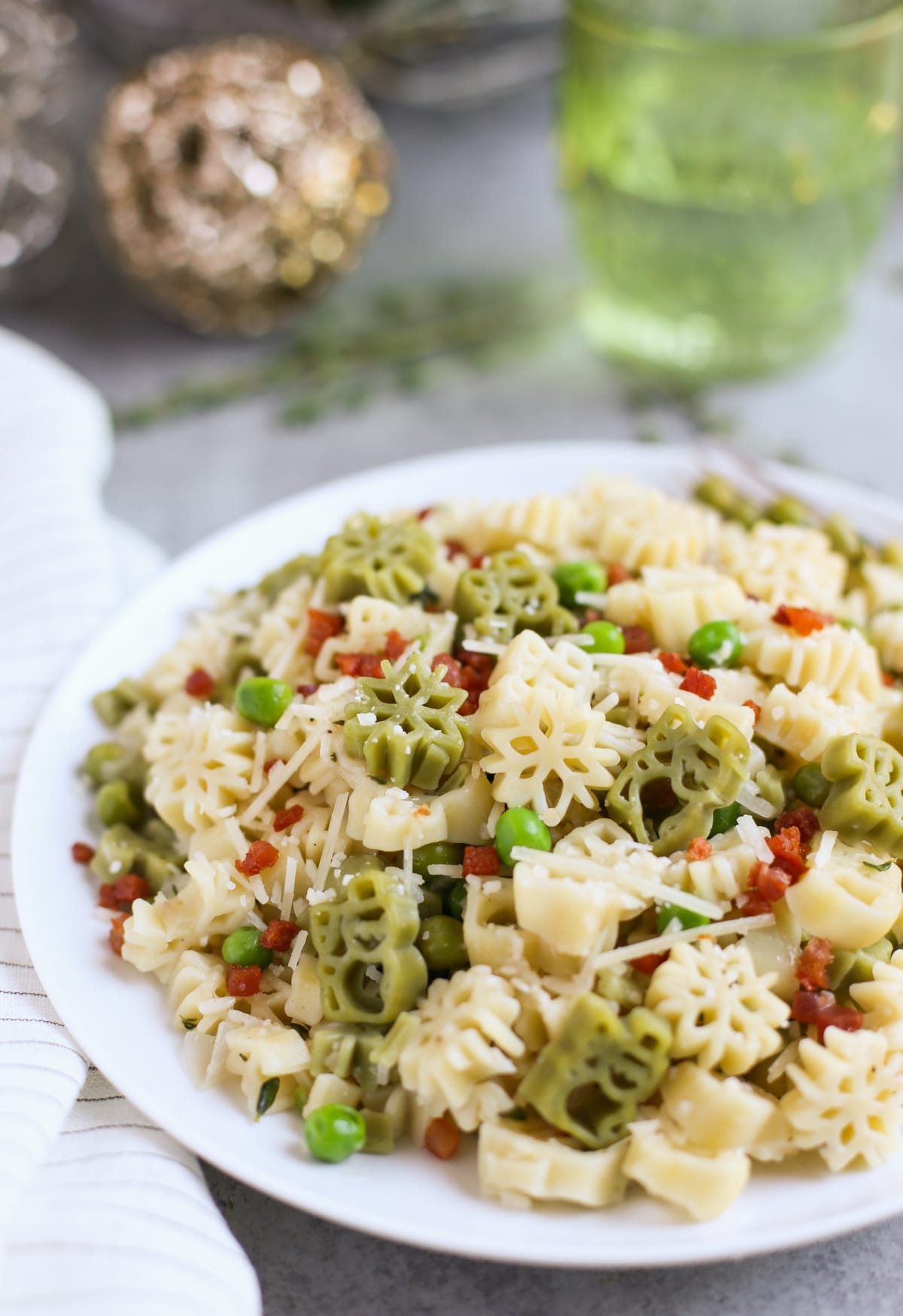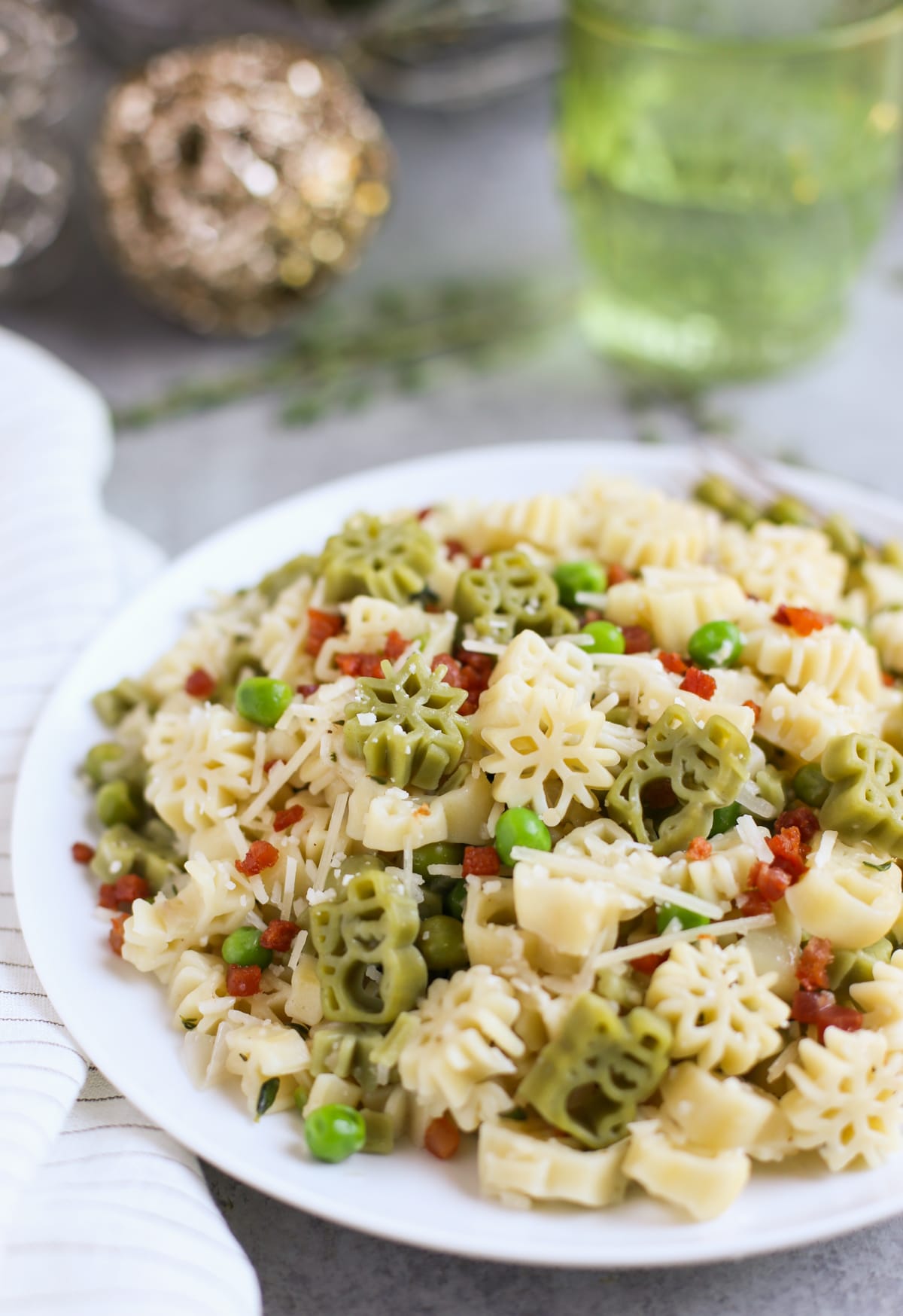 And be generous with the Parmesan. I always prefer the original Italian Parmigiano-Reggiano, due to the incredible taste and texture…but the younger non-Italian substitutes will do…except for the green canister…don't even think about it! No!
So I hope you enjoy all the cooking this holiday season and make sure you include some pasta!:)
Print
Snowman Pasta with Crispy Pancetta, Peas & Parmesan
For a delicious side dish for the holiday season…this is it!  Kid-Friendly too!  Crispy pancetta with sweet peas and Parmesan…a crowd pleaser!
Ingredients
14 oz. Snowman Pasta (or any other short shape)
2 T. olive oil
4 oz. chopped/diced pancetta (you can find it packaged already diced in the deli area!)
½ cup shallots, finely diced
1 ½ cups frozen peas, thawed
2 cloves garlic, minced
½ cup dry white wine
2 t. fresh thyme, or 1 t. dried thyme
1 T. Kosher salt
2 T. extra virgin olive oil
½ t. kosher salt
¼  t. black pepper
½ cup or more grated Parmesan Cheese
Instructions
Heat a large skillet to medium high, add 1 T. olive oil to pan, and swirl to coat.
Add pancetta and cook for approx. 10 minutes until browned and crispy.
Remove pancetta from pan leaving drippings in pan.
Add shallots and cook until tender, approximately 4 minutes until tender.
Add peas and garlic and cook for 1 minute, stirring occasionally.
Add wine and thyme and bring to a boil.  Cook until liquid reduces to about 2-3 Tablespoons.  Remove from heat.
Cook pasta according to package directions adding 1 T. Kosher salt to water.
Drain pasta but RESERVE 1 cup cooking liquid.
Add pasta to pea mixture, along with 2 T. extra virgin olive oil, ½ t. Kosher salt, and black pepper.
Toss well.  Stir in ½ cup cooking liquid (or more if needed).  Add Parmesan cheese and gently toss again.
Enjoy!  Serve additional Parmesan on side.
Join our email list for fresh pasta recipes delivered to you every week!
Your information will NEVER be shared or sold to a 3rd party.