Aglio e Olio with Pecorino Breadcrumbs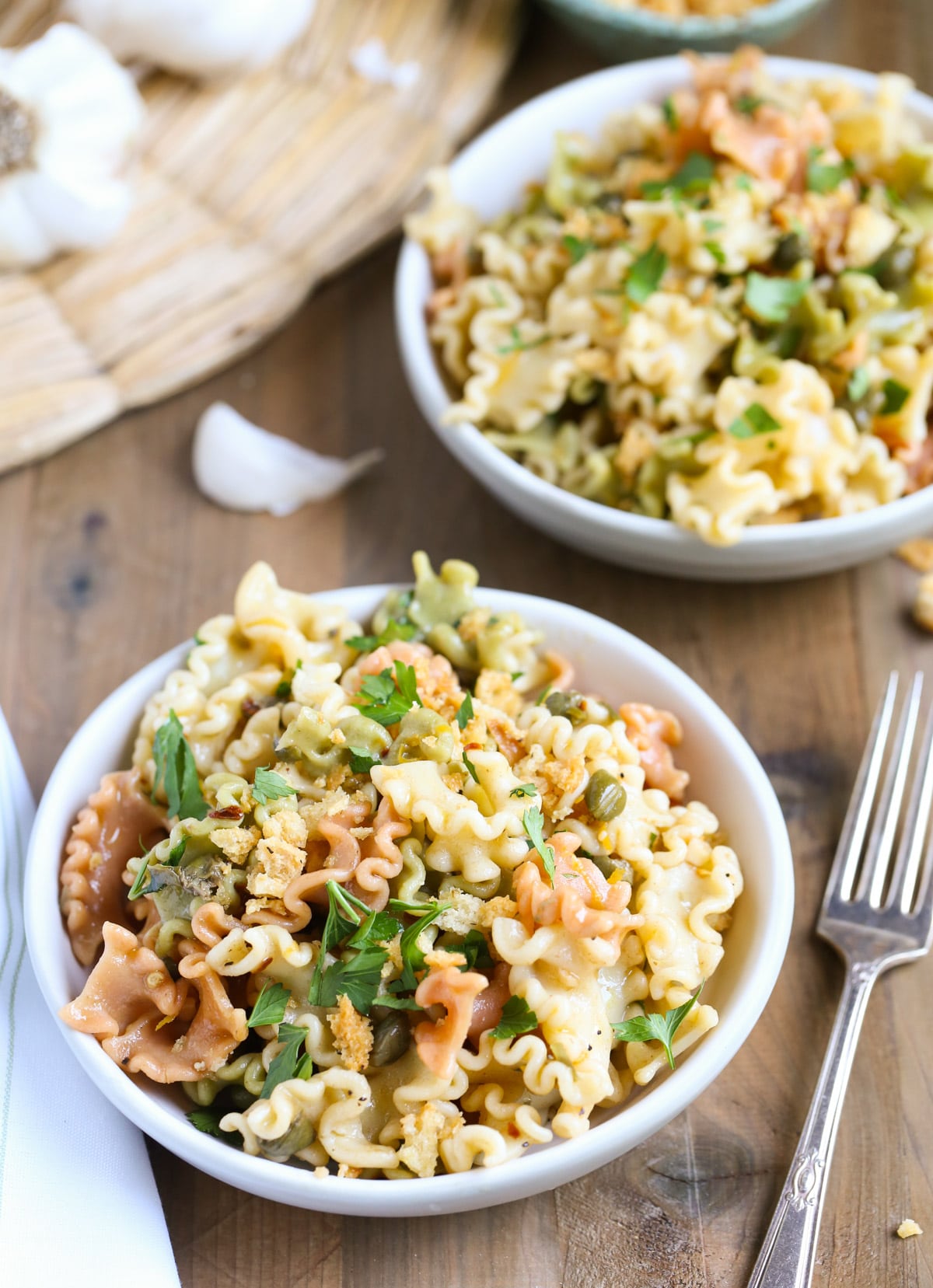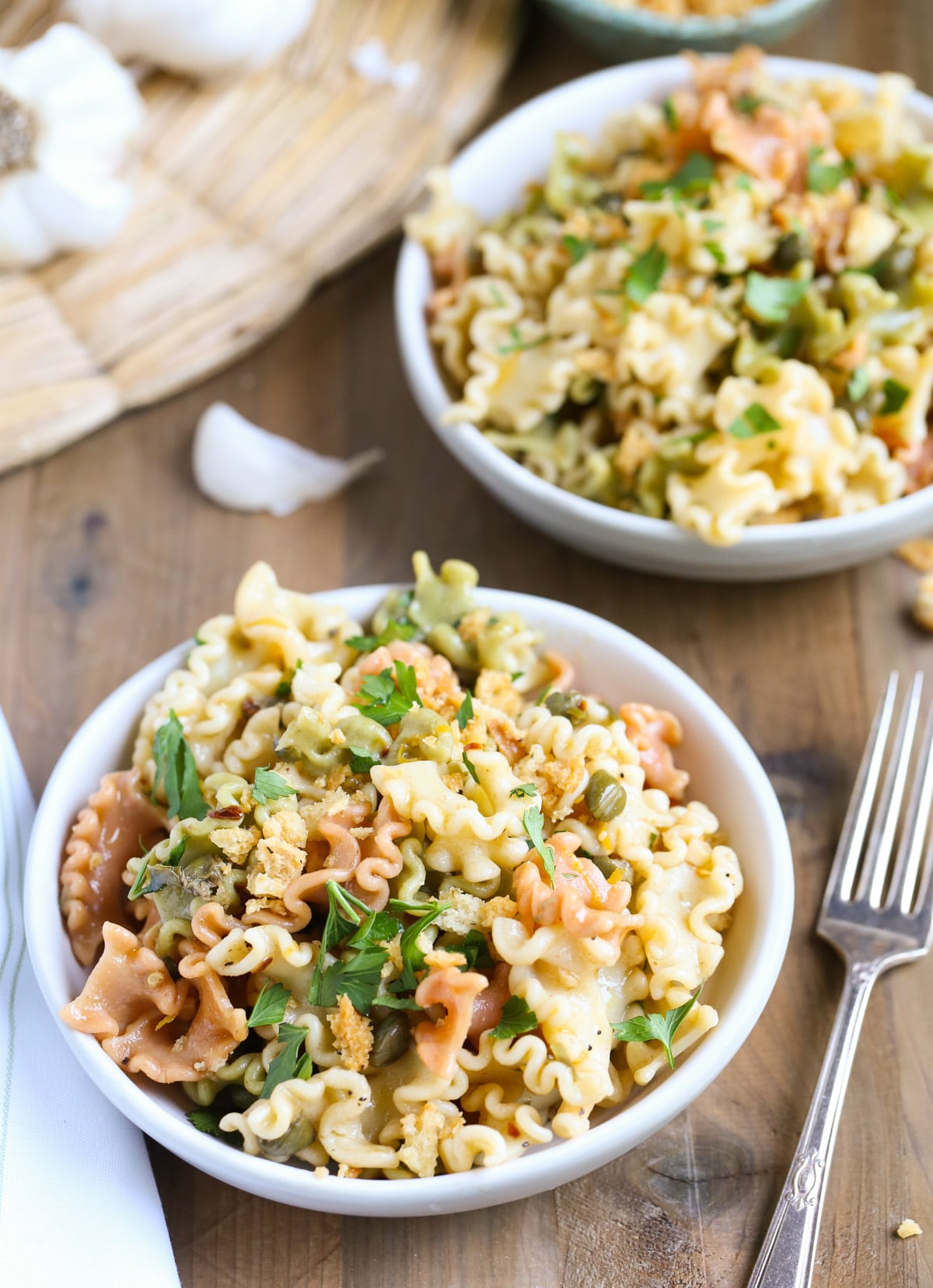 Ok, I admit it. I have Covid brain. Who knew this was a thing until about 10 weeks into this crazy time?! Well, all it took was my new friend Ellen, who emailed me and kindly let me know that she couldn't find this recipe on our website. Yep, no Aglio e Olio with Pecorino Breadcrumbs to be found. And yes, she was very nice and understanding. 😊
How did this happen? I mean, the recipe picture is on our Tri-Color Pasta Ruffle box. It's one of our latest pasta shapes – we LOVE pasta ruffles and love this recipe! Well, all I can say is "I blame it on Covid." Since the pandemic really hit us in March, we have been running full speed. Gratefully and thankfully, we have been able to keep our employees working and our business running. Pasta is essential and a "pantry staple" and we sacrificed some to-do's to focus on the new "urgent" issues. Thank you friends for being patient. xxx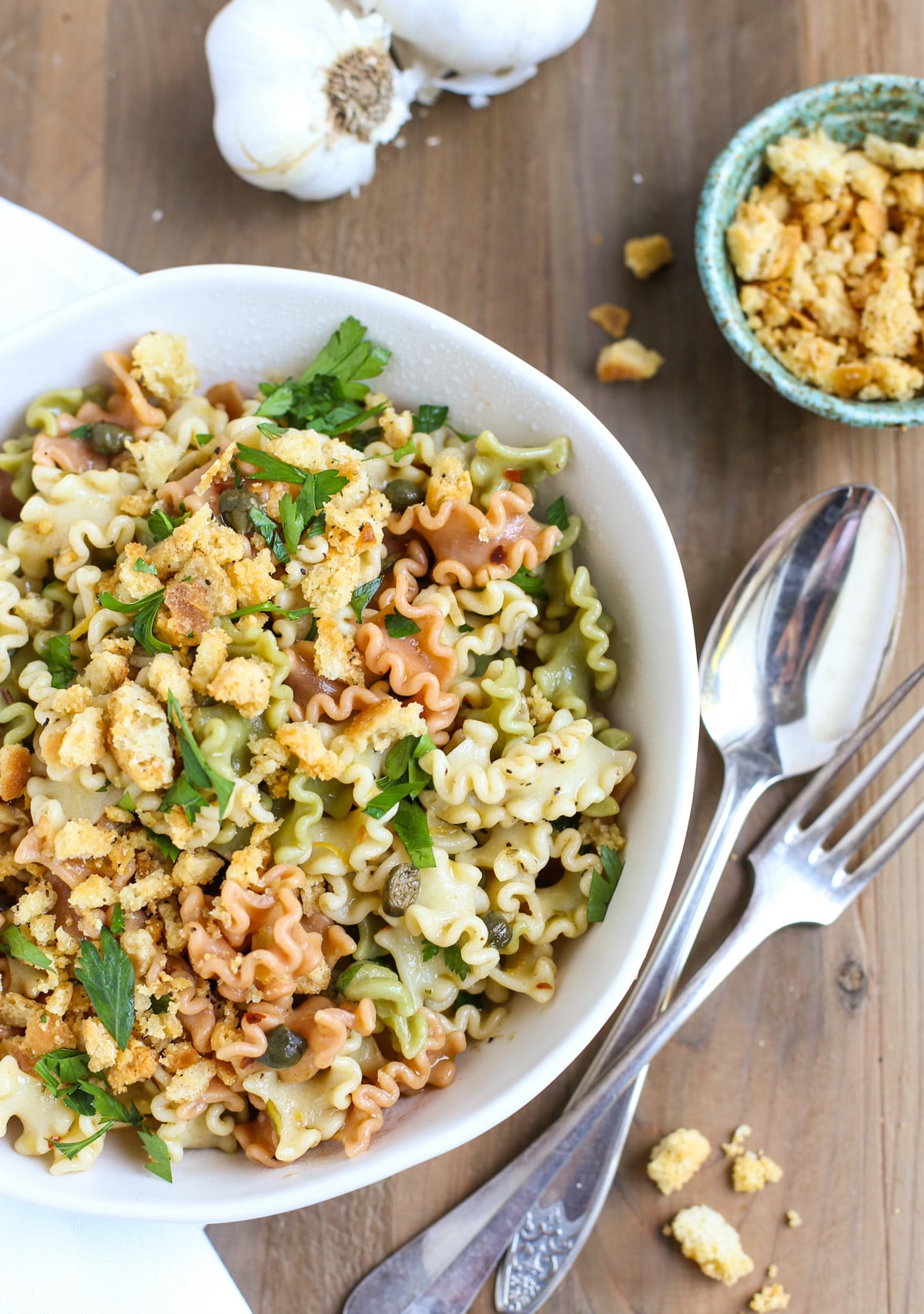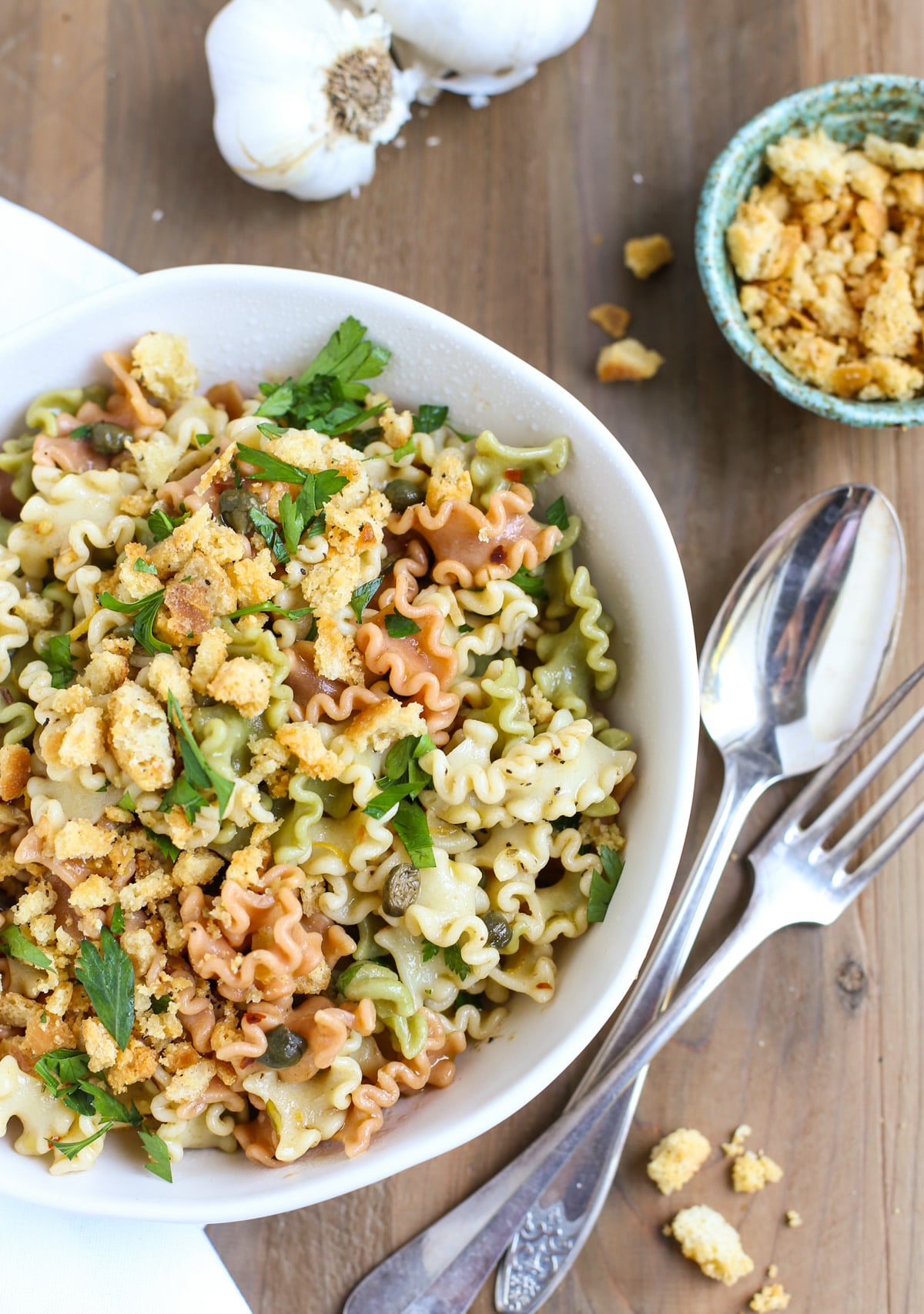 Inspired by Rachael Ray, we adapted her Aglio e Olio with Lemon and Pecorino Breadcrumbs recipe to better suit our new Pasta Ruffles shape and texture. What do we love about Rachael Ray? She just knows and creates great food. And smiles. And makes it look easy. Usually Aglio e Olio is made with spaghetti, but here at Pastabilities, we do things a little differently.
Aglio e Olio is an Italian classic. Simple recipe with just a few ingredients: aglio (garlic) and olio (oil), red pepper flakes, Parmesan, and fresh parsley. But here, we have some twists: anchovies (the secret ingredient), lemon and breadcrumbs. And you know I'm obsessed with breadcrumbs! One of our favorite recipes featuring breadcrumbs is our Pecan Pesto with Garlicky Breadcrumbs. Honestly, both these breadcrumbs can be eaten alone as a snack, or on a salad as croutons….yum! So any mention of breadcrumbs and I'm in!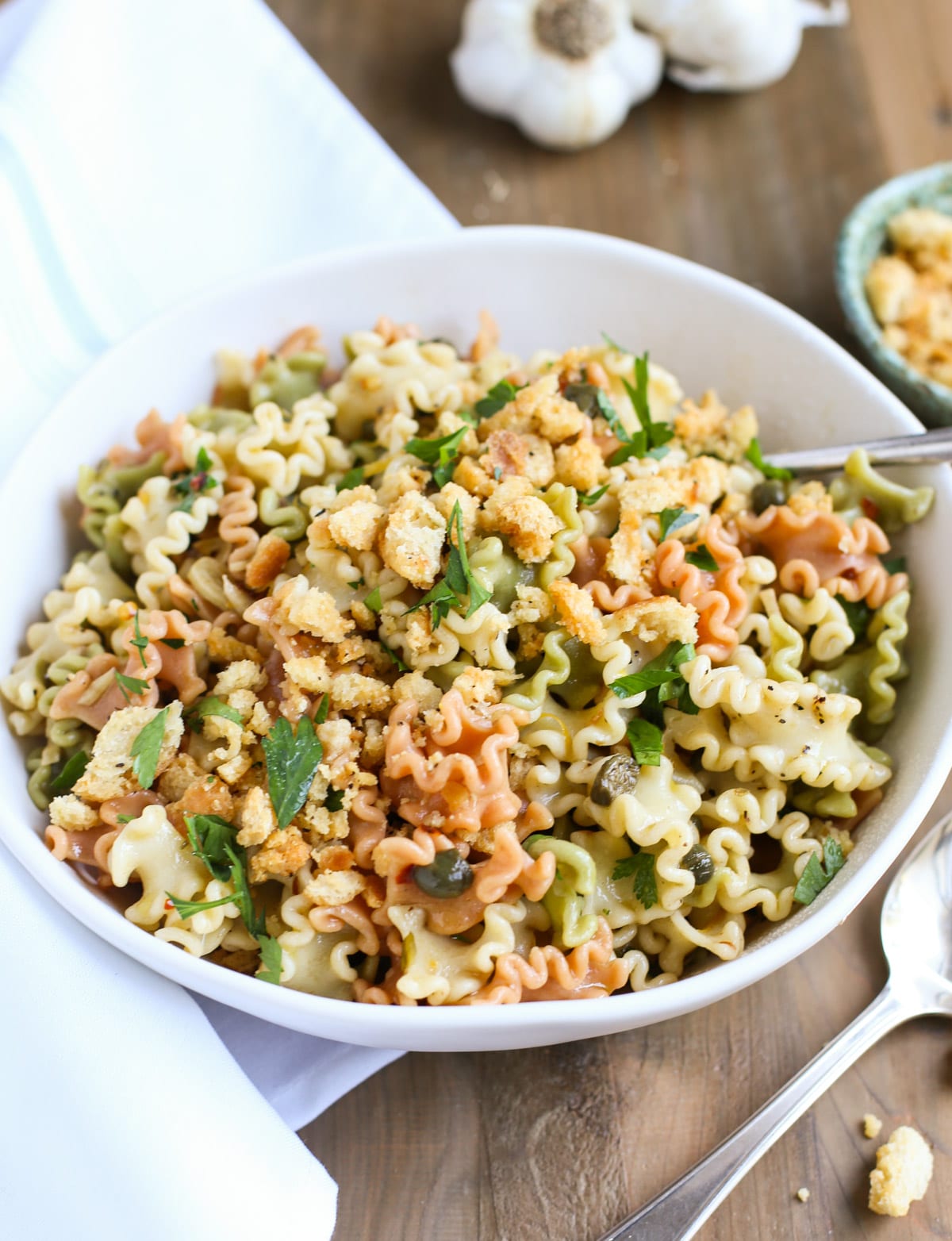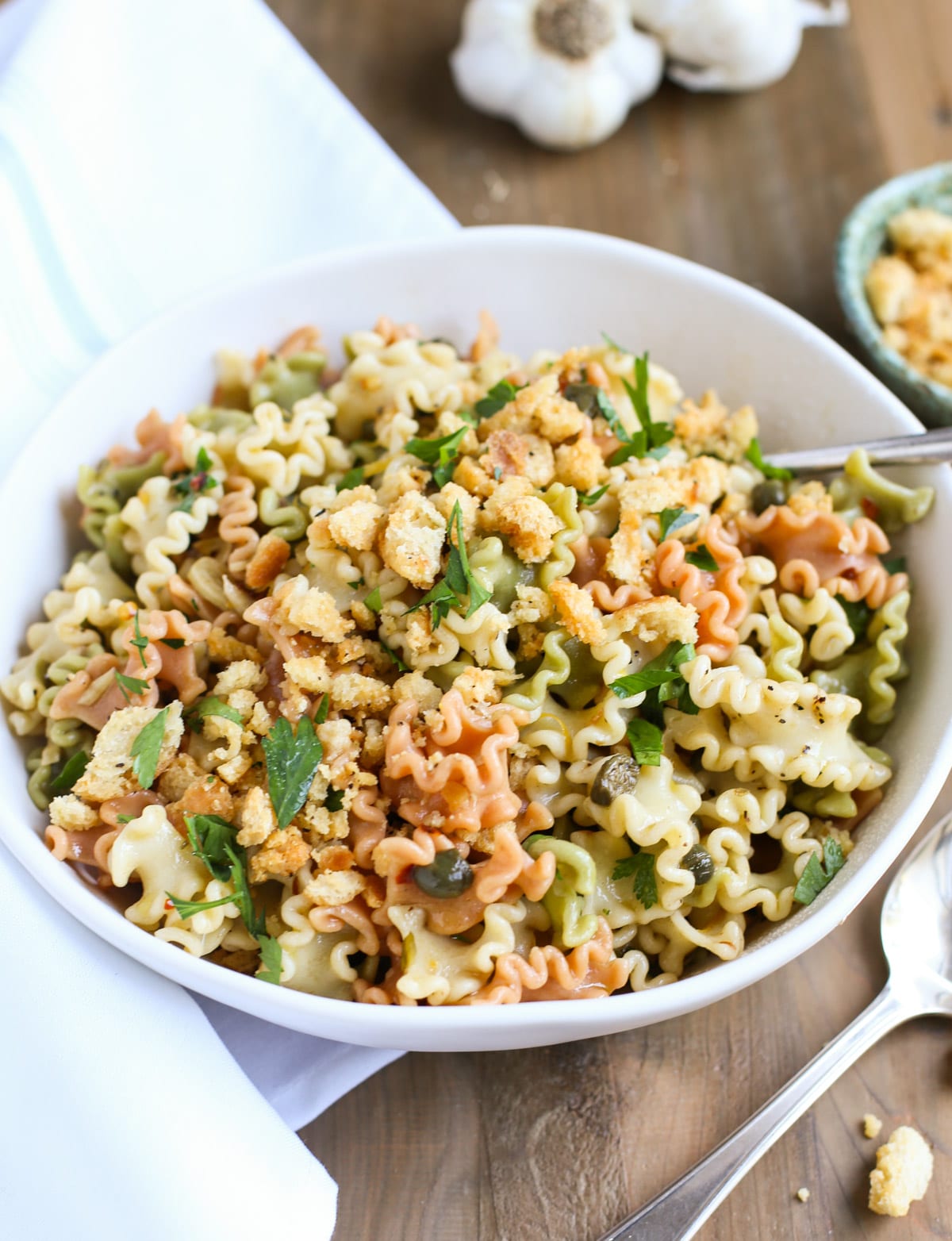 So, first let's focus on these divine breadcrumbs. The recipe calls for Pecorino cheese, and you can use all Pecorino cheese, but I combined half Pecorino and half Parmesan (use what you have on hand). Crispy, cheesy and well flavored, you'll have trouble controlling yourself while making the pasta and the rest of the dish.
Now for the sauce. Dissolving the anchovies slowly in olive oil adds a salty, umami flavor and no one will ever know. (and I won't tell!). The smell of the thin slices of garlic, sizzling along with the red pepper flakes, and the salty capers will make you swoon. At this point, you know you will love this dish. Oh, and then you add white wine…what can go wrong?! Absolutely nothing.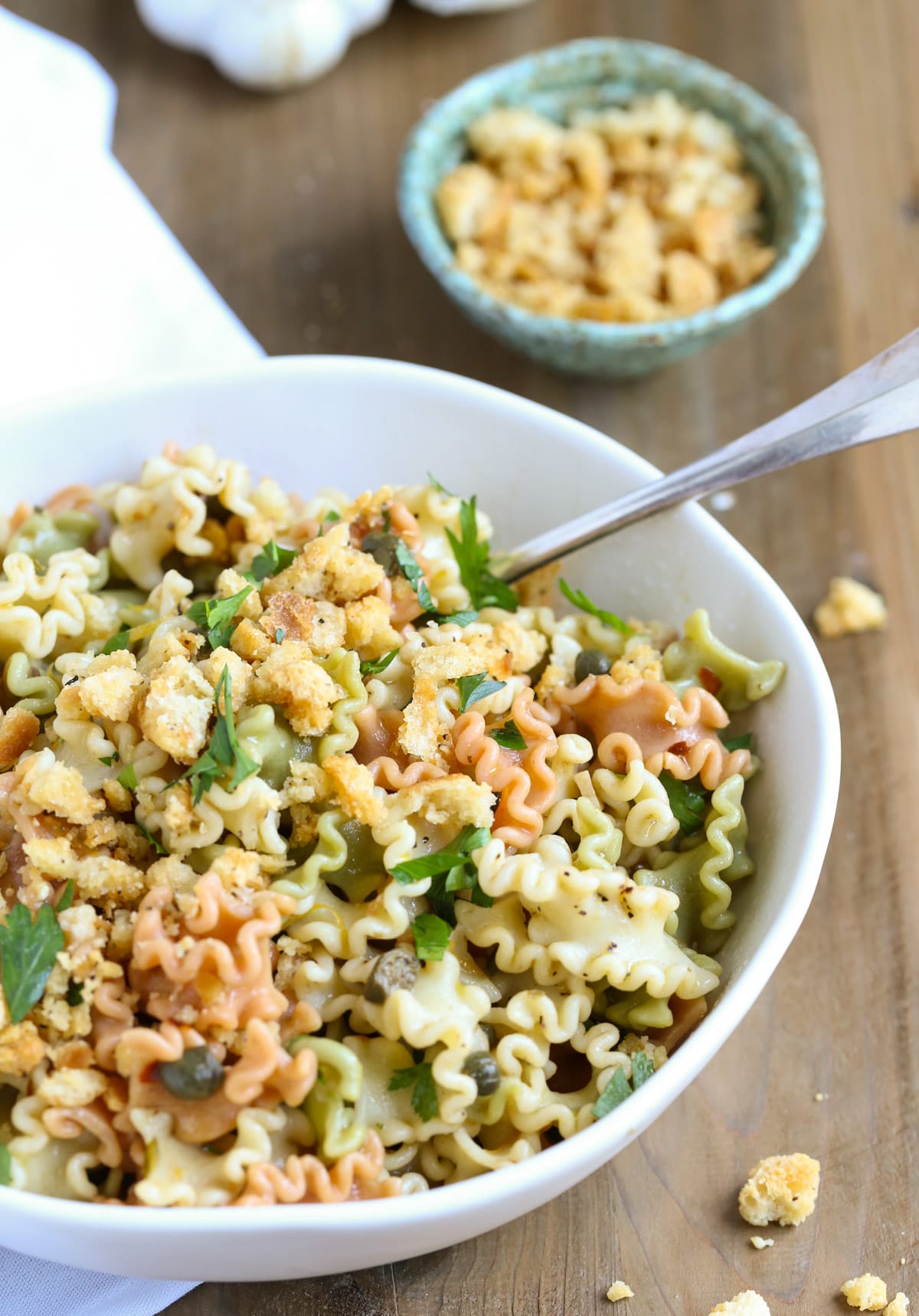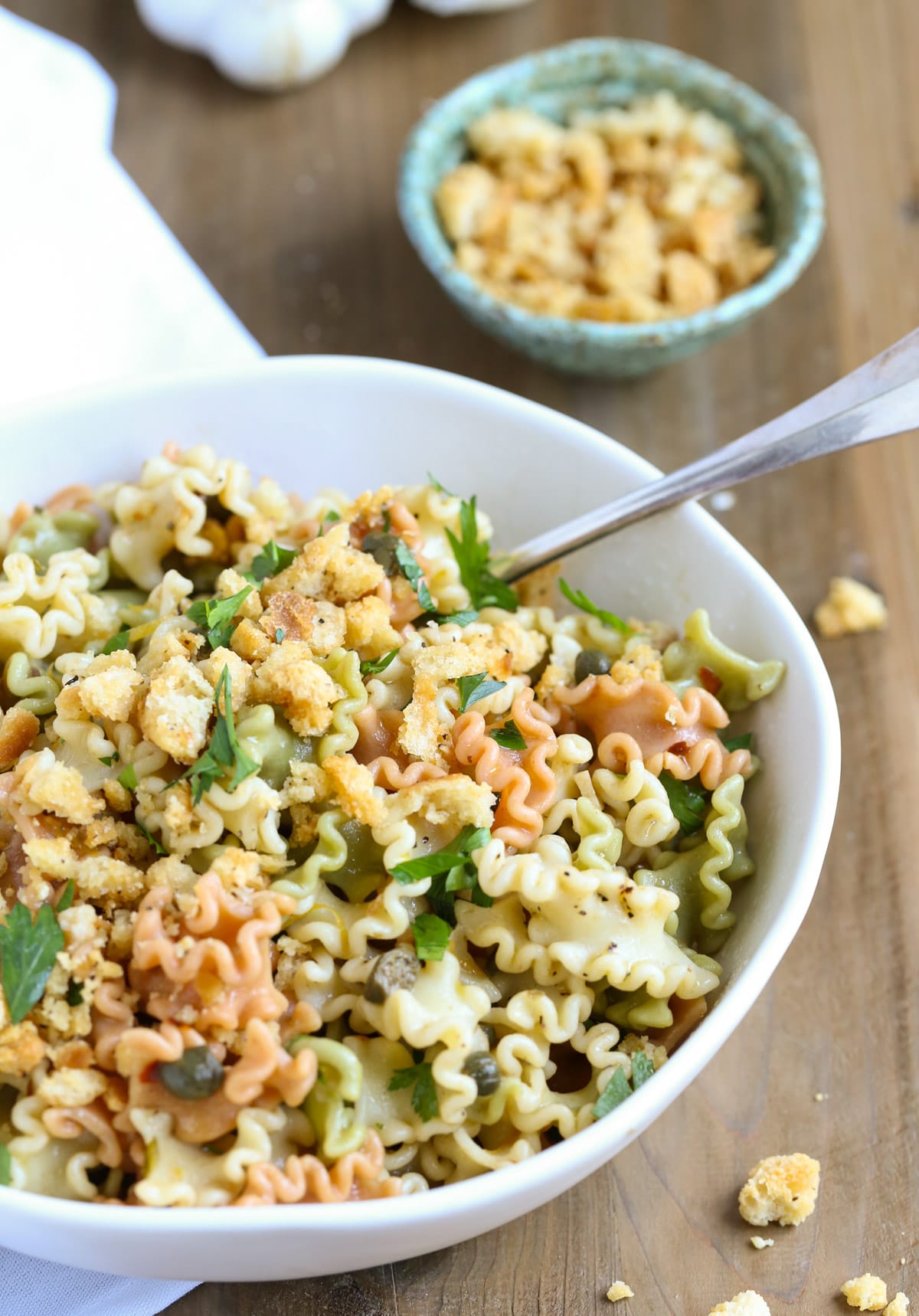 When you cook the pasta, you will want to reserve ½ cup of the pasta water before you drain the pasta. RESERVING PASTA WATER IS A MUST FOR MOST PASTA DISHES! The pasta water is added to the oil, along with the fresh lemon juice and helps to make the sauce a little thicker and adds some additional flavor. (AGAIN, always save some water!)
When this pasta dish comes together, I think it's the layers of flavors and textures that keeps me coming back for more. That crunch of the breadcrumbs, the salty caper and lemony flavor, with a bit of heat from the flakes, and the ruffled texture of our bronze cut pasta…it's really one of my new favorites. We made this recipe again tonight and enjoyed every single bite.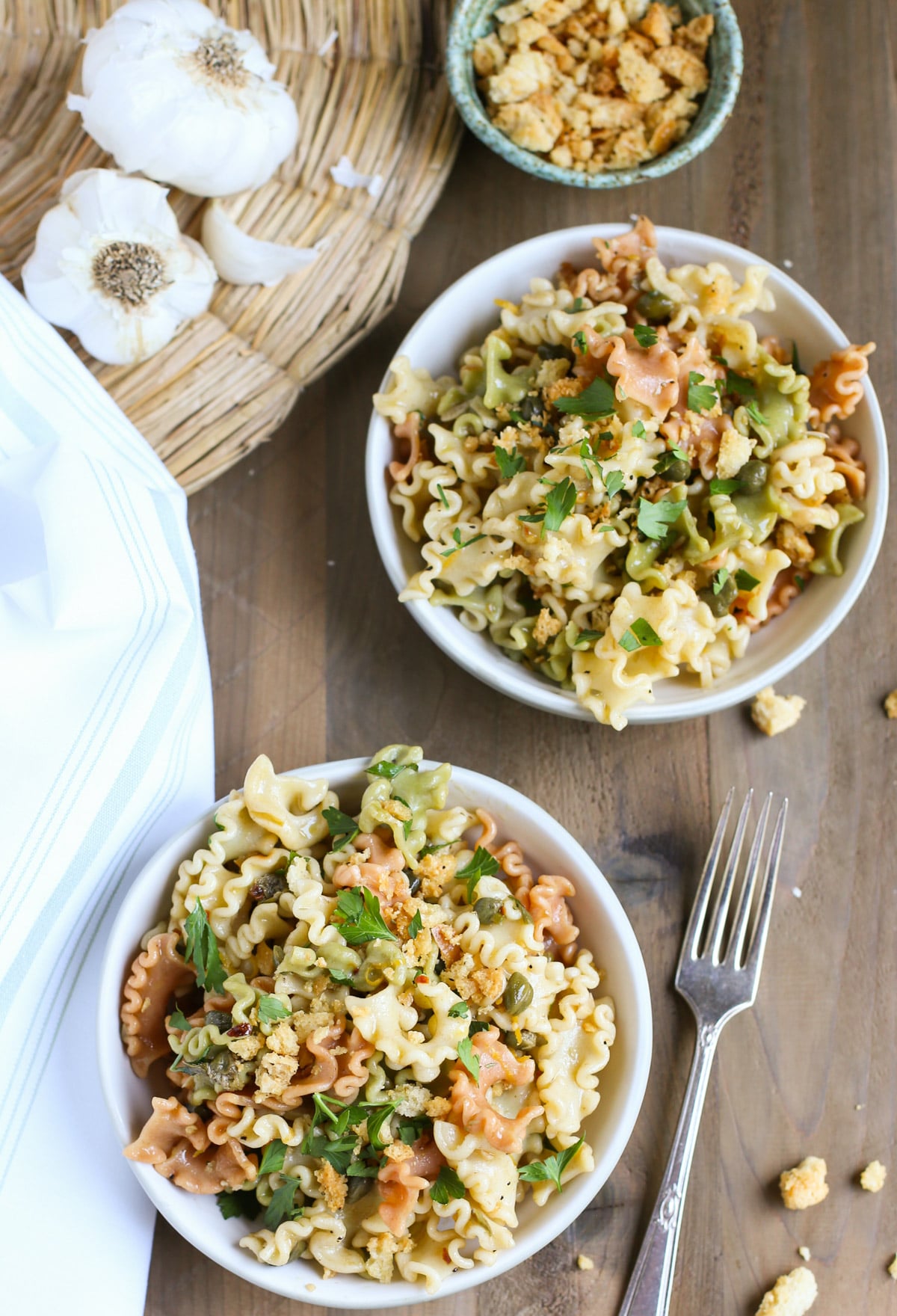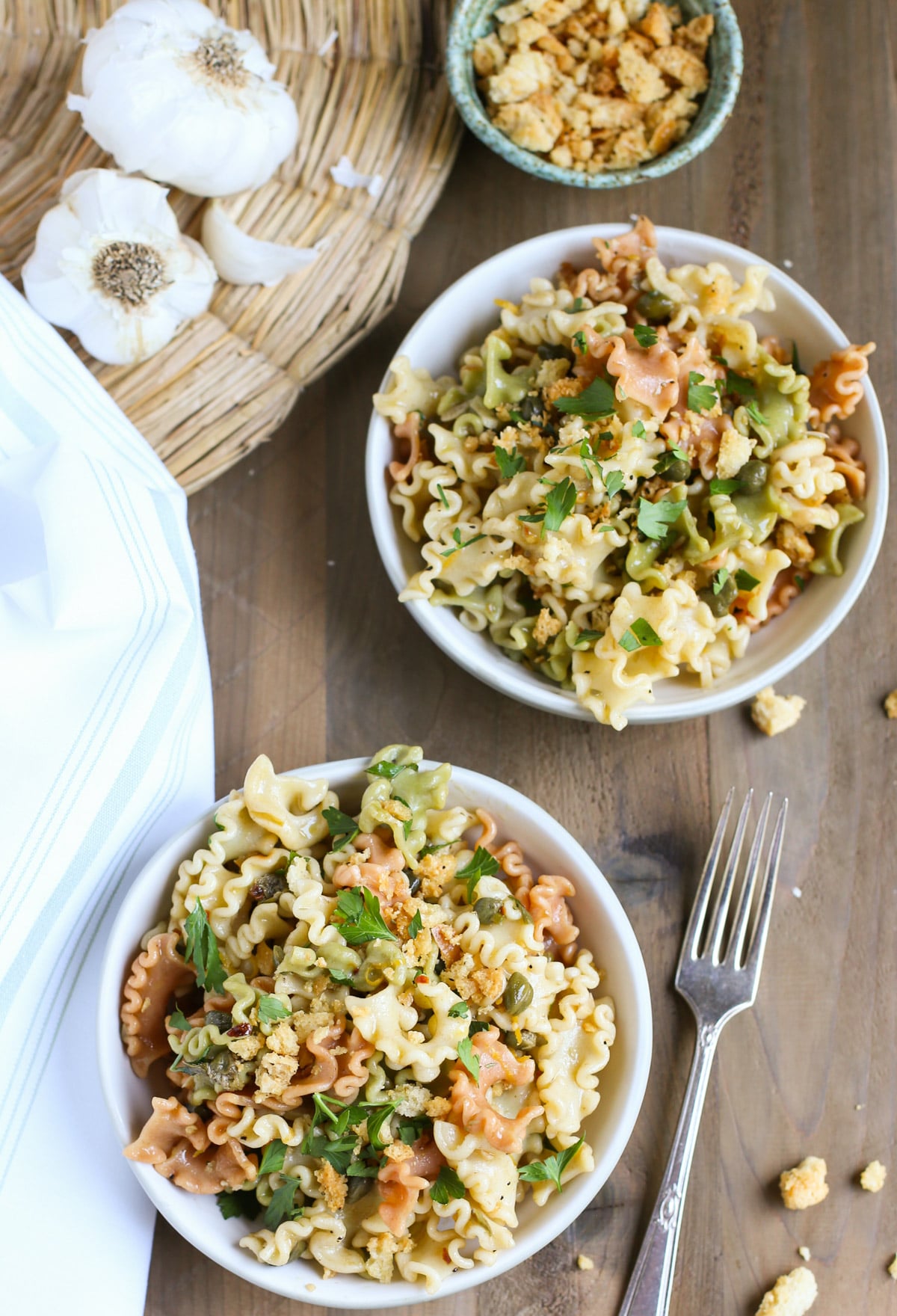 I love a pasta dish that is versatile. This is delicious served alone but I'd love it as a side dish to grilled chicken, flank steak, grilled shrimp, etc. Friends, I'm welcoming myself back from Covid brain, and hoping I wake up and this was all a long confusing dream (haha!). I know this next phase will include a few more recipes to share. I'm in need of some new recipes myself and new ideas too! May you and your family stay safe and carb'd up during this unusual, new normal! xxx Carey
Print
Aglio e Olio with Pecorino Breadcrumbs
A twist on a classic Italian dish – Aglio e Olio.  The crunchy breadcrumbs along with the capers and lemon add just the right punch to this!  Yum!
Ingredients
12 ounces of Tri-Color Pasta Ruffles (or any short shape pasta)
2 cups cubed or hand torn stale, peasant style bread (I used sourdough)
½ cup Pecorino cheese
¾ Parmesan cheese (1/2 cup for breadcrumbs + ¼ cup for sauce)
2 T. + ½ cup olive oil
8 anchovy fillets
8–10 cloves garlic, thinly sliced
1 tsp. red pepper flakes
4 T. capers, drained
1 lemon, zested and about 2 T. fresh lemon juice
¼ cup dry white wine
¼ cup fresh parsley, chopped
Fresh ground black pepper
Instructions
Preheat oven to 350 degrees.
Cook pasta according to package directions. Reserve 1/2 cup pasta water BEFORE draining, then toss drained pasta with a drizzle of oil, and leave aside.
Place bread pieces in a food processor and pulse until they are in coarse pieces/crumbs.  Toss in a bowl with 2 Tablespoons of olive oil, then with all Pecorino and ½ cup Parmesan.  Season with salt and pepper (go easy on the salt – the cheese has plenty of salty flavor!).
Line a baking sheet with foil and spray with Pam or cooking oil.  Spread breadcrumbs over foil, and place in oven and bake for approx. 13-15 minutes or until golden brown.
In a large skillet, heat 1/2 cup olive oil to medium high heat, and add anchovies.  They will start to dissolve in the warm oil and you can help that along with a wooden spoon, approx. 2-3 minutes. Add the sliced garlic, red pepper flakes, capers, and lemon zest to the oil. Saute for 1-2 minutes. Add the white wine and lemon juice. Reduce heat to medium low.
Add the pasta water, the cooked pasta, fresh parsley, and ¼ cup Parmesan to the oil mixture.  Toss gently until well combined.  Adjust seasonings if necessary.
Serve pasta in bowls and top with the breadcrumbs.  Enjoy!
Join our email list for fresh pasta recipes delivered to you every week!
Your information will NEVER be shared or sold to a 3rd party.