Spinach Basil Garlic Pasta Ruffles with Light & Creamy Seafood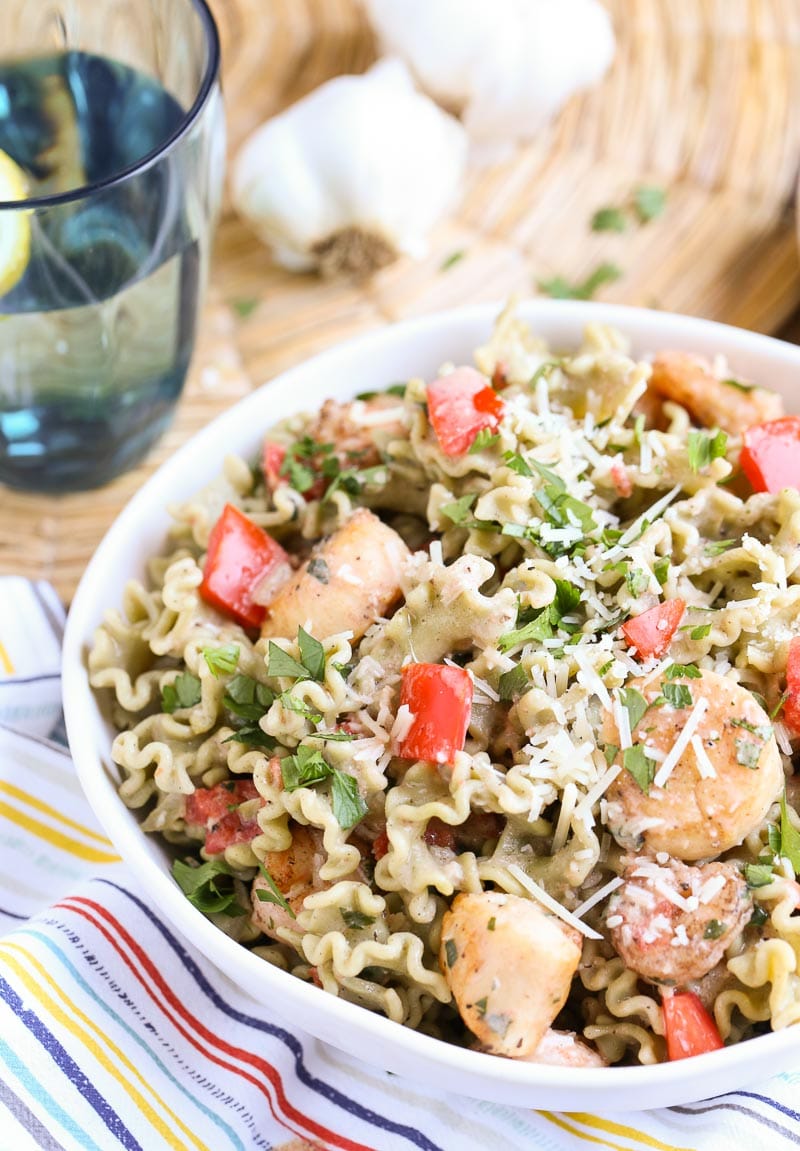 I can't tell you how excited I am about our NEW Pasta Ruffles! Woohoo! It's my favorite pasta shape for so many reasons and I know when you taste them, you'll agree…the texture, the curls, the incredible taste and fun party they throw in your mouth. I'm in love. And I'm sharing the recipe Spinach Basil Garlic Pasta Ruffles with Light & Creamy Seafood which gets raves like a five-star restaurant, but is simple and quick enough for a weeknight meal…it's the perfect combination.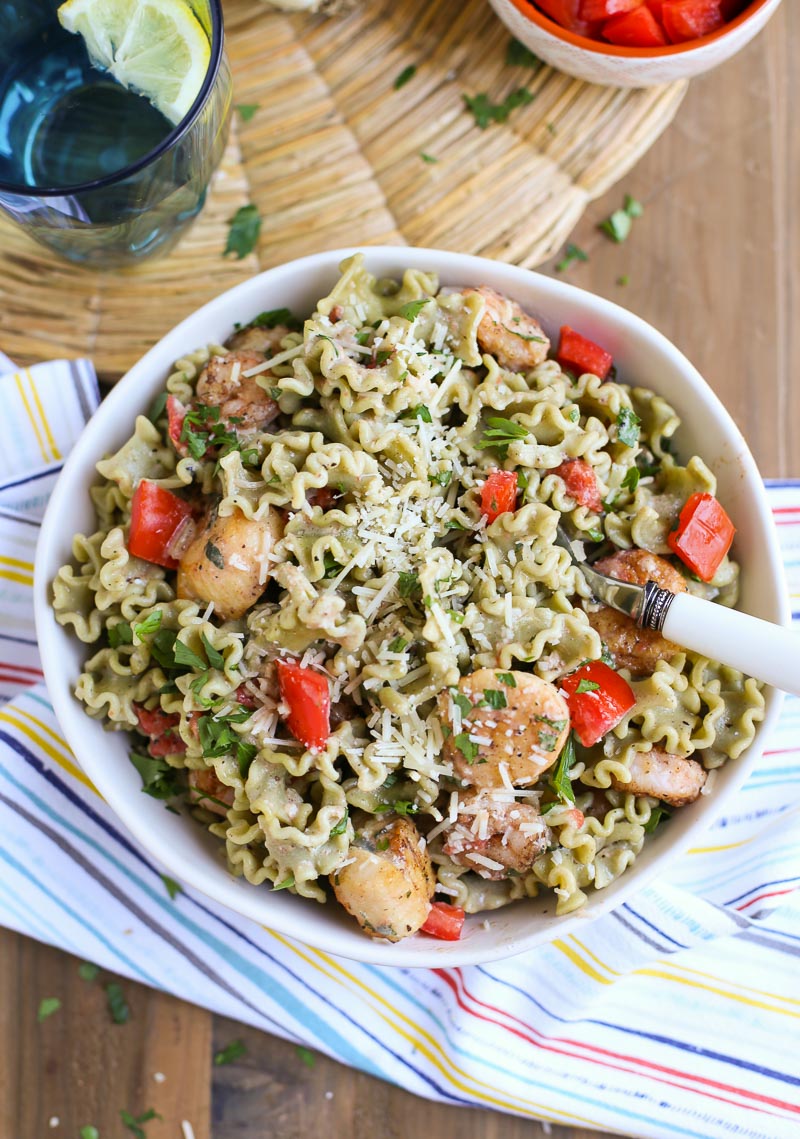 This recipe feels indulgent, but it is not! We have left out the heavy cream, but included those ingredients that add those layers of flavors that make us want to eat "bowl-fulls". So, it's not heavy at all, but delivers an absolutely delicious combination of yumminess. Chopped fresh tomatoes are sweet and colorful. The Parmesan adds a salty nutty flavor. The broth and milk create a smooth and silky light sauce. And the seafood, of course, adds some extravagance.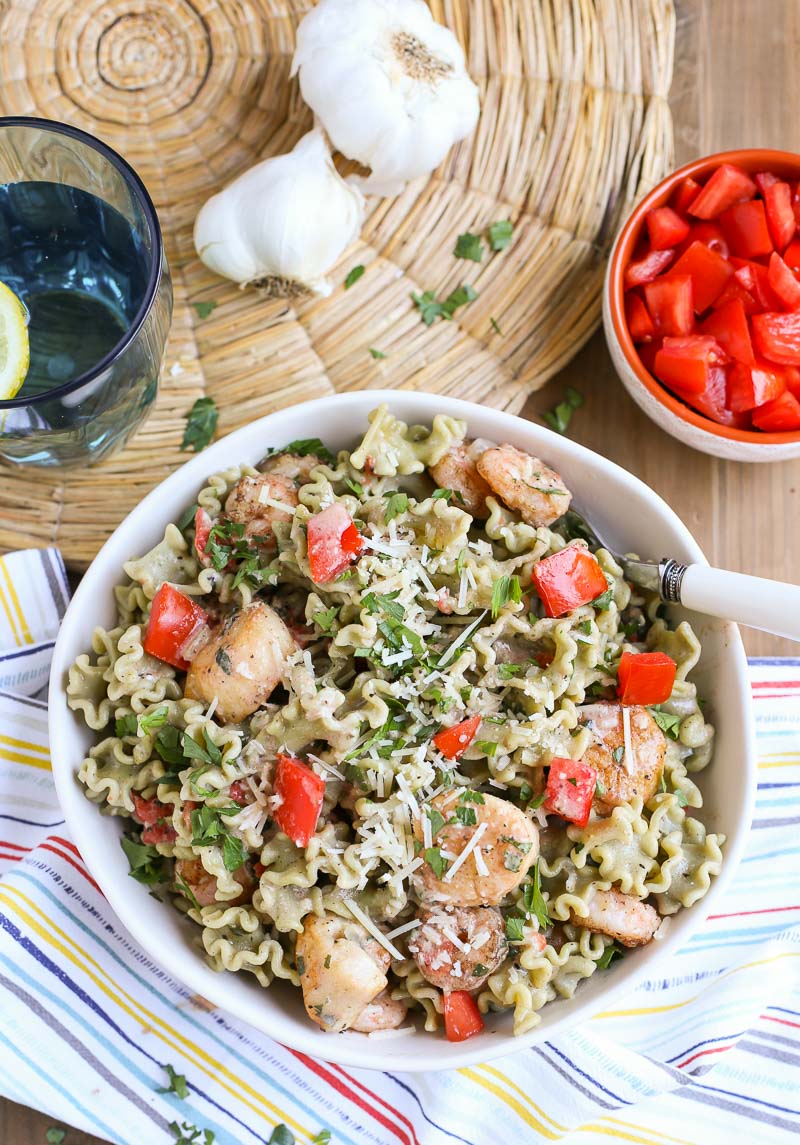 Depending on what you have in your freezer, or your mood, you can mix up the seafood and really add what you want. I used shrimp (my fave) and scallops, but why not Calamari? Clams? Mussels? Most everything is a YES! Just follow the recipe and change it up! (If using mussels and clams in shells, you need to steam them first to cook and open them up…then add them to your sauce with the other seafood).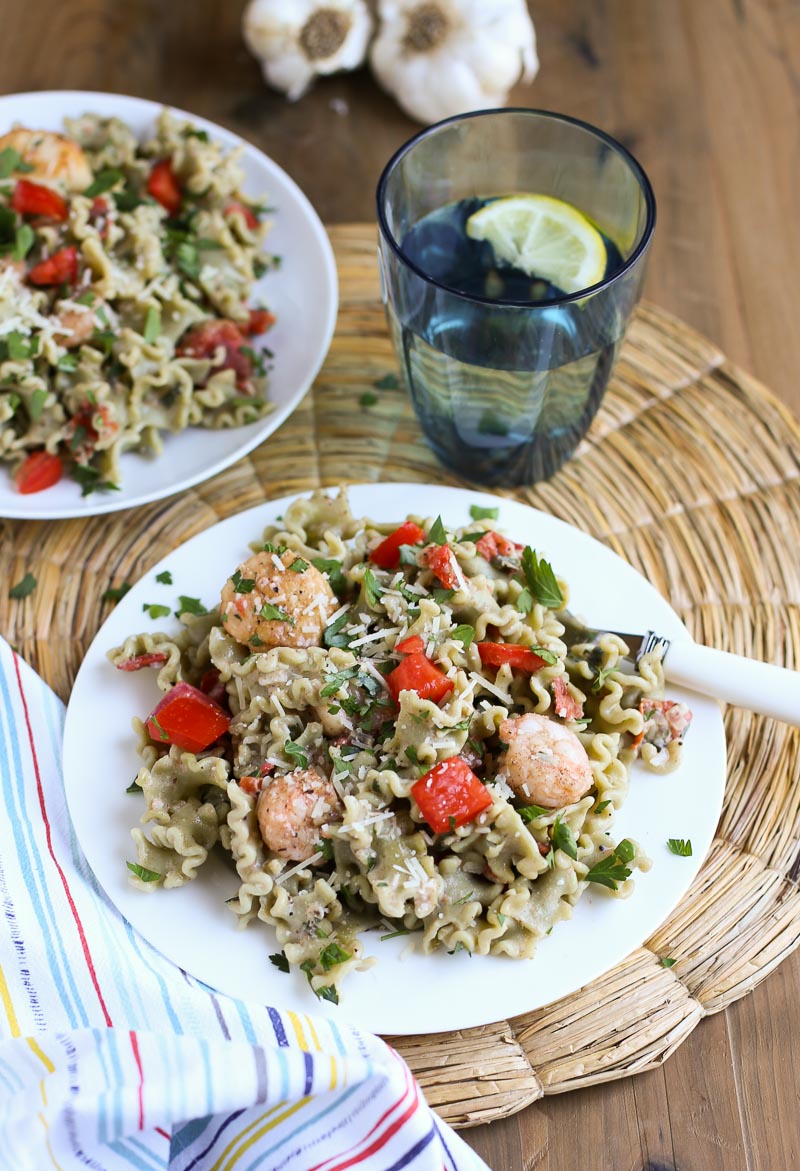 And this little recipe for Light and Creamy Seafood Sauce made her way to the BOX! I mean, she competed and won, the ever-coveted back cover image of our Spinach Basil Garlic Pasta Ruffles box! Blue Ribbon, First Place, Mic Drop…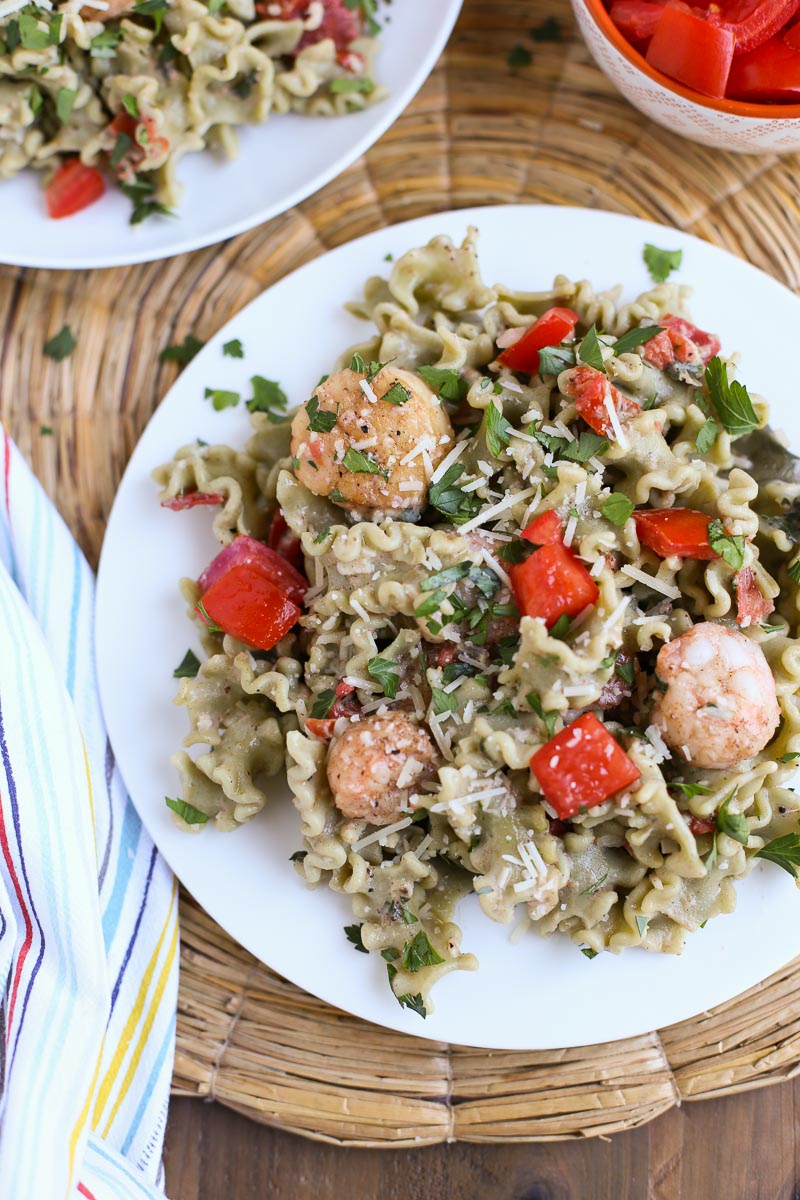 So, anytime you see a good recipe on a bag or box from the store…make it. Usually companies don't put average recipes on their product packaging! Even if it sounds too easy…usually it is a hidden gem. That's my "side-bar" advice for the day.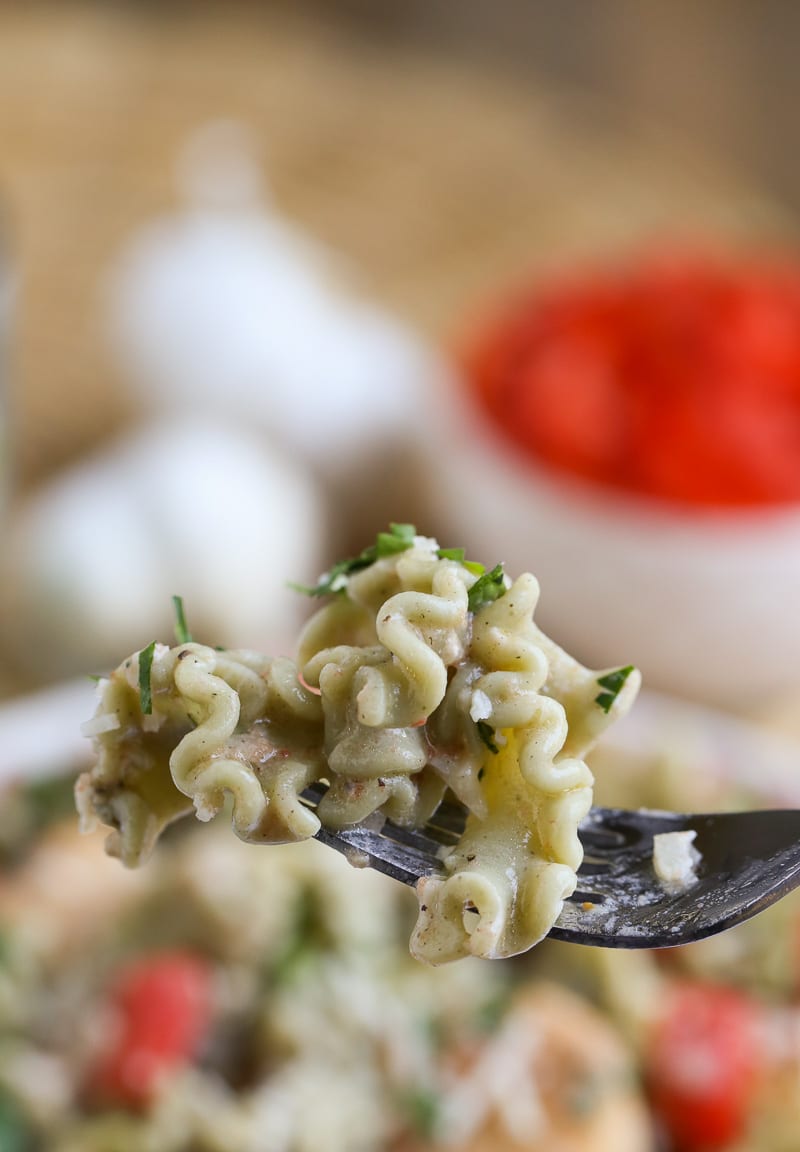 Enjoy friends and please let me know what you think!
Print
Spinach Basil Garlic Pasta Ruffles with Light Creamy Seafood
Super easy seafood sauce recipe…light and delish!
Ingredients
12 ounce box of Spinach Basil Garlic Pasta Ruffles
2 T. butter
½ pound shrimp, peeled and deveined (I like large or extra large, and sometimes cut them in half)
½ pound scallops, patted dry (I layer between paper towels, and then after 10 minutes, change out paper towels again to get as much liquid out as possible), halved if too large for bite size
Kosher salt
Fresh black pepper
2 small shallots, minced
4 cloves garlic, minced
¾ cups whole milk (2% OK too)
¾ cup chicken or vegetable broth
½ cup fresh Parmesan cheese, plus more for serving
1 cup chopped tomatoes (I use Roma or Campari tomatoes)
¼ cup fresh chopped parsley, plus more for garnish
Juice of ½ lemon
Instructions
Cook pasta according to package directions, drain and set aside.  Toss with 1 T. olive oil.
In a large skillet over medium heat, melt butter and add shrimp and scallops for approximately 2 minutes per side. Season with salt and pepper while cooking.  Transfer seafood to a plate.
Add shallots and garlic and saute until soft, approx. 3 minutes.
Add the milk, broth, Parmesan, tomatoes, parsley, and season with salt and pepper.  Simmer for about 3 minutes more and add the shrimp and scallops back into the pan. Toss and add lemon juice.
Add the Pasta Ruffles and toss gently until combined.
Garnish with parsley and top with more fresh Parmesan.  Serve and enjoy!
Join our email list for fresh pasta recipes delivered to you every week!
Your information will NEVER be shared or sold to a 3rd party.