Hail Mary Tailgate Pasta Salad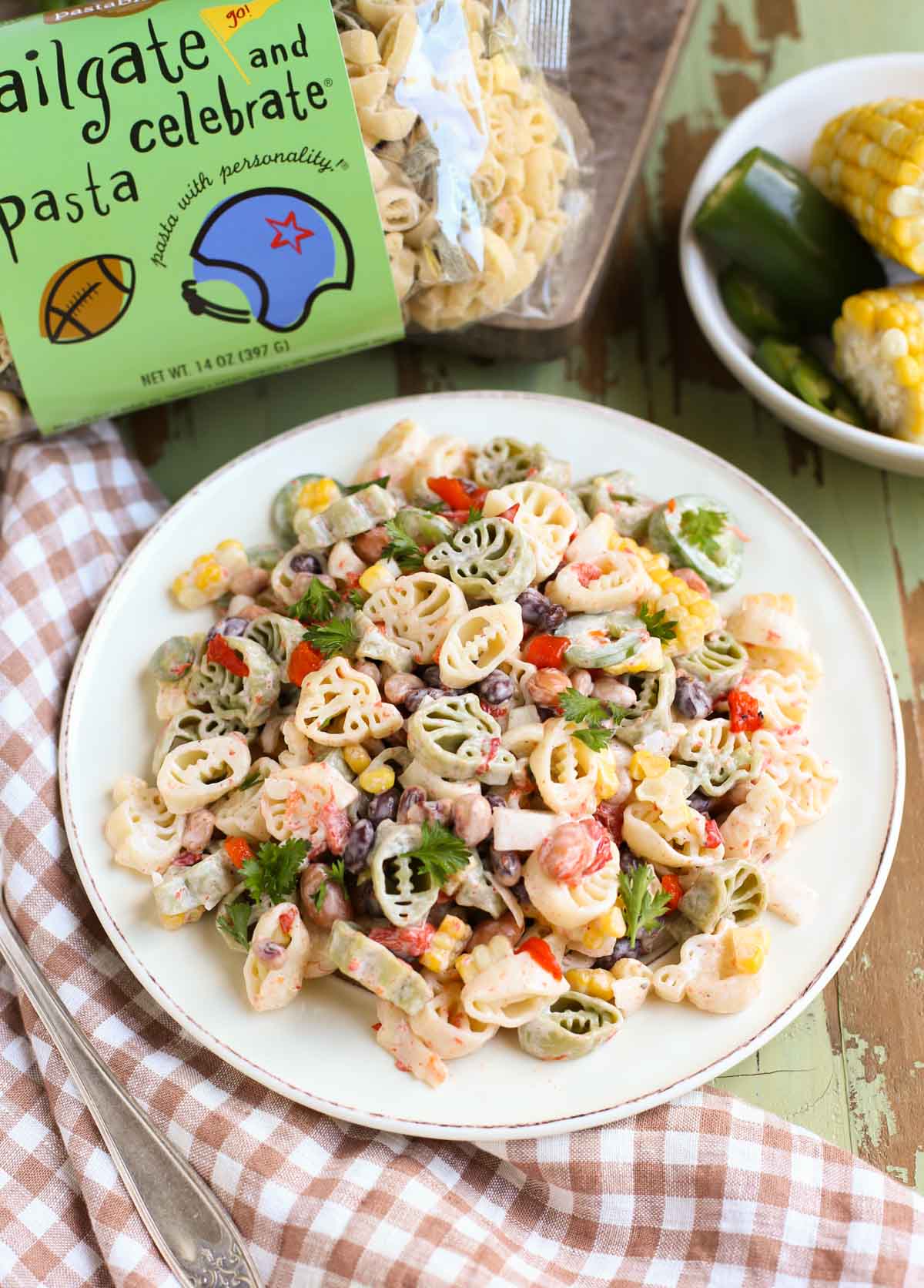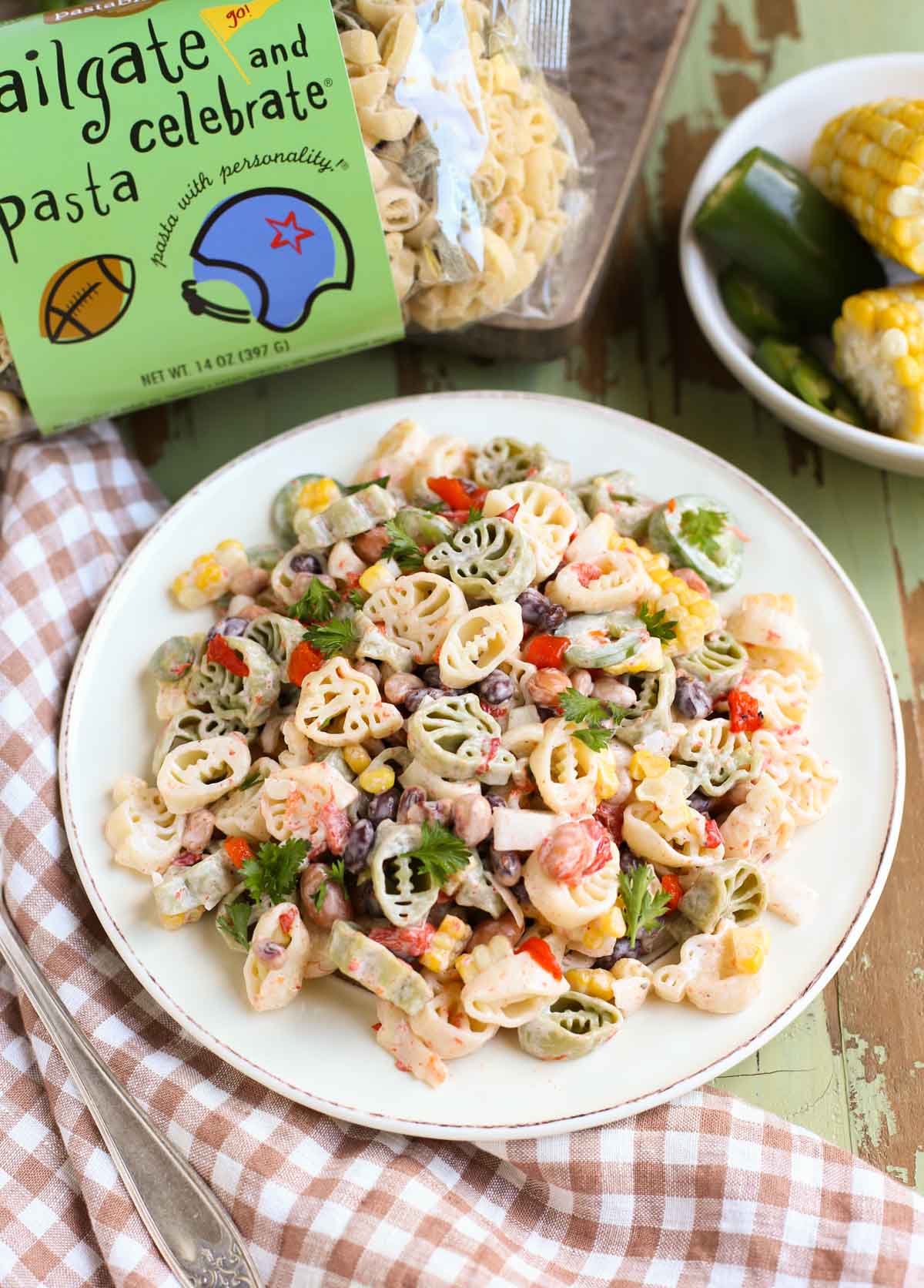 There is nothing more exciting than seeing a "Hail Mary" in a football game. In fact, the replays are just as exciting. About three years ago, in the UT vs. GA game, there were actually 2 Hail Marys…one on each side! In the end Tennessee won the game and my household was never happier. Even if you are not a crazy football fan, this last quarter is really fun to watch. (Plus your husband and kids will be impressed and pleased at your request!)😊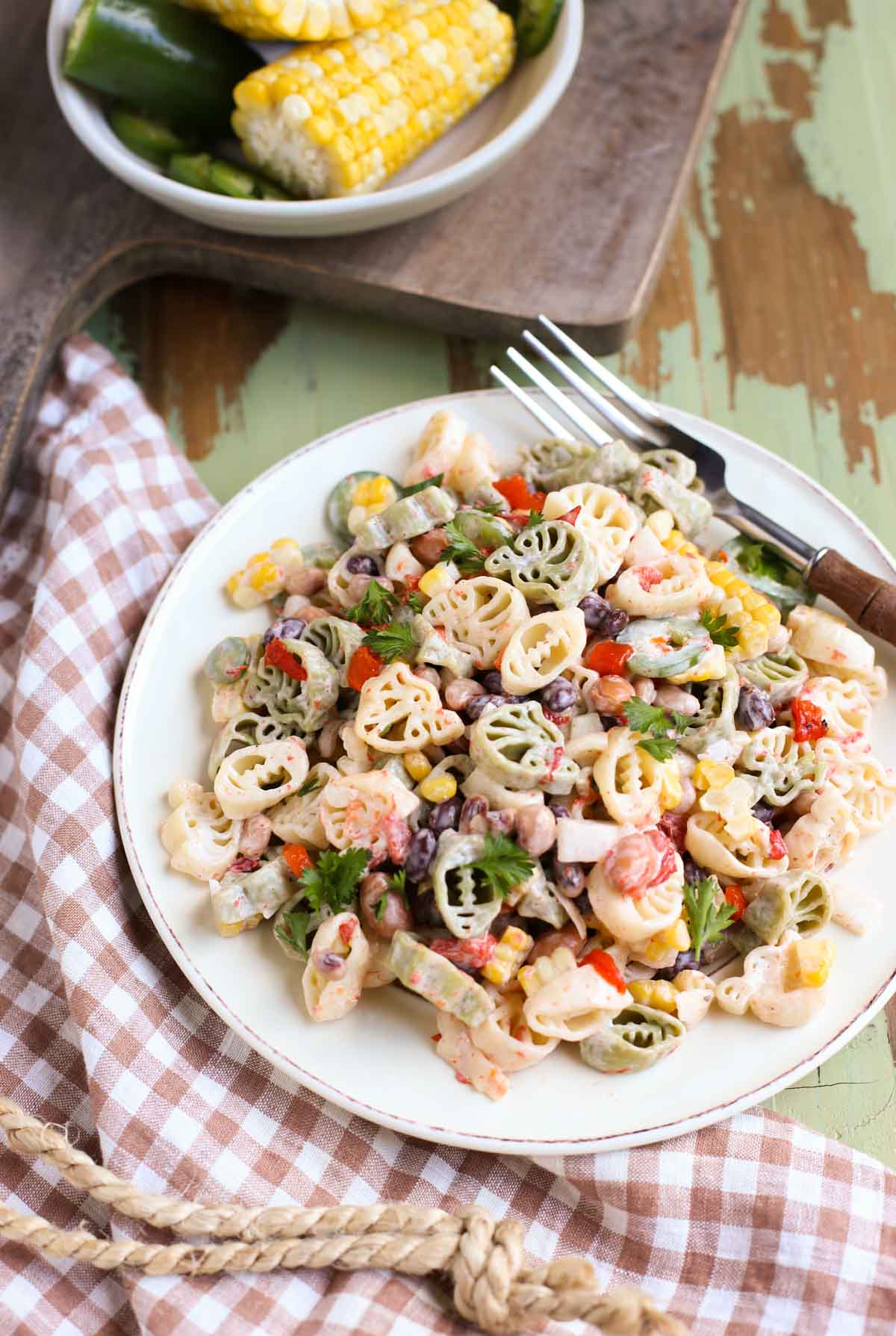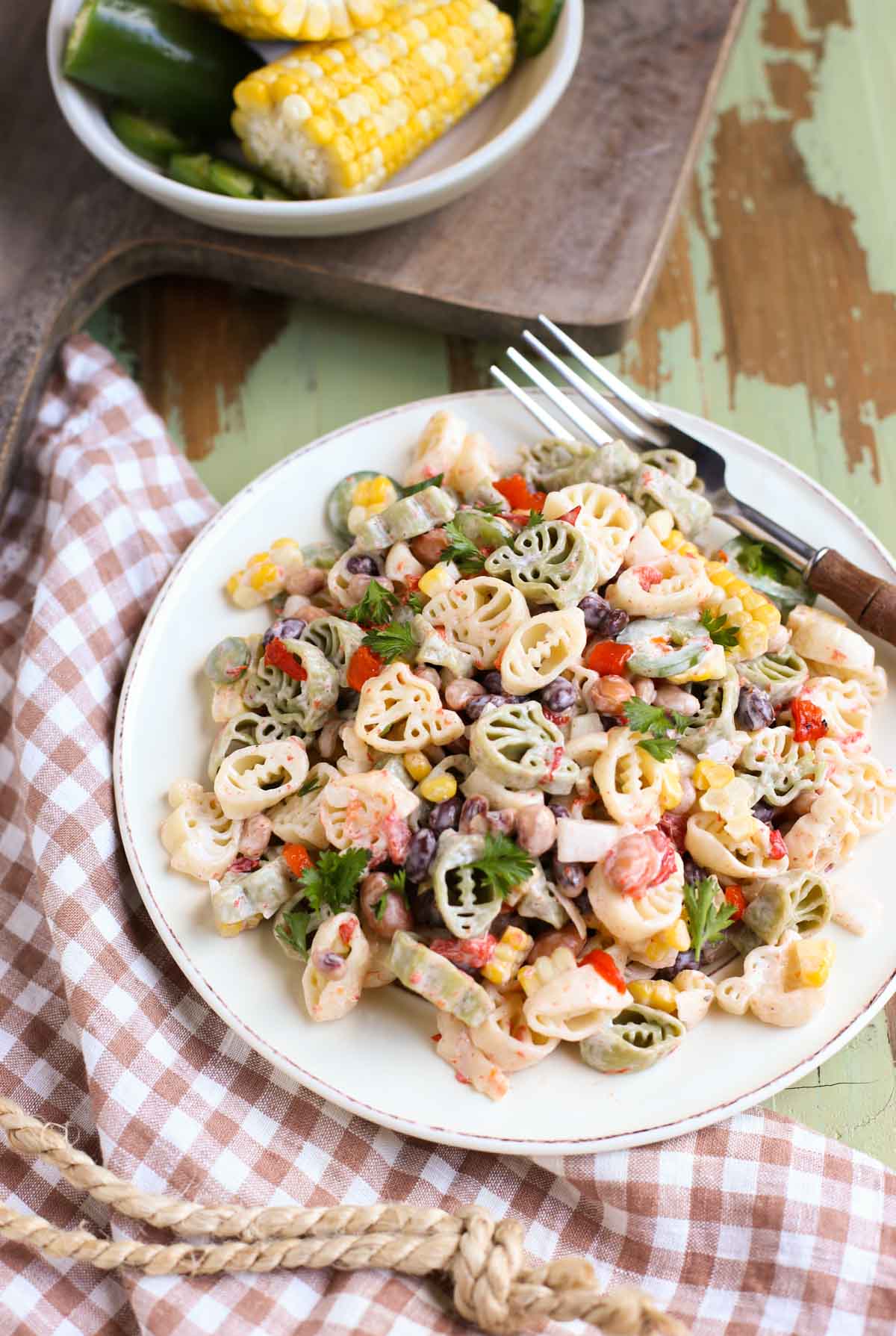 No matter which team is in the position to throw a Hail Mary, you can't help but get behind the unlikely yet possible touchdown play. The quarterback literally has to aim more accurately than ever before, and throw all he has into the pass…while the world holds its breath and waits for the result. Usually the ball is soaring high and long, and time begins to move slowly, with all eyes tracking that little brown ball though the air as it makes its way to the receiver. And with a little luck, a connection is made.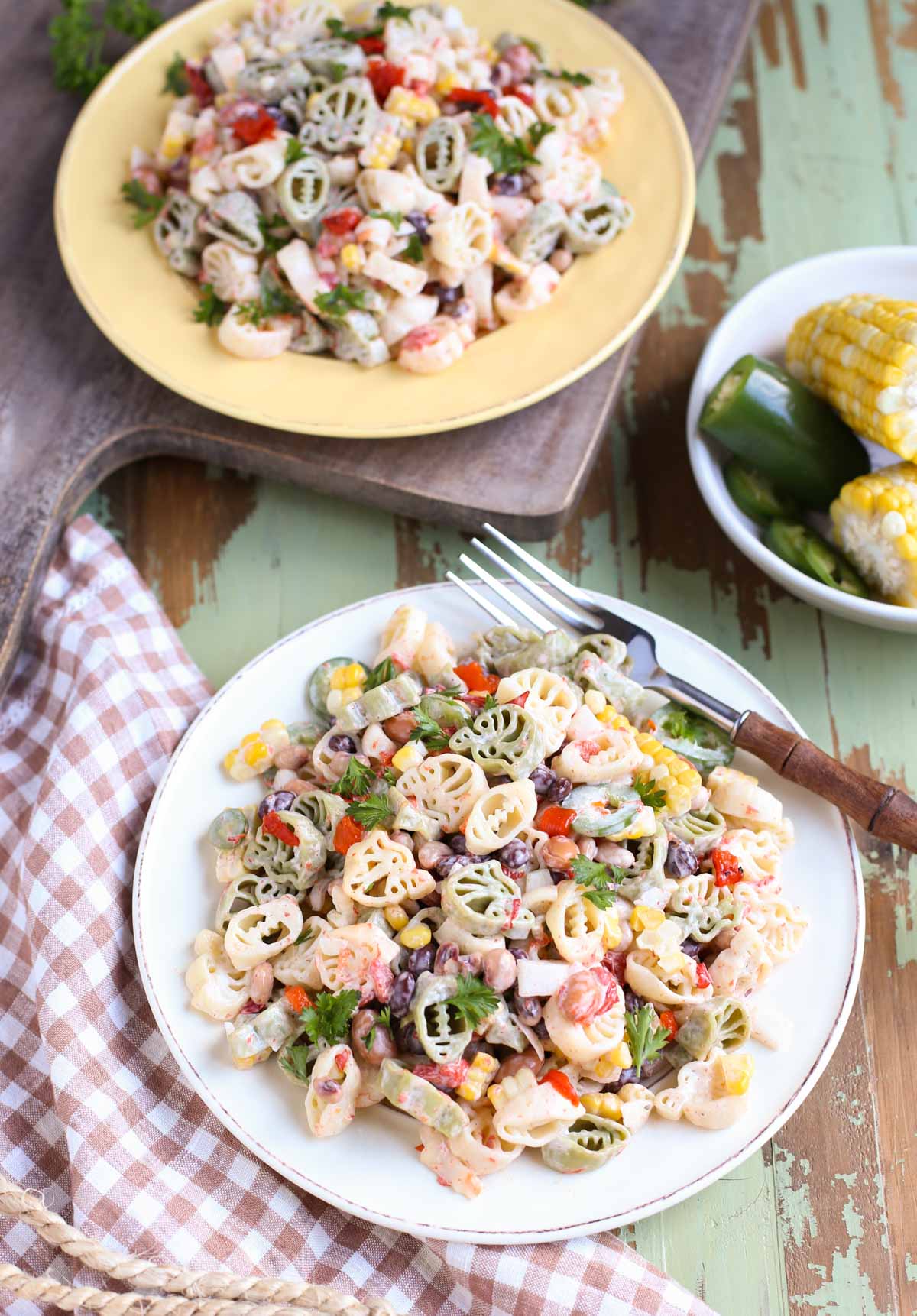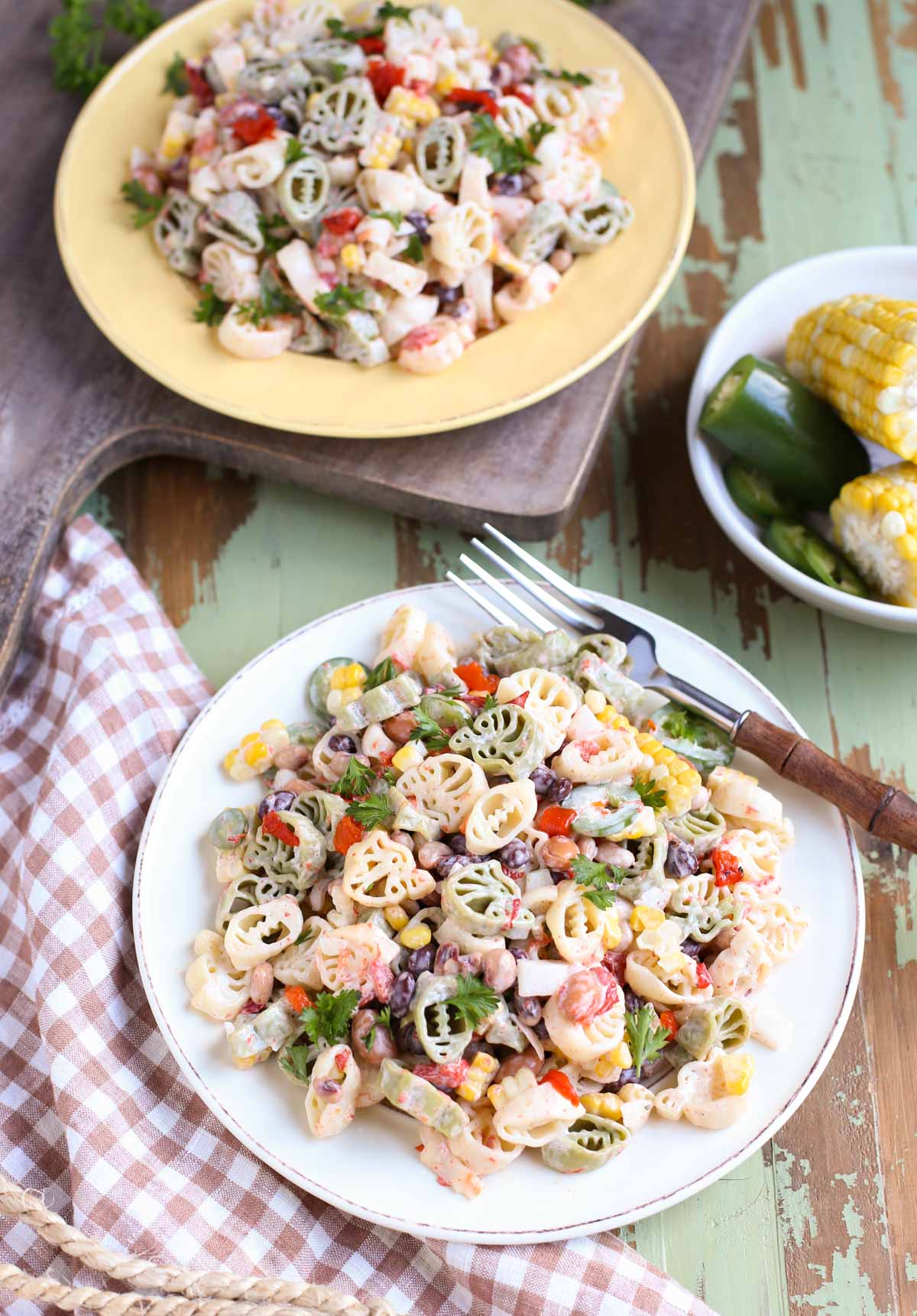 So, what in the world does this have to do with Pasta Salad? It ends up quite a lot! This is my recipe for a "Hail Mary Tailgate Pasta Salad". Here is the play. Listen carefully.
First, it does help if you use our Tailgate & Celebrate® Pasta. Obviously, these football and helmet shapes are the center of the fun. But they are certainly not necessary…any short pasta shape will do.
Next, you take all leftovers or available goodies you have in the fridge and the pantry…could be leftover chopped veggies from a salad, a few slices of cheese that you can dice into bite size pieces, or grape tomatoes or avocados that are ripe with nowhere to go. Don't forget to check your assortment of canned beans or corn that have been sitting on your pantry shelf. Be creative!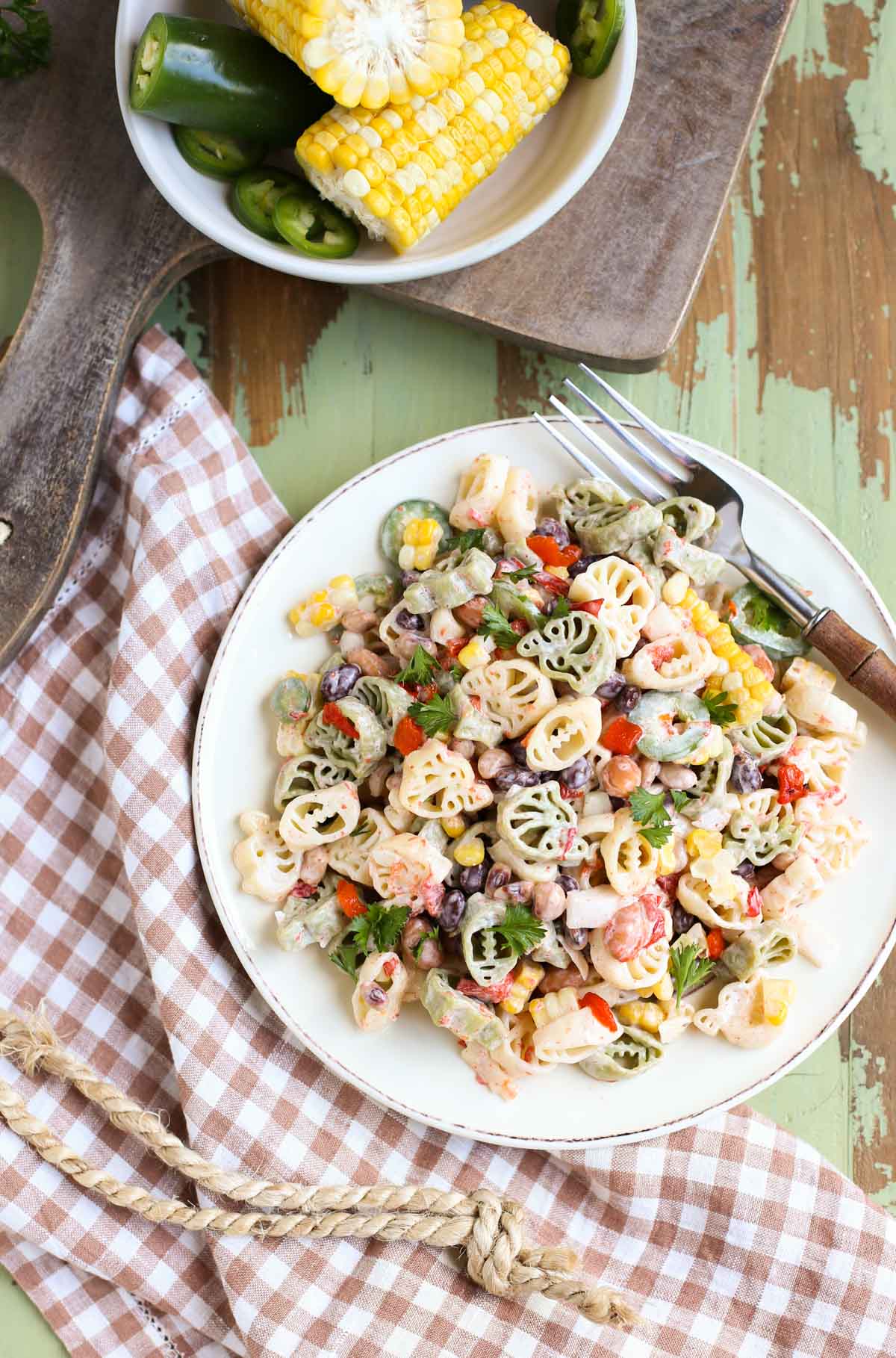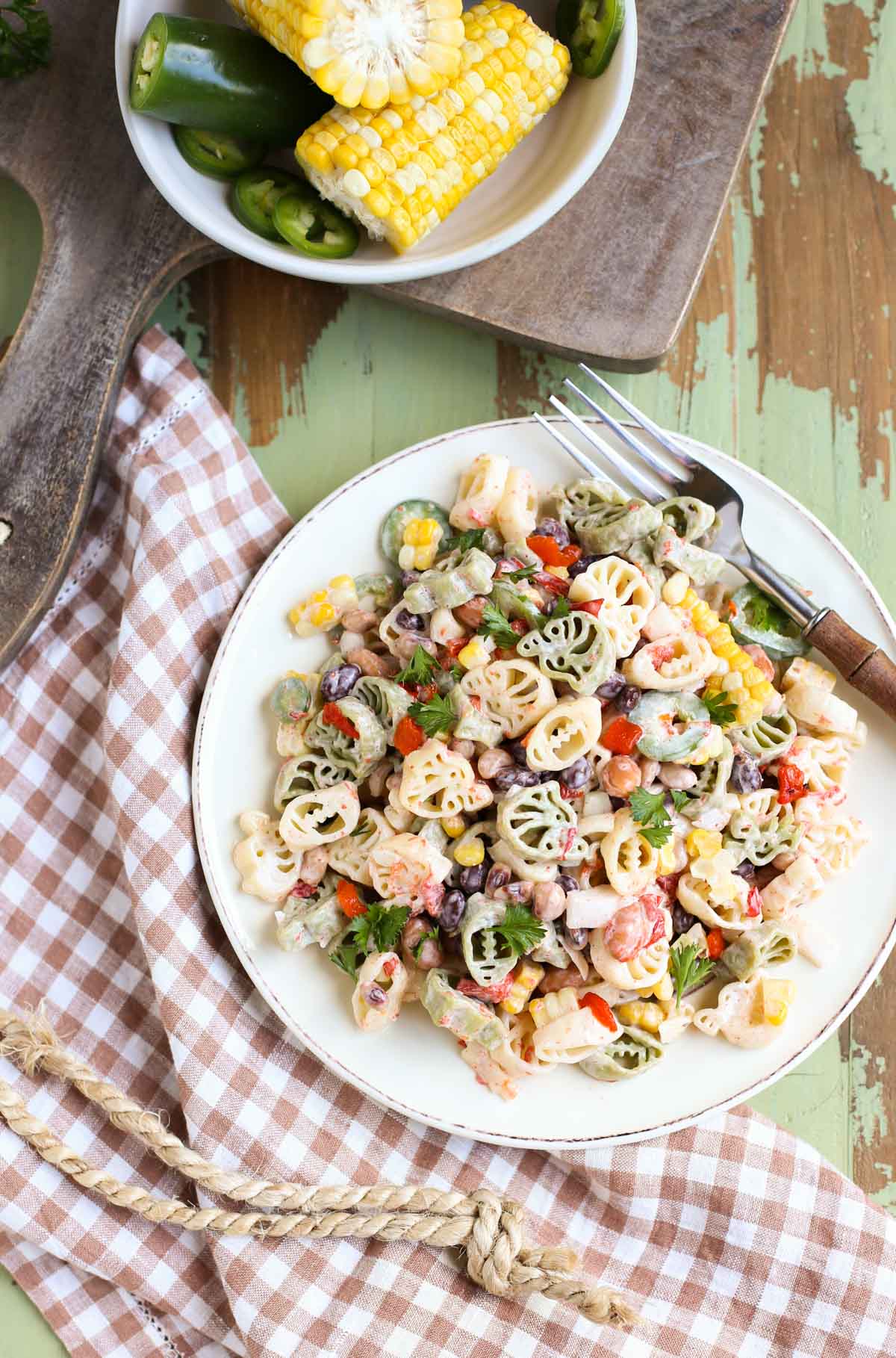 Now, choose a ready-to-go salad dressing out of the fridge (I choose a basic ranch), toss all of this goodness into a bowl, do some praying (hah!), season the pasta with salt and pepper, and hope that a delicious pasta salad is the result. Like a Hail Mary, the recipe may vary from week to week we your ingredients change and your weekly meal plan evolves, but with some thoughtful planning and creative moves, you can "score"!
Let me "throw in" a few ideas to create your own version of Hail Mary Tailgate Pasta Salad:
Fire roasted canned corn, or baby corn
Roasted red peppers in a jar
Fresh jalapenos, sliced thinly
Canned beans OR peas, or both (I had a mixture left over from a Southwestern Soup I had made)
Grape or cherry tomatoes, halved or quartered
Olives, sliced or chopped, black or green or whatever you have!
Cheddar cheese, diced small
Ham, diced
Fresh avocados, diced
Fresh cilantro, parsley, or basil, chopped
Pine nuts, toasted
Bottled ranch dressing (use original, or any of the creative new flavors available now)
Any creamy or vinaigrette dressing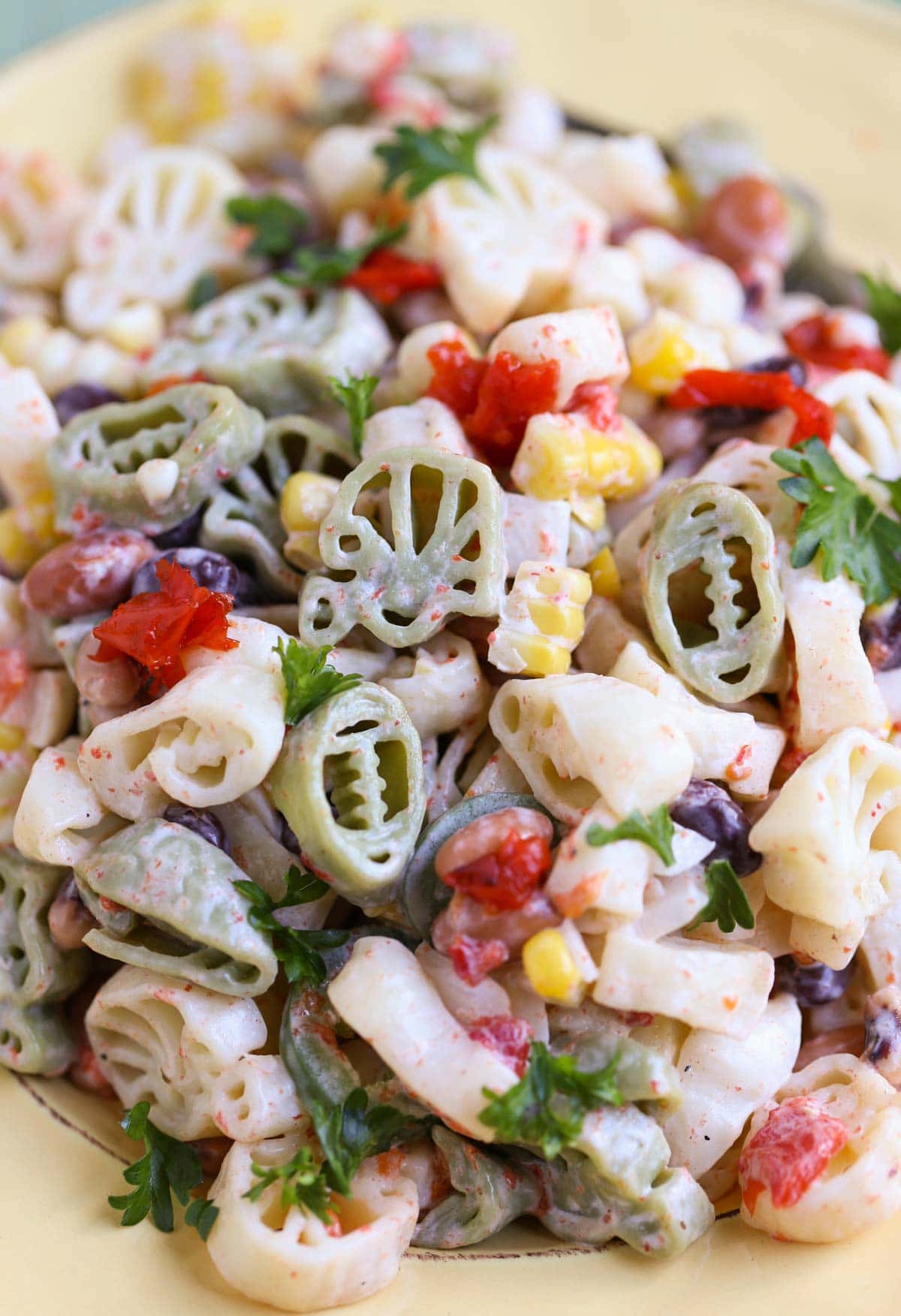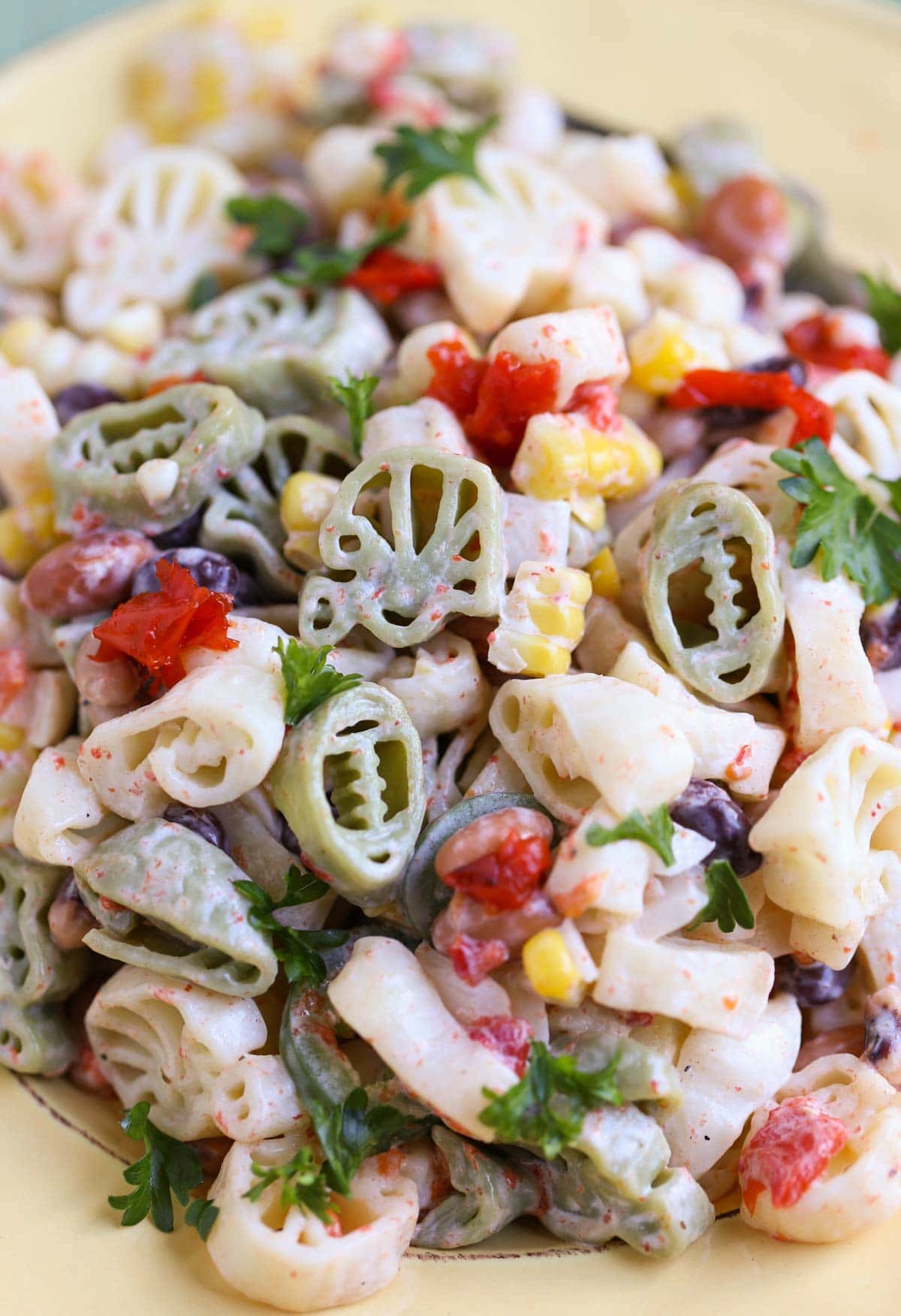 Have I got you thinking? I'm excited to see where you take this Hail Mary Tailgate Pasta Salad. Just go for it. Give it your best effort. Do it for your team. And have fun! I'm confident you'll get one in the end zone! Or just follow my recipe below for a sure thing! 😊
And try these other recipes too this fall: It's Pasta Slaw Y'all! and Florentine Pasta Salad with Red Grapes and Cashews. Both Delish!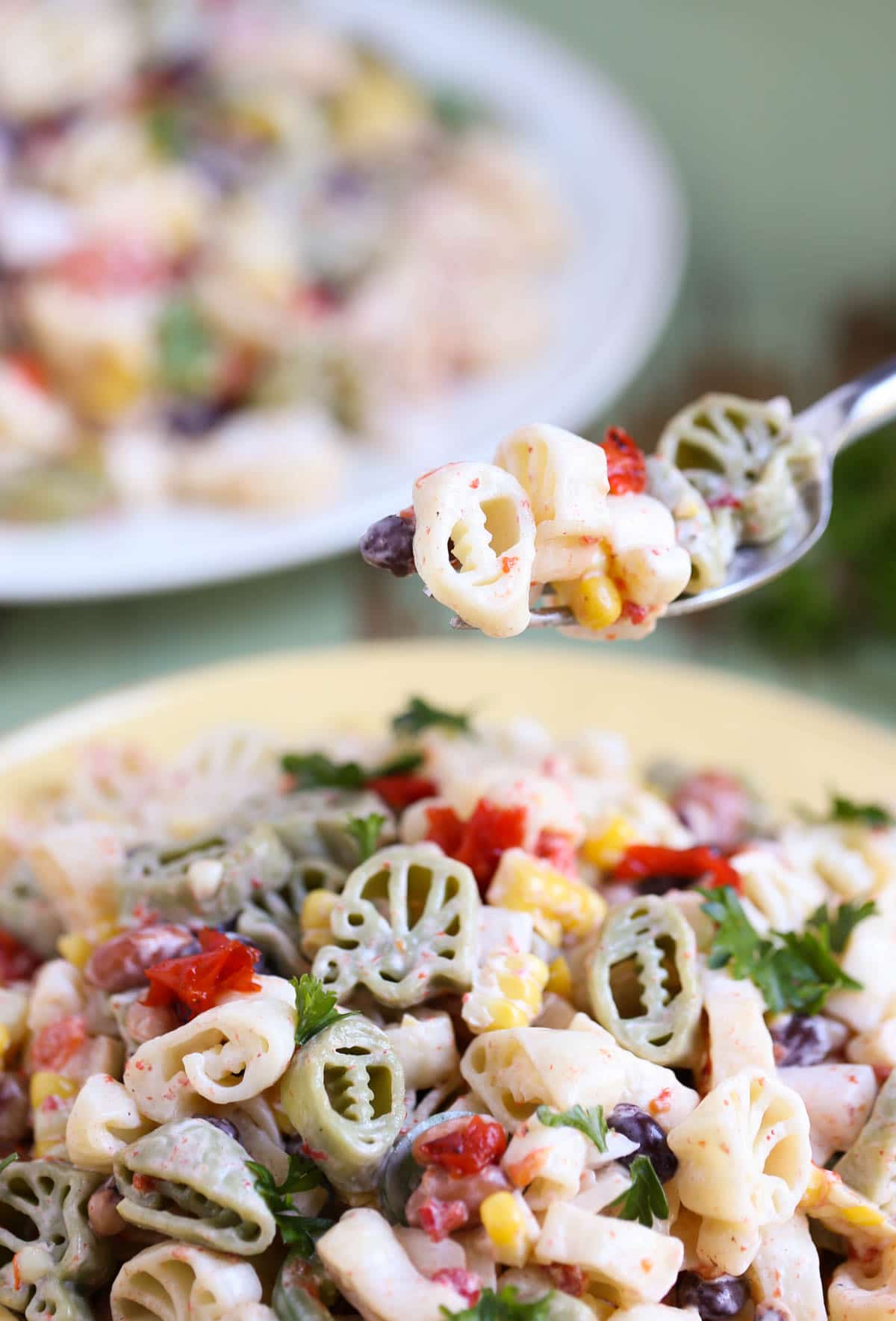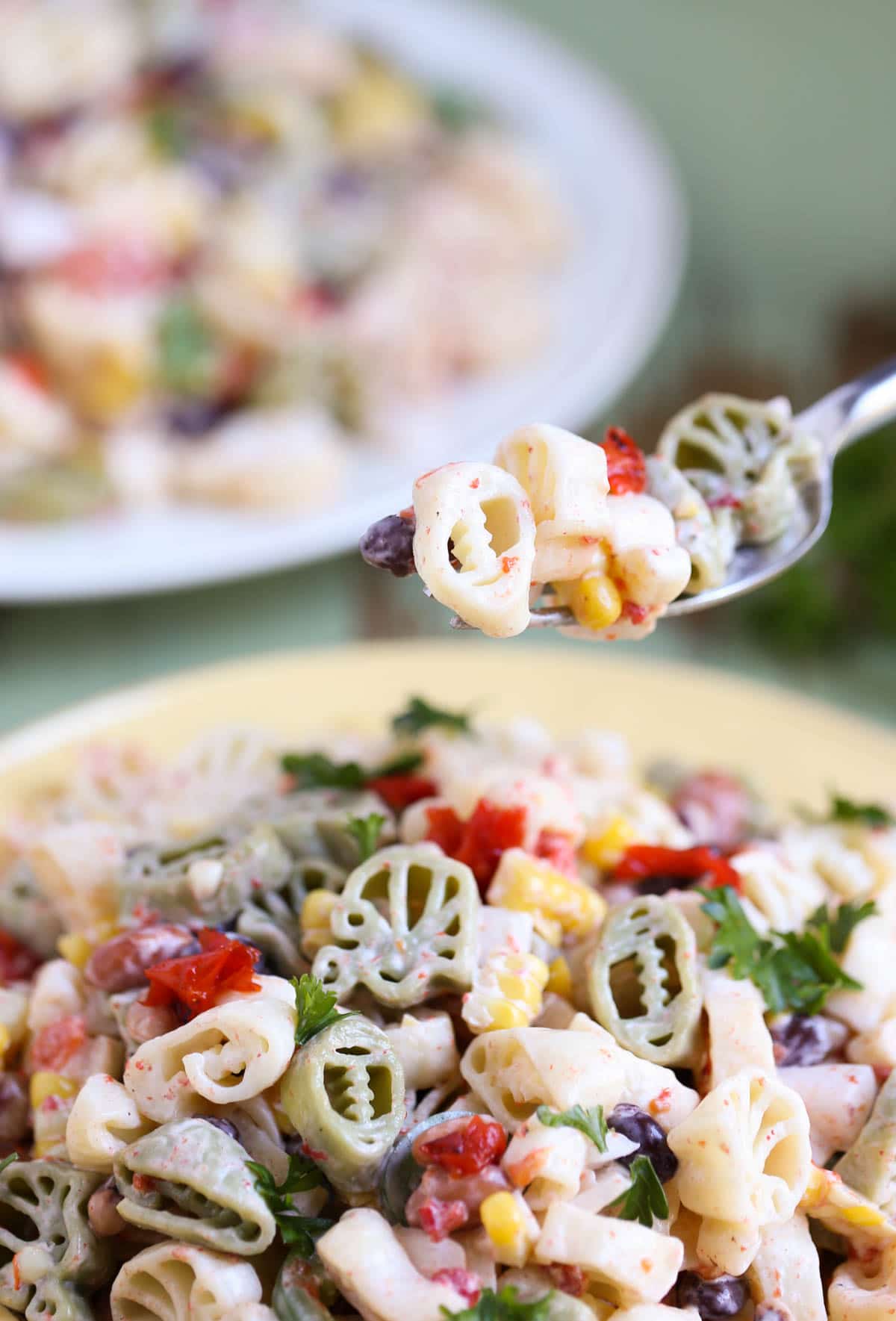 Print
Hail Mary Tailgate Pasta Salad
Simple & Easy Pasta Salad, made with your leftovers and pantry goodies!  Get creative and have fun! Note:  The list of ingredients are what I had in my fridge and pantry!  Edit as you please!
Ingredients
1 14 oz bag of Tailgate & Celebrate Pasta Salad (or any other short shape, up to 16 ounces)
1/2 can black beans,  drained and rinsed
1/2 can pinto beans, drained and rinsed
1/2 can black eyed peas, drained and rinsed
1/2 cup chopped onion
1 can sweet corn, or 2–3 cooked or grilled fresh corn on the cob, cobs cut off with a knife
1 jar roasted red peppers, chopped (I usually buy mine at TJMaxx)
1 small can mild green chilies
Salt and pepper, to taste
1 fresh jalapeno, thinly sliced
Fresh parsley, chopped
1 bottle Ranch dressing (about 1/3 bottle, or to taste)
Instructions
Cook pasta according to package directions, rinse with cold water, and put in large bowl.
Add all other ingredients and toss gently.  Season to taste.
Garnish and serve!  Enjoy!
Join our email list for fresh pasta recipes delivered to you every week!
Your information will NEVER be shared or sold to a 3rd party.