Delicious Winter Pasta Salad
When you think of Winter and your list of favorite dishes, comfort foods including warm, rich, and creamy sauces or roasted vegetables usually come to mind.  But with a few surprise sunny days in a row, I was in need of a change.  This Winter Pasta Salad includes many seasonal winter ingredients, but it's fresh, bright, and crunchy, and the perfect perk-me-up for the winter blues!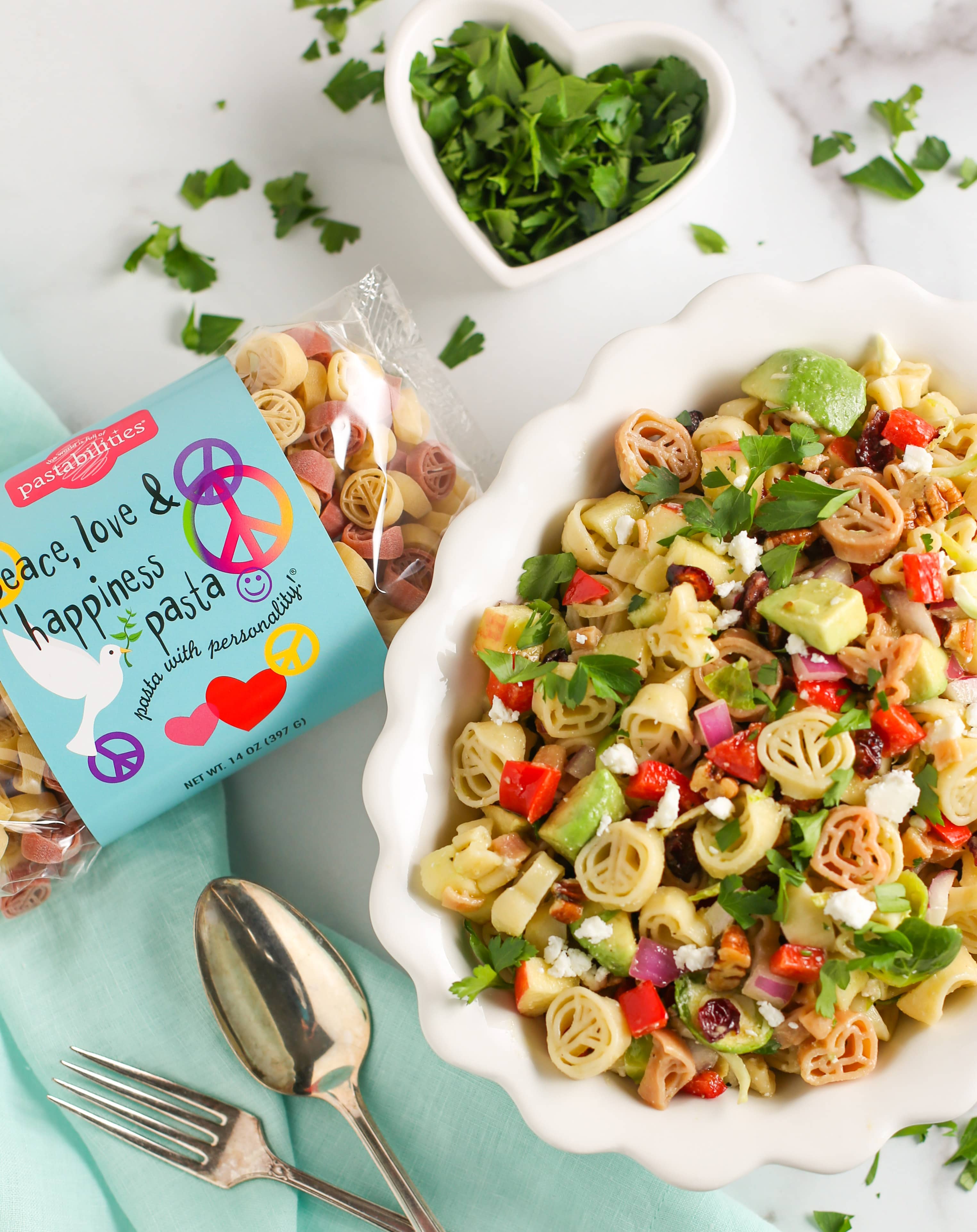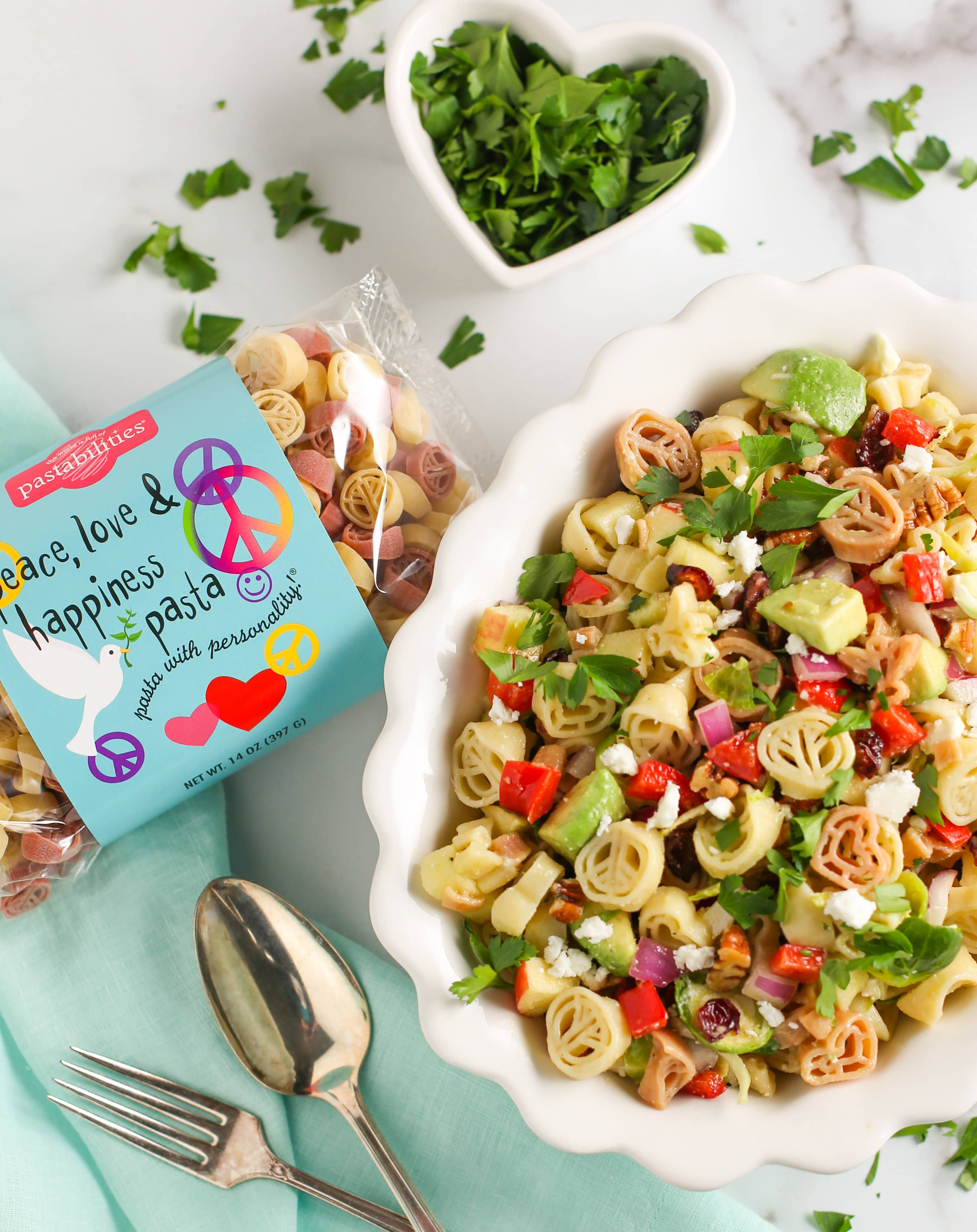 I decided to use our Peace, Love, and Happiness Pasta last week, thinking about the upcoming Valentine's Day holiday. The night I made this was the same day the Capital chaos and riot occurred…Peace Pasta just seems even more fitting. Praying for more peace and love this year. 😊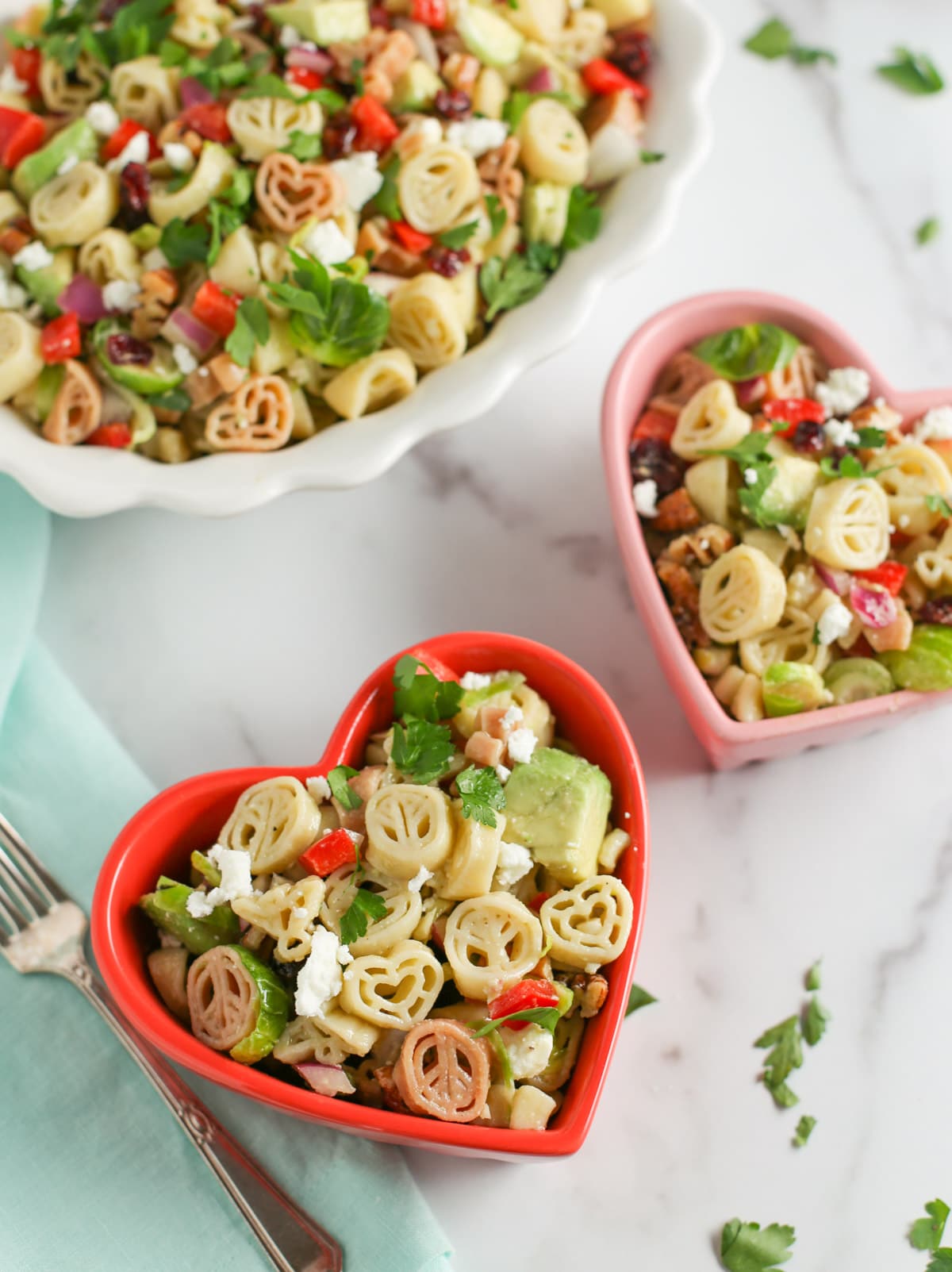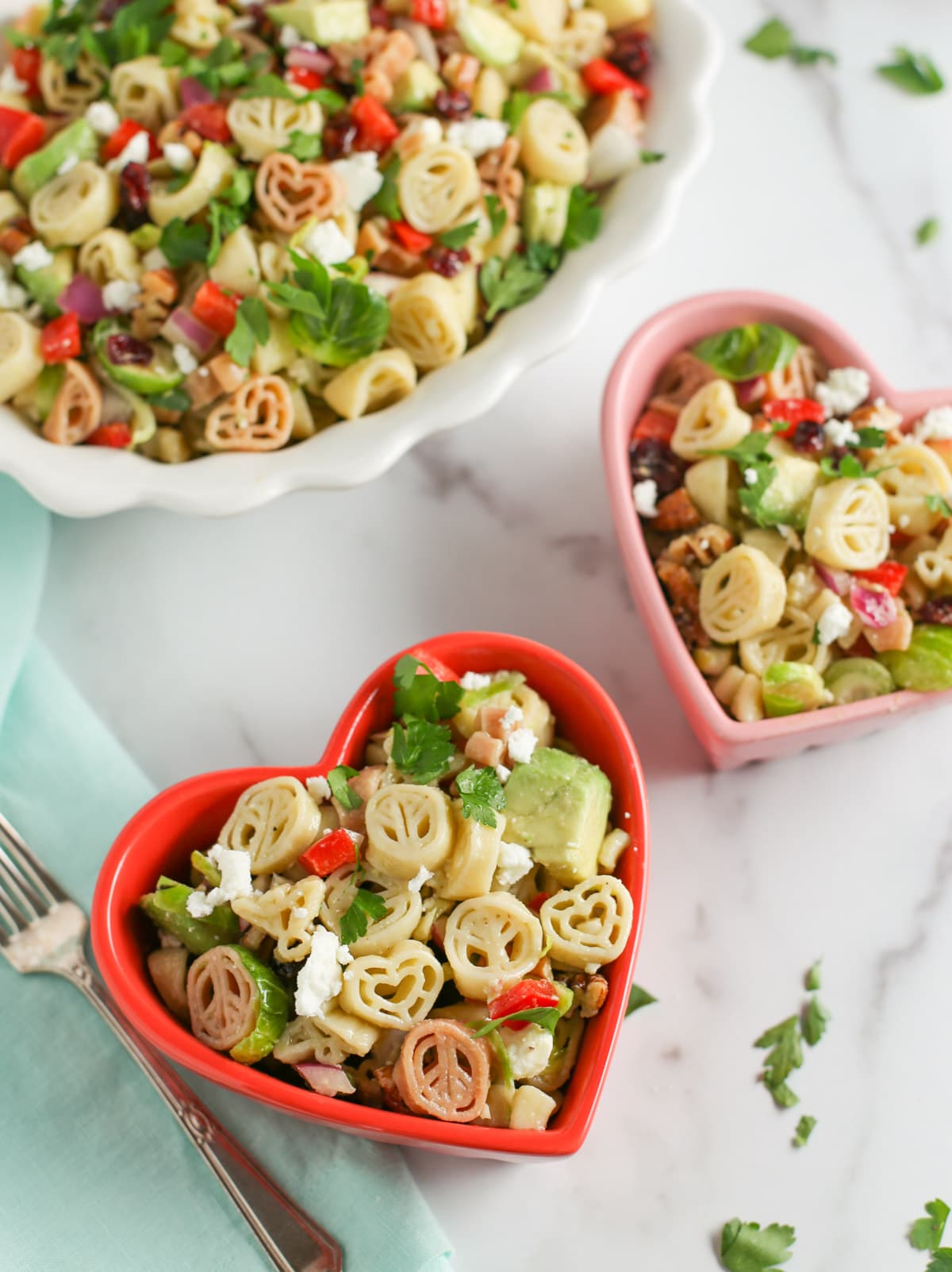 What I love about pasta salads is their simplicity.  If you can chop, you can make a pasta salad.  And the dressing couldn't be easier.  Throw all the ingredients in a mason jar, screw on the top, and shake!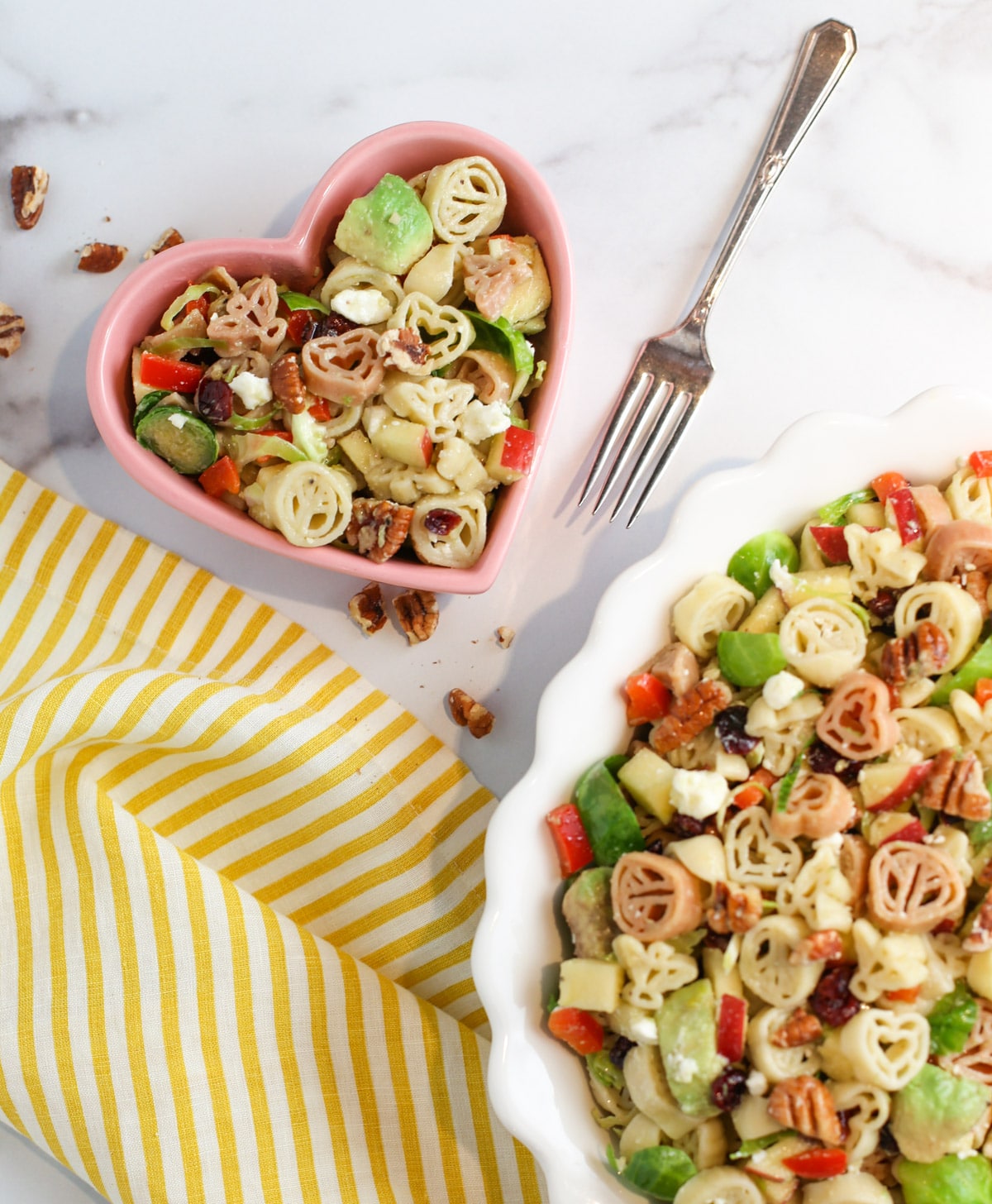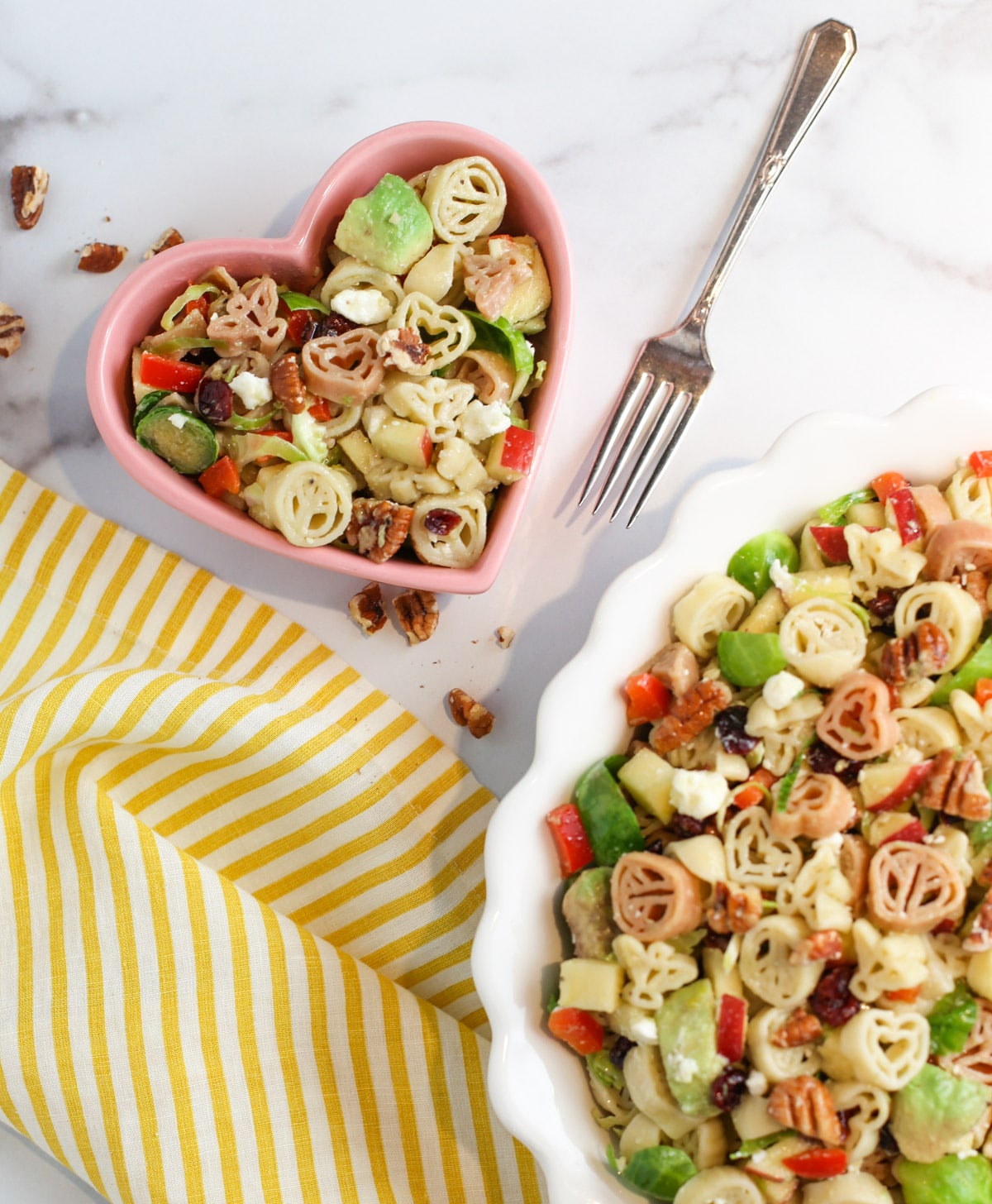 What are the main Winter Pasta Salad ingredients?
Pasta
Brussel Sprouts
Red Pepper
Avocado
Apple
Pecans
Feta
Parsley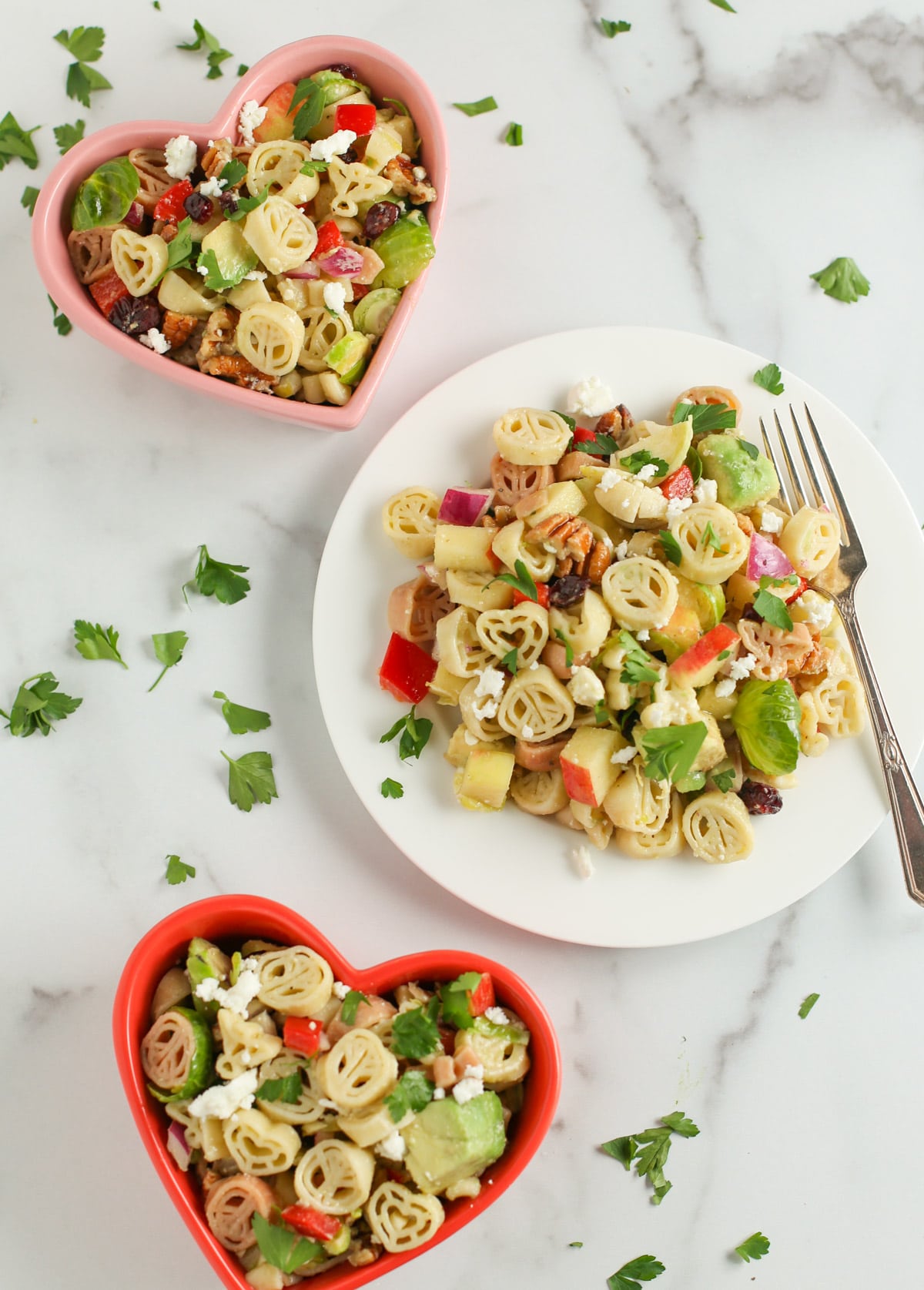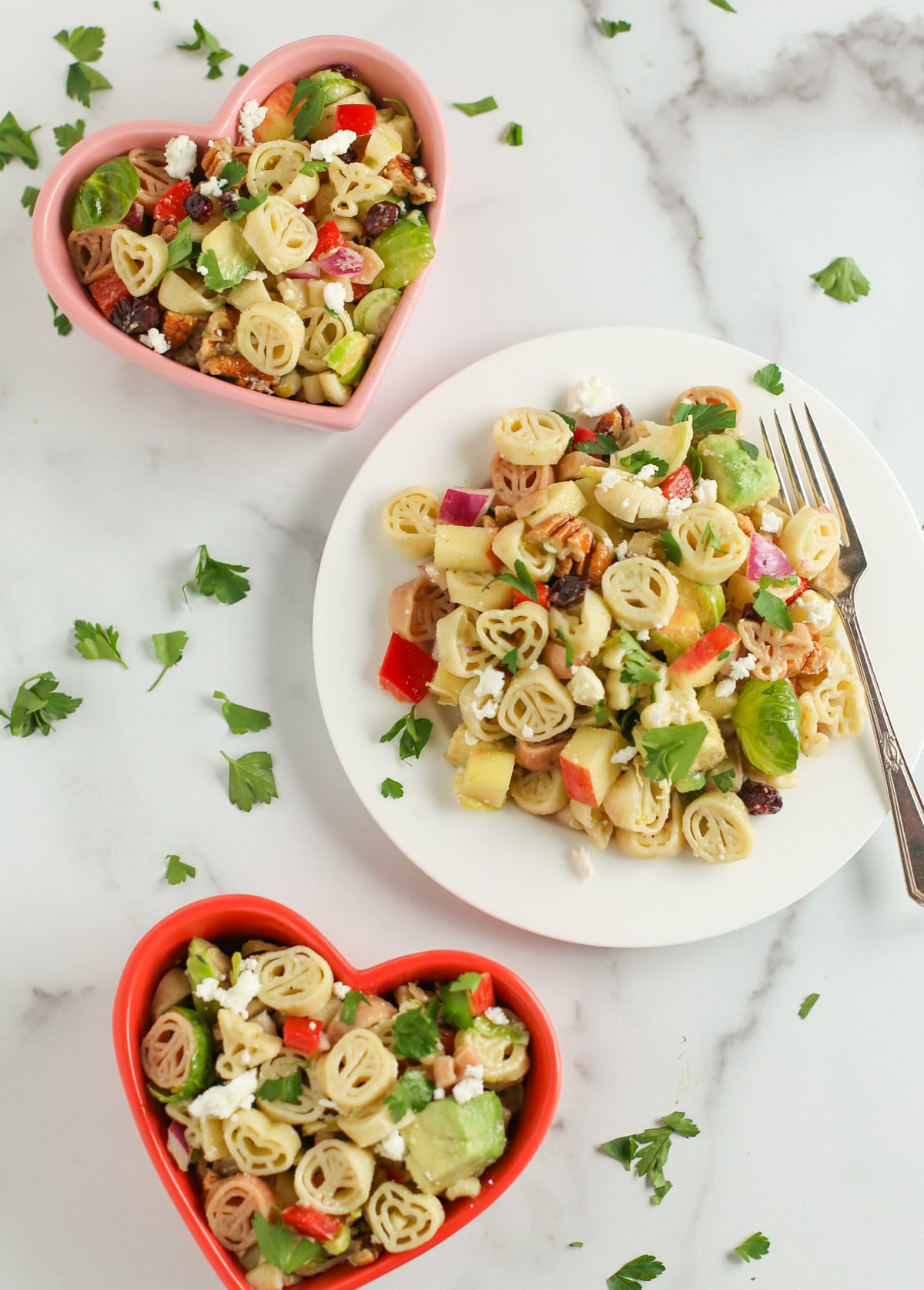 There are a number of substitutions that can be made here. Yellow or orange peppers, Granny Smith apples, Jazz or other crunchy apples, walnuts, or goat cheese.  And if you are vegan or eating a plant-based diet, just leave out the cheese.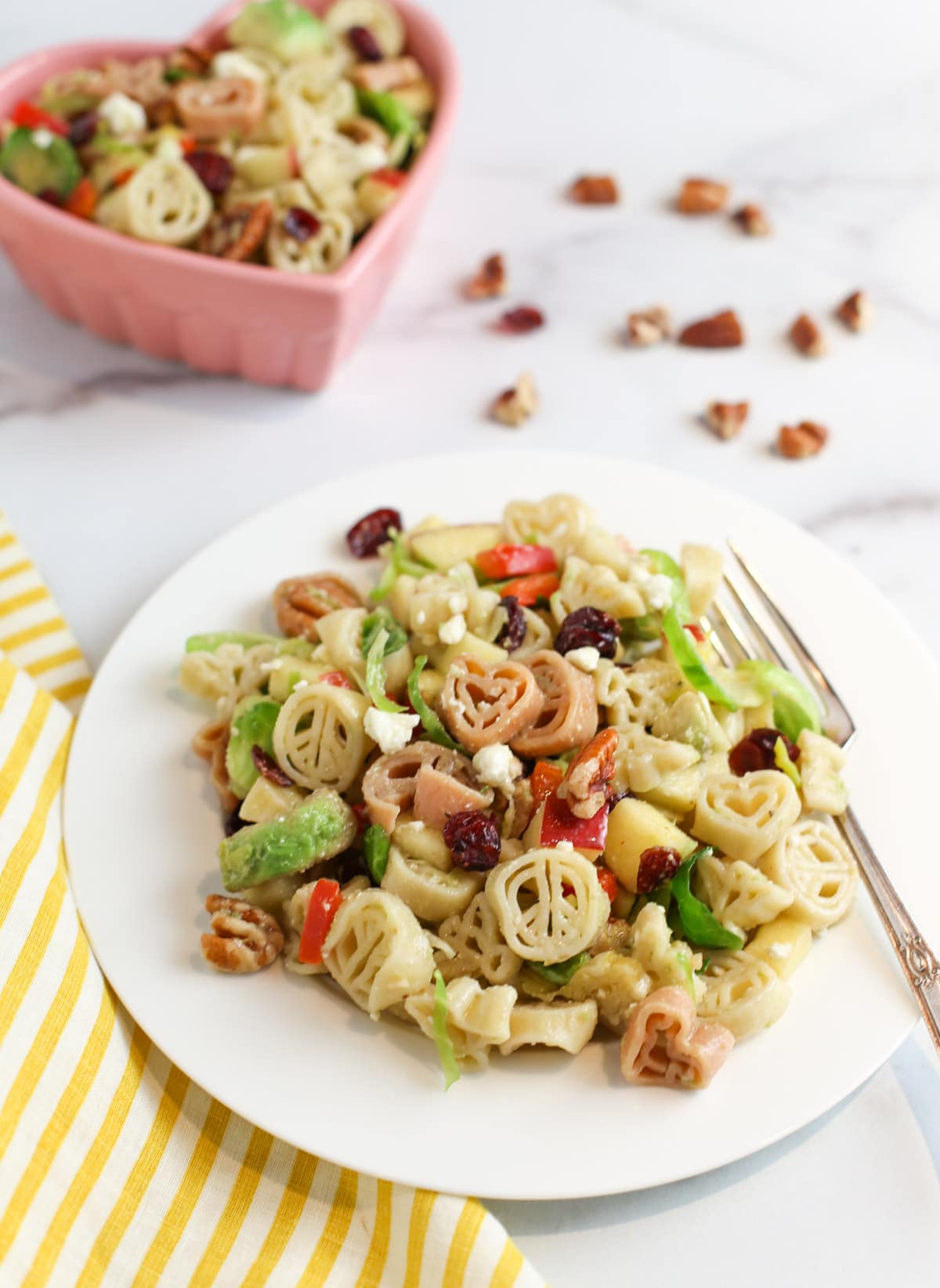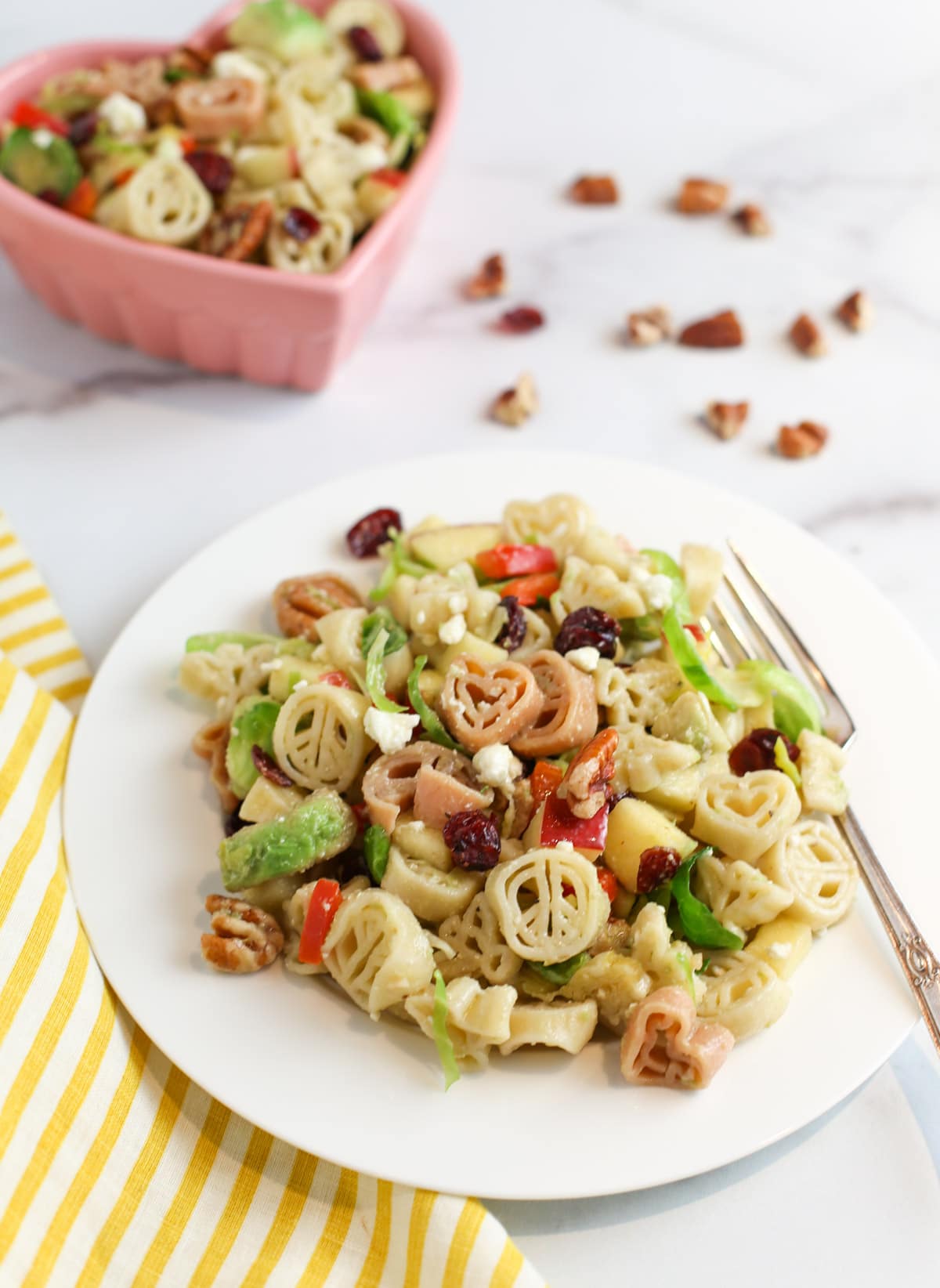 Other Helpful Tips
Do Ahead Pasta!  You can make the pasta ahead or the day before.  Just drain, rinse, and toss with some olive oil.  Store in refrigerator until time to serve.
Do Ahead Ingredients! You can chop, toast, or measure all ingredients ahead of time too…just leave the apple and avocado until the very end, both will brown if not.
Buy your Brussel sprouts already shredded or sliced.
The vinaigrette can be made a few days ahead.  Just refrigerate and whisk or shake before adding to pasta.
With pasta salad leftovers, add the extra ¼ cup of dressing and toss gently.  Our pasta is porous and may absorb the dressing over night and will need some help to moisten the salad.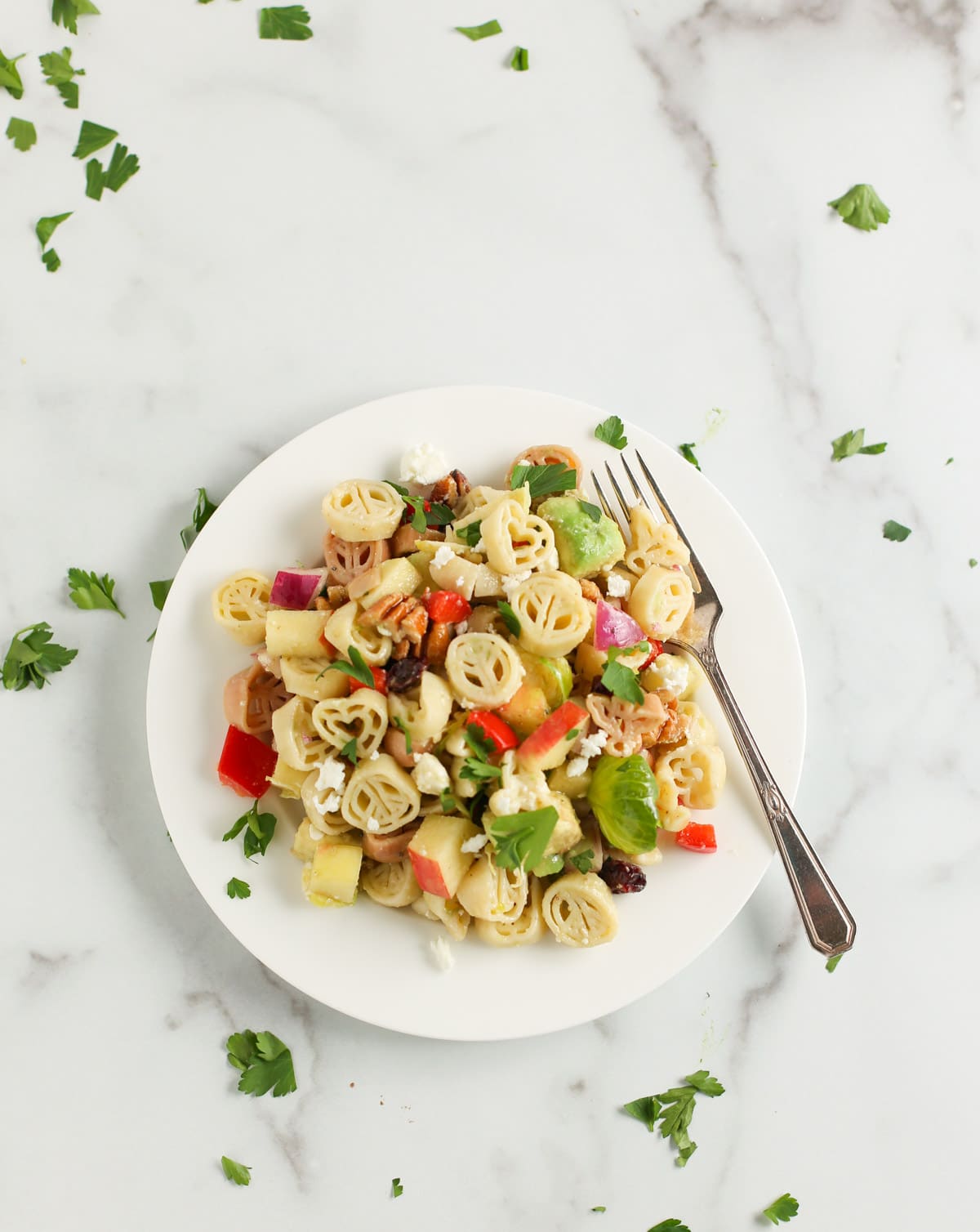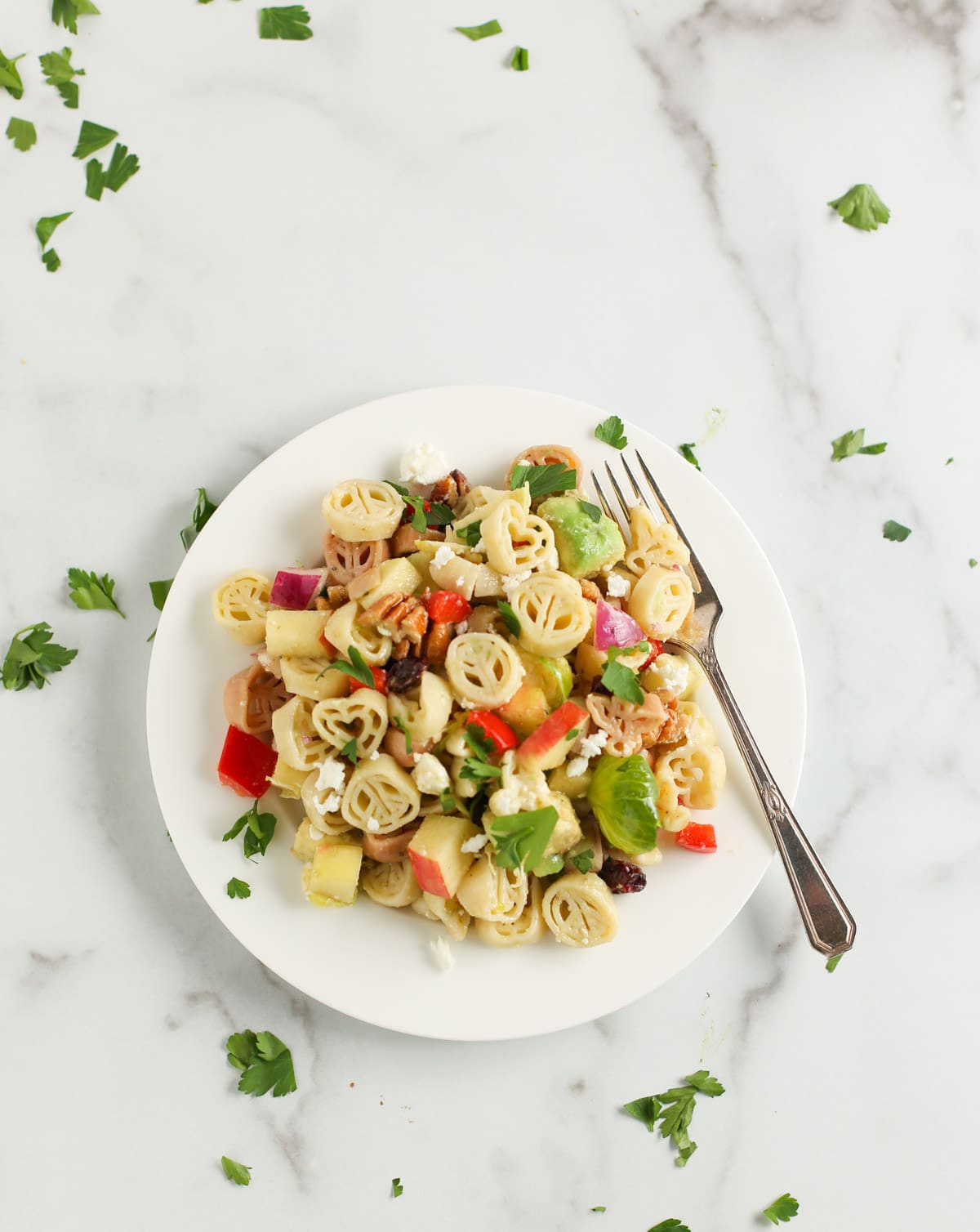 It's always the combo of sweet, savory, crunchy, and creamy ingredients that makes a terrific pasta salad, and this recipe strikes the perfect balance.
Since it's still cold outside, I'd consider serving this Winter Pasta Salad as a side dish, like you'd serve a green salad.  Imagine alongside a hot bowl of chili or soup, or serving with pork tenderloin and some roasted or mashed potatoes.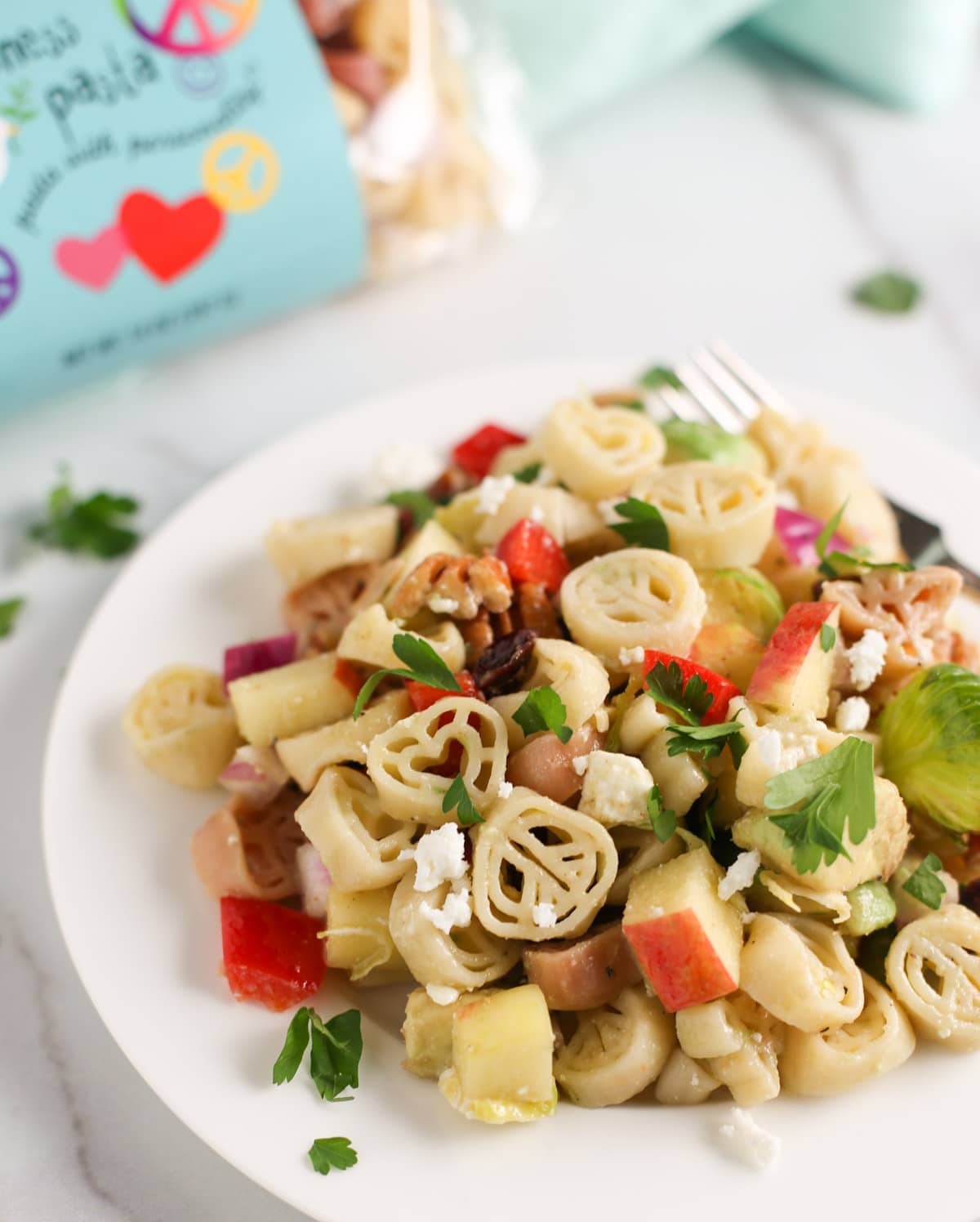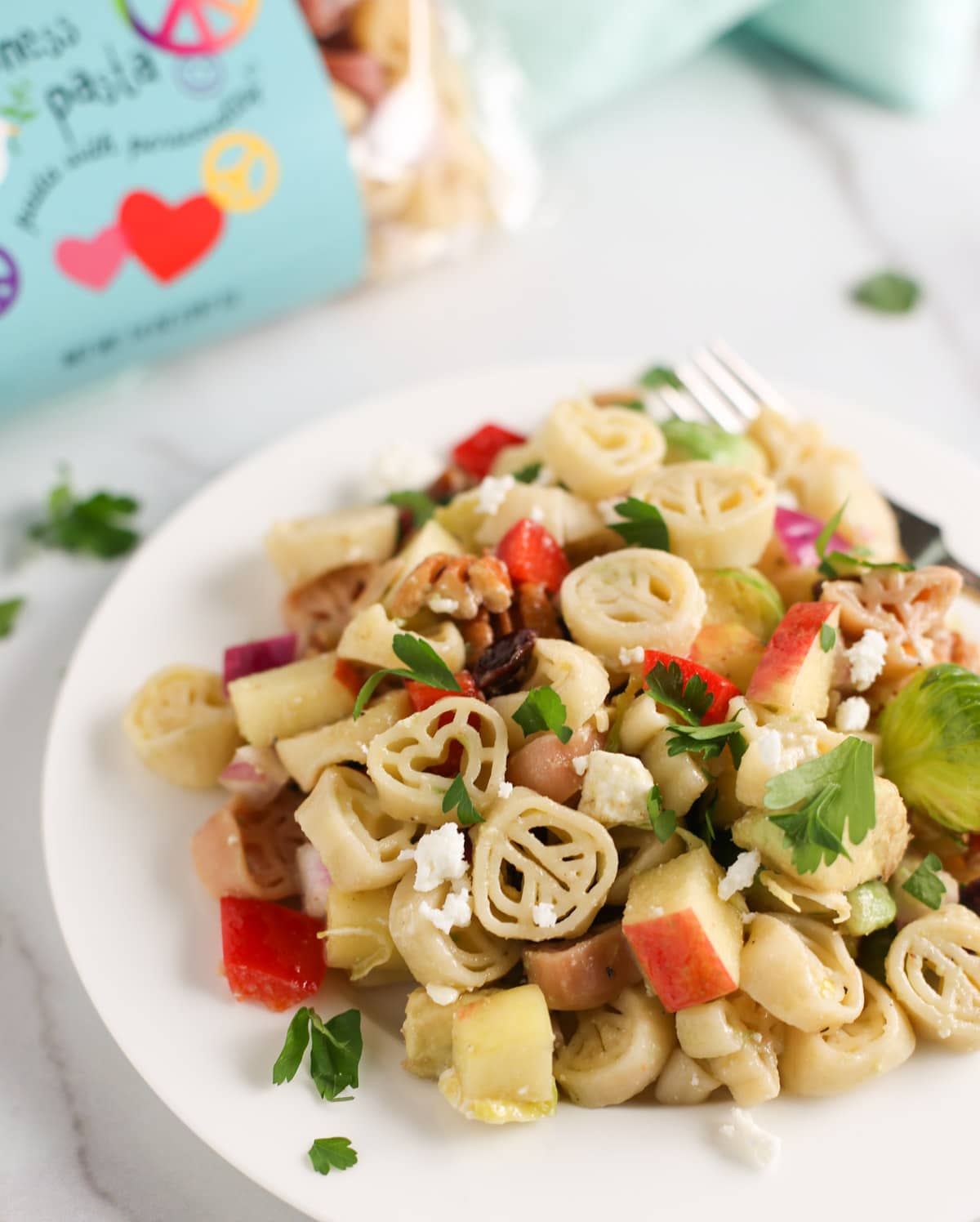 If you make this recipe and enjoy it, then consider some of our other favorites: Caribbean Pasta Salad, It's Pasta Slaw Y'all, or Caprese Pasta Salad…or any recipe under our Pasta Salad listing!
And for more happenings with Pastabilities, follow us on Instagram @worldofpastabilities, or Facebook @pastashoppeusa!  And remember, The World is Full of Pastabilities®!
Print
Winter Pasta Salad
A refreshing Winter Pasta Salad!  Full of bright, fresh, crunchy ingredients – a great accompaniment for soups, salads, or any protein – serve instead of a green salad!
Ingredients
14 oz bag of Pasta (I used Peace Love & Happiness but any short shape can be used)
1 large apple, diced
2 avocados, diced (tossed with 2 T lemon juice)
1 red pepper, diced
½ cup Brussels sprouts, shredded or sliced
¼ red onion, diced
½ cup pecans, toasted and chopped
½ cup dried cranberries
½ feta cheese, crumbled
¼ cup fresh parsley, chopped, plus more for garnish
Dressing:
½ cup olive oil
½ cup apple cider vinegar
2 T. maple syrup
1 T. Dijon mustard
2 cloves garlic, minced
1 t. kosher salt
½ t. black pepper
Instructions
Cook pasta according to package directions.  Drain and rinse, and toss with a couple tablespoons of olive oil.  Place in large bowl.
In a small bowl or jar, add all dressing ingredients.  Whisk or cover jar and shake until combined. Set aside.
Dice avocado and toss with 2 T. lemon juice.  Add to bowl with pasta.
Add all other ingredients to bowl.  Pour dressing over ingredients reserving about ¼ cup dressing. (You'll use to refresh any salad leftovers)
Toss gently to combine, top with fresh parsley and serve!
Join our email list for fresh pasta recipes delivered to you every week!
Your information will NEVER be shared or sold to a 3rd party.