Italian Sausage and Pumpkin Pasta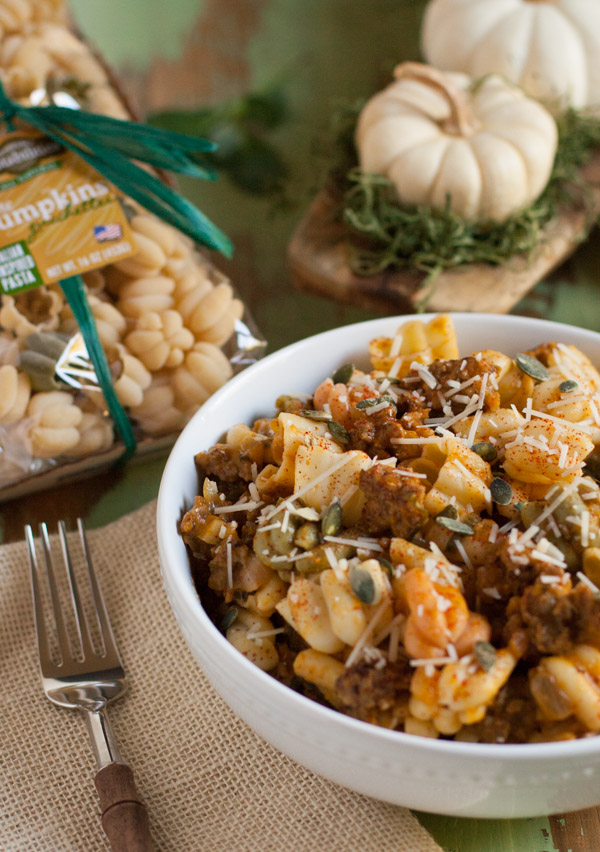 Uh oh…saw yesterday on the news that there may be a shortage of pumpkins this year (due to so much rain)! So it's time to hurry off to the store or pumpkin stand and get one while you can…and stock up on your canned pumpkin too. They might be more expensive than usual so be prepared. You certainly can't be caught shorthanded during this holiday season, whether your pumpkins are for decorating or eating!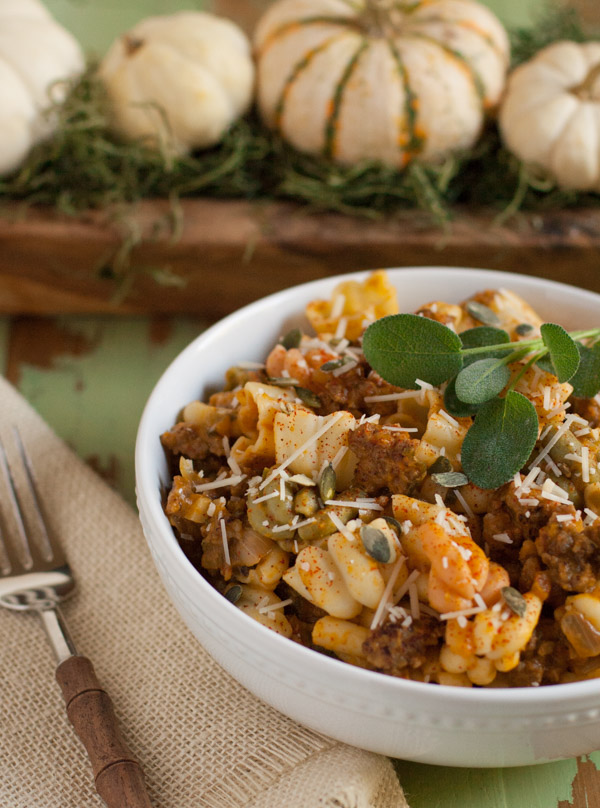 Cookie (my Mom) and I had a discussion over dinner (while eating this delicious Italian Sausage Pumpkin Pasta, of course!) about the health attributes of pumpkins. This favorite fall squash is known to help with vision, improve our immunity systems, and even aid in weight loss. Wow…who knew?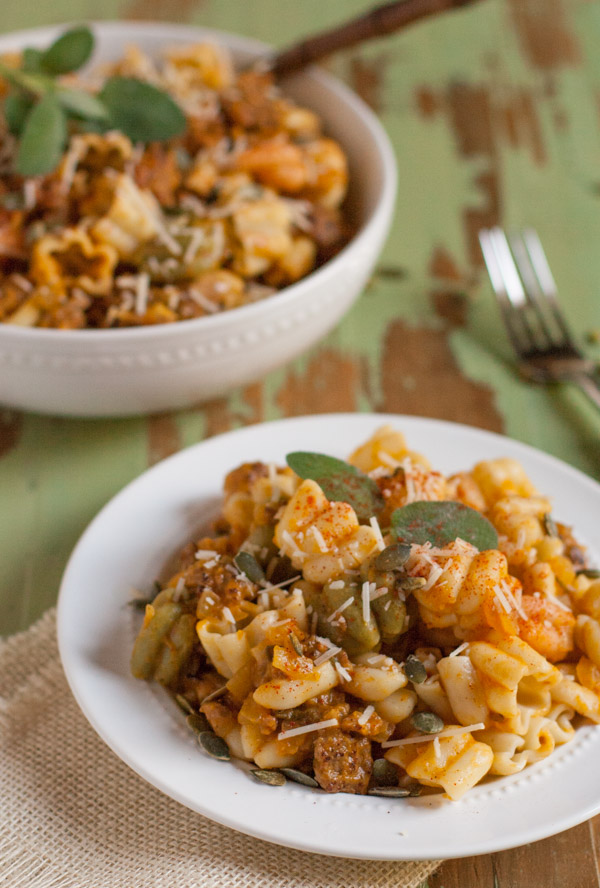 But getting at the goodness of a pumpkin isn't easy. It's like any of those tough skinned squash…you risk losing a finger. So we need an easy shortcut. One of my favorite things to buy this time of year pre-cut is butternut squash. Do you recall my recipe for Butternut Squash Pasta Sauce? (It's time to bring that recipe out again!) In the case of pumpkin too, we have another shortcut that will make you happy. With our Italian Sausage and Pumpkin Pasta, you can use canned pumpkin. Yes I said "canned", and yes, you can.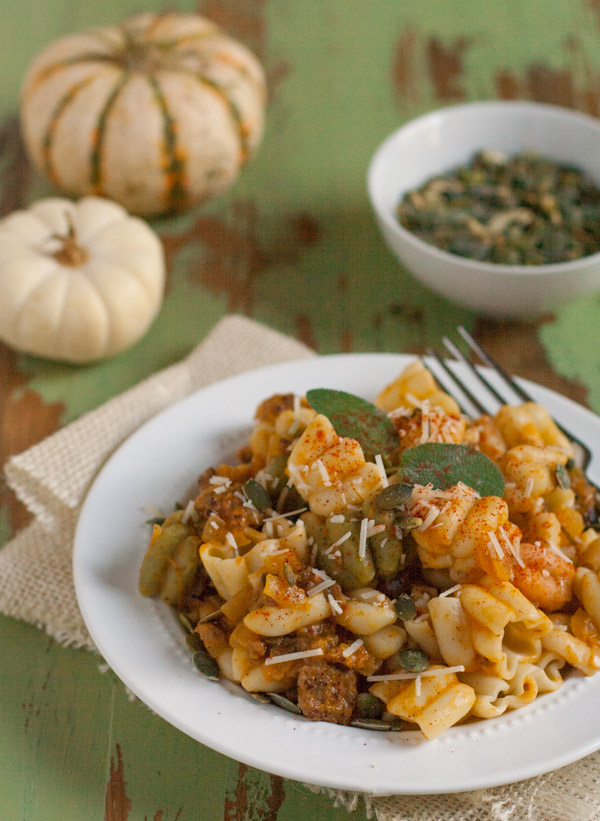 There is a debate surrounding the nutritional aspects of canned veggies. Some argue that the canned alternatives of vegetables are never as high in nutrients as the fresh. During processing, some manufacturers add sugars and salt. Others claim that fresh vegetables lose their nutritional value over time, so it really depends on the age of the veggie while canned vegetables retain their nutritional value. But good news! With pumpkin, both canned and fresh are packed with goodness – lots of potassium, vitamin A, etc. So go ahead and pull out the can opener!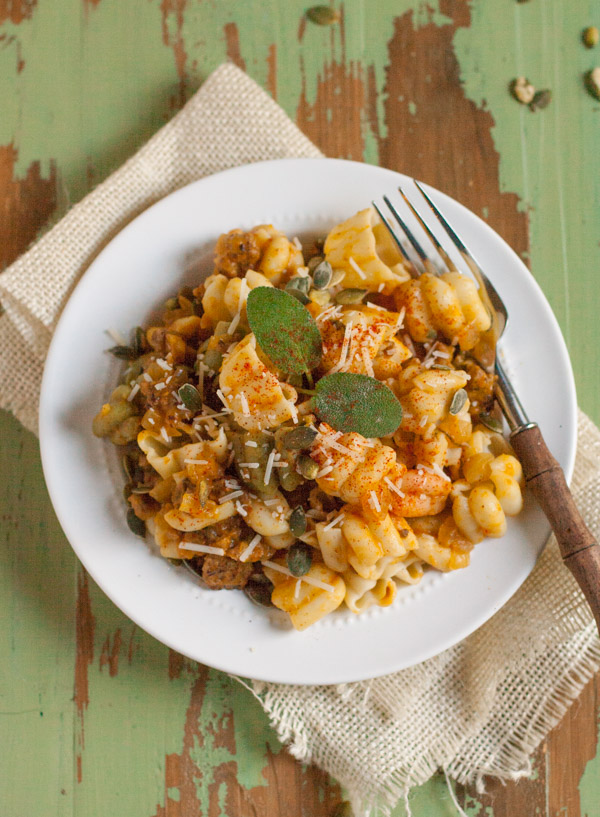 Italian Sausage and Pumpkin Pasta just tastes like autumn. The pumpkin flavor itself is subtle and the spices just add the right smell and punch to the dish. If you didn't know there was pumpkin in this recipe, you might not even know it was there. So be adventurous and try it.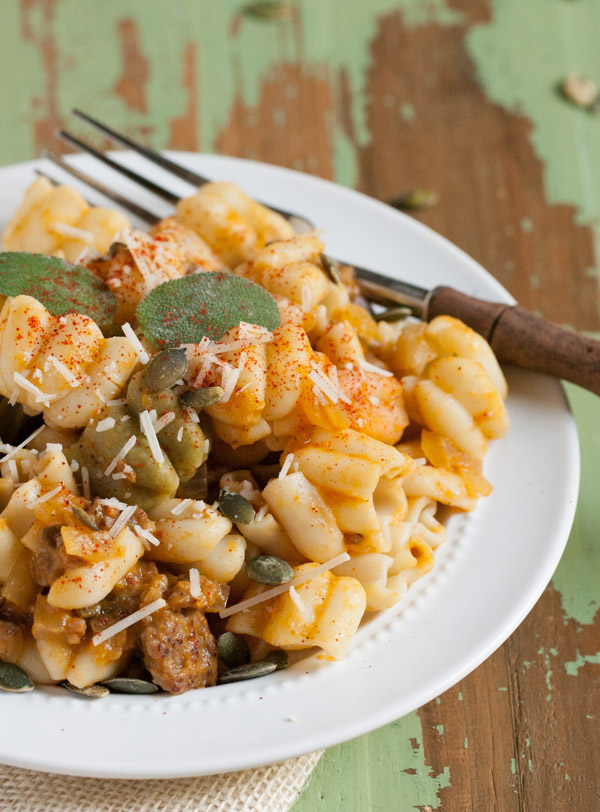 Our entire family loved this pasta when we served it. The combination of sausage, pumpkin, coconut milk, and spices make for a hearty yet light meal. It's not often we can say that!
And for added texture and crunch, we topped it off with pepitas (toasted pumpkin seeds).  And did you notice the pumpkin sauce is served with our "Zucchette" pumpkin pasta?! Triple pumpkin fun! The pumpkin shape is perfect for these types of heartier sauces. You can find it also in our Healthy Beef Ragu with Mint recipe. Warning: you'll fall for it too! 🙂
Italian Sausage and Pumpkin Pasta
Italian Sausage and Pumpkin Pasta combines fall flavors and textures. Pumpkin, Italian sausage, coconut milk, and spices create a hearty yet light pasta!
Ingredients
16 oz

. Italian Inspired "Zucchette" Pasta (may substitute penne or rigatoni)

2

T. olive oil

1

lb. Italian sausage

4

cloves garlic, minced

1

medium onion, chopped

1

bay leaf

4

sprigs sage leaves, chiffonade (thinly cut), or 2-3 t. dried sage

1 cup

dry white wine

1 cup

chicken broth

3/4 cup

canned pumpkin

2/3 cup

coconut milk

1/8

t. cinnamon

1/2

t. nutmeg
Salt and Pepper to taste
Fresh Parmesan cheese, grated
Pepitas for garnish
Instructions
In a large nonstick pan, brown sausage over medium high heat with 1 T. olive oil.
Transfer sausage to a plate lined with paper towels.
Drain excess fat from pan, add 1 T. olive oil, and saute the onion and garlic until transparent, approx. 4-5 minutes.
Add white wine, sage, and bay leaf to pan. Reduce wine by about half. Should take just a couple of minutes.
Add chicken broth and pumpkin and stir until sauce begins to simmer.
Add sausage and coconut milk and reduce heat. Stir to combine.
Season with cinnamon and nutmeg. Add salt and pepper to taste.
Simmer sauce 8-10 minutes until thickened. Remove bay leaf.
Cook pasta according to package instructions and drain.
In a serving dish, pour sauce over pasta and toss gently.
Serve pasta in bowls topped with fresh Parm and pepitas! Enjoy!
Join our email list for fresh pasta recipes delivered to you every week!
Your information will NEVER be shared or sold to a 3rd party.