Miso Broth Bowl with Whole Wheat Noodles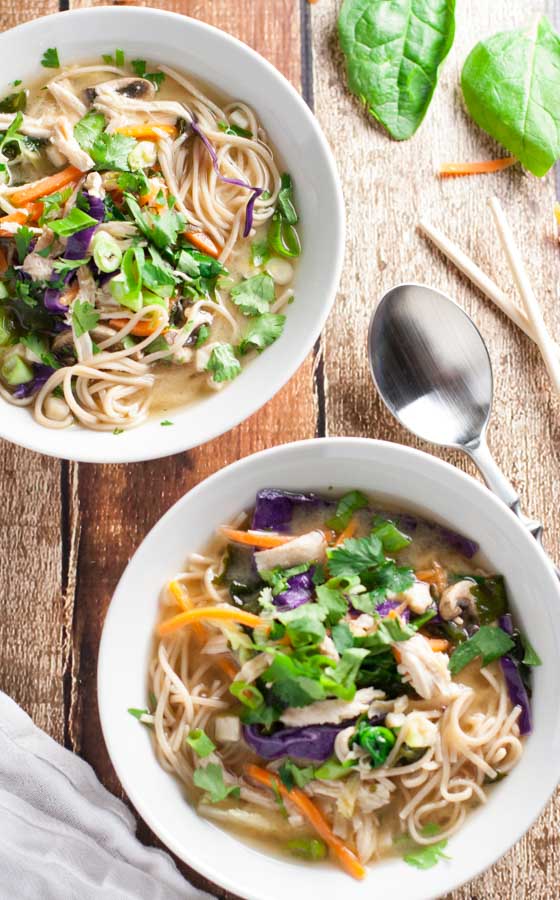 I love watching food trends emerge! Seeing them first in their infancy and then later take off in more of a mass market environment. This is one of the perks of running a food manufacturing company like The Pasta Shoppe where we have the opportunity to exhibit at the International Fancy Food Show twice a year. We get to walk the aisles and see for ourselves the newest and most creative flavors, packaging, and categories of foods. Sometimes it's a year or more before they hit retail shelves or show up on menus.
Don't you love that it's called "Fancy"?! I'm not sure any entrepreneur who has exerted as much blood, sweat, and tears over many years perfecting their recipe, packaging, and sales pitch, aka. "What makes my product differentiated and valuable" actually feels that "fancy"?! 🙂
But once you make it to this international stage, you have earned the right to feel and act "fancy" or any other way that makes you feel good.  Soooo back to trending foods…have you seen all the broth bowls? Broth bowls are the modern day "ramen noodles" dressed up. I love this trend!  There are restaurants popping up focusing only on this popular and totally satisfying healthy trend. And I'm feeling quite trendy today with my kinda copycat Miso Broth Bowl with Whole Wheat Noodles.

First of all, I grew up with lots of Asian food and pretty much ate my way through college on ramen noodles. I mean – who didn't? 4 for $1.00 and usually the best deal on the grocery shelf. Now way back then I wouldn't have added anything to my noodle bowl…but now? Watch out!  You can do anything with a broth bowl and noodles!
My inspiration came from a recent road trip where I saw a large eye-catching billboard advertising the "Panera Broth Bowls" and wow, did it catch my attention. The combination of colors, textures, and noodles had me immediately. Now, I had re-create it for myself.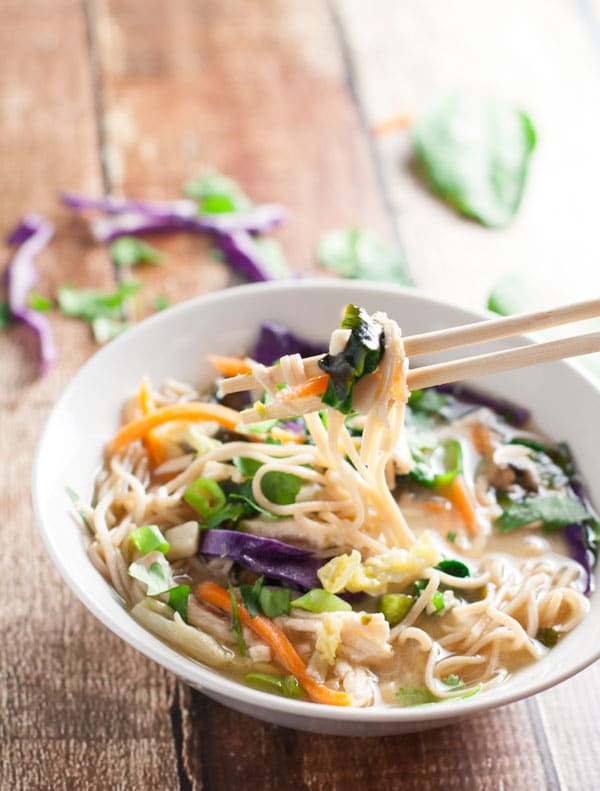 And the best news is?  "Bowls" are simple.
*Make broth. (Instant is OK!)
*Add noodles.
*Surround with bright, fresh, colorful, veggies and meat (optional).
*Season as desire and slurp away!!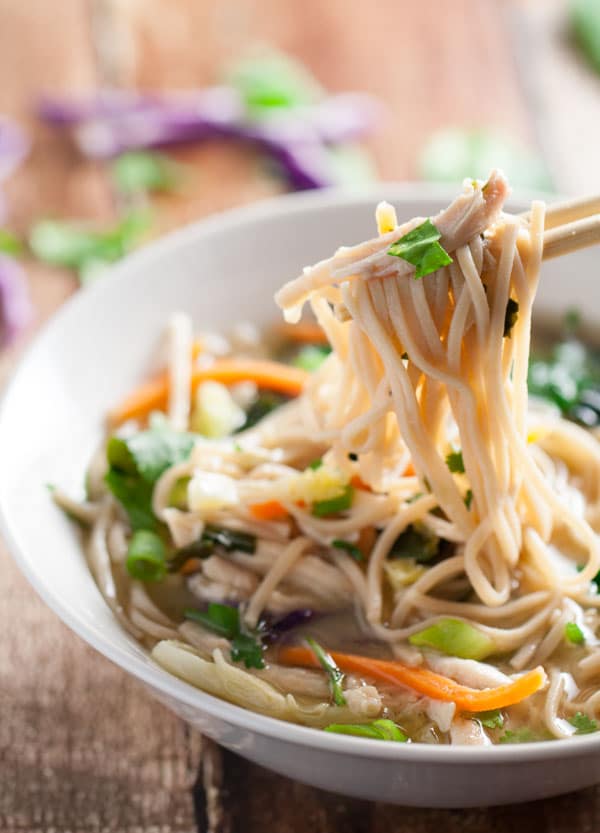 "Really?" You are asking. "That's it?"  Yes! Yes!  Read the recipe below and see what I mean!  I hope this inspires you to create your own versions of one of our trending foods – broth bowls.  And if you do, please come back to share!  If you are interested in learning more about our Whole Wheat Angel Hair Noodles, you can check them out here, and for more Asian inspired dishes, try our Thai Chicken Pasta and our Sweet and Spicy Sesame Noodles!
Print
Miso Broth Bowl with Whole Wheat Noodles
A trendy broth bowl recipe combines colors, flavors, and delicious textures! The proportions are flexible so make it as you like it! Everyone can create their own special combo!
Ingredients
6

packets of Instant Miso Soup packets (I used Kikkoman brand, Instant Tofu Miso Soup, which came in a

3

pack. Feel free to use any variety!)

8 ounces

Whole Wheat Angel Hair Pasta, or other noodle

2 cups

pulled rotisserie chicken (another short cut) (optional)

1 cup

shredded savoy cabbage

1 cup

shredded red cabbage

1 cup

julienned carrots (pre-shredded works great)

1

packed cup of baby spinach leaves

1 cup

sliced fresh mushrooms

1/2 cup

sliced green onions
Tabasco, Sriracha, or other hot sauce (optional)
Instructions
Cook pasta as directed on package. Drain and set aside.
Prepare miso soup as directed on package. I brought 4 1/2 cups of water to a boil, and then added the miso packets.
Divide miso soup into 4 large bowls.
Add desired amount of pasta to each bowl.
Surround and top the noodles with chicken and each of the colorful vegetables. Makes a beautiful presentation.
Serve bowls to guests along with chopsticks and hot sauce.
Guests can stir and combine toppings into broth and add hot sauce as desired!
Notes
Alternate way to serve is to add desired amount of pasta to 4 bowls.
Combine all veggies with miso soup in large pot.
Ladle veggie soup mix on top of pasta.
Serve!
Also if you want your soup to be "brothier" just use more packets of prepared miso soup!
Join our email list for fresh pasta recipes delivered to you every week!
Your information will NEVER be shared or sold to a 3rd party.
170 Comments