Sweet and Spicy Sesame Noodles
Welcome to March!  Phew!  We made it through a brutally cold February and I think we are almost in the clear.  Looks like we may have one more possible snow day this week.  We'll see.  At least we now know all the good sledding sites!  Regardless, I'm moving on to the month of Good Luck and lots of Green!
I seem to go through these crazy phases of eating…where my taste buds beg over and over for the same flavors.  It could be spicy food, hot soups, or even crunchy salads.  I'm currently detecting an Asian phase setting in…last week it was Bang Bang Shrimp Pasta and today it's an old childhood craving, Sweet and Spicy Sesame Noodles.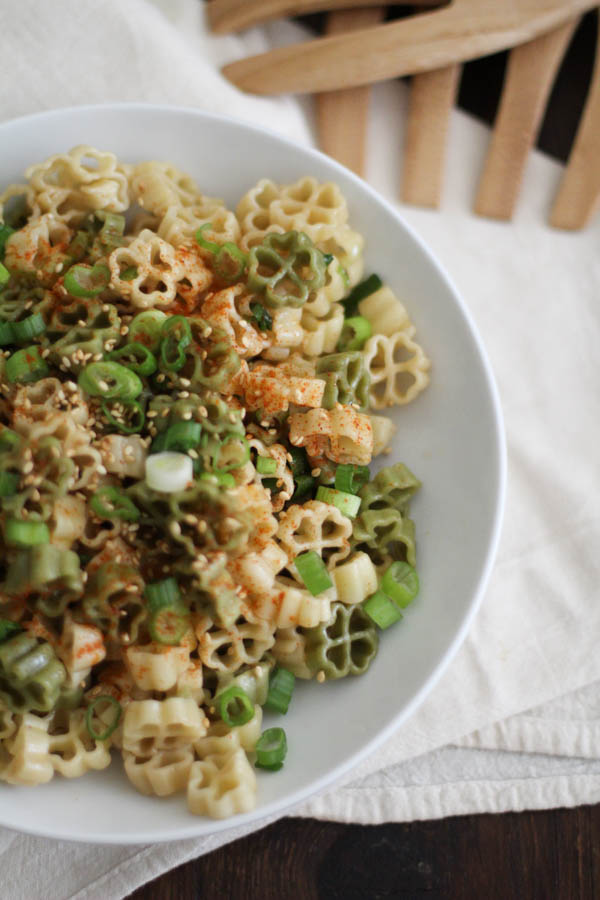 Since I was a little girl I've always enjoyed Asian food, especially the wide variety of noodles like soba, rice or cellophane noodles.  For more on the origins of my Asian tastes, check out my post highlighting Creamy Oriental Pasta Salad.  But this week my taste buds are screaming for sweet and spicy!
This recipe is simple and addictive.  We wanted to feature our "Good Luck" shamrock and four leaf clover pasta because of St. Patty's Day, but you can substitute any short or long pasta.  Calling it "noodles" you might think angel hair or spaghetti…but it works on all shapes.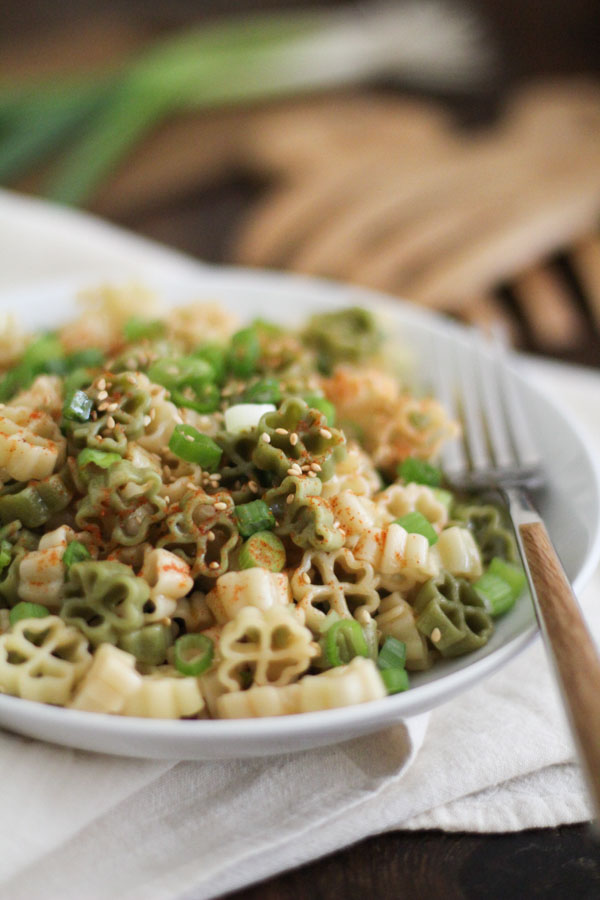 Raspberry Vinegar is an ingredient you might associate with bright vinaigrette dressings for your salads.  So if it is a new addition for your pantry, there are lots of possibilities to enjoy this Spring and Summer!  In Sweet and Spicy Sesame Noodles the vinegar is a wonderful addition and adds the tangy sweetness that balances out the spicy Chinese hot oil.  Crunchy green onions and the toasted sesame seeds are just the right toppings to finish off this noodle dish.  To make this a little more substantial and to serve as an entrée, you can add cooked, sliced chicken breasts.  Just toss the chicken in some dressing before adding it to the noodles!  Enjoy!
Print
Sweet and Spicy Sesame Noodles
Sweet and spicy combo delicious on any noodles! Add cooked, sliced chicken breast to make it more of an entree!
Ingredients
14 oz

. bag of Good Luck pasta (or

14

–

16

ounces of long or short pasta)

3 ½

T. sesame oil

3 ½

T. soy sauce

3

T. good quality raspberry vinegar

2

T. sugar

1

t. salt

½

–

1

t. Chinese hot oil

½ cup

thinly sliced green onions
Toasted sesame seeds for topping, optional but encouraged!!
Instructions
Combine sesame oil, soy sauce, raspberry vinegar, sugar, salt, hot oil, and green onions in a large bowl.
Cook Good Luck pasta in gently boiling water for approx. 6 minutes until tender but firm (salt optional). Drain, rinse with cold water, and toss with 1 T. sesame or vegetable oil. If using other pasta, cook according to directions on box.
Add pasta to seasoned ingredients in bowl and gently mix to combine. Cover and hold for 4 hours before serving or hold overnight in refrigerator. Before serving, toss pasta and garnish with paprika, additional chopped green onions, and toasted sesame seeds.
Notes
For an entree or heartier dish, you can add cooked, sliced chicken breast to pasta. Toss and coat chicken in dressing before adding the dressing to the pasta!
If our fun shapes are something that has caught your eye, you can browse the selection here.  We also have a simple and effective fundraising program, so if you have any fundraising needs, please check out Fun Pasta Fundraising.  We'd love to help!
Join our email list for fresh pasta recipes delivered to you every week!
Your information will NEVER be shared or sold to a 3rd party.