Creamy Chicken and Sun Dried Tomato Pasta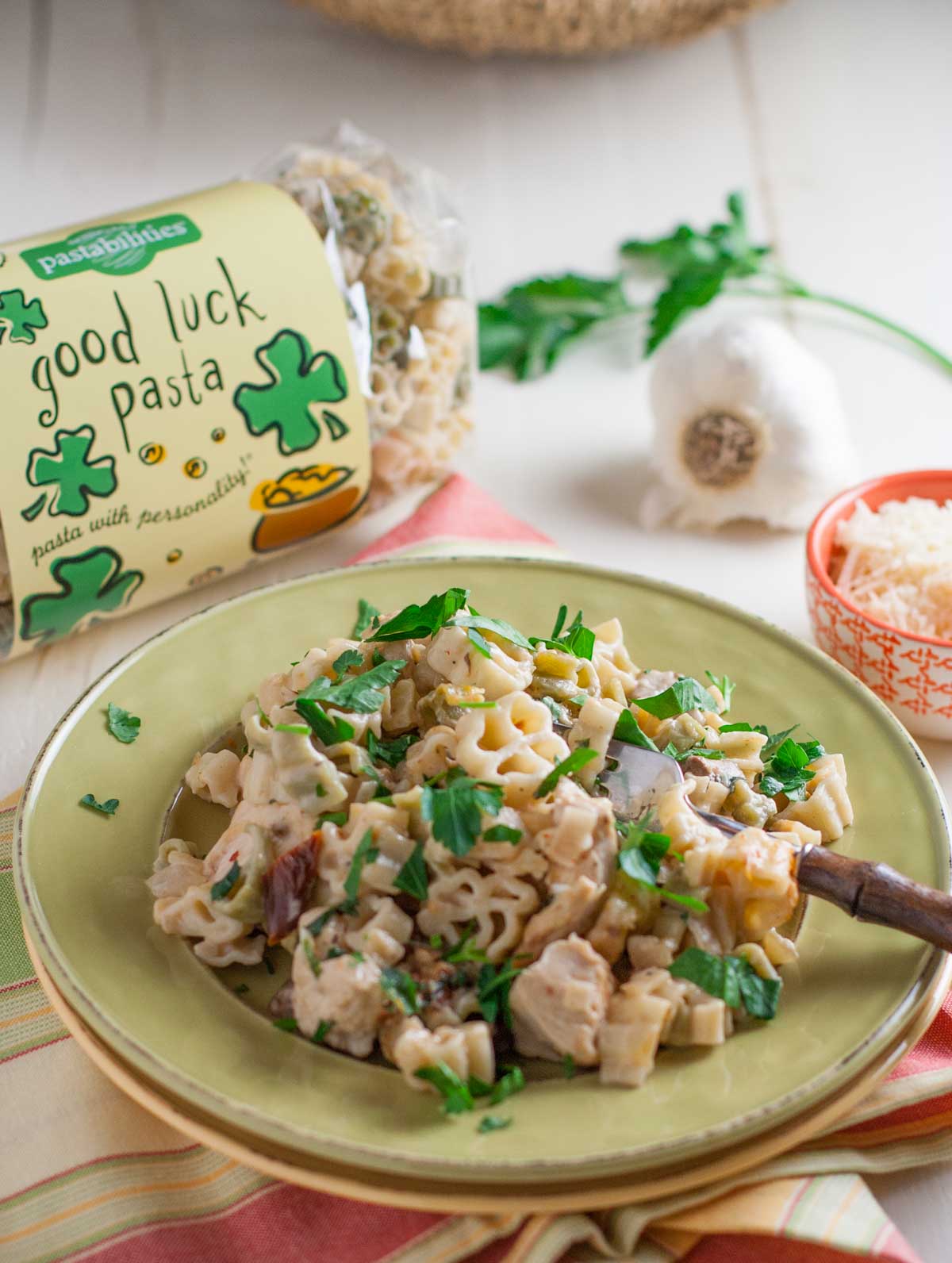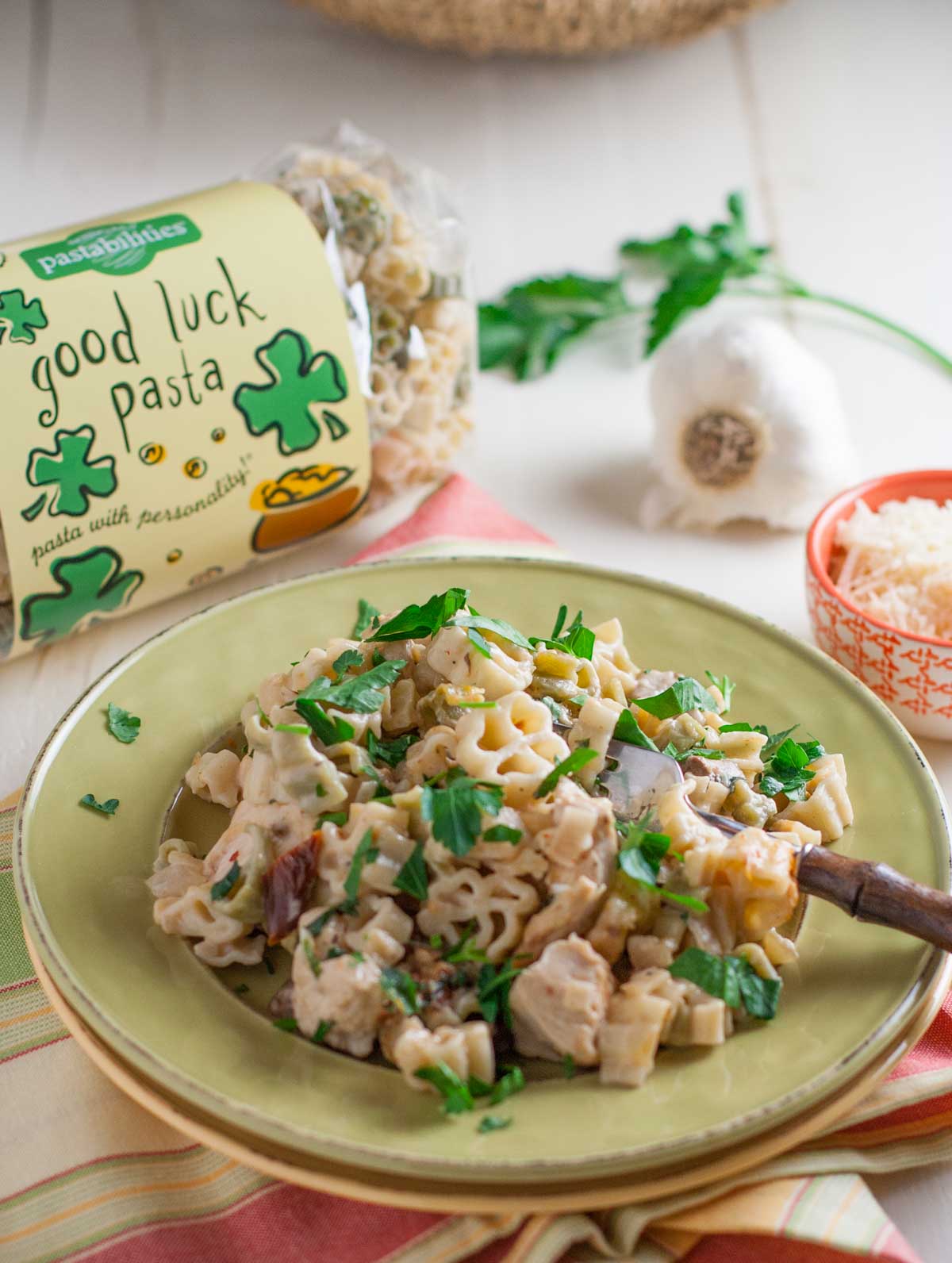 The month of "lucky" has just begun and already I'm feeling like I've touched the pot of gold!  My mother, affectionately known as "Cookie", has gifted me with another clever, delicious post.  She is a former gourmet cooking teacher, has built a successful catering business here in Nashville, and is known for her creative, absolutely delicious flavors, and beautifully garnished dishes.  She has great taste for great tastes…and I'm so lucky to introduce Cookie again!
——————————————————————————————————–
Comfort food is back, so pasta lovers unite!  Let's gather and celebrate the ageless and beloved "Chicken Casserole"!  No doubt, each one of us has a "go-to" recipe (usually paired with rice), passed down from family or a good friend.  We reach for these when needed – taking dinner for ones we love, home from the hospital, death in family, new baby or new neighbor, church potluck, casual dinner party or ladies' luncheon.
Speaking of ladies' luncheons, I chuckle every time I'm invited, guessing menu will be chicken and wondering how it will be presented. 🙂 It's a staple and time honored:  Chicken Casserole!  This time though it's a Creamy Chicken and Sun Dried Tomato Pasta. (notice I sprinkled some paprika on top!)
Creamy Chicken and Sun Dried Tomato Pasta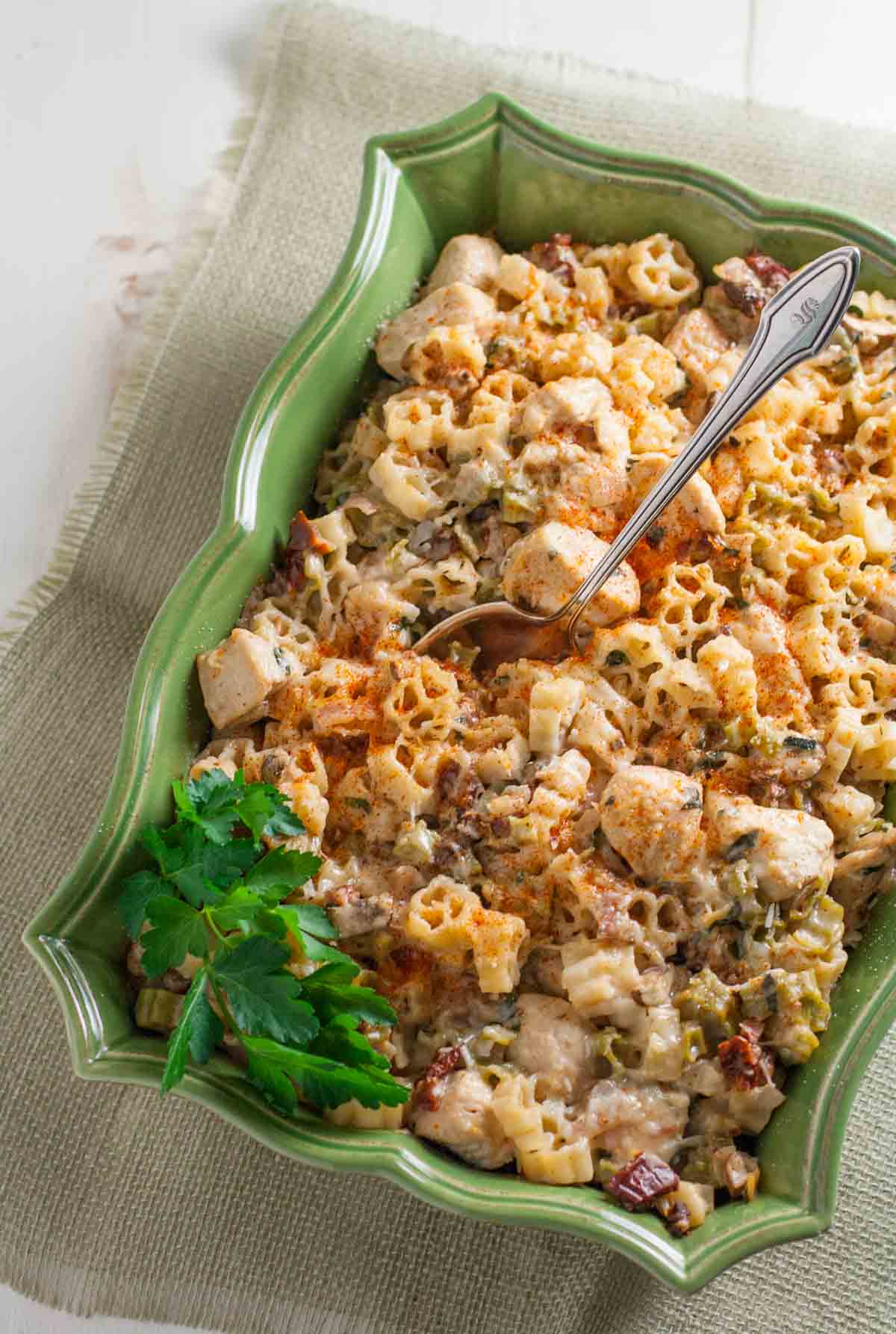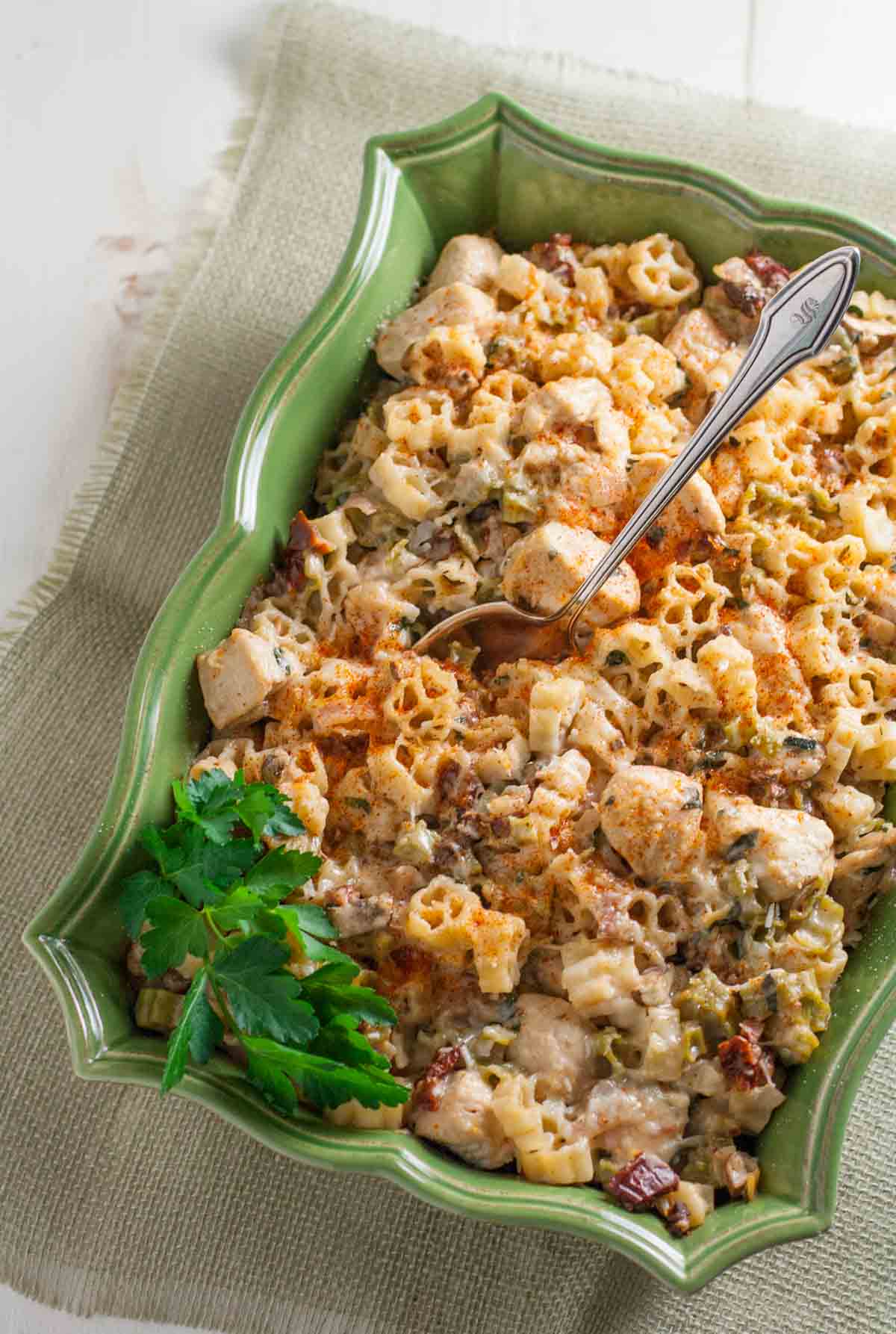 It can be baked immediately or frozen for later and does satisfy most everyone's appetite.  I had a surprise though when I delivered one to a friend whose husband doesn't eat casseroles or leftovers (yikes!  I did not know), but she happily reported that he really enjoyed it and ate it again the next day!  This is my new go-to recipe…with pasta!
Admittedly, I love tomatoes – the only fresh vegetable always in my kitchen, my favorite!  The intensity of sun dried tomatoes can at times be a bit overwhelming for my own taste buds, so I use less – taste and decide for yourself, but they do impart a wonderful and tangy burst of flavor!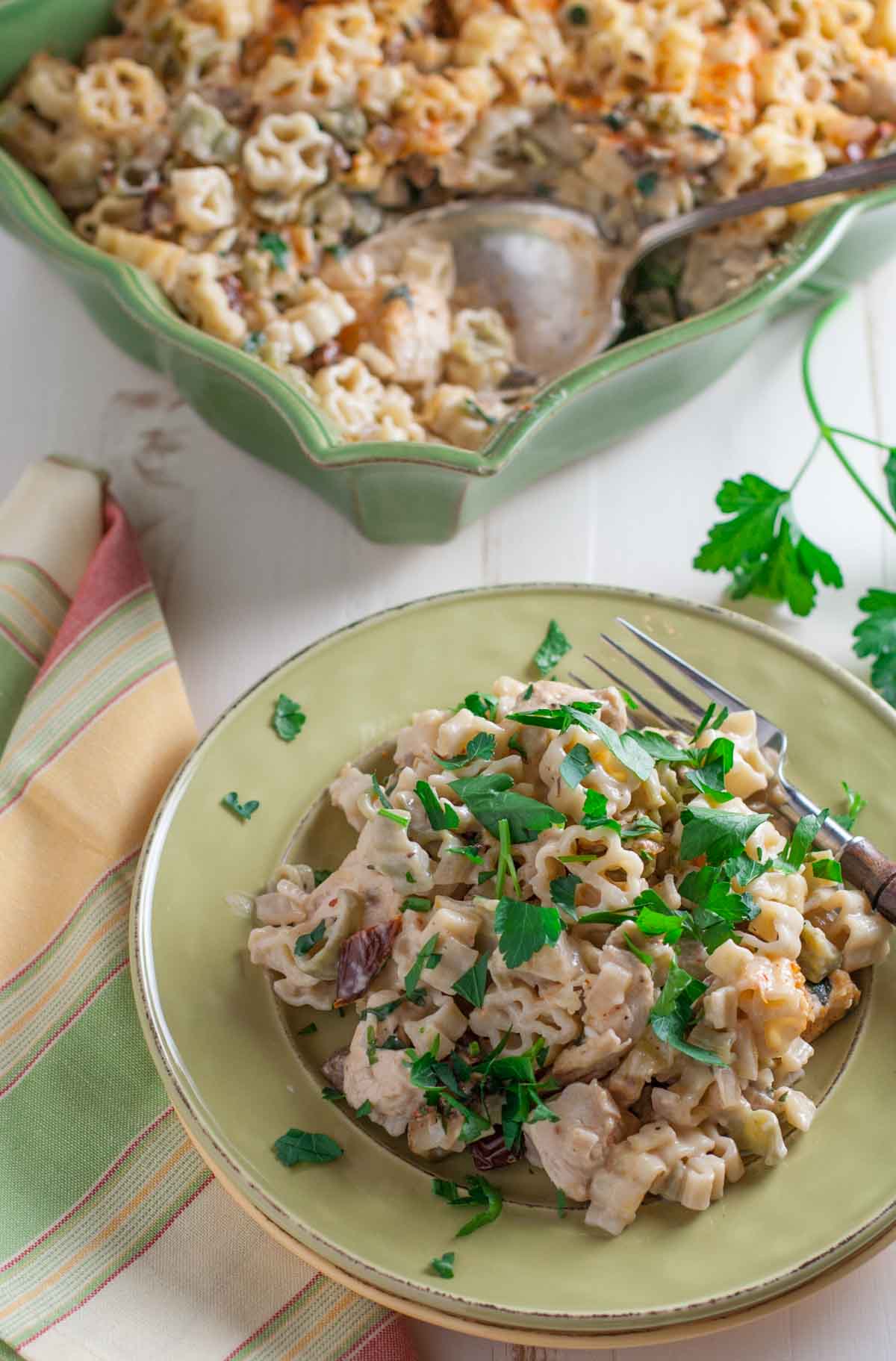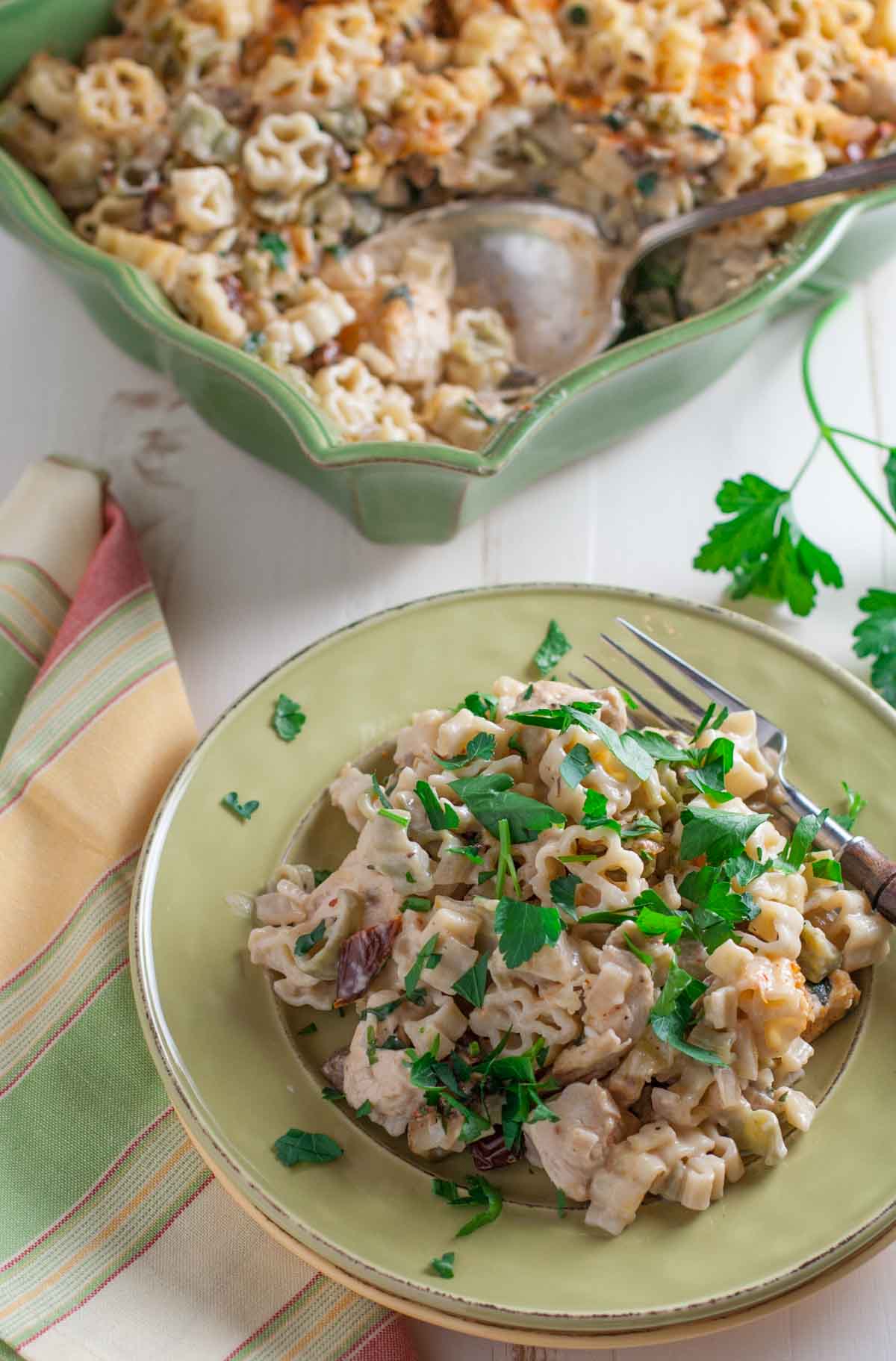 Bonus:  this recipe offers awesome versatility and easily goes from being a meat entrée to a vegetarian entrée to a hearty side dish.  Simply substitute more mushrooms for the chicken and it's scrumptious all the way!  I choose Good Luck Pasta due to the upcoming holiday, but you can use any pasta shape.
If you believe in the luck of the Irish, you can also try the Sweet and Spicy Sesame Noodles or Bacon, Brussels Sprout, and Corned Beef Pasta featuring Good Luck Pasta!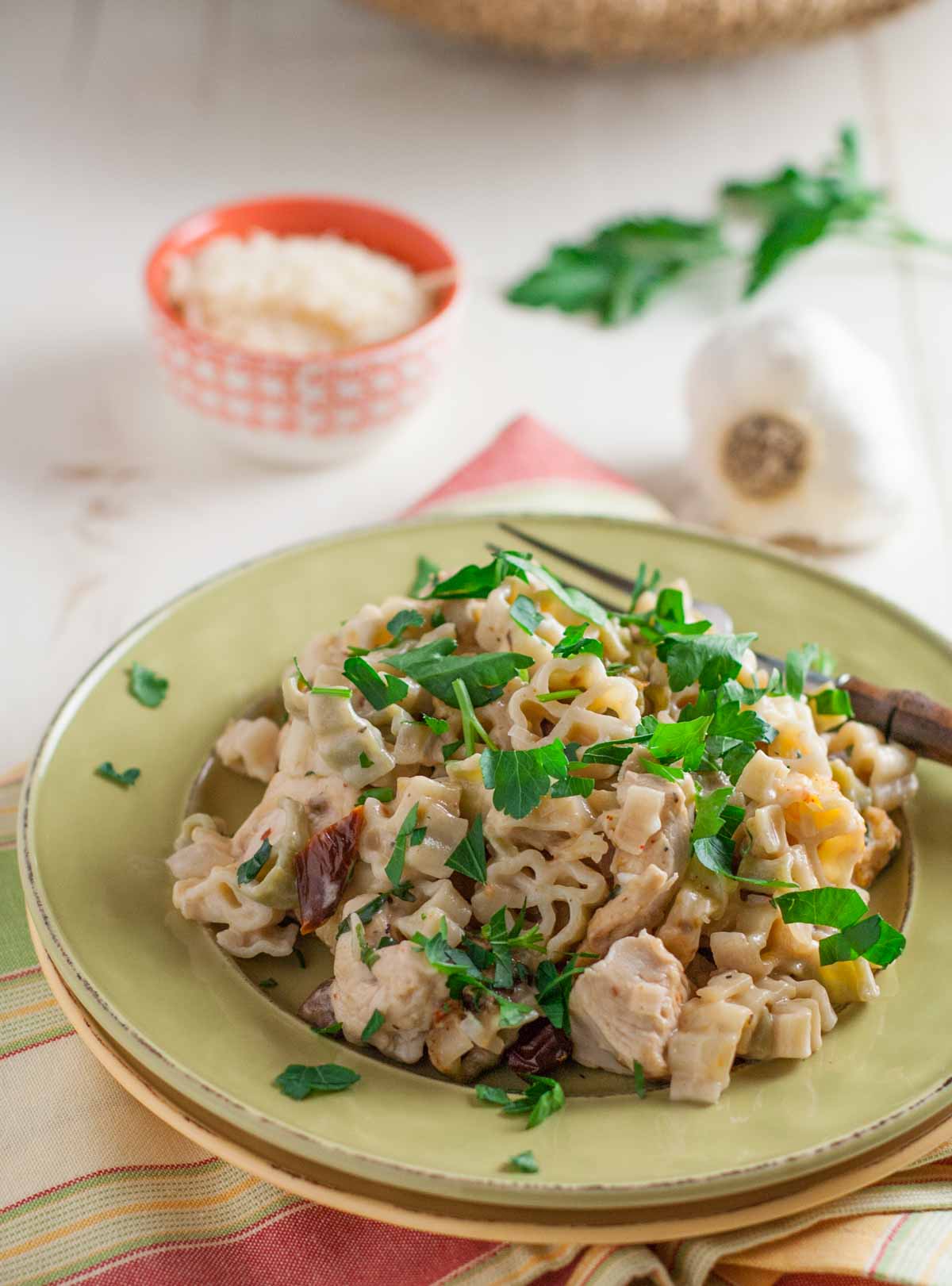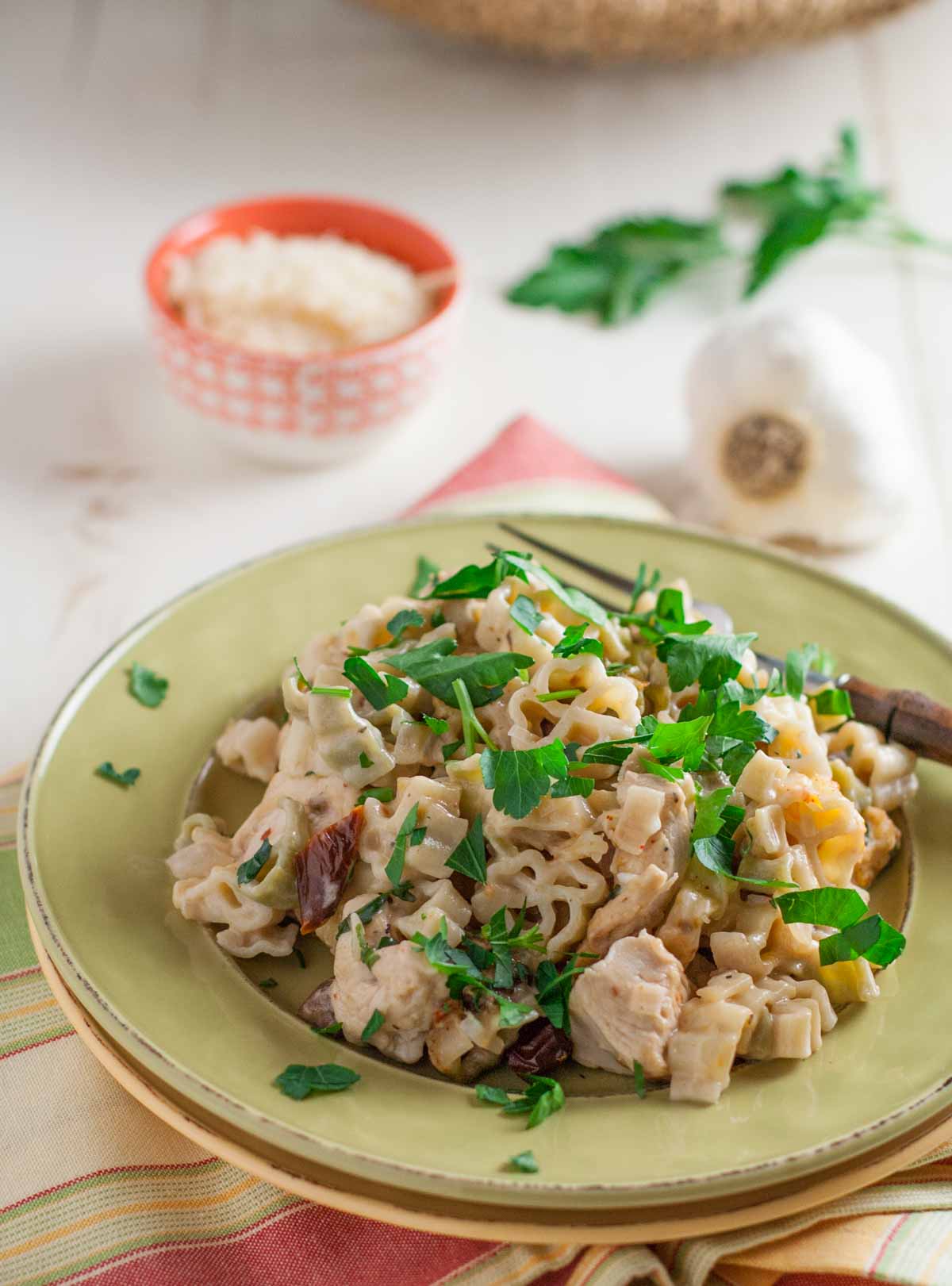 Casseroles do take extra prep time, but pasta can be cooked a day or town ahead, rinsed, and lightly coated with oil, to prevent sticking, then transferred to a baggie and stored in fridge.  Note: Cooked pasta can be safely stored in fridge for up to five days.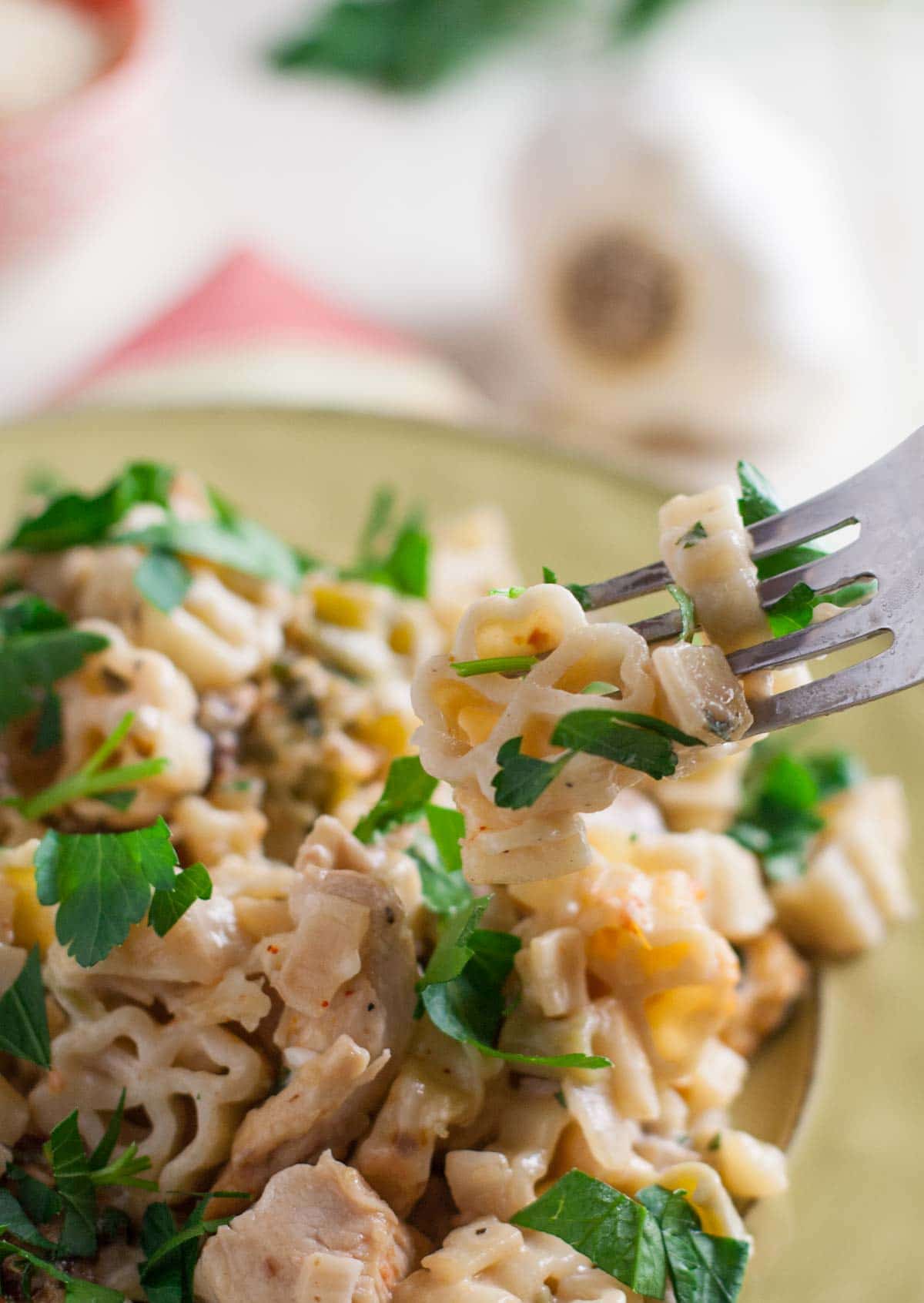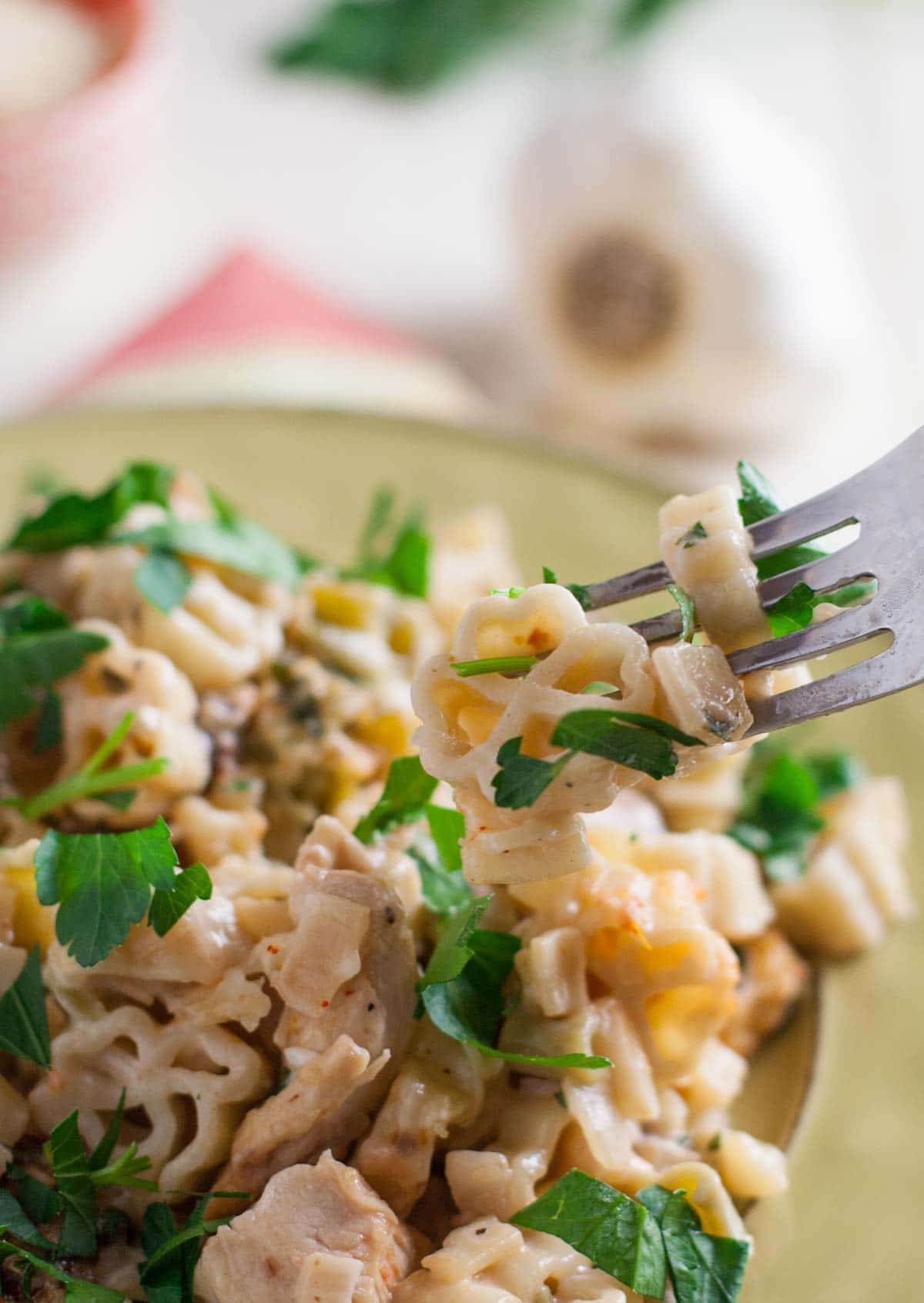 I fit better suits your needs, divide mixture into two 8" aluminum pans, one to use or give away today, and the other for your freezer.
Thanks to daughter Kathy (Carey's younger sister) for passing this gem along.  And, Carey, I appreciate the opportunity to share pasta goodness.  "Do small things with great love."  Mother Teresa
So get cookin', always with love!
Cookie
Creamy Chicken and Sun Dried Tomato Pasta
Delicious alternative to the standard chicken casserole. Sun dried tomatoes and fresh herbs add bursts of flavor! enjoy!
Ingredients
One

14 oz

. bag of Good Luck Pasta (or any

12

–

14

ounce bag of pasta)

3

shallots, chopped

2

cloves garlic, minced

1 1/2

T. olive oil (add

1

T. butter if using all mushrooms instead of chicken)

1

lb. chicken breast (uncooked) cut into bite-size pieces

4 ounces

mushrooms, chopped (baby bellas, crimini, button, or your favorite)

3 oz

. white wine

1/4 cup

fresh basil, chopped

1/4 cup

fresh parsley, chopped

1

(14-15 oz.) jar of Alfredo, or light Alfredo (use a good one, or you can sub refrigerated Alfredo sauce if you can find it, usually comes in

10 oz

. plastic tubs)

8.5 oz

. jar of oil packed sun dried tomatoes, thinly sliced, drained (approx.

1 cup

)

2/3 cup

milk

1 cup

grated Parmesan cheese, divided (

1/2

for mixture,

1/2

for topping)

1/4

t. pepper

1/2

t. salt
Fresh basil, fresh Parmesan, and paprika for garnish
Instructions
Cook pasta according to pasta package directions, drain, rinse with cold water, and toss with 1 T. olive oil. Set aside.
In a large skillet, add the olive oil, and bring to medium high heat. Add shallots and garlic and cook briefly for 30 seconds.
Add the raw chicken and cook for about 4 minutes. Drain off any excess or oil or juices, if any. (if using all mushrooms, add them now and saute for 4-5 minutes)
Add wine, basil, parsley, mushrooms, salt and pepper, and cook for 1 minute.
In a large mixing bowl, combine the cooked chicken mixture from the skillet, the pasta, Alfredo sauce, drained sun dried tomatoes, milk, and 1/2 cup Parmesan.
Spread mixture in a 9 x 13 baking dish (3 quart).
Sprinkle top with 1/2 cup Parmesan.
Cover and bake at 350 degrees for 15 minutes.
Uncover and bake for 15 more minutes until top is brown and bubbly.
Join our email list for fresh pasta recipes delivered to you every week!
Your information will NEVER be shared or sold to a 3rd party.