Zucchini Noodle Salad with Tomatoes, Goat Cheese, Corn and Avocado Sauce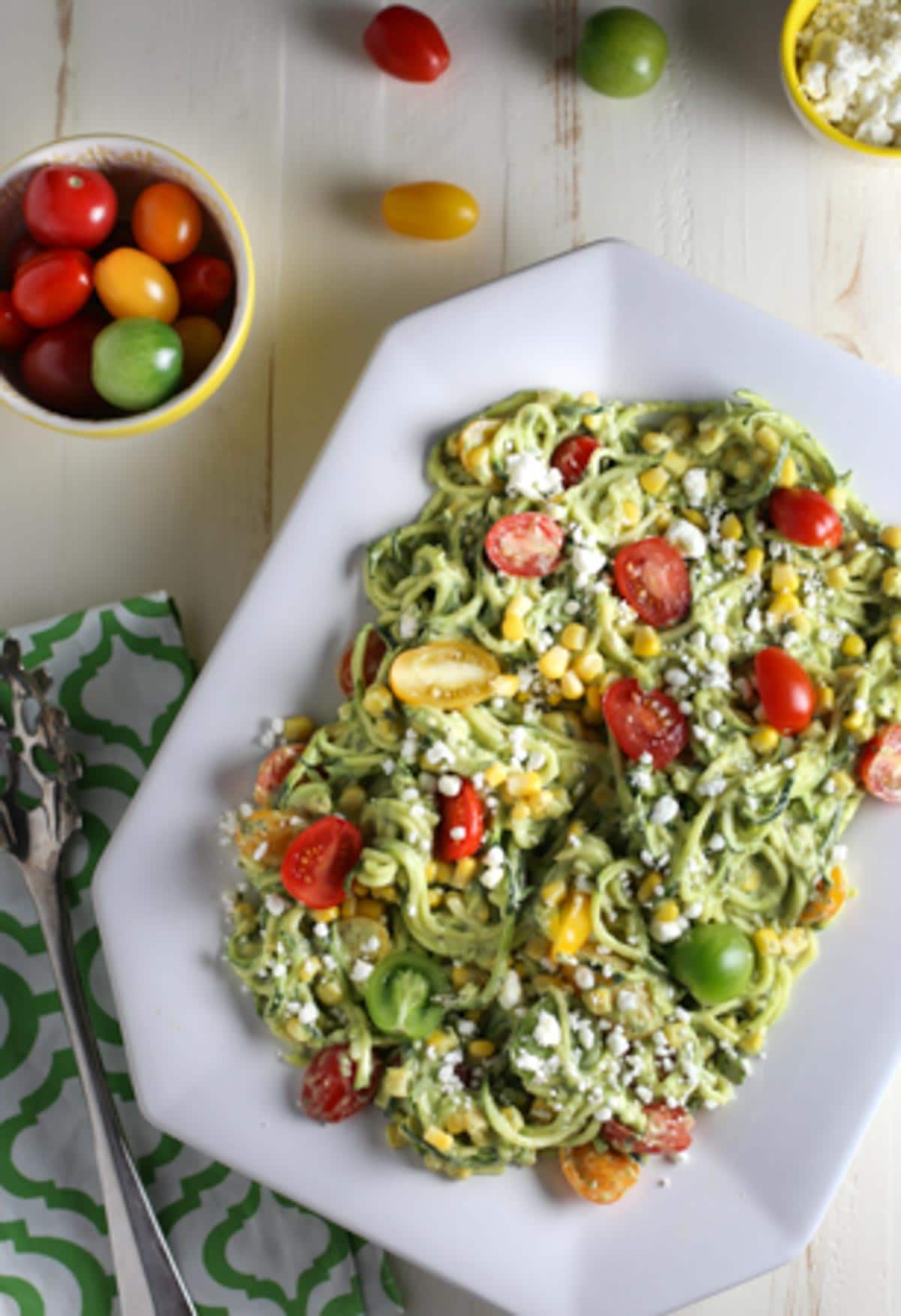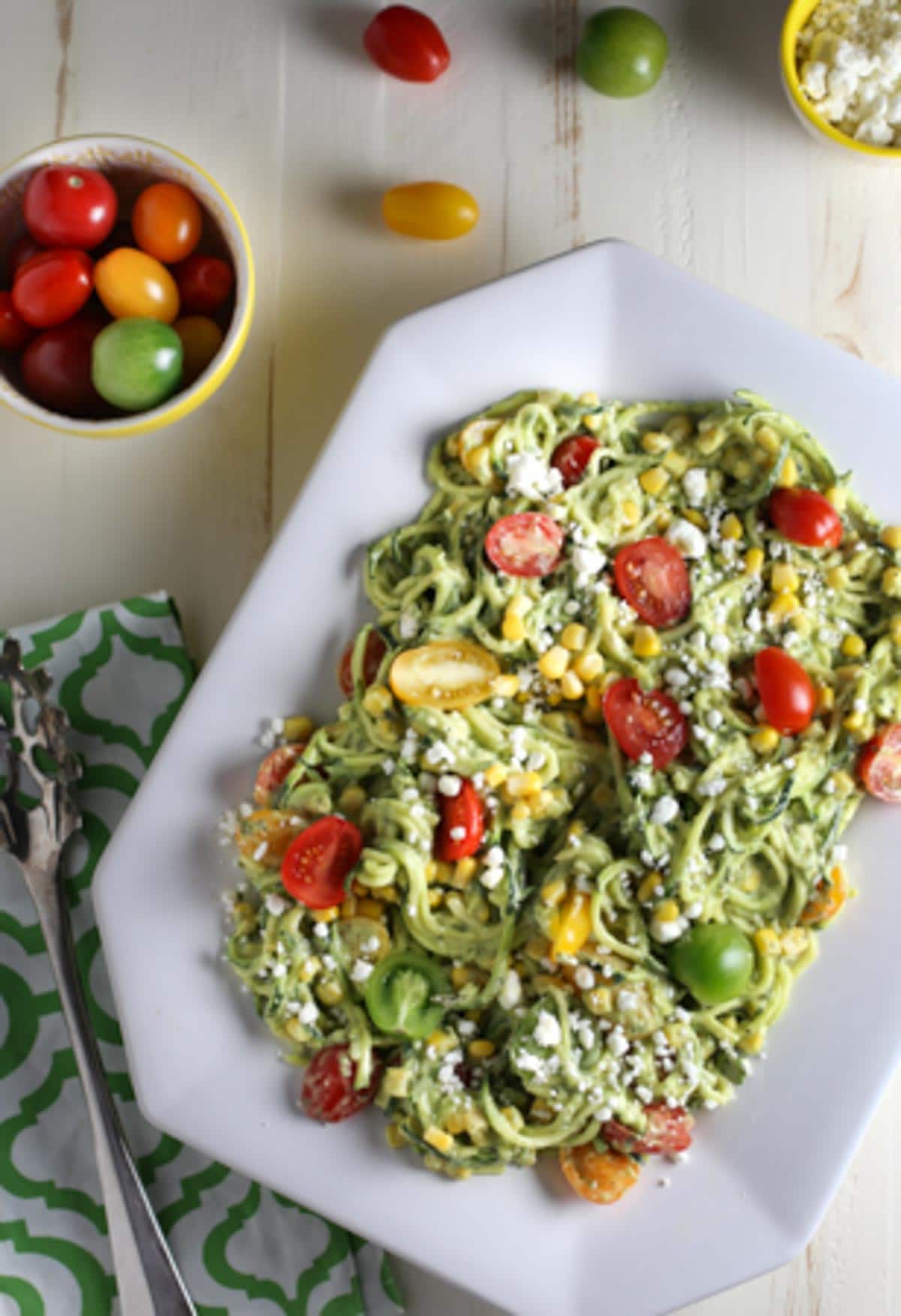 How beautiful are these Spring days?! Those when it's not raining…:) I'm appreciating our "Nashville" Springtime after being in Minneapolis for a couple of days for a photography workshop. We actually got lucky with some unusually warm days, but I still relish being just a few weeks ahead of them and honestly those few weeks matter!
So cooking at home these days is conjuring up all things healthy and hints of "summer prep". I have been reading all my magazines and am ready to shift to some fresh, bright, and healthy dishes. I finally planted my beds full of fresh herbs and annuals. (pictures to come!) There is so much to love about the change of seasons!
And speaking of change, one of the noodles I like to make for a change are zucchini noodles! I've sautéed them before with Zucchini Noodles with White Wine Sauce, but today we are serving them fresh and "raw" and they are FABulous! Let's talk about Zucchini Noodle Salad!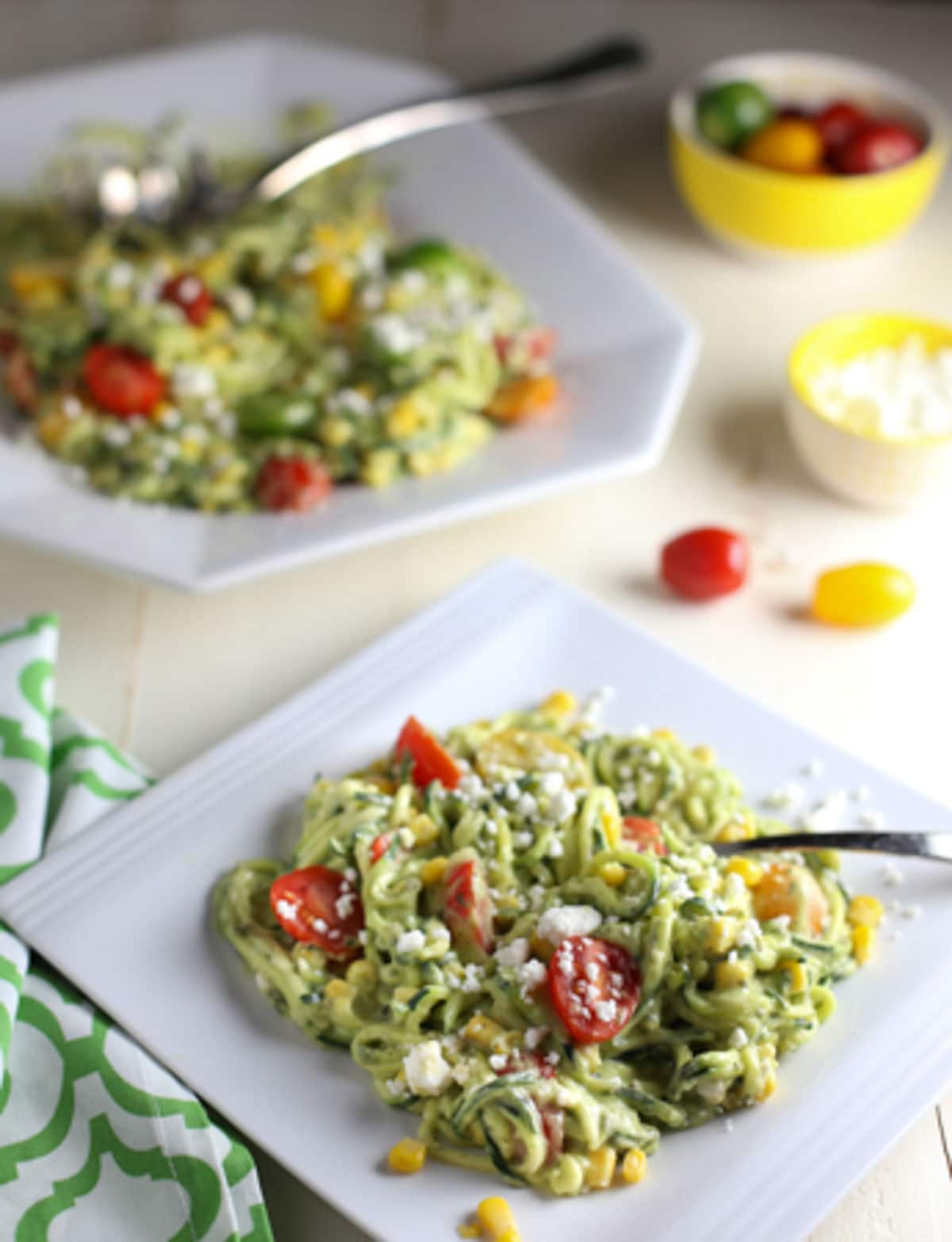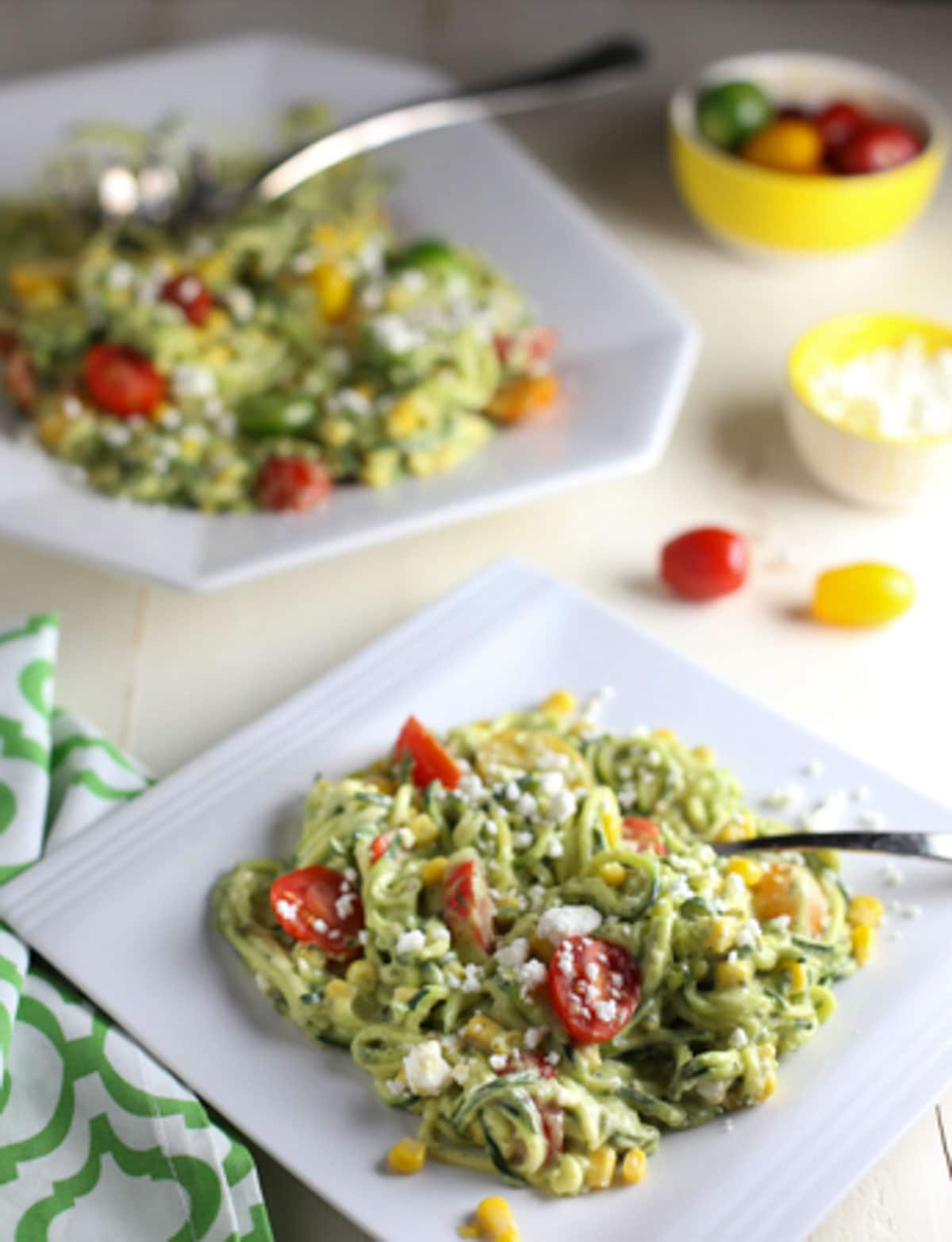 My youngest son absolutely loved this noodle dish and I can't wait to serve this as a side for grilled meats this summer. I imagine savory grilled pork tenderloin, or spicy shrimp on skewers – you get it…and I'm sure you are thinking the exact same thing! 🙂
Pasta (or Zucchini) as a side dish is really a Spring and Summer menu staple. You can always get your starches and carbs from some other summer favorites – corn, potatoes, etc. but to disguise your pasta as a vegetable will certainly turn some heads.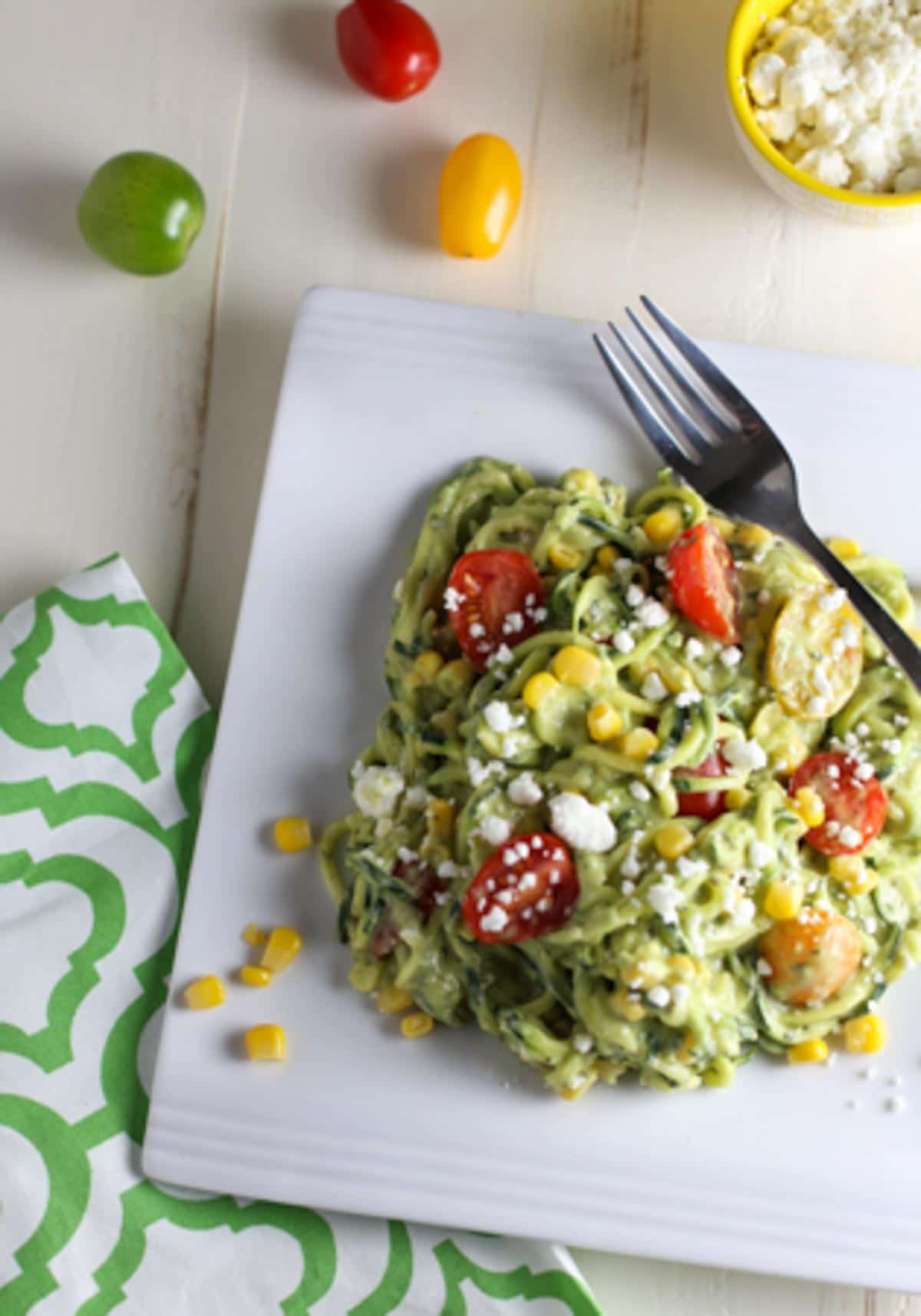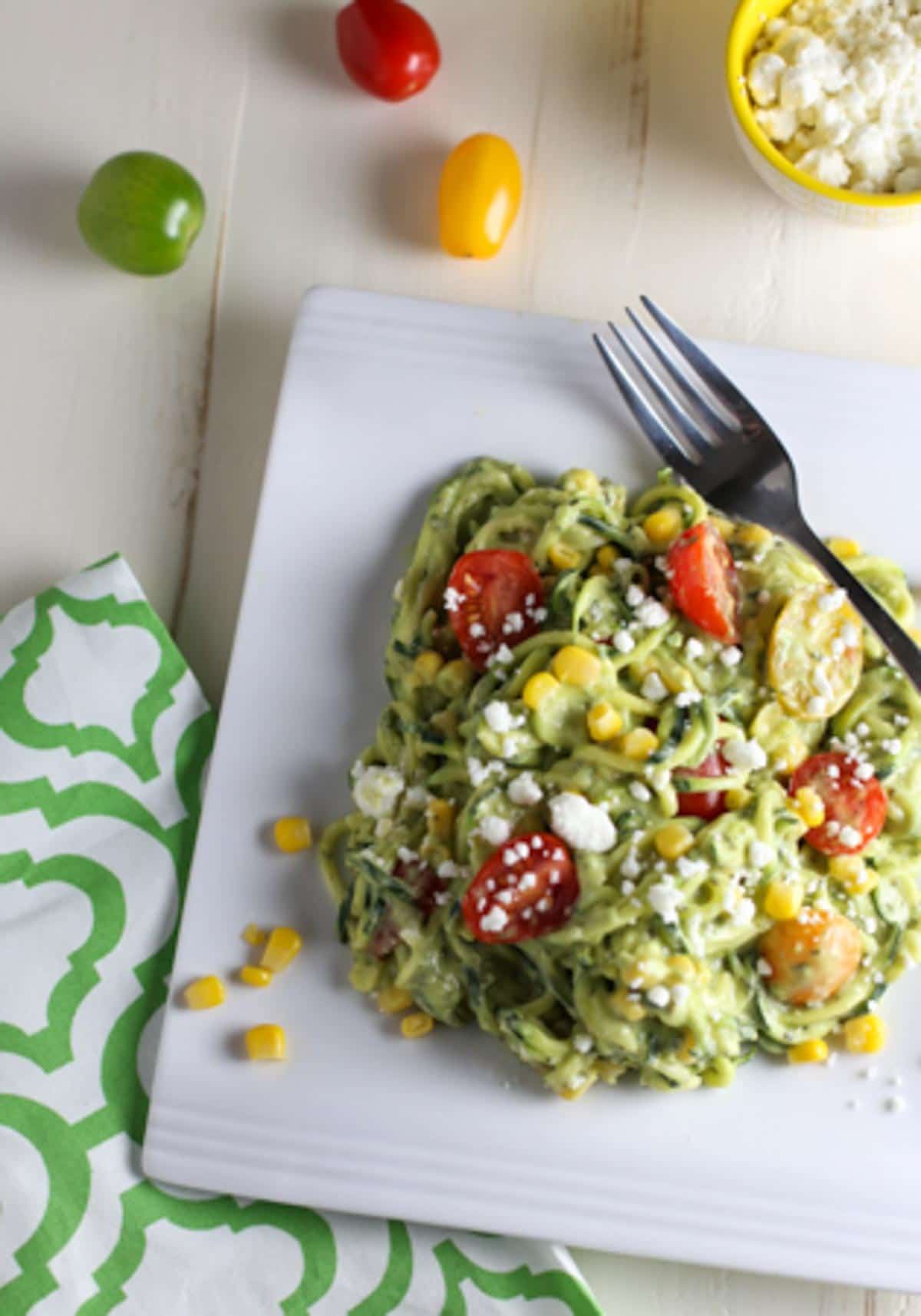 But actually, the avocado sauce is the star here…and adds the creaminess, flavor and depth to liven up the zucchini. The tomatoes, corn and feta are perfect accompaniments. I've made this Avocado Sauce before with our Southwest Chicken Salad, so if this dish appeals to you, add that one to your try list!
So, let's embrace the healthy simplicity of Spring! Follow these few simple steps:
Make your Avocado Sauce
Spiralize your zucchini. (You can purchase a Spiralizer at Bed Bath and Beyond, or Amazon!)
Add sliced tomatoes, goat cheese, corn, and avocado sauce
Toss, Garnish & Serve!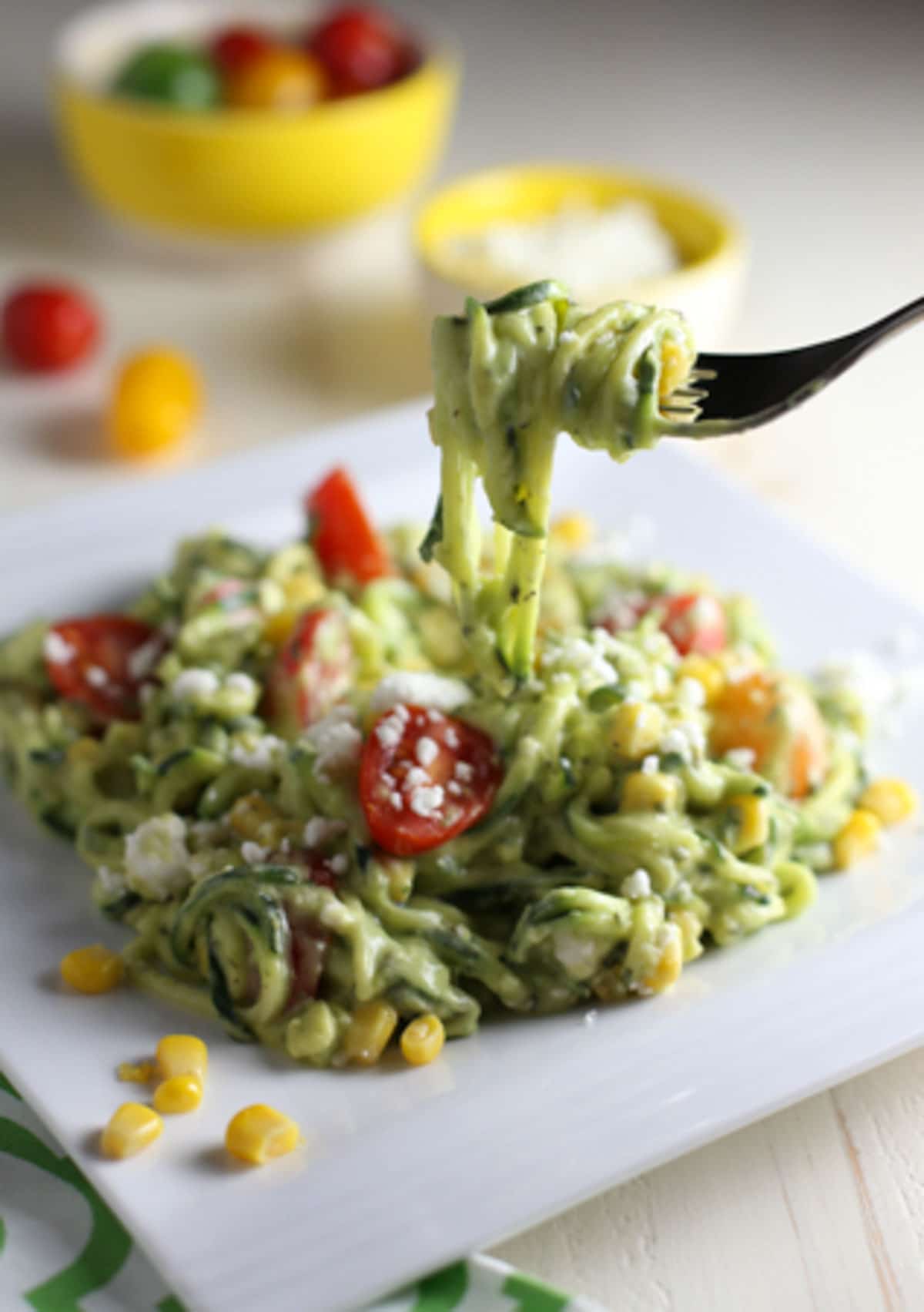 I call this a "Salad" because of the raw vegetables involved and the freshness of the dish, but it really can work as a typical side dish – it could be included on any menu…so start enjoying the freshness and fun of zucchini noodles!
Zucchini Noodle Salad with Tomatoes, Goat Cheese, Corn and Avocado Sauce
Fresh and fabulous! This is a wonderful side dish for any Spring or Summer cook out…the avocado sauce is the star!! And these zucchini noodles taste like the real thing!
Ingredients
4

garlic cloves, halved

1

lemon, juiced

5

T. extra virgin olive oil

2

medium avocados, quartered

1 cup

fresh basil leaves

1

t. kosher salt

1/2

t. black pepper

2

medium zucchini, cut in half, and spiralized

2 pints

grape tomatoes, or mixed heirloom tomatoes, halved lengthwise

2

ears of fresh corn, grilled, and corn kernels removed, or

1/2

large can of sweet corn, drained

1/2 cup

– 1 cup goat cheese crumbles
Instructions
For avocado sauce: place garlic halves, lemon juice, and olive oil in a food processor. Mix until smooth. Add the avocado, fresh basil leaves, salt, and pepper. Process until smooth and creamy. Set aside. Cover with plastic wrap, making sure plastic is touching the sauce as well as the sides of the bowl, to help avoid the sauce from turning color.
In a large bowl, combine zucchini, tomatoes, corn, goat cheese, and sauce. Toss carefully and spread sauce evenly throughout noodles.
Top with more chopped fresh basil or additional chopped tomatoes.
Enjoy!
Join our email list for fresh pasta recipes delivered to you every week!
Your information will NEVER be shared or sold to a 3rd party.