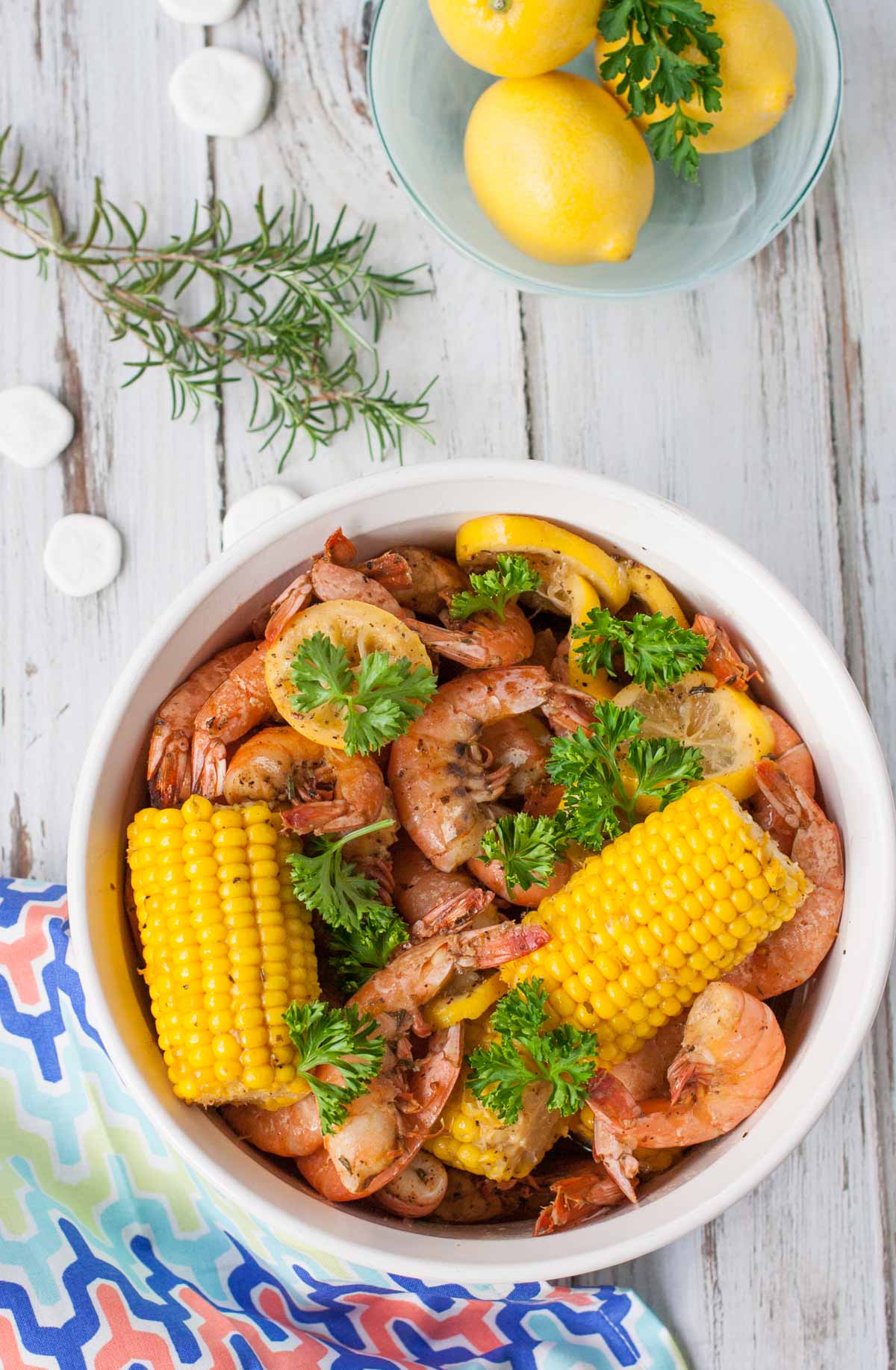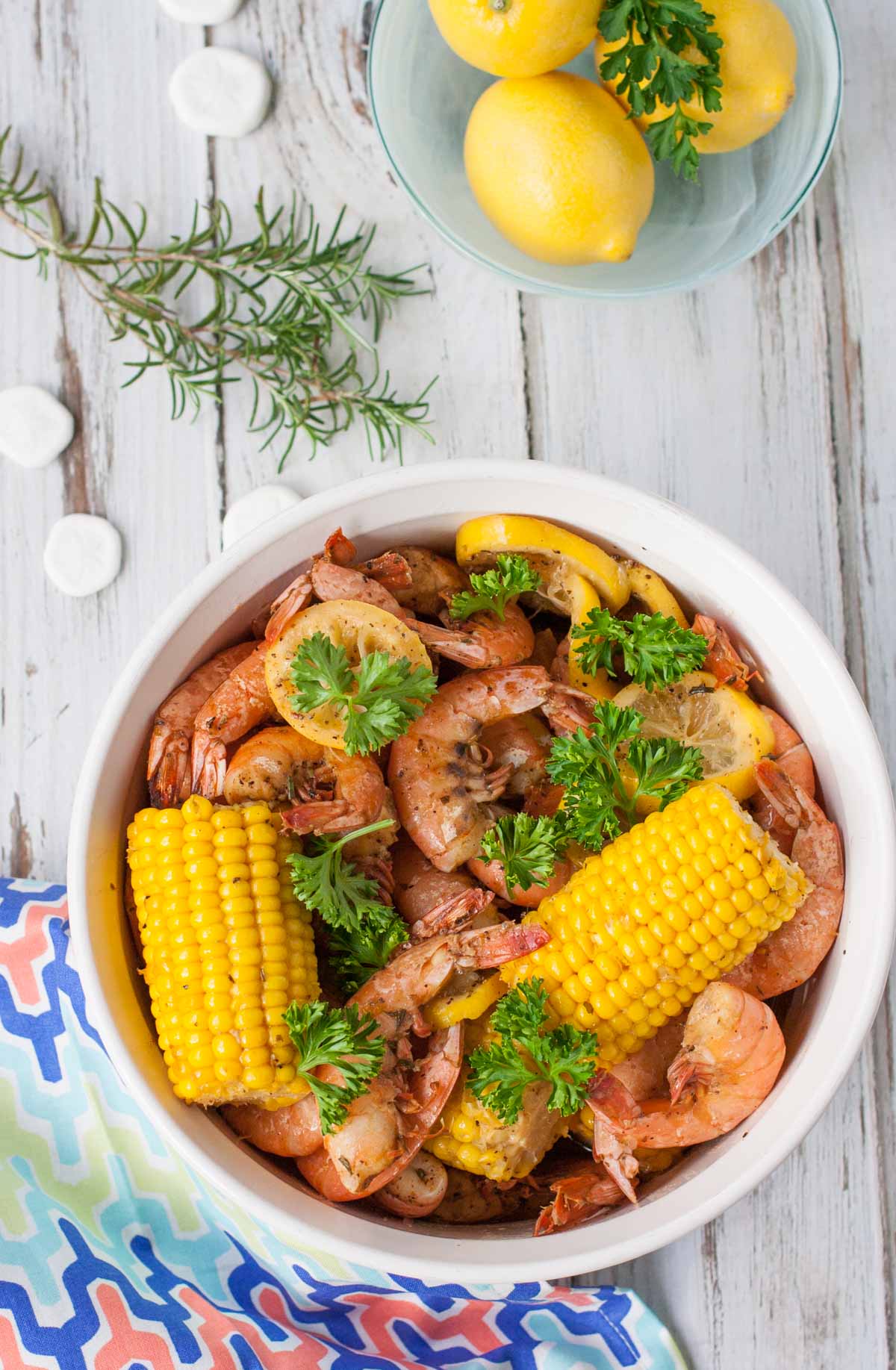 Spring Break!  Sunshine!  Beach or Ski Slopes! Adventure Trip!  Sleeping In!  Good Food!  Family Time!  Fun Friends!  No Work! (ok, maybe a little)
We all desperately yearn for this wonderful break during the long, cold, gray month of February as we dream of warm sunshine, a lot of relaxation, or just getting away from our routine.  No matter where you are located, you start to itch for a little break between the Holidays and summer.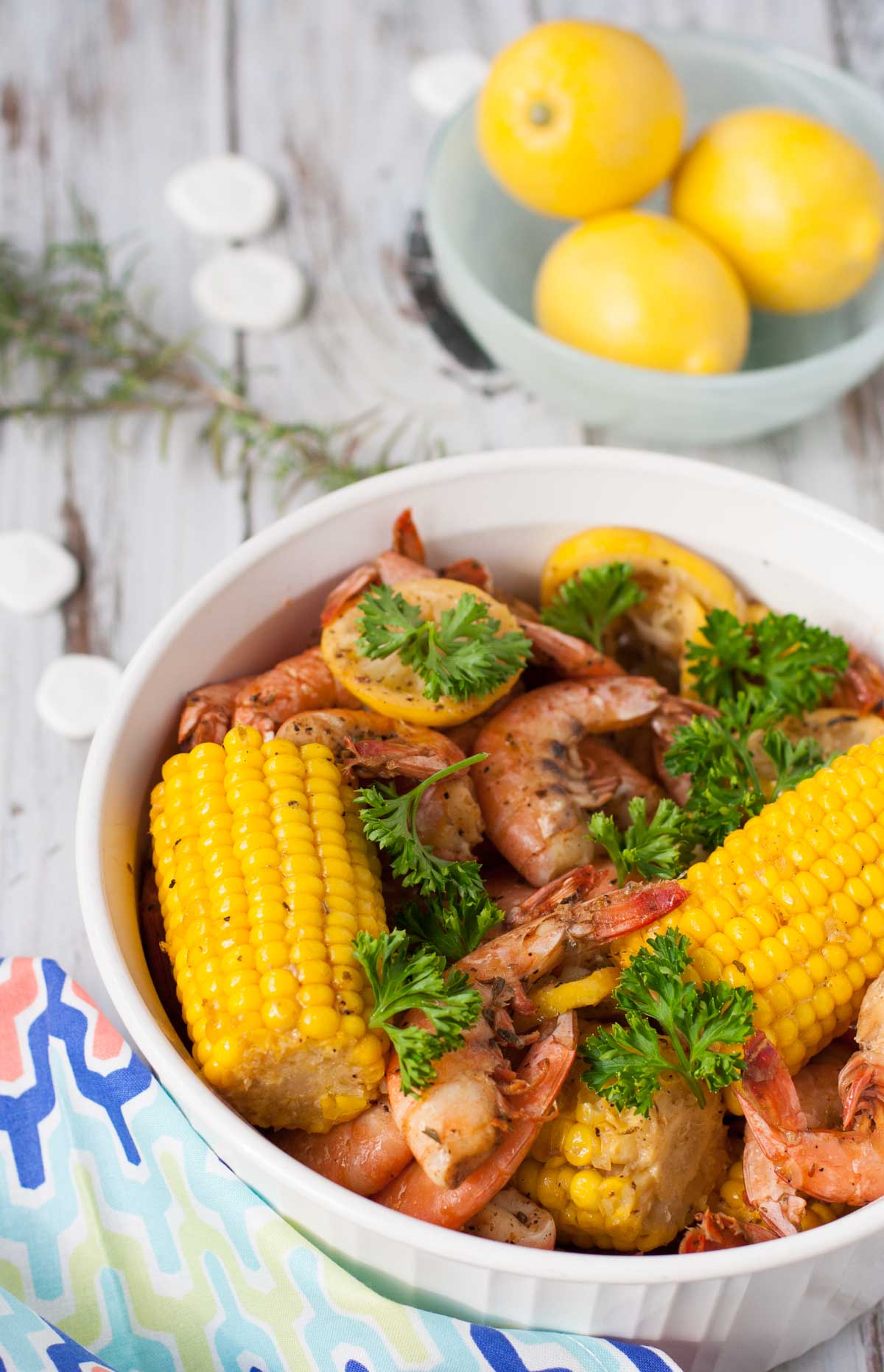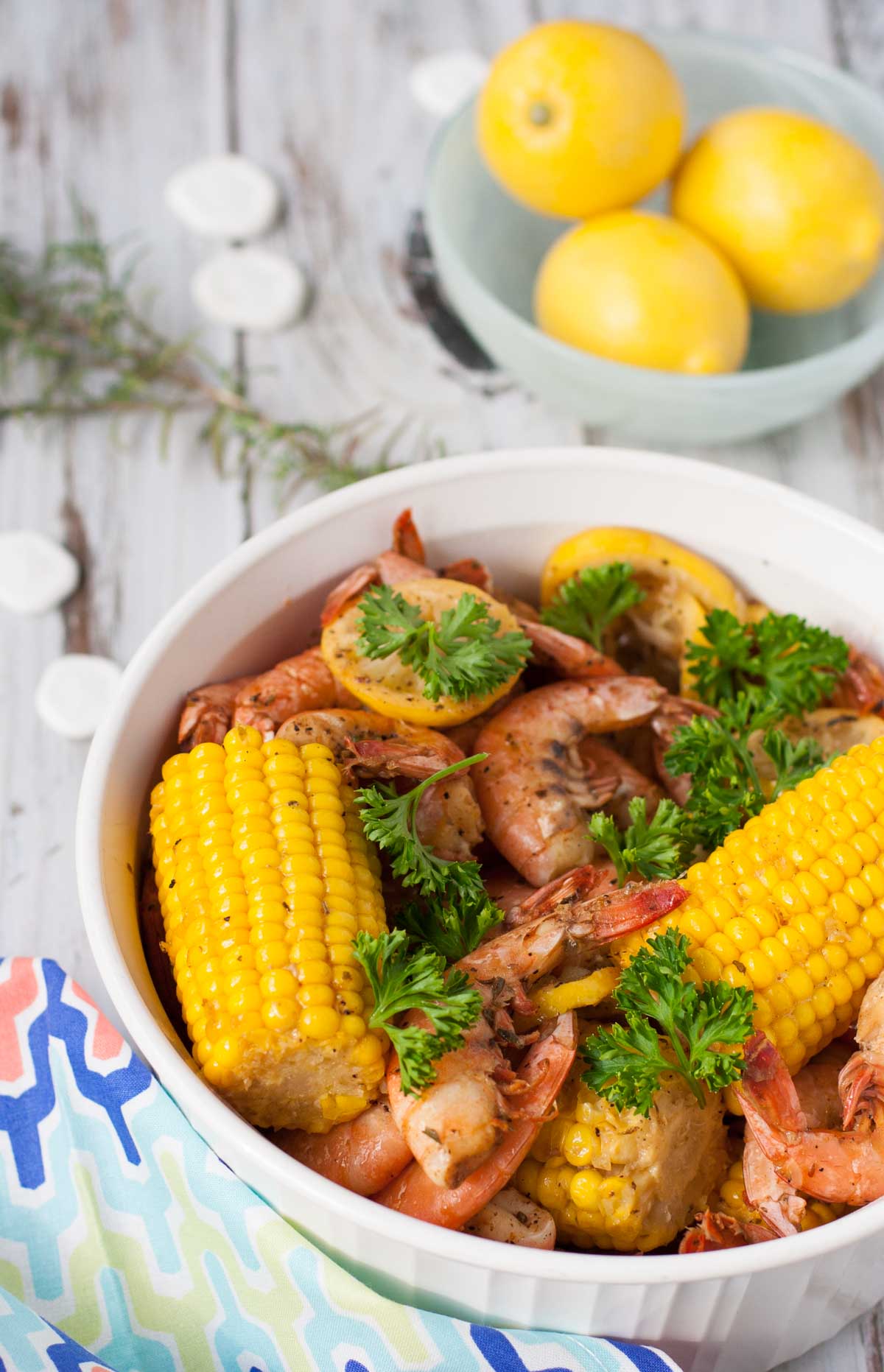 This past week we packed up the car and headed to 30A with some close friends (and half of Nashville families with teens) for a beach-side getaway.  The weather is always a bit cooler here because we aren't quite South enough, but nevertheless, my favorite pastime activities are always available – chillin' on the beach (literally), biking around town, eating out, and cooking in.
One of our annual beach trip traditions is to have a Shrimp Boil or Bayou Shrimp dinner.  Gathering with friends around a large farm table, and peeling and eating large, fresh off the boat Gulf shrimp, epitomizes good times at the beach.  Eating this way is interactive and messy and everyone always has a great time.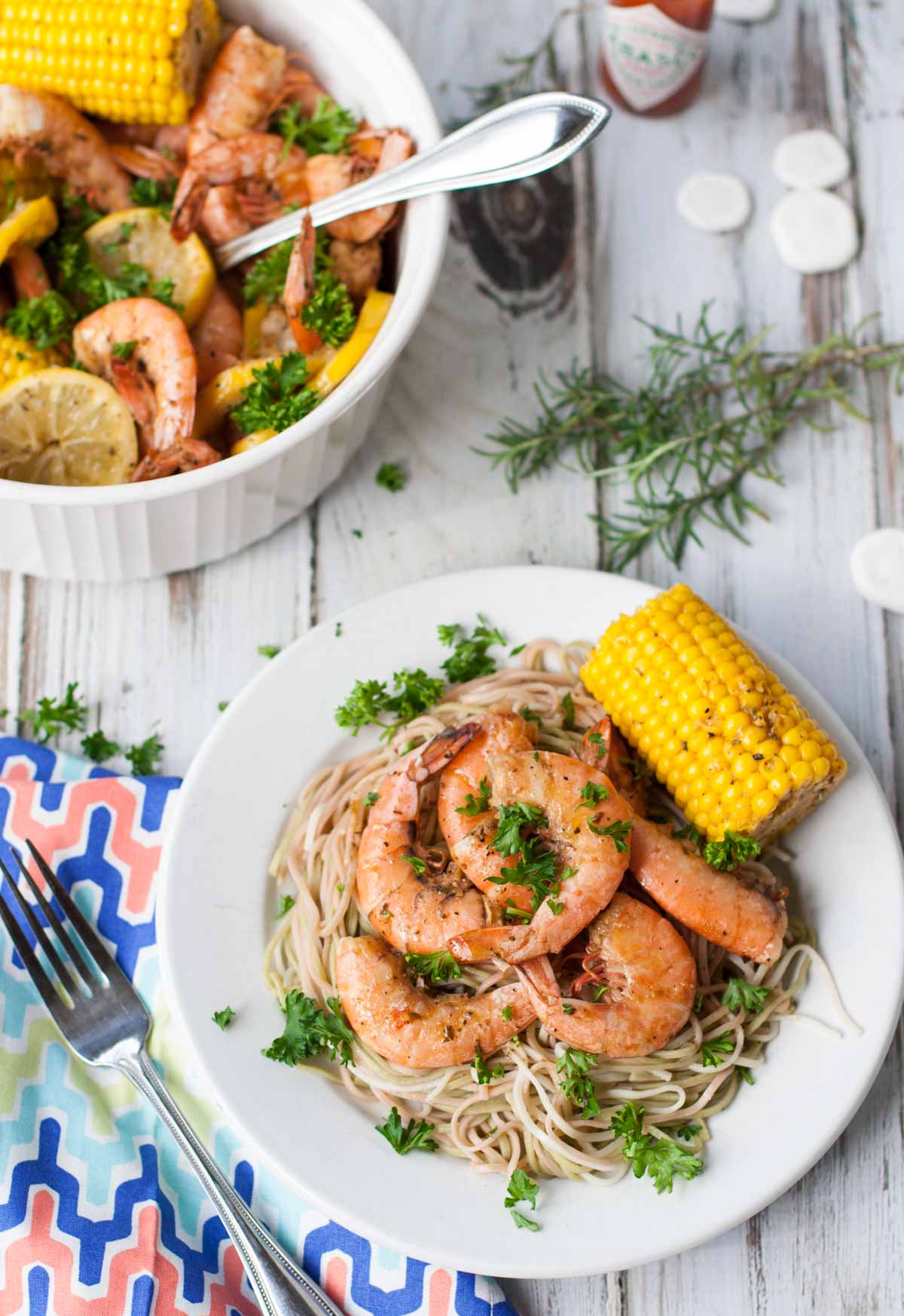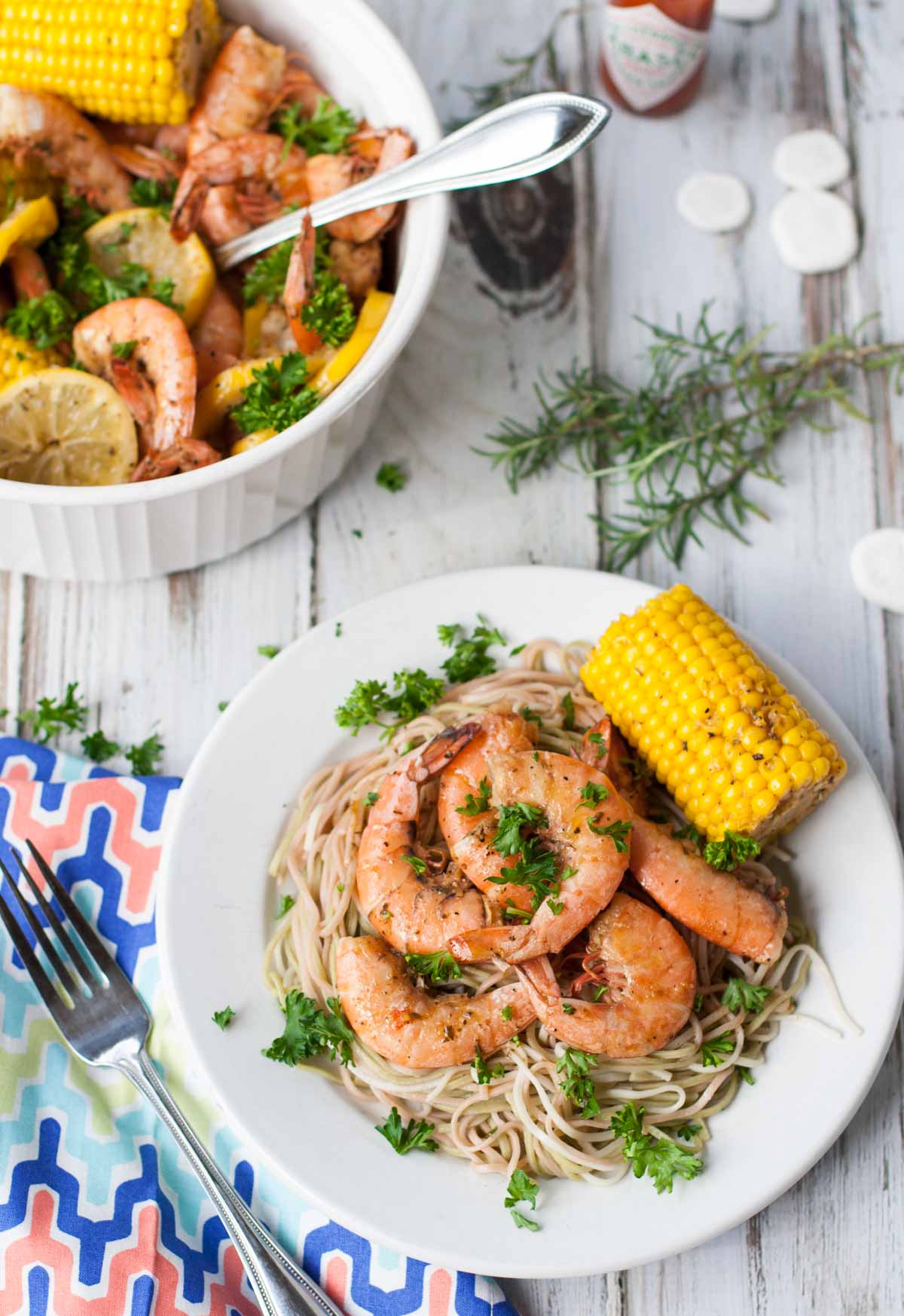 When you think of Bayou cooking, Cajun and Creole seasonings quickly come to mind.  Bayou cooking emerged from Texas and Louisiana, where the "bayous", or marshy creeks, meander through the gulf coast region.  Some of the classic dishes from the bayou are jambalaya, gumbo, crawfish boils, and po' boy sandwiches.  Cajun cooks know how to cook with tons of flavor, don't they?!  Naaww-lins anyone?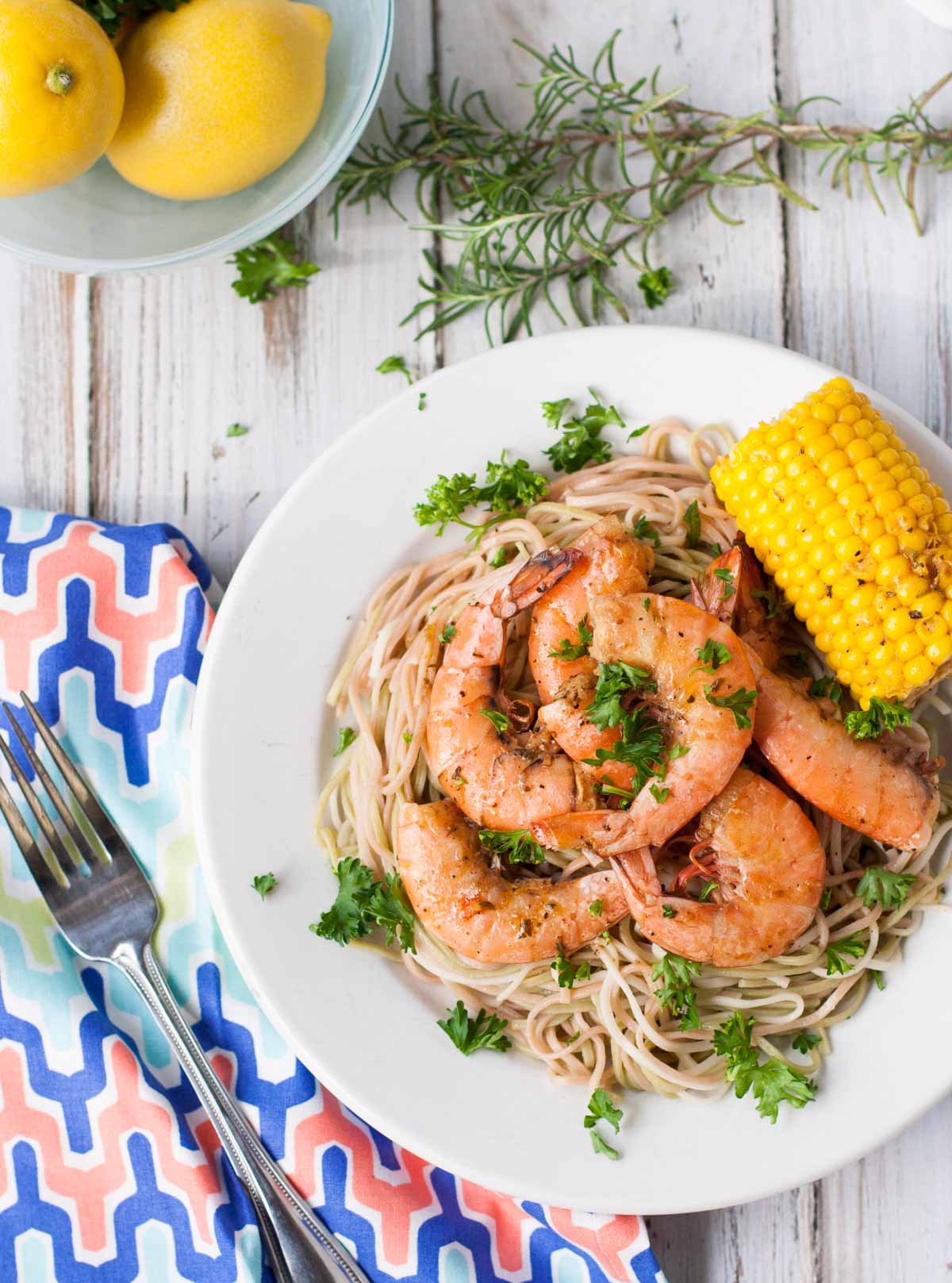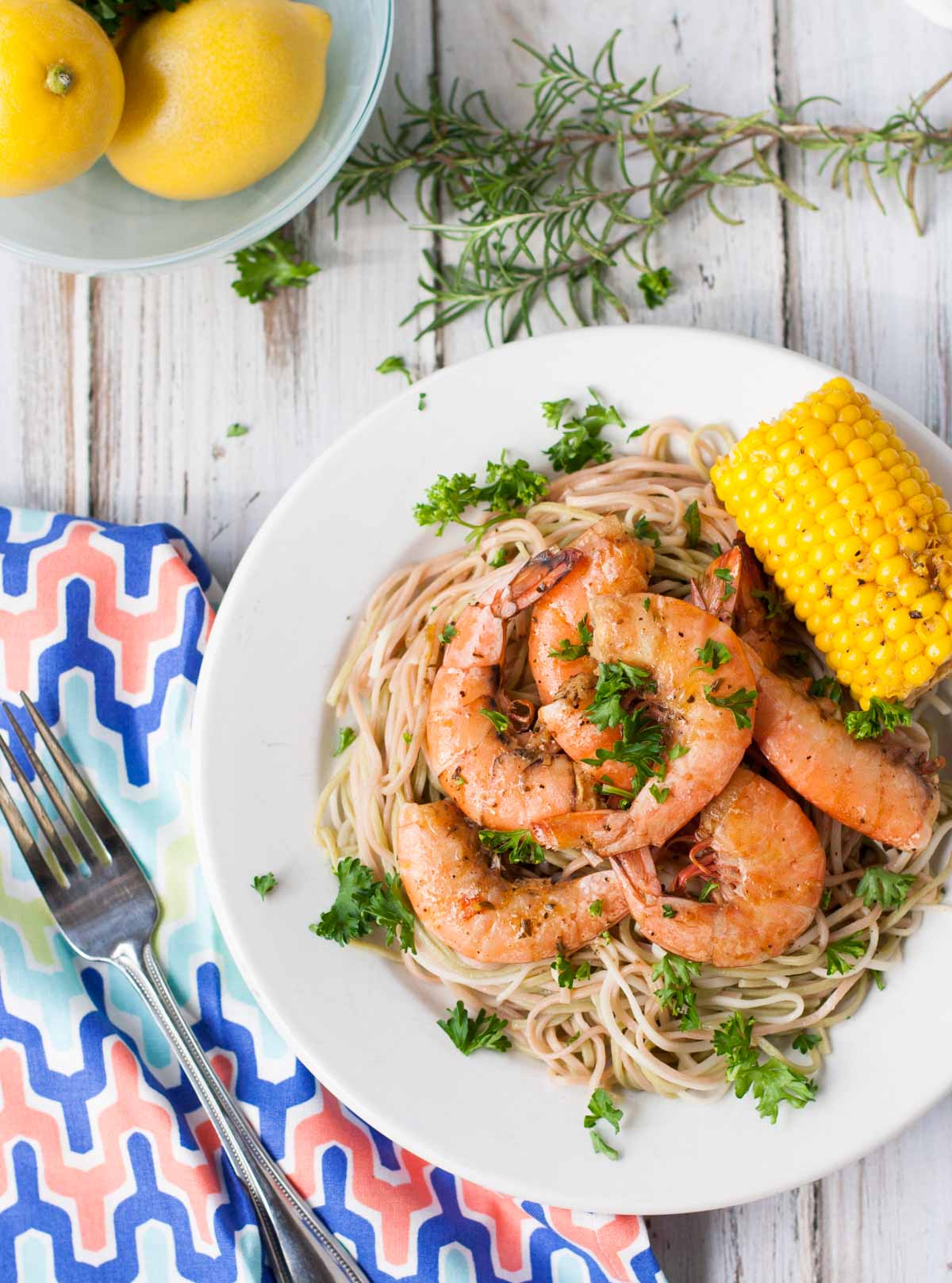 Rather than the usual shrimp and rice combo, I love to serve my Bayou Shrimp over angel hair pasta.  The complex spicy, tangy, and lemony sauce from the shrimp is a fantastic complement to the smooth delicate swirls of angel hair.  I could literally eat this every day.  And this recipe is super simple.  The shrimp is drizzled with a zesty liquid mixture, sprinkled with a combo of seasonings, and topped with fresh lemon slices and pats of butter.  Bake in the oven for about 8-10 minutes, and you are done!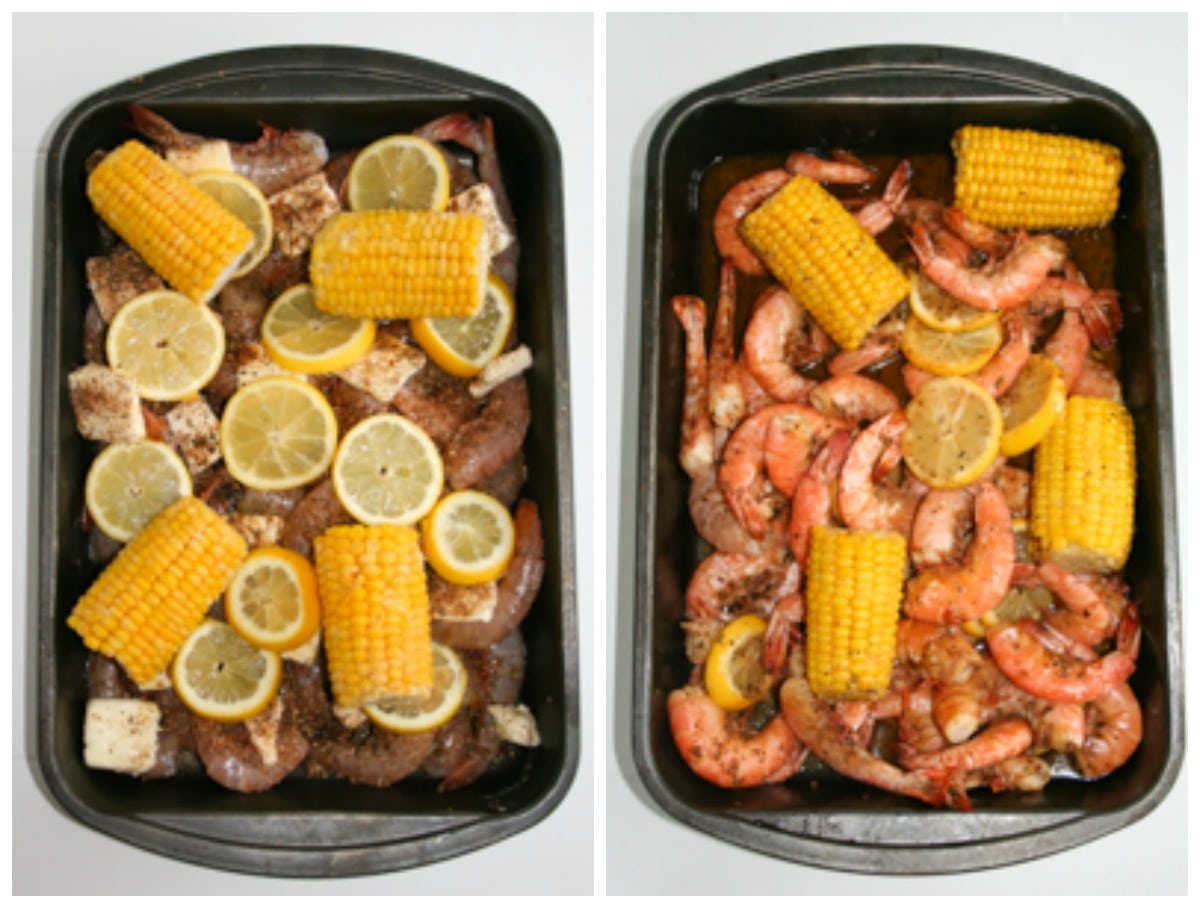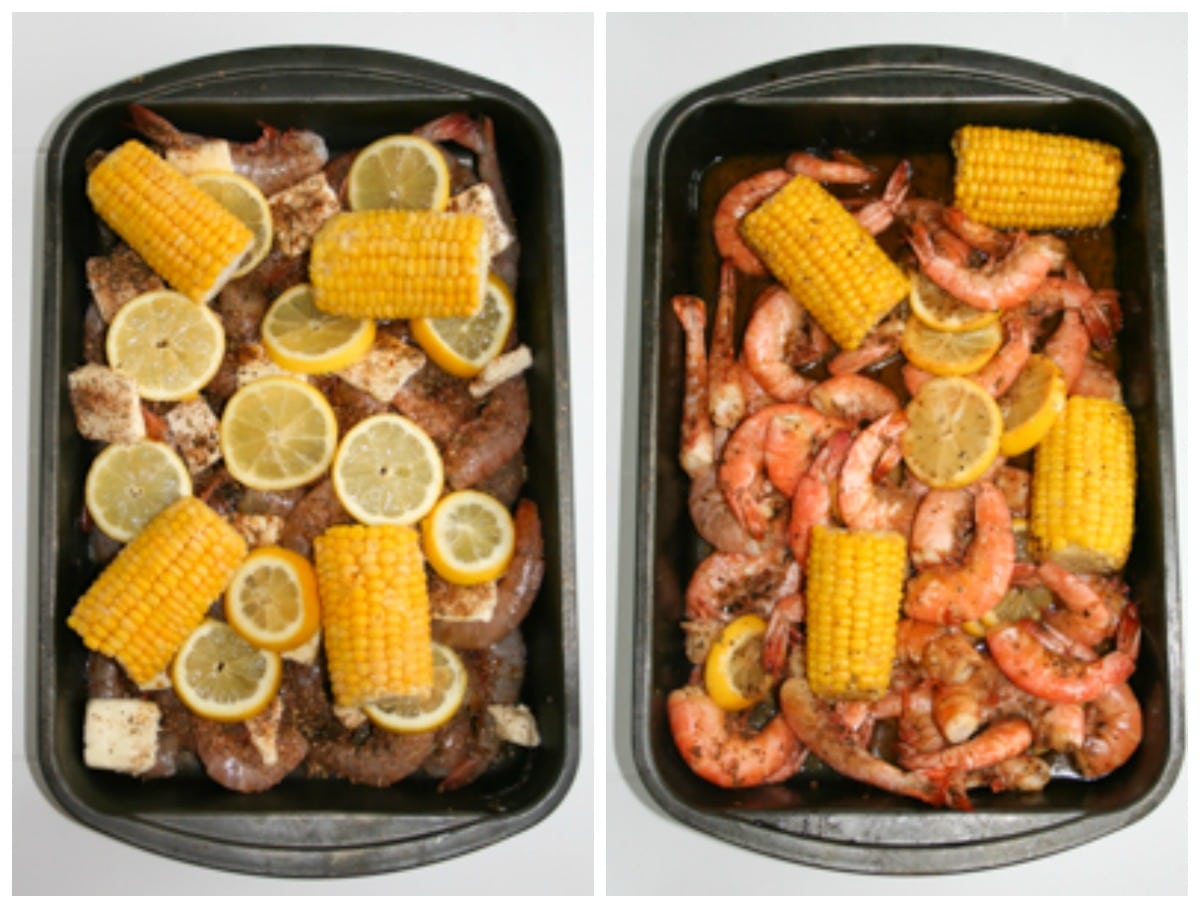 This Bayou Shrimp Pasta recipe has been adapted from one of my favorite cookbooks, Stop and Smell the Rosemary.  Add it to your summer reading list!  Published by the Junior League of Houston, it's packed with some of the best recipes I've ever tried.  I actually think it is out of print, but you can find it on Amazon from a used book seller.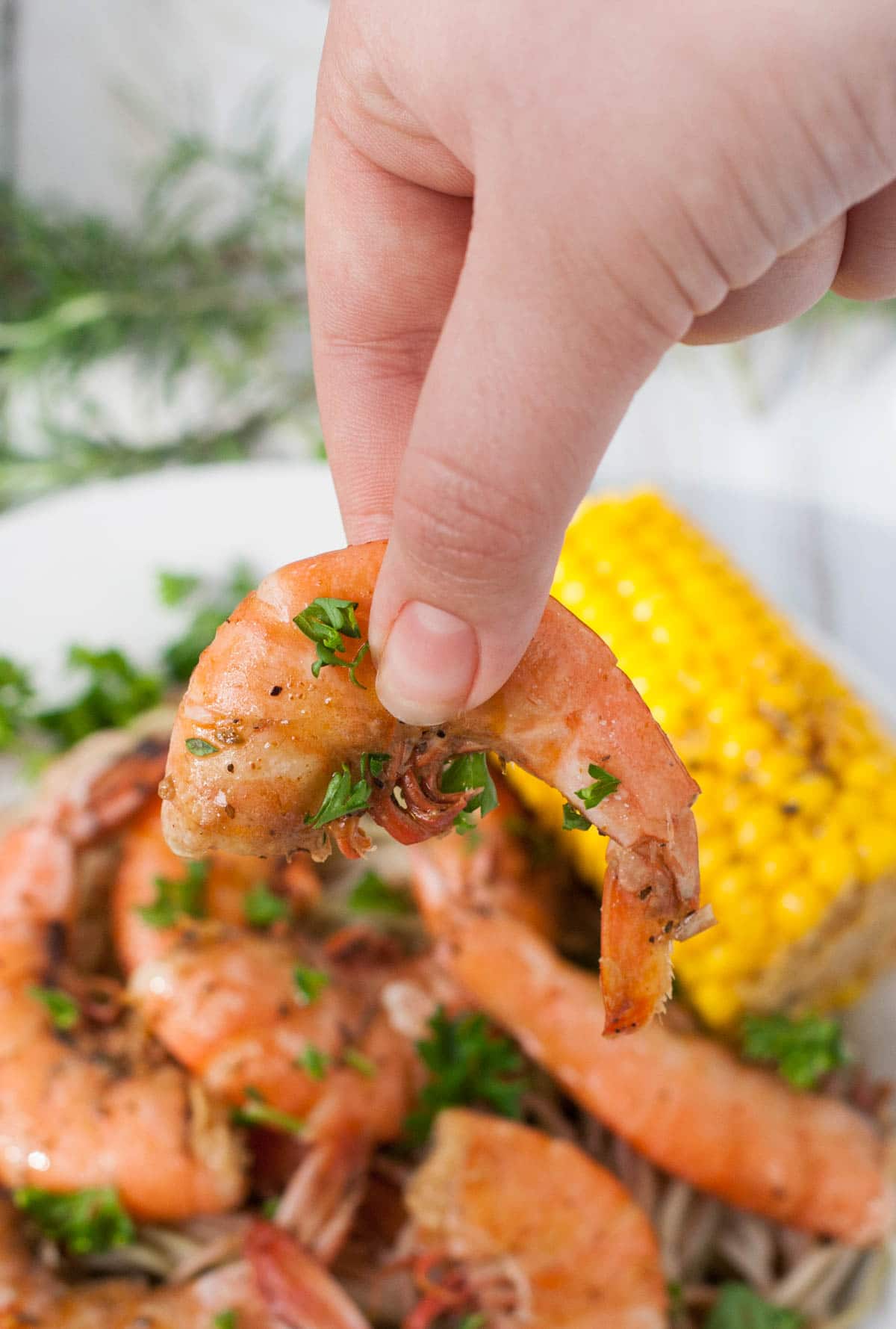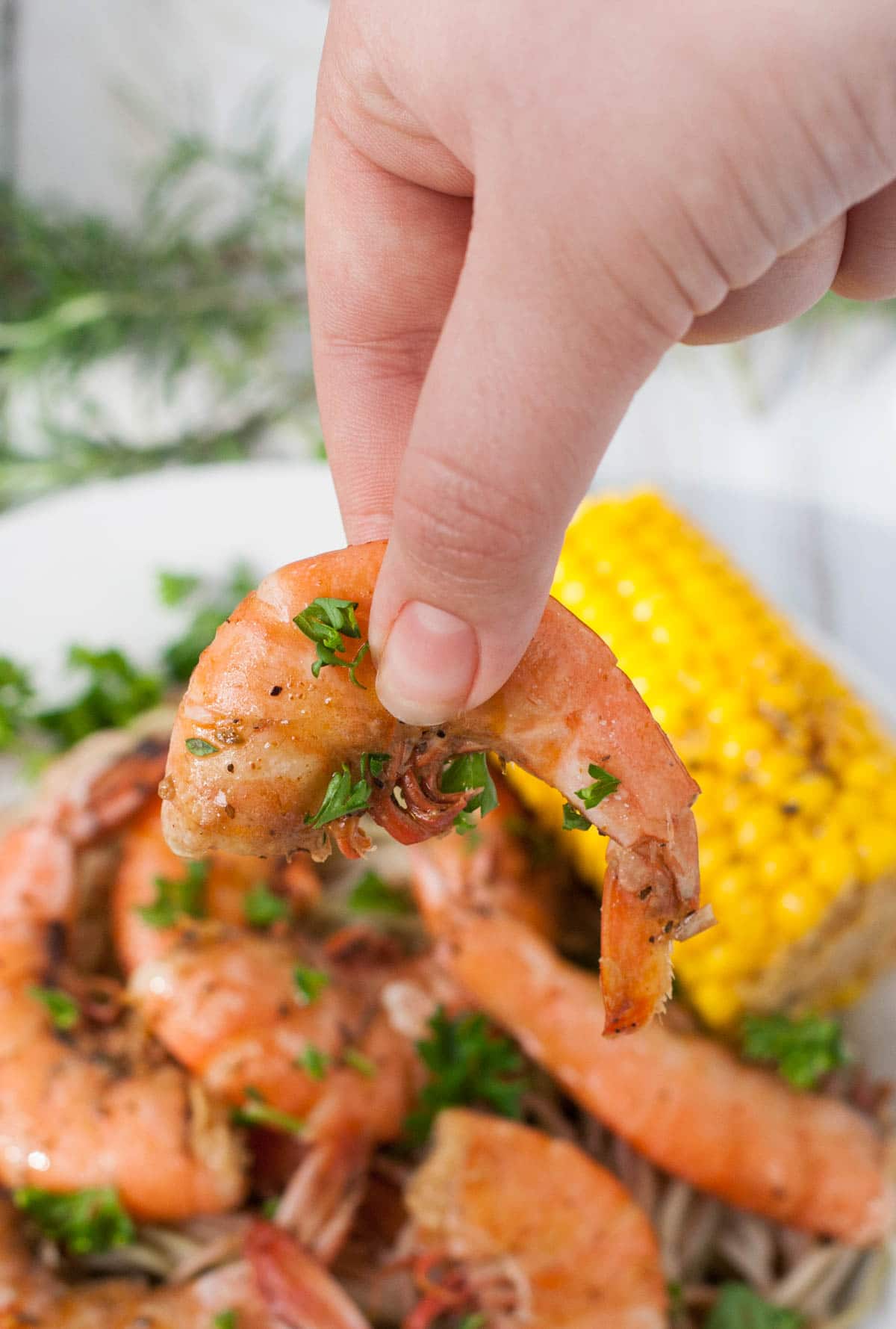 Beach trips and shrimp just go together, and if this Bayou Shrimp Pasta style isn't for you, try my Shrimp, Avocado, and Spinach Pasta with Mango Vinaigrette, Thai Shrimp Scampi, or Lemony Shrimp and Scallop Pasta with Basil.  They are all delicious beachy meals that your family with love!  Friends, enjoy your break time, wherever you may be and eat lots of yummy food!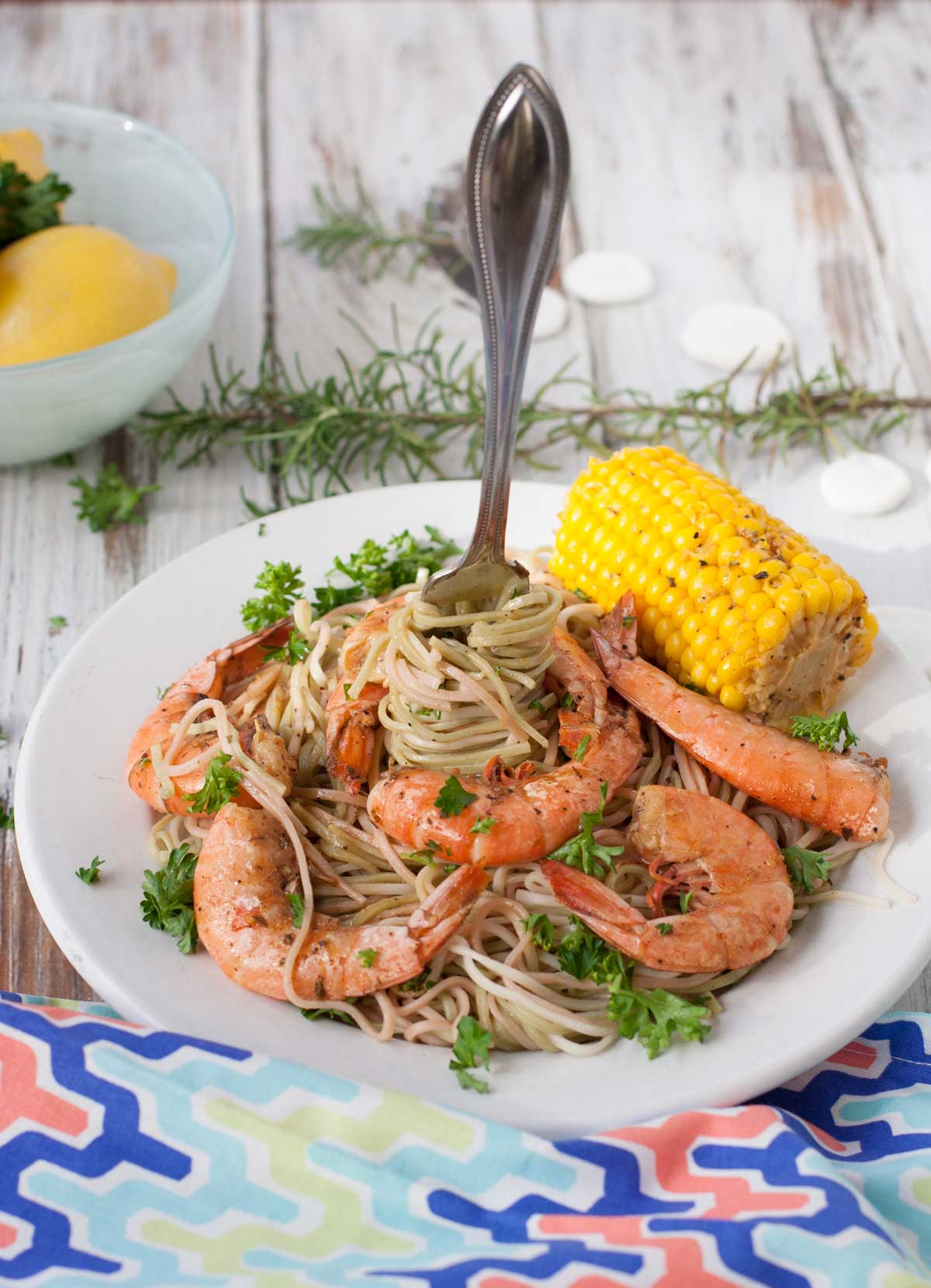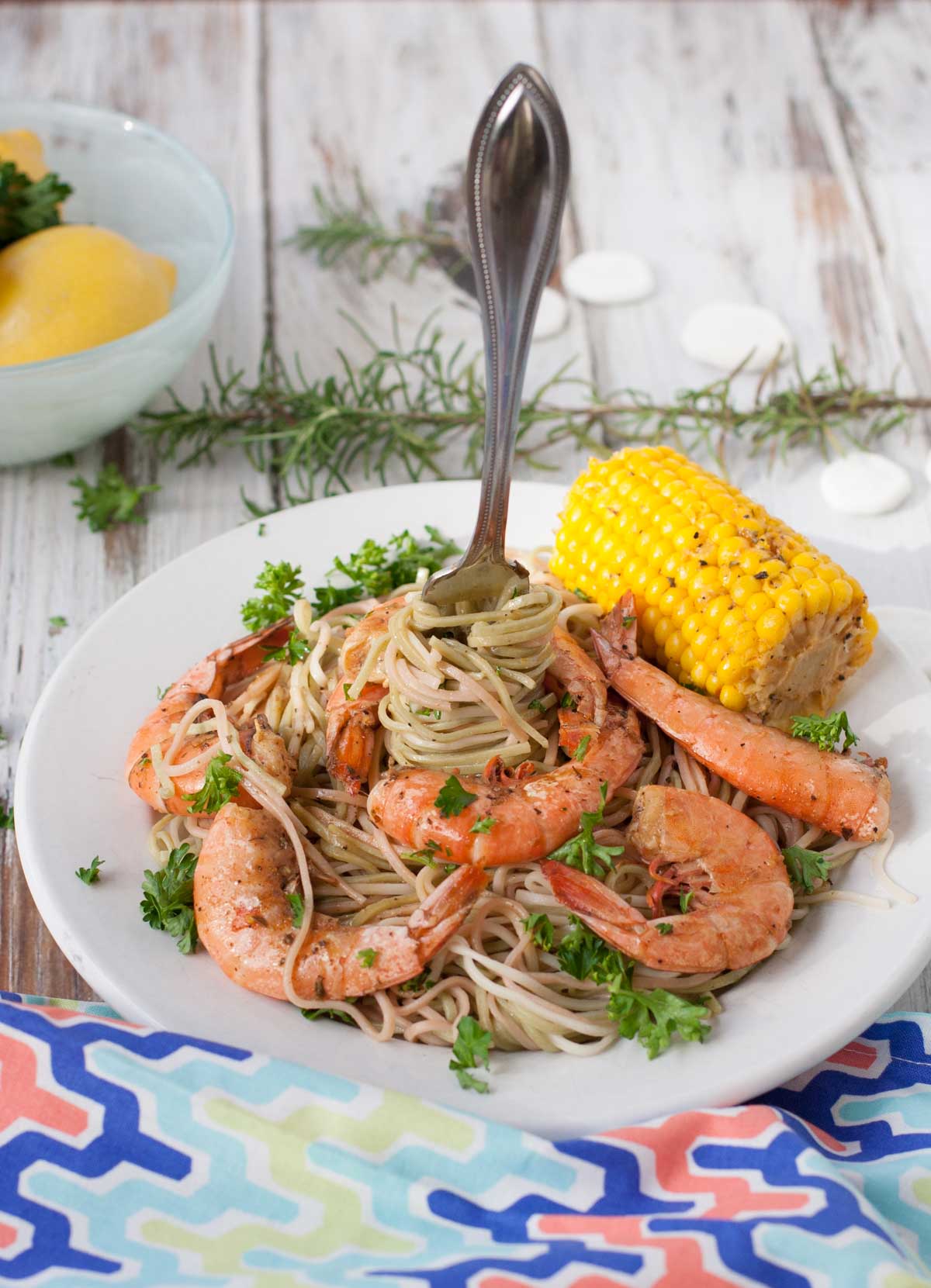 Bayou Shrimp Pasta
Zesty Cajun Bayou Shrimp Pasta is the must do beach recipe! Simple to make it delivers a ton of flavor. Get messy and have fun with the entire family! Adapted from Stop and Smell the Rosemary cookbook.
Ingredients
12 oz

. box of The Pasta Shoppe's Tri-color Angel Hair Pasta (or any other angel hair or linguine pasta will do)
Frozen small corn cobs or niblets (about 1 per person eating, mine came in packs of 8), pull out of freezer when starting to pull ingredients together.

5

pounds of large, fresh shrimp, unpeeled with heads removed

1/2 cup

(

1

stick) of unsalted butter, cut into small slices.

1/2 cup

olive oil

1/2 cup

Worcestershire sauce

1/2 cup

soy sauce

2

cloves garlic, minced

2

t. Tabasco sauce

4

t. Creole seasoning

1/2 cup

fresh rosemary, minced, or

2

T. dried rosemary

1/2 cup

fresh oregano, minced, or

2

T. dried oregano

1

t. cayenne pepper (or

2

if you want it really spicy)

4

t. salt

4

t. black pepper

8

lemons, sliced in rounds
Fresh parsley for garnish.
French bread for dunking into sauce!
Instructions
Preheat oven to 500 degrees.
Pull corn out of freezer when starting to pull ingredients together to begin thawing.
Combine oil, Worcestershire, soy sauce, garlic, and Tabasco in a bowl and set aside.
Combine Creole seasoning, rosemary, oregano, cayenne, salt, and pepper in a small bowl.
Place shrimp and corn in a large deep roasting pan.
Pour sauce mixture over shrimp and corn.
Sprinkle dry ingredients over shrimp.
Top shrimp with lemon slices and butter.
Bake for 8-10 minutes, tossing and basting every 2-3 minutes, until shrimp begins to curl and turn pink!
While shrimp is cooking, cook pasta according to package directions. Drain. If shrimp is ready, do not rinse. If doing ahead, you can rinse with cold water and then toss with 2 T. of olive oil and wait for shrimp to be done!
Heat french bread in oven at 350 degrees for about 8 minutes. Tear into chunks to be served on the side for dunking.
Place pasta in individual bowls and top with shrimp and one piece of corn. Drizzle some of the sauce from the pan over each serving…enjoy!
Notes
The amount of people this serves totally depends on the people you are eating with and if you have any side dishes! Adjust the amount of shrimp based on your family/friends particular shrimp eating habits.
For this recipe (5 lbs.), for my family, it serves 6 adults and 4 teens, with some left over! (and we all love shrimp!) We typically do not serve a salad or any other side dish.
Join our email list for fresh pasta recipes delivered to you every week!
Your information will NEVER be shared or sold to a 3rd party.