Toasted Nut & Feta Low Carb Pasta
Well, these are some words you haven't heard me use very often or ever: LOW CARB PASTA! And boy does it feel good to say it. I want to shout it from the rooftop, and work it into all my conversations.  I can't help it!  It's exciting news to share…introducing our new Good Day Pasta!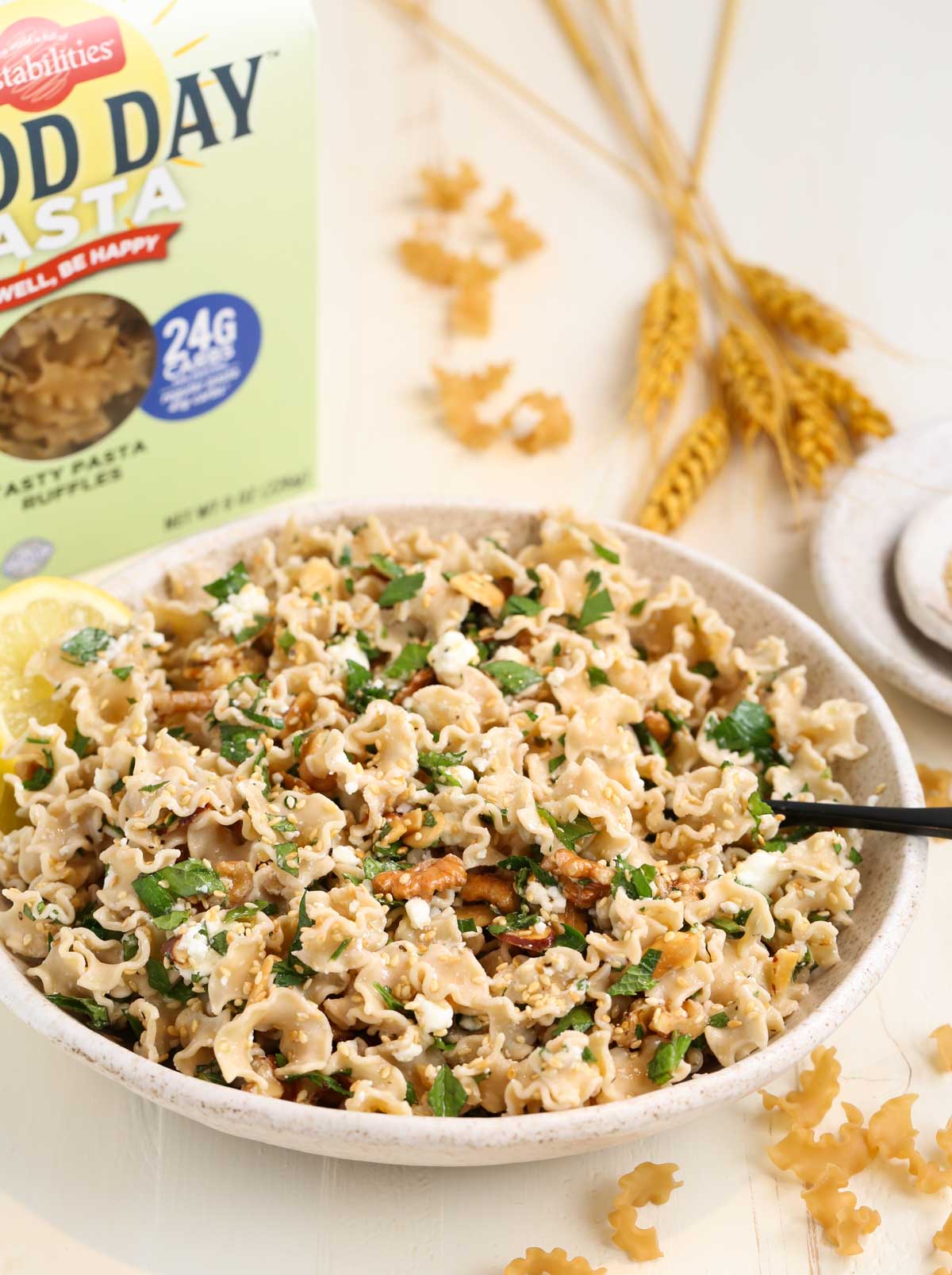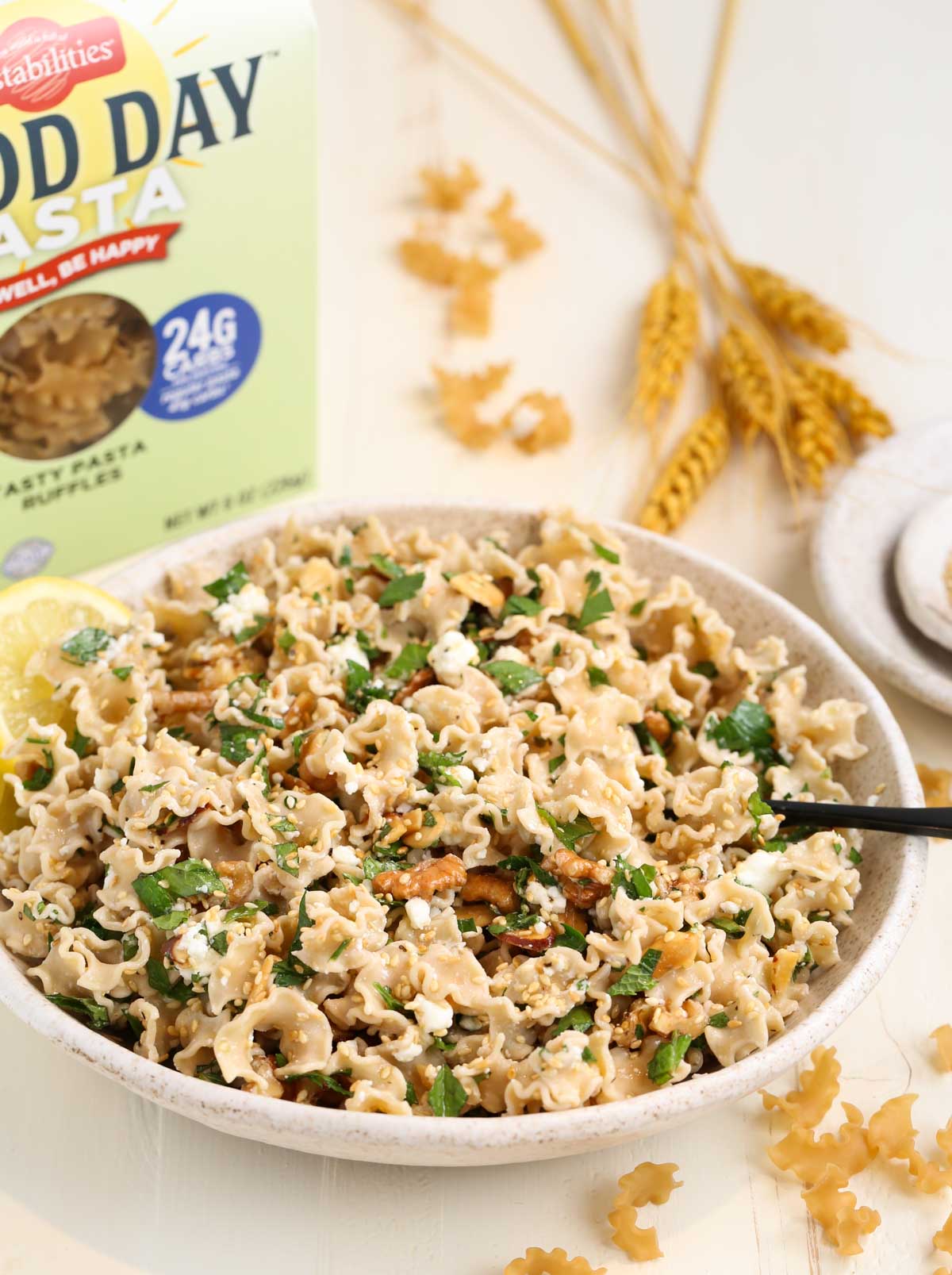 With 42% less carbs, you can feel free to eat seconds of this yummy Toasted Nut & Feta Pasta without any of the guilt or bloated feeling you experience after you've indulged.  Good Day Pasta is a wheat based low carb pasta.  It is plant based with 3x the protein and 3x the fiber of regular pasta.  There is a story behind how this Good Day Low Carb Keto Friendly Pasta came to be….and I'd love for you to read all about it.
These wavy little Good Day Pasta ruffles feel so good in your mouth and deliver a taste and texture comparable to any other Italian pasta shape.  The ruffle shape is versatile and a perfect for almost any pasta dish. And who isn't ready to eat more pasta for dinner?!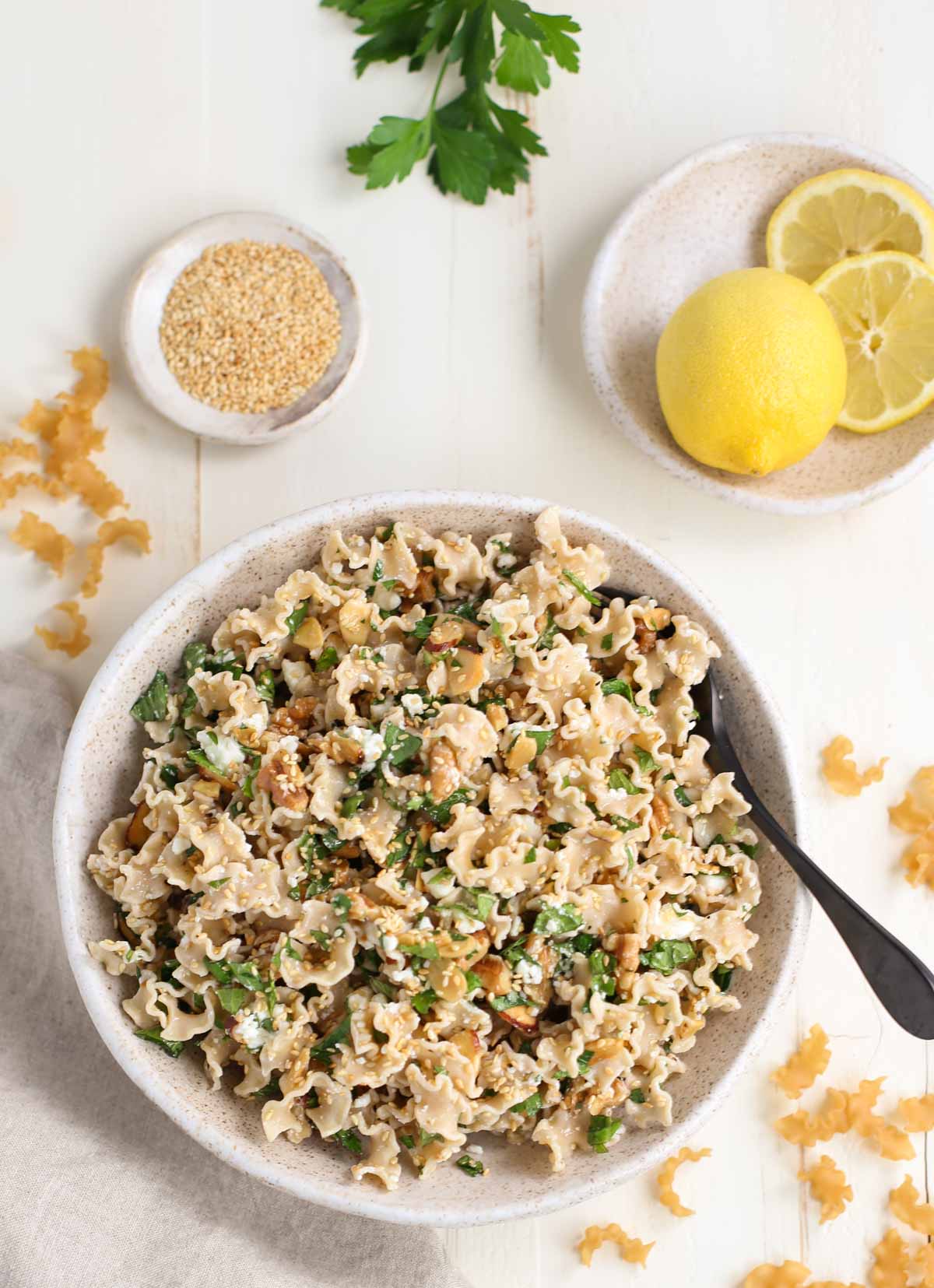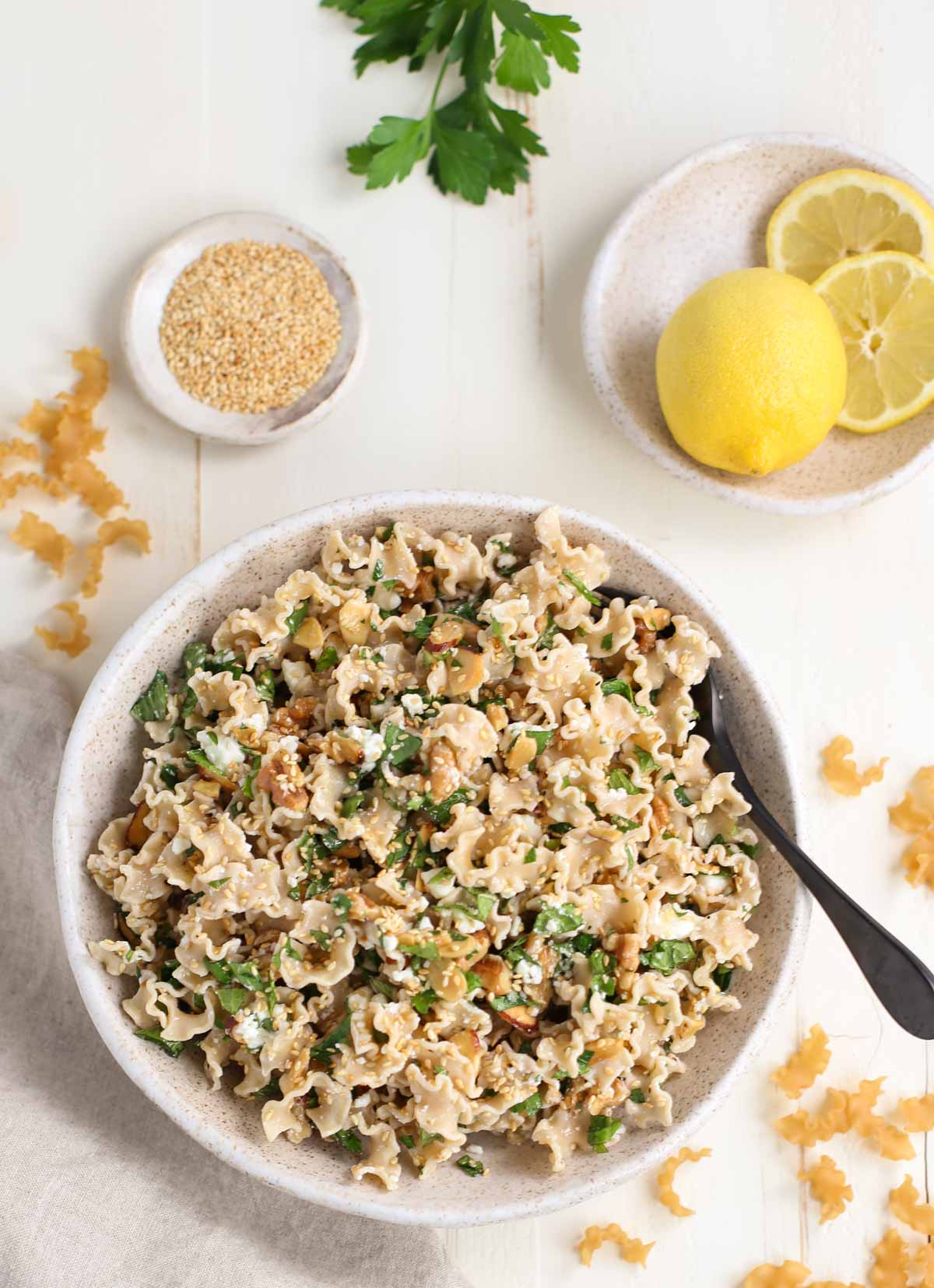 Fall brings beautiful colors, cool nights, pumpkins, and yes, lots of toasted nuts. Toasted nuts seem to be appearing in all the fall recipes from salads to bowls to cookies…so it seemed appropriate to use some toasted nuts and create a healthy, fresh, delicious low carb pasta dish.
It's the toasty taste and crunch that make this pasta so appealing.  You'll use three different type of nuts – walnuts, almonds and sesame seeds.  The size and shape of each add a different layer of flavor. First step here is toasting your nuts.  The most important rules are never leave the kitchen and pay attention!
How to Toast Nuts
Preheat your oven on 350 degrees.
Line a baking sheet with foil and spread nuts in a single layer.
Note: Different nuts toast at different cook times! But walnuts pieces and sliced almonds are about the same size so I decided to cook them together.  If you were toasting nuts of different sizes, for example, pine nuts, you would want to toast separately. Pine nuts cook much faster!
Place in oven and set timer for 2 minutes. Do not leave room!  Burning nuts is very easy to do!
Pull nuts out of oven, toss around sheet, and spread out again. Set timer for 2 more minutes.
After 4 minutes, remove nuts from oven and toss again. You'll begin to notice a nice toasty smell and slight browning of the nuts. Keep your eyes on the nuts from this point on!
Stick the nuts back in the oven for 1 more minute.
Usually the walnuts and almonds are done within 5-6 minutes total.
Remove and let nuts cool.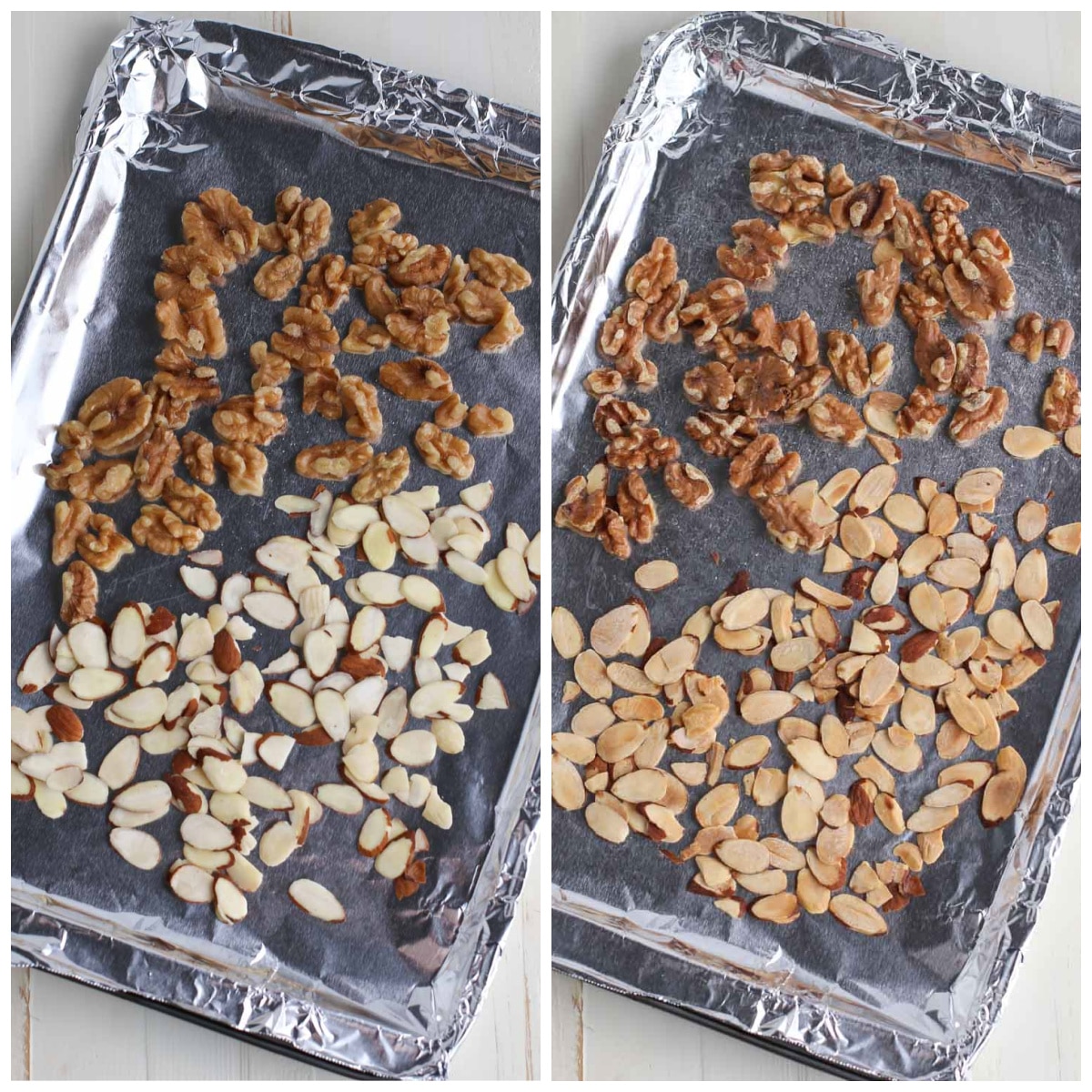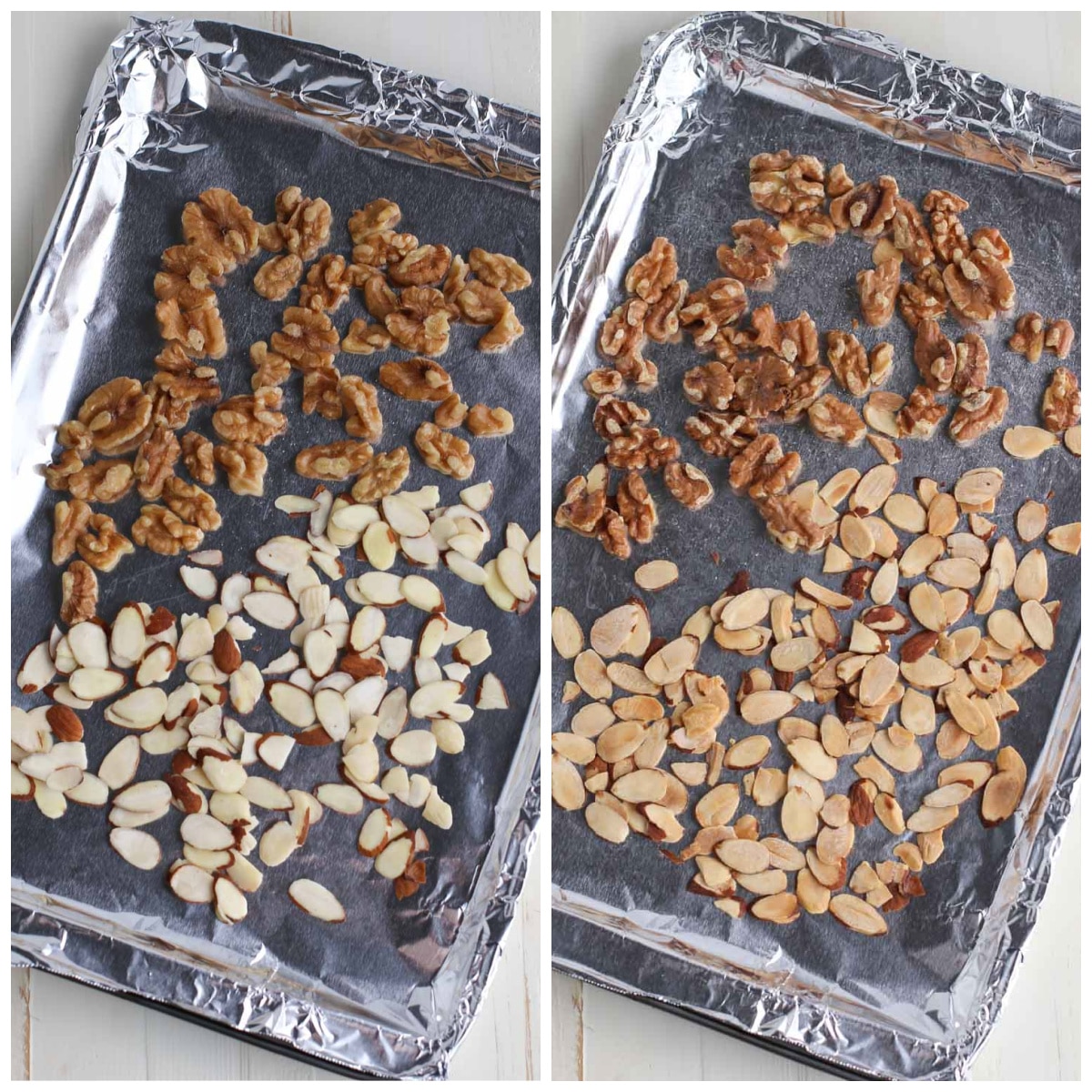 This recipe has only a few ingredients and most can be prepped and chopped within a few minutes.  The ease of this dish is helpful, especially when you are in a pinch and need a tasty side.   Sesame seeds can be purchased already roasted, so that is a time saving bonus!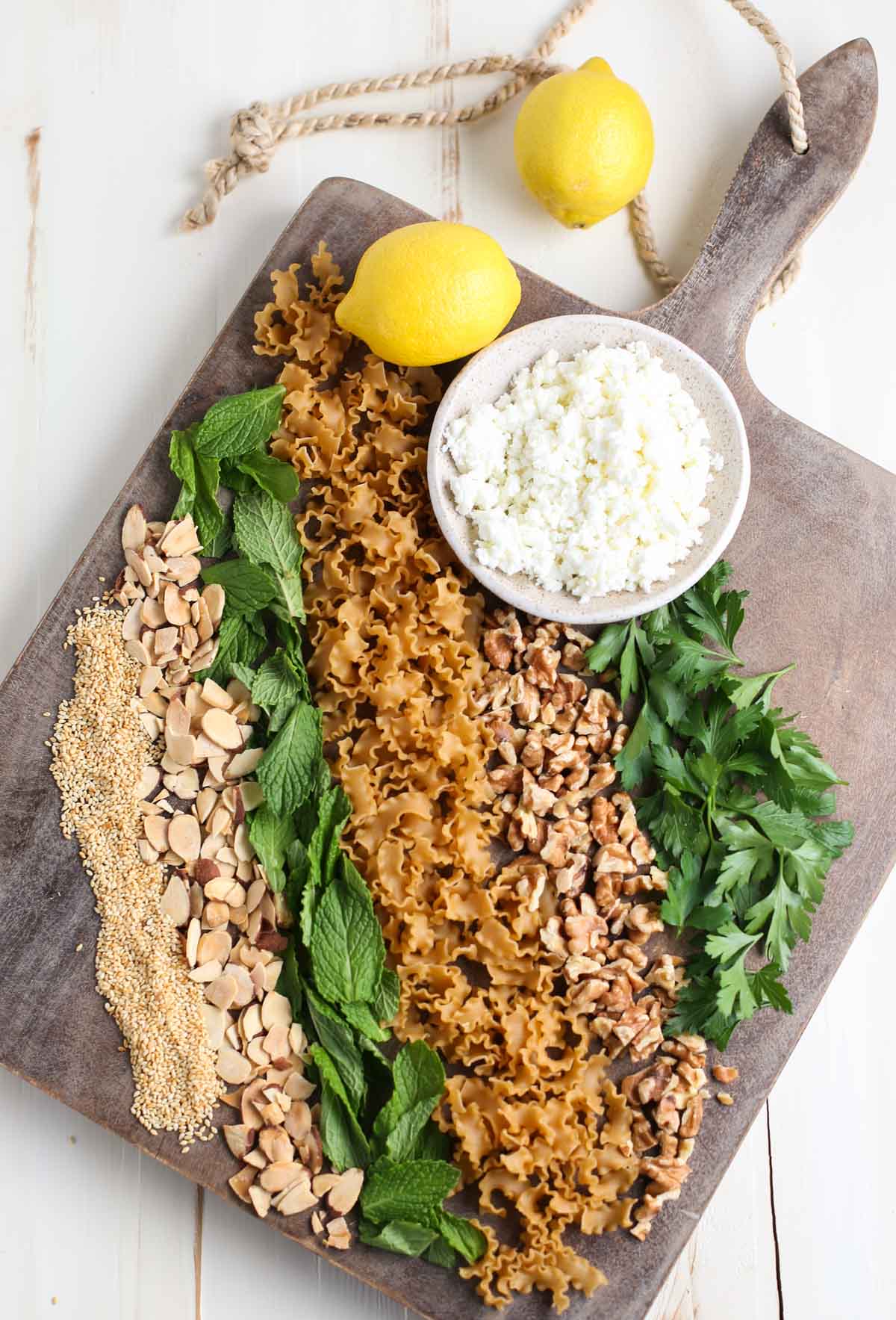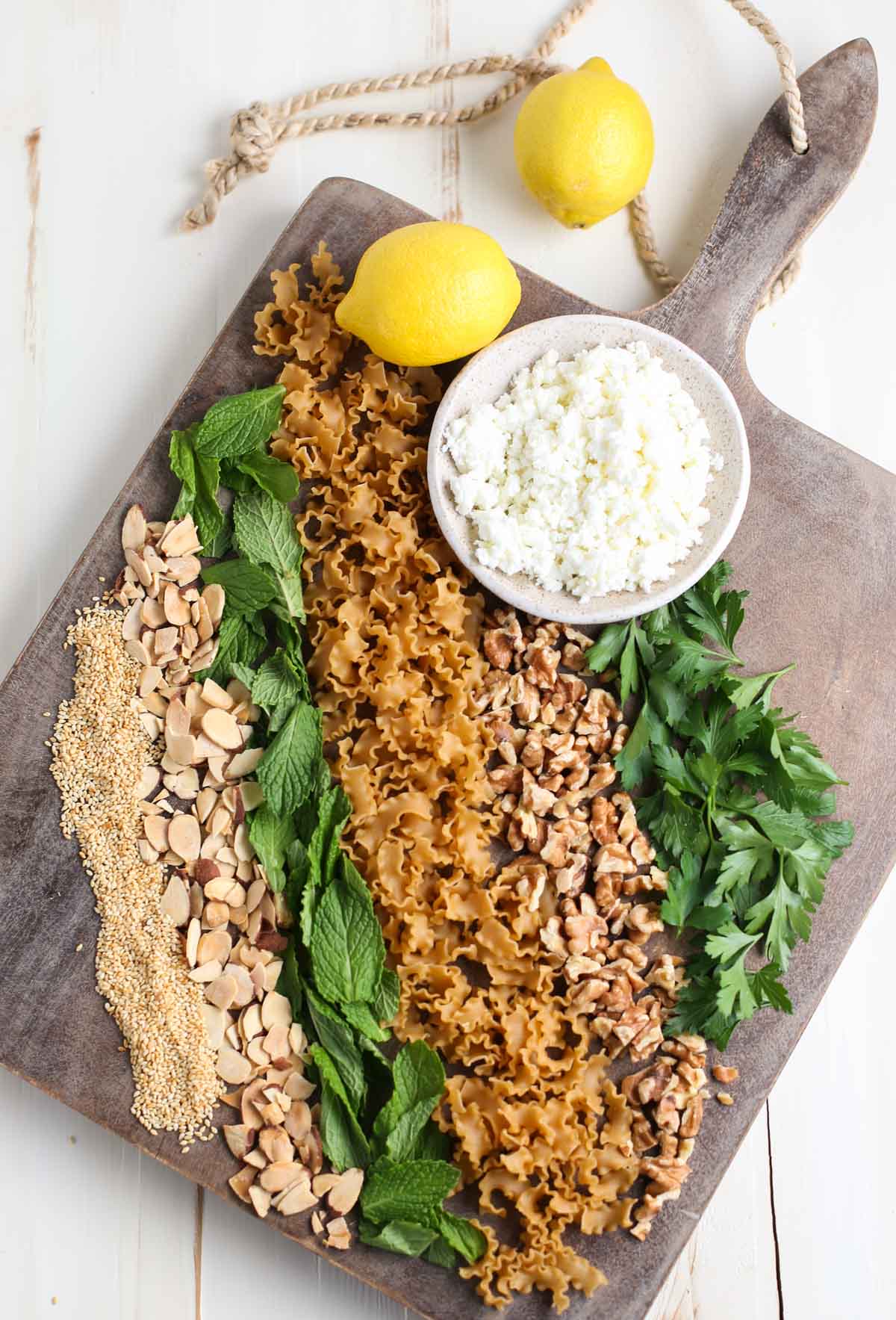 The combination of textures and flavors really shine here. Greek feta cheese adds some saltiness, and the bright green parsley adds some brightness. Fresh mint adds a surprisingly fresh flavor and is a welcoming contrast to the slightly salty feta. And the olive oil and fresh lemon juice just tie it all together!
Toasted Nut and Feta Pasta is really a great low carb pasta dish that can be enjoyed all year round.  In the fall, it is a nice side dish for grilled pork chops or tenderloin, or even a nice accompaniment for roasted fish or veggies.
NOTE:  For our readers, use code goodday15 at checkout and get 15% off our Good Day Pasta through the end of the year!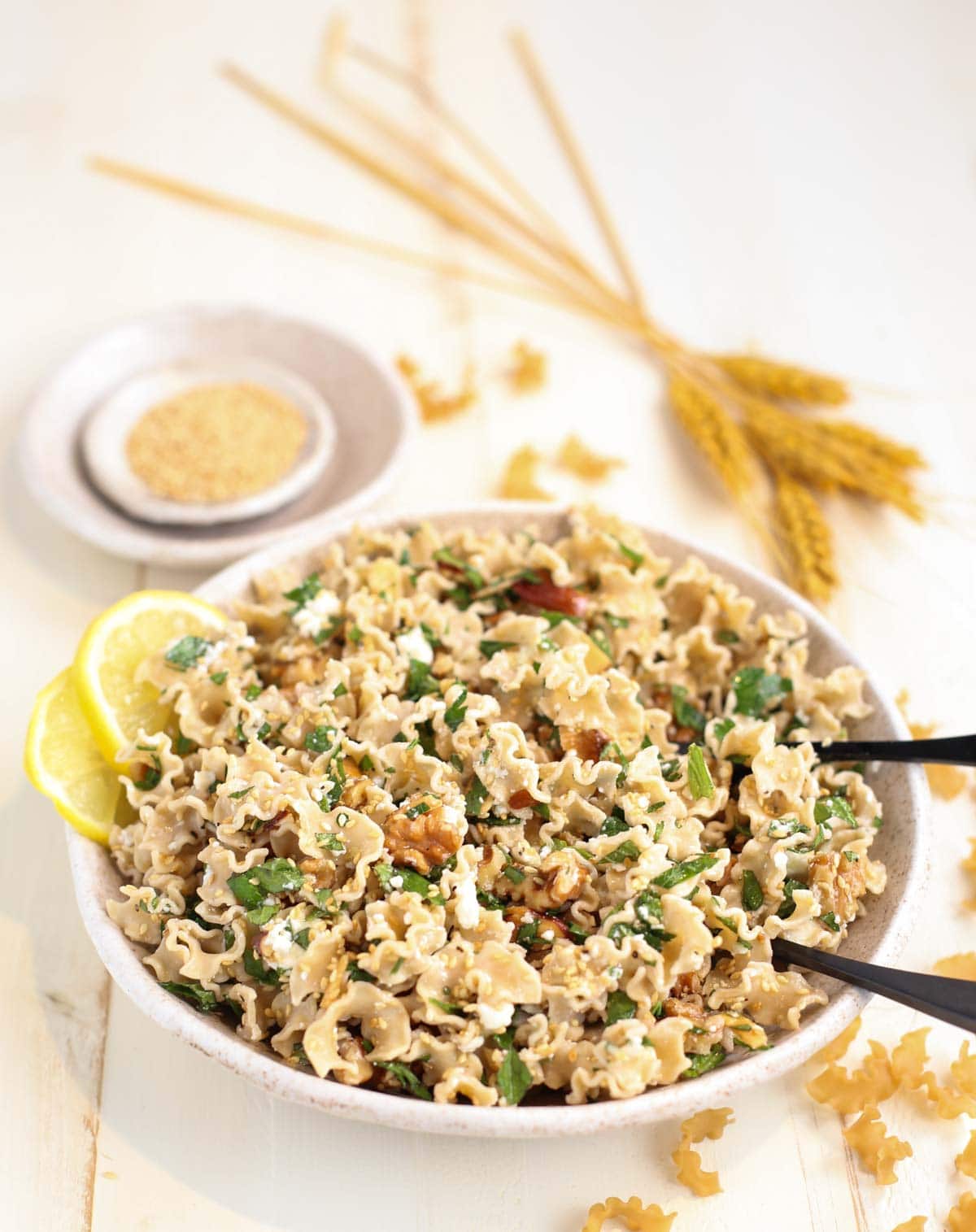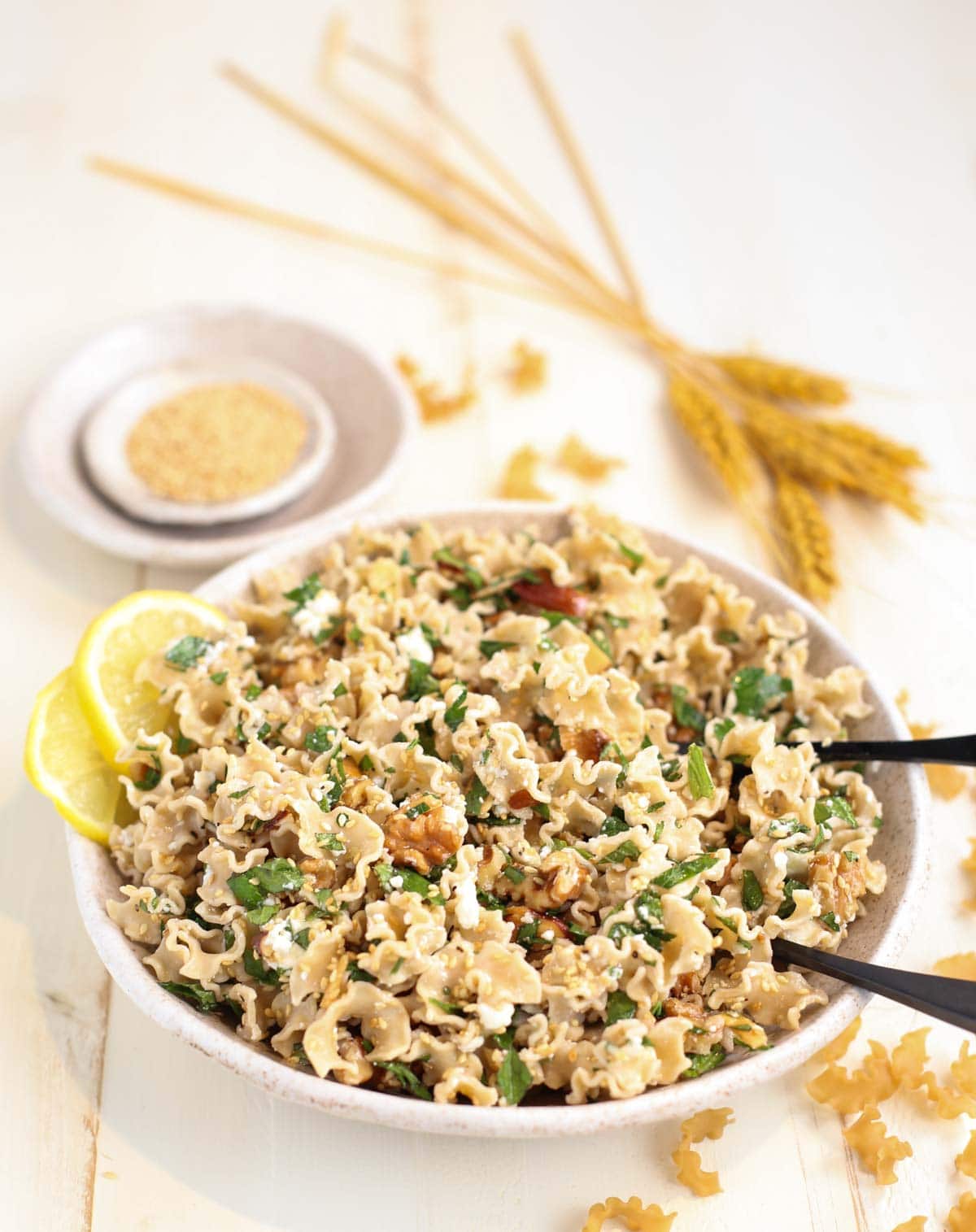 Good Day Pasta is just one item in our healthier "better for you" pasta line.  We also have introduced a higher protein pasta called Mighty Pasta.  With 57% more protein, it's great for active lifestyles and people wanting to bring more protein to their diets.  Mighty Pasta would also be a good choice for this dish!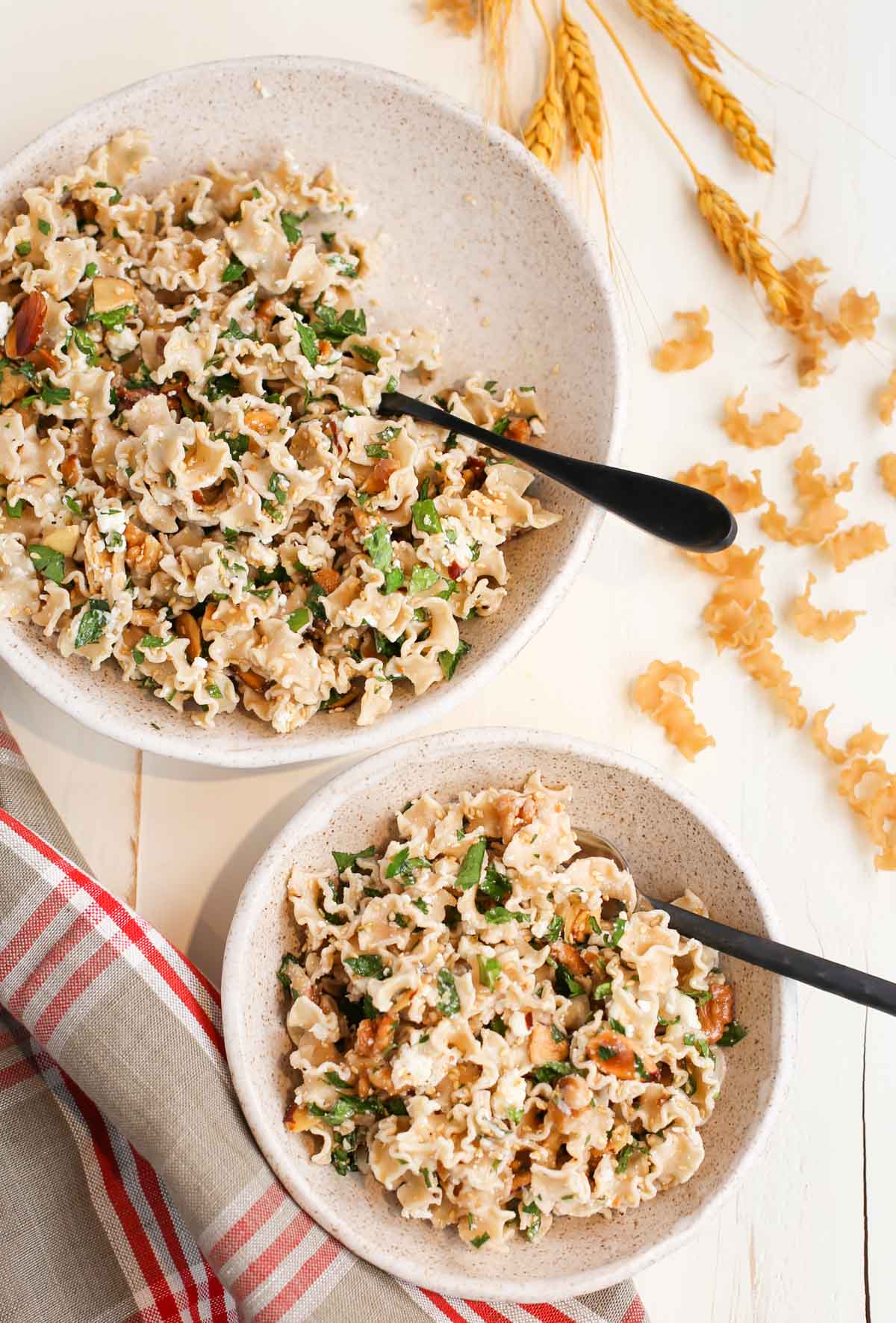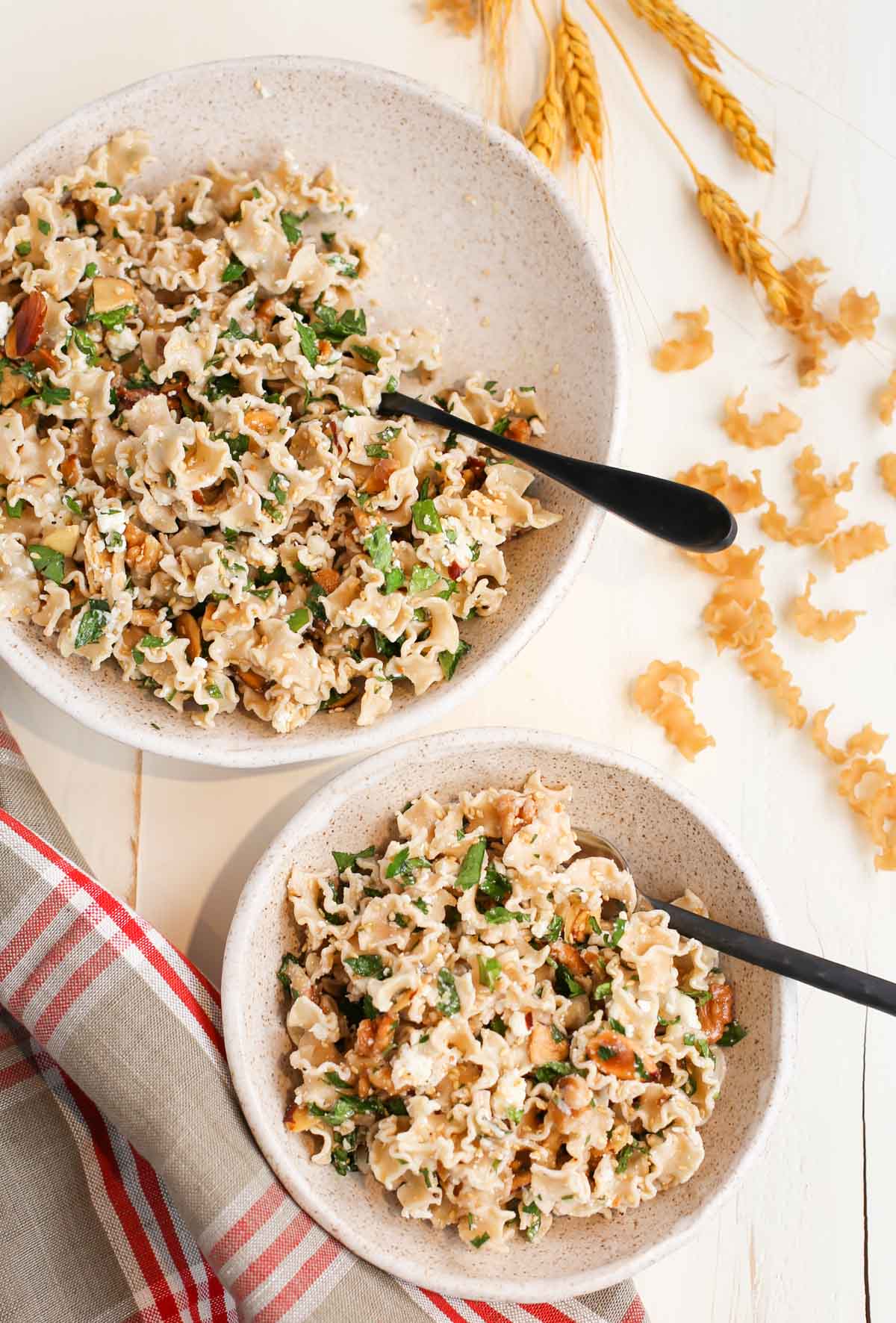 Healthy, nutty, low carb and delicious, your guests will love this Toasted Nut and Feta Pasta recipe. With the incredible taste and texture of Good Day Pasta, it is hard to believe that it is low carb! So dig in!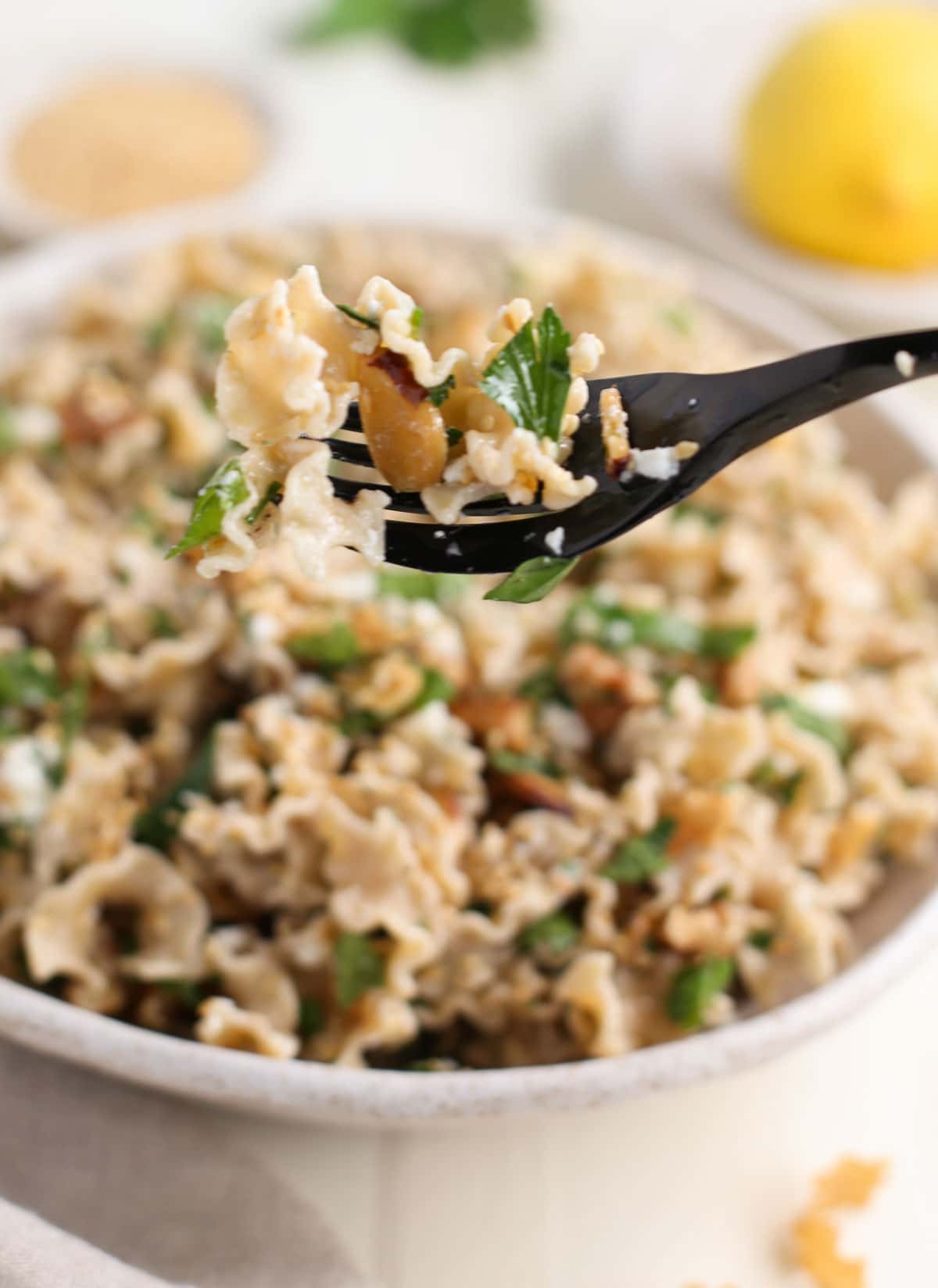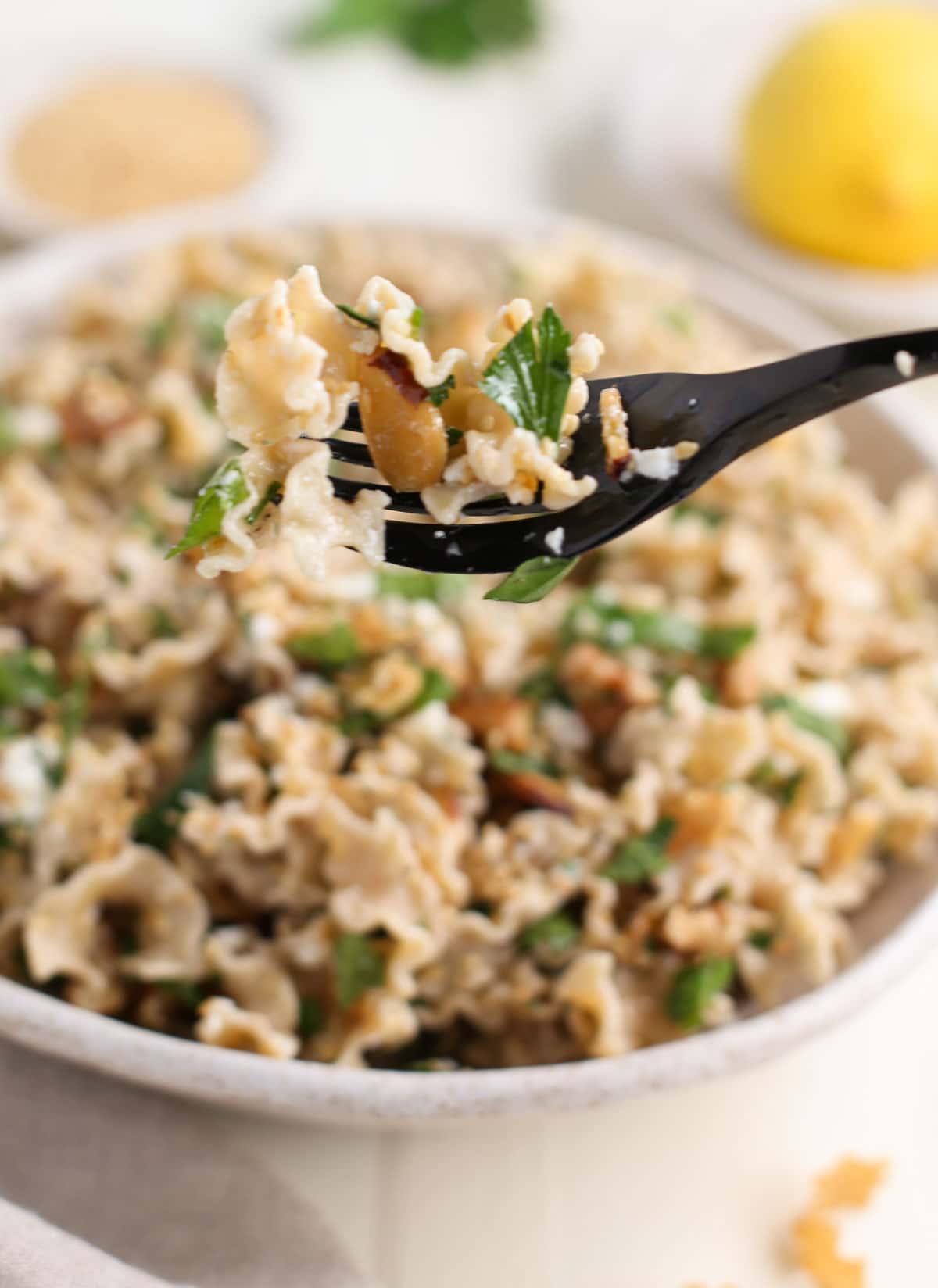 Some other yummy recipes I'd recommend using our Good Day Pasta as a substitute are Aglio e Olio with Pecorino Breadcrumbs, Simple Vodka Cream Sauce with Shrimp, and our Nashville-Style Cowboy Spaghetti.  All our easy weekday pasta recipes and sure to please!
Friends, we like to say it is a "Good Day" any time you can eat more pasta!  We hope you enjoy the latest addition to our Pastabilities® family! Eat Well, Be Happy!
And for more information about how our Good Day Pasta came to be, you can read this post!
Print
Toasted Nut & Feta Low Carb Pasta
A healthy low carb pasta recipe that can accompany almost any menu!  Toasted nuts, salty feta, and fresh mint all shine!
Ingredients
One 8 ounce box of Good Day Pasta
1/3 cup toasted walnuts, chopped
1/3 cup toasted sliced almonds, chopped
¼ cup toasted sesame seeds (I buy these roasted already in the Asian section)
½ cup crumbled feta cheese
½ cup fresh parsley, chopped
½ cup fresh mint, chopped
¼ cup olive oil + 2 Tablespoons
4 T. fresh lemon juice
Salt and pepper
Instructions
Preheat oven to 350 degrees. Line baking sheet with foil and spread out walnuts and almonds. Toast for approximately 5-6 minutes, tossing every 2 minutes, until nuts are slightly brown. Keep you eye on oven and do not leave kitchen.  Nuts are easy to overcook!  Remove from oven and cool.  After cooling, chop nuts.
Cook pasta according to package directions.  Drain and rinse briefly.
In the meantime, chop and prep all other ingredients.
For dressing, mix oil and lemon juice with ½ t. salt and ¼ pepper.
Combine all ingredients in a large bowl, taste and adjust seasonings.  Serve!
Join our email list for fresh pasta recipes delivered to you every week!
Your information will NEVER be shared or sold to a 3rd party.